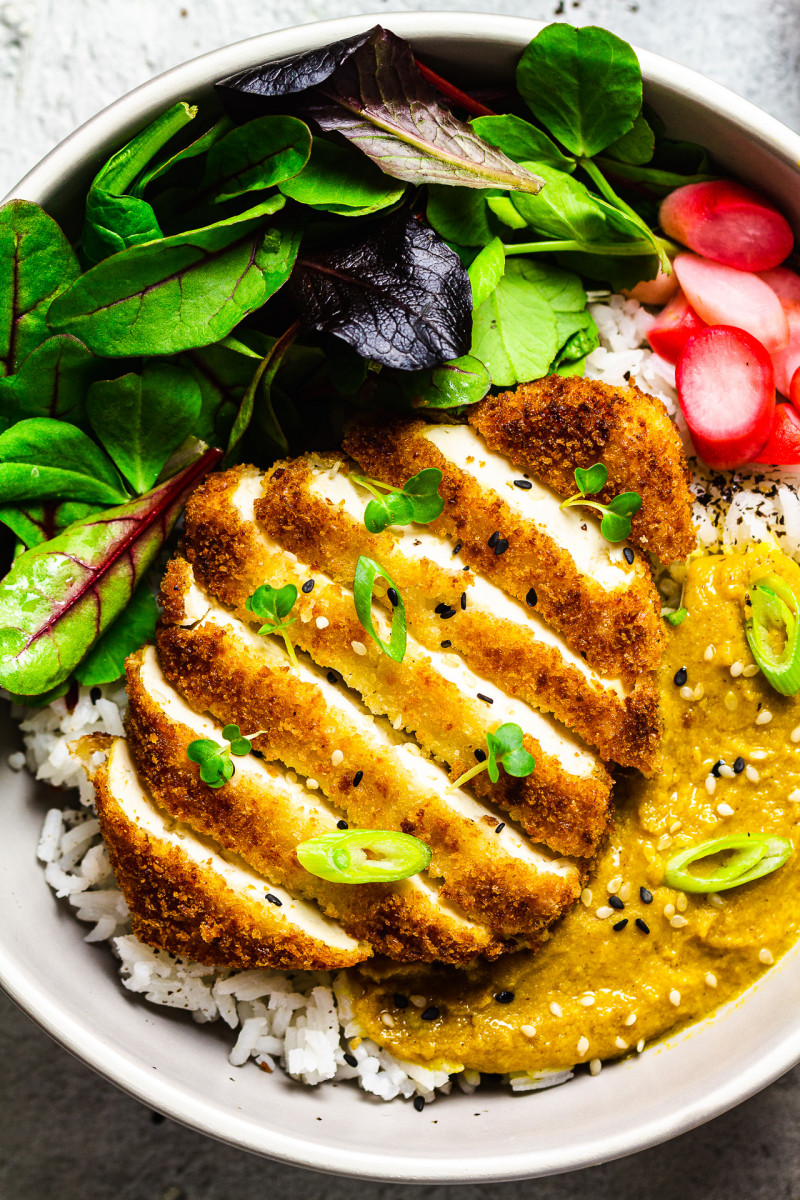 Do you know that feeling of frustration at seeing something that you know can be great done badly? Well, that's exactly how this dish came about. I found out through one of the vegan Facebook groups that a particular UK chain does a vegan tofu katsu. People were excited about it, so I got excited too, told Duncan (who loves that dish) and, without further ado, we went to check it out for ourselves.
When a humongous (yet sadly very uninspiring bowl) of slop got placed in front of us, we wished we had gone somewhere else. We spent a good 30 minutes discussing how this dish could have been great had it been prepared with a bit of care and know-how and how it's a shame so many places still treat vegan options as a complete afterthought. They clearly do not understand that a little care and imagination (as opposed to fancy ingredients) is all that is needed to make a cracking vegan dish.
I promised Duncan and myself then that I would make it for the blog, so here it is! What was wrong with the restaurant version, you ask? The tofu completely lacked texture – not only did they use silken instead of firm cotton tofu, they also covered it in the sauce, which meant that the usually crispy panko coating turned into a soggy mess. The sauce was bland and one dimensional – all you could taste was overpowering curry powder. The rice was bland, and there was no contrasting flavour or texture that this dish cries out for so much. There were no pickles, no salad and nothing to take your mind off what mediocre food you were paying for.
It's such a shame as with so few places providing well thought-out and executed vegan options, once we find a place that we like, we are very loyal customers. As I kind of cook for a living, I really appreciate being cooked for for a change, but it's gotta be worth leaving the house for, right? I will continue searching for a tasty vegan version of this famous Japanese curry, but in the meantime, here is my take on it. I'm not claiming it's the most authentic version of this dish that exists, but it definitely delivers on taste and texture.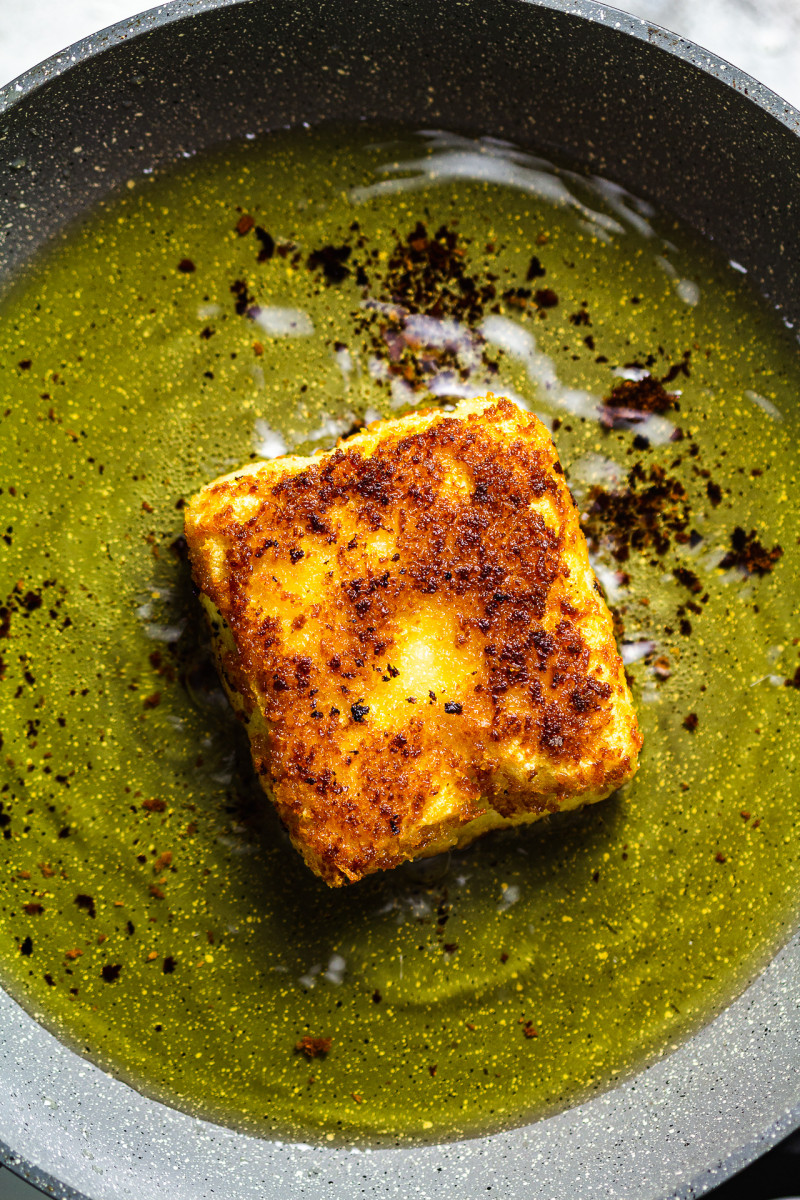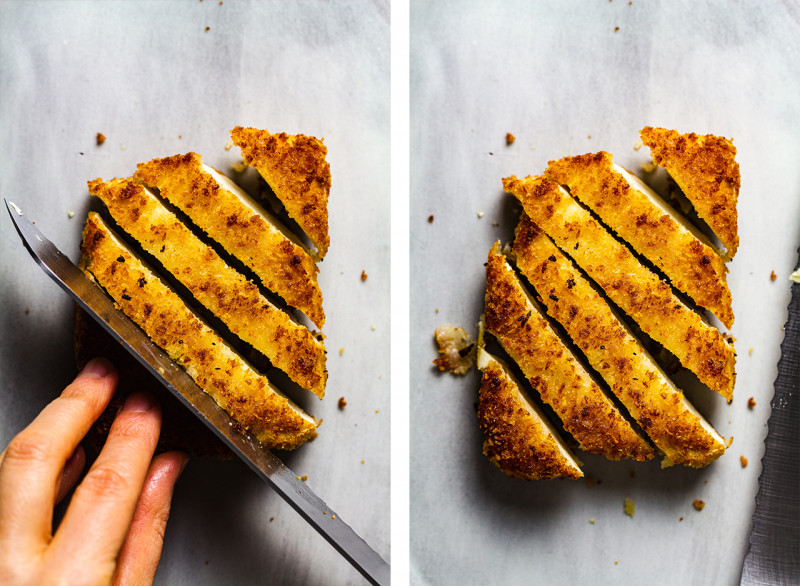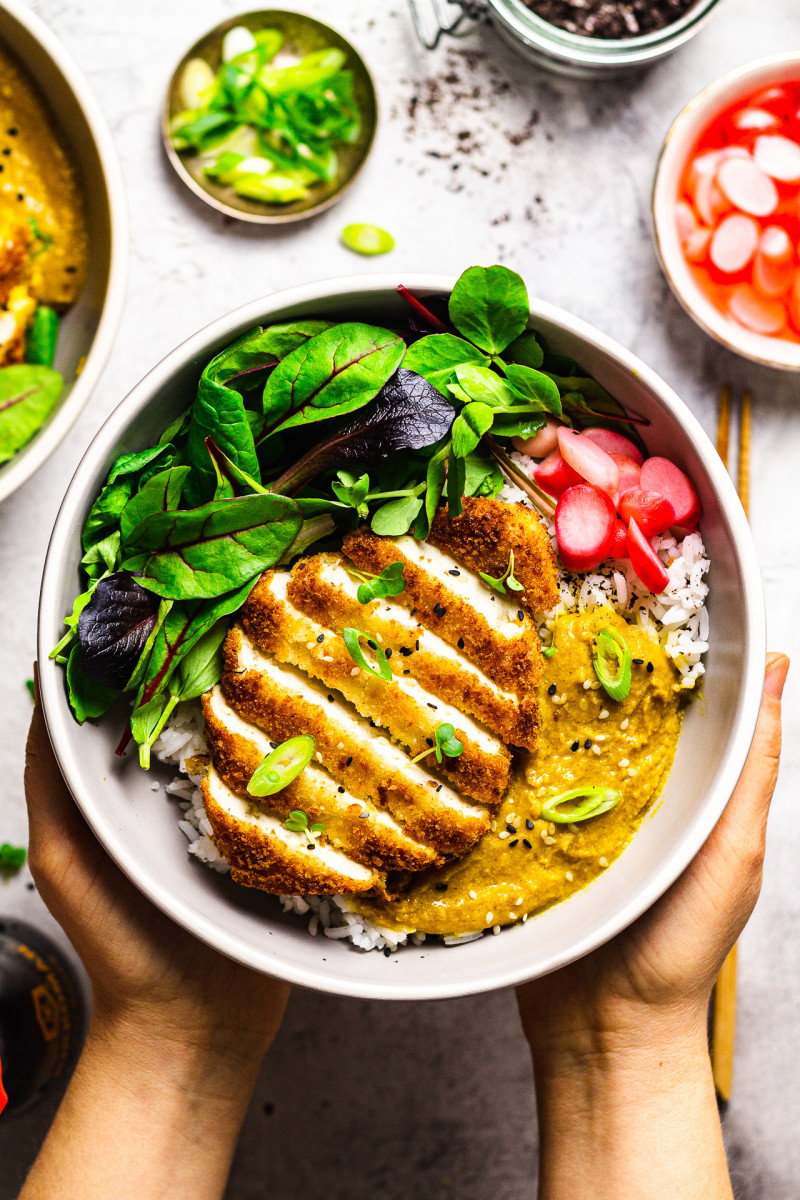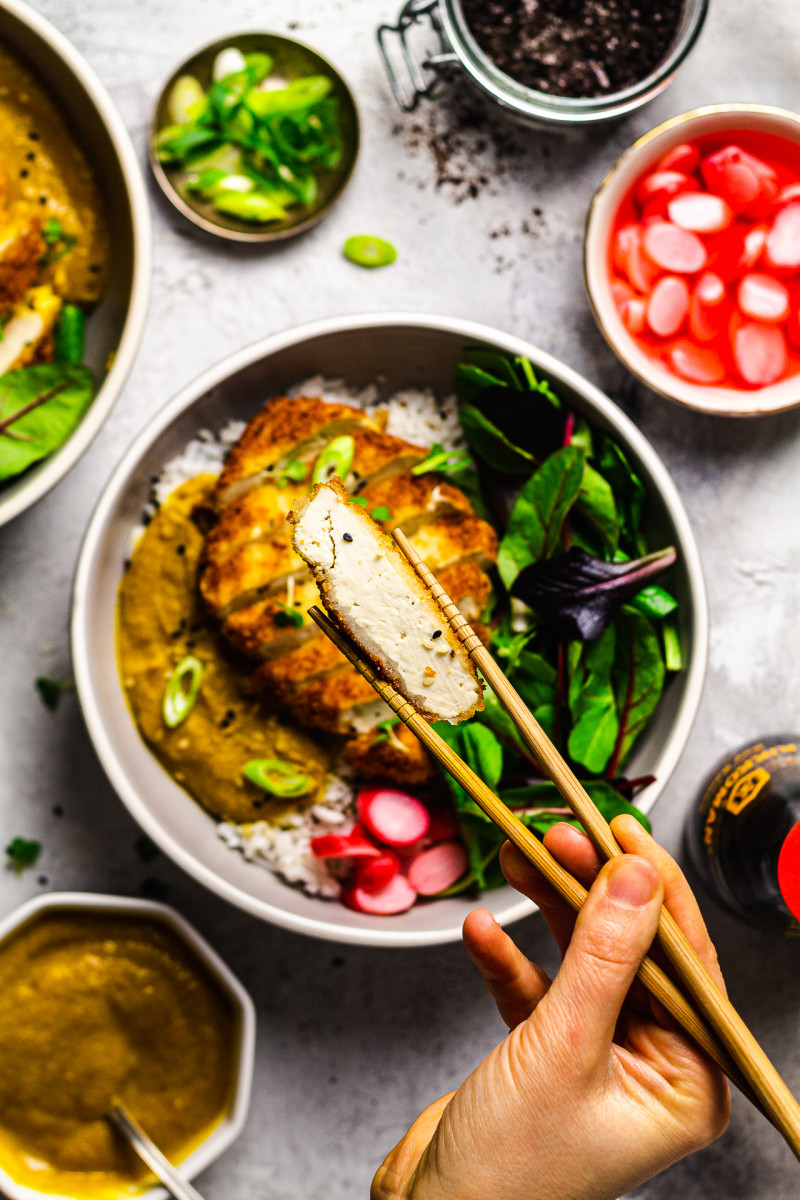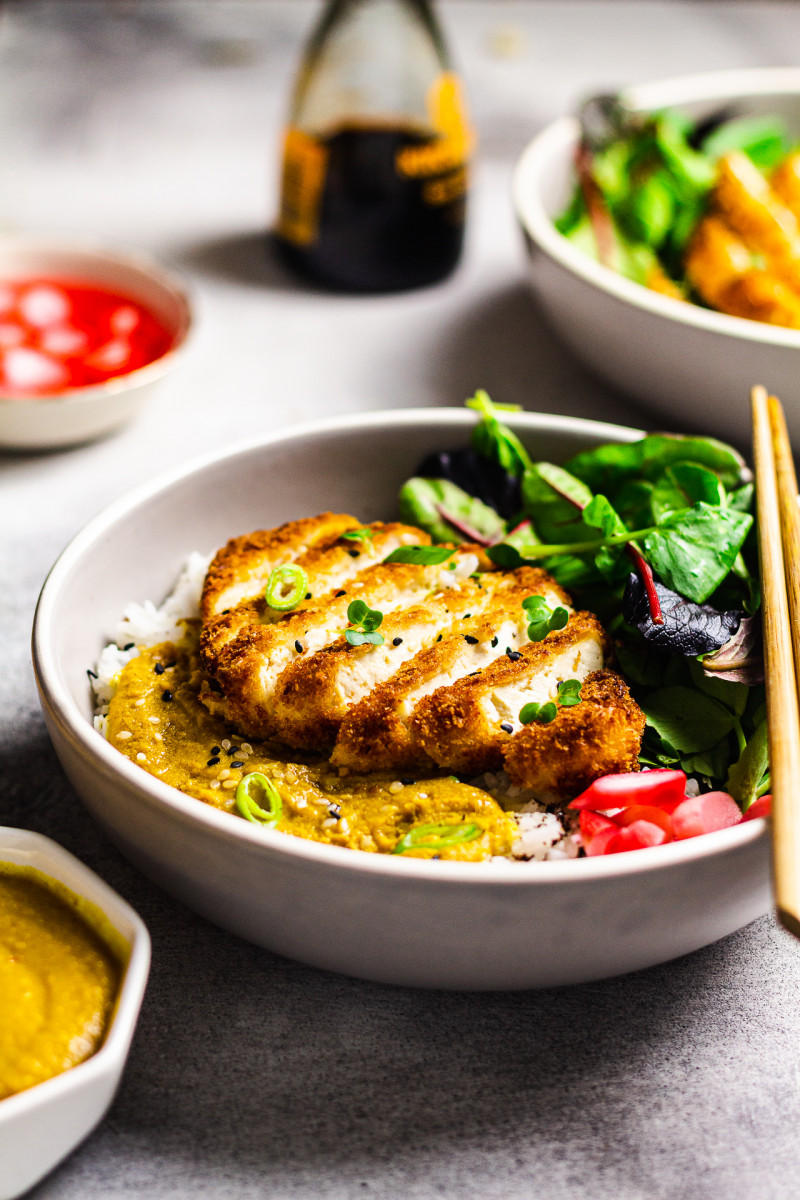 400 g / 14 oz firm (cotton) tofu, pressed*
4 tbsp soy sauce (or tamari for GF version)
all purpose flour / rice flour for GF version
salt
about 1 cup gelatinous aquafaba**, homemade or from a tin of chickpeas or ½ cup cornflour mixed in with water
100 g / 3.5 oz panko breadcrumbs (or GF breadcrumbs if required)
oil for shallow frying (I used rice bran oil)
CURRY SAUCE
2 tbsp neutral tasting oil
1 white onion, finely diced
5 garlic cloves, finely diced
3 tsp ginger, finely grated
2 medium carrots, peeled and sliced
1 small Granny Smith apple, peeled and diced
4 tsp curry powder (I used hot madras curry powder)
1 tsp garam masala
1 heaped tbsp white miso paste (GF miso for gluten-intolerance)
4 tsp tamari or soy sauce
2 tsp rice vinegar
2 tsp mirin (sweet Japanese rice wine) or maple syrup, to taste
OPTIONAL EXTRAS
2 cups of your favourite rice, cooked
assorted lettuce leaves
METHOD
Cut the tofu into 4 large slices. Place them in a shallow dish with 4 tbsp of soy sauce (or tamari), flipping them to the other side from time to time. Set aside to allow the tofu to infuse with the soy sauce.
Heat up 2 tbsp of oil in a frying pan with a matching lid. Add diced onion and sauté until almost translucent. Add garlic and a minute or two later add ginger. Fry for another minute or two stirring frequently.
Add the sliced carrot, diced apple, curry powder and garam masala. Stir around and fry off for a minute or two.
Dissolve 1 tbsp of miso paste in 1 cup of warm water and add it to the pan.
Simmer, on low heat (with a lid on) for about 10-15 minutes until the carrots and apples become soft.
Transfer to an upright blender or use a stick blender to make a smooth, thick sauce. Season with tamari or soy sauce, rice vinegar and mirin. Add more water if the sauce is too thick.
Prepare 2 large plates and one shallow bowl. Place flour on the first plate. Pour the aquafaba into a bowl and put the breadcrumbs mixed with ¼ tsp of salt onto the second plate. Alternatively, you could skip the flour and instead of using aquafaba prepare an egg substitute by whisking ½ cup corn flour / corn starch with ½ cup of water. If that's what you decide to use, be aware than corn flour tends to drop to the bottom of the dish so you'll need to give it a good stir before coating each piece of tofu.
Fill a small frying pan or the bottom of a wok with frying oil and let it heat up.
Coat each piece of tofu in flour, then in aquafaba and finally coat it in the breadcrumbs. Press the breadcrumbs into the tofu and shake each piece gently before putting it into the hot oil to allow excess breadcrumbs to come off. If using a cornflour solution, coat each piece in the cornflour mixture and then in the breadcrumbs.
Once the oil heats up, it's important that it is hot enough (a breadcrumb thrown into it should sizzle immediately), fry each piece of tofu for about 2 minutes on each side – until the coating becomes golden brown. Place the freshly fried pieces on a plate lined with a kitchen towel to get rid of excess oil.
Serve with rice, a simple green salad and a generous amount of curry sauce.
NOTES
*To press the tofu without a
tofu press
, wrap your tofu in a paper towel, place it on a plate and weigh it down with something heavy (like a can of coconut milk, for example). Once the paper towel becomes wet, change it for a new one. Repeat a few times until the paper towel stays almost dry. Pressed tofu is tastier as it absorbs flavours better.
**For this particular application, aquafaba (chickpea brine) should resemble an egg white in consistency so I recommend making it yourself – here is how or reducing over a low flame if you are using one from a tin of chickpeas. I cook my chickpeas and then leave them in the pot for a few hours, which makes aquafaba gain more strength as it sits around – often that is enough to make it quite thick and jelly-like. If not, I pour it into a small pot and reduce over a low flame some more.
My recipe is an adaptation of my previous katsu recipe.