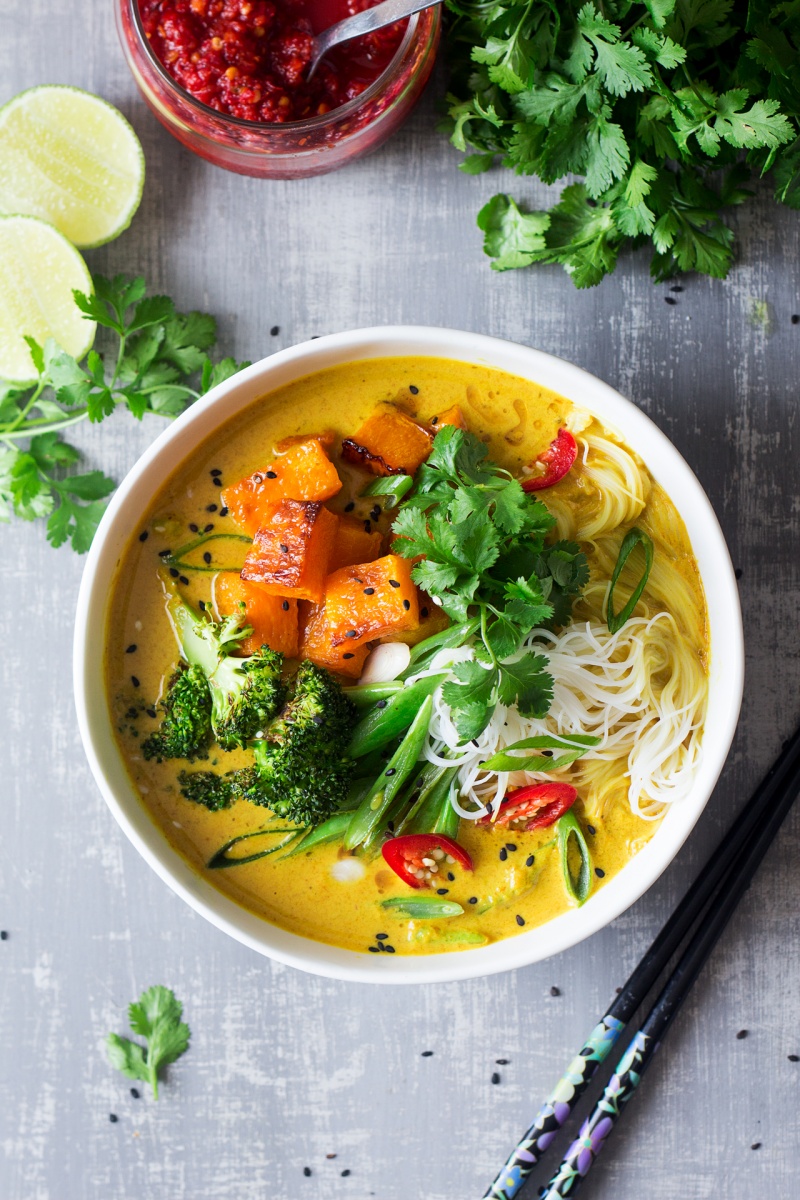 How does a bowl of warming soup sound to you right now? If winter has moved in to your neck of the woods, then I'm sure you won't be able to resist! Even we, who have been lucky enough to swap cold and wet English winters for much milder Greek ones, are finding a soup for dinner a welcome prospect right now as evenings have suddenly got windy and cold. And this isn't just any old soup, it's more of a substantial dish full of spice, seasonal veggies and noodles bathed in an aromatic curry broth inspired by a Thai classic soup. This vegan Khao Soi is easy to make, filling and very satisfying!
I was rather distracted on the day I was shooting this recipe. The day before we found ourselves become foster parents to one half-starved little kitty and all I wanted to do is to sit by her side and watch her get better. We were driving to get some shopping done when we saw a scruffy little kitten casually stroll on the other side of the road. We stopped the car, but before we managed to get out to help the kitty off the road a car going at a full speed appeared on the other side. We screamed and gesticulated at the driver to get him to slow down in time, but to our horror he ploughed through this poor little critter at full speed without making any attempt to avoid it. Needless to say he did not stop either. We were both sure the kitty died on the spot so when we saw her little shaken body walk off and seek refuge next to a nearby tree we were both shocked and relieved at the same time. Despite such a recent trauma, she was extremely affectionate and docile. Miraculously, she did not seem to have sustained any injuries following the accident but two things immediately stood out – she was starved to near-death and a gracious host to a major flea colony. We couldn't leave her behind…
A vet confirmed that apart from starvation, a thriving flea and worm population on her back and in her intestines, she is a survivor!! Two days have gone by and she's getting better by the hour. She is currently curled up on a hot water bottle, wrapped up in a blanket and getting much needed sleep. Our mission is to cure all her ailments and fatten her up a little (okay, a lot!) and find her a loving home as our resident cat (also a rescue one), Tina, has already let us know how she feels about our charity. So if you love cats and would love a gentle and affectionate companion kitty (and you live in continental Europe), please get in touch!! We are sure that together we can figure something out to ship Snowy to a loving 'hooman' as soon as she is fully recovered and well enough to travel.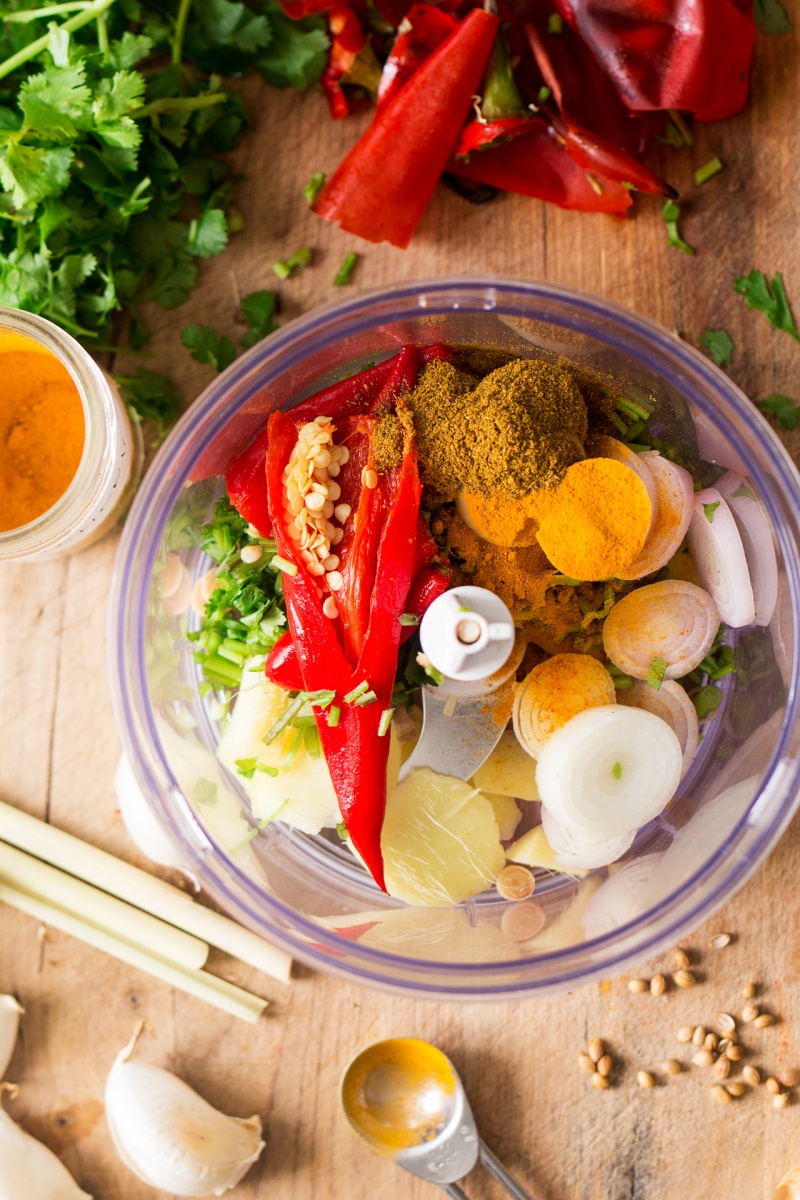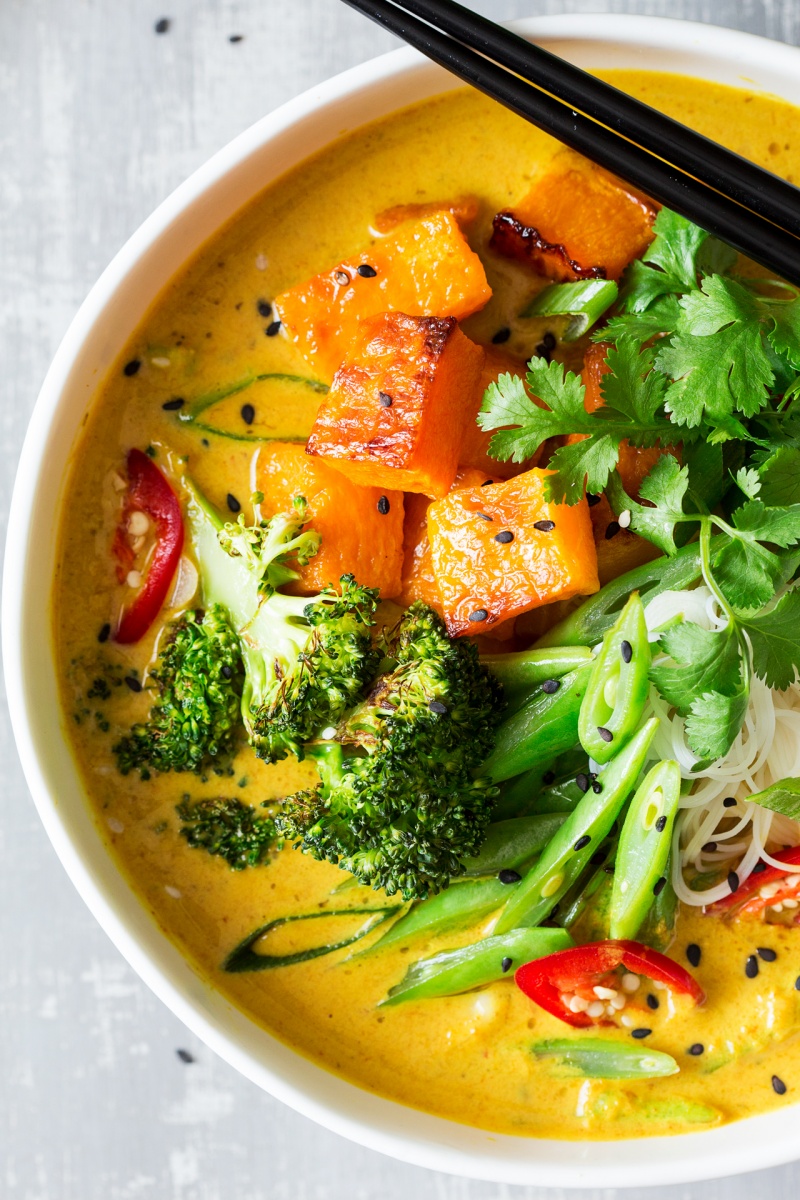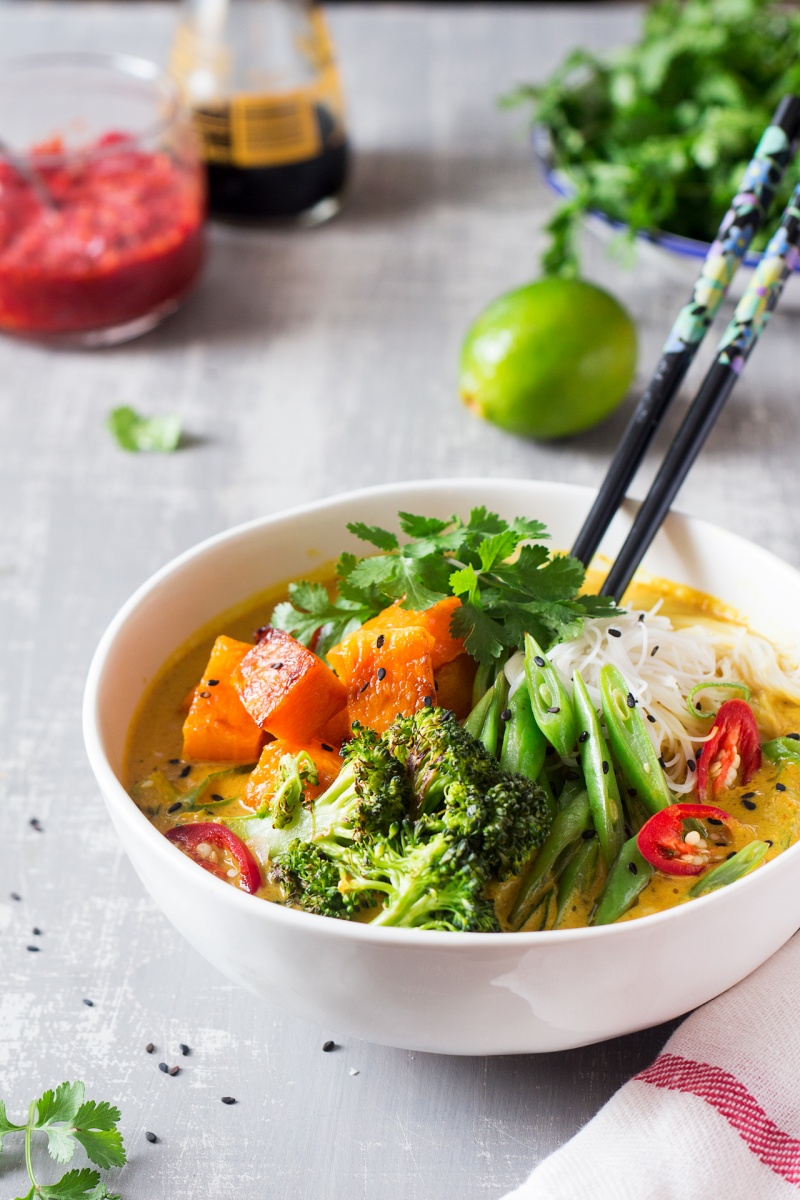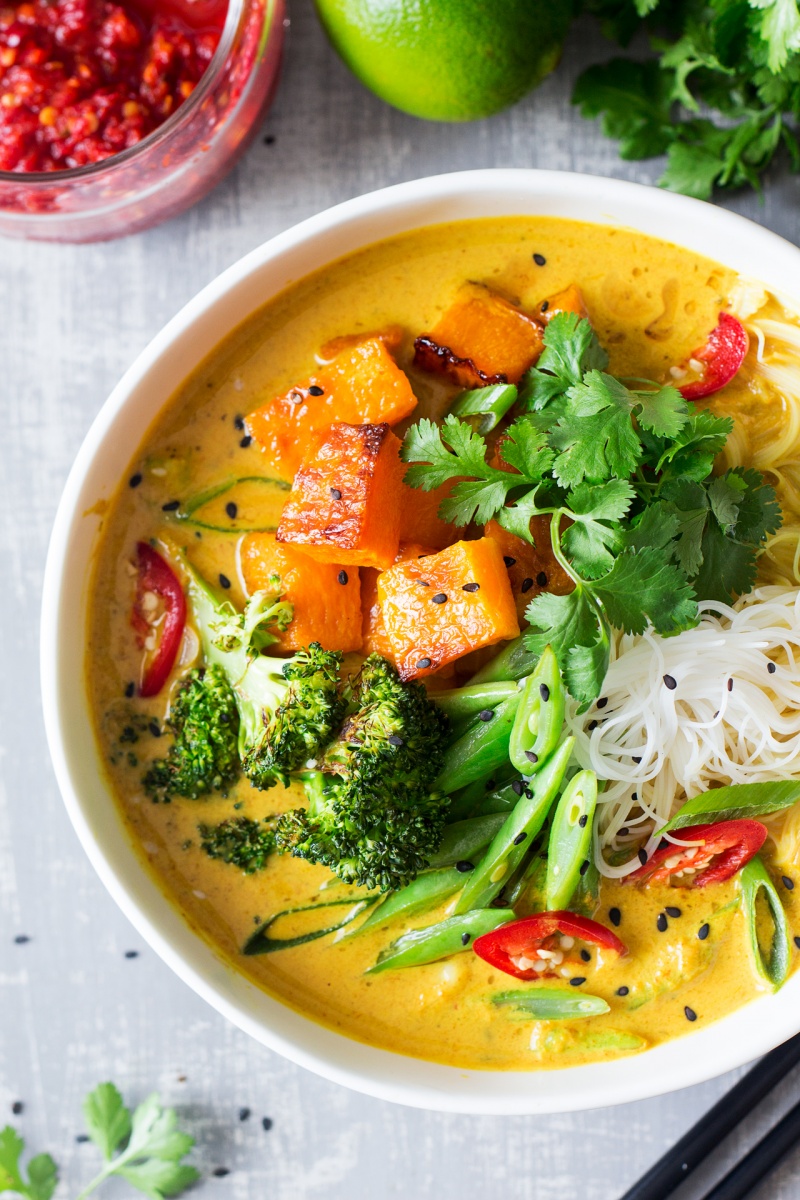 KHAO SOI PASTE
4 hot red chillies (fresh or dried*) I used fresh
6 garlic cloves
5 cm / 2 " piece of ginger, peeled and roughly sliced
4 tbsp / ¼ cup coriander stalks, chopped
2 lemongrass stalks, white inner part only, roughly chopped
2 small shallots, roughly chopped
1 tbsp coriander seeds or ½ tsp ground coriander
1½ tsp turmeric
1 tsp curry powder (I used hot Madras curry powder)
REMAINING INGREDIENTS
favourite noodles (GF if needed), 1.7 oz / 50 g per person
½ head of broccoli, divided into florets
½ butternut squash, peeled and sliced into dice
a large handful of flat green beans, cut on the diagonal
oil (I used peanut, for frying)
about 750 ml / 3 cups of vegetable stock
250 ml / 1 cup full fat coconut milk**
about 3 tbsp vegan fish sauce or tamari / soy sauce
juice of ½ lime
1-2 tbsp sugar, I used coconut sugar
fresh coriander, to serve (optional)
METHOD
OPTIONAL STEP: If using whole coriander seeds, I recommend pre-roasting them on a dry pan until golden and fragrant and pounding them to a powder in a pestle and mortar.
Place all the paste ingredients in a herb chopper or a food processor, add about 4 tbsp of water and process until you get a uniform paste.
You can cook your vegetables in the soup (see STEP 7) or separately, like I did. It takes a bit more work but I find that they taste better than if you simply boil them. If you want to cook them separately, heat up the oven to 225° C / 435° F and line a tray with a piece of baking paper. Coat diced butternut squash in a tablespoon of oil, season with salt or tamari / soy sauce and bake for about 30 mins, until golden. Heat up one tablespoon of oil in a wok and stir fry broccoli florets for about 1 minute, add sliced beans and stir-fry for about 1 minute. Season with tamari or soy sauce.
Cook noodles according to the instructions on the packet.
Put the bowls into a warm oven (100 °C / 210 °F) to heat them up for serving.
Heat up a tablespoon of oil in a medium size pot. Add Khao Soi paste to the hot oil and stir-fry it for about 4-6 minutes, until slightly darkened. Add vegetable broth and coconut milk and allow them to come to the boil. Season with vegan fish sauce (tamari or soy sauce), fresh lime juice and sugar to taste.
If you want to cook your vegetables in the soup, place diced butternut squash in the soup, allow the soup to come to the boil and simmer for about 7 minutes, add broccoli florets and sliced beans and cook for a 5 further minutes.
Pour over cooked noodles and serve with fresh coriander.
NOTES
*If using dried chillies, soak them in boiling water for 30 minutes. Adjust the number of chillies according to personal preference and the type of chilli you are using. I only have one, generic, red chilli at my disposal here and as they are not very hot I used 4. I also roasted them in a 220 °C / 430 °F for about 10 minutes to deepen their flavour a little.
**The original recipe used 2 cups of broth to just over 3 cups (2 x 14 oz / 400 ml tins) of coconut milk. I found even half of the coconut milk (1 x 14 oz / 400 ml tin) too rich so I suggest 3 cups of broth to 1 cup of coconut milk. If you prefer a richer and creamier soup, substitute some of the broth for extra coconut milk.
My recipe is an adaptation of this recipe from Epicurious.