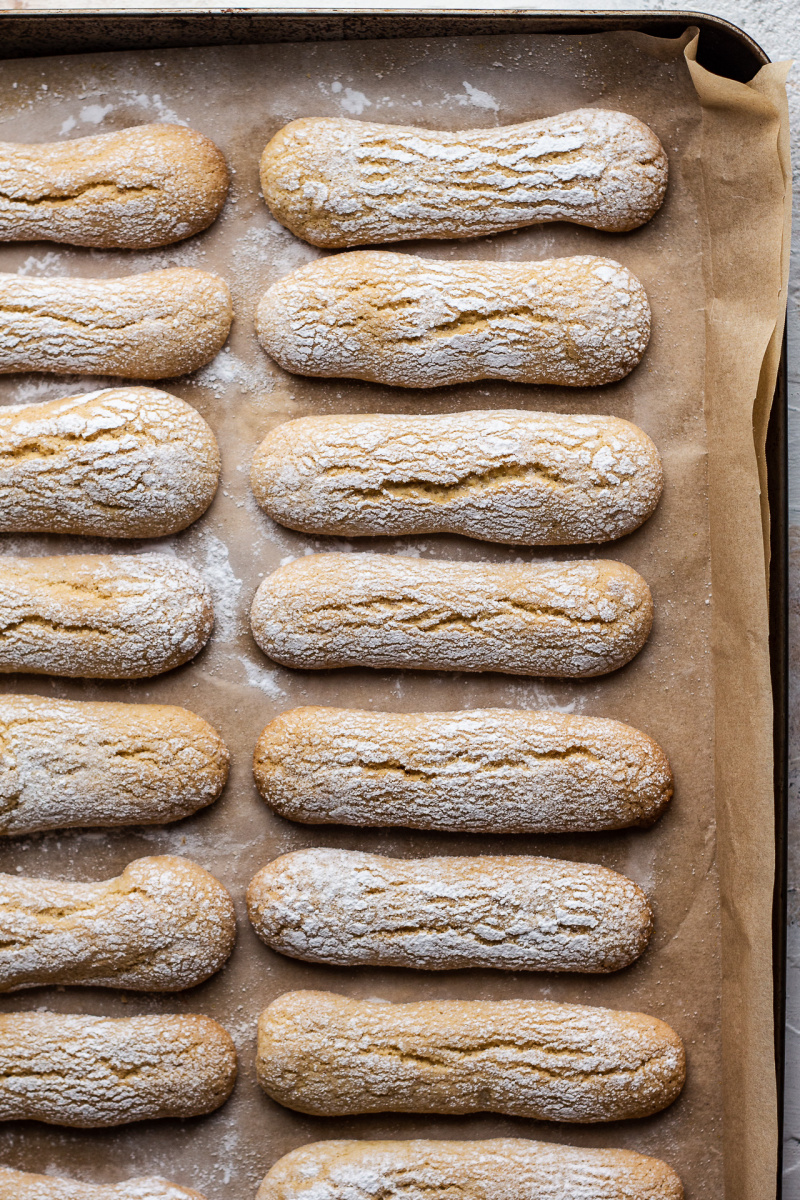 Ho ho ho, where did all the time go? (stunned face emoticon here). Once again, the proximity of the festive period has taken me completely by surprise this year. Well, not quite as I did mark it in my calendar so that I can focus my mind on festive recipe creation ahead of the time, but it still feels a touch too early to be baking all these cookies, coming up with impressive dinner centrepieces and flamboyant sides.
Today's recipe is a bit of a tease. I've been working on vegan lady fingers also known as savoiardi biscuits on and off for two years or so and have plenty of failed biscuits, which turned into sad flat puddles, under my belt. This year I've decided that I really want to make a proper vegan tiramisu for the blog (recipe now live, here), so before I do I've got to put this recipe to bed. And I am pleased to report that after countless sinks of washing up (that's the least fun part of recipe creation), I have come up with a vegan lady fingers recipe I am happy with.
They are not hard to make – the key skill here is being able to fold ingredients into each other super gently – and the best thing about them is that they keep for ages provided you lock them away from any source of humidity. This means that if you plan to make tiramisu for your Thanksgiving or Xmas meal, you can make the lady fingers two or even three weeks in advance and lock them away safely until the time to get on with the cream comes. Just make sure that no one is sneaking up to your hiding place at around afternoon coffee time on a daily basis 😉 .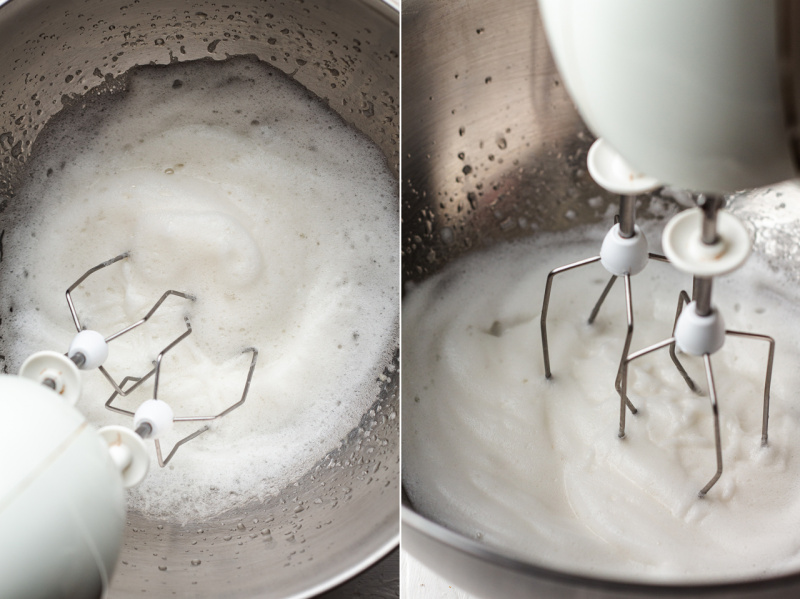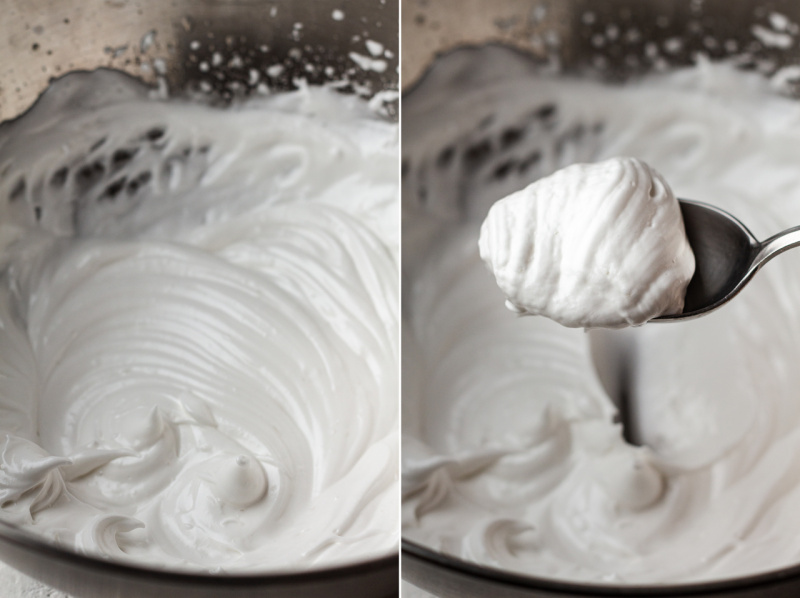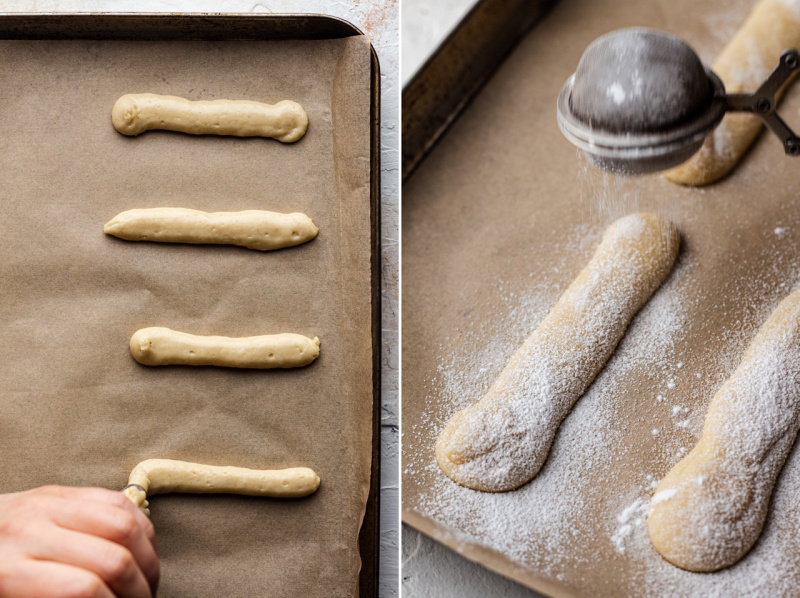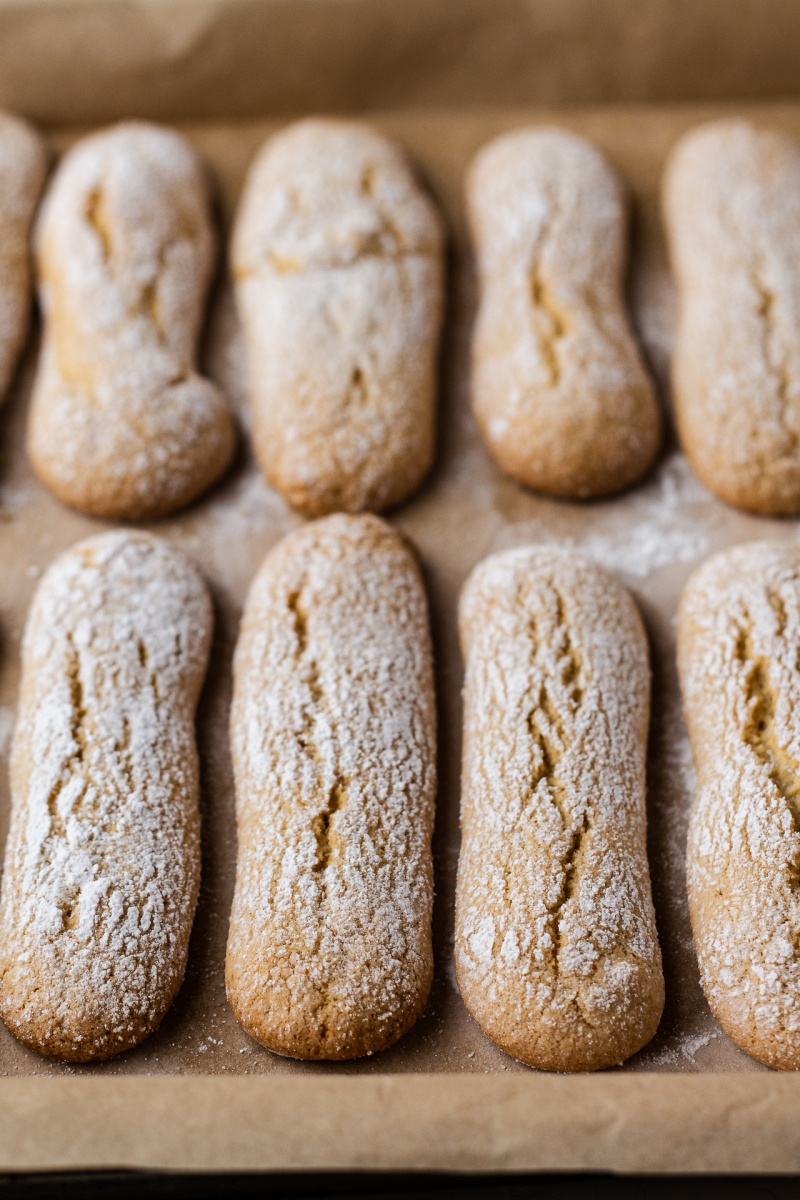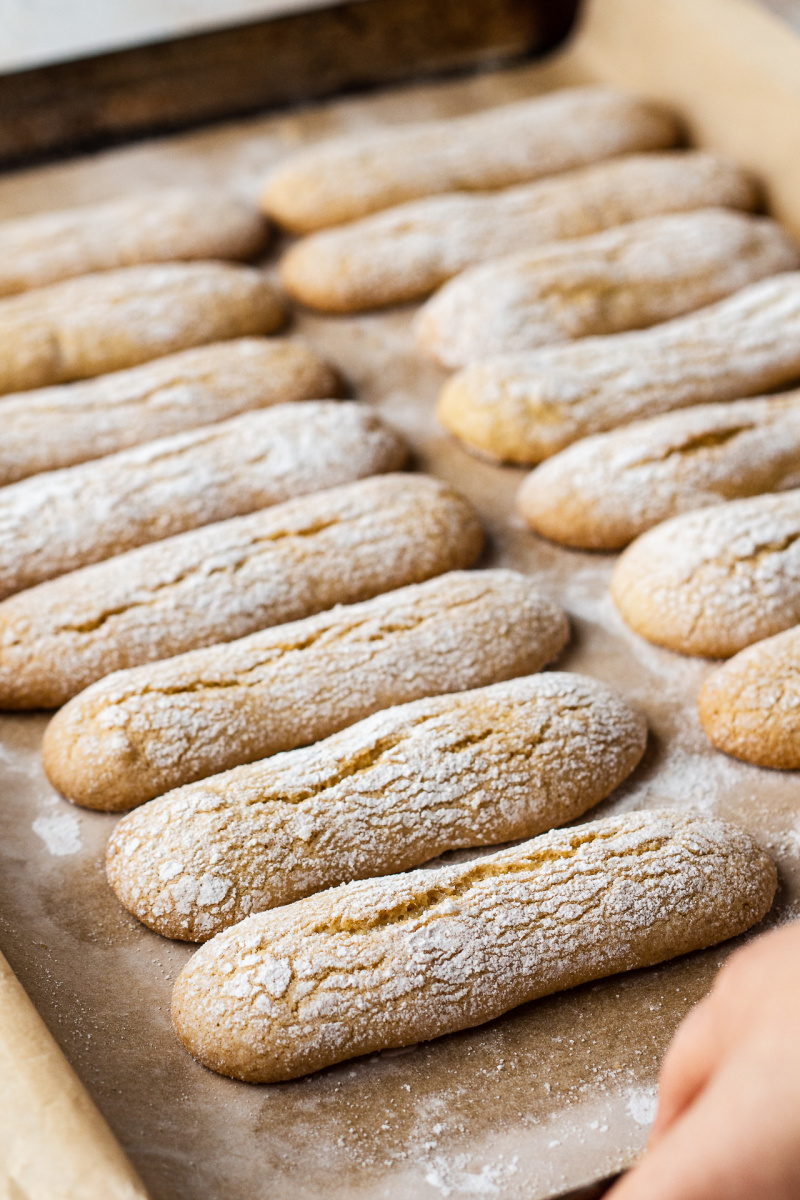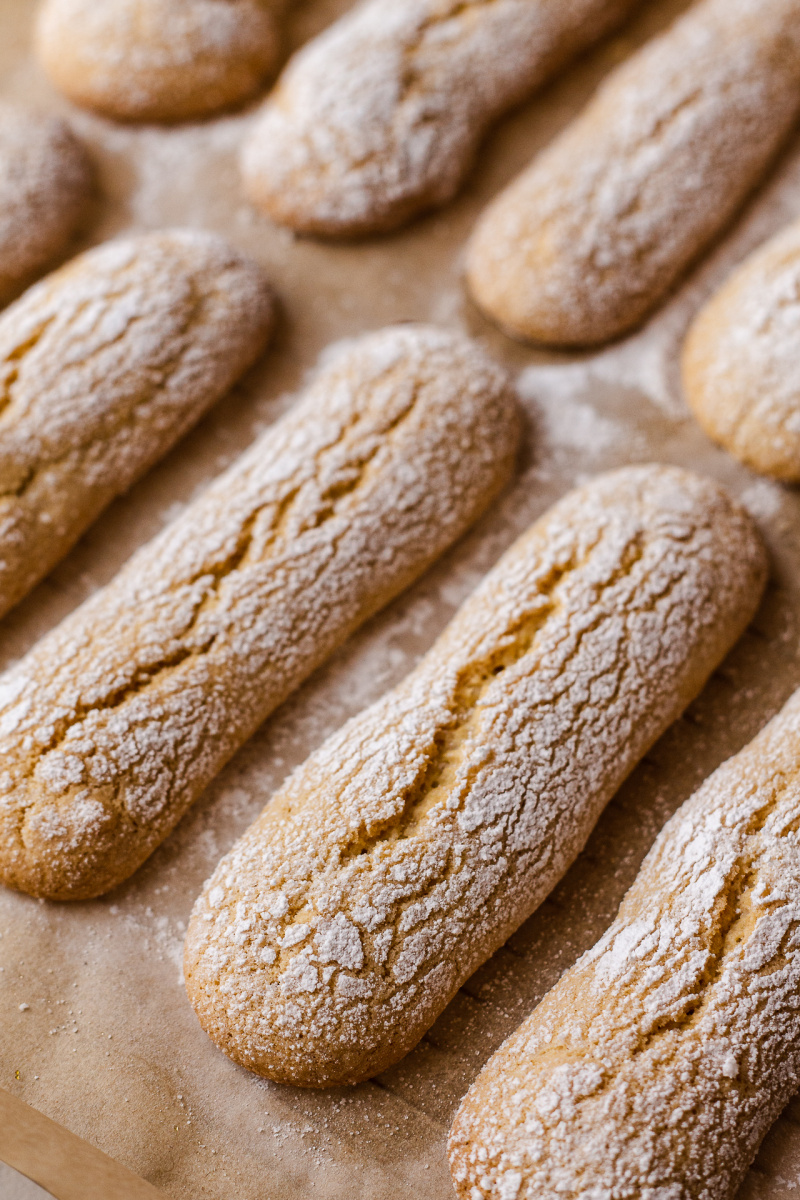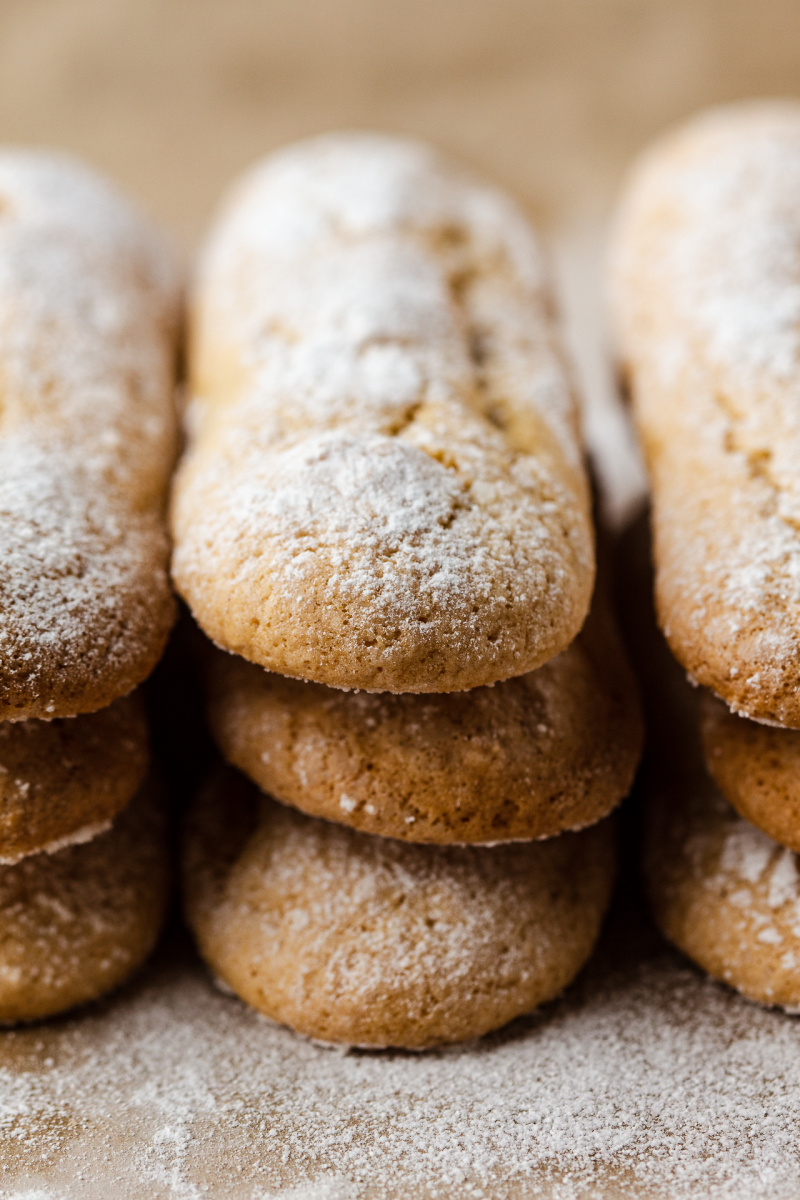 METHOD
Preheat the oven to 200° C / 390° F and line two baking trays with baking paper. Prepare a piping bag with a plain 1.25 cm / ½" nozzle – if you only have a smaller one, like I do, pipe double lines instead. Place the piping bag in a very tall glass for easy filling.
Melt vegan butter and allow it to cool down. I tend to put it in a metal bowl, which I place in the oven while it is heating up for about 4 minutes to melt.
Combine flour, cornflour / cornstarch, both baking agents and salt in a separate bowl and get a fine sieve ready. If making the gluten-free version, include almond meal and xanthan gum.
Put aquafaba and lemon juice in a large, spotlessly clean (grease residue inhibits aquafaba from reaching stiff peaks) bowl. Using an electric mixer, whip aquafaba until it reaches stiff peaks.
Once you reach stiff peaks (turn the bowl upside down to check) start adding sugar (tablespoon after tablespoon), whipping the whole time until you've used up all of the sugar and your meringue mixture is glossy and thick (see the photo of the spoon).
Place a sieve over the bowl with the meringue and sift approximately a quarter of the dry ingredients through. Fold sifted ingredients into the meringue very slowly and gently so that you don't knock too much air out of the mixture. Proceed with the next two batches of the dry ingredients in the same manner.
Just before you fold in the last batch, fold in vanilla and almond extract and melted (but cooled) vegan butter. Fold these liquids in slowly and gradually so that the mixture stays nicely aerated. Finally fold in the final portion of dry ingredients.
Once everything is just incorporated – the batter should be very thick – transfer the batter to the piping bag.
Pipe 10 cm / 4″ long cookies on the two baking trays leaving some space around each cookie.
Sprinkle each cookie with caster sugar first (use fingers), followed by icing sugar (use a sieve).
Bake for about 10 minutes, then open the oven for a few seconds to let the steam out, close the door and continue baking for another 2-4 minutes – until lightly golden. The longer you bake them the crunchier they'll become.
Allow the cookies to cool down before transferring them to a drying rack. Once completely cool, store them in an airtight container. They will last 2-3 weeks.
NOTES
*VANILLA EXTRACT: if using vanilla pod seeds or powder instead of extract, make sure to replace lost liquid with plant milk, for example.
My tiramisu recipe is available here.