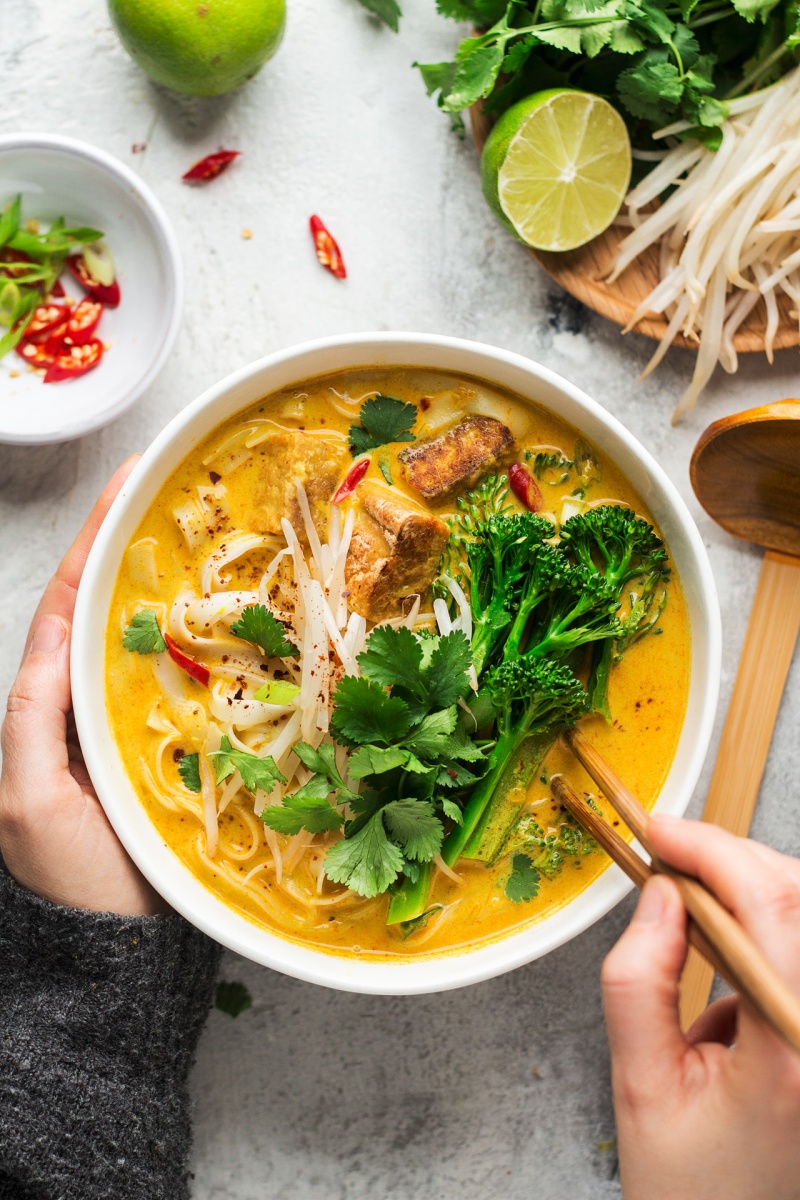 I am nearing the end of my stay in Krakow. I've completed a monumental amount of dental treatment whilst here (so it wasn't all fun) and I am glad for it to be over and to be going back home. Having said that it was really nice to see my parents, to see the city covered in snow and to have a break from cooking (courtesy of my lovely mum and a few nearby eateries offering good vegan food).
I decided to get my teeth in tip-top shape, as lots of my old fillings needed replacing and I am planning to have adult braces put on soon. Duncan has blazed the trail for me (he is nearly done with his treatment) and he made me realise that once you get used to them, wearing them isn't as big a deal as I had thought. Sure they are annoying to keep clean and you would not have them put on for the fun of it, but having crooked teeth is neither pretty nor easy to keep cavity-free, so I am going to bite the bullet. If you visit the blog at some point to find it awash with soups, smoothies and mashed potatoes, you'll know why…And I apologise in advance… 😛
Even though, I'm still about a month away from having the braces put on, today's recipe happens to be a soup. It's not any old soup though, it's an aromatic, spicy and creamy vegan laksa that's really filling and comforting – perfect for these cold winter months. It's warming and it won't leave you hungry, thanks to a generous topping of flat rice noodles, steamed broccoli, pan-fried tofu cubes and sprouts.
In creating this recipe, I went against Duncan's wisdom to keep things simple and I am hoping you'll see that it's worth it. We always have this tug of war going on in our kitchen when he is like 'come up with something really simple' and I always set out with this very intention, but then get side-tracked and before I know it the recipe can no longer be called simple. See, to my mind a tasty vegan recipe (or any recipe for that matter) relies on a careful layering of flavours and textures that play off each other. Sometimes simple pleasures like new potatoes with some vegan butter and a pinch of salt will do, but most of the time a bit more effort is required to create a dish you'll want to have again and again.
With laksa, the devil is in the spicy and aromatic paste that needs to be slowly fried off for as long as possible for all its amazing flavours to develop. Then it's about the creaminess of coconut versus the acidity of lime and the freshness of sprouts and herbs, versus the toothiness of noodles. Typically, laksa paste contains shrimp paste for umami (or 5th taste as it's also known). To mimic that seafoody taste, I've ground up some nori sheets, which adds a subtle taste of the ocean to my paste and I am really pleased with the outcome. I really hope you'll make it and love it as much as we did!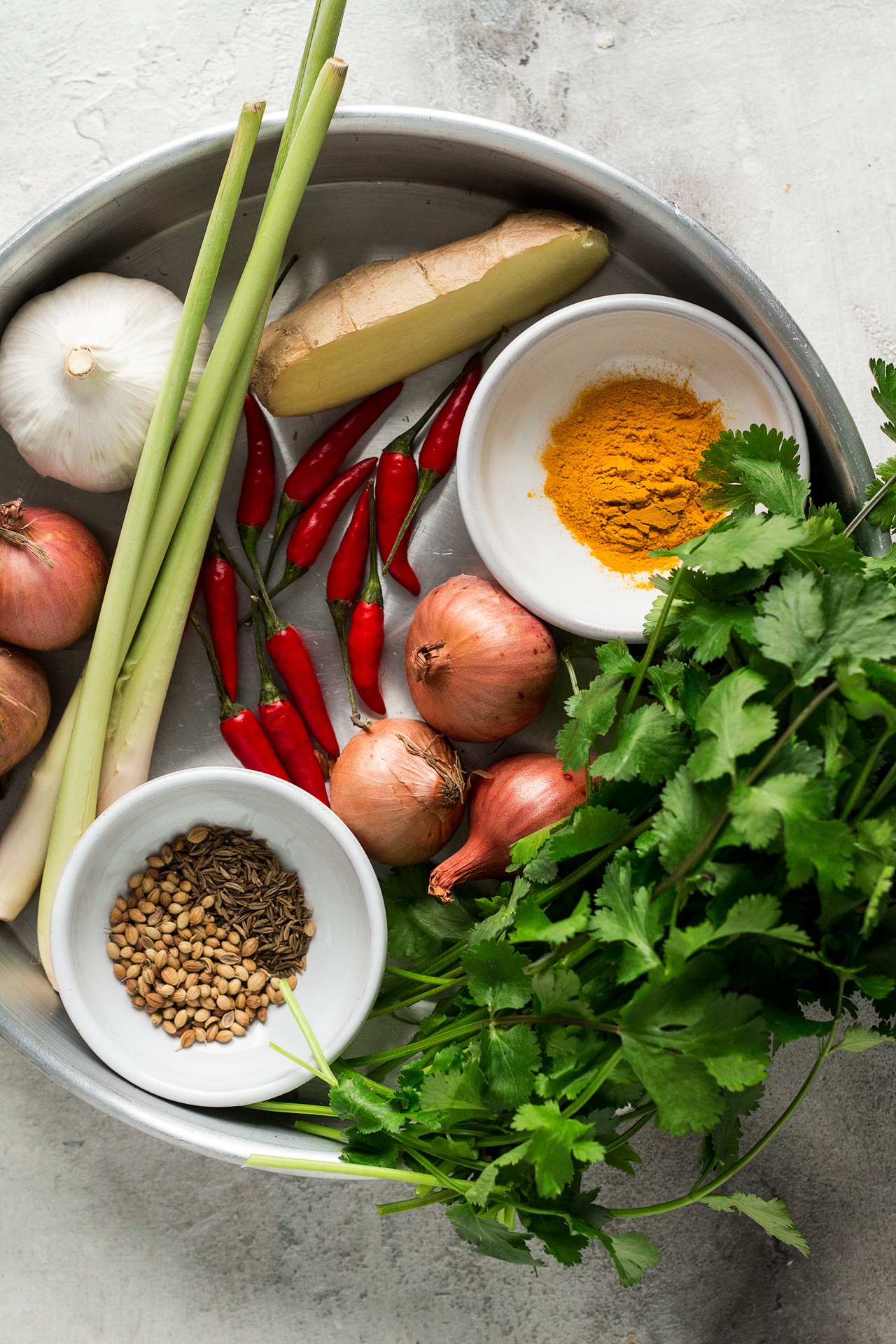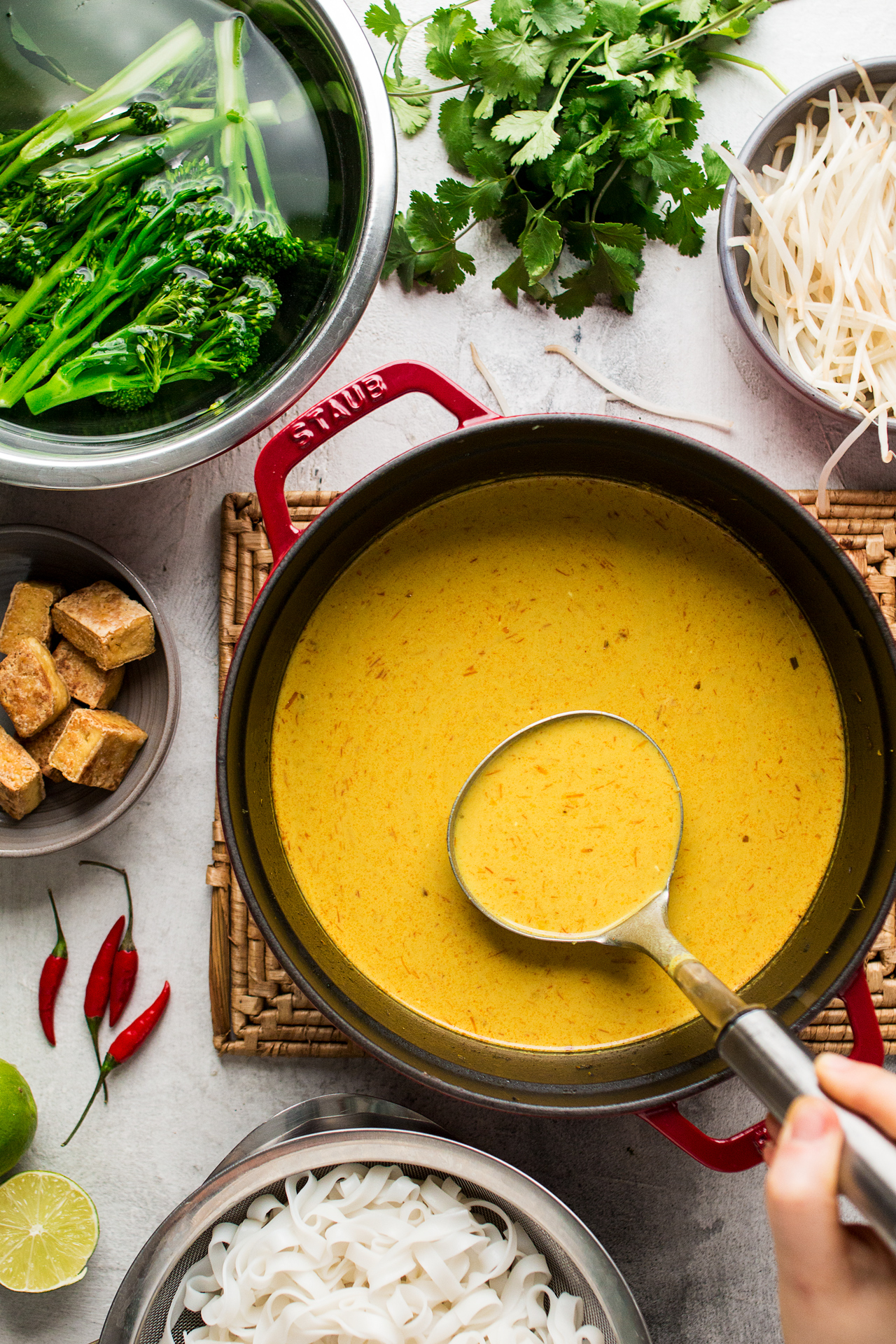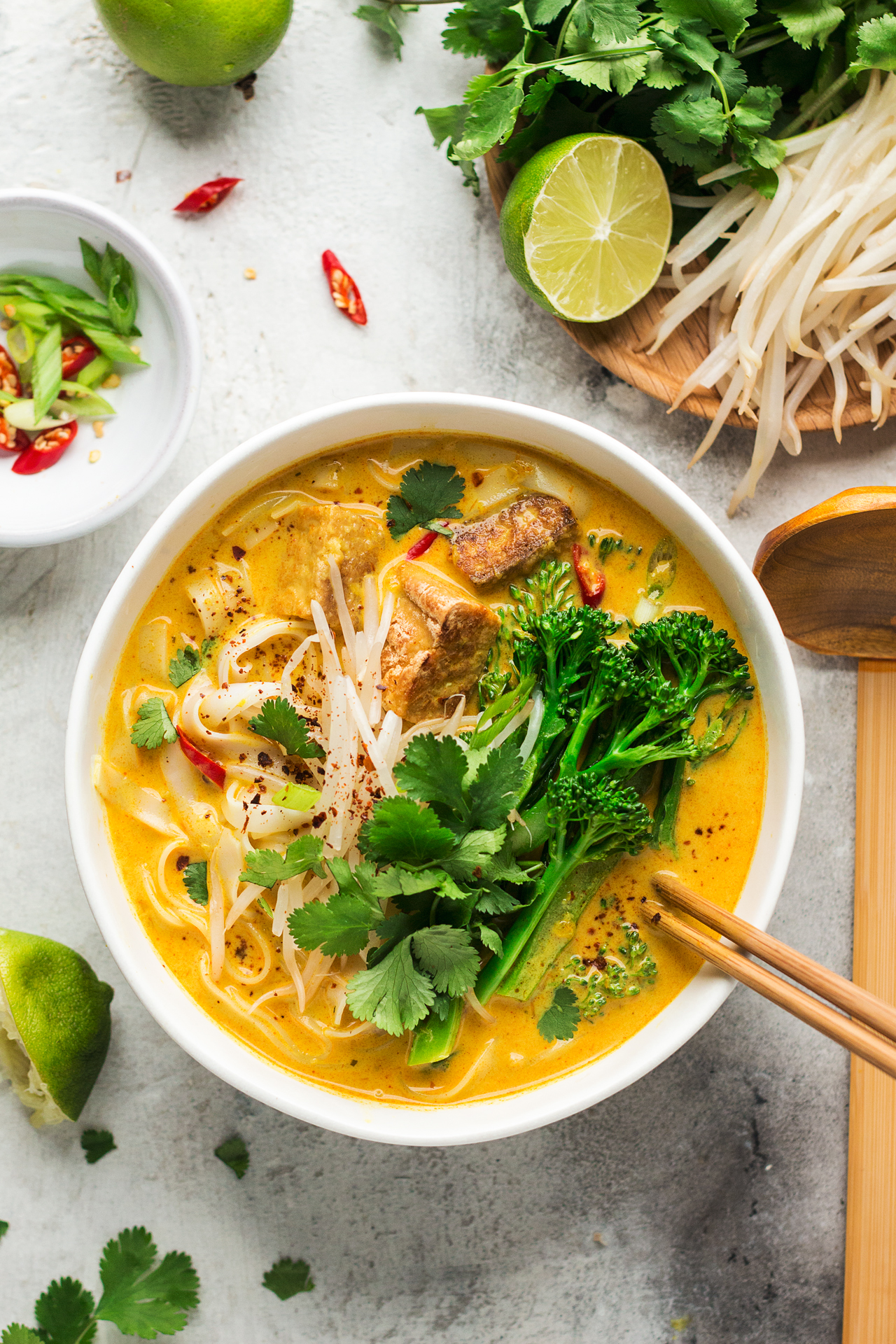 LAKSA PASTE*
3 medium shallots, sliced roughly
4 garlic cloves
2 lemongrass stalks, white part chopped (but keep the rest)
about 40 g / 1.5 oz ginger or galangal, sliced roughly
4 fresh red chillis or dried Thai chillis soaked in boiling water (adjust to your level of heat tolerance)
1 tbsp ground (approx. 1 sheet) nori (toasted seaweed used for sushi), torn into bits**
2 tbsp neutral tasting oil (I used rice bran oil)
1 tsp ground turmeric
1 tsp ground coriander or 2 tsp coriander seeds (toasted and ground)
½ tsp ground cumin or 1 tsp cumin seeds (toasted and ground)
1 tsp sweet ground paprika (optional, for colour)
BROTH
1.2 L / 5 cups veggie stock or veggie stock powder / cube dissolved in water
1¼ tsp fine salt, adjust to taste
400 ml / 14 oz full fat coconut milk
juice of ½ lime (approx. 2-3 tbsp), adjust to taste
1½ tsp sugar (I used coconut sugar), adjust to taste
TOPPINGS
steamed green veggies: broccoli, bok choi, spinach
200 g flat rice noodles, cooked
250 g of shop-bought tofu puffs or fried / baked tofu
200 g fresh bean sprouts, cleaned and blanched
fresh coriander, chopped
METHOD
Place all the paste ingredients apart from the dry spices in a food processor or chopper and process until finely shredded. You could also use a blender, but you will need to add water and the paste will splatter a lot when being fried off in the next step.
Heat up 2 tbsp of oil in a heavy bottomed pot. Add the laksa paste and fry it off very slowly (on a low heat) for at least 15 minutes, stirring the whole time.
With 5 minutes left to go, add dry spices and continue to fry the mixture off gently, stirring regularly.
Next, add in stock, 1 tsp of salt and all the lemongrass leftovers that did not go into the paste, apart from the very outer leaves. Cover the pot and bring the soup to a gentle simmer. Simmer for about 30 minutes.
Fish out the lemongrass bits with a slotted spoon and discard. Slowly stir in coconut milk.
Taste the soup and season to taste with more salt (if needed), lime juice and a touch of sugar.
Divide the greens, noodles and tofu puffs between 4 bowls. Top with blanched sprouts and fresh coriander.
NOTES
*As a cheat, you could use 3-4 tbsp of shop-bought
vegan Thai red curry paste
instead. It won't be quite authentic, but also delicious and way faster.
**I pregrind it in my spice grinder and keep it in a sealed jar as it's a perfect, rich in iodine, seasoning to sprinkle on rice / sushi and it makes an excellent replacement for the fishy umami flavour that so many South-East Asian dishes feature.