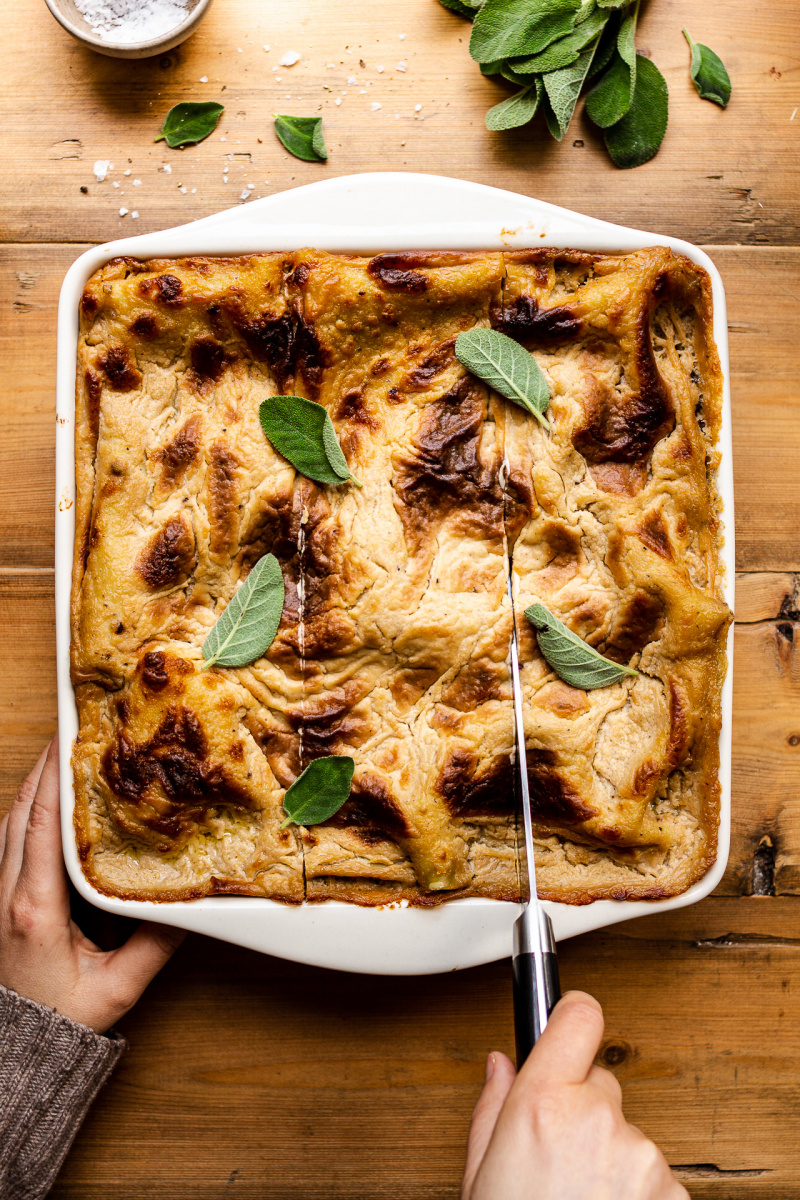 A short and sweet post from me today as I have an old friend making an impromptu visit this weekend and I still have heaps to do before I pick her up from the train station… A house to clean, supplies to buy, bedding to change…you get the gist. I'm really excited to see her as we don't get to hang out very often. She has never been to Bristol before so we will probably spend most our time wandering around town, but I made some emergency comfort food if we get bored of eating out.
I made a tray of autumn-inspired comfort food that I am keen to share with you. It's my seasonal take on lasagna featuring some of my favourite autumn flavours – pumpkin and mushrooms. It's a true flavour bomb and there are no tomatoes in sight, something that certainly sets it apart from traditional lasagna.
Instead of tomato sauce, I've made a delicious silky smooth pumpkin sauce with some caramelised chunks of pumpkin thrown in for some texture. The mince layer is made up of a mountain of mushrooms and some lentils for some bite and extra protein, which you can also replace with chopped up roasted walnuts if you prefer. The whole thing is crowned with a layer of indulgent béchamel sauce cos being vegan doesn't mean you've got to lead a monk-like lifestyle…(contrary to what the general public believes veganism means 😉 ).
Like any lasagna, this isn't a speedy dish to make on a Friday night after work, but something you may want to make on the weekend or when you are expecting guests. It has three distinct components, all of which can be made in advance and refrigerated – in fact, the finished product will taste better for it. It does take a bit of time to put this dish together, but I hope you'll enjoy the process as much as the end result.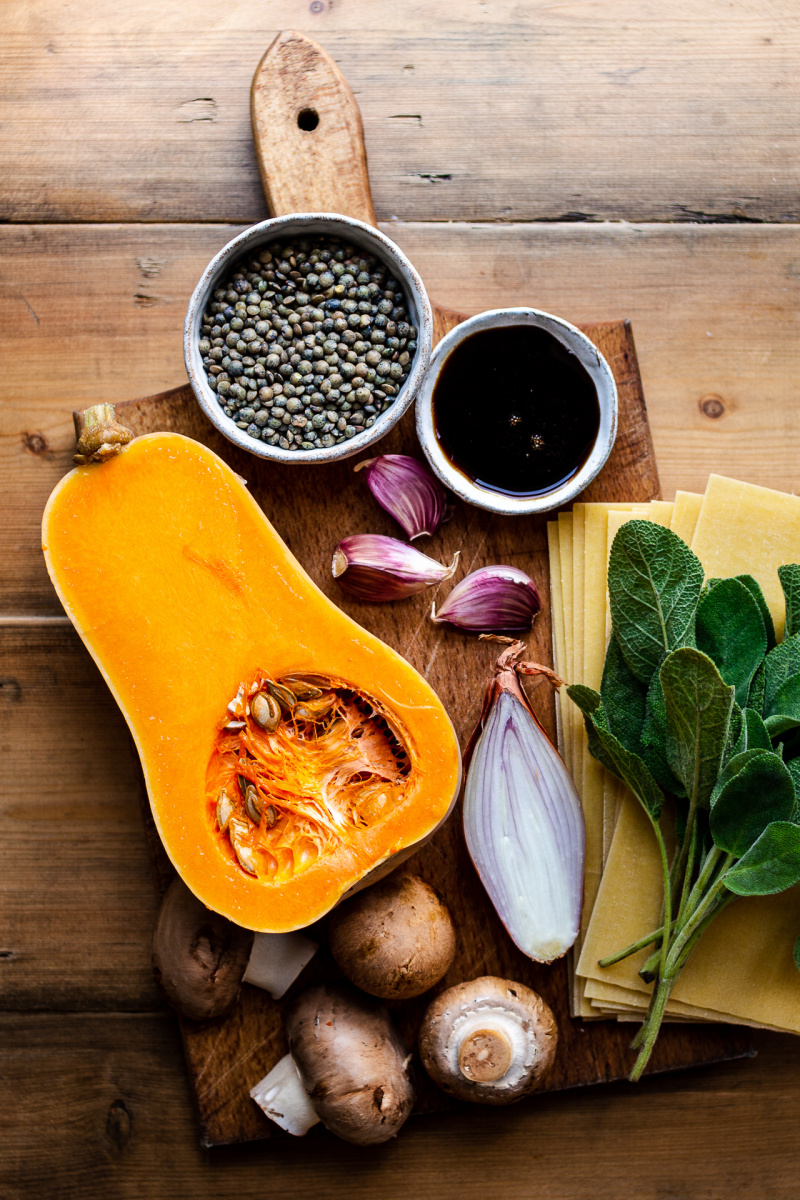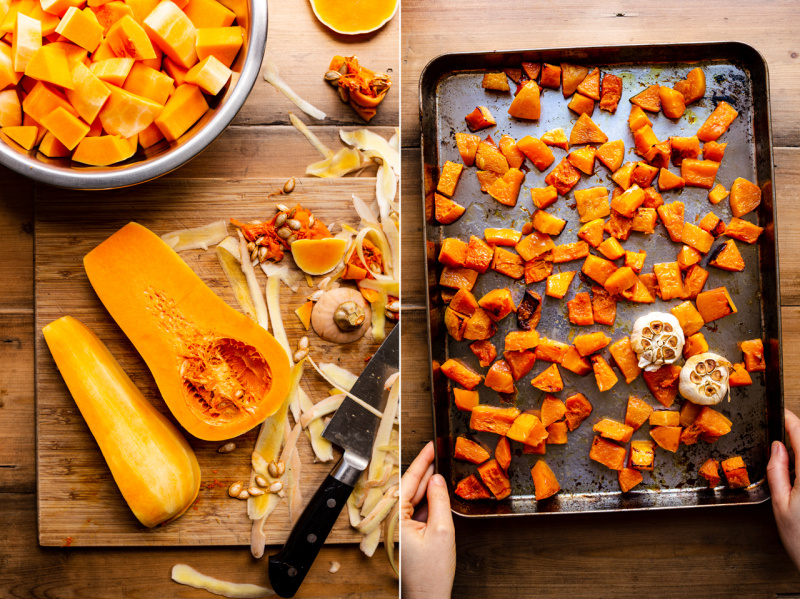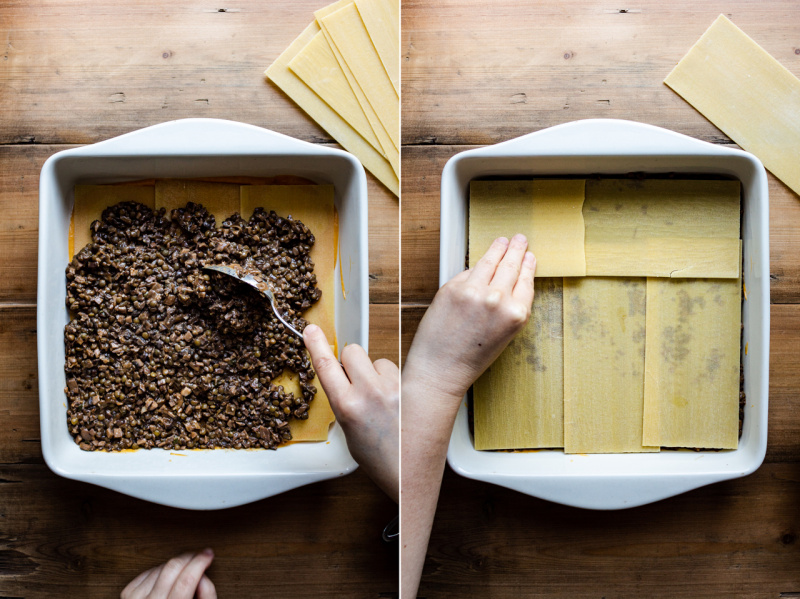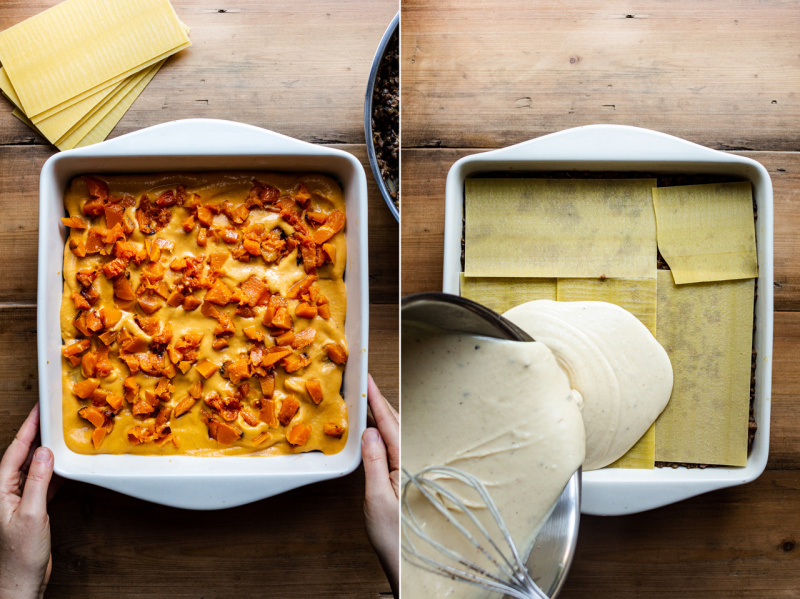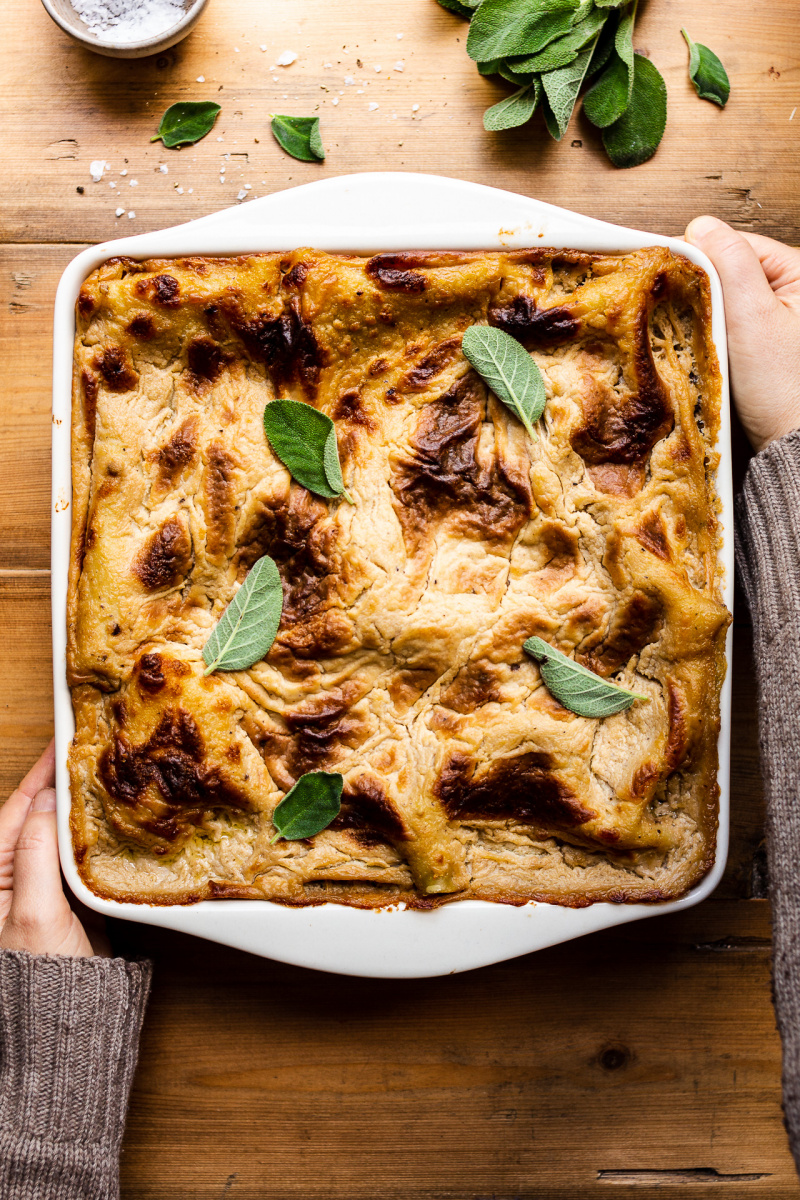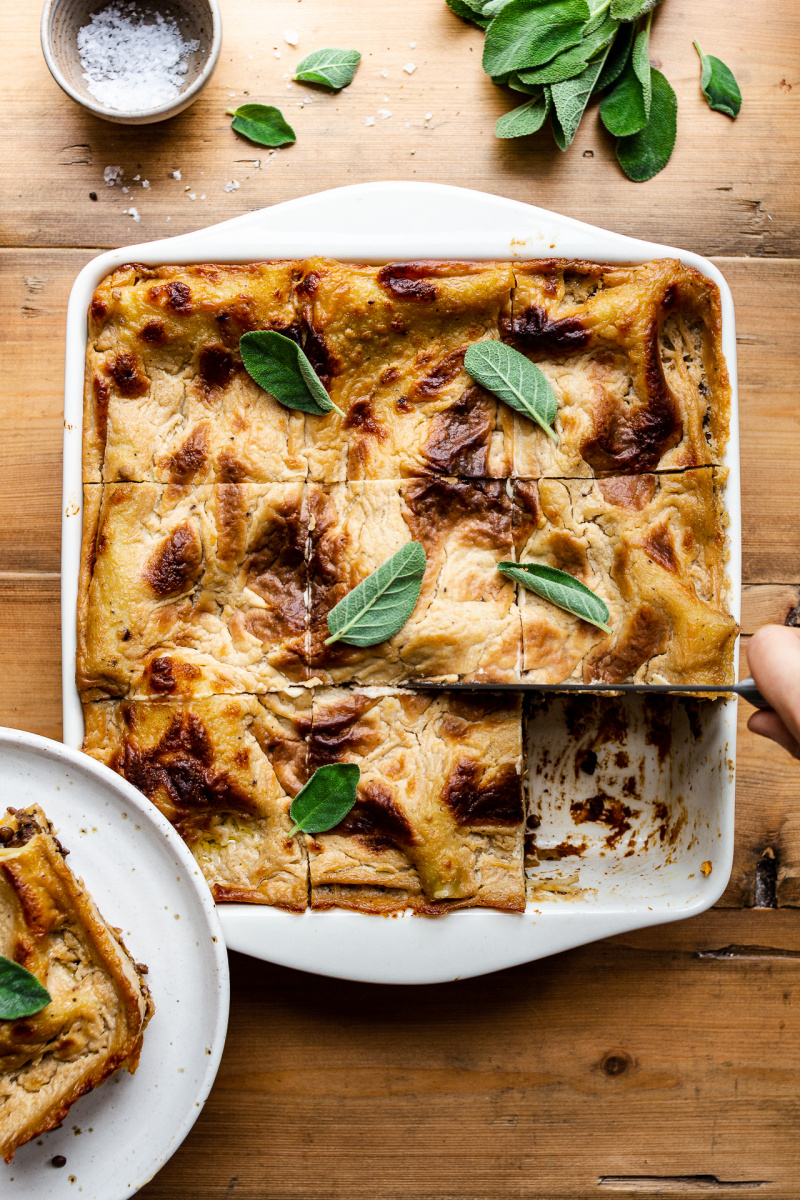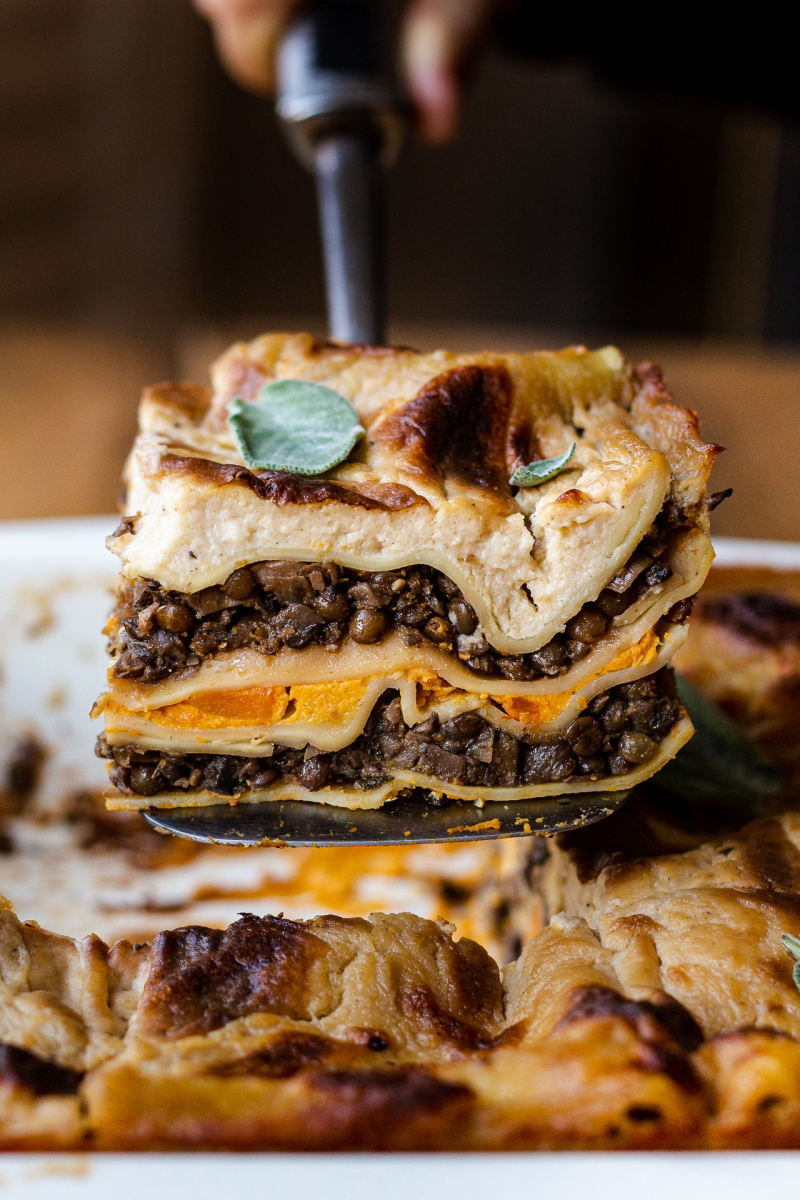 PUMPKIN LAYER
1 kg / 35 oz peeled and cubed firm pumpkin / squash
30 ml / 2 tbsp olive oil
2 heads of garlic
360 ml / 1½ cups almond milk
5 fresh sage leaves
20 ml / 4 tsp lemon juice, to taste
pinch of chilli (optional)
salt and pepper to taste
MUSHROOM MINCE
30 ml / 2 tbsp olive oil
3 banana shallots, finely diced
6 garlic cloves, finely diced
15 fresh sage leaves
750 g / 26½ oz chestnut / cremini mushrooms, cleaned
15 ml / 1 tbsp balsamic vinegar
1 tsp smoked paprika
1 tbsp red miso
120 ml / ½ cup red wine
30 ml / 2 tbsp tamari or soy sauce
225 g / 1½ cups cooked firm lentils* (I like Puy)
salt and pepper, to taste
500 g / 17½ oz vegan lasagne sheets
BECHAMEL (or alternative bechamel)
780 ml / 3¼ cups oat milk (I recommend Oatly original) or other plant milk
1 head of roasted garlic cloves
2 tsp white miso paste
80 ml / 1/3 cup mild olive oil (or 100 g / 3½ oz vegan butter)
85 g / 2/3 cup AP flour (or GF flour mix)
2 tbsp nutritional yeast
salt to taste
¼ tsp pepper, adjust to taste
freshly ground nutmeg, to taste
METHOD
PUMPKIN LAYER
Preheat the oven to 220° C / 425° F.
Stir 5 tsp of olive oil through cubed pumpkin, season it lightly and spread on a large baking tray.
Cut the top of the garlic head(s) off with a knife. Drizzle the exposed cloves with olive oil and place in amongst the pumpkin.
Bake for about 30 minutes, giving the pumpkin a stir halfway through and removing the garlic heads as soon as they are soft all the way through.
Put 2/3 of the pumpkin in a blender, together with plant milk, squeezed out garlic cloves from ½-1 garlic head (adjust to taste), sage leaves and blend until smooth.
Season with lemon juice, chilli (if using), salt and pepper.
Chop the rest of the pumpkin pieces finely.
MUSHROOM MINCE
Heat up olive oil in a large, heavy-bottom pan. Once the oil starts shimmering, add diced shallots and sauté, on a low-medium heat, until translucent and only just caramelised (about 15 minutes). Skip to step 3.
Add in the garlic and finely chopped up sage and fry for a few more minutes, until fragrant.
While the shallots are sautéing, dice your mushrooms roughly. You can use a food processor but it's too easy to overprocess them so I prefer to chop them by hand.
Once the onion-garlic mixture is ready, add diced mushrooms in three batches so that you don't overcrowd the pan. As soon as the first batch is cooked (turns dark brown), add the next.
Once all the mushrooms are cooked, season them with smoked paprika, red miso, balsamic and a generous amount of pepper. Allow all the water to cook out.
Add in wine and allow the alcohol taste to cook out before adding in soy sauce and cooked lentils.
Taste and adjust the seasoning if needed, plus add approximately ½ cup (120 ml) of water and ¼ cup (4 tbsp) of pumpkin sauce to make sure the filling has enough moisture.
BECHAMEL
Heat up the milk. Blend roasted garlic cloves and miso paste with 120 ml / ½ cup of the oat milk allocated for the béchamel sauce.
Slowly heat up olive oil in a large saucepan (stainless steal works best for this). Once the oil starts to shimmer, sprinkle in flour while whisking to avoid lumps.
Allow the fat-flour mixture (known as 'roux') to bubble gently on low-medium heat for a whole minute, whisking the whole time. Don't let it brown.
Take the pot off the heat and slowly pour in warmed plant milk first, milk blended with roasted garlic second, while whisking the whole time. Initially the mixture may look a bit lumpy – don't worry, it will recover once all the milk has been whisked in. .
Return the pot to the stove. Simmer only just enough for the sauce to thicken slightly, to a consistency of cream. Season with nutritional yeast, salt, pepper and nutmeg to taste.
ASSEMBLY
Preheat the oven to 180° C / 355° F (or 160° C / 320° F on a fan setting).
Pour a tablespoon of water on the bottom of the tray, followed by about a scant cup (200 ml) of the pumpkin sauce at the bottom of the dish, cover it tightly with a layer of pasta.
Spread half of the mushroom mince on top of the pasta and cover it tightly with a layer of pasta.
Next spread the rest of the pumpkin sauce and scatter chopped pumpkin on top, season lightly. Cover it tightly with a layer of pasta.
Spread the rest of the mushroom mince on top and cover it tightly with a layer of pasta.
Finally, spread bechamel on top.
Bake for about 30 minutes, then increase the oven temperature to 220° C / 425° F for the last 10 minutes of baking time to speed up browning.
Allow the dish to set for at least an hour or else the slices will come out messy, although I do recommend waiting to consume until the following day – the flavours will mellow and the dish will taste even better. Store the leftovers for up to 5 days in the fridge or freeze in airtight containers.
NOTES
*LENTILS: If you cook your lentils from scratch, you'll need approximately 150 g / ¾ cup of dry lentils. You could also use chopped (roasted ideally) walnuts instead of you prefer.
The baking dish I used is a square 25 cm / 10″ dish, but another shape dish of similar surface area will work just as well.