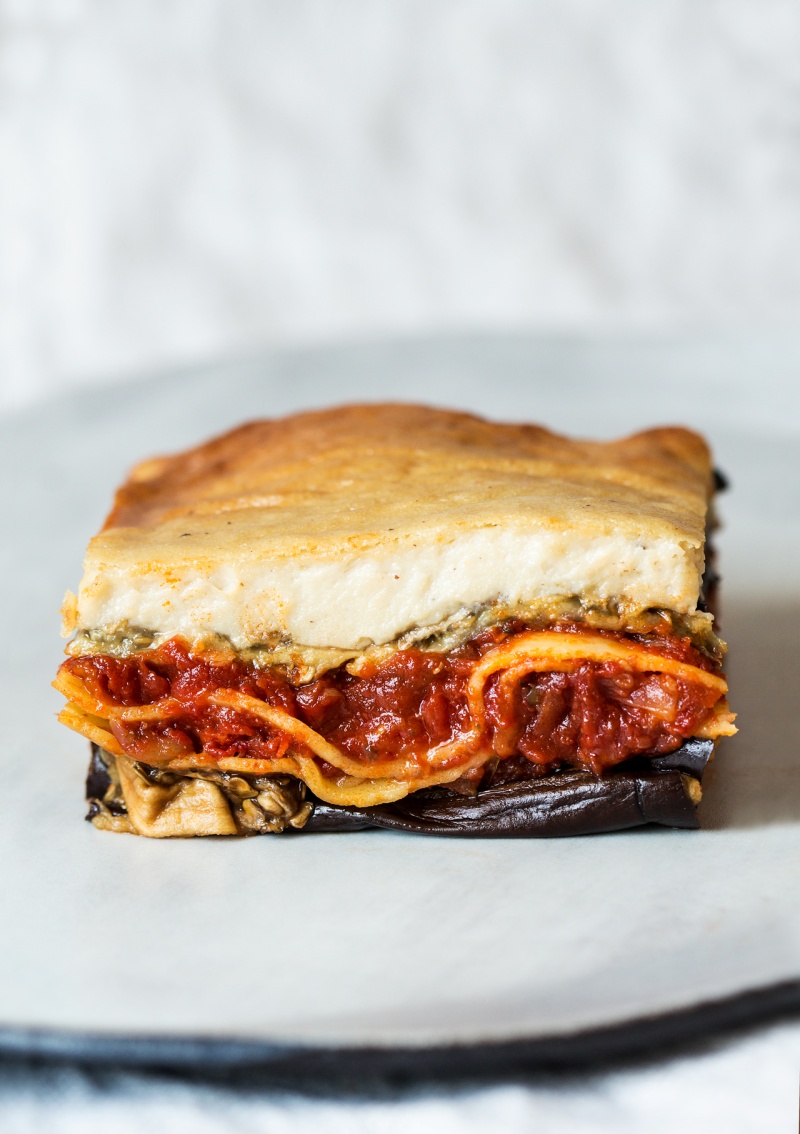 Today, my friends, I have a delicious vegan lasagna for you. Paired with a beautiful green salad of assorted leaves, spring onions, cucumber, capers and lemon vinaigrette dressing, it makes for a delightful and indulgent main course. One that not even an omnivore would turn her or his nose up at.
While a tray this size should certainly serve 8 people, Duncan and I managed to polish off half of it in one sitting. Well, Duncan did most of the work here, but still. It's mightily more-ish and addictive.
It's not difficult to make, although, like any respectable lasagna, it does take a bit of time. The most time consuming component is making the sauce, but the good news is that once it's all in the pot the sauce pretty much takes care of itself bar an occasional, loving stir.
I went for a simple tomato sauce here, but if you want to bulk it up a little, feel free to add some cooked green lentils into the mix. You could even cook them in the sauce!
As I am a big fan of aubergines (or eggplants) and they are still very much in season here, I've taken a leaf out of my moussaka book and substituted some of the pasta layers with meaty and succulent aubergine slices. If you are after a low-carb meal, feel free to do that for all of the five layers. Conversely, if you don't like aubergines (what kind of person are you?? just kidding 😉 ), replacing aubergine slices with more pasta sheets works out just as well.
The 'piece de resistance' of this recipe is a lush vegan bechamel sauce made without a touch of oil. It uses blended-until-creamy cashews thickened with a little bit of tapioca starch. It's creamy, cheesy and delicious. Its creaminess contrasts beautifully with the layers of tangy tomato sauce underneath and gives the dish a touch of real indulgence while being far better for you than conventional lasagna topping. Win-win if you ask me 😉 !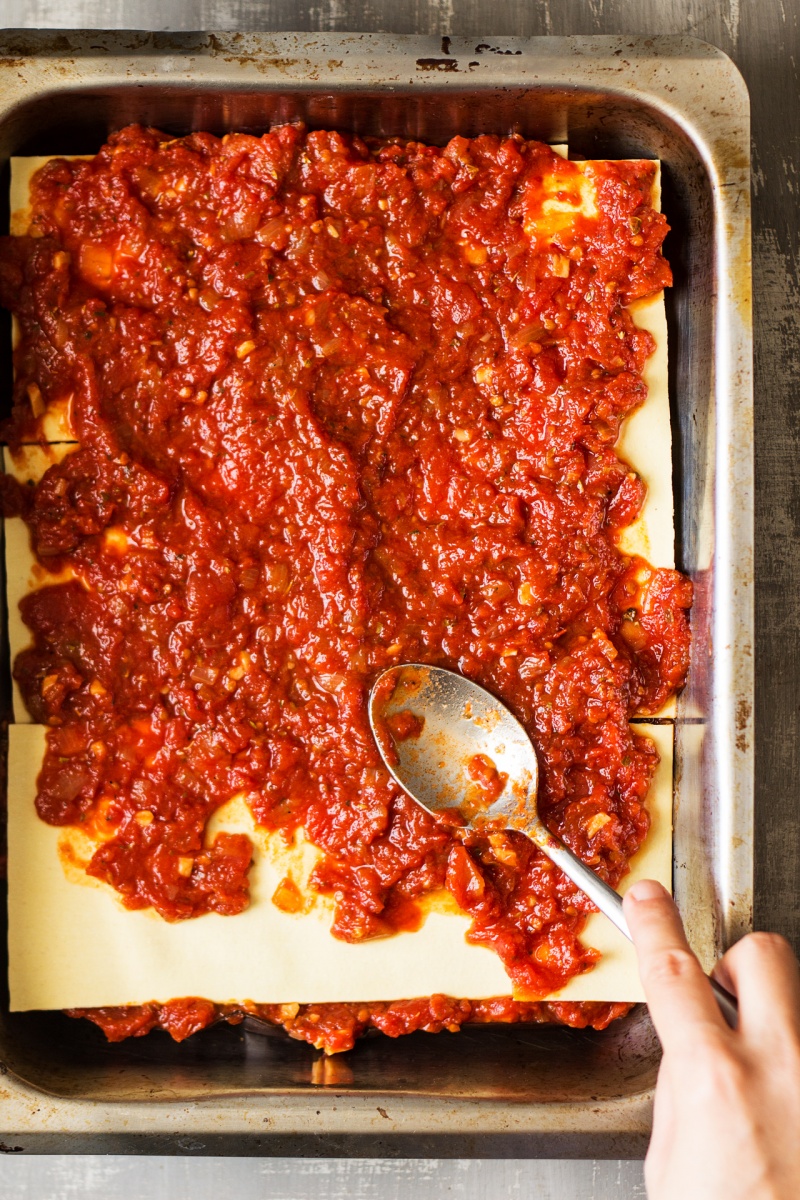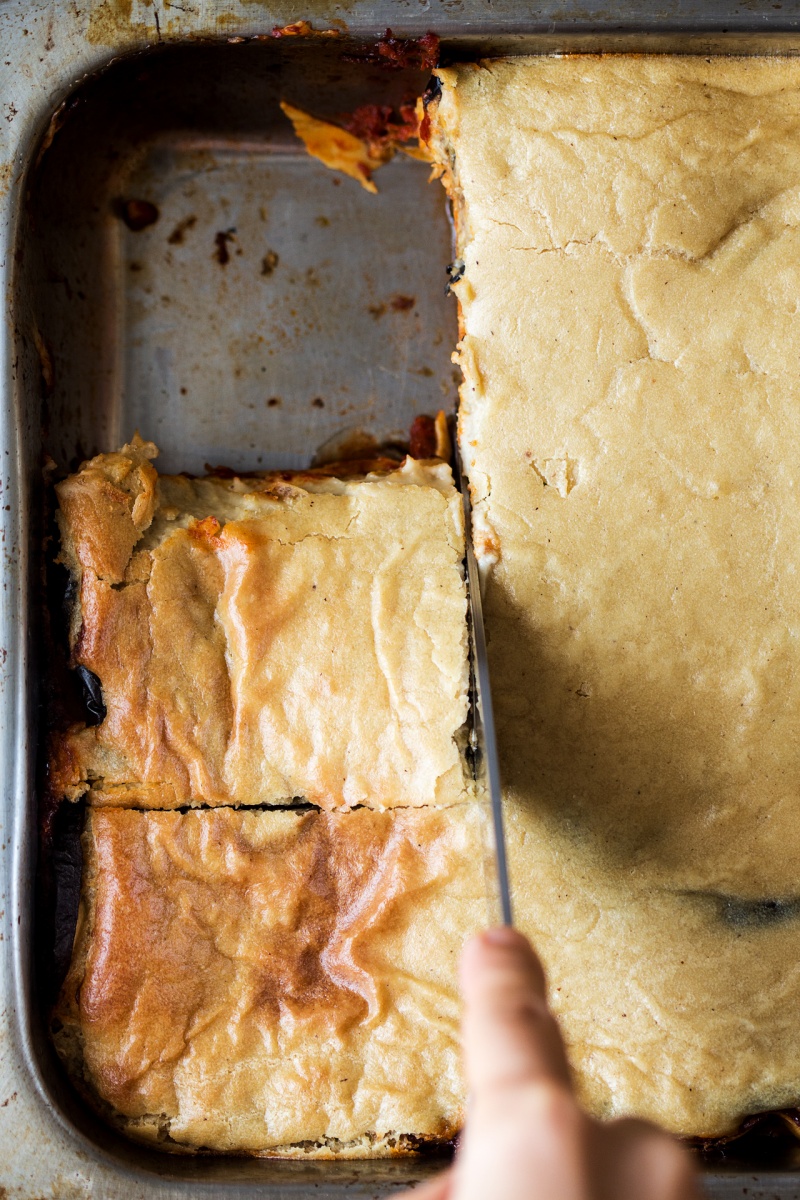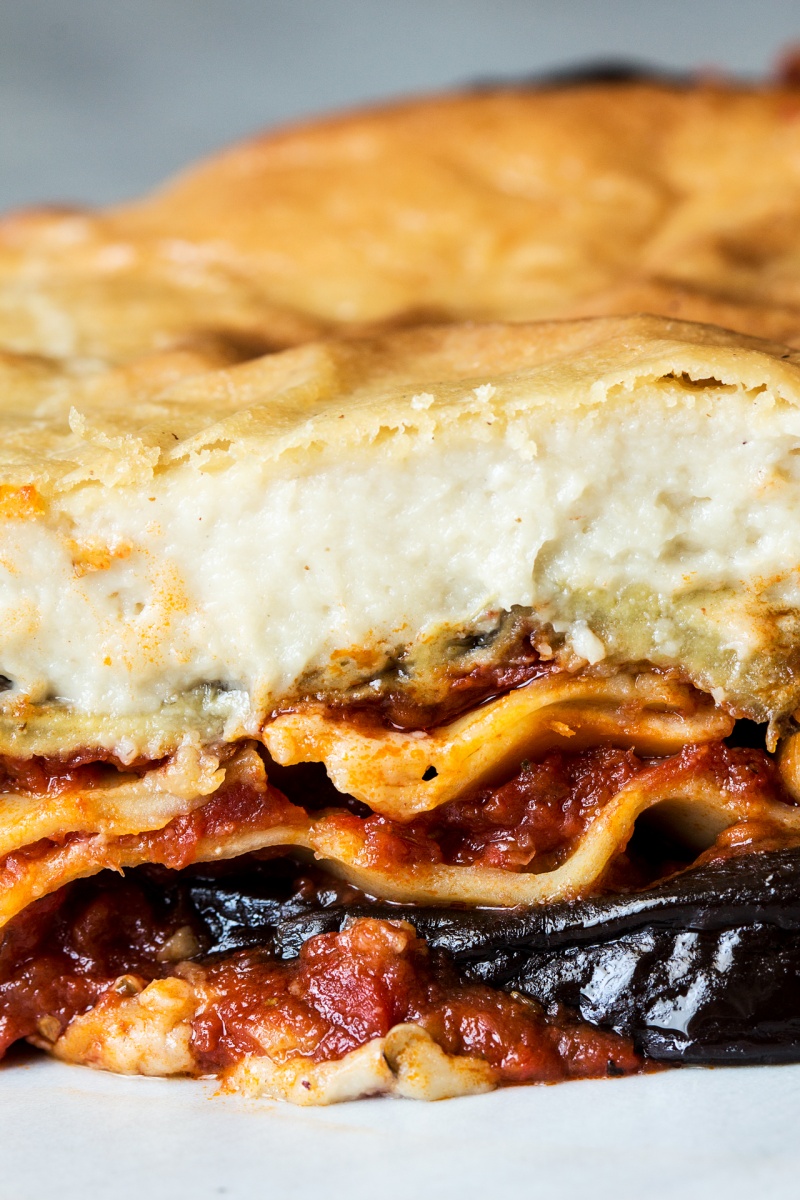 TOMATO SAUCE
30-45 ml / 2-3 tbsp olive oil
1 large onion, finely diced
4 fat garlic cloves, finely diced
2 tbsp tomato paste
1-1½ tsp sambal oelek (chilli paste), adjust to taste
2.5 kg / 5.5 lb ripe tomatoes, peeled and diced*
¾ tsp salt, adjust to taste
generous amount of black pepper, adjust to taste
2-3 tsp sugar or other sweetener (depending on how tangy the tomatoes are)
1 tsp dry oregano
1 tsp dry thyme
OTHER INGREDIENTS
egg-free (and GF if required) lasagna sheets (8-12 sheets)**
4 large aubergines / eggplants (enough for 2 layers)
parsley to garnish
BECHAMEL (SEE NOTES)
300 g / 2 cups raw cashews (soaked overnight OR in boiling water for 1 hr)
1 large garlic clove
1 heaped tbsp white miso paste
4 tbsp nutritional yeast
grated nutmeg, to taste
½ tsp salt, adjust to taste
¼ tsp white pepper, adjust to taste
2 tbsp tapioca starch
METHOD
SAUCE (makes about 1.2 l / 5 cups)
Heat up a heavy-bottomed pot (a frying pan will be too shallow for this amount of sauce) and pour 2-3 tbsp of olive oil on the bottom.
Once the oil warms up and starts simmering gently, add finely sliced onion. Saute on low-medium until softened, stirring from time to time (about 5 minutes total).
Stir in chopped garlic. Saute for a few more minutes until garlic gets fragrant, but not browned.
Stir in tomato paste and chilli paste (if using).
Next, tip in chopped tomatoes and 500 ml / 2 cups of water. Cover with a lid and allow the sauce to come to a gentle simmer.
Simmer covered for about 1 hour, until the tomatoes lose their firmness and become mushy.
Next, take the lid off and simmer for another hour or so, giving the sauce a good stir every 20 minutes or so, especially towards the end as the sauce thickens and can therefore burn more easily.
Season with salt, pepper, sugar and dried herbs. Take off the heat when the sauce has still retained a little bit of moisture (don't let it dry out too much) and allow the sauce to cool before assembling your lasagna.
AUBERGINES / EGGPLANTS
Cut aubergines / eggplants into 2 cm / 0.75″ thick slices lengthwise.
Salt each slice (especially where the seeds are) with salt and place in a colander in a sink or over a large dinner plate / tray. Allow to sit for 30-60 minutes. The salting step is not always necessary as these days aubergines are hardly even bitter, but it is a precaution you may want to take just in case, especially when cooking for guests.
Rinse the salt off under the tap and pat aubergine / eggplant slices dry with a kitchen towel.
Heat up the oven to 225° C / 435° F and line a baking tray with a piece of baking paper.
Place dry aubergine / eggplant slices on a tray (you may need to do that in two batches) and bake for about 30 minutes – until they get softer and lightly golden.
BECHAMEL
Place rinsed cashews in an upright blender with approximately 360 ml / 1½ cup water. Blend until smooth and creamy.
Add garlic, miso paste, nutritional yeast, nutmeg, salt and pepper and process until super smooth and creamy.
Just before assembly, transfer cashew bechamel to a medium pot and place on a hob. Whisk in tapioca starch with a wire whisk. Bring the sauce to a gentle simmer whisking the whole time. Simmer until the bechamel thickens. If the sauce is too thick (it should be thick but still pourable) whisk in a bit more water.
ASSEMBLY
Heat up the oven to 180° C / 355° F fan forced (or 200° C / 390° F regular setting).
Line the bottom of the dish with aubergine / eggplant slices. Choose the meatier / thicker pieces if you haven't managed to make them all identical.
Next, spread about a cup of tomato sauce followed by lasagna sheets.
Spread about a cup of tomato sauce followed by another layer of aubergine / eggplant.
Spread about a cup of tomato sauce followed by lasagna sheets.
If you have leftover sauce, do another layer of sauce followed by either more lasagne sheets or another layer of aubergine / eggplant.
Finally, spread bechamel on top.
Bake for about 30 minutes, until your bechamel is golden brown in places. If the top is browning too rapidly, cover it with a piece of kitchen foil to stop it from browning any further.
NOTES
The dish I used for my lasagna had the following dimensions: 26 cm x 19 cm x 5 cm (10″ x 7.5″ x 2″)
*I made my lasagna with fresh tomatoes as they are delicious here in Greece right now, but you can also used tinned. You'll need about 1.2 l / 5 cups chopped tomatoes. My suggestion is to use 5-6 x 400 g / 14 oz cans as they tend to contain quite a lot of water / juice.
**Follow the instruction on the packet for your lasagna sheets. Sometimes they require pre-cooking or soaking in water.
If you do not want to use cashews for whatever reason, you could also make a bechamel like the one in this recipe.
You can make the sauce, prebake the aubergine / eggplant slices and blend the bechamel (thicken it with tapioca starch on the day) a day in advance.