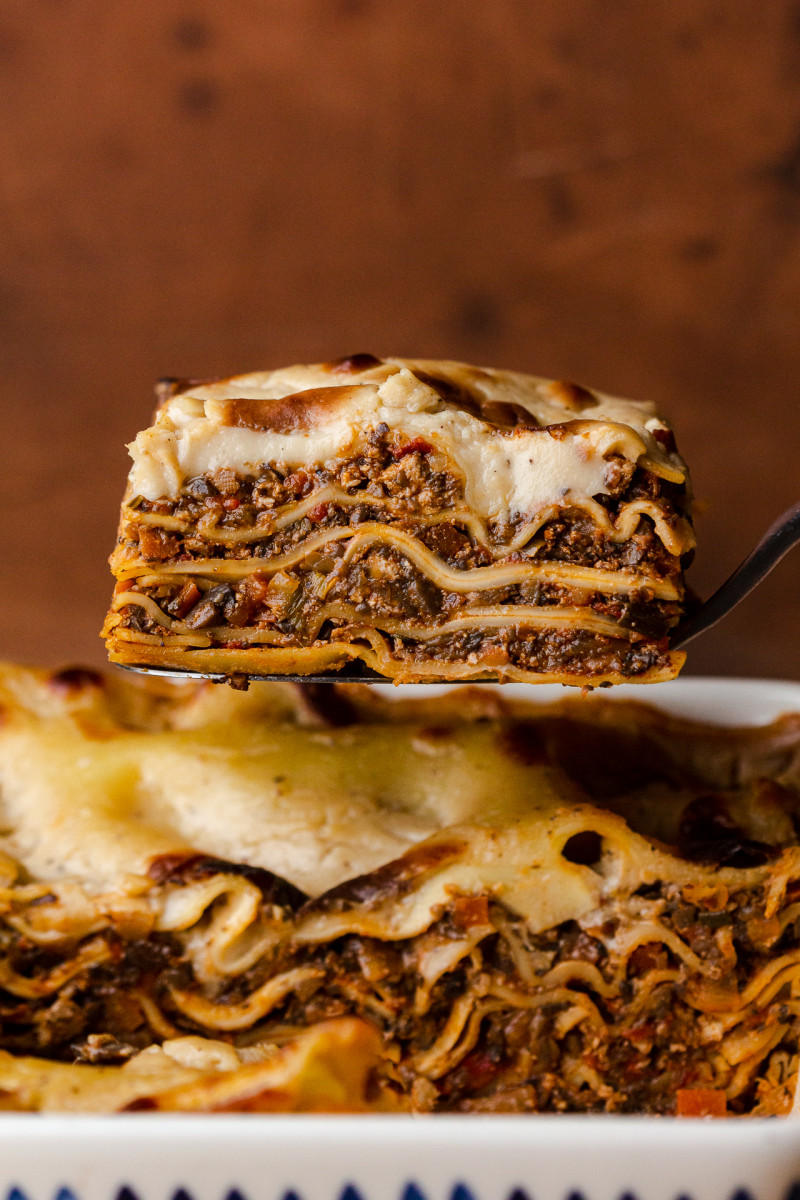 This winter is kicking me hard and I guess I am not alone. The weather has been grim, it's been raining on and on and on over here in Bristol. We've been thrown a few cold yet sunny days here and there, which make a massive difference to my and my cat's mood, but these are few and far between and dark clouds and the sound of raindrops hitting our chimney have been pretty much non stop otherwise. This kind of weather calls for some comfort food in my books so today's recipe is exactly that – vegan lasagne bolognese. It's delicious, full of umami, not hard to put together – if a bit time consuming – and so comforting.
Vegan lasagne, like any dish of this kind, benefits from being made in advance. This gives the flavours a chance to develop and mingle and makes the finished dish so much more satisfying. I recommend making bolognese sauce and the béchamel at least a day in advance although a couple of days is even better. Below, I will walk you through the individual components and the process of making a dish like this so that you can nail even if you are new to cooking from scratch.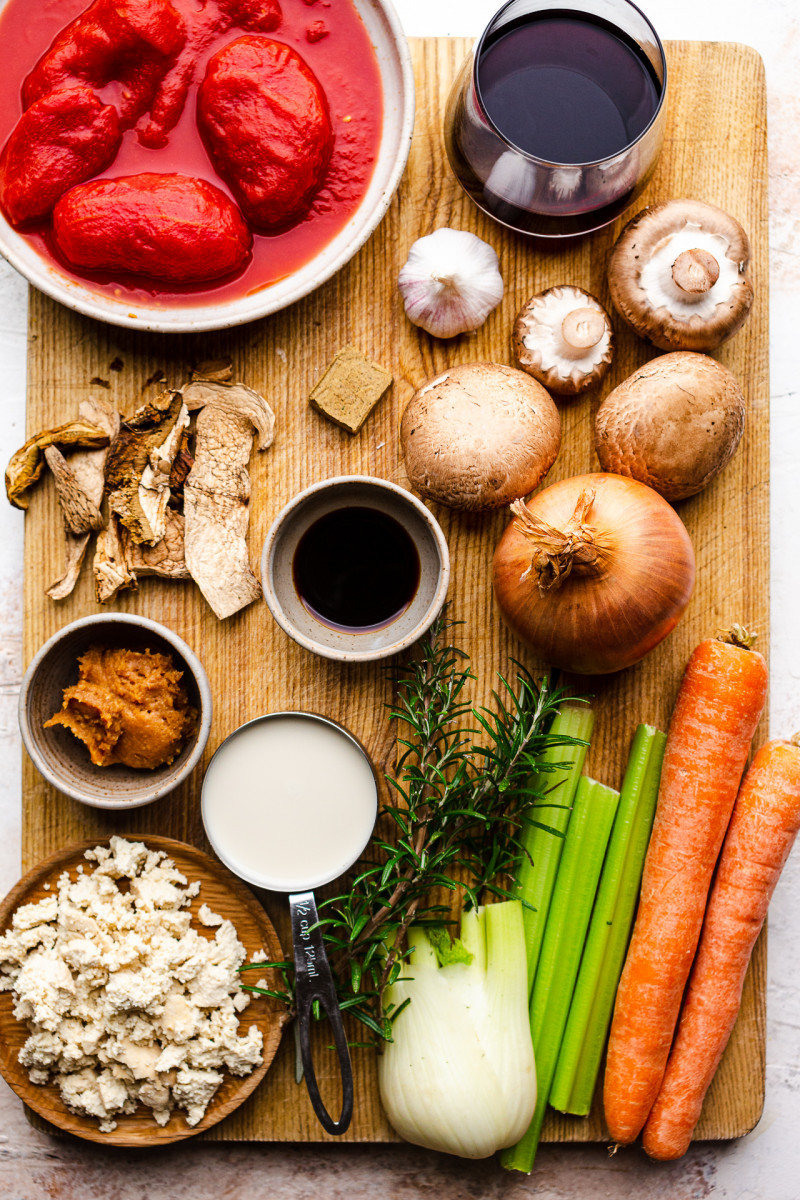 MORE ABOUT THE INGREDIENTS
ONION, GARLIC: Not much of an explanation needed here as these are true staples of any savoury dish, the world over. Some people add them to the pan together to speed things up, but I prefer to give the onion a head start as it takes considerably longer to cook than garlic and garlic is prone to burning when exposed to too much heat, which can render a dish bitter. Go slow and low with these two ingredients and remember to stir often, don't worry if the pan catches a little – the next three ingredients (see next point) do a great job of deglazing the pan and the stuck in bits is where the true flavour lies…
CELERY, CARROT, FENNEL: Celery and carrot (sometimes fennel, which I personally like to add) are a part of what is known in Italian cooking soffritto. Soffritto, which also includes onion, forms a base flavour of many Italian sauces, stews and soups. It requires fairly slow cooking until translucent so don't rush this step. I like dicing all these veg but hand as I am a bit of perfectionist, but you could speed things up if you wanted. Chop them roughly and then pulse them in a food processor until small and fairly uniformly minced.
SMOKED TOFU: I used minced smoked tofu, in combination with umami-rich mushrooms, to replace traditionally used minced meat. You can either slice the tofu and crumble it small with a fork or tear it into pieces with your hands and pulse in a food processor. I used a UK brand of smoked tofu that has already been pressed by the manufacturer. It comes in 225 g / 8 oz packet. If using unpressed tofu, buy 300 g / 10.5 oz and press before using for best results. If you cannot find smoked tofu, compensate by increasing the amount of smoked paprika or by adding a few drops of liquid smoke. This ingredient can be replaced with rehydrated soya mince, cooked Puy lentils, crumbled steamed tempeh cooked pearl barley, chopped toasted walnuts or sunflower seeds – there are a lot of options but I love the meatiness and savouriness that smoked tofu provides and if you don't want to eat tofu because you are worried you will grow man boobs (if you are a man) or get cancer, don't believe dairy and meat industry lies! Unless, you are allergic to it, soy is healthy! Here is some peer-reviewed science to back it up.
MUSHROOMS: Finely minced mushrooms are the second part of my mince replacement strategy 🙂 . They bring so much flavour to this dish that it would be unwise to swap them for anything else. Even if you dislike mushrooms, do give this dish a try – they are chopped so small that they won't jump out from the medley of flavours, I promise. I used widely accessible brown chestnut (known as cremini in the US) mushrooms, but I used regular button mushrooms for one of my tests and they work just as well. Any mushrooms you enjoy will work. You can either process them in a food processor (which I prefer in this case) or dice very finely by hand.
RED WINE: Dry wine (I used red) is used to deepen the flavour of the sauce and if you worry about alcohol content know that it cooks out during cooking, or you could use non alcoholic wine instead. If that's not a option, use veggie (or more mushroom) stock and a tablespoon of good balsamic vinegar.
MUSHROOM STOCK: Mushroom stock adds flavour to the sauce. You can either make it by immersing dry porcini mushrooms in boiling water for as long as you can or dissolving a mushroom (often also called umami) stock cube in water instead. If using procini be aware that they are often very gritty and sometimes contain little bugs (!) too. I like to drain porcini stock through a paper towel lined sieve to ensure none of these things end up in my sauce.
PLUM TOMATOES: A small amount of canned tomatoes adds body and tanginess to the sauce and improves its texture. I use peeled plum tomatoes, which I crush with a potato masher before adding to the pan to ensure even distribution throughout the sauce.
SOY SAUCE: A small amount of soy sauce adds depth of flavour to this sauce alongside some saltiness. Use wheat free tamari if making this dish gluten-free.
RED MISO PASTE: Red miso paste, which is a more assertive cousin of white miso paste. Miso is used here to add umami and savouriness to this sauce and it delivers that in spades. It could be subbed with white miso at a push, but I would recommend trying to get your hands on red miso paste if you can – nowadays it's available not only in Asian grocery stores, but in well stocks supermarkets too. If you are making this dish gluten-free, look for miso that is based on chickpeas, brown rice, millet etc., rather than wheat.
HERBS: In terms of choice of herbs, you can use whatever combination you enjoy in a sauce like that. I went for fresh rosemary – 1 long sprig, leaves chopped finely – purely because I have it growing in my garden. I topped it up with some dried sage and oregano. You can use fresh or dry herbs, but it's worth remembering that dry herbs (provided they are not stale) tend to be roughly 3 times more potent than fresh, meaning 1 tsp of dry herbs equals 1 tbsp of chopped fresh herbs.
LASAGNE PASTA: Unless the packet states 'egg pasta', most lasagne sheets are vegan these days so you will have no trouble finding them. I tend to go for no cook sheets as they are less hassle but to make sure lasagne stays moist inside after baking I immerse my sheets in cold water briefly before layering. This quenches some of pasta's thirst.
PLANT MILK: I added a cup of oat milk to the sauce at the end as per traditional lasagne bolognese recipes and used it to make bechamel too. I like oat milk (I used Oatly barista) in this dish, but you can use any creamy, neutrally flavour plant milk instead.
OLIVE OIL: I use mild olive oil as a base for my bechamel sauce, but vegan butter or a mixture of the two works well too.
FLOUR: I use all purpose wheat flour to make a roux for my bechamel. If making this dish gluten-free, use a good gluten-free flour mix that includes starches and ideally some xantham gum.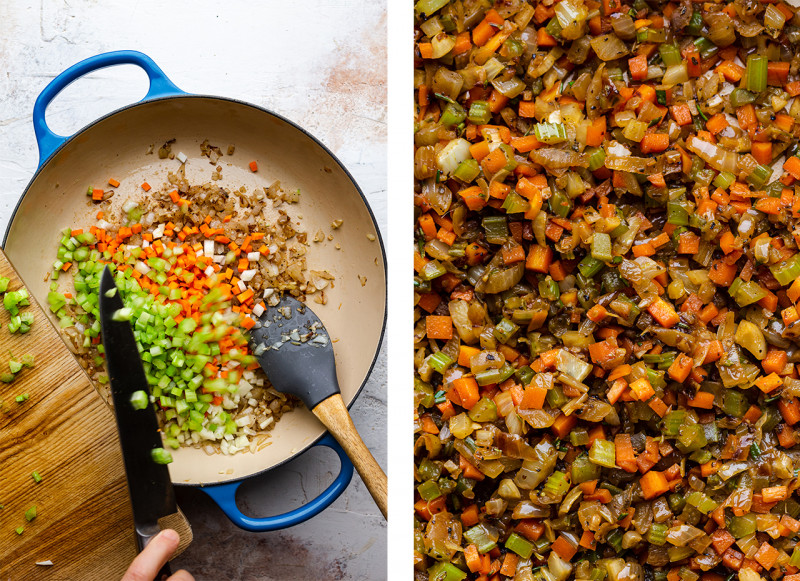 Sauté onion and garlic in some olive oil until translucent, then add finely chopped celery, carrot and fennel – soffritto. Season and sauté until no longer opaque. Remove from the pan and set aside.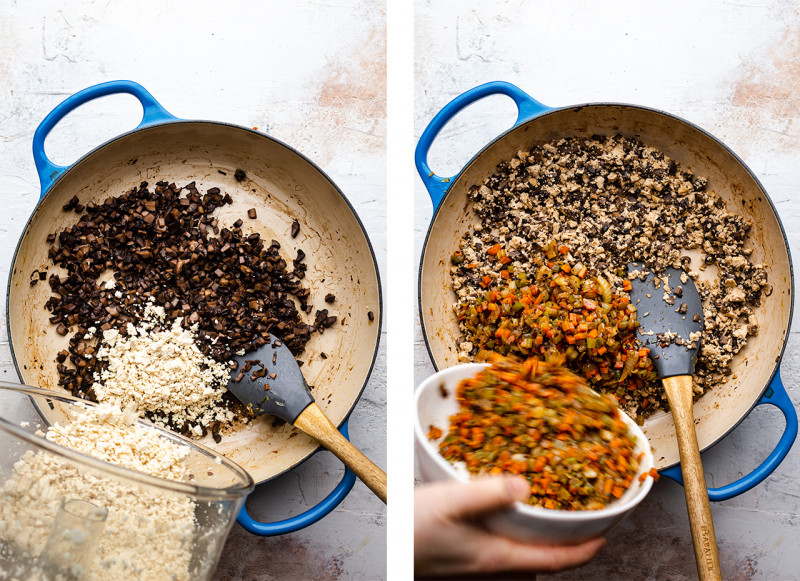 Add minced mushrooms and a pinch of salt to the same pan. There is no need to wash it and if there are bits of soffritto that stuck to the pan, the moisture from the mushrooms will deglaze the pan beautifully. Cook the mushrooms on low heat until dark brown and all of the water has evaporated. Once the mushrooms are dry, add some oil, minced tofu, herbs, smoked paprika, and soy sauce. Cook a little further, stirring from time to time, to caramelise. Then sautéed vegetables back in before proceeding to the next step.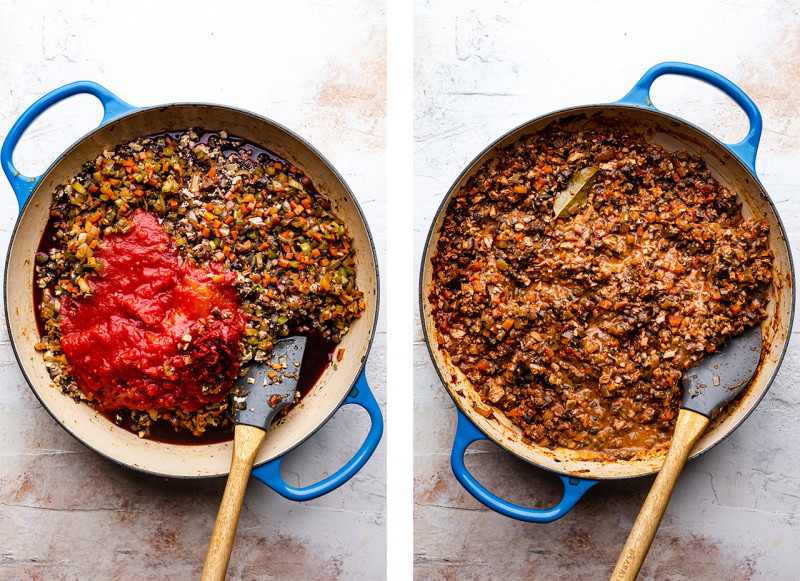 Next add in wine, crushed plum tomatoes (I crush them with a potato masher), tomato paste and miso paste diluted in mushroom stock. Mix well and allow this whole mixture to come to a gentle simmer. Simmer for about 30 minutes uncovered, until tomatoes are cooked and thickened. Finally stir in oat milk, simmer for 5 more minutes, adjust the seasoning and switch off the heat.
Once the sauce is cold, it is ready to store for up to 3 days or for you to assemble your lasagne.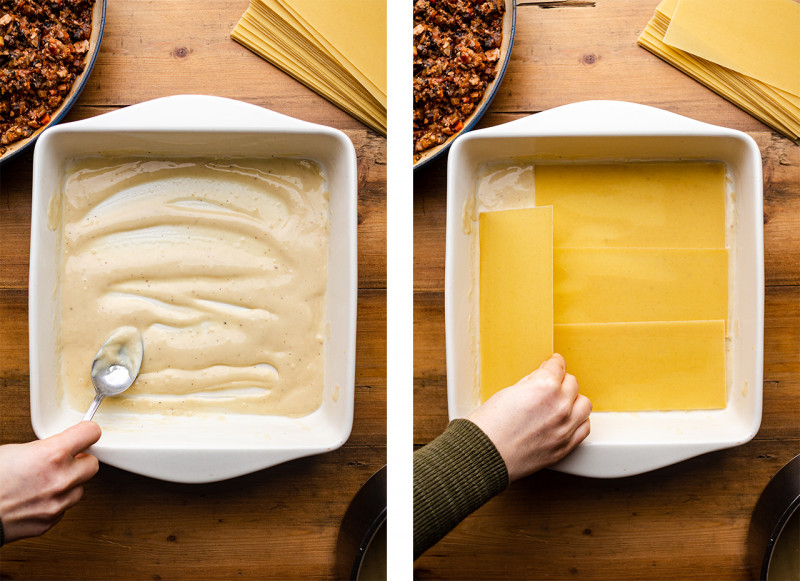 Start off with a small amount of béchamel sauce and a splash of water mixed together, cover them with pasta sheets – overlapping the slightly if needed and breaking some with your hands to cover smaller gaps. I like to immerse my no cook pasta sheets in cold water before using so that the pasta does not suck too much moisture out of the sauce.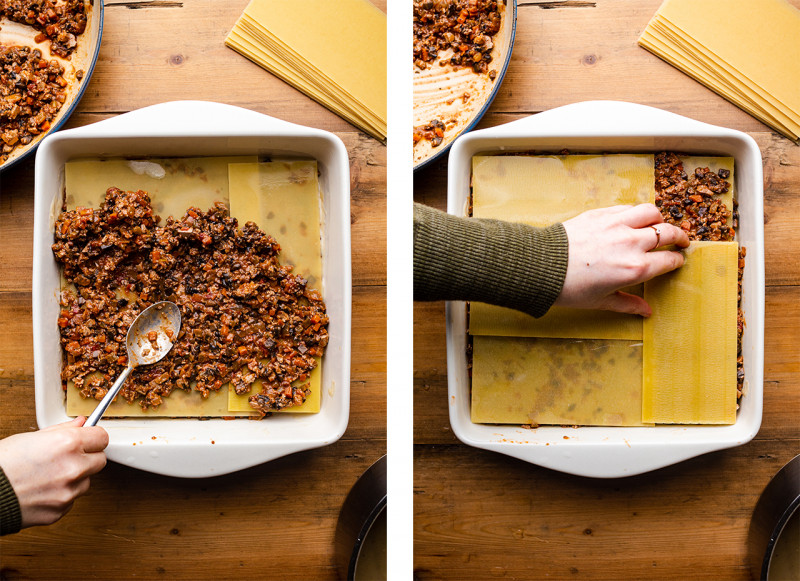 Spread a layer of bolognese sauce over the pasta and follow up by more pasta sheets. Carry on in this manner until you have 4 layers of bolognese covered by a layer of pasta.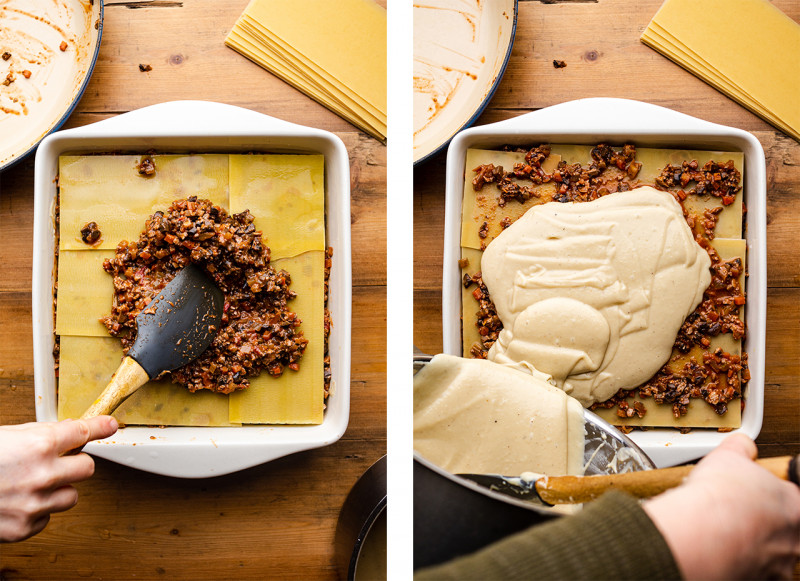 Spread some more bolognese sauce (a smaller amount is fine) on the last layer of pasta and then pour bechamel directly on top. Spread it with a spatula and bake for 40-45 minutes, until the dish is bubbling and the top is golden brown. Allow it to set for an hour before cutting or, even better, wait to serve until the next day – lasagne's flavours will benefit from a prolonged rest.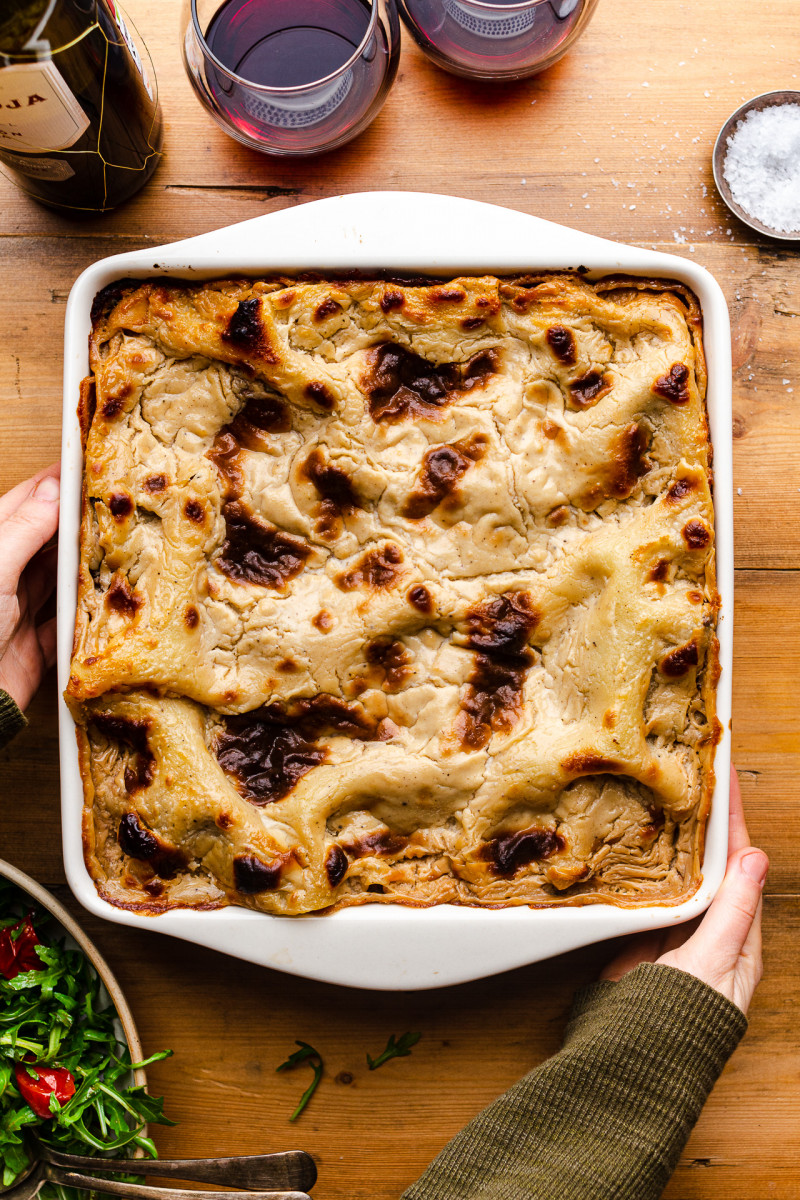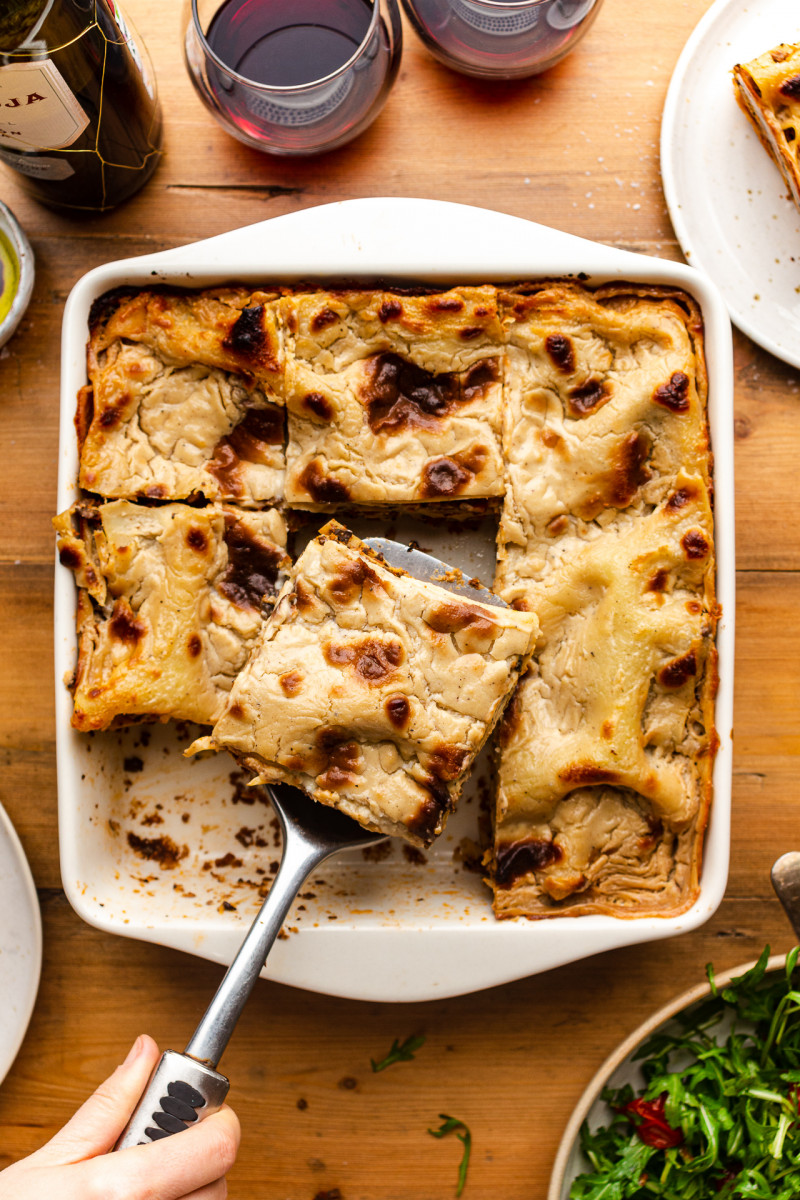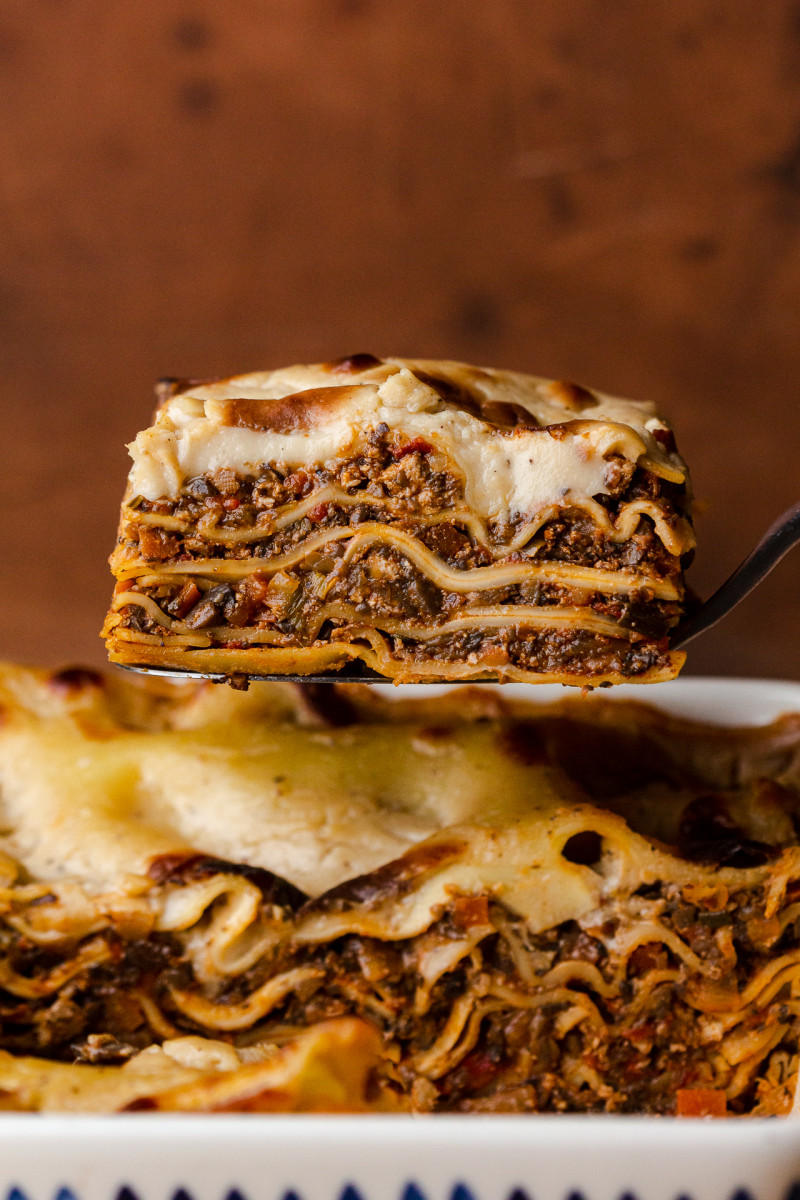 BOLOGNESE SAUCE
240 ml / 1 cup mushroom stock (from 15 g / 1 oz dry porcini or mushroom stock cube)
60 ml / 4 tbsp olive oil, divided
1 large onion
5 garlic cloves
150 g / 2 celery ribs
200 g / 2 large carrots
100 g / ½ large fennel
225 g / 8 oz pressed smoked tofu* (see NOTES)
500 g / 17½ oz mushrooms (I used chestnut/cremini)
½ tbsp chopped rosemary leaves or ½ tsp dry
½ tsp dry rubbed sage
½ tsp dry oregano
1 tsp smoked paprika (add more if using regular tofu)
15 ml / 1 tbsp all purpose soy sauce (or tamari)
240 ml / 1 cup dry red (vegan) wine
400 g / 14 oz can peeled plum tomatoes*, crushed
2 tbsp tomato paste / concentrate
45 g / 3 tbsp red miso paste
2 dry bay leaves
240 ml / 1 cup creamy plant milk (I used Oatly barista)
¾ tsp salt, adjust to taste* (see NOTES)
½ tsp ground black pepper, to taste
½ tsp date nectar or brown sugar
PASTA LAYER
500 g / 17.5 oz no cook vegan lasagne sheets*
BECHAMEL (or alternative bechamel)
5 g / 1 tsp red miso paste
780 ml / 3¼ cups plant milk (I used Oatly barista)
80 ml / 1/3 cup mild olive oil (or 100 g / 3½ oz vegan butter)
85 g / 2/3 cup AP flour (or GF flour mix)
3 tbsp nutritional yeast
½ tsp garlic powder* (optional)
salt to taste
¼ tsp pepper, adjust to taste
freshly grated nutmeg, to taste (or scant ¼ tsp ground)
METHOD
BOLOGNESE SAUCE (makes 1.5 lt / 6 cups)
Make mushroom stock by pouring boiling water over dried porcini or dissolving a mushroom stock cube in hot water. If using procini, let it infuse at least 45 minutes (longer is better).
Dice garlic, onion, celery, carrot and fennel very finely or dice the first two finely and chop the last three coarsely and pulse in a food processor until small and uniform.
Remove vegetables from the food processor and pulse tofu (torn into chunks) until finely minced or mash it with a fork. Remove the tofu and add sliced mushrooms. Pulse until chopped very small without many big pieces left. Alternatively, dice finely by hand.
Heat up 2 tbsp olive oil in 30 cm / 12″ heavy-bottom pan. Once the oil starts shimmering, add diced onion and sauté, on a low-medium heat, until soft and translucent (about 10 minutes).
Add in the garlic and fry for a few more minutes until fragrant. Don't worry if the pan catches a little, it will get delgazed in the next step.
Next, add in celery, carrot and fennel and a good pinch of salt and pepper. Sweat on low heat until translucent, stirring from time to time (about 15 minutes).
Remove soffritto (aromatics and vegetable mixture) from the pan and set aside.
Add mushrooms and a good pinch of salt and pepper to the same pan. Sauté, stirring occasionally, until mushrooms turn dark brown and all of their moisture cooks out (evaporates).
Next add in 2 tbsp of oil, minced tofu, herbs, smoked paprika and soy sauce. Mix everything together and sauté for a few more minutes stirring now and then, don't worry if some of the mixture sticks to the pan.
Return soffritto to the pan, add crushed plum tomatoes (I use potato masher), tomato and miso paste, wine, mushroom stock and bay leaves.
Simmer for about 30-45 minutes, until tomatoes have fully broken down – check up on the sauce and add a splash of water if the sauce is looking dry.
Finally stir in a cup of plant milk (I use Oatly barista) and simmmer for 5 more minutes before switching the heat off – this sauce needs to be quite moist as it will dry out more during baking.
Adjust the seasoning and add a touch of sweetness if desired. Set aside to cool.
BECHAMEL
Warm plant milk up in a small saucepan. Place miso in a small bowl and add a couple of tablespoons of milk from the saucepan, stir until it dissolves, set aside.
Slowly heat up olive oil in a large saucepan (stainless steal works best for this). Once the oil starts to shimmer, sprinkle in flour while whisking to avoid lumps.
Allow the fat-flour mixture (known as roux) to bubble gently on low-medium heat for a whole minute, whisking the whole time. Don't let it brown.
Take the pot off the heat and slowly pour in warmed plant milk while whisking the whole time. Initially the mixture may look a bit lumpy – don't worry, it will recover once all the milk has been whisked in. Once the mixture looks stable and smooth, whisk in miso and nutritional yeast and garlic powder (if using).
Return the pot to the stove. Simmer only just enough for the sauce to thicken slightly, to a consistency of cream. Season with salt, pepper and nutmeg to taste.
ASSEMBLY
Preheat the oven to 180° C / 390° F (or 160° C / 320° F on a fan setting). Grab a bowl of cold water.
Add 2 tbsp of water and 1/3 cup (80 ml) of béchamel sauce to the bottom of the dish, mix the two together. Immerse each pasta sheet in cold water briefly before placing it on top of each filling – it keeps your lasagne from drying.
Spread heaped 1¼ cups (300 ml) of bolognese sauce on top and cover with a layer of pasta. Repeat 3 more times so that there is 4 layers of bolognese sauce covered with a layer of pasta.
Spread what is left of bolognese sauce on top of the last pasta laye and pour the béchamel on top of the last portion of bolognese sauce, spread evenly.
Bake for about 30 minutes then increase the oven temperature to 220° C / 430° F for the last 10-15 minutes to speed up browning.
Allow the dish to set for at least an hour or else the slices will come out messy. Store the leftovers for up to 5 days in the fridge or freeze in air-tight containers.
NOTES
*TOFU: I used a UK brand of tofu that is already pressed and weights 225 g / 8 oz. If using unpressed tofu, go for 300 g / 10.5 oz and press before crumbling for best results. I recommend using smoked tofu in this dish, but you could also use regular tofu and add more smoked paprika or a few drops of liquid smoke to compensate.
*SALT: It may seem like a lot of salt given that both miso and soy sauce also contribute saltiness, but I am happy with this amount as no cook pasta layers go in unseasoned and so the sauce compensates for that lack of seasoning. Do, however, use your own judgement when seasoning as everyone's palate is a little different.
*TOMATOES: I used 1 x 400g / 14 oz can of tomatoes to keep this recipe as close to the original as possible and to let other flavours shine, but if you prefer a saucier version, feel free to add two cans instead. Be aware that the simmering time required will be a little longer.
*PASTA SHEETS: If you wish to make this dish gluten-free, find gluten-free pasta sheets and a gluten-free miso that is based on something other than wheat (rice, chickpeas, millet etc.). To make bechamel, use a gluten-free flour mix containing starches and xanthan gum.
*GARLIC: Usually I love adding an entire head of roasted garlic cloves to my béchamel, but I've removed that ingredient here as I didn't want the recipe to be even more involved. If your oven is on at 200° C / 390° F at any point, whack one (or more) head of garlic in for about 30 minutes. Cut the top of the garlic head off to expose the cloves, drizzle exposed cloves with a teaspoon of olive oil and wrap tightly in a piece of kitchen foil (or triple layer of baking paper) and bake until the cloves are soft, semi-translucent and caramelised (sticky). Store leftovers in the fridge, in an air-tight container for 1-2 weeks.
*BAKING DISH SIZE: I used a square 25 cm / 10 inch dish that is 5 cm / 2 inches tall, a rectangular 33 cm / 13 inches by 22.5 cm / 9 inches dish works well too.
NUTRITIONAL INFO
*per 1 out of 12 portions