Today, I've gone back to my roots and made a mountain of crispy golden vegan latkes (or 'placki ziemniaczane' as I know them) for dinner. Even though most people associate latkes with Hanukkah – Jewish festival of lights (Happy Hanukkah to those of you who celebrate it this week!), they also happen to be a Polish staple and are one of those dishes I remember fondly from my childhood.
Ever since I realised that Jewish people also make latkes, I've been wondering about the origins and history behind this humble dish.
My online research suggests that latkes have been invented by Eastern European Jews specifically for Hanukkah. Since Jewish tradition stipulates that a traditional Hanukkah dish needs to be fried and potatoes (and onions) are a staple food during harsh Polish and Russian winters, Jews living in Poland and Russia came up with a dish of shredded potato patties fried in hot oil.
The name latkes is likely to have originated from the Polish word 'łatka' meaning a patch, which makes perfect sense as in some areas of Poland older generations refer to this dish as 'łatki' (plural from 'łatka').
As with many dishes that span such a large geographical area and traverse so many cultures, there are many different latkes school of thought. Some people shred potatoes very finely and make vegan latkes thick with a crispy edge. I like mine very thin and crispy (so thin that you can see through them), and always grate the potatoes coarsely as it adds a nice texture.
I typically shallow-fry them or bake them in a hot oven. The former are definitely tastier, but the latter are a lot healthier so the choice is yours!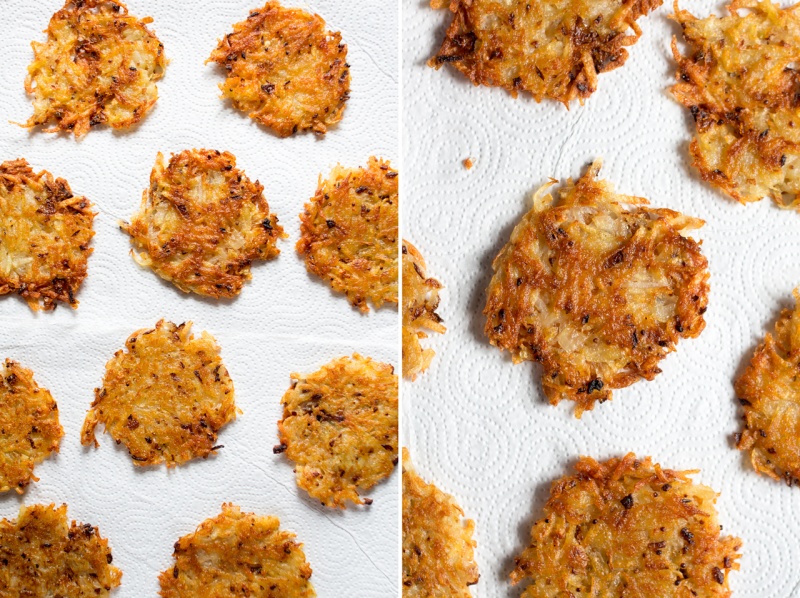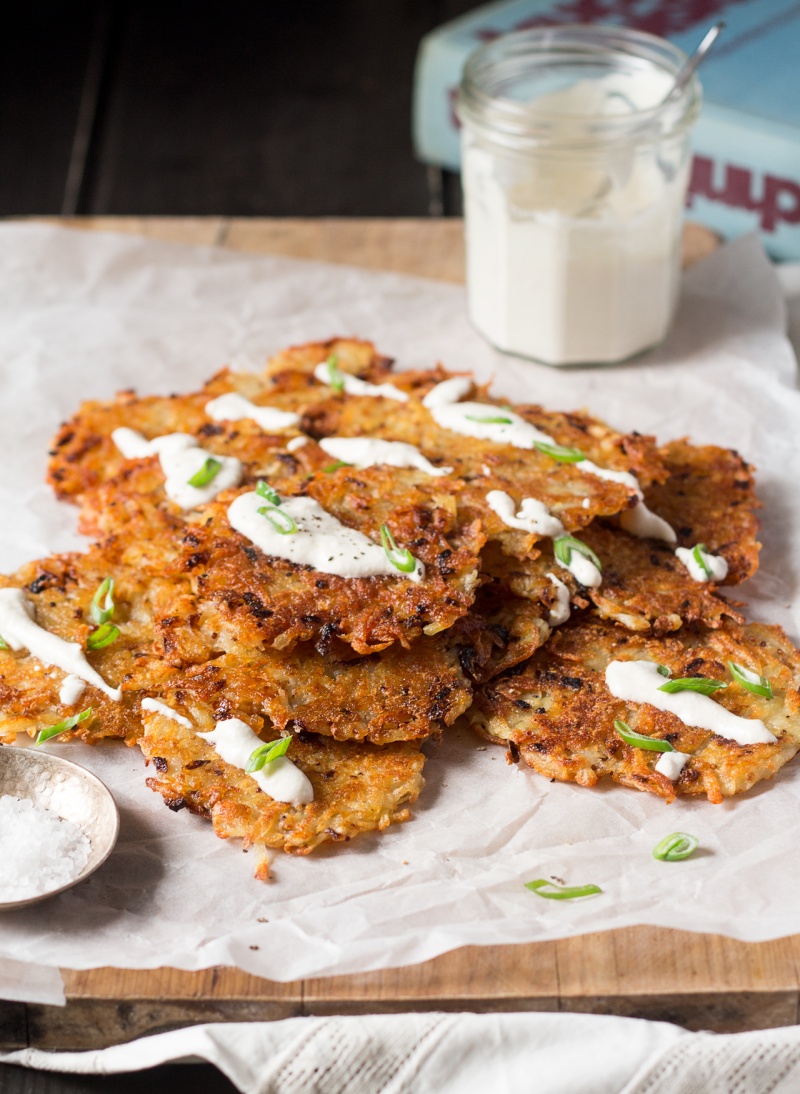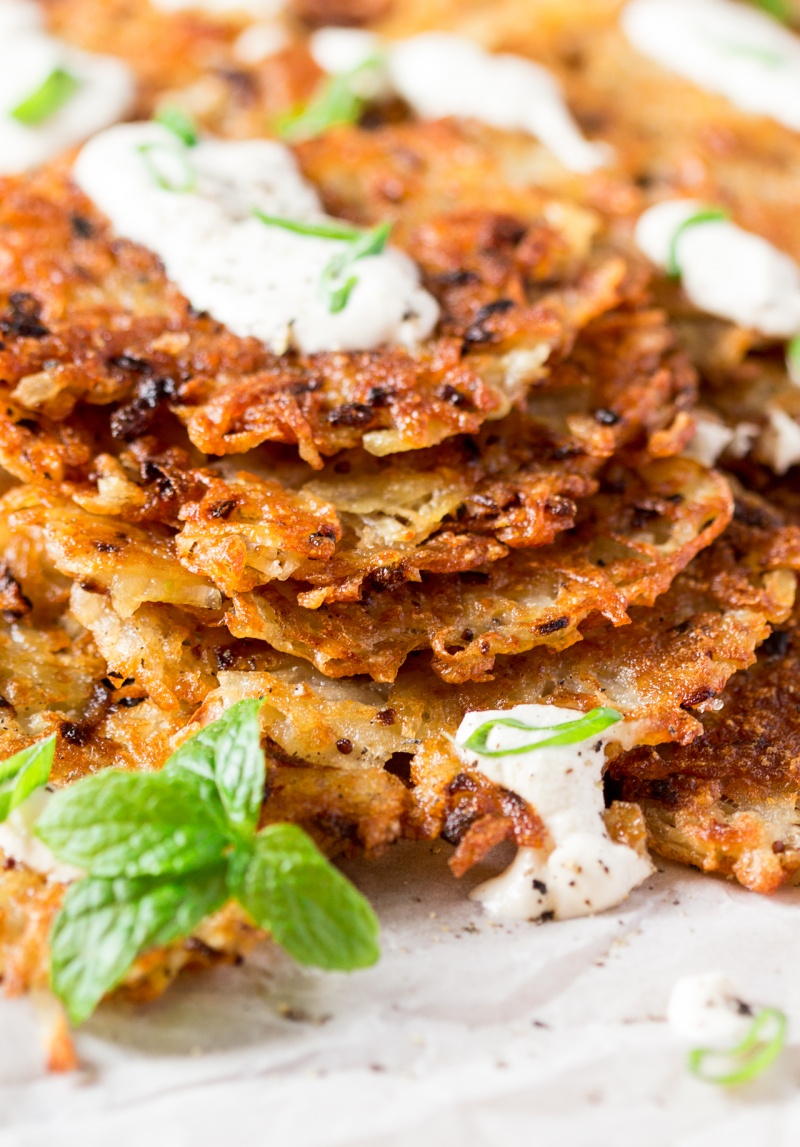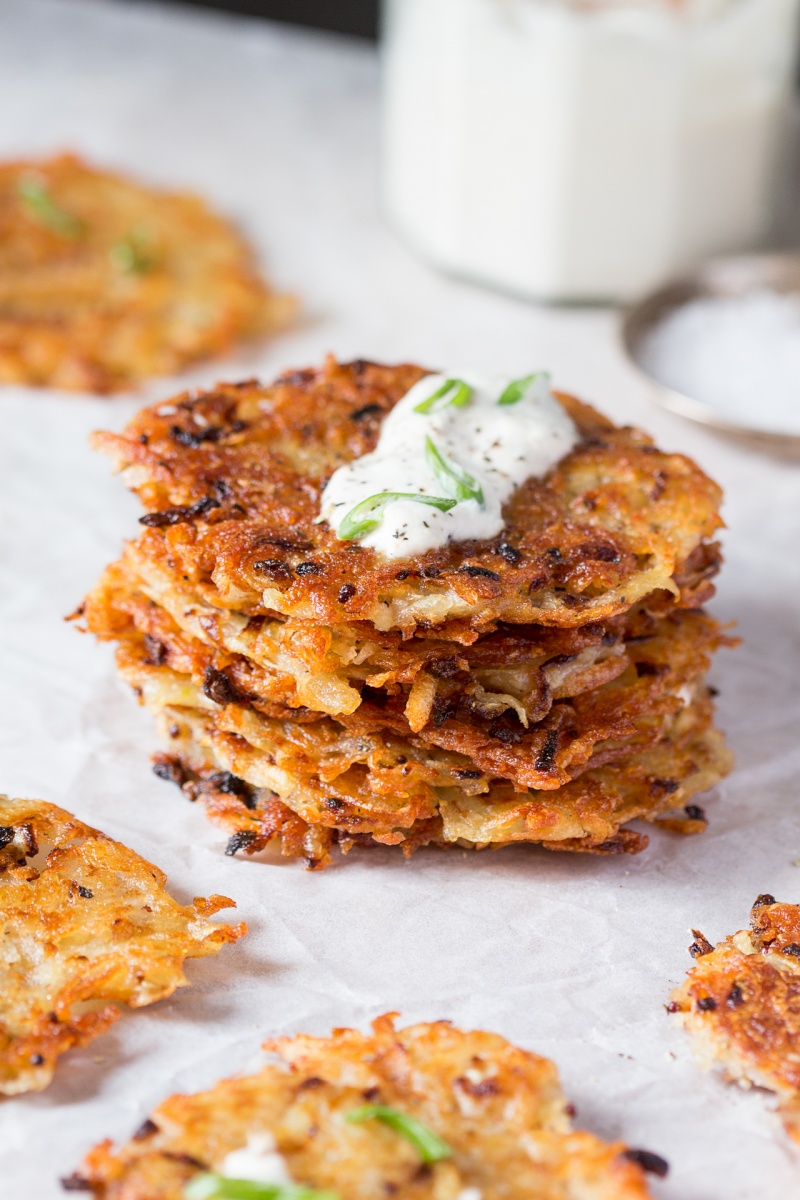 SOUR CASHEW CREAM
½ cup raw cashew nuts, soaked overnight
juice of ½ lemon, or to taste
salt, to taste
LATKES
5 medium potatoes / about 1 kg
1 small onion, very finely diced or grated
3 tsp wholegrain mustard (optional)
¾-1 tsp fine salt, adjust to taste
ground pepper
30 ml / 2 tbsp aquafaba* / chickpea brine (optional)
2 tbsp flour (potato starch or wheat flour if not GF)
oil, for frying or baking
METHOD
SOUR CASHEW CREAM
Rinse the cashews well and put them into a blender with a splash of water. Start blending. You will need a silicone spatula to scrape the walls of the blender regularly.
Add just enough water to make the cashew cream thick and smooth. Season with lemon juice and some salt. It is best to make the cream in advance and put in the fridge for a few hours as this will thicken as it chills.
LATKES
Grate potatoes coarsely using a grater or food processor with relevant attachment. Place them on a sieve and let the excess water drain away. If you have a muslin cloth, put potatoes in the middle of a cloth and squeeze as much water out of them as you can – the drier the mixture the crispier your latkes will be. If you don't have a muslin cloth, use your hands to get rid of excess water.
In a large bowl, combine finely chopped onions, grated potatoes, mustard, pepper, aquafaba (if using) and enough flour to make the mixture bind together. Do not add salt until you are ready to form latkes as salt will make potato mixture weep and the mixture needs to stay dry for as long as possible.
METHOD 1: Heat up a non-stick or ceramic pan on the stove. Pour enough oil to cover the bottom of the pan (you'll need to top it up a little as you go along). Heat up the oil. Once the oil is hot, place a slightly heaped tablespoon of the potato mixture on the oil and flatten it with a back of your spoon. Fry on one side for a few minutes – do not flip the latkes over until they are browned all over on one side – you'll notice the edges will turn brown, that's the time to flip. Flip them to the other side using a flat spatula. Fry until the other side turns golden brown. Remove from the pan and place on a plate lined with kitchen roll to soak away excess oil. Put ready latkes in a warm (100º C / 210º F) oven while you fry subsequent batches.
METHOD 2: Set the oven to 200º C / 390º F. Brush a baking tray with a little oil. Form latkes on the oiled tray, brush them with oil and bake for 10 minutes, then flip for another 10 and finally crank up the oven to 225º C / 435º F to brown the latkes for 5-10 minutes on both sides.
Serve warm, topped with cashew sour cream.
NOTES
*Aquafaba is chickpea brine obtained from a tin of chickpeas or you can make your own. When making your own, soak chickpeas in lots of water overnight, rinse and put in a large pot with lots of water. Bring to the boil and then simmer for about 1 hour (until beans are soft). Remove cooked chickpeas with a slotted spoon and what's left in your pot is aquafaba. If it is too runny (ideally it should resemble egg whites), you can concentrate it a bit by simmering it on a low heat (without a lid) until it reaches the desired consistency. Cool it down before using.