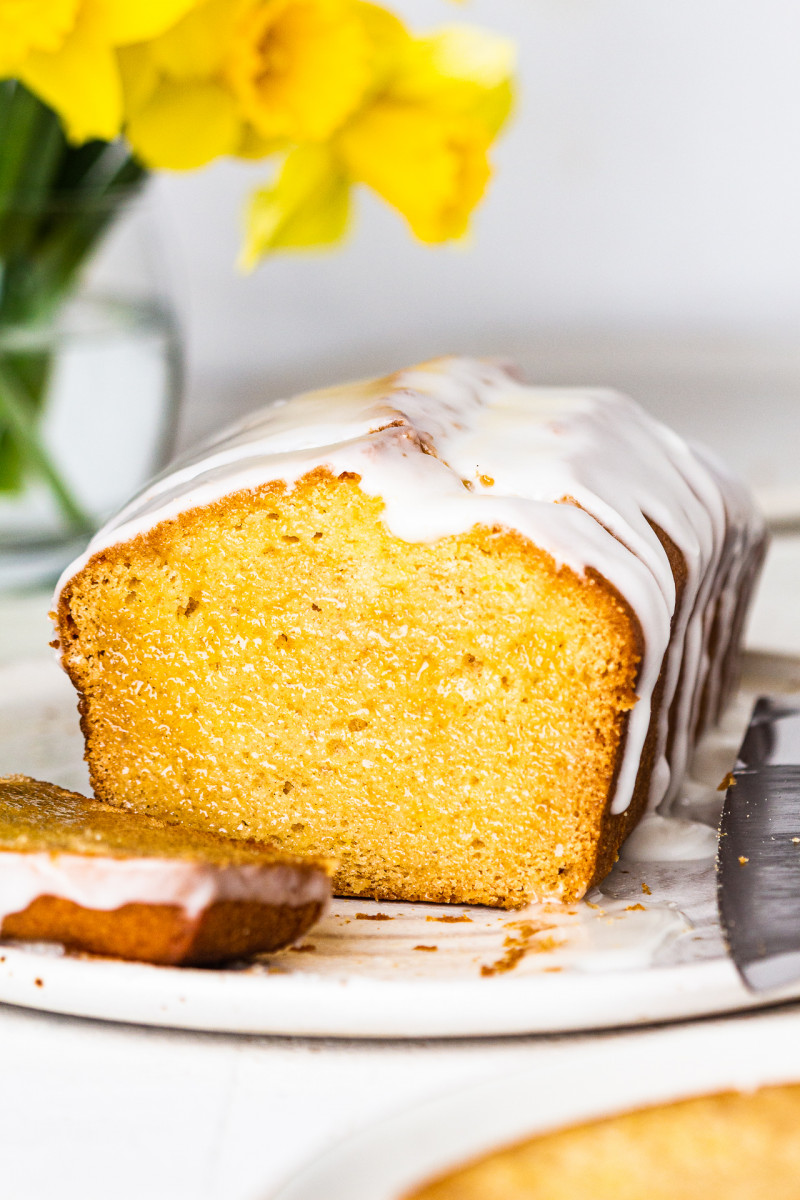 Hope the sunshine is gracing your corner of the world this week. It is almost like magic at lifting your mood, isn't it? A slice of good cake alongside your afternoon coffee also seems to have magical powers I find. This sunny looking vegan lemon cake is exactly what the doctor has ordered. It features only a handful of easily accessible ingredients, it comes together in a single mixing bowl and requires very little skill.
This recipe is based on my previous recipe for vegan lemon drizzle cake that so many of you love. This time I wanted to make a lemon cake free from nuts and I also wanted it to stand a little taller so I adjusted the amounts of the ingredients accordingly. This cake is soft and fluffy, fragrant with lemon zest and doused with a generous amount of tangy lemon syrup. If you are feeling extra fancy or simply want the full look, finish the cake off with a thin layer of lemon icing and let it artfully drip down the sides.
MORE ABOUT THE INGREDIENTS
PLANT MILK: I used soy milk to make this cake, but if you cannot have soy any other neutral flavoured plant milk will do. I combined it with lemon juice to make it curdle and therefore create a vegan equivalent of buttercream, which helps this cake rise.
LEMON ZEST: The lemon flavour in lemon cakes in general is derived from the zest and any lemon flavoured icing/syrup that you add after baking. I used generous amount of lemon zest here to make this cake very fragrant, but feel free to go down to 2 lemons if you prefer.
LEMON JUICE: Lemon juice is used in the cake batter to help it rise rather than for flavour – lemon juice's tangy flavour is lost during the baking process unfortunately. To compensate and give this cake the level of tanginess it deserves, I used a liberal amount of lemon juice to create a simple lemon syrup, which is used to infuse the cake with lemon flavour. I also added a touch to the icing, which works to counter the sweetness of icing sugar a little.
FLOUR: I used widely accessible plain white flour (known as all purpose in the US) to make this cake. If you would like to make it gluten-free, use a well balanced gluten-free flour blend and a touch of xanthan gum to improve the texture.
TURMERIC: A small amount of ground turmeric is nice to add for a warm yellow colour that comes from egg yolks in a traditional, non-vegan recipe. I found that it is not really necessary if using olive oil and with any other oil, only add a smidge, literally as much as will sit on the tip of a knife as it's surprisingly potent.
OIL: this case is super easy to make as it uses regular vegetable oil. There is quite a few vegetable oils you can use, I recommend something neutral in flavour like grapeseed oil for example or if you wanted something a little bolder, mild olive oil also works. I would steer clear of extra virgin olive oil though as it overpowers the delicate balance of flavours. I have also tried making this cake with fragrance free coconut oil, both creaming the sugar and the cold oil and by using melted coconut oil and they both work well but the texture of the cake is a little denser, less fluffy and springy due to the fact that coconut oil becomes solid at low temperatures.
CASTER SUGAR: Caster sugar (also known as superfine sugar) is great for baking and that's what I used both in the cake itself and to create the syrup.
XANTHAN GUM A small amount of xanthan gum is used to improve the texture of the cake (only if you are using a gluten-free flour blend instead of plain gluten flour). If you have a well formulated gluten-free flour mix that contains a high proportion of starches, you could skip it, but it does make a difference so use it if you can.
BAKING AGENTS: I used a carefully calibrated amount of baking powder and baking soda to get a rise out of this cake. The latter comes into a reaction with lemon juice in the buttermilk and keeps the cake nice and fluffy.
ICING SUGAR: Icing sugar (known as confectioner's sugar in the US) is used to make the icing. To achieve the right consistency of the icing, you'll need surprisingly little liquid so make sure to add it very gradually.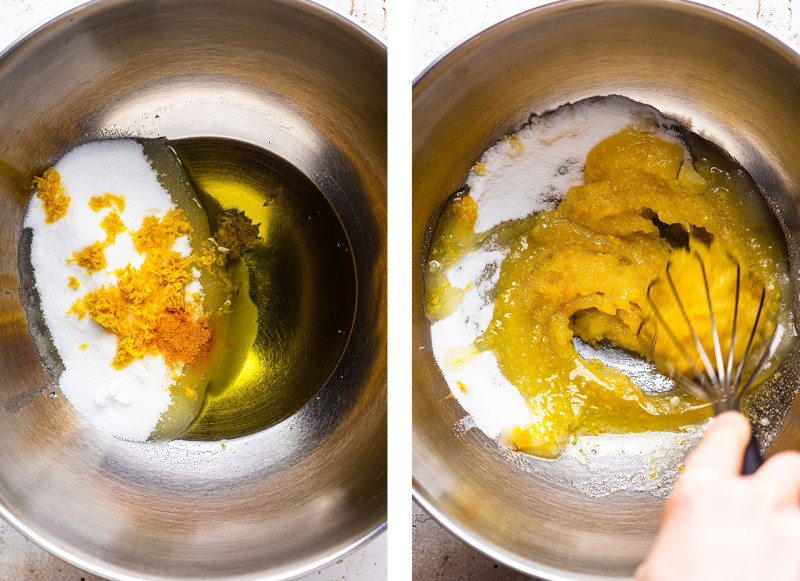 In a large mixing bowl, place oil, sugar, lemon zest and a small amount of turmeric if using – I found it completely unnecessary if using olive oil. Whisk with a wire whisk until well mixed. If using coconut oil, melt it and cool it before using or else it will cause the sugar to dissolve.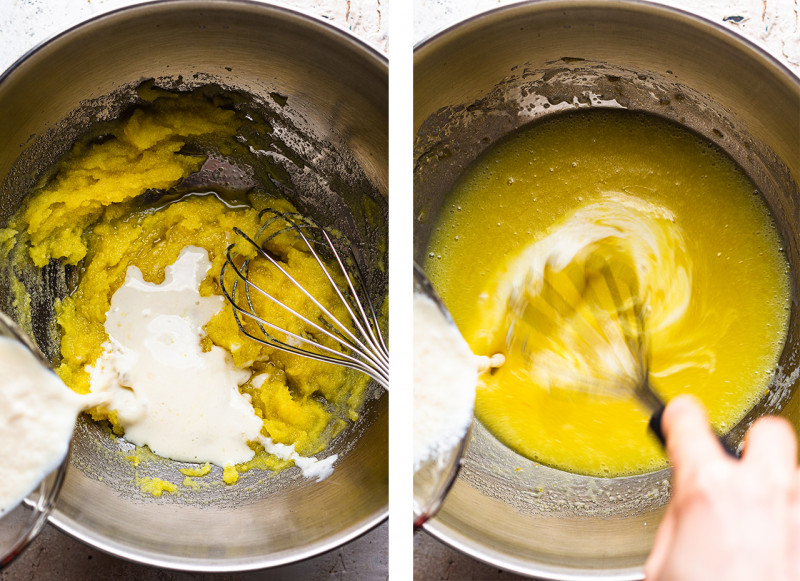 Add vegan buttermilk – soy (or other plant) milk and lemon combined together and whisk until you get a homogenous mixture.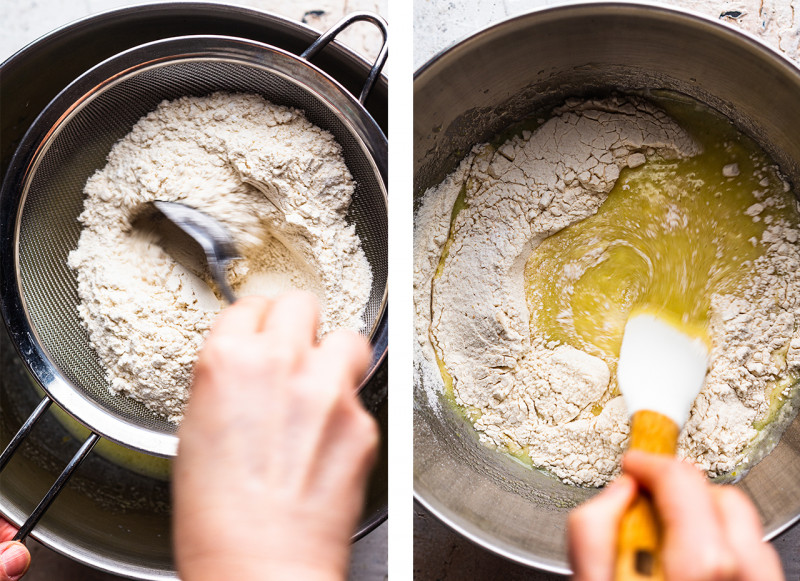 Place a sieve over the bowl with wet ingredients and gradually sift in dry ingredients – I like to do so in 2-3 batches. Switch to a spatula and incorporate the flour into the wet ingredients by making small circles in the middle of the bowl, gradually incorporating more and more flour.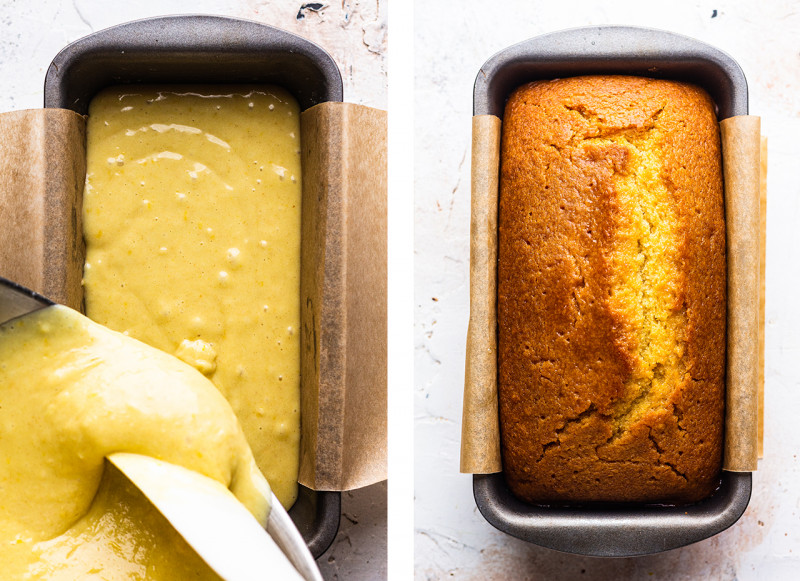 Transfer the batter – it will be pourable – into the greased and lined baking tin and bake in the preheated oven until fully risen, golden brown and the skewer inserted into the middle comes out clean. Poke small holes all over the cake and drizzle warm cake with a cool syrup or vice versa.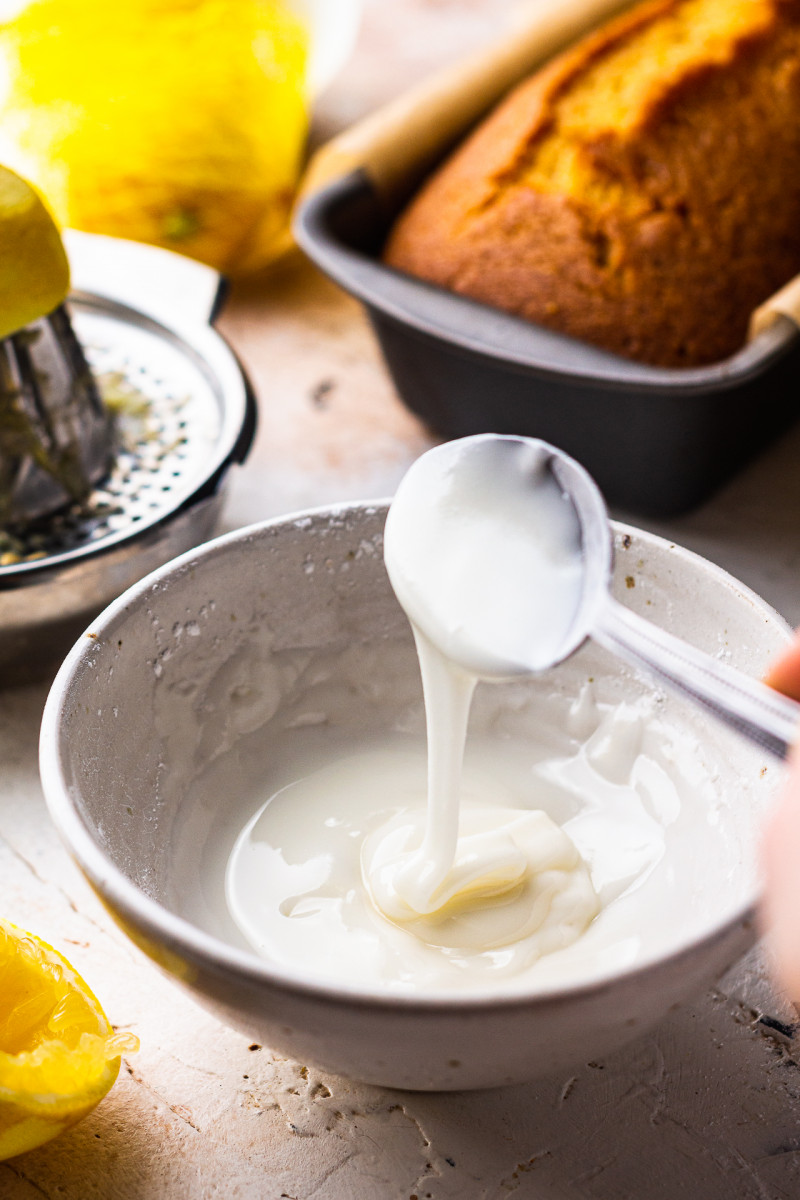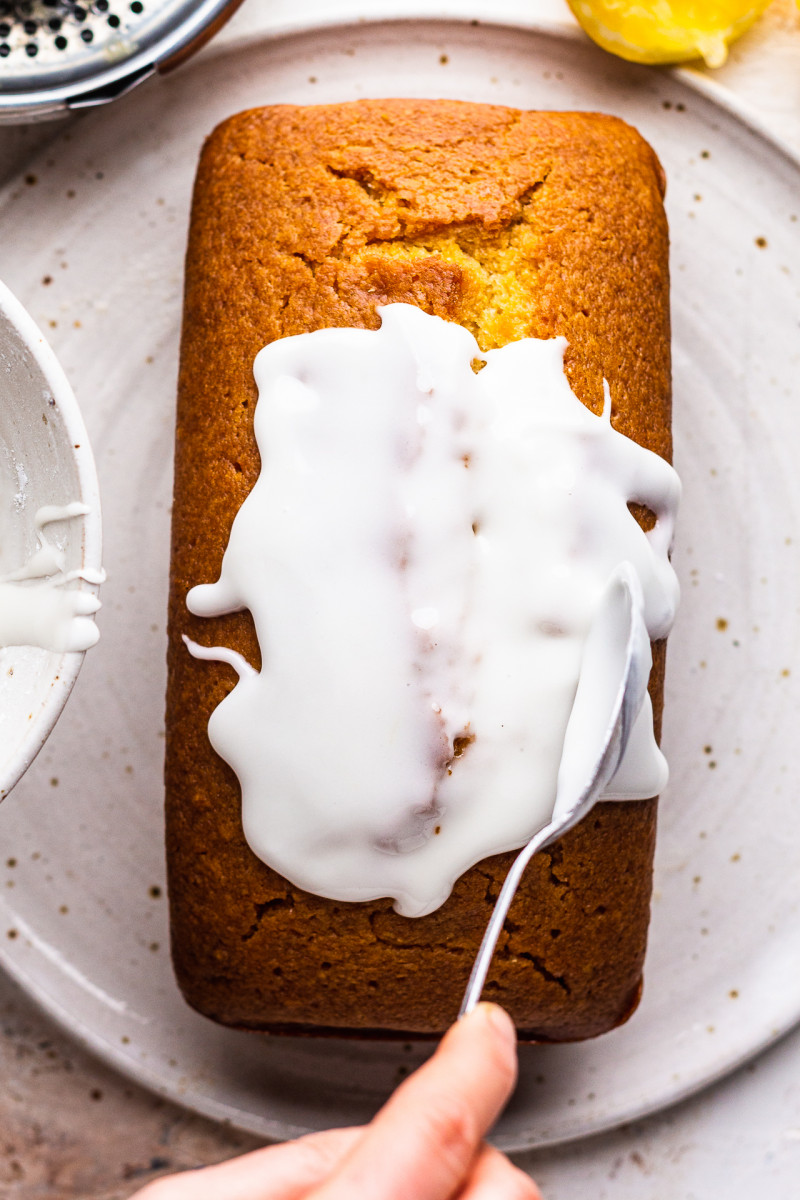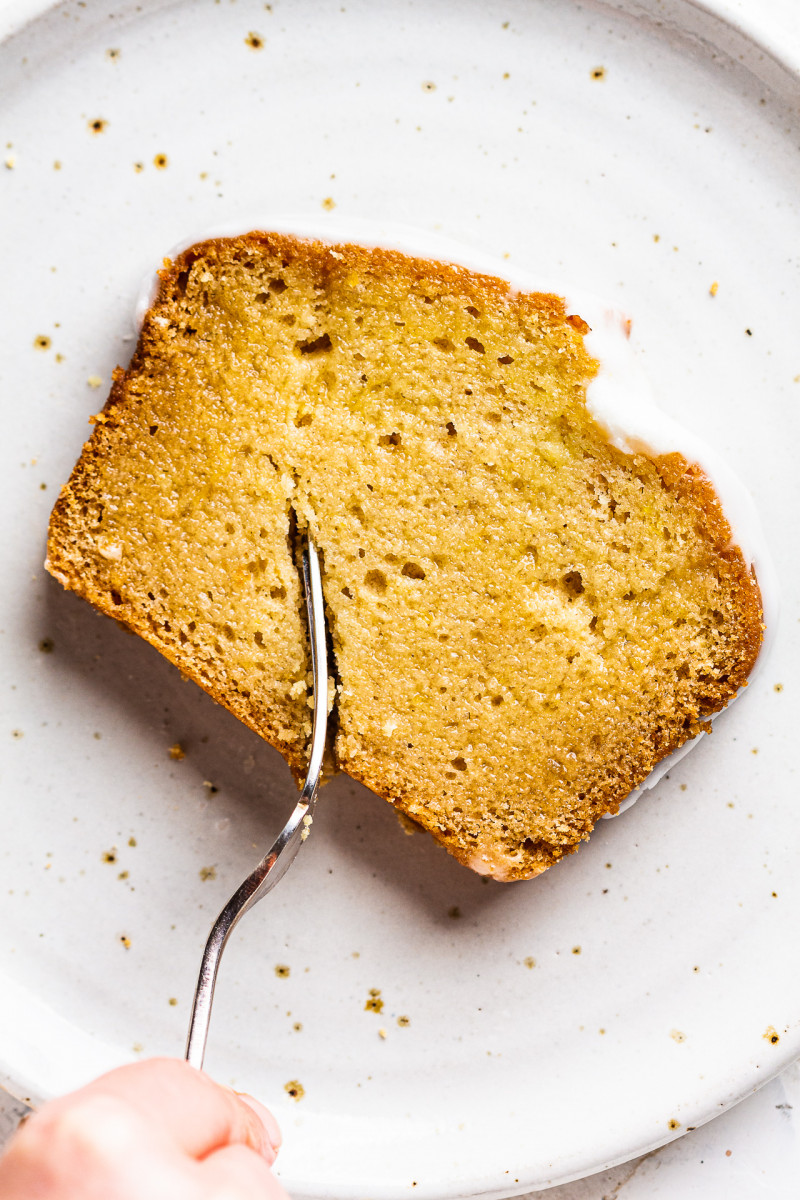 LEMON SYRUP
70 g / 1/3 cup caster sugar (fine sugar)
90 ml / 6 tbsp lemon juice
WET INGREDIENTS
320 ml / 1 + 1/3 cup plant milk
45 ml / 3 tbsp lemon juice
100 g / ½ cup neutral oil, like grapeseed oil*
200 g / 1 cup caster sugar
zest of 2-3 lemons
DRY INGREDIENTS
a smidge of turmeric, for colour (optional)
280 g / 2¼ cups plain flour or GF flour mix
1 tsp baking soda
1 tsp baking powder
½ tsp xanthan gum (only GF version), optional
ICING (optional)
50 g / 1/3 cup icing sugar
12 ml / 2½ tsp lemon juice
METHOD
LEMON SYRUP
Put the sugar and lemon juice in a small pot, simmer on low heat until the sugar dissolves completely. Set aside – use cold syrup on hot cake or vice versa.
LEMON CAKE
Heat up the oven to 180° C (or 160° C fan forced) / 355° F (320° F fan forced). Line a 1 kg / 2 lb cake tin with a wide strip of baking paper to be able to remove your cake easily.
Combine plant milk and lemon juice together, let it stand for 10 minutes.
In a large bowl, whisk oil and sugar together with a wire whisk, then add curdled plant milk. Add lemon zest and turmeric if using.
Place a sieve over the bowl with the wet ingredients and sift through all the dry ingredients in 2-3 batches.
Stir flour into the wet ingredients by making small circles in the middle of the bowl, gradually incorporating more and more flour.
Transfer the batter to the prepared baking tin.
Bake until the top is nicely browned and a toothpick inserted in the middle of the cake comes out clean, about 45 minutes but each oven is a bit different so do check.
Once baked and cooled just a little, pierce the top with a toothpick in several places to allow the syrup to infuse the cake better. Brush the surface of the warm cake (that's important as otherwise the syrup will stay on the surface) with cool syrup several times allowing the syrup to soak into the cake between each application.
Once completely cool, drizzle with icing starting from the middle so that it drips down to the sides creating pretty drizzle marks.
ICING (optional)
Whisk the icing sugar and lemon juice in a medium size bowl until fully combined. Add the lemon juice gradually to avoid lumps in your icing.
NOTES
*OIL: you can use any oil that has a mild, neutral flavour. I recommend grapeseed oil or mild olive oil if you enjoy olive oil flavour in a lemon cake. Melted (
odourless ideally
) coconut oil also works well, but due to the fact that it solidifies at low temperatures, it results in a denser, less fluffy cake.
This recipe is based on my earlier recipe for vegan lemon drizzle cake, but this one is created to avoid nuts.
NUTRITIONAL INFO
*per 1 out of 16 slices (without the icing)