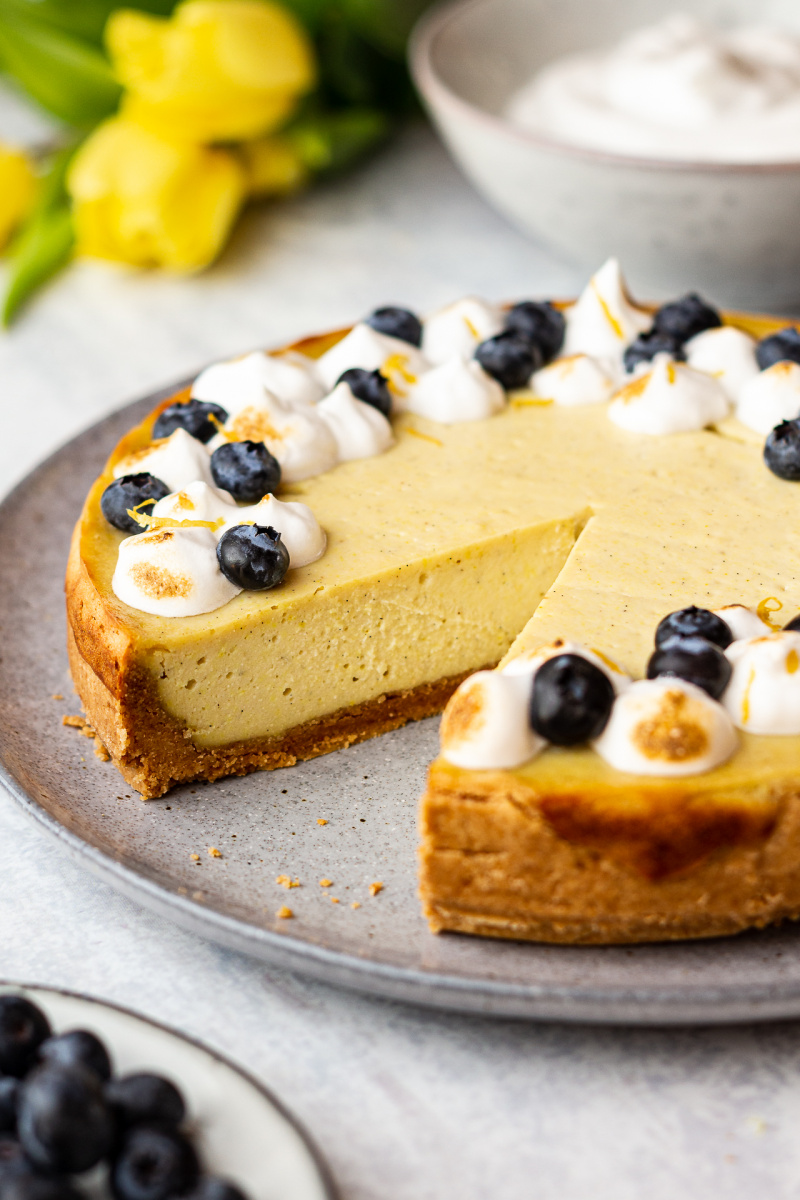 Are you guys ready to put your feet up? I certainly am. This past week has been manic and we have had a big health scare, which turned out to be a false alarm luckily but it did stress us both out no end, caused some unpleasant emotions and disrupted sleep so I am not feeling my best. After I hit publish on this recipe, I intend to do nothing (well, less at least) for a week. I need a little breather from recipe creation so that my brain can switch off a little.
As it's Easter and my last recipe was savoury, today I've decided to tackle a bit of an Easter classic – baked cheesecake. As it's spring and spring for some reason makes many people crave lemons – it's a curious thing, isn't it as not only do they not grow in our part of the world, but even where they do it's not until late summer – so I made a lemon cheesecake. Even though I am more of a chocolate, coffee and nuts kind of dessert person, I do love this cheesecake!
It's delicate and creamy, with a deliciously crisp base that has little hints of salt. You can have it as is or if you are feeling flamboyant, make a bit of a warm blueberry sauce to top it with. It's divine. You can also pop some blueberries into the cheesecake as it bakes if you like a bit of a blueberry treasure hunt while you eat. Whatever you do, please make it as it's super easy to make and it's to die for, I promise.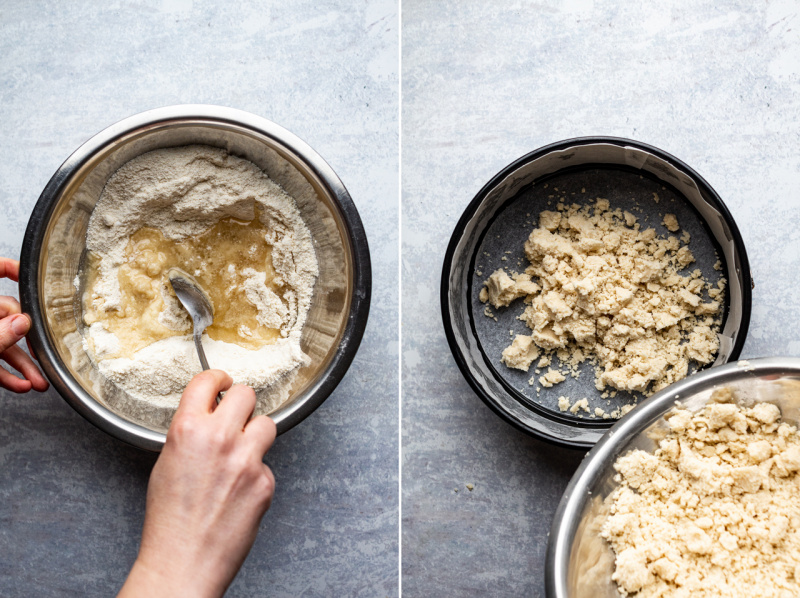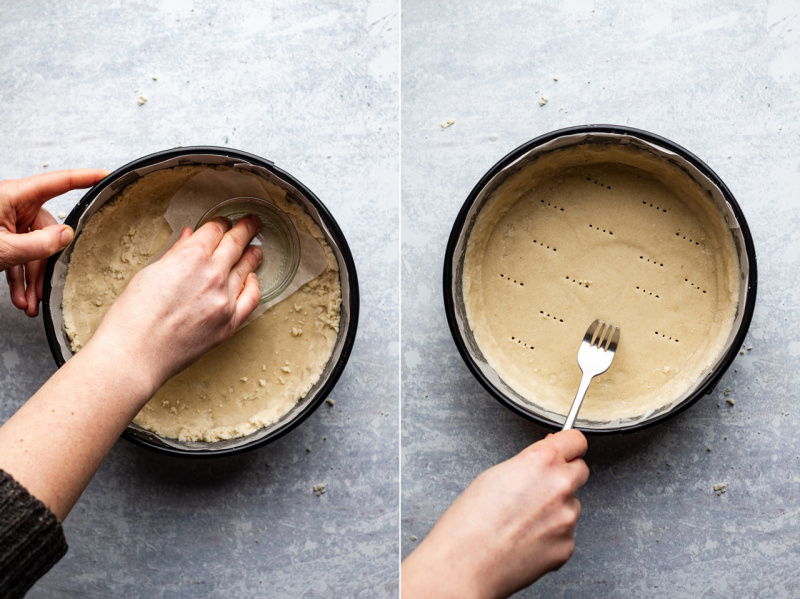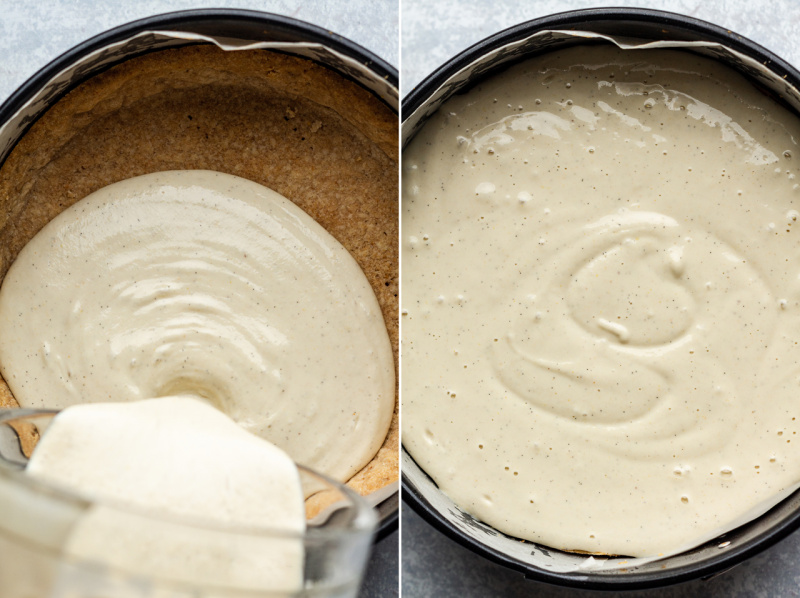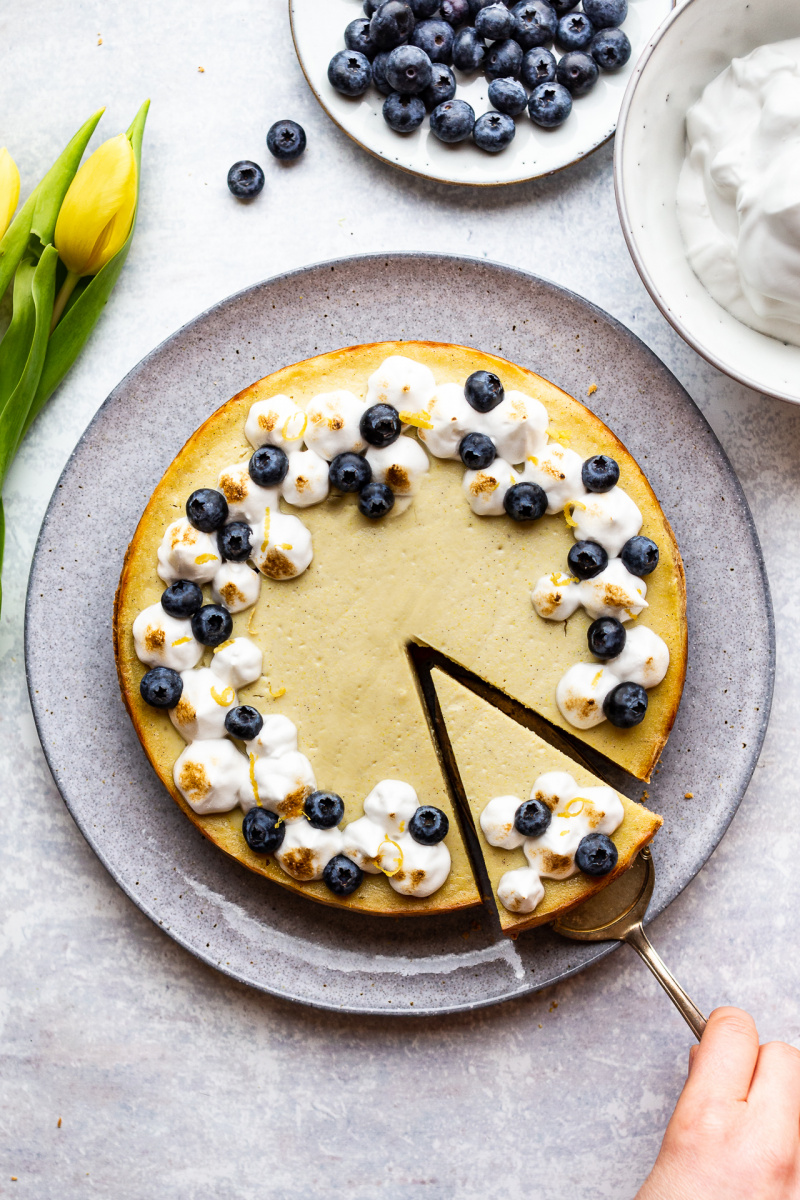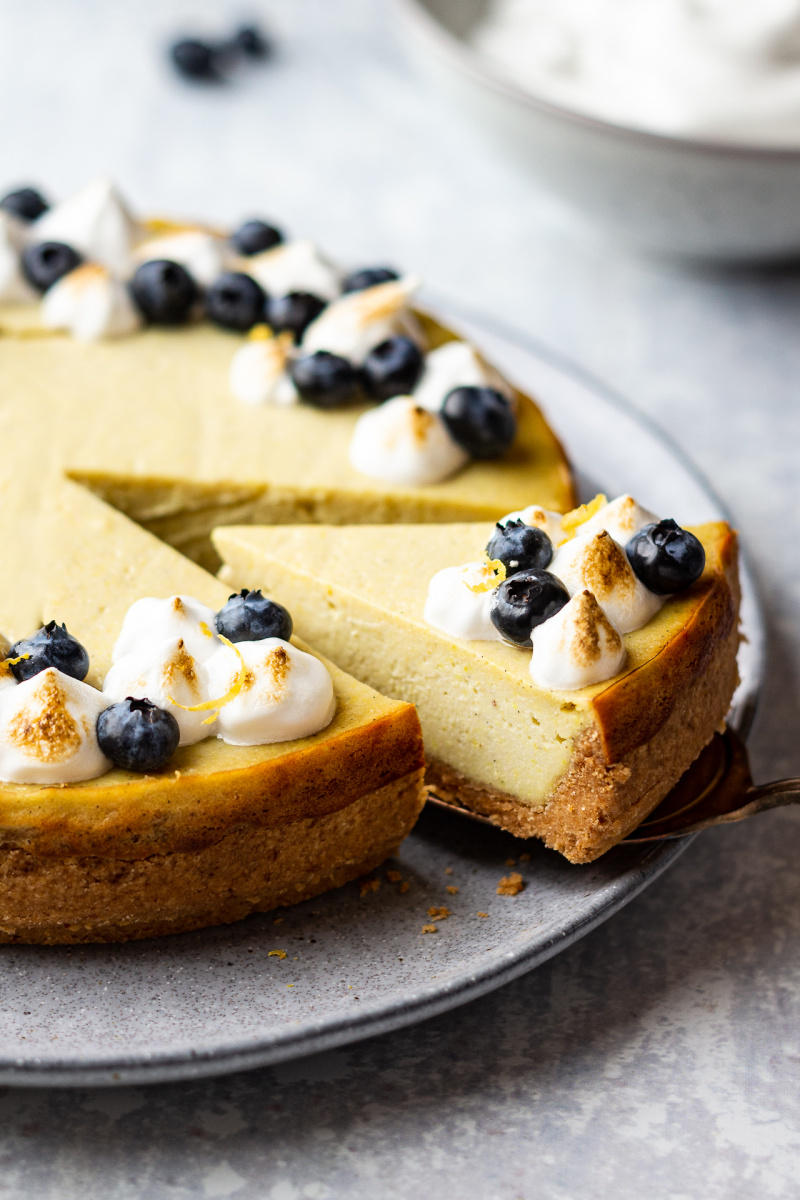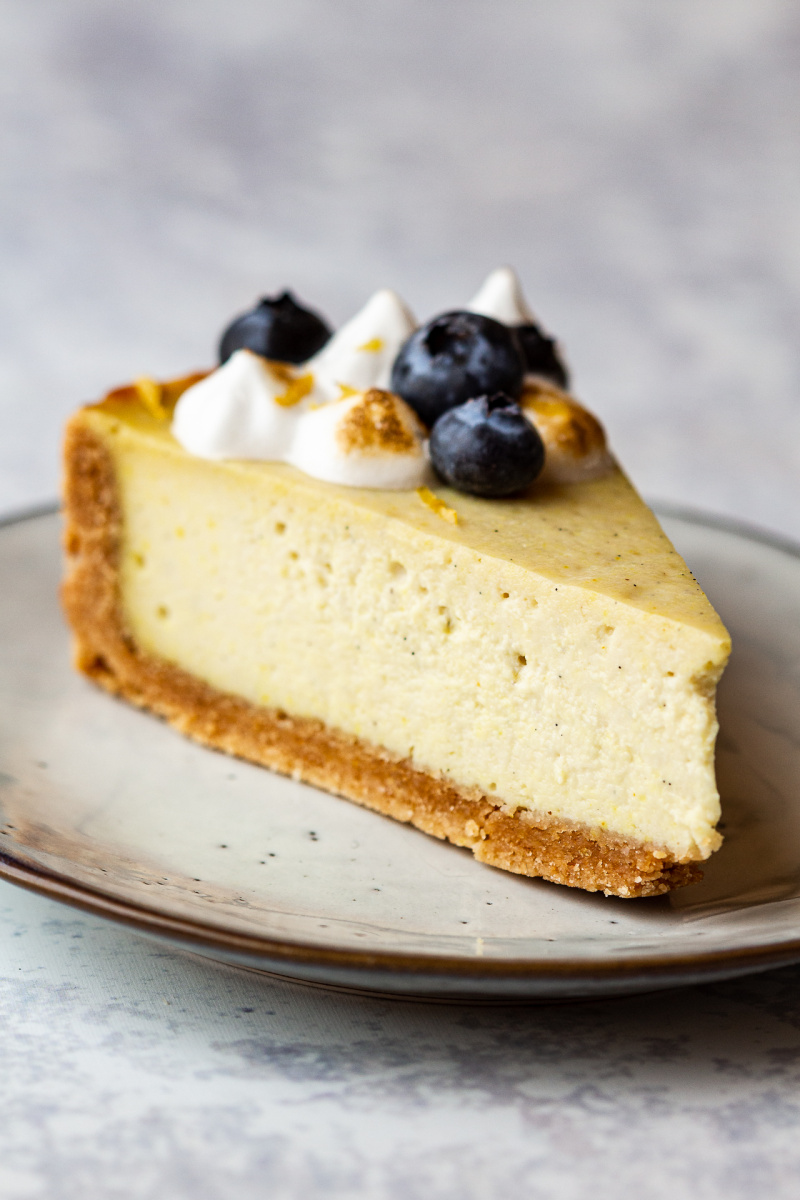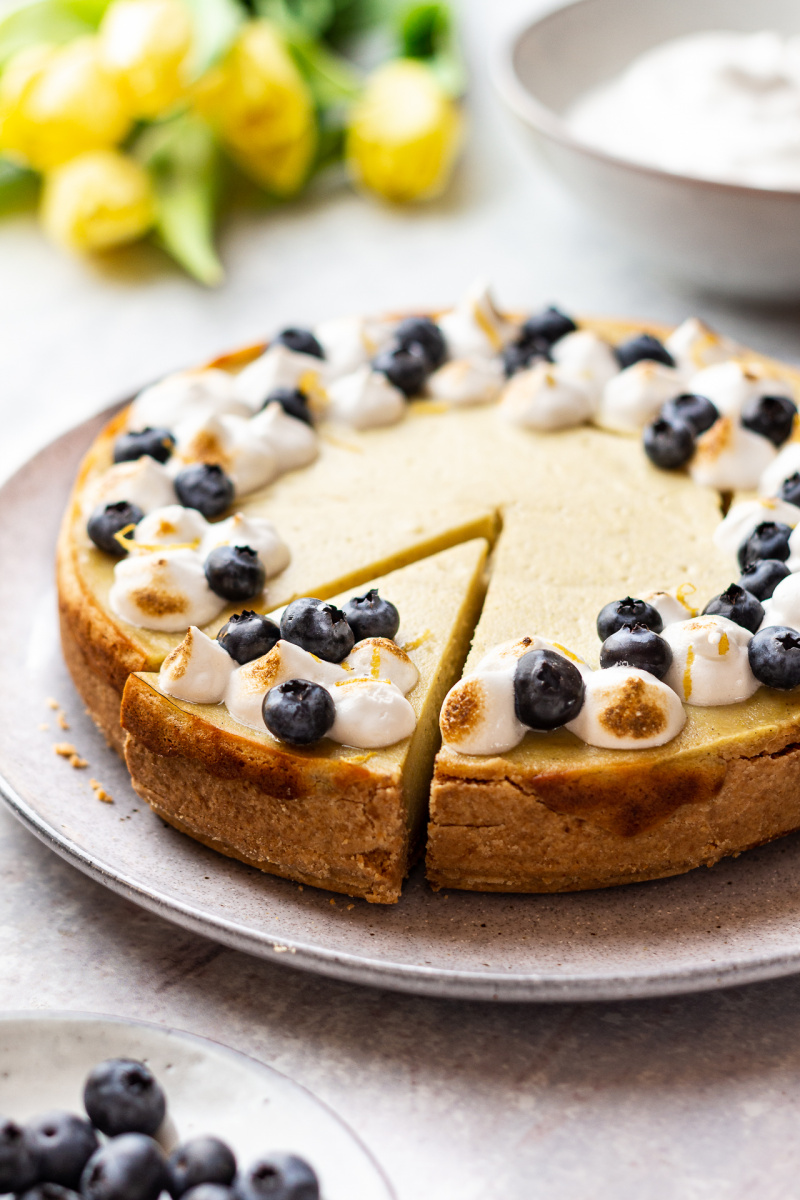 BASE
CHEESECAKE
200 g / 1½ cups raw cashews, soaked in boiling water for 30 minutes
120 ml / ½ cup oat milk (or other)
zest of 2 lemons + 90 ml / 6 tbsp lemon juice
250 g / 8¾ oz silken tofu
125 g / ¾ cup icing sugar or ground up coconut sugar
½ tsp lemon extract (optional)
2 tsp vanilla paste or vanilla extract
a generous pinch of turmeric (for colour)
a generous pinch of kala namak (black salt) or regular salt
16 g / 2 tbsp tapioca starch
TOPPINGS
METHOD
BASE
If making GF version, mix psyllium husks with 30 ml / 2 tbsp of water in a small bowl and set aside to hydrate.
Place almond flour, GF or regular flour, sugar and salt in a large mixing bowl. Mix well.
Add in melted fat and, if making a GF crust, activated psyllium to the dry ingredients and use a little less fat (I found 5 tbsp of melted coconut oil to be sufficient). Rub them into the dry ingredients with your fingers. The mixture should resemble slightly moist crumb by the end.
Grease the baking tin (I used a round 20 cm / 8″ springform tin) and line the bottom and the sides with baking paper.
Using your hands, spread the crumb on the base of your tin and mould it to the bottom and a little to the side using your fingers. Compress the crust using a flat bottomed glass over a piece of baking paper. Pierce the bottom with a fork in a few places.
Bake in a 180° C / 355° F oven for 30 minutes. Allow it to cool.
CHEESECAKE
Place drained cashews, oat milk, lemon juice and lemon zest in an upright blender. Blend until the mixture is super smooth and there are no lumps or visible grain.
Next, add in the rest of the ingredients and blend until smooth again.
Pour the mixture over the pre-baked base. Tap the tin against the workbench a few times to burst any air bubbles in the mixture as they will cause cracks after baking.
Bake in a 160° C / 320° F oven for about 40-45 minutes – it's ready when the sides are set, but the middle is still a bit wobbly. Cool completely (overnight is best) before cutting.
Decorate with blueberries and dollops of vegan meringue or vegan whipped cream. Once cut, store leftovers in an airtight container, in the fridge for up to 5 days.
NOTES