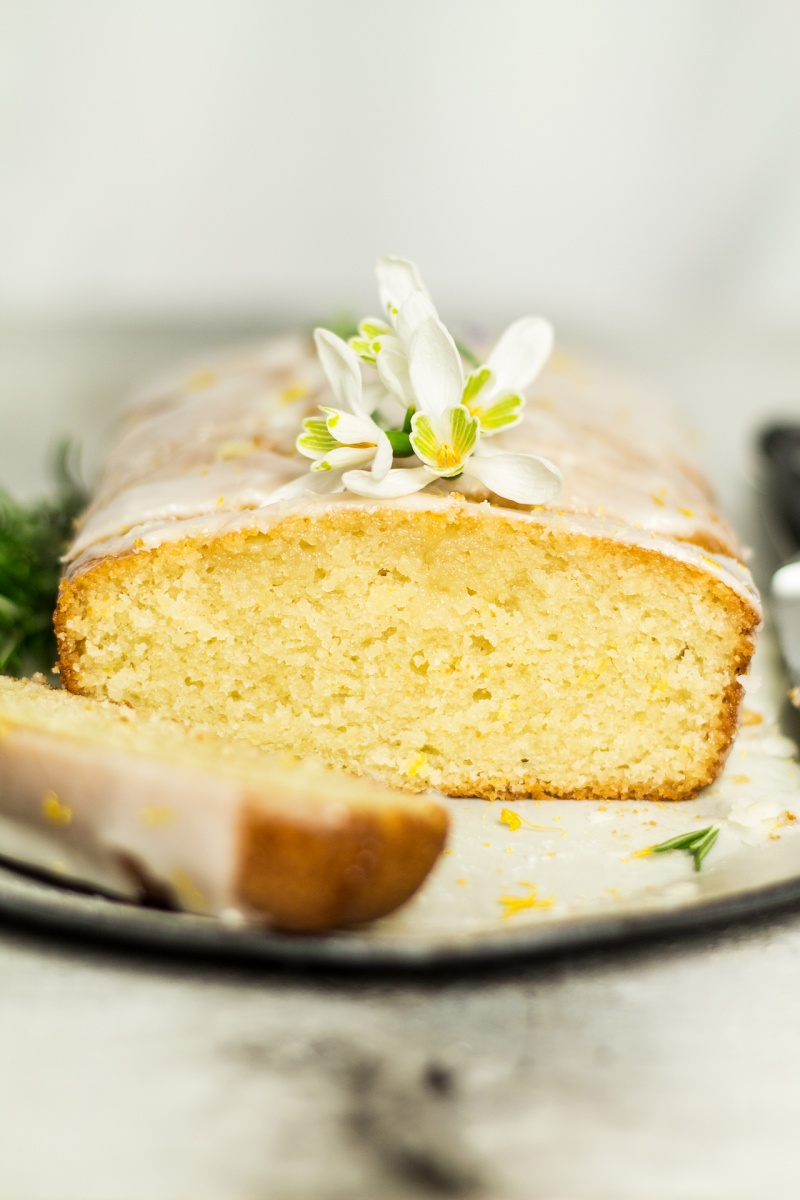 In the last week and a half I transitioned from the Siberian cold that I've had to endure during my holiday in Poland, to an almost spring aura over here. I mean there is a bit of a chill in the air still, but the sun is shining and the birds are chirping and it almost feels like Madam Spring herself has finally moved in. I love that transition when everything (people included) wakes up from the sluggishness of winter.
I went running again for the first time in about 3 weeks (an illness and my holidays, which ended up lasting longer than planned, have derailed my training a bit) and even though I was totally out of breath by the end, I loved it! By way of motivating myself to be a bit more consistent with my running, I have (perhaps stupidly) signed up for a 10 km race in mid-May so I've got a goal to help keep me focused.
Right now, I'm only at about 4-5 km and I haven't got heaps of time to reach 10 km comfortably, but I think it's doable if I put the work in. As I am training, I am being a bit more careful about what I eat and I'm trying to stay off sugar as much as possible. I did have a slice of this cake, but the old me would have had way more than that. I'm trying to catch myself when I do mindless eating, which happens when I'm stressed, frustrated or bored, as it brings me no joy or nutrition.
The key, I found, is to get rid of the offending item as soon as possible. The moment I finished my photoshoot I ran over to my neighbour with a few slices of cake on a plate and packed the rest up for Duncan to take to work tomorrow. That way I get to enjoy feeding other people and I still get to eat one slice (in the name of testing, of course) and not gorge myself silly and feel disgusted with my lack of will power the moment I finish.
Anyways, 'cos it's almost spring, I've decided to make a cake that for some reason reminds me of spring – a classic lemon drizzle cake. I'm not sure why as it's not like lemons grow in the UK anyway. Perhaps it's the colour, like the colour of daffodils, which wink at me from all corners of our garden. The cake is light and moist, tangy yet sweet at the same time. Perfect with a cup of afternoon tea in the Spring sunshine.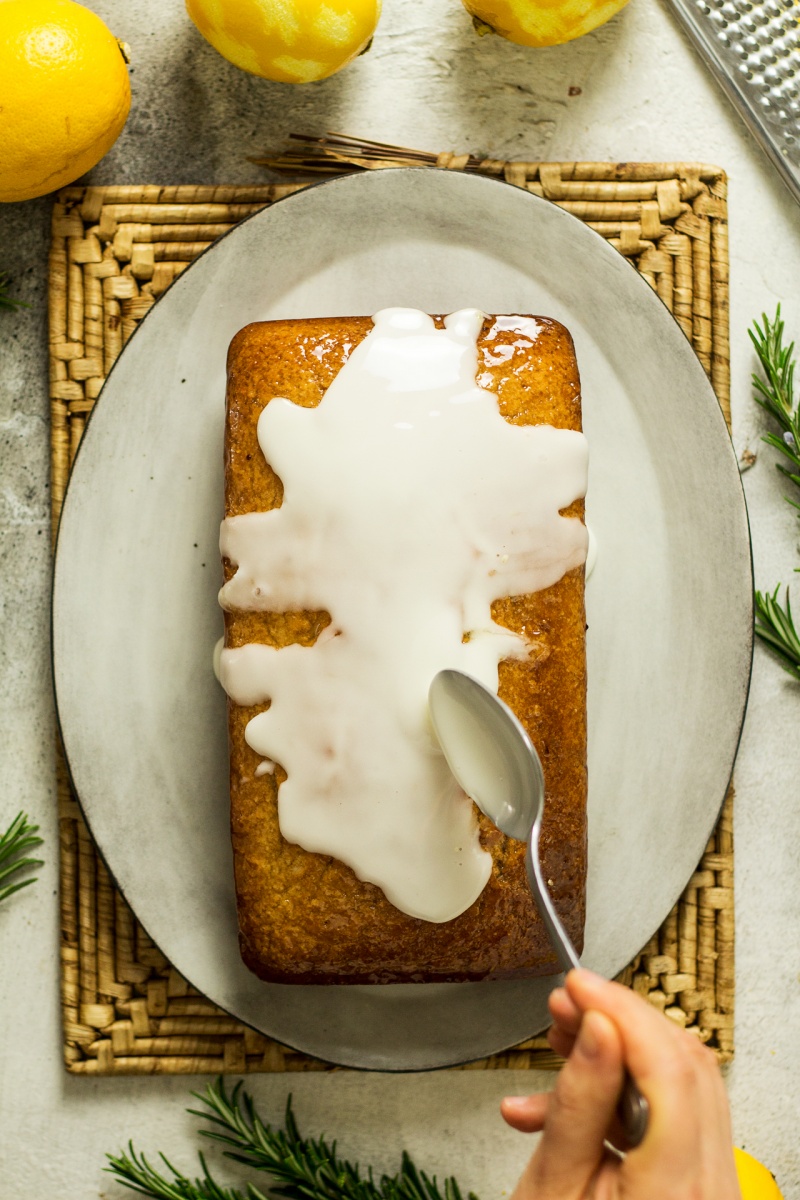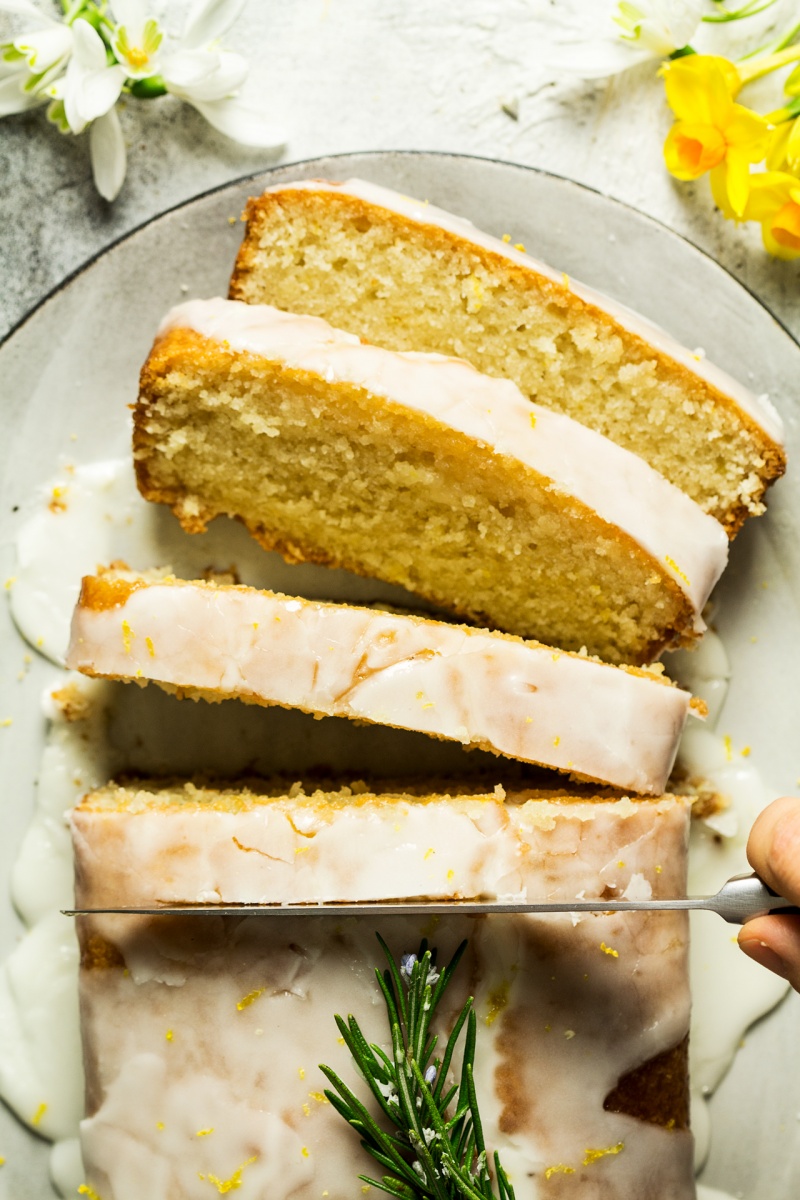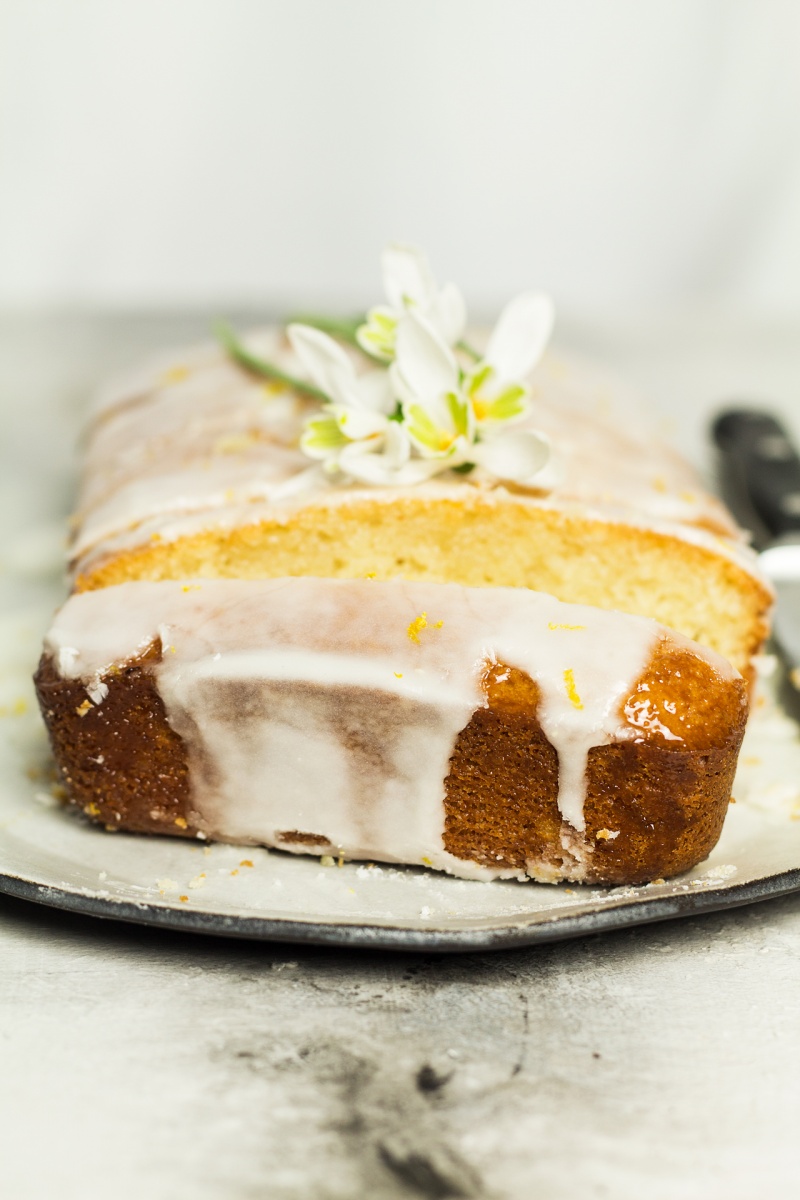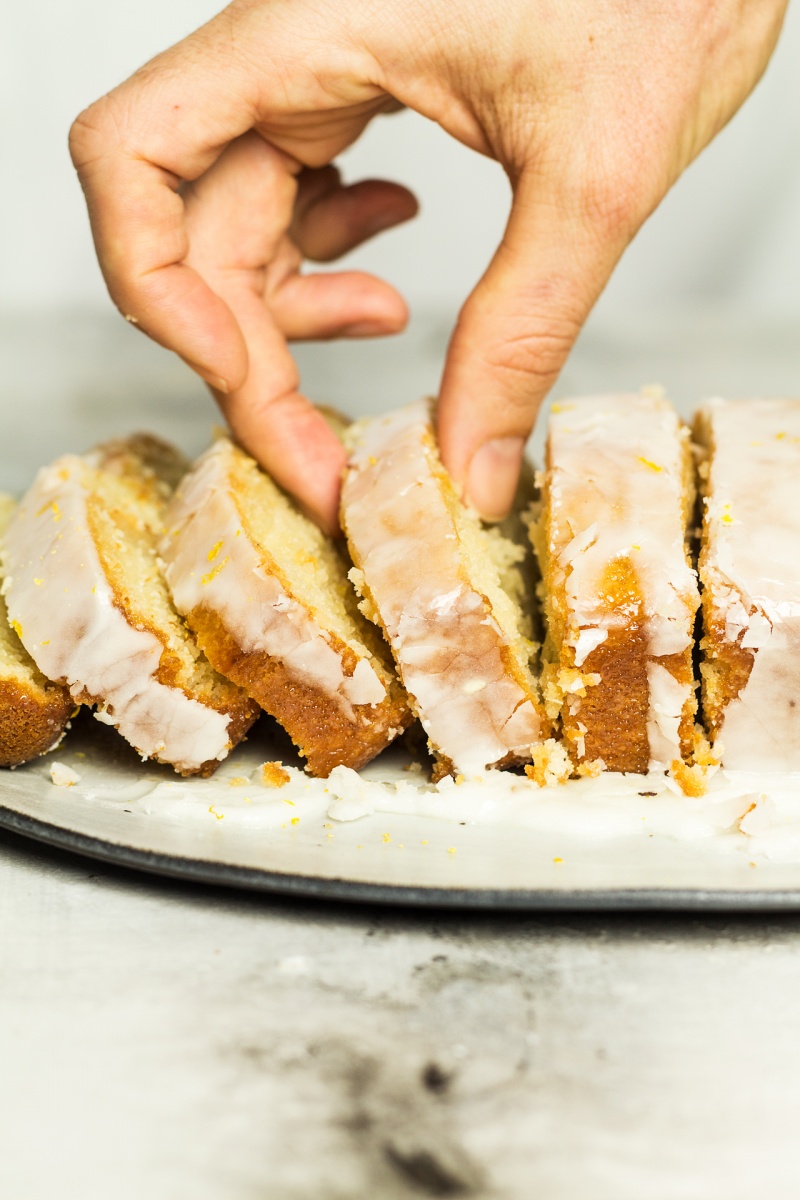 WET INGREDIENTS
100 g / ½ cup neutral oil (for example mild coconut oil)
125 g / ½ cup + 2 tbsp caster sugar
180 ml / ¾ cup thin & lukewarm (not from the fridge) plant milk (I used almond)
60 ml / ¼ cup lemon juice (approx. 1 lemon)
DRY INGREDIENTS
zest of 2 lemons
180 g / 1½ cups all purpose white flour or GF cake flour mix, sifted
¾ tsp baking soda
1 tsp baking powder
100 g / 1 cup almond meal or finely ground almonds*
LEMON AND ROSEMARY SYRUP
70 g / 1/3 cup caster sugar (fine sugar)
juice of 1½ lemons (about 90 ml / 6 tbsp juice)
1-2 fresh rosemary sprigs (optional)
ICING (optional)
50-100 g / ½-1 cup icing sugar*
juice of ½-1 lemon
METHOD
LEMON DRIZZLE CAKE
Heat up the oven to 180° C (or 160° C fan forced) / 355° F (320° F fan forced). Line a 1 kg / 2 lb tin with a wide strip of baking paper to be able to remove your cake easily.
Melt the coconut oil gently over a low heat.
Whisk the coconut oil and sugar together with an electric whisk. Add in the plant milk, lemon juice and lemon zest.
Place a sieve over the bowl with the wet ingredients and sift through all the dry ingredients, except for the almond meal. Fold them in gently, until just combined.
Next, gently fold in the almond meal.
Transfer the batter to the prepared baking tin.
Bake for about 50 minutes, until a toothpick comes out clean and the top is nicely browned.
Once baked, remove the cake from the tin. Pierce the top with a toothpick in several places to allow the syrup to infuse the cake better. Brush the surface of the hot cake (that's important as otherwise the syrup will stay on the surface) with syrup several times allowing the syrup to soak into the cake between each go.
Once cool, drizzle with icing starting from the middle so that it drips down to the sides creating pretty drizzle marks.
LEMON AND ROSEMARY SYRUP
Place the sugar and lemon juice in a small pot over a low heat. Add sprigs of rosemary if you wish.
Bring the contents of the pot to a gentle simmer and cook until the sugar dissolves completely. Set aside.
ICING
Whisk the icing sugar and lemon juice in a medium size bowl until fully combined. Add the lemon juice gradually to avoid lumps in your icing. Alternatively, you could also sift your icing sugar before combining it with the lemon juice.
NOTES
*NUT-FREE OPTION: if you cannot tolerate nuts, try
this vegan lemon cake recipe
instead. It's a nut-free vegan lemon cake that I created based on this recipe.
*Given that the cake is already covered in sugar syrup, I recommend making a smaller amount of icing (50 g / ½ cup icing sugar and juice from ½ lemon) and drizzling the cake with it for decoration. The larger quantity given above allows you to cover the cake in icing completely.
I used a 2 lb / 900 g cake tin of the following dimensions: 18.5cm x 8cm x 6cm (like this). It holds 8 cups / 2000 ml liquid (to the brim), but the batter should fill no more than 2/3 – 3/4 of the 2lb cake tin or else the cake may not raise.