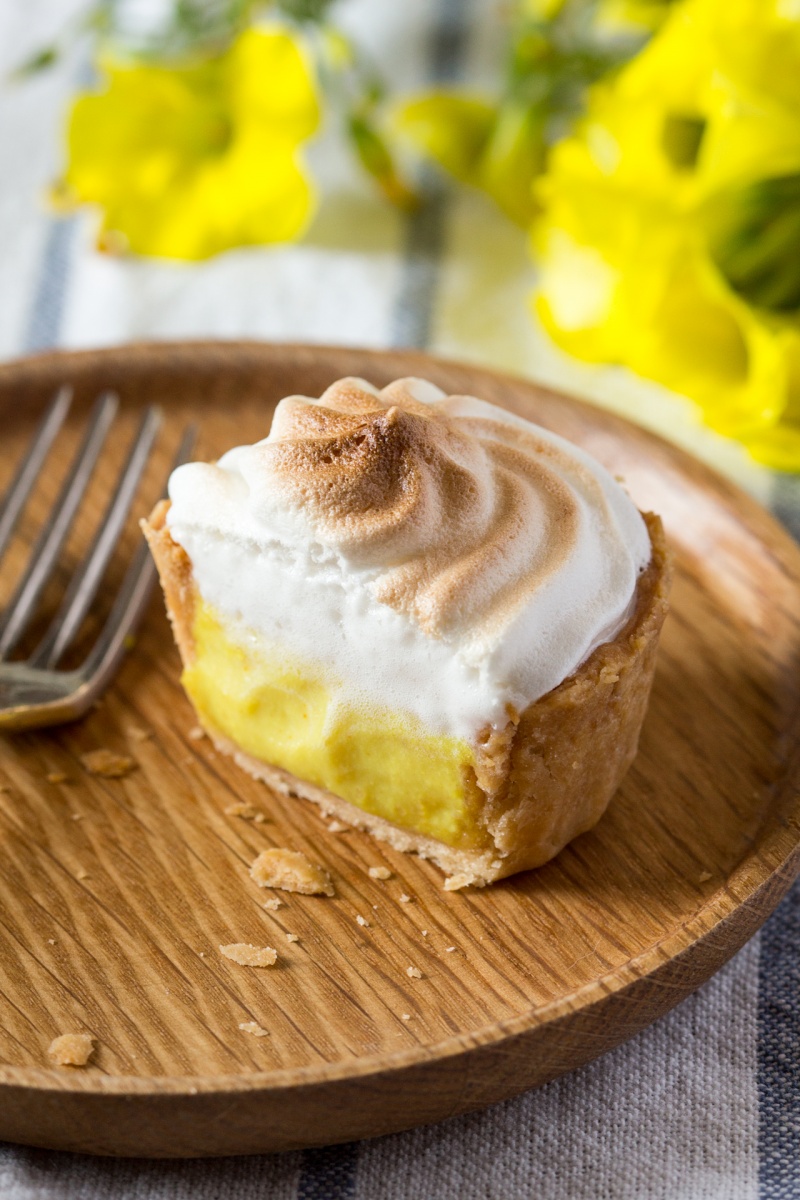 It's only mid-February and where I come from this is still the middle of winter, but here, in Greece, the spring appears to have moved in! We took some time off work the other day as we woke up to a beautifully sunny (that's actually not that rare here) and super warm 25° C (77° F) day and we felt like we've time travelled. Everything was in full bloom, our cat started chasing after bees and butterflies in our garden and it seemed like the storm and ferocious winds of just two days earlier were all a figment of our imagination.
We are cautious about celebrating spring's arrival too soon as Greek islands tend to get a few summer days thrown in the middle of winter on a yearly basis (a weather phenomenon called Halycon Days) so the cold and storms may still return…but I'm hoping to fend it off for good with this spring-inspired dessert.
All this sunshine, butterflies and warm weather got me craving a spring-like dessert. Something light, fresh and big enough to satisfy my sweet tooth yet small enough to make my moment of weakness feel innocuous. After a few experiments, I decided on mini vegan lemon meringue pies.
The combination of sour lemon curd, sweet meringue and crumbly pastry is to die for. No wonder that this classic French combination has become such a hit all over the world. If, like me, you have a weakness for miniatures, you'll love this dessert as it's damn cute! It would also make a great addition to an afternoon tea party (although I'm in the espresso party camp myself 🙂 ). Give it a go, if you can make a pie crust, you can make these pies with your eyes closed.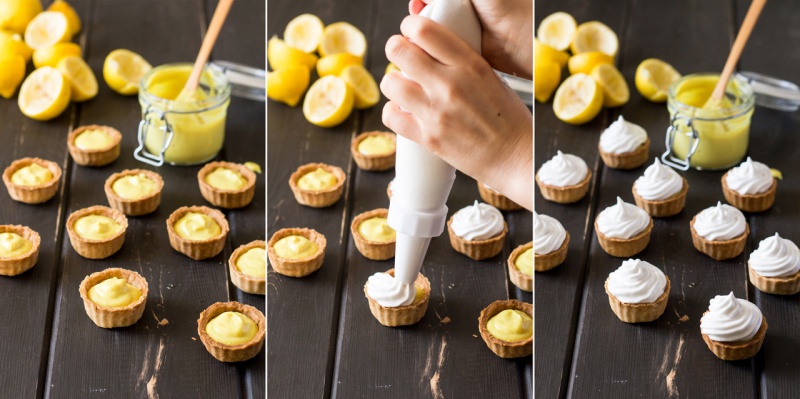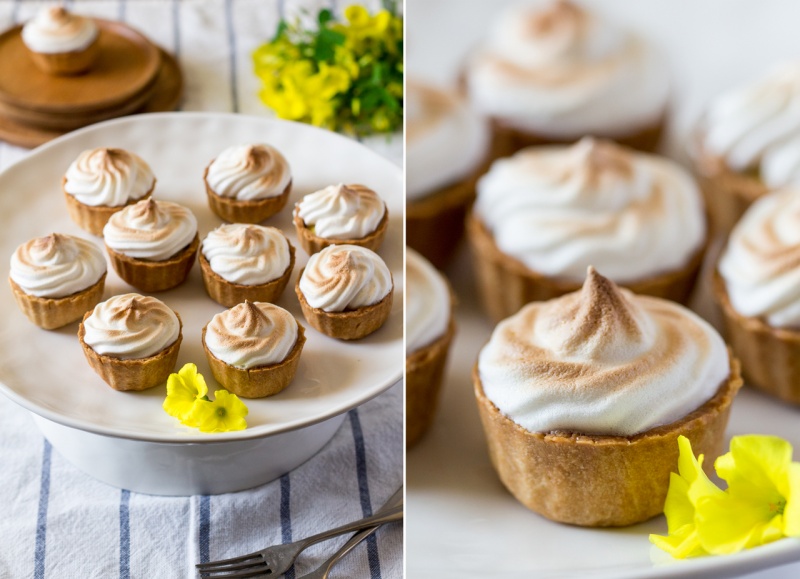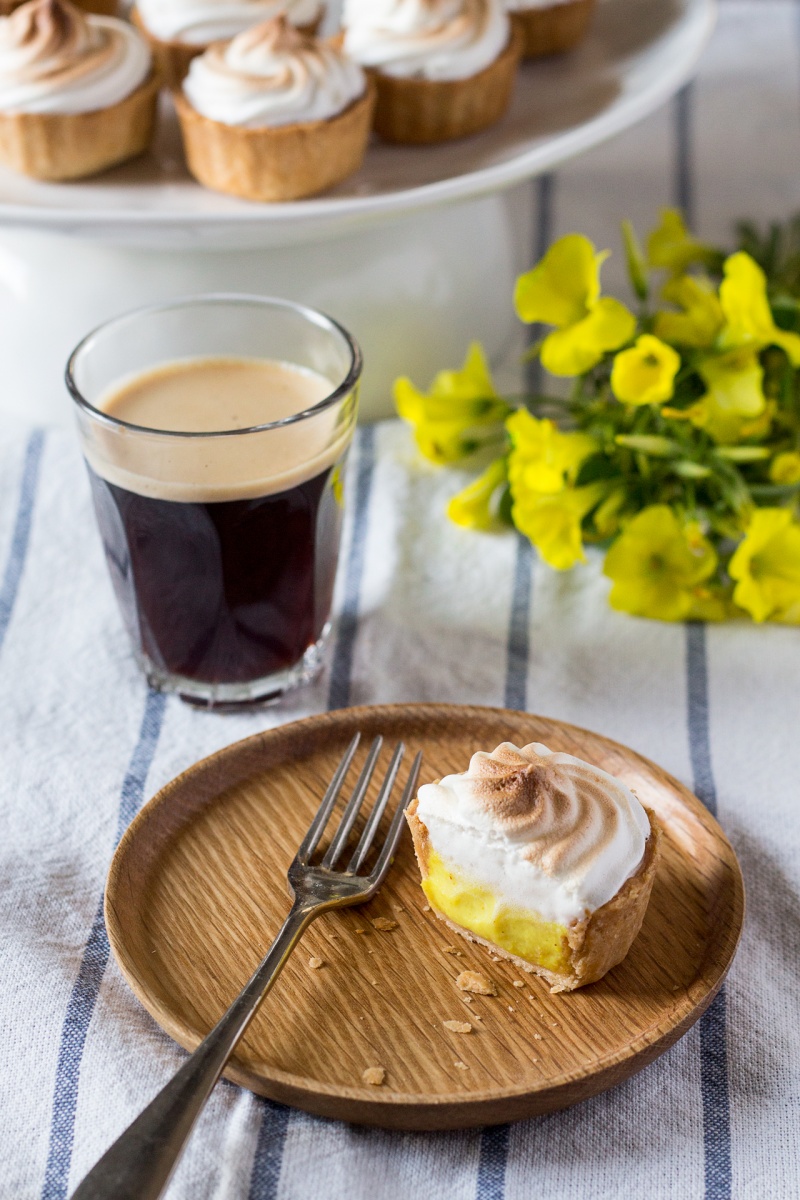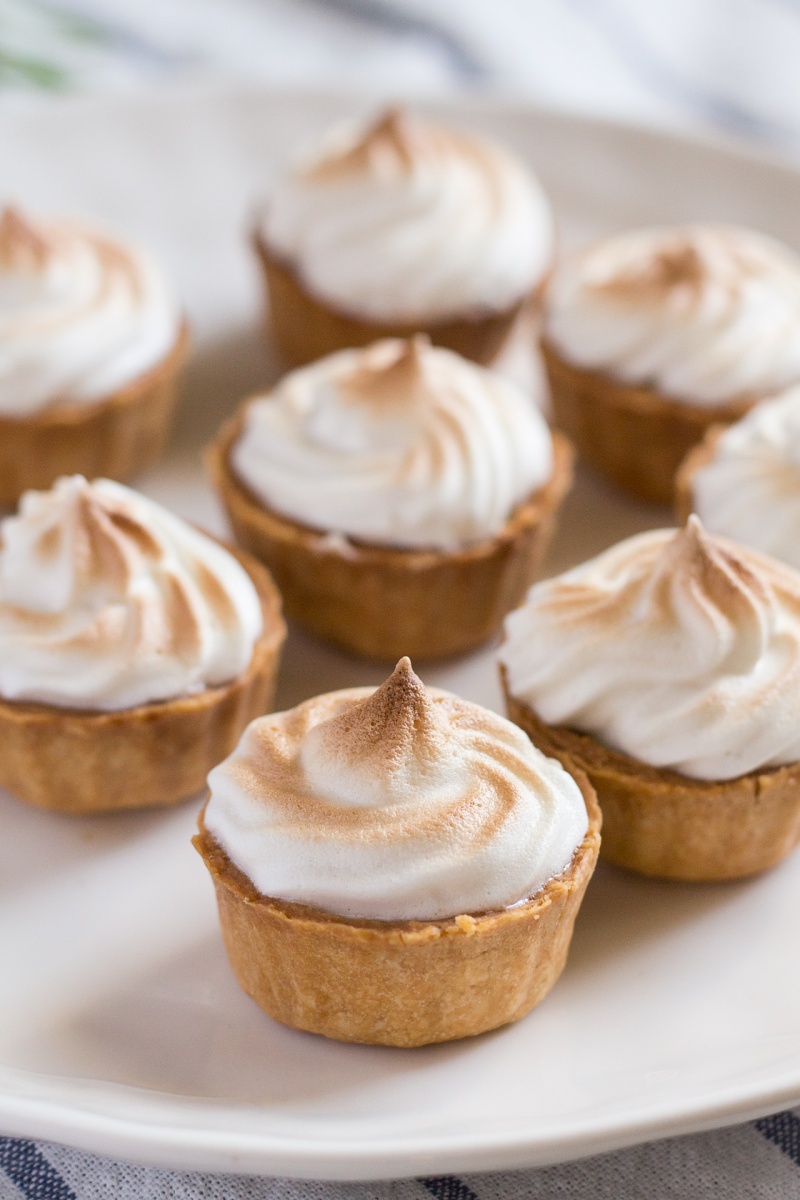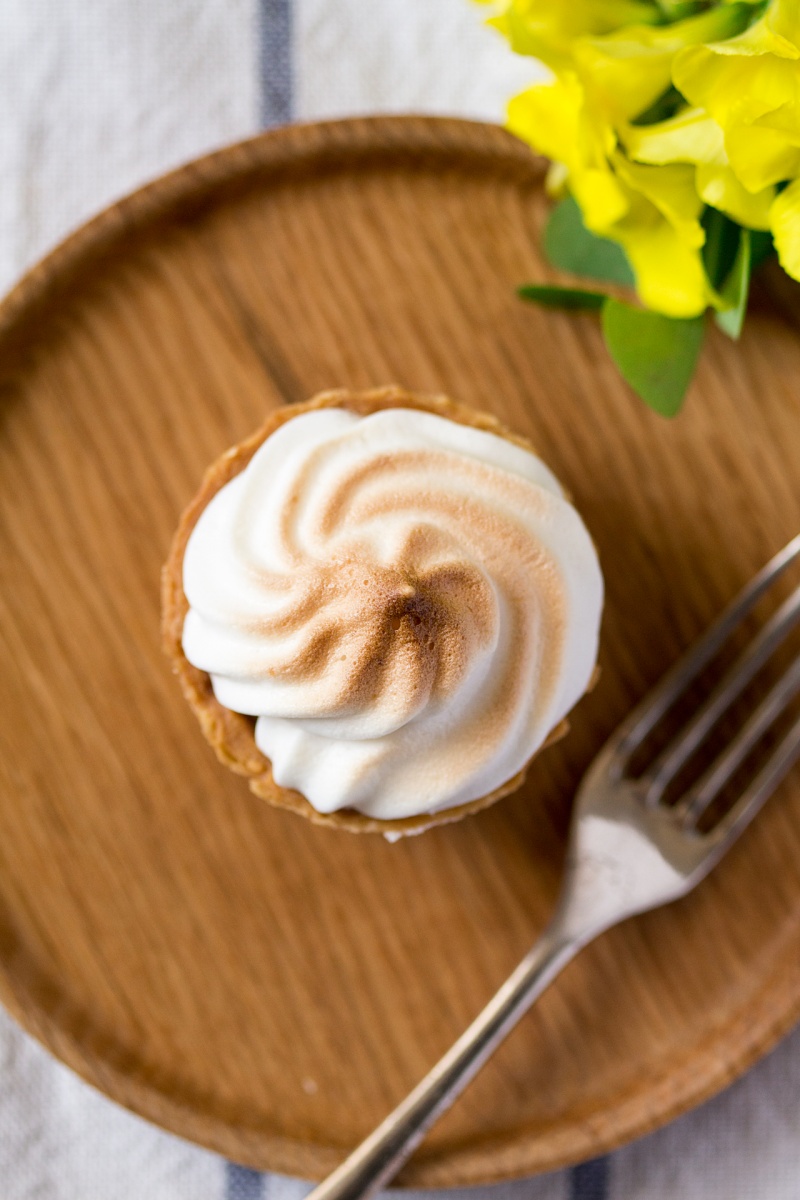 PASTRY CASES
180 g white all-purpose flour, sifted
a pinch of salt
1 tbsp icing sugar
60 ml / 4 tbsp olive oil
LEMON CURD
80 g / just over ½ cup cashews (soak in water overnight)
150 ml / ½ cup + 2 tbsp of freshly squeezed lemon juice
5 tbsp / 75 ml maple syrup or sugar to taste
2 level tsp cornflour / cornstarch
pinch of turmeric (for colour, optional)
MERINGUE
½ cup / 120 ml aquafaba / chickpea water*
125 g / ½ cup + 2 tbsp fine caster sugar
½ tsp white wine vinegar (optional)
METHOD
PASTRY CASES
Combine sifted flour and icing sugar in a large bowl. Add olive oil and rub it into the dry ingredients with your hands. Finally, add water – be careful, do it gradually – how much water you'll need depends on how absorbent your flour is. Combine all the ingredients into a dough gently, but do not knead. Wrap it in a piece of cling film and chill in the fridge for 30 mins.
Remove the dough from the fridge and divide into 10 portions. Roll each portion out between two sheets of baking paper until you get a rough circle, about 2 mm in thickness. Place the rolled-out dough over the ramekin and gently line the inside of the ramekin with it. Trim the excess pastry with a sharp knife. Pierce the bottom of the ramekin with a fork a few times and put the first ramekin into the fridge. Repeat with the remaining ramekins / moulds.
Chill all the pastry-lined ramekins in the fridge for about 60 mins.
45 min into pastry chilling time, preheat the oven to 175° C / 350° F. Line the pastry cases with pieces of baking paper and fill with baking beads or rice.
Blind bake the pastry for 20 mins, then remove the beads and bake for another 15 mins. Cool pastry cases down completely before filling them.
LEMON CURD
Rinse soaked cashews and place them in a blender with 150 ml of lemon juice and maple syrup if using. Blitz several times until you get a completely smooth liquid.
Pour cashew and lemon mixture into a small pot. Warm the mixture up gently stirring constantly so it doesn't burn. If using sugar instead of maple syrup, add about 4 tablespoons of sugar into the pot and allow it to melt in. Taste the mixture and add more sugar if necessary – remember that you'll probably want your curd to retain some tang to contrast with the sweet meringue nicely.
Mix 2 tsp of cornflour with 1 tbsp of water in a small bowl and add this mixture to the warm lemon curd mixture. Bring the mixture to the boil gently (stirring the whole time) and allow it to bubble for two minutes to let it thicken (the mixture will thicken further as it cools).
Finally, add a pinch or two of turmeric to the warm mixture to give the curd a pale yellow colour. Be very careful as I found that even as little as ¼ tsp will overpower the mixture! You can also skip this step if don't have turmeric or don't like it.
MERINGUE (whip it just before you are ready to assemble the pies)
In a large, clean bowl (make sure there is no greasy residue, it is best to use a glass bowl for this) beat chickpea water with an electric whisk or use a stand mixer until you get stiff peaks. You may want to add ½ tsp of vinegar to speed things up although I have been able to get stiff peaks without it too.
To test if whipped chickpea water is ready, gently turn the bowl upside down. If the mixture does not start sliding down, you can start adding sugar. Otherwise, keep on whipping until the mixture stays in the bowl when inverted.
Add sugar gradually, tablespoon by tablespoon, whipping well after each addition. By the time you've used up all your sugar the mixture should turn beautifully sticky and glossy – no different to an egg-based meringue, really.
ASSEMBLY
Fill cool pastry cases with a generous amount of (cooled) lemon curd.
Pipe meringue on top using a piping bag or a clean ziplock (again needs to be completely grease-free) bag with a cut-off corner.
Toast the meringue under a hot oven grill. It will only take about 2 minutes but watch the pies like a hawk as they can go from light brown to burnt in seconds. They may also need rotating after a minute if your oven burns a bit hotter at the back, like mine does. Alternatively you can use a blow torch if you own one.
Let meringue pies stand for at least an hour after toasting the meringue so that it stabilises. Consume on the day – I had some of mine the next day and they were still nice but definitely nicer on the day they were made.
NOTES
*Aquafaba (AF) or bean brine is leftover cooking water from cooking most legumes. I use chickpea water and have not tried using any other type yet. You can get it from a can of low sodium chickpeas or make your own. I recommend the latter as that way you can simply not add any salt. When making your aquafaba, soak dry chickpeas in lots of water overnight, rinse and put in a large pot with lots of water. Bring to the boil and then simmer for about 1 hour (until beans are soft). Remove cooked chickpeas with a slotted spoon and what's left in your pot is aquafaba. If it is too runny (ideally it should resemble egg whites), you can concentrate it a bit by simmering it on a low heat (without a lid) until it reaches the desired consistency. Cool it down before using – I refrigerate my AF for a day before whipping up my meringues.
I used mini ramekins of the following dimensions: diameter of 5.5 cm / 2 in and height 2.5 cm / 1 in.
My recipe for lemon curd has been adapted from this recipe.