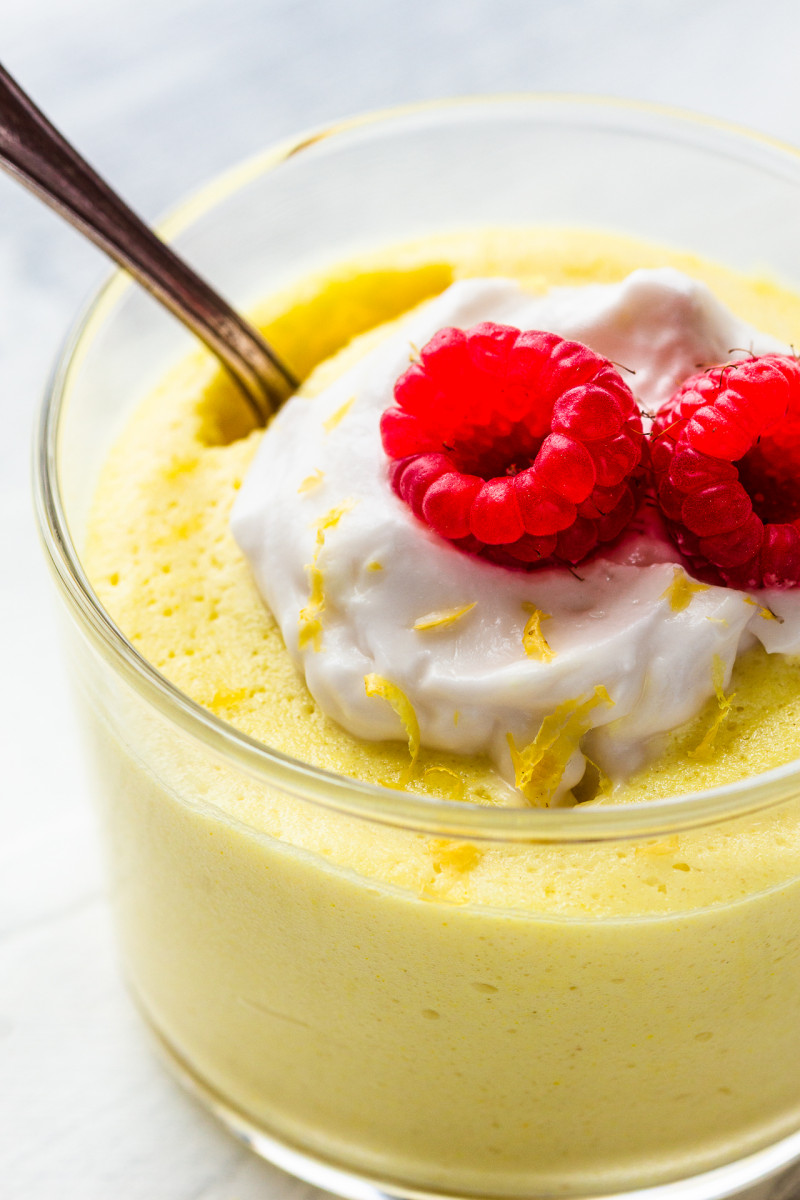 Happy weekend, everyone! I hope you've made some relaxing or stimulating (whichever you are in need of) plans for this weekend. I am hoping to hop on a bike tomorrow and go on a little trip into the unknown or to a nice lunch destination more like (yup, sounds more like me, doesn't it?). Recipe wise, it's been a while since I published a dessert recipe and so I made a Spring inspired dessert that you'll (hopefully) love.
It's light and airy, with a palate tingling lemon tang and makes for a fantastic end to a sumptuous meal. Even though I am firmly in the chocolate camp myself, I found this lemon beauty pretty irresistible. It's not hard to make and there are quite a few ingredient swaps possible so let me talk you through that below…
MORE ABOUT THE INGREDIENTS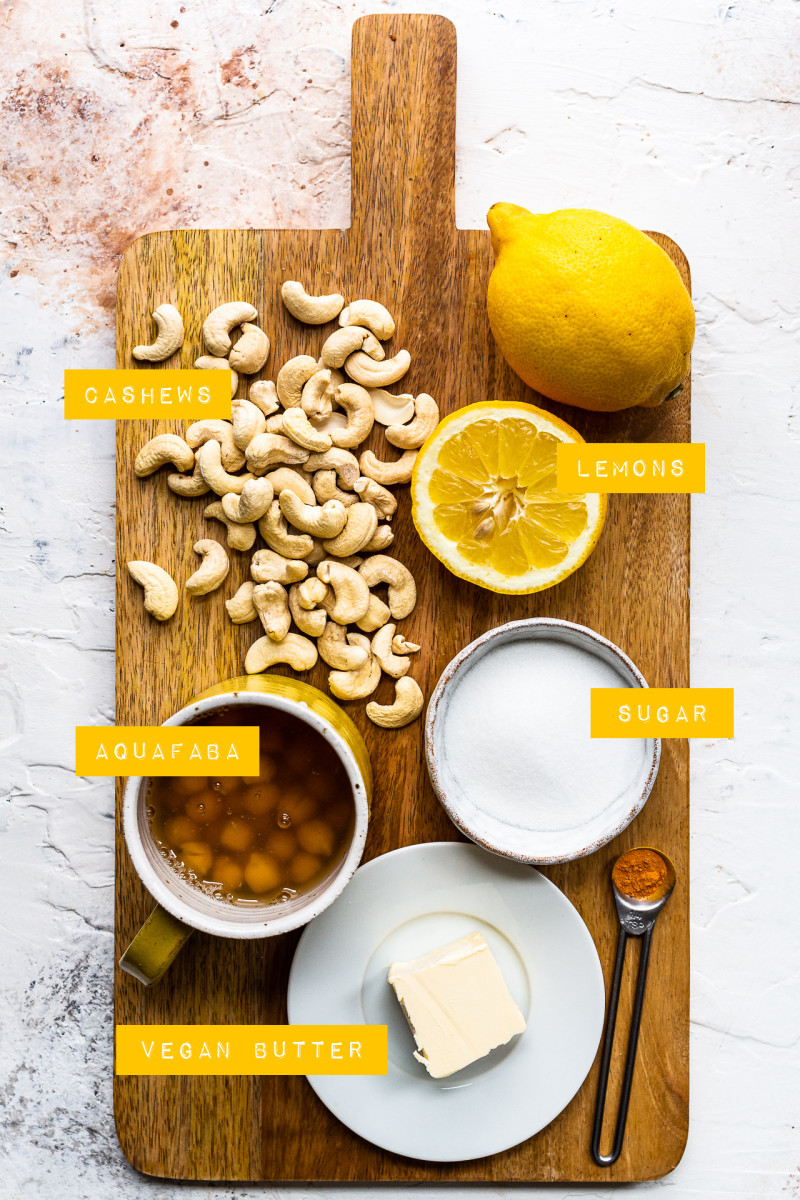 CASHEWS – cashews form the base for this creamy dessert. They work perfectly as they contribute a rich base and nice mouthfeel yet their neutral flavour doesn't take over. If you live in Australia, (locally grown) macadamia nuts work just as well – here, in the UK they cost so much that you would need to re-mortgage your house. Less good but viable alternatives would be coconut cream (separated from a tin of full fat coconut milk) or silken tofu. They will both work well in terms of texture, but they will contribute their own flavours making the lemon flavour less clean.
SUGAR – I used caster sugar but coconut sugar will work just as well flavourwise. Colourwise, coconut sugar is going to make this dessert a little less visually appealing.
LEMON ZEST – Lemon zest reinforces the flavour beautifully but I prefer not to add it in this context as I like my mousse it to be perfectly smooth.
VEGAN BUTTER – vegan butter (I use Naturli) helps with texture of this mousse, coconut oil is also a good option. Alternatively, you could use vegan white chocolate or cacao butter but it will add a little bit of white chocolate flavour and if using sweetened white chocolate, you may want to reduce the amount of sugar a touch (by 15 g / 1 tbsp approximately). Finally, I have used cashew butter in my raspberry mousse and it worked a treat so give it a go if you are seeking a healthier option.
TURMERIC – I've added a very small amount of turmeric to give this mousse a nice, pale yellow colour. It's important to be very careful here as you certainly don't want to be able to taste it in the finished product. Alternatively, you could use a few drops of vegan-friendly yellow food colouring.
AQUAFABA – I used aquafaba from homecooked chickpeas but you can also just use it from a tin or a jar of low-sodium (ideally) shop-bought chickpeas. Please be sure all your equipment and utensils are spotless before whipping aquafaba.
METHOD AT A GLANCE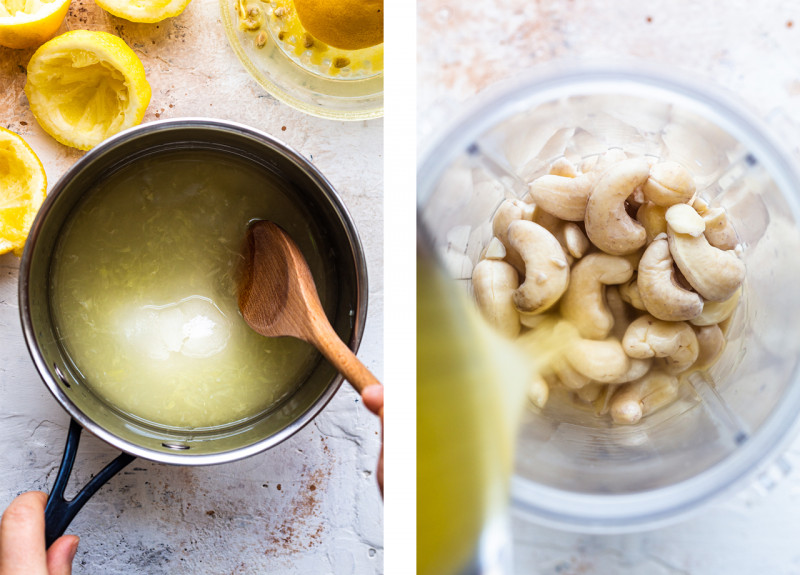 Combine lemon juice and sugar in a pot over low heat to create lemon syrup. Melt vegan butter in the hot syrup and pour the liquid into a blender with drained cashews.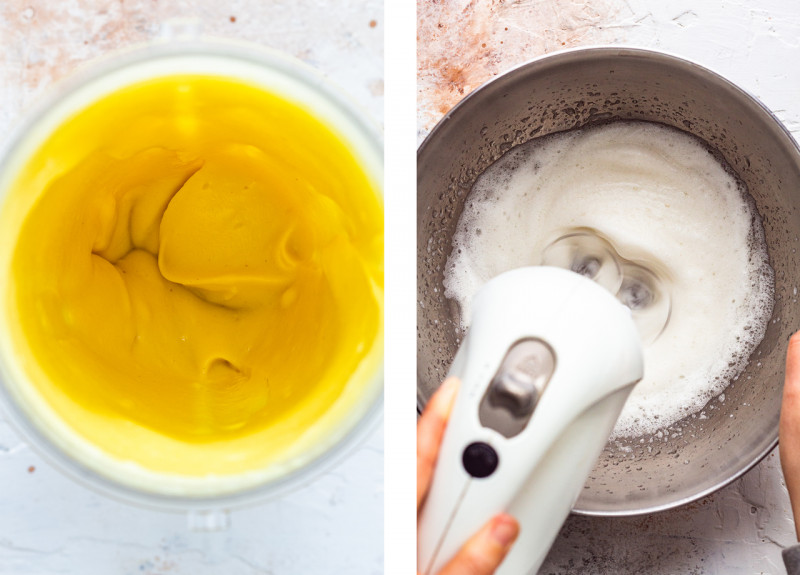 Add a touch of turmeric and blend the mixture until completely smooth. Next, whip aquafaba until you get stiff peaks, depending on your mixer it will take approximately 3-5 minutes.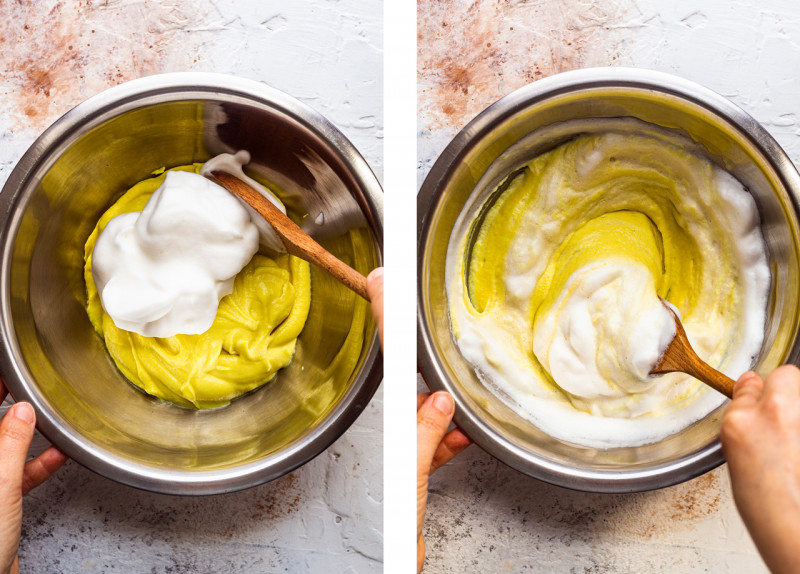 Transfer cashew mixture to a mixing bowl and add half of the whipped aquafaba to it. Using very slow and gentle folding motion, combine cashew mixture with aquafaba until no white streaks are visible.
By the time you are done, the mousse should be airy and thick. Divide the mousse between four glasses, using a chopstick or a toothpick gently stir each mousse to level it out. Refrigerate overnight or until set.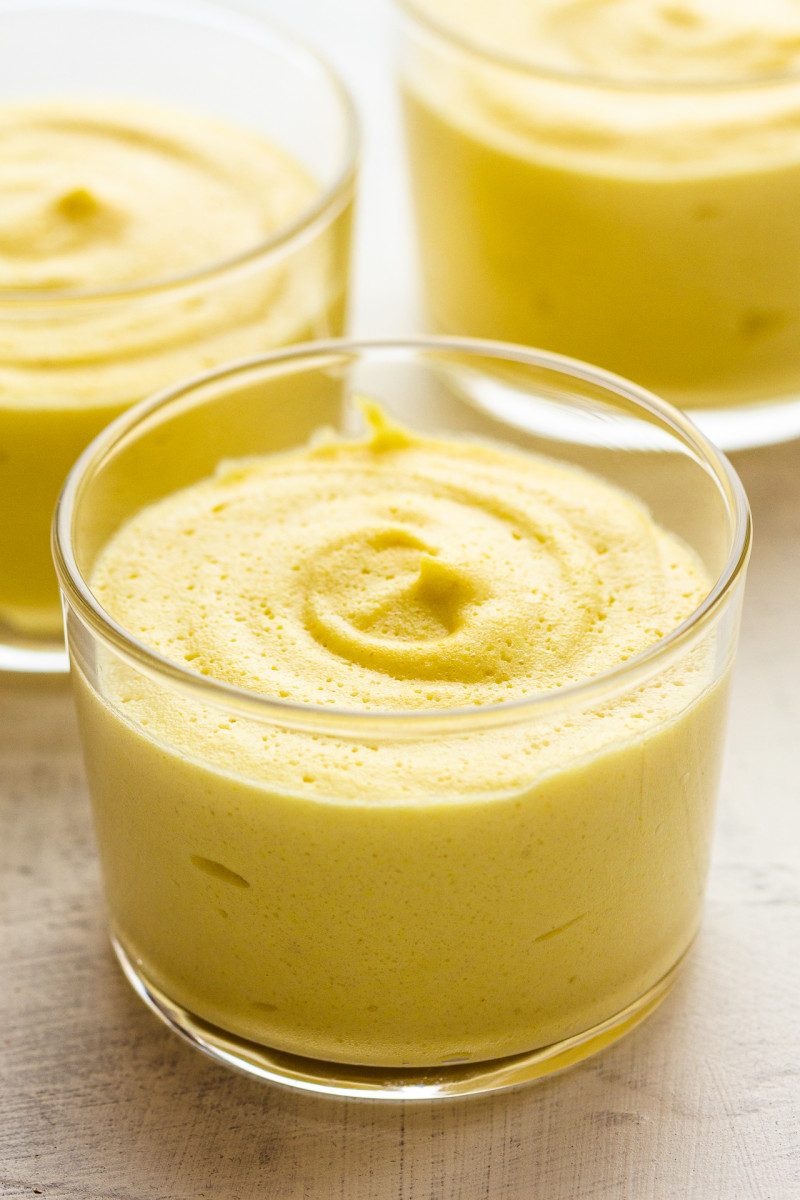 This is what it looks like after it has set. Decorate and serve or enjoy as is 🙂 .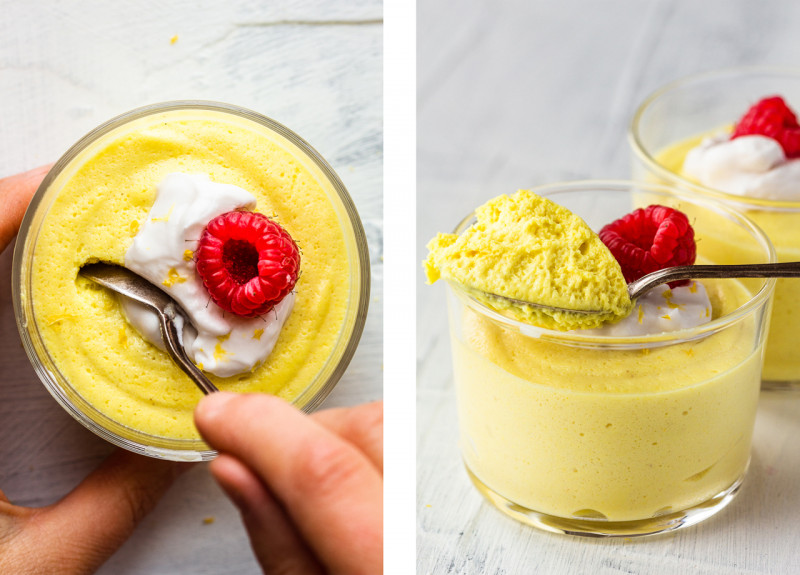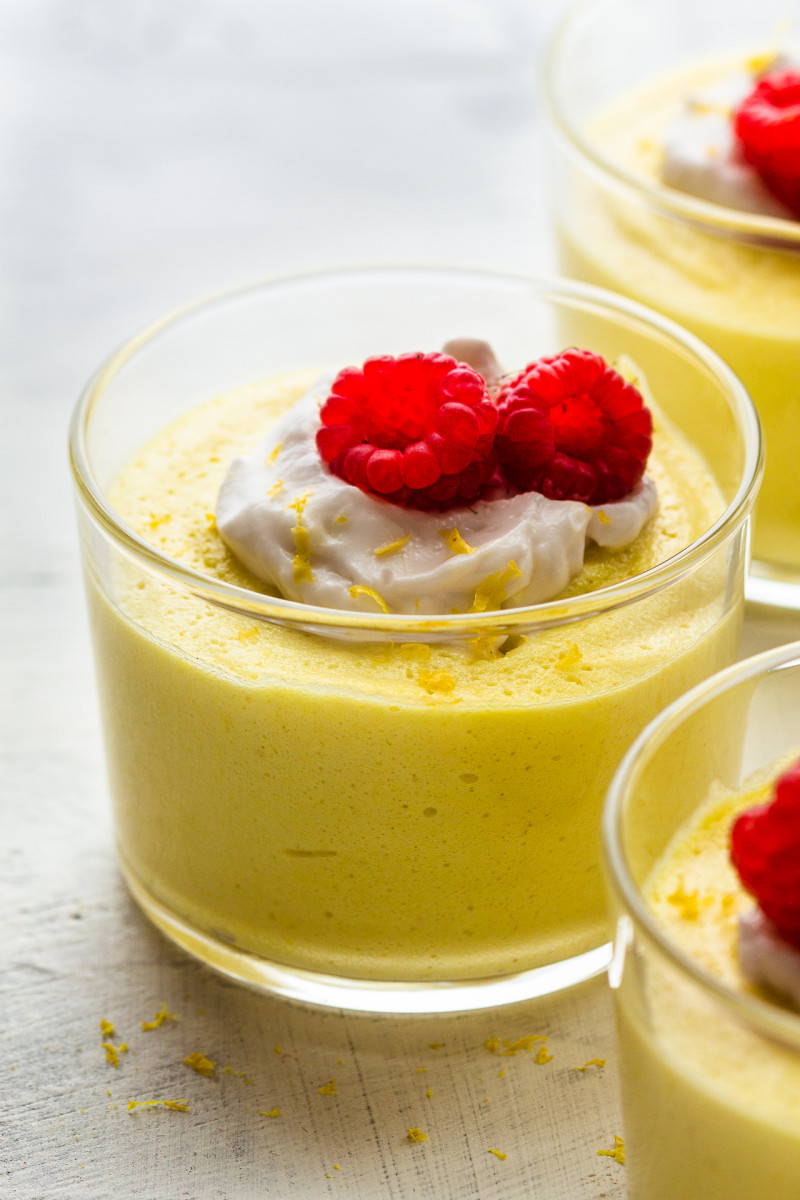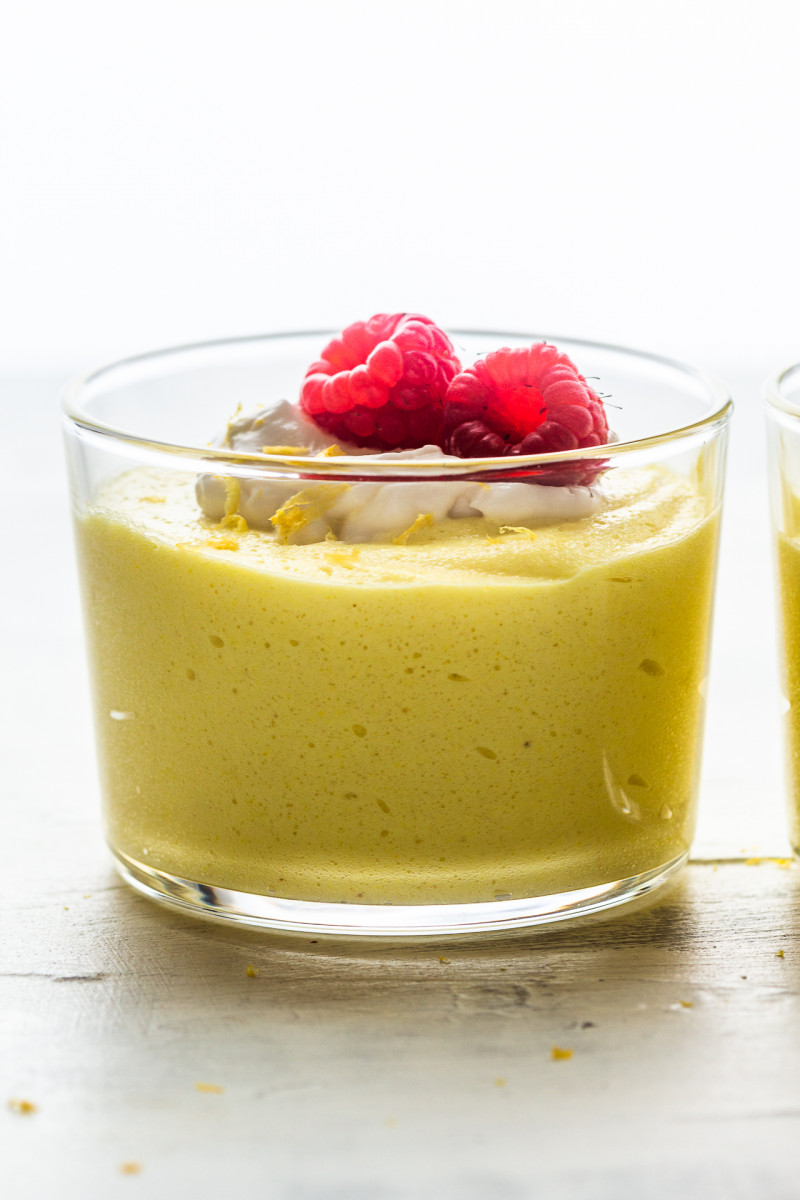 VEGAN LEMON MOUSSE
130 g / 1 cup raw cashews*
100 g / ½ cup white sugar or coconut sugar
150 ml / ½ cup + 2 tbsp lemon juice + (optionally) zest of 1 lemon
30 g / 2 tbsp vegan butter block or coconut oil*
1/8 tsp turmeric, optional
80 ml / 1/3 cup aquafaba (chickpea brine)
pinch of salt
DECORATION (optional)
whipped coconut cream
fresh raspberries
METHOD
Soak cashews in boiling water for at least 30 minutes or overnight in cold water.
Combine sugar and lemon juice in a small pot on a low heat. Stir until sugar has dissolved completely. Take off the heat, add vegan butter and allow it to melt into the hot syrup, stirring from time to time.
Put drained cashews, the lemon syrup, turmeric and lemon zest (if using) into a blender. If using an upright blender, pour lemon syrup to the bottom and then add the cashews. Blend until creamy and super smooth. Transfer to a mixing bowl and set aside.
Place aquafaba in a clean (that's very important as any grease residue will prevent the aquafaba from achieving stiff peaks) glass or metal bowl. Add a teaspoon of lemon juice and salt. Whip it until you achieve stiff peaks – you should be able to invert the bowl and the whipped aquafaba should move at all. If it does it means that it hasn't been whipped enough.
Fold approximately half of the aquafaba into the lemon mixture. Use a slow folding motion so that you don't knock too much air out – this will cause the mousse to deflate. Once incorporated, add the other half. By the time you are done, the mixture will be pale yellow, airy and thick – spoonable rather than pourable.
Divide the mixture between 4 dessert glasses and using a chopstick, gently stir the mousse in each glass to even it out. Place the glasses in the fridge for 8 hours (or overnight) for the mousse to set.
Once set, decorate with whipped coconut cream and raspberries. This dessert keeps in an airtight container for about 2 days.
NOTES
*CASHEWS: see the blog post for possible replacements.
*VEGAN BUTTER: see the blog post for possible replacements.
If you are after a different flavoured mousse, why not try: