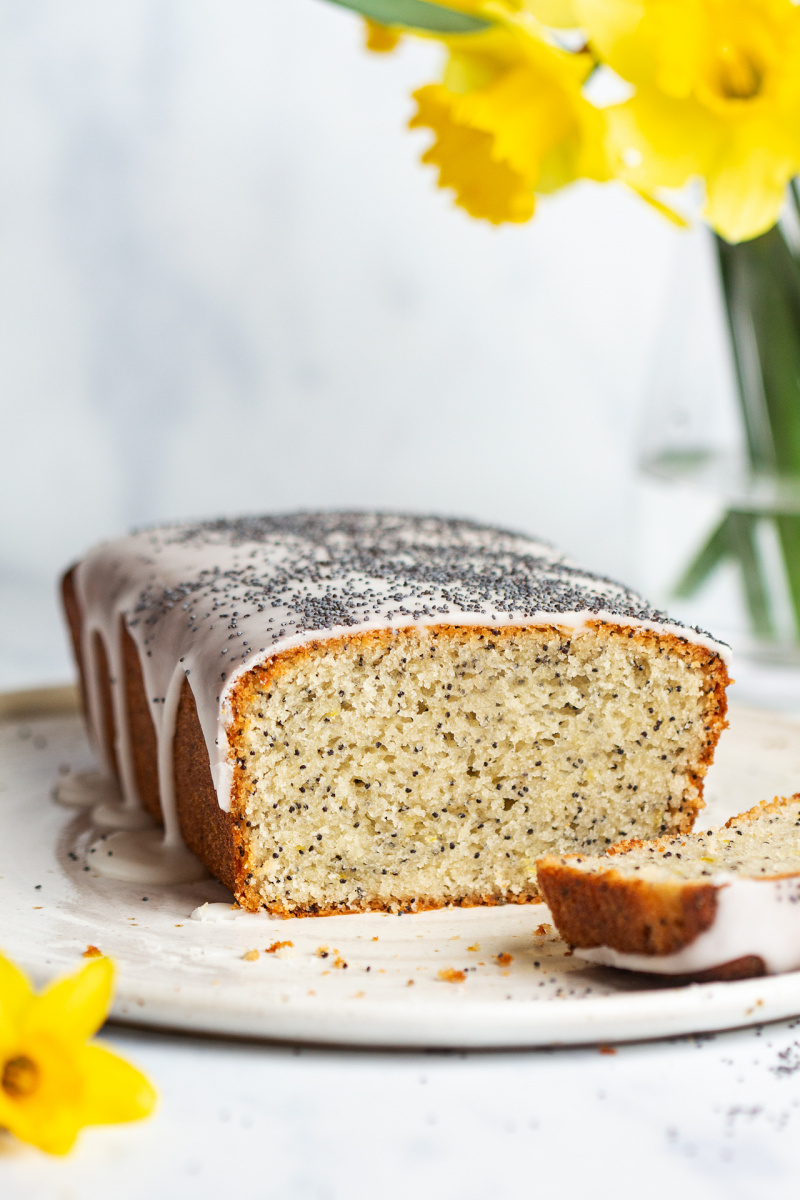 It's the weekend at last. Even though it's another DIY weekend for us, I am looking forward to it as we are finally putting the last coat of paint on our living room walls, woop woop. The walls are already looking great even though we did encounter some unsightly issues after the first coat and our hearts sank a little. Some remedial action and another coat has made a big difference and this third and final coat will certainly seal the deal.
Our long awaited sofa is almost ready for delivery so we should be able to finally have a bit of comfort in the next one to two weeks. It's just as well as, with the coronavirus sweeping across the globe, we are relieved to soon have a spare sleeping arrangement if one of us falls ill. Due to the official health warnings, Duncan is working from home most days next week. Tina will be delighted and I am sure she will install herself on his lap as soon as he sits down at his desk and stay there until he finishes for the day, making his loo or food breaks an apologetic nightmare. She is a mega cuddler in cold winter months and Duncan is certainly her favourite person on Earth. When I mock-sulk about it, he tells me that it's because I am way more fidgety than he is, but we both know it's not true. They are so adorable together, gazing into each other's eyes, that it makes me wanna cry (I am an easy crier, no surprises there!)
From other news, I had my first therapy session yesterday, which was very validating and it took a weight off my shoulders. My therapist has confirmed my assessment of the situation and I am getting a lot of homework before our next session so that I can start working on reorganising my brain as the brain, ladies and gentlemen, has a lot of plasticity which is good news for people who want to work on changing themselves. I already feel a touch lighter by speaking to a qualified professional. I'm focusing on not anticipating things, just putting one foot in front of the other and paying close attention to the quality of my footwork, if that makes sense.
As it's mid-March I made a very spring-appropriate cake even though yesterday we saw a procession of hail that sounded like an angry mob knocking on our windows and doors all at once and temperatures close to freezing. The cake definitely will not go to waste especially that we are decorating and have a couple of friends popping over on Sunday. It's based on my old favourite lemon drizzle cake that is quite popular, but I tinkered with the recipe a little to make it even nicer. It's easy to make, fills your house with a delicious citrusy fragrance and goes really well with a cup of chamomile tea. Enjoy!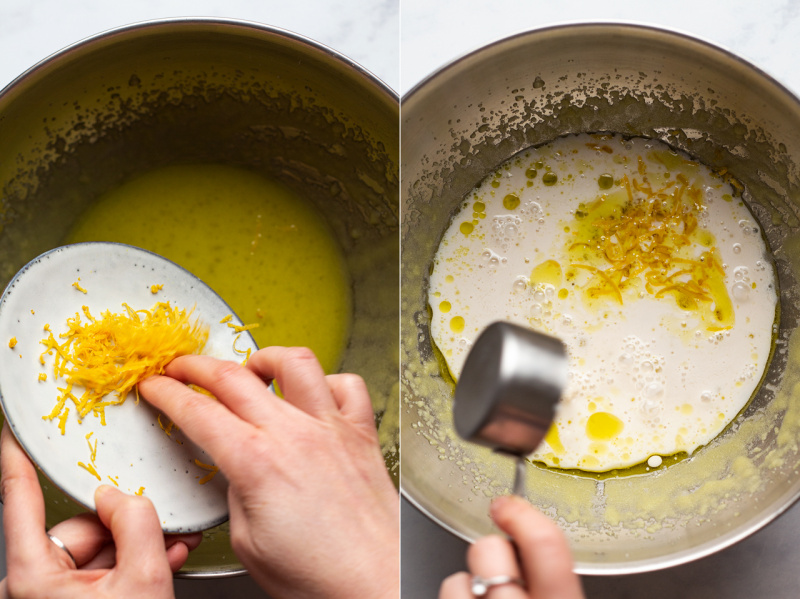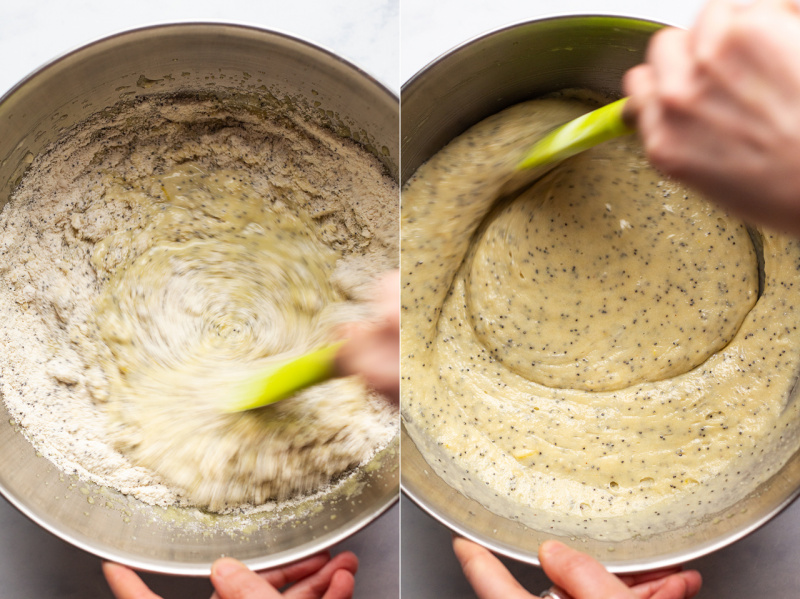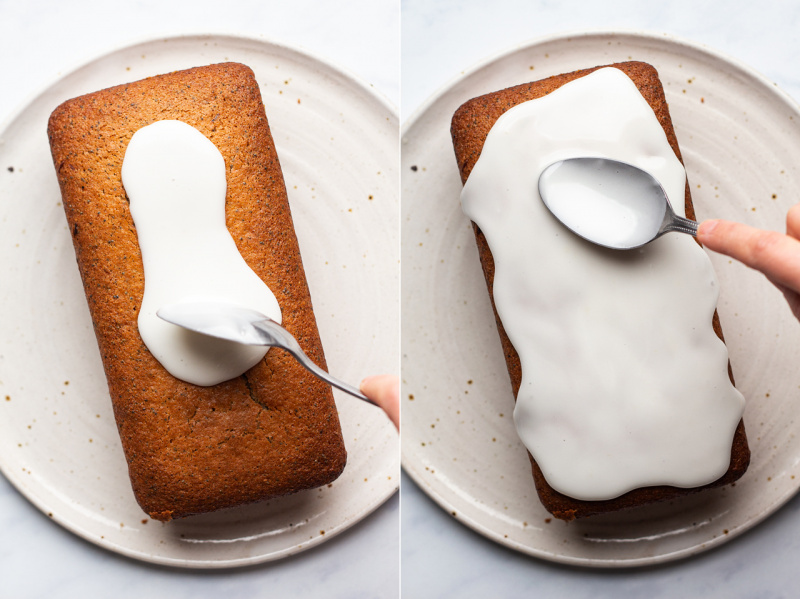 WET INGREDIENTS
80 ml / 1/3 cup mild tasting oil (for example, mild olive oil or melted mild coconut oil)
150 g / ¾ cup caster sugar or coconut sugar
150 ml / ½ cup + 2 tbsp room temperature* plant milk (I used almond)
60 ml / ¼ cup lemon juice
zest of 2 lemons
DRY INGREDIENTS
180 g / 1½ cups all purpose white flour or GF cake flour mix, sifted
¾ tsp baking soda
1 tsp baking powder
100 g / 1 cup almond meal or finely ground almonds
4 tsp poppy seeds, plus more to decorate
ICING
50 g / 1/3 cup icing sugar
approx. 3 tsp lemon juice
METHOD
CAKE
Heat up the oven to 180° C (or 160° C fan forced) / 355° F (320° F fan forced). Line a 1 kg / 2 lb tin (see NOTES) with a wide strip of baking paper to be able to remove your cake easily.
If using coconut oil, melt it gently over a low heat. Whisk the oil and sugar together with an electric whisk.
Add in the plant milk, lemon juice and lemon zest and mix with a spoon, otherwise the mixture will splatter everywhere.
Mix all the dry ingredients in another bowl together. I recommend sifting the flour for a lighter crumb, but the recipe works well without that step also.
Add the dry ingredients to the wet ingredients. Mix gently but thoroughly, making small circles from a small well in the centre of the bowl gradually incorporating more dry ingredients into the wet ones – I find that this method prevents lumps from forming.
Transfer the batter to the prepared baking tin.
Bake for about 45-50 minutes, until a toothpick comes out clean and the top is nicely browned.
Once cool, drizzle with icing starting from the middle so that it drips down to the sides creating pretty drizzle marks.
ICING
Whisk the icing sugar and lemon juice in a medium size bowl until fully combined. Add the lemon juice gradually to avoid lumps in your icing.
NOTES
*if using coconut oil, otherwise not important.
Please be aware that 1 kg / 2 lb tins vary enormously between brands so I recommend measuring the volume of the tin you intend to use first. For this recipe, I used a 2 lb cake tin that holds approximately 1250 ml / 5 cups of liquid (to the brim). The batter should fill no more than 2/3 – 3/4 of the tin or else the cake may not raise.
Although not traditional for this particular cake, you may want to soak the cake with some lemon syrup (3 tbsp sugar melted in 3 tbsp lemon juice, pierce the cake in several places with a skewer before soaking) as soon as it comes out of the oven. It is an especially good trick if you accidentally overbake it.
My recipe is based on my earlier Lemon Drizzle Cake recipe.