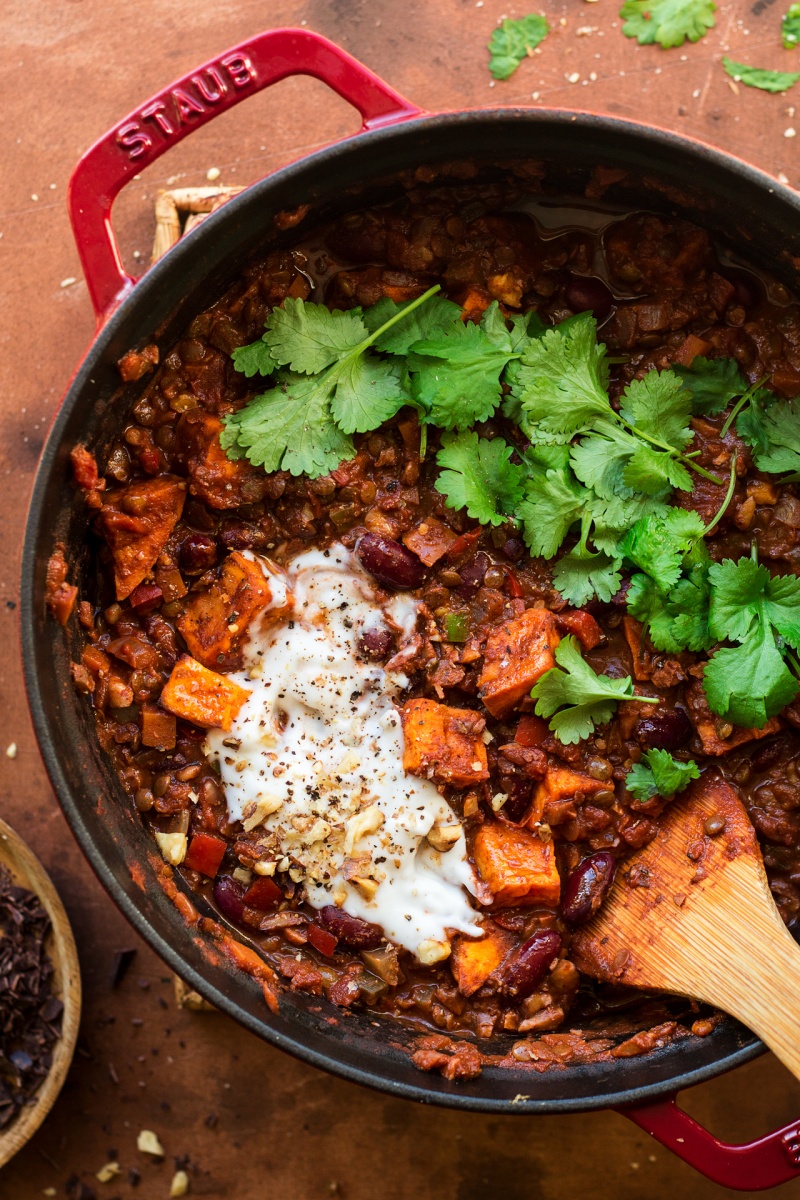 As the days get shorter and shorter, I begin to find that it's a real challenge to be able to fit running into my working schedule almost every day. As I run in a wood and I am generally a scaredy cat anyway, I am not comfortable running after dark, so I need to make sure I set off at least 45 minutes before sundown. At the moment this is 4:50 pm and its getting earlier as we speak.
At the moment, I am trialling running straight after shooting, as running first thing in the morning on an empty stomach is certainly not my jam. It's a bit tricky, but I am proud to say that I have been very consistent so far – the near absence of negativity and self-flagellation offers plenty of motivation and I certainly like the side-effect of getting fitter too.
Duncan, who is a massive running addict (he runs way more and way faster than I'll ever be able to), offers plenty of encouragement and an occasional ass kick when I try to get out of things on the account of bad weather (like this past Saturday when it was raining and cold and I wanted to hide under a blanket). An encouraging partner is invaluable. If you are able to get one of these, I highly recommend you do 😉 .
When you've come back in from the cold, there is no better dinner proposition than a bowl of vegan chilli that is smoky, savoury and a little bit spicy. It's filling and deeply comforting too. Forgive me, but this chilli is a bit of a fridge and cupboard clear-out. I've had some celery that needed using up and heaps of chocolate shavings from making way too many chocolate chip cookies lately 😛 . I don't use chocolate chips, as my local shop doesn't sell dairy-free ones, so I always end up with lots of chocolate dust that is too small to go into the cookies, but it happens to be perfect to give a chilli deep savoury and earthy tones. If you would rather use cacao powder that is certainly an option, just be aware that it will add a hint of bitterness, which may need to be balanced by a bit of sugar.
In terms of a replacement for mince, this stew is bulked up with Puy lentils (which worked so well in this recipe) and lightly-roasted walnuts chopped small. They both work a treat, adding a bit of body and much needed crunch. Finally, I added cubed sweet potato, which I had lying around and some red kidney beans as I am hoarding so many cans of them that it's high time they finally saw some action.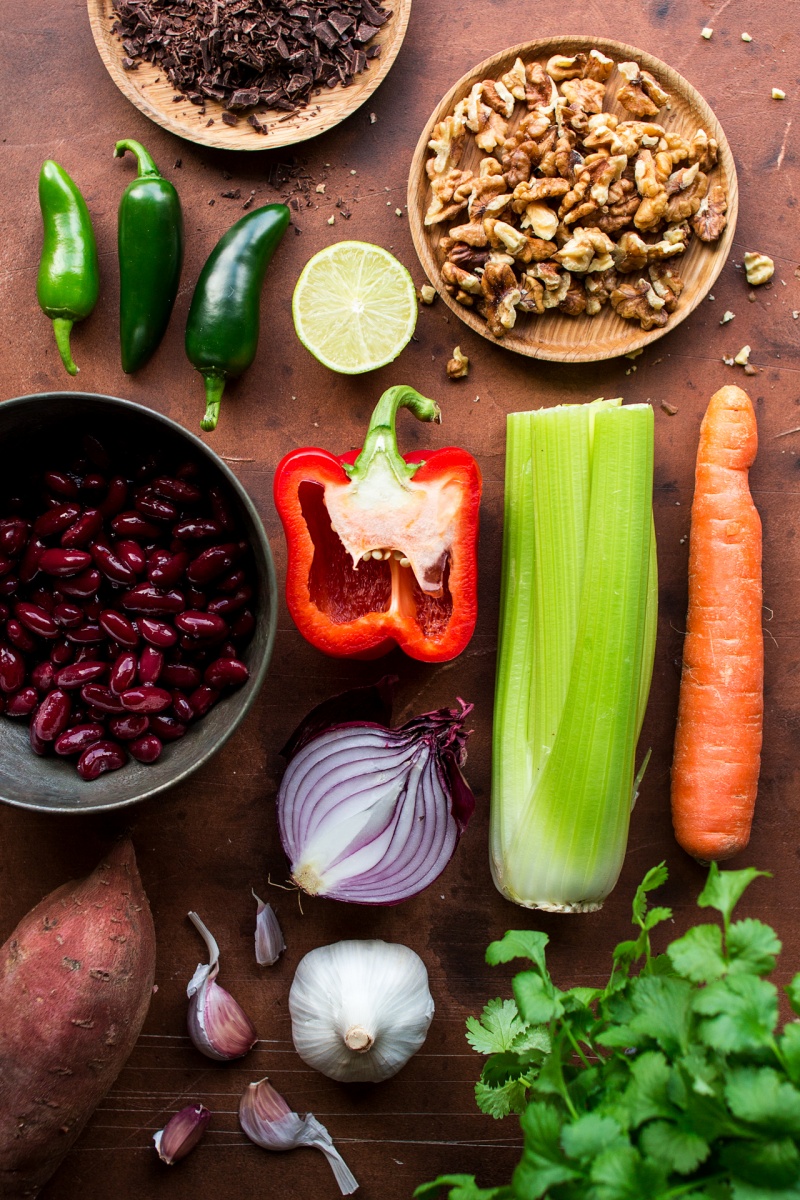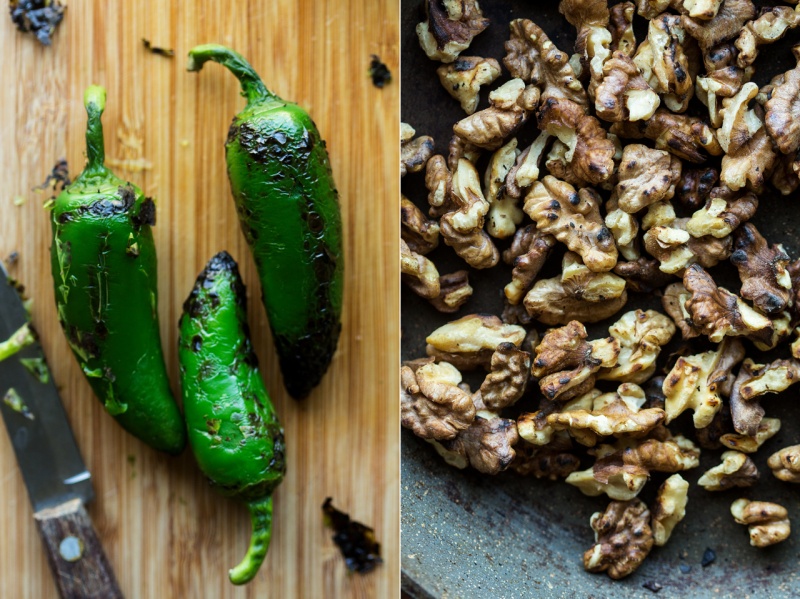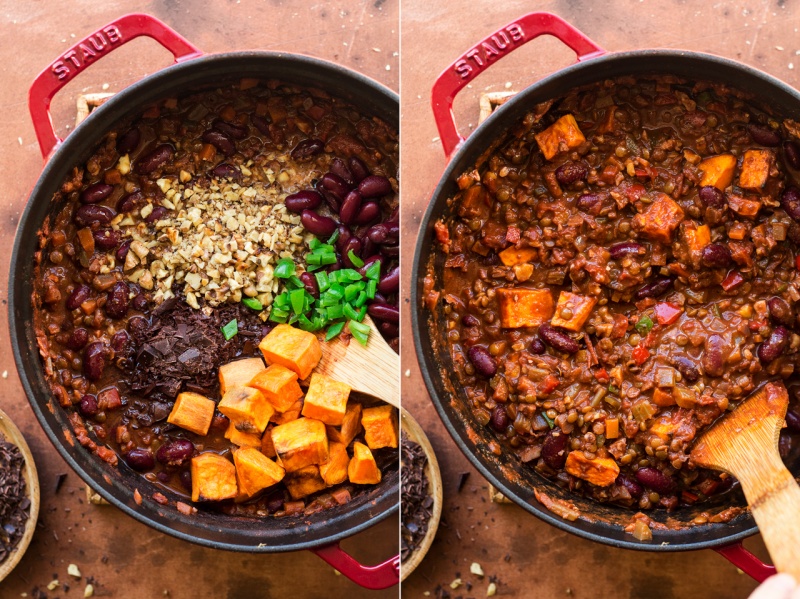 2 tbsp / 30 ml oil (I used olive oil)
1 onion, chopped finely
4 large garlic cloves, chopped finely
1 red bell pepper, diced finely
1 large carrot, diced finely
1 long celery stick, diced finely
3 jalapeno peppers, adjust to taste
2 tsp smoky sweet paprika
2 tsp ground cumin
1 tsp ground coriander
1 tsp dried oregano
½ tsp ground cinnamon
¼ tsp ground nutmeg
1/8 tsp ground cloves
cayenne pepper or ground chilli (optional)
180 ml / ¾ cup vegan red wine (or veggie stock)
2 x 400 g / 14 oz tins peeled plum tomatoes
1 fresh (or dried) bay leaf
¾ tsp salt, adjust to taste
black pepper, to taste
115 g / 1 cup walnut pieces
½ cup raw Puy lentils (or green lentils)
1 tsp date syrup or sugar, adjust to taste
1 sweet potato, cubed
1 x 400 g / 7 oz tin red kidney beans, drained
20 g / 0.7 oz dark vegan chocolate, chopped
cooked brown rice or quinoa, to serve
vegan yoghurt or sour cream, to serve (optional)
fresh coriander / cilantro, chopped (optional)
METHOD
Heat up the oil in a deep frying pan / casserole pot (with a lid). Add the chopped onion and fry on a low-medium heat until translucent, stirring from time to time.
Add the garlic, bell pepper, carrot and celery. Sauté until softened, stirring from time to time.
OPTIONAL STEP: Roast the jalapenos over a gas stove (or use the broiler function of your oven) using metal tongs. Turn them around so that they are charred on all sides. As soon as they are done, place them on a plate and cover them with an upside down bowl – this will trap the steam making it easier to take off the skins. Once cool, scrape the blackened skin off and dice finely – remove all (or some) of the seeds if you don't want your chilli to be very spicy.
Add the diced jalapenos to the pot. If you haven't roasted them, deseed them first and you may want to use fewer, as roasting them makes the heat gentler.
Add all of the spices (except for cayenne / chilli) and coat the diced vegetables in them well. Saute for a few minutes, stirring frequently.
Add in wine and simmer for 10-15 minutes.
Add in the plum tomatoes (squash them with a fork first as it's harder to do that once in the pot), 2 cans worth of water, a bay leaf, salt and a good pinch of pepper.
Put the lid on and simmer for about 20 minutes.
OPTIONAL STEP: While the sauce is simmering, toast your walnuts gently in a dry frying pan until fragrant and lightly browned. You could also do this in a 175° C / 350° F (no fan function) oven for 7-8 minutes, but please be vigilant as you don't want them to brown too much – they will taste bitter.
Chop the walnuts into small pieces but don't grind them in a food processor – that's too fine. You want the individual pieces to be roughly the size of the lentils.
Add the walnuts and dry lentils to the pan and allow them to cook for 20 minutes.
Take the lid off to allow the sauce to thicken for 20-30 minutes.
Add diced sweet potato about 12 minutes before the end of cooking time, when the sauce is still a little too thin for your liking.
Once the sauce thickens, taste it and season with more salt (if needed), a touch of sweetness (if needed) and cayenne pepper (or chilli) if it's too mild for your taste.
Finally, mix in the drained kidney beans and chocolate. You could use a tablespoon or two of raw cacao if you wish, but it will add bitterness to the dish so make sure you counteract that with a bit more sweetness from sugar / date syrup or maple syrup.
Serve on cooked rice, cauliflower rice or quinoa, topped with vegan yogurt and fresh coriander. Be aware that this dish, as is the case with all stews, tastes even better the day after it has been made, so I recommend making it a day in advance. It also freezes well.