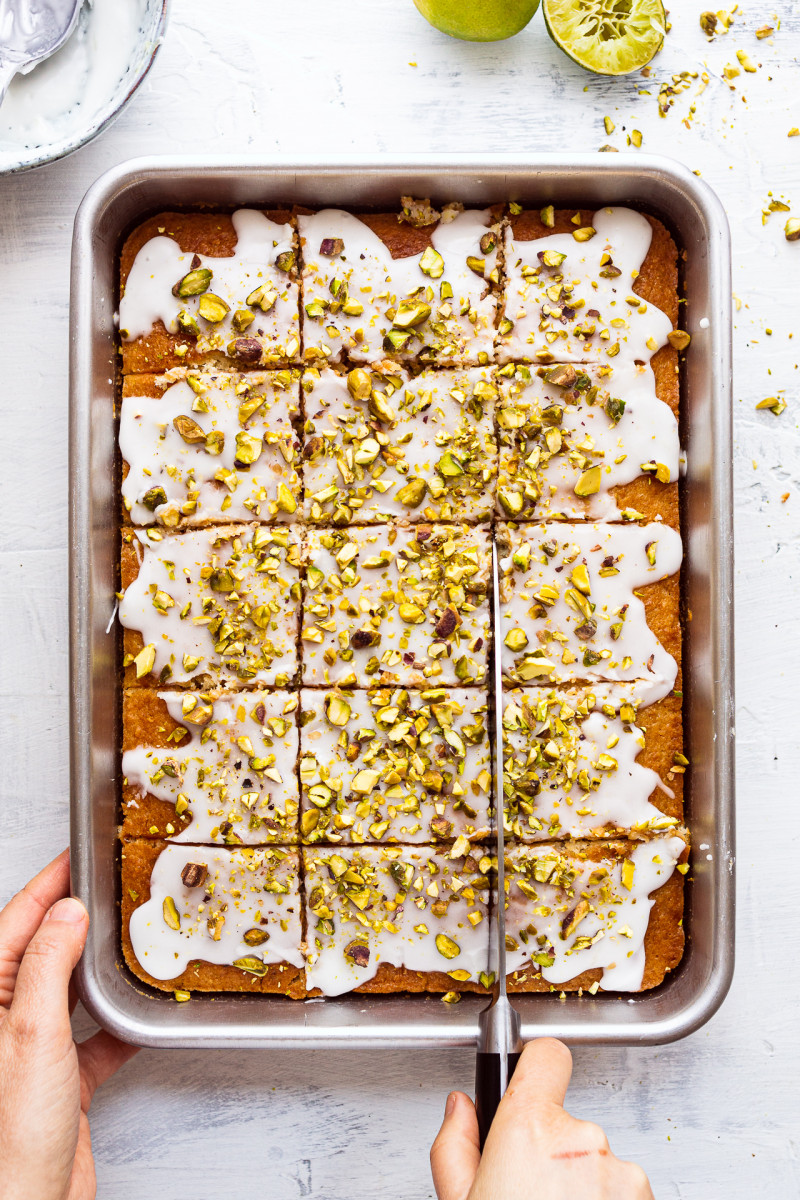 Weekend is here and summer is here (at least on paper, UK didn't get the memo yet!) so I figured that a light and citrusy cake recipe that feeds a crowd may come in useful. On this account, I made a big sheet of coconut and lime drizzle cake topped with lime icing and crushed pistachios.
This cake is designed for entertaining, it's simple to make – comes together in a single bowl – and will feed a bunch of empty cakeholes (not sure why but I love that word, such an on point descriptor).
Once out of the oven, it gets a generous drizzle of tangy lime syrup, which delivers bucketloads of citrusy flavour. Once cool, it will gracefully accept a layer of simple lime icing and a smattering of pistachios but neither are necessary.
If it's a hot day and you have fired off a BBQ, a dollop of whipped coconut cream (or thick coconut yoghurt) and some pineapple charred on a BBQ will mesh with the flavours wonderfully and replace the need for icing. This is what I essentially did (I used a griddle pan as it was too cold for a barbie, woe me!) when we had friends round a weekend or so ago and it went down a storm. I hope you'll make it and if you do that it will be enjoyed by all.
MORE ABOUT THE INGREDIENTS
VEGAN BUTTER – this cake uses unmelted vegan butter, the one that comes in a solid block rather than in a tub. I used Naturli and Violife and they both worked perfectly. Alternatively, coconut oil will also work well, either odourless coconut oil or extra virgin coconut oil as this cake already has coconut in it. Whisking unmelted fat with sugar, makes this cake extra fluffy.
SUGAR – I used caster (superfine) sugar, but coconut sugar will work just as well if you prefer to use that – the colour of the cake will be a little darker though.
LIMES – this cake uses a lot of limes, both zest and juice. Before you start working on the cake batter, zest all of your limes and juice them – you'll need a total of just under
¾ cup (170 ml) of lime juice for this cake which 8 limes should provide easily. To soften your limes and make them easier to juice, roll each lime on your kitchen counter pressing it down with the palm of your hand as you roll first.
PLANT MILK – any plant milk will work well here although I like using soy milk in baked goods.
DESSICATED COCONUT – I like a combination of desiccated coconut and lime so I used some desiccated coconut in the batter. It makes the cake lighter as well. If you prefer, finely ground almonds or almond meal can be used instead.
FLOUR – I used white all purpose flour here, but I've also tested with a gluten-free flour mix this one and I found that gluten-free version needed a couple less minutes in the oven and that it benefited from the addition of xanthan gum (1 tsp).
CORNSTARCH – I replaced some of the flour with a small amount of cornstarch (cornflour in the US) to make the cake crumb lighter. It's not the end of the world if you don't have it though – use an extra 40 g / generous ¼ cup of extra flour instead.
LIME SYRUP – lime syrup is a key component of this cake, it gives it much needed tang, which cake batter cannot provide as the process of baking makes any tanginess more subtle. The key thing to remember about soaking cakes with syrup is that there needs to be a difference of temperature between the cake and the syrup for the syrup to soak in so either the cake needs to be hot and the syrup cold or the other way round.
ICING – icing is a traditional topping for this kind of cake, but you could also use whipped coconut cream (or whipped oat cream) to top this cake with or stop at the syrup.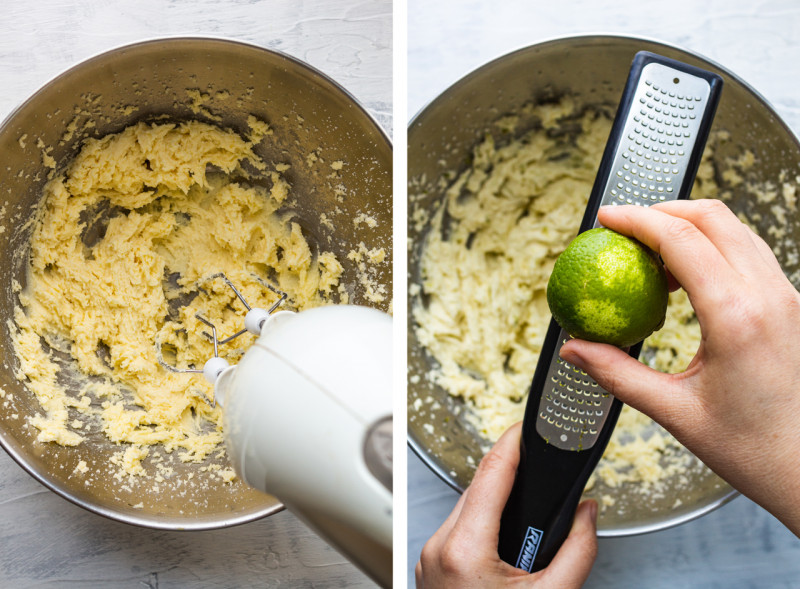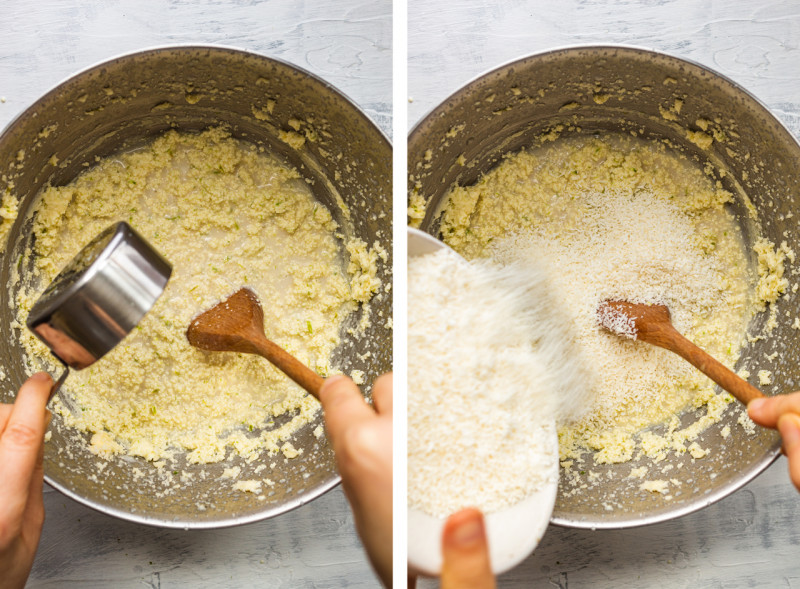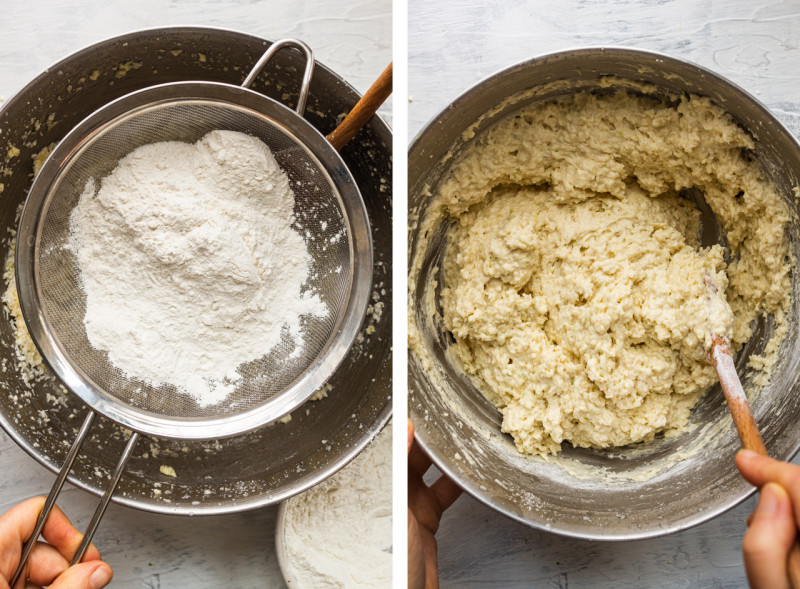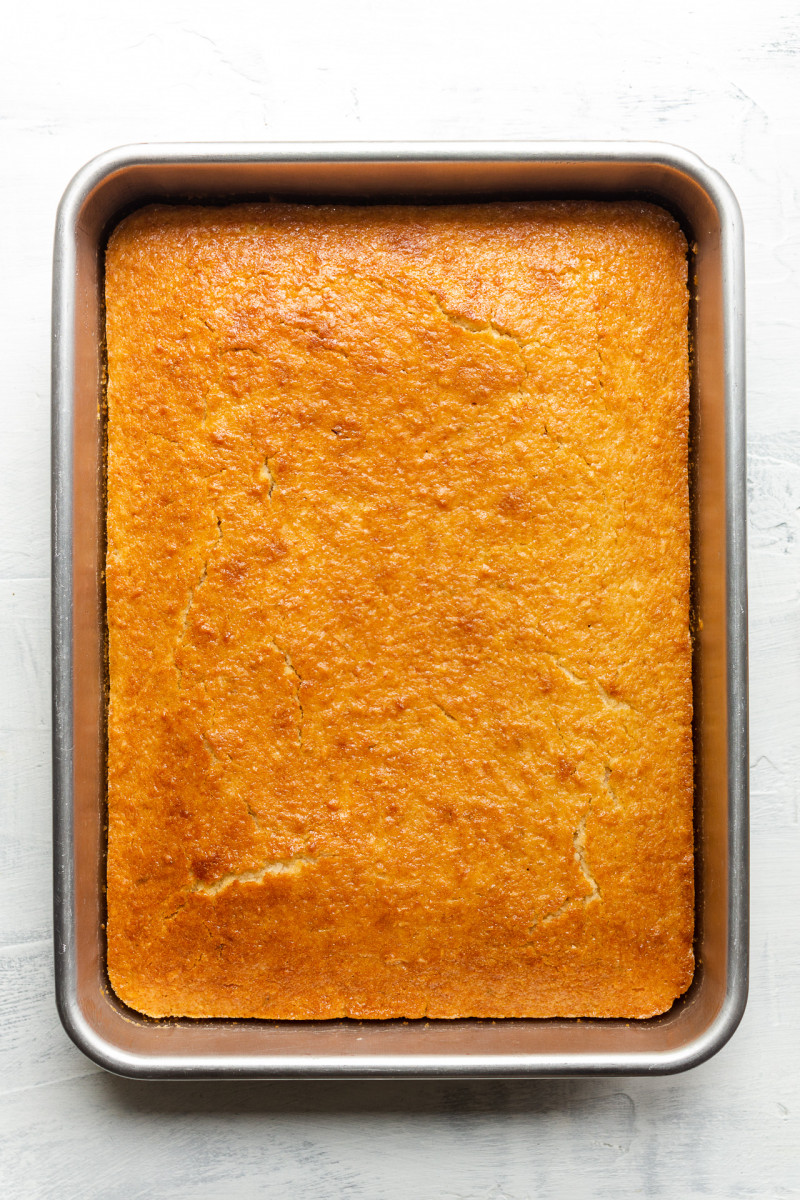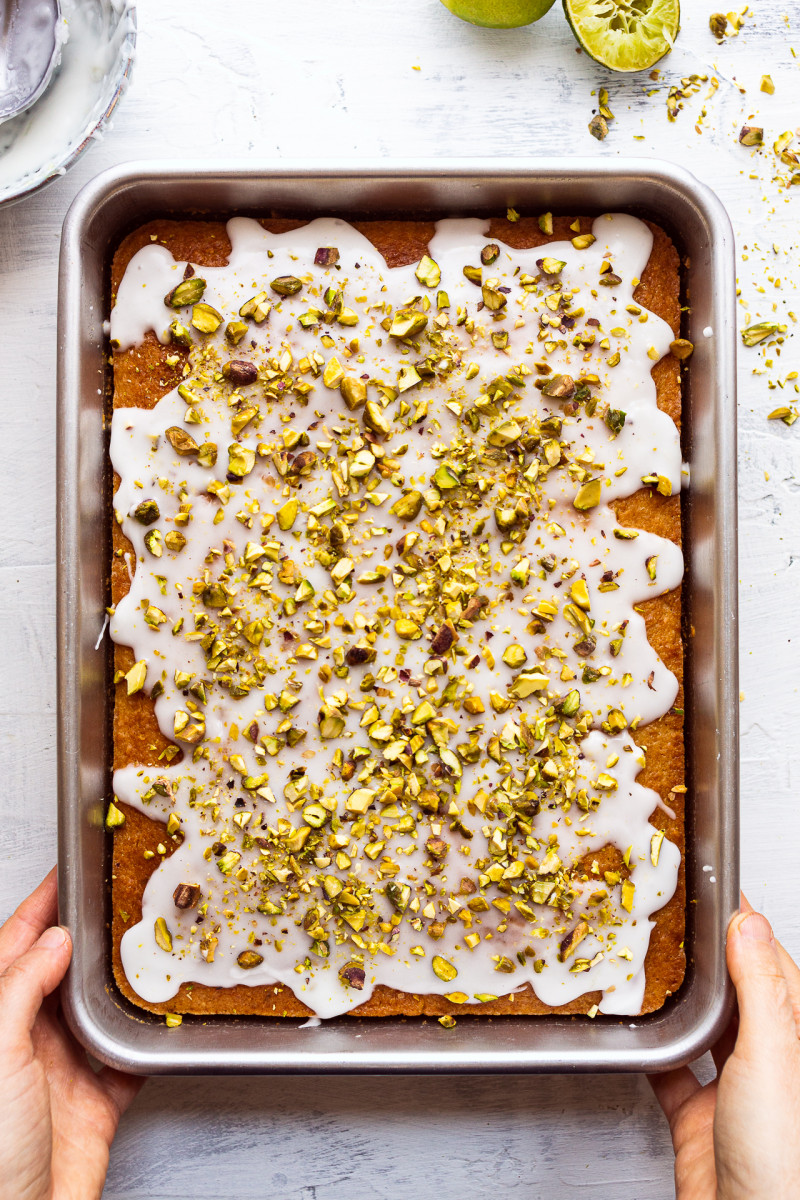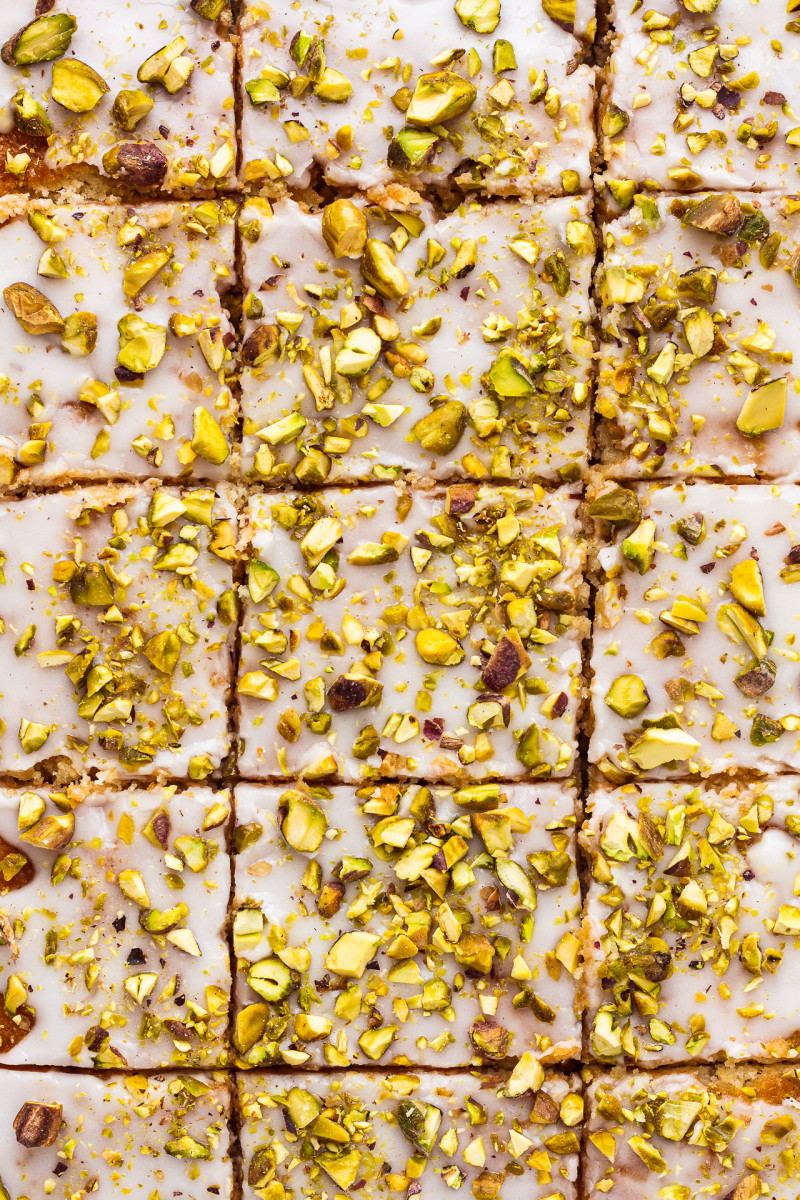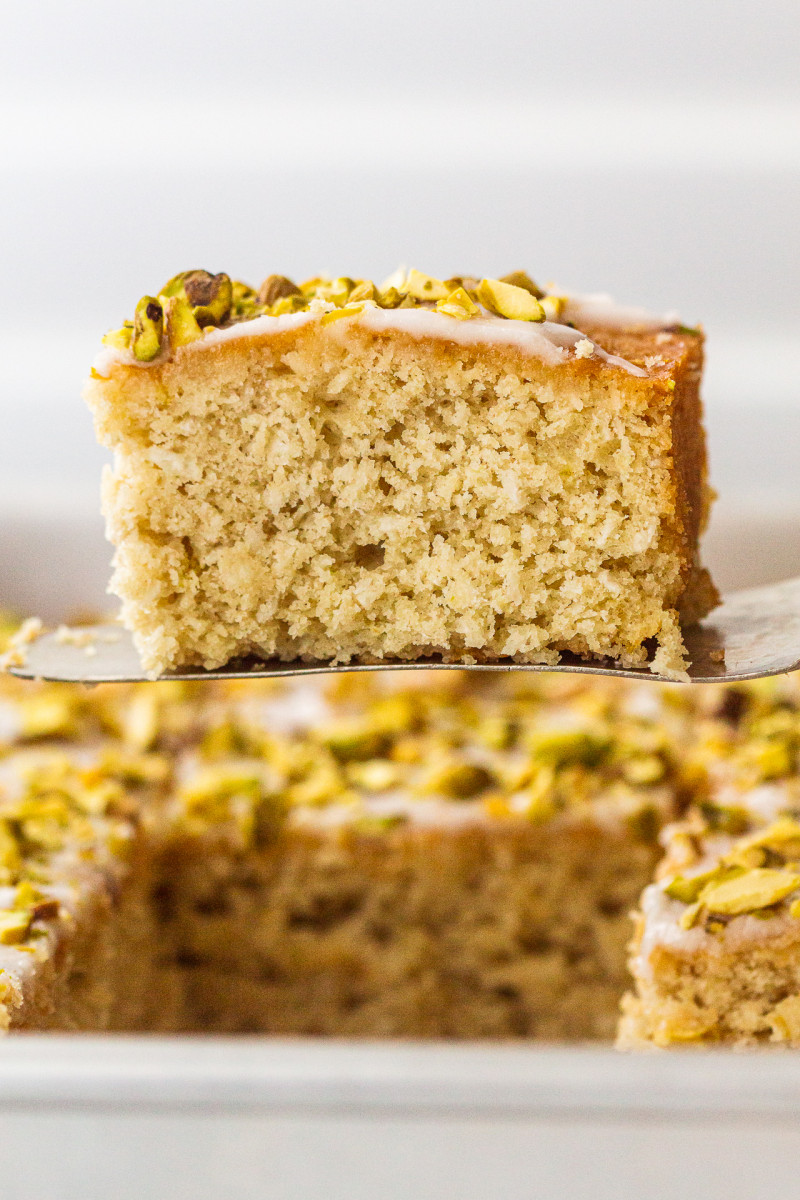 WET INGREDIENTS
160 g / ¾ cup solid vegan butter (I used Naturli) or coconut oil
250 g / 1¼ cup sugar, I used caster sugar
60 ml / ¼ cup lime juice
480 ml / 2 cups plant milk, room temperature
DRY INGREDIENTS
zest of 8 limes
160 g / 2 cups desiccated coconut
375 g / 3 cups all purpose white flour (or GF flour mix)
40 g / ¼ heaped cup corn starch / cornflour*
1¾ tsp baking powder
1 tsp baking soda
LIME SYRUP
80 g / 1/3 cup sugar
80 ml / 1/3 cup lime juice
ICING (optional)
100 g / 1 cup icing sugar*
15-30 ml / 1-2 tbsp lime juice (1 lime)
chopped pistachios, to decorate (optional)
METHOD
LIME DRIZZLE CAKE
Measure out the plant milk and bring it to room temperature ahead of baking or warm it up to room temperature (do not allow it to get warm as it will melt the sugar in the batter) if you are in a rush.
Heat up the oven to 180° C (or 160° C fan forced) / 355° F (320° F fan forced). Grease a baking pan.
Zest all 8 limes and squeeze out the juice. You'll need 170 ml (under ¾ cup) in total: 60 ml (4 tbsp) for the cake, 80 ml (1/3 cup) for the drizzle and another 30 ml (2 tbsp) for the icing. Before you carry on with the cake batter, make the syrup (below) so that it has a chance to cool down.
Whisk the softened vegan butter and sugar together with an electric whisk.
Add in the lime zest, lime juice and room temperature plant milk and mix well with a spatula. Once you add the plant milk, vegan butter might look curdled, don't worry, that's normal.
Next, add in the desiccated coconut.
Finally, place a sieve over the bowl with the wet ingredients and sift through half of the flour, cornstarch and both raising agents. Incorporate them into the wet ingredients then sift in the 2nd batch of dry infredients. Mix gently just until there is no dry pockets left.
Transfer the batter to the prepared baking tin.
Bake for about 35 minutes, until the edges pull away from the side of the tin, a toothpick comes out clean and the top is golden brown – cover with the top with a piece of foil if it is getting too dark.
Allow the cake to rest for 5 minutes, then pierce it with a toothpick in several places. Brush the surface of the hot cake (that's important as otherwise the syrup will stay on the surface) with cold (fridge cold preferably) syrup several times allowing the syrup to soak into the cake between each go.
Once cool, drizzle with icing starting from the middle so that it drips down to the sides creating pretty drizzle marks. Finally, sprinkle with chopped pistachios and lime zest.
LIME SYRUP
Place the sugar and lime juice in a small pot over a low heat.
Bring the contents of the pot to a gentle simmer and cook until the sugar dissolves completely and the syrup thickens a touch. Set aside to cool down completely, plunge then pot with the syrup in a bowl of iced water to speed things up.
ICING
Whisk the icing sugar and lime juice in a medium size bowl until fully combined. Add the lime juice gradually to avoid lumps in your icing and to be able to control the consistency of the icing better.
NOTES
*CORNFLOUR / CORNSTRACH: can be replaced with 40 g / generous ¼ cup of extra flour instead.
TIN SIZE: I used a 22.5 cm / 9″ x 30 cm / 12″ baking pan. I used this tin by Nordic Ware. While it looks nice (main reason I bought it – don't judge me 😛 ), I don't recommend it for cakes as I have found that the thick bottom does not conduct heat as well as it should.
NUTRITIONAL INFO
*per 1 out of 20 servings