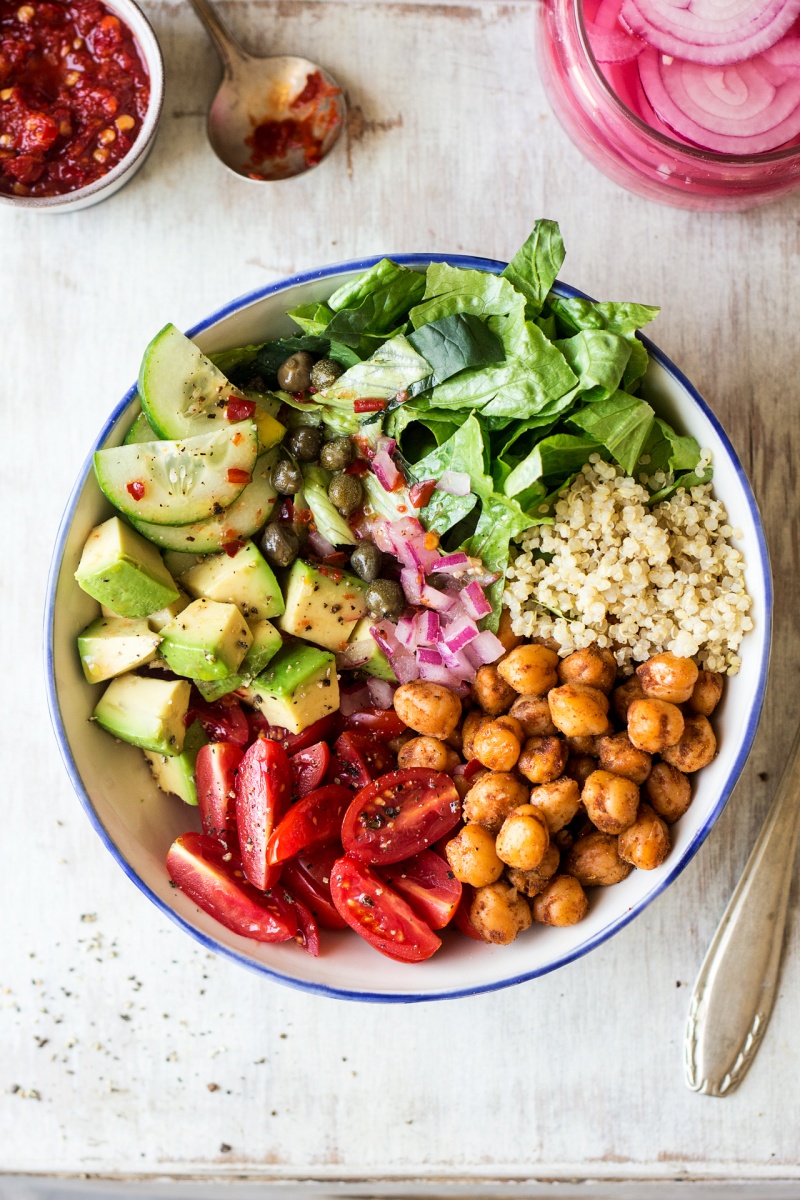 As we are in the middle of another heatwave and I am not coping very well, I've decided to take it easy until it cools down (apparently next week). Therefore today's recipe is very easy to throw together. It's an idea for a simple vegan lunch bowl, the variation of which we tend to eat a lot, in the summer months.
It features beautifully sweet cherry tomatoes that we can't get enough of, cooling cucumber, crunchy Romaine lettuce and a creamy avocado. Alongside these, I usually place some spiced chickpeas and cooked quinoa (another mild tasting non-grain or actual grain will work well too).
To top it all off, I lavish the bowl with finely chopped capers for saltiness, quick-pickled red onions for sourness and a simple lemon and chilli dressing for a bit of spice. And that's it.
What I like about this kind of lunch is that you can prepare a big batch of spiced chickpea, quinoa and quick-pickled onions at the beginning of the week and simply dip into this reserve whenever you need to make lunch in a hurry.
The quantities for these three items I have given you below should cover 6 portions easily so that with a little bit of prep and forward planning you can have a few days of hassle-free healthy meals that actually taste good.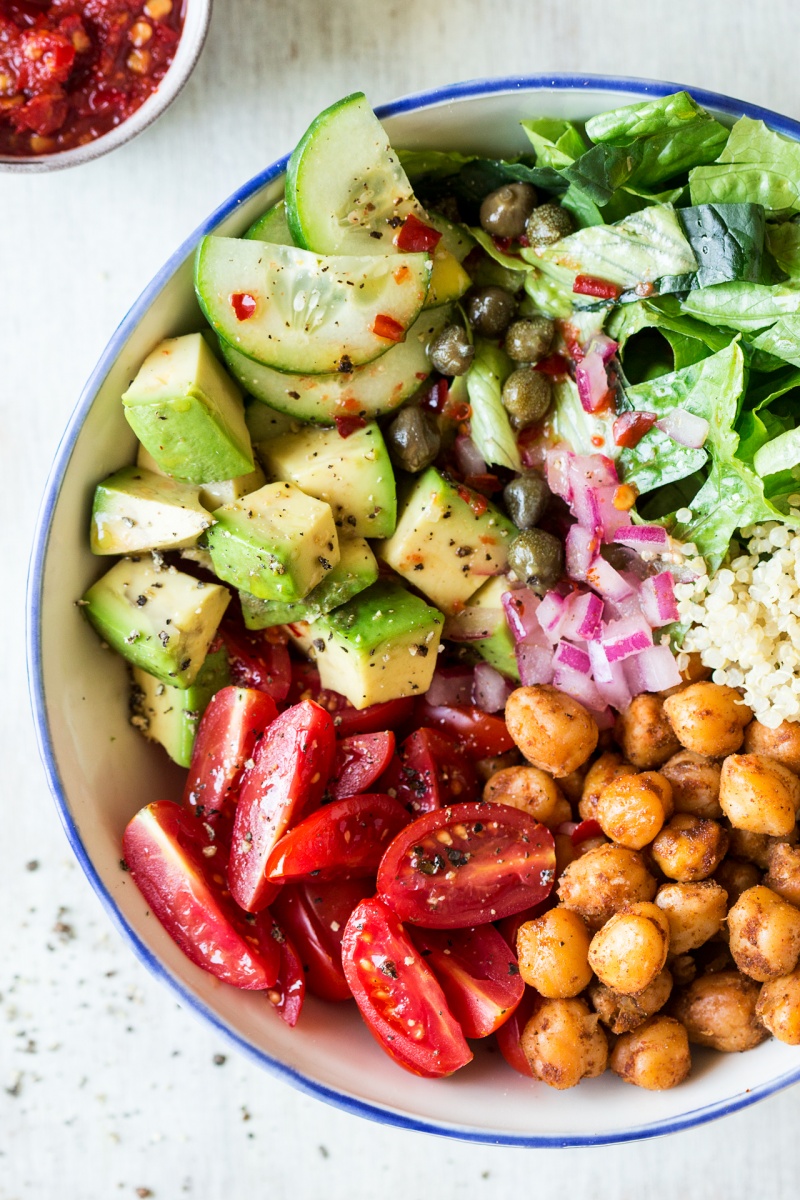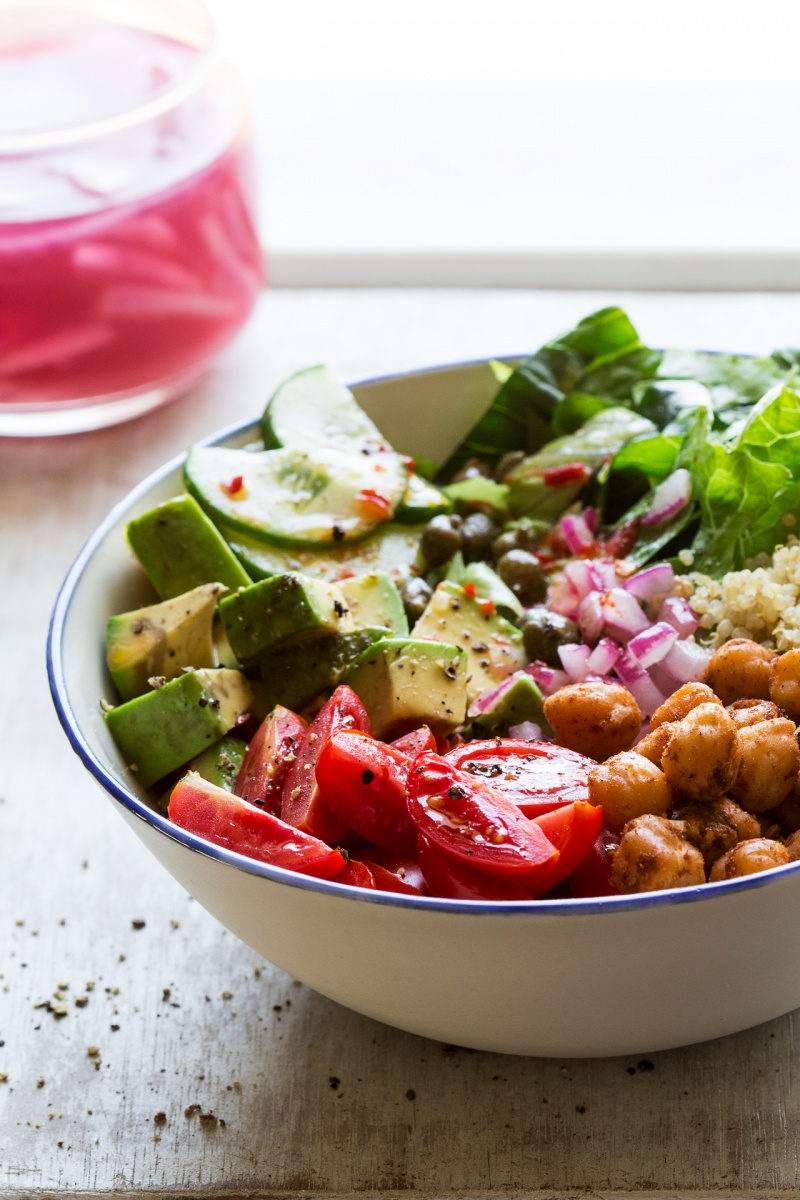 SPICED CHICKPEAS
4 cups cooked chickpeas (about 2 cups dry)
2 tbsp olive oil
2 tsp ground cumin
1 heaped tsp smoked paprika
½ tsp hot chilli powder
½ tsp salt, more to taste
BOWLS
10 large Romaine lettuce leaves, chopped
1 Lebanese cucumber, sliced thinly
16 cherry tomatoes, quartered
½ small avocado, peeled and diced
¼ cup capers, chopped very finely
½ cup spiced chickpeas
½ cup cooked quinoa
a few strands of quick pickled onions, chopped very finely
black pepper, to taste
QUICK PICKLED ONIONS
2 red onions, sliced very thinly
½ cup / 120 ml apple cider vinegar
1 tbsp sugar
½ cup / 120 ml water
½ tsp salt
DRESSING
2 tbsp extra virgin olive oil
2 tbsp lemon juice
½-1 tsp sambal oelek (Indonesian chilli paste)
METHOD
SPICED CHICKPEAS
Place chickpeas in a colander for at least 15 minutes to drain them well. If you have time leave your chickpeas on the sieve for a few hours so that they dry out a bit, you could also towel them with a paper towel if you wish. You may want to save the canning or cooking liquid (if you cooked them yourself) for another use like this cracking chocolate mousse, for example. If you cooked the chickpeas yourself, let them cool down completely before pan roasting them.
Mix all the spices and salt together in a tiny bowl. If you haven't salted your chickpeas during cooking, use 1 tsp of salt. If you have or you are using tinned chickpeas, go easy on the salt (start off with ½ tsp and adjust to taste afterwards).
Heat up a heavy-bottomed pan on a medium-high heat. Pour 2 tablespoons of olive oil on the hot pan and wait a few seconds for the oil to heat up – it will start rippling gently but don't get it so hot that it will start to smoke!
Chuck dry chickpeas into the hot oil – they should sizzle as soon as they hit the pan. Let them roast lightly, stirring them regularly so that they don't burn. Once the chickpeas are lightly roasted and charred in places, sprinkle them with spice and salt mixture and mix everything well until all the chickpeas are evenly coated in spices. Take the pan off the heat and let the spices finish roasting in the pan's residual heat, moving the chickpeas around the pan. Taste and adjust with salt if necessary. Set aside.
QUICK PICKLED ONIONS
Prepare quick-pickled onion by bringing vinegar, sugar, salt and ½ cup / 120 ml water to the boil.
Place sliced onions in a sterilised jar. Pour hot pickling liquid over the onions. Let the mixture cool first and put aside in the fridge. Although you can start using the onions after about 1 hour, their flavour will benefit from being stored in the fridge overnight.
QUINOA
Rinse the quinoa very well. I tend to cook 2 cups of dry quinoa at once.
Place the quinoa in a pot with a 1:1½ quinoa to water ratio (2 cups of quinoa to 3 cups of water). Cover the pot and set the hob to a low heat. Let the water come to the boil and simmer until all the water has been absorbed (check by tilting the pot slightly seeing if any water flows from underneath the quinoa). Once all the water has been absorbed, switch the heat off and keep the quinoa covered for another 5 minutes so that it finishes off cooking in its own steam.
Once cool, store in an airtight container in the fridge.
ASSEMBLY
Prepare the dressing by whisking olive oil, lemon juice and sambal oelek together. Refrain from using salt as the chances are that the chopped capers will add a sufficient amount of salt to the dish.
Divide all the salad ingredients, quinoa and roasted chickpeas between two bowls. Drizzle with the dressing and season with a touch of black pepper. Top with finely chopped capers and pickled onions.