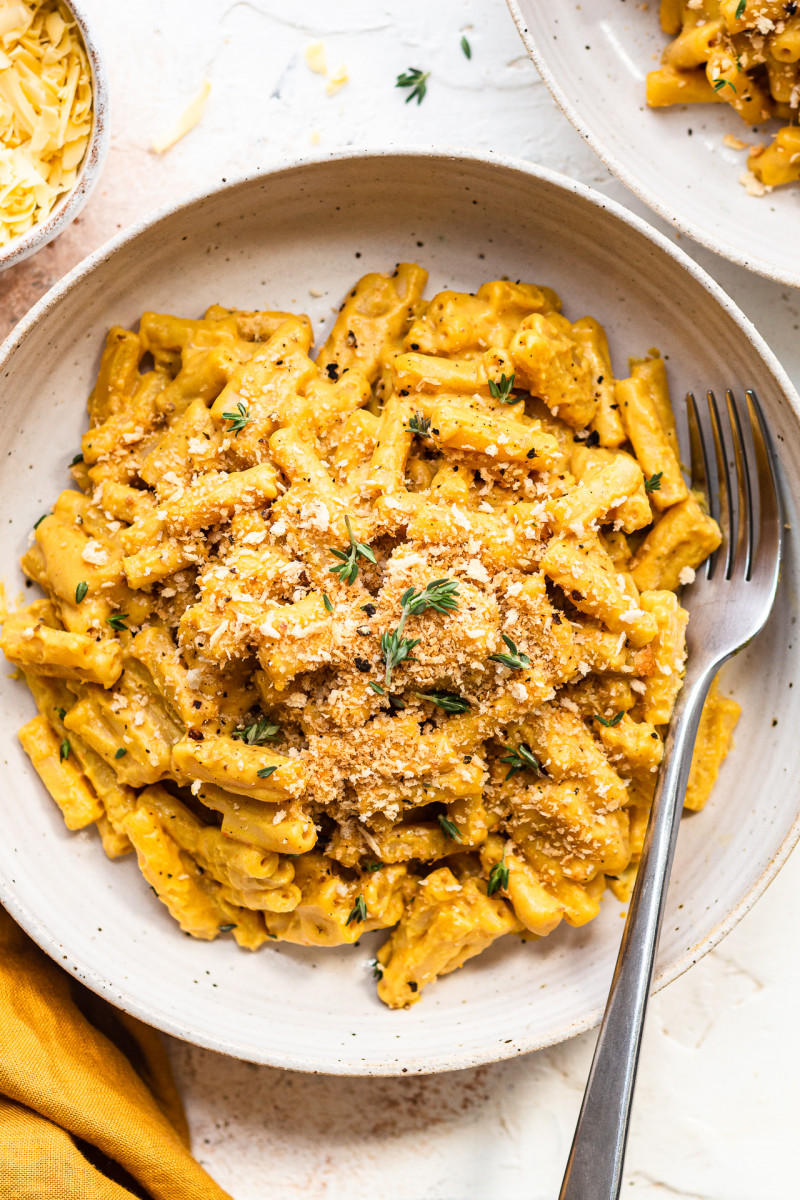 Hello hello, I am back from my holiday, rested and ready for some comfort cooking. First up, my take on an iconic American dish – mac and cheese. It's simple and quick to make and delivers bags of comfort and flavour without reliance on vegan cheese.
You can totally add your favourite dairy-free cheese if you like (Duncan likes vegan mature cheddar version), but I actually prefer this dish without it. Blasphemous, I know, but hey, this dish is vegan already so there is no reason why I shouldn't push the envelope a little bit further 😉 …
So my issue with hard vegan cheese is that while it's perfectly delicious in a sandwich (if you buy the right one) and has actully fooled many unsuspecting omnivors I fed over the years, it does not do as well melted. This realisation led me to make this recipe in such a way that grated cheese is an added extra. Like its traditional counterpart, this vegan mac and cheese is based on a simple roux – a combination of vegan butter (or olive oil) and flour. This rich base is then flavoured with a bunch of umami rich, yet simple and accessible, ingredients that do a great job of making the sauce taste cheesy. And if you are lucky enough to have found a good plant-based cheddar (or similar) cheese that which melts like a dream, by all means use it – the dish will be better for it.
Below I talk you through some key ingredients, things to watch out for and things you could possibly use instead and then there are a few step-by-step photos that will guide you through the process of making this dish and bring you closer to enjoying this simple vegan mac and cheese for lunch, dinner or even breakfast, if that's how you roll.
MORE ABOUT THE INGREDIENTS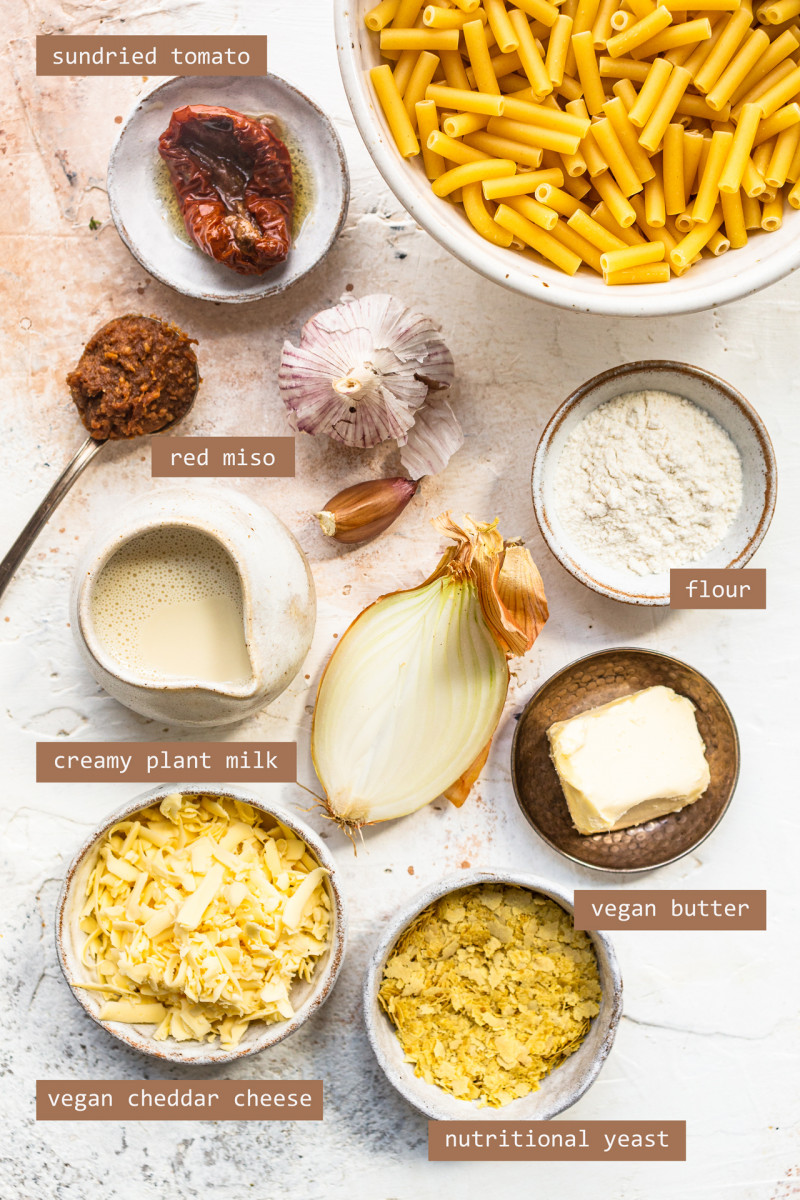 ONION & GARLIC: I fried some onion and few cloves of garlic in some oil to caramelise the onion and take harshness of out the garlic and to intensify the flavour of the sauce. If you wanted to speed things up, you could skip this step and add onion and garlic powder directly to the blender.
SUN-DRIED TOMATO: tomatoes, like cheese, are rich in glutamate (commonly known as umami) and in the case of sun-dried tomatoes that flavour is even more potent. This is why I decided to incorporate one large sun-dried tomato into the sauce, to give it a helping hand. I used oil preserved tomatoes, but if you have dry sun-dried tomatoes, simply soak them in boiling water first to soften. Alternatively, use a teaspoon of tomato paste.
NUTRITIONAL YEAST: is staple vegan seasoning that is pretty key in this recipe as its cheesy flavour does all of the heavy lifting in this sauce. If you don't have any, you could make up for it by dialling other flavourings up a little, but I recommend trying to get hold of it if you can. Here in the UK, large supermarkets sell it.
RED MISO: I added a small amount of rich red miso to deepen the flavour of the sauce. If you only have white miso, use that instead. As white miso is more mellow, you may want to add a little more.
MUSTARD: a touch of Djion mustard adds another flavour dimension, but you can safely skip it if you are not a fan.
PLANT MILK: creamy plant milk, like oat or soya works best here. I used Oatly barista version as that's what I had on hand.
VEGAN BUTTER: vegan butter (the one that comes in a block, as opposed to a tub) is what I recommend or mild olive oil – they both work well. You could also use 50% vegan butter and 50% olive oil if you prefer.
FLOUR: a small amount of flour is used in conjuction with vegan butter to create a roux, which thickens the sauce and makes it more indulgent. All purpose flour works best, but if you want to keep this dish gluten-free, GF flour mix or chickpea flour work well too. Be aware though that chickpea flour has a very distinct taste so if you are not sure you like it, use a GF plain flour mix instead.
VEGAN CHEESE: although the dish is called Mac and Cheese and the omni version relies on cheese very heavily, I actually like it without vegan cheese – it's cheesy and indulgent enough for me. I feel that when it comes to cheeses that melt, vegan cheese isn't quite there yet or maybe I haven't found the one yet. If you found a hard vegan cheese that you enjoy and which melts nicely, feel free to add it to the sauce before stirring in pasta.
MACARONI: I used classic macaroni shape pasta available here in the UK, but alternative shapes like elbows macaroni will work well too. Use GF pasta you like if wishing to keep this dish gluten-free.
TOASTED BREADCRUMBS: toasted coarse breadcrumbs – I usually make my own from leftover Turkish pide bread, but for this dish I panfried shop-bought panko breadcrumbs. I tend to use dry toasted coarse breadcrumbs but sometimes I will use fried breadcrumbs if I am feeling fancy.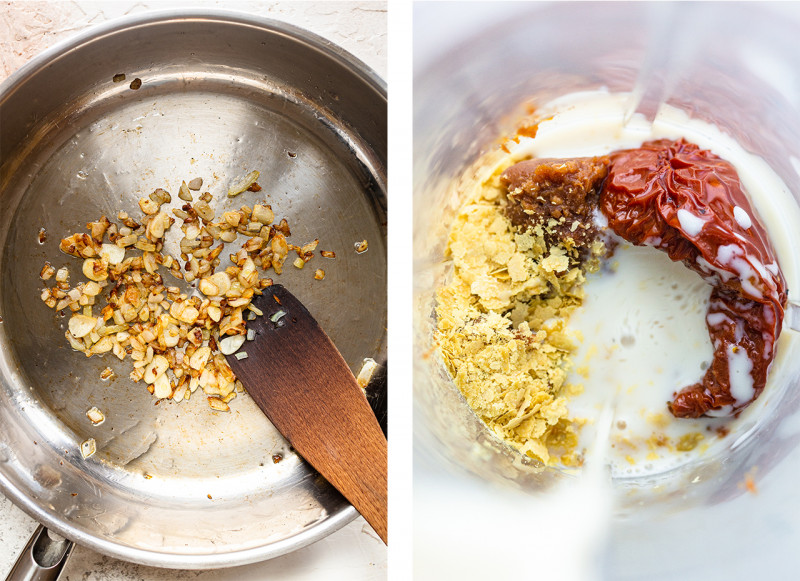 Fry onion and garlic gently in a little olive oil. Once ready, put them both in a blender with several other – umami rich – ingredients (miso, nutritional yeast, sun-dried tomato and mustard). Add plant milk and blend until smooth. Don't worry about washing the pan, it will come in handy in the next step.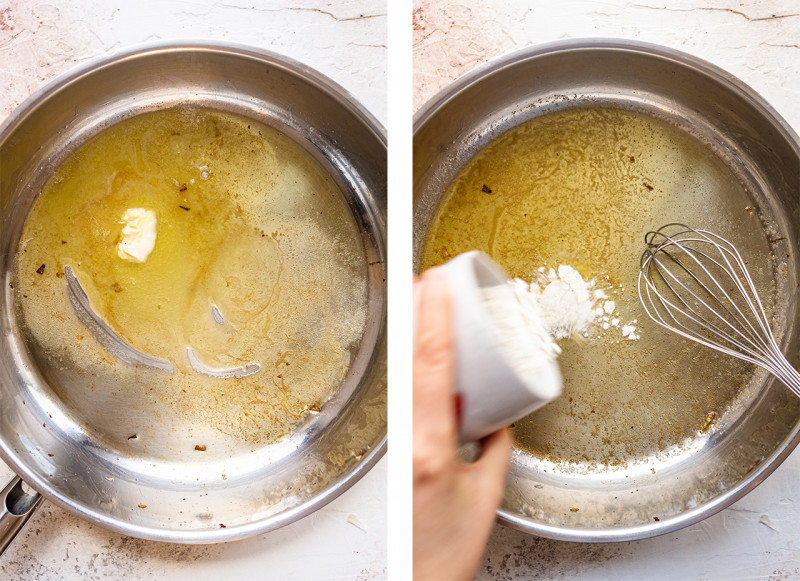 Melt a little vegan butter (or olive oil) in the pan and slowly whisk in flour. This simple roux will be the base of our mac and cheese sauce.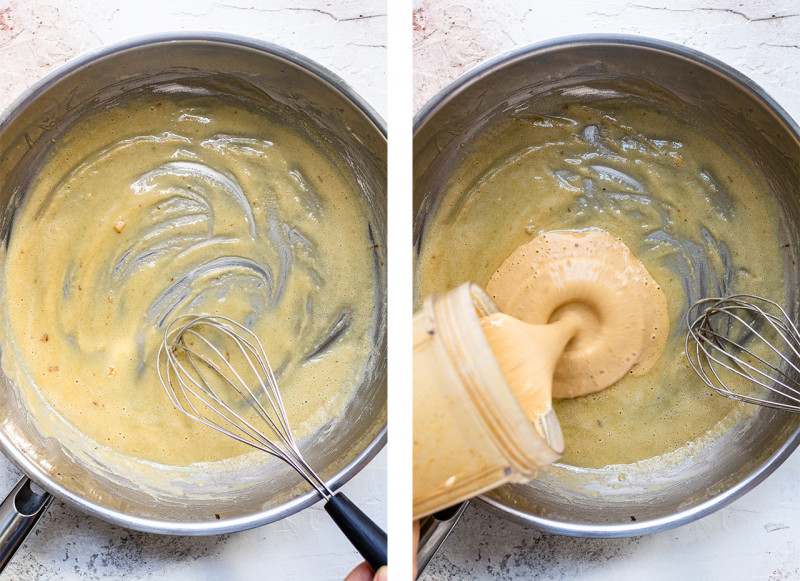 Cook the roux on low heat until it's bubbling gently, but do not let it brown, you simply want to cook off raw flour taste. Once cooked, add in the sauce you made in the blender earlier.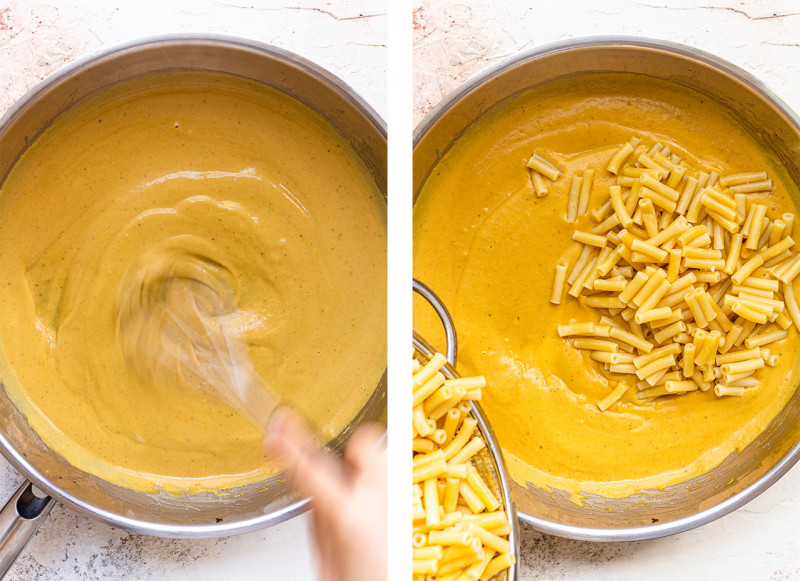 Whisk the roux and the blended sauce together. Allow it to cook gently for 1-2 minutes until homogenous and thickened slightly. Adjust the seasoning to taste and add a touch of turmeric for colour, if you wish. At this point you could also stir in grated vegan cheese – allow it melt into the sauce before ading pasta. Finally, stir in cooked pasta.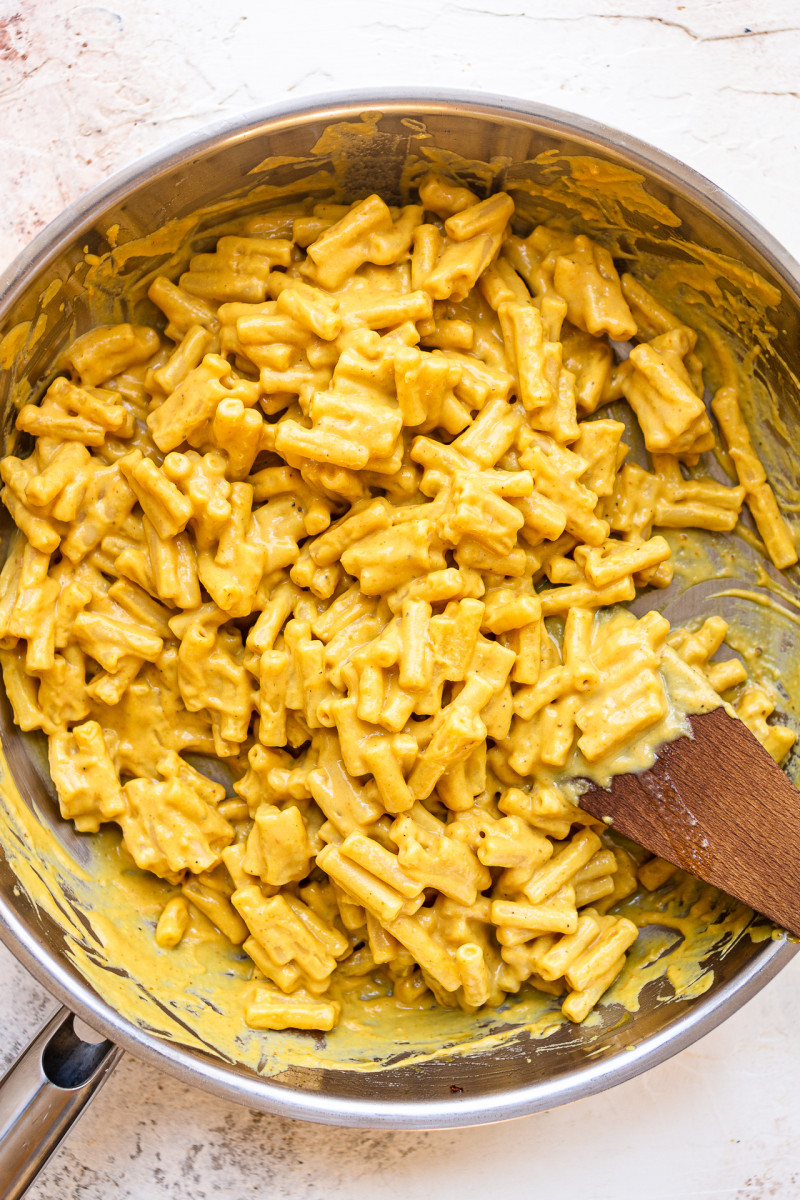 You may want to add a touch of pasta cooking water if the sauce needs to be a touch looser. Divide between 4-6 bowls and serve immediately, with a sprinkling of toasted breadcrumbs for some texture.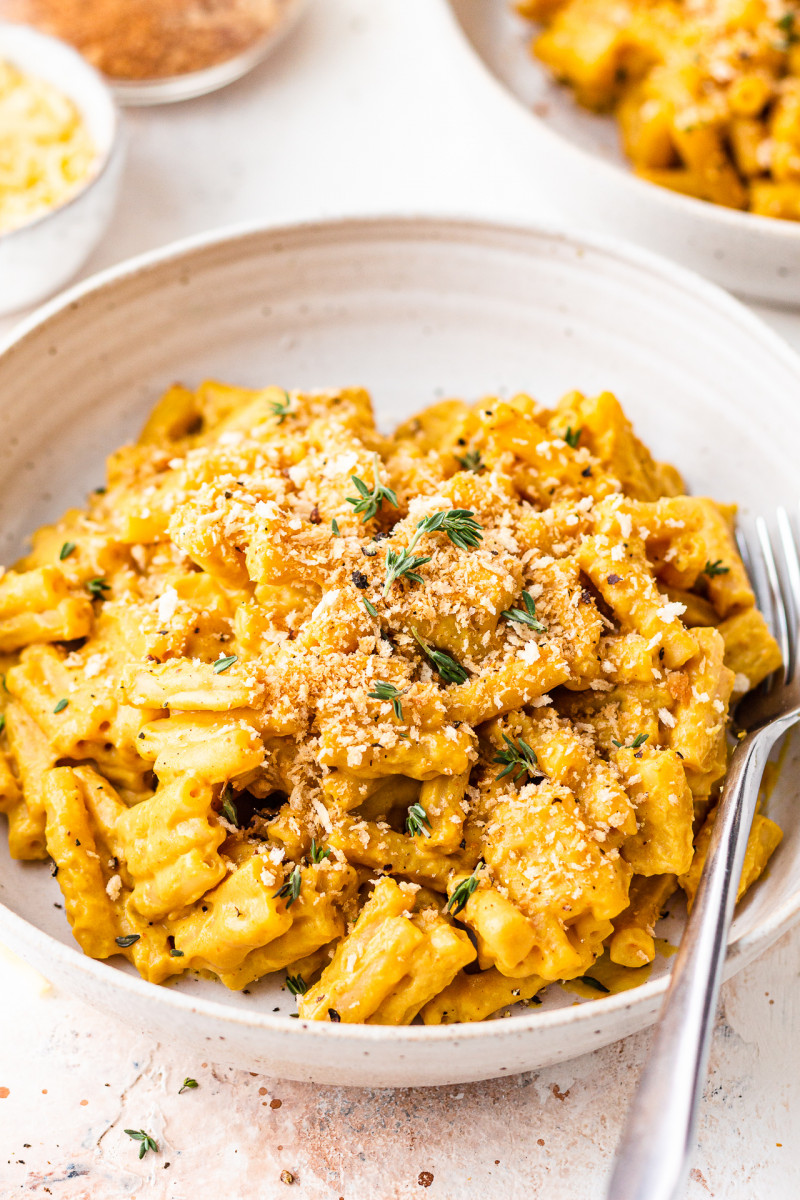 15 ml / 1 tbsp olive oil
¼ onion or 1 large shallot, finely diced
4 garlic cloves, sliced
4 tbsp / ¼ cup nutritional yeast
1 large sundried tomato or 2 small*
3 tsp red miso
1 heaped tsp Dijon mustard, optional
360 ml / 1½ cup creamy plant milk*
400 g / 14 oz macaroni pasta (GF if needed)
50 g / ¼ cup vegan butter (I like Naturli) or mild olive oil
35 g / 4 tbsp AP flour (or GF flour mix or chickpea flour)
approx. 100 g / 3.5 oz grated vegan cheddar cheese, optional
salt & pepper, to taste
1/8 tsp turmeric, optional
3 tbsp toasted coarse breadcrumbs, optional
METHOD
Heat up a tablespoon of olive oil in a large frying pan.
Add onion and garlic and fry them until onion is lightly caramelised and garlic has softened (about 5 minutes). Keep the heat low and stir often
Transfer onion and garlic into a small blender. Keep the pan as is, no need to wash it.
To the blender, add nutritionl yeast, sundried tomato, miso paste, mustard (if using) and plant milk. Blend until smooth, season with salt and pepper to taste.
Cook pasta until al dente in a lightly salted water. Before draining the pasta, save 120 ml / ½ cup of the cooking water.
Return the pan to the stove. Add vegan butter and allow it to melt on low heat.
Once melted, sprinkle in flour while whisking it into the melted fat. Cook on low heat for about 3-4 minutes whisking gently the whole time so that the flour cooks but doesn't brown.
Once little bubbles start appearing all over the flour and fat mixture, whisk in blended plant milk mixture.
Allow the sauce to thicken for a minute or two on low heat, next stir in grated cheese (if using) and allow it to melt into the sauce.
Adjust the seasoning and add a bit of turmeric for colour, if liked.
Add cooked pasta to the pan and coat it in the sauce. If the sauce needs loosening up, add a little pasta cooking water.
Warm everything up well and divide between bowls. Sprinkle with toasted breadcrumbs if using.
NOTES
*SUNDRIED TOMATO – I used sundried tomatoes in oil, if using dry ones, soak them in boiling water for a bit to soften. You can use the oil from sundried tomatoes jar to sautee onion and garlic. If you don't have it, add a teaspoon of tomato paste.
*RED MISO PASTE – you can use white (shiro) miso paste instead, but as it's mellower in taste, you may want to use a little more.
*PLANT MILK – a creamy type plant milk like oat or soya works best. I used Oatly barista as that's what I had on hand.
NUTRITIONAL INFO
*per 1 out of 6 servings (without vegan cheese)