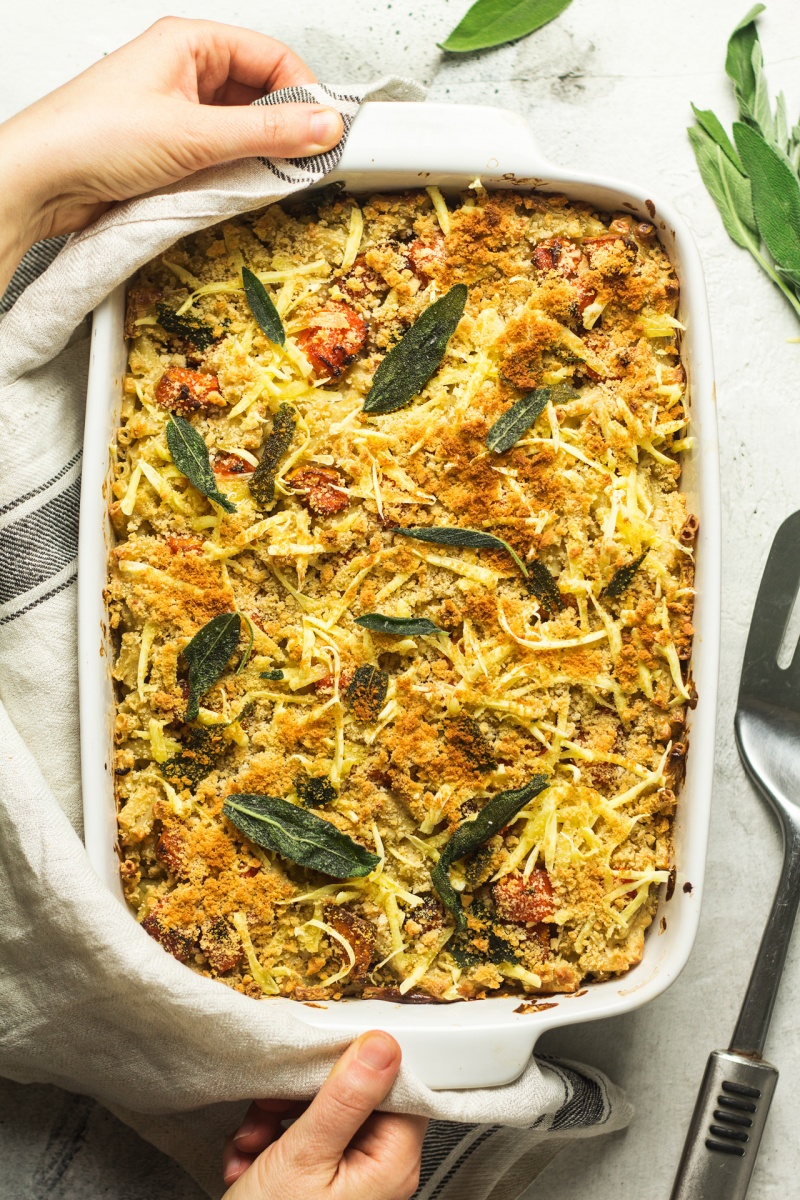 We've been having slightly different versions of this dish a lot this winter, especially after Duncan got his braces put in, as it was one of the very few things he could eat without any pain, but I was somehow dragging my feet about turning it into a recipe.
It's because I didn't trust myself to be able to photograph it in a remotely appetising way. I know, I am funny. I am the kind of person who takes ages picking produce in a veg shop as it needs to be perfect. Not perfect in the sense of blemish-free and being perfectly symmetrical, but it has to be fresh, vibrant in colour and if rustic, beautifully rustic.
Duncan has been making fun of me for that ever since we started the blog. Whenever I am taking ages picking something, he comes over and says 'How is the interviewing going? Is that pepper going to be able to carry the show? Are you sure?' Cheeky bastard 😉 . Don't bite off the hand that feeds ya, I say!
So today on the menu is a marriage between an American classic, 'mac and cheese' and one of my personal favourite flavour combos – pumpkin and sage. If you are not a person after my own heart and hate pumpkin (I mean, what is wrong with you???!! 😉 ), skip it and perhaps replace it with cauliflower or parsnips. You could also incorporate the vegetable into the sauce – in some of my previous takes, I blended the pumpkin into the sauce itself instead of some of the cashews or sunflower seeds – to make the sauce a little lighter. Your dinner, your rules 🙂 .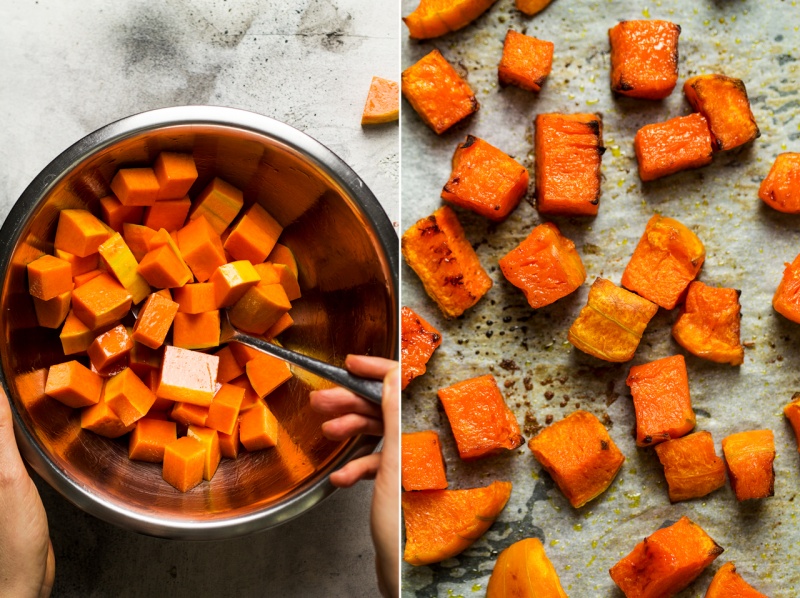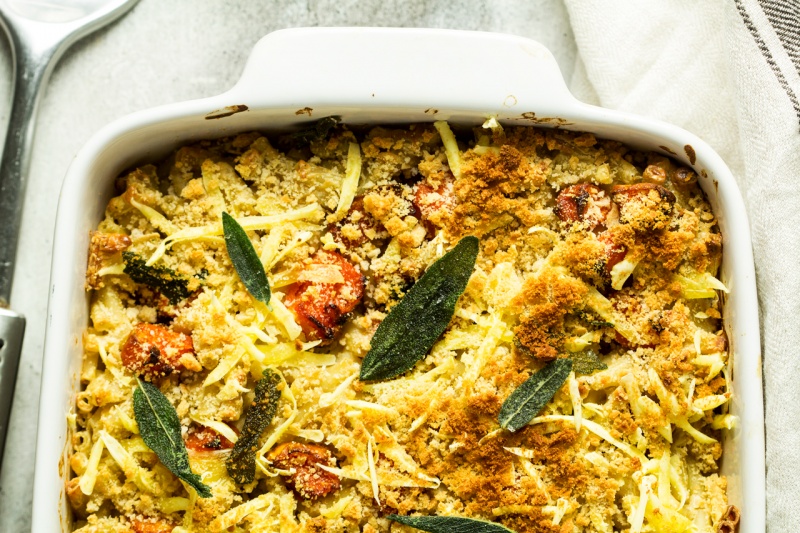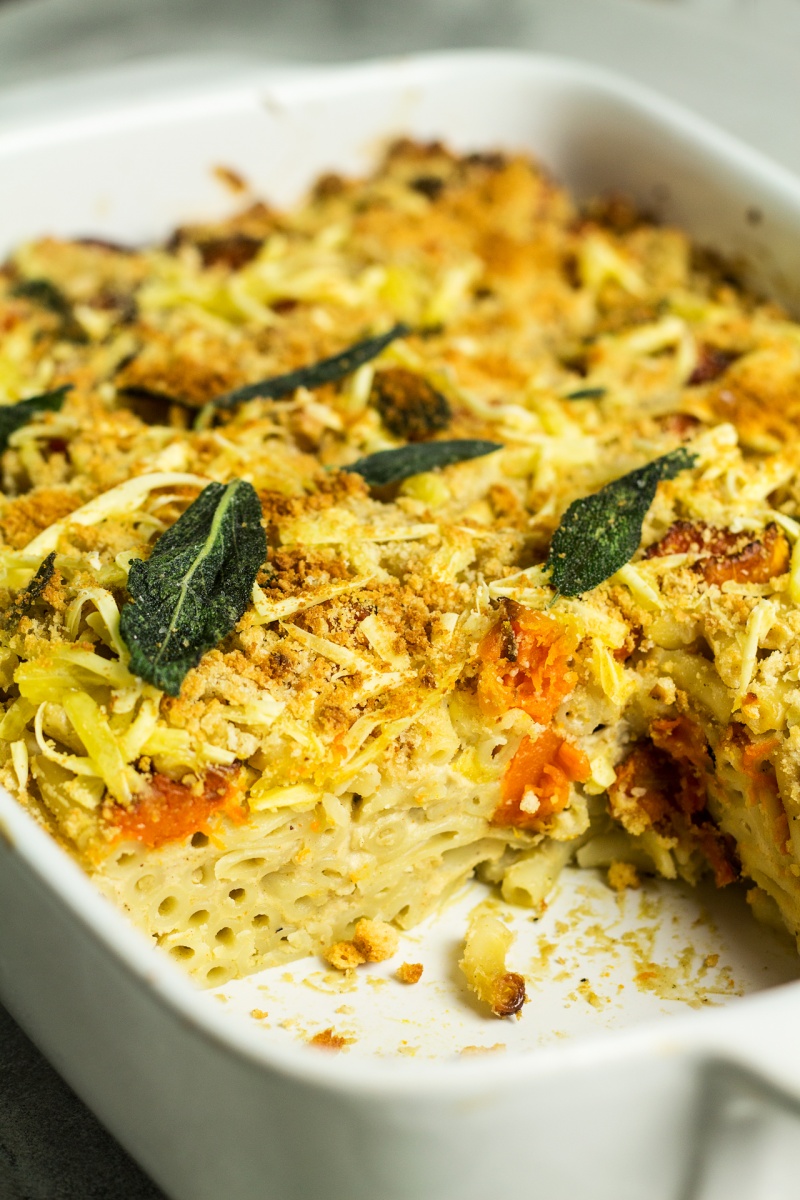 SAUCE (makes about 750 ml / 3 cups)
300 g / 2 cups raw cashews or sunflower seeds, soaked*
360 ml / 1½ cups almond milk
2 garlic cloves
6 tbsp lemon juice**, adjust to taste
3 tbsp white miso paste
4 tbsp nutritional yeast
¾ tsp ground nutmeg, adjust to taste
¼ tsp cayenne pepper (skip if you don't want any heat)
10 small fresh sage leaves
½ tsp salt, adjust to taste
a good grind of black pepper
REMAINING INGREDIENTS
500 g / 1 lb firm pumpkin or squash (I used butternut squash)
2-4 tsp olive oil
500 g / 1 lb macaroni pasta
a few fresh sage leaves, for frying (optional)
45 g / 1.5 oz melty vegan cheese, grated (optional)
45 g / 1.5 oz breadcrumbs***
METHOD
SAUCE
Place approximately half of the rinsed cashews in an upright blender with all of the almond milk. Blend until completely smooth and then add the other half of the cashews and blend until smooth again.
Season with garlic, lemon juice, miso paste, nutritional yeast, nutmeg, cayenne pepper, fresh sage leaves, salt and pepper and process until super smooth and creamy. Set aside.
PASTA AND PUMPKIN
Preheat the oven to 180° C / 355° F fan forced (or 200° C / 390° F without a fan) and line a baking tray with baking paper.
Cut the peeled pumpkin into equal size cubes, place them into a bowl and coat with 2 tsp of olive oil.
Scatter the pumpkin cubes on a prepared baking tray and roast them in the oven for about 20 minutes, until lightly caramelised. Move the cubes around with a spatula about halfway through the baking time. Switch the oven to fan function or increase the temperature to 200° C / 390° F.
Bring a large pot of water to the boil and precook the pasta in lightly salted water. It's important not to cook the pasta fully as otherwise it will turn into a mash after baking in the oven. My packet said 7 minutes, but I cooked mine for about 3½ minutes.
Heat up 2 tsp of olive oil on a small, non-stick pan. Throw in a handful of sage leaves and fry them until crispy. Once ready, place them on a piece of kitchen towel and sprinkle with a pinch of salt.
ASSEMBLY
Drain the pasta well, rinse under cold tap to stop it from sticking and let it cool off.
Stir the cashew sauce and half of the baked pumpkin cubes through the cool pasta.
Place in a lightly greased baking dish. Top with remaining pumpkin, grated vegan cheese, crumbled fried sage (if using) and then cover with a generous layer of breadcrumbs.
Bake for about 30 minutes in a 180° C / 355° F fan forced oven (or 200° C / 390° F without a fan) until the top is nicely browned.
NOTES
*Soak them overnight in tap water or if you are pressed for time, you could also soak them in boiling water for at least 20 minutes.
**Sounds like a lot, but that's to provide contrast to sweet pumpkin. If skipping pumpkin reduce the amount of lemon juice.
***You could also do a mixture of breadcrumbs and finely chopped walnuts or pecans.
The Pyrex dish I used had the following dimensions: 26 cm x 19 cm x 5 cm (10″ x 7.5″ x 2″)