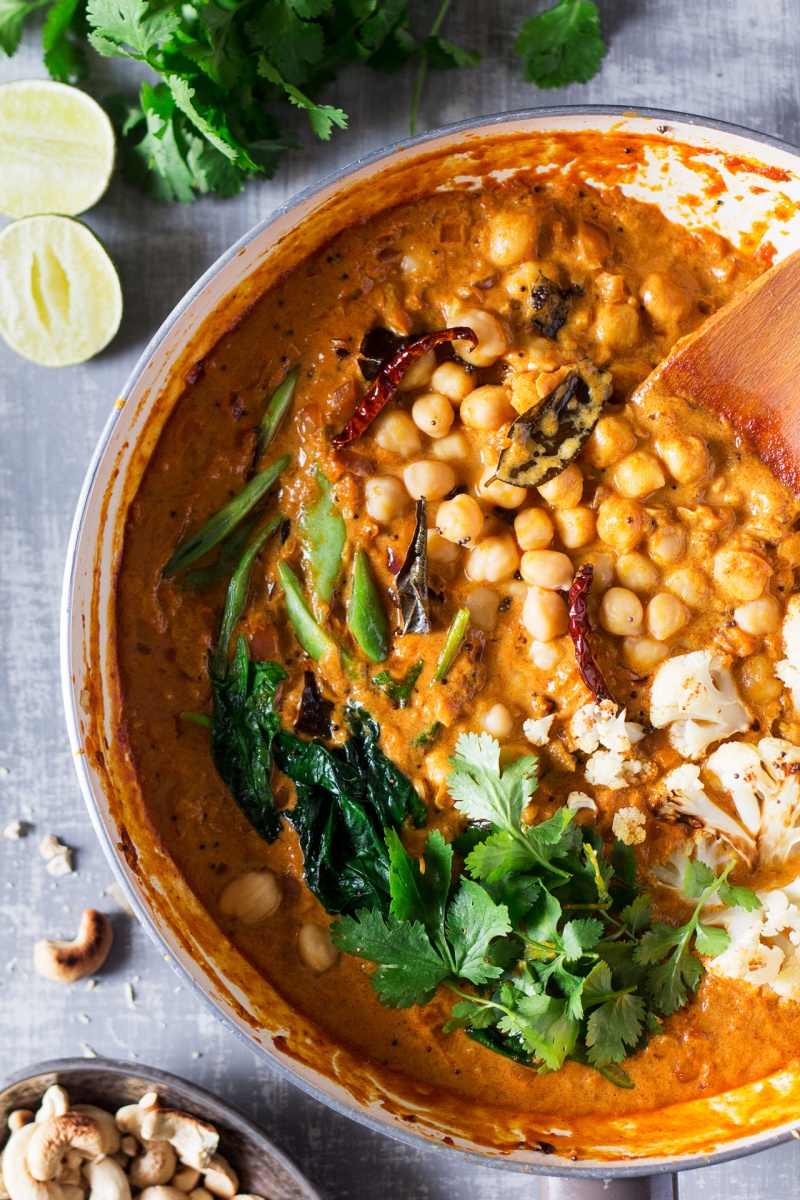 Today, I'm continuing a curry theme as I'm in the mood for spicy food tempered with soothing coconut these days. Today's special in Lazy Cat Kitchen's casa is a vegan version of a classic Keralan curry called Malabar.
It's quite easy to make, filling and delicious (especially a day after it was made!). Forgive me a sad single photograph, but I didn't start cooking until quite late in the day as I spent way too much time fussing over Snowy (full story here ) or Lupo (that's Duncan's newest name for our new arrival, let's see if it sticks…) and by the time I finished cooking pretty much all natural light was gone…
In my defense, Snowy (AKA Lupo) is not doing as well as we would have hoped by now. She has some nasty lung infection and her breathing is heavy and laboured and we are worried about her.
She has been prescribed antibiotics and we are hoping they will help, in the meantime, apart from giving her the medication, we make sure she gets lots of food, water, warmth and cuddles, which will hopefully help her pull through.
Fingers crossed as we've fallen head over heels with her already! Psst…don't tell our resident cat, Tina, as she is pissed off enough already 😉
2 medium tomatoes (400 g / 14 oz)
vegetable or coconut oil, for frying
2 small onions, diced finely
2 large garlic cloves, diced finely
5 cm / 2 " piece of ginger, peeled and diced finely
1 tsp black mustard seeds
24 curry leaves, fresh or dried (I used dried)
½ tsp fenugreek seeds
½ tsp turmeric
1½-2 tsp hot chilli powder
2 tsp ground coriander
½-1 tbsp tamarind paste
240 ml / 1 cup full fat coconut milk
½ small cauliflower, divided into florets
a handful of green flat beans, sliced thinly, on the diagonal
50 g / 2 oz fresh spinach
1 cup cooked chickpeas
approx. ¾ tsp fine sea salt, adjust to taste
2 tsp sugar, I used coconut
favourite rice, to serve
toasted cashews, to serve (optional)
fresh coriander, to serve (optional)
METHOD
Peel your tomatoes, chop roughly and blend (using a stick blender or a regular upright blender) until smooth.
Heat up 2-3 tbsp of oil in a large frying pan that you have a lid for. Once the oil is hot, add half of the mustard seeds (½ tsp) and curry leaves (12 leaves), all of the fenugreek seeds and ginger. Stir-fry for a few seconds.
Decrease the heat to medium and add diced garlic and onion to the pan. Fry gently (stirring from time to time) until onion softens and turns dark golden (about 6-7 minutes).
Add all the dry spices to the pan. Mix everything well so that the aromatics are coated in spices. Stir-fry for about 30 seconds.
Add blended tomatoes to the pan. If using a ready-made tamarind paste/puree, add 1 tbsp of it to the curry. If using a tamarind block, dissolve ½ tbsp in 1 tbsp of boiling water before adding it to the curry.
Simmer (without a lid) until slightly reduced and you can see oil separating from the sauce. Season with salt.
Add about 60 ml / ¼ cup of water to the sauce and put cauliflower florets in the sauce. Cover with a lid and simmer for about 3 minutes and add sliced green beans and cook for further 2 minutes. Add coconut milk and allow the sauce to come to a simmer again. Finally drop in cooked chickpeas and fresh spinach. Allow spinach to wilt into the sauce. Check and adjust the seasoning.
In a small pan, heat 1 tablespoon of oil to temper the spices. Add remaining mustard seeds and curry leaves to the hot oil and fry for about 10 seconds (until fragrant and mustard seeds start to pop), then tip tempered spices into the curry.
Serve over cooked rice, topped with toasted cashews and fresh coriander.
My recipe has been adapted from
this recipe
.