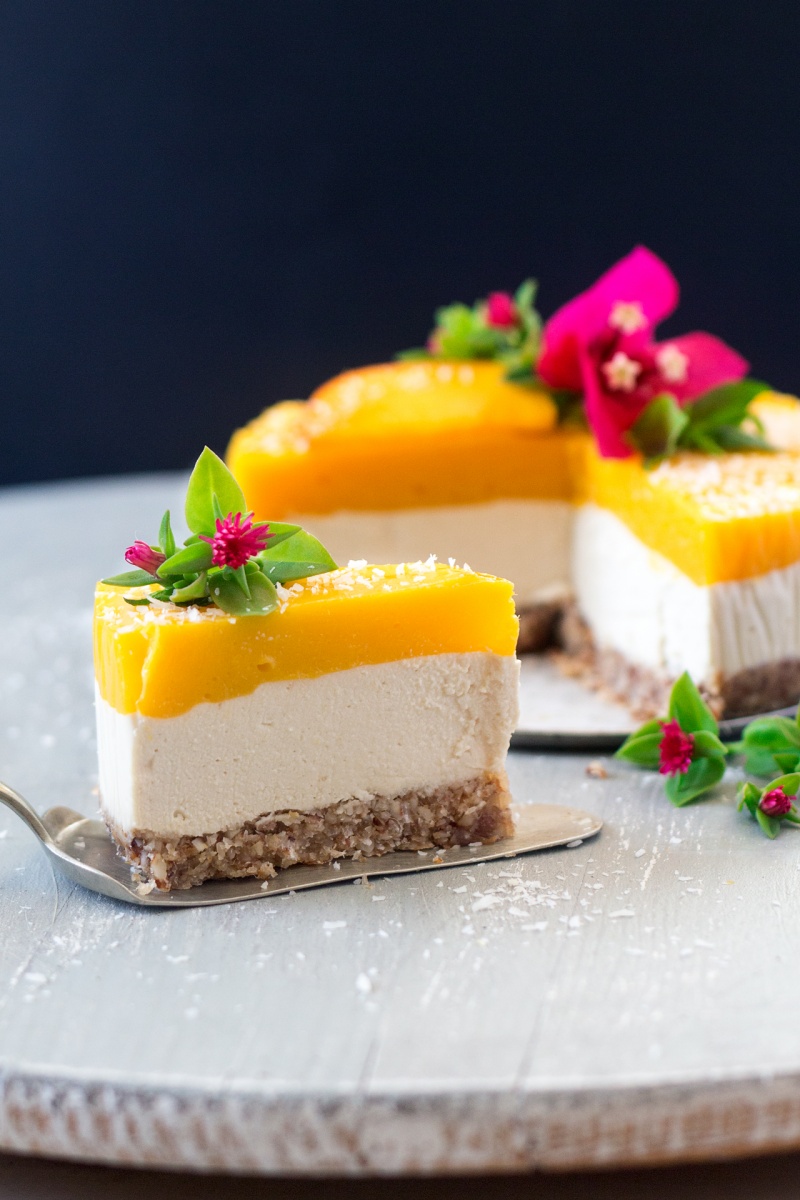 I've been reminiscing about how obscenely sweet and juicy the mangoes were when I spent a month with Duncan travelling around Australia. I was reconciled with the fact that my mango recipe ideas will have to wait until we move (not that fast, Ania!), okay, visit Australia or perhaps South-East Asia again.
I mean, Greece has such an abundance of beautiful summer fruit that I wasn't even that bummed, but I do happen to love mangoes so I was missing their flavour a fair bit.
That was until I walked into our green grocers one day and saw a two trays of mangoes. One contained large, still very green specimens clearly imported from Brasil, which I was not that excited about as I found them to be lacking in the flavour department. The other mangoes couldn't look more different – they were very small, oddly shaped yet they appeared beautifully ripe and fragrant. The owner must have seen the cogs in my brain turning so he hastened to inform me that the smaller ones are grown on Paros. WHAT? OMG! 'Are you sure?' I said to him.
Contrary to what you may think, Greek islands are not great for growing stuff in summer as there is no rain for months. Of course, he was sure! We decided to buy a few to jazz up our morning Bircher muesli. Despite their small stature, these little guys punched SO MUCH flavour that I immediately felt so much more awake (I'm not a morning person) as soon as I had my first spoonful. From that point onward, I started fantasising about turning them into a summery vegan mango and ginger cheesecake… So here it is!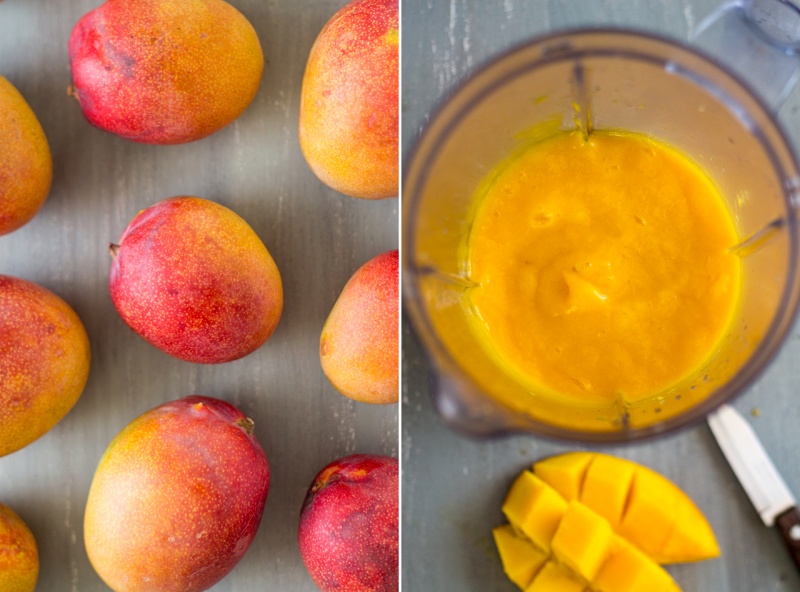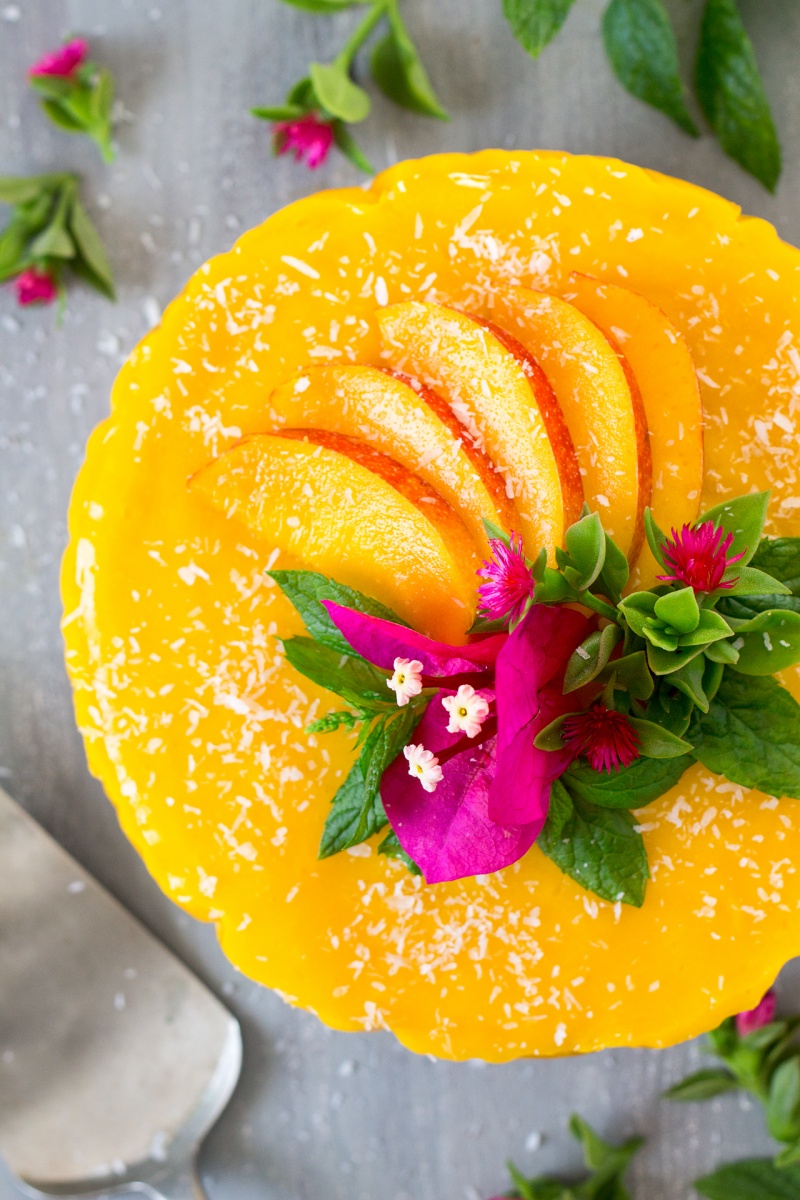 CHEESECAKE BASE
¾ cup / 125 g dates, pitted and soaked in boiling water
about ¾ cup / 100 g almonds
about ½ cup / 50 g desiccated coconut
a few pinches of salt (optional)
CHEESECAKE LAYER
MANGO LAYER
METHOD
Line the bottom of your spring form tin (mine was 16 cm / 6 " across and 6.5 cm / 2.5 " tall) with a circle of baking paper and cut out a long rectangle to line the sides with.
CHEESECAKE BASE
Grind your almonds in a food processor until you get a coarse crumb. Take them out of the food processor and set aside.
Drain your dates, squeeze excess water out and chop them roughly. Place them into the food processor (no need to wash it after you process the almonds) and process into a smooth paste.
In a bowl, mix date paste with enough ground almonds and desiccated coconut to obtain a dough that isn't too sticky yet still holds together well. I prefer doing it by hand but you could also just dump your ground almonds and desiccated coconut back into the food processor and incorporate all of them together. Season with a bit of salt to taste.
Line the sides of the spring form tin and then mould the base mixture to the bottom of your tin. Press the mixture down well with your fingers so that there are no gaps / air-bubbles. Put a bit of baking paper on top of the base and weigh it down with something heavy (I used a round container of similar size, filled with sugar). Put into the fridge while you make your cheesecake mixture.
CHEESECAKE LAYER
Just before you are ready to start blending the cheesecake layer, put agar flakes and ½ cup of aquafaba (or water if you don't want to use aquafaba) into a small pot. Let the mixture come to the boil and simmer on low-medium heat, stirring frequently, until flakes almost dissolve and the mixture thickens (about 10 mins). From that point onward, you'll need to work fast as agar sets as soon as it cools down.
Chuck rinsed cashews, coconut cream, maple syrup, grated ginger, lime juice, warm agar mixture and an extra ¼ cup / 60 ml of water into a blender. Blend, scraping the sides of the blender from time to time as the set agar likes to stay on those. You'll need to work fast as agar sets as soon as it cools down.
As soon as the cheesecake mixture is super smooth, take the spring form tin out of the fridge and pour the cheesecake mixture on top of the set base. Make sure you do it very quickly to get a smooth finish as, like I mentioned before, agar sets very quickly. Gently hit the filled spring form tin against your work surface a few times to get rid of air pockets / bubbles. Allow this layer to set completely (about 10 mins) before pouring on the next layer.
MANGO LAYER
Put cubed mango pieces into a clean blender and blend until smooth.
Put ¼ cup / 60 ml of water into a small pot and add agar agar flakes. Let the mixture come to the boil and simmer on low-medium heat, stirring frequently, until flakes almost dissolve and the mixture thickens (about 10 mins).
Add agar mixture to the mango puree and blend until smooth. Pour over the cheesecake layer and allow it to set before decorating.
NOTES
*I have never used agar powder, but if that's the only agar you have, most
Internet sources say
that 3 tsp agar flakes equal 1 tsp agar powder, so for this recipe I would use 1 and ½ tsp of agar powder for the cheesecake layer and a bit over a ½ tsp for the mango layer, however I have not been able to test this so please follow the instructions of the particular brand you have. Finally, make you sure you activate agar powder as per the instructions on the packet, adding dry powder to the cheesecake mixture will have no setting effect.
**Aquafaba – water from a can of low-sodium chickpeas or from cooking dry chickpeas at home. I did not reduce aquafaba for this application.