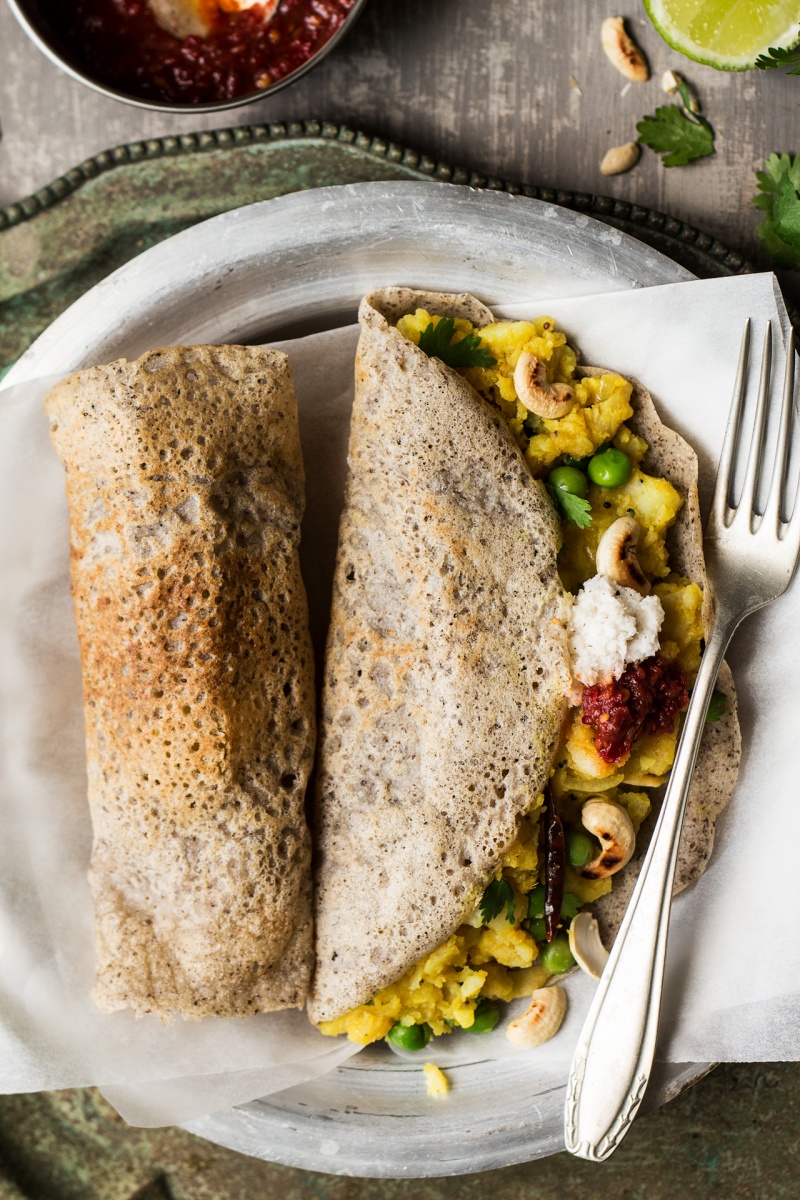 After about 3 years of relative stability, we've decided to turn our lives upside down, pack our bags again and move to the other side (almost) of the world. So far, we've really been enjoying Bristol.
Yes, the weather isn't a patch on Greek island weather on a good day, but there is so much more happening here than on Paros in winter time. I go crazy every time we step into a niche food shop as the majority of the ingredients that were off limits to me for the past 3 years are now at my fingertips. I cannot wait to be able to create recipes again.
We are facing a bit of an issue with finding accommodation as most landlords do not appreciate us having a cat, so it's a bit of a struggle. It looks like we may need to rent something unfurnished, which isn't ideal but certainly doable.
Duncan is looking for a job as, while he has been enjoying creating videos for you guys, he misses coding and meeting people with similar interests to his (don't worry, he'll keep creating videos though). Tina and I are encouraging him as while it's nice to have him around, we think it would be a welcome change for him.
Tina is loving the massive garden of Duncan's relatives (where we are staying right now) although she did disappear for 36 hours at some point and we raised a bit of an alarm in the neighbourhood. She strolled back in after a day and a half as if nothing happened…Cats, eh? We had no idea where she was but the next door neighbour has a bird feeding table and we suspect she might have just sat there with her mouth twitching the whole time.
She is still petrified of Biscuits – the resident bunny rabbit, which may be big but that's just because she is insanely fluffy. She has also spotted some foxes who visit the garden now and again so she has plenty of new things to sniff at and explore and she does look rather happy. She is also way more affectionate than she has ever been, which is a nice side effect of our traumatic journey, we think.
So recipe creation has to wait until we find a place to live, but here is a recipe for vegan masala dosa, which I found in one of my favourite vegan cookbooks Vegan Street Food by Jackie Kearney. It's not the quickest recipe to make as the batter ingredients require soaking overnight and then fermenting for another 24 hours, BUT that's the way to make proper dosa batter and most of that time is passive time anyway so don't let that stop you from trying!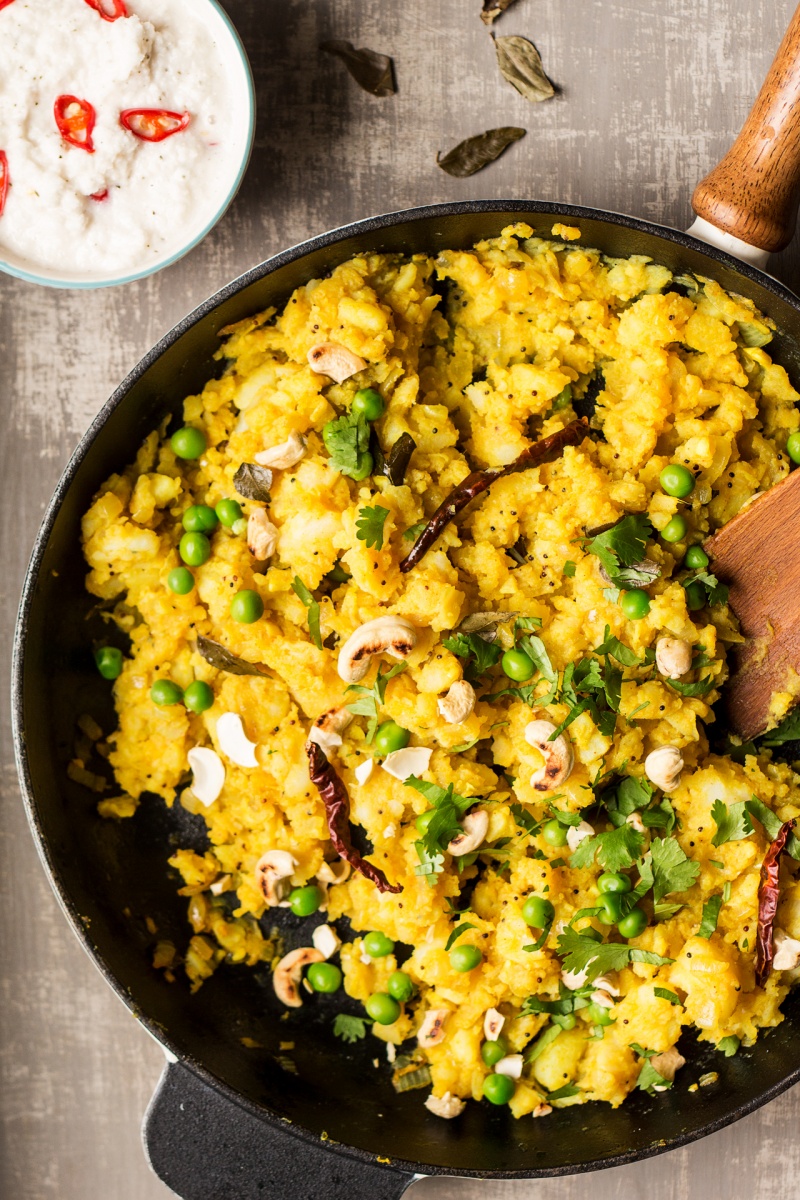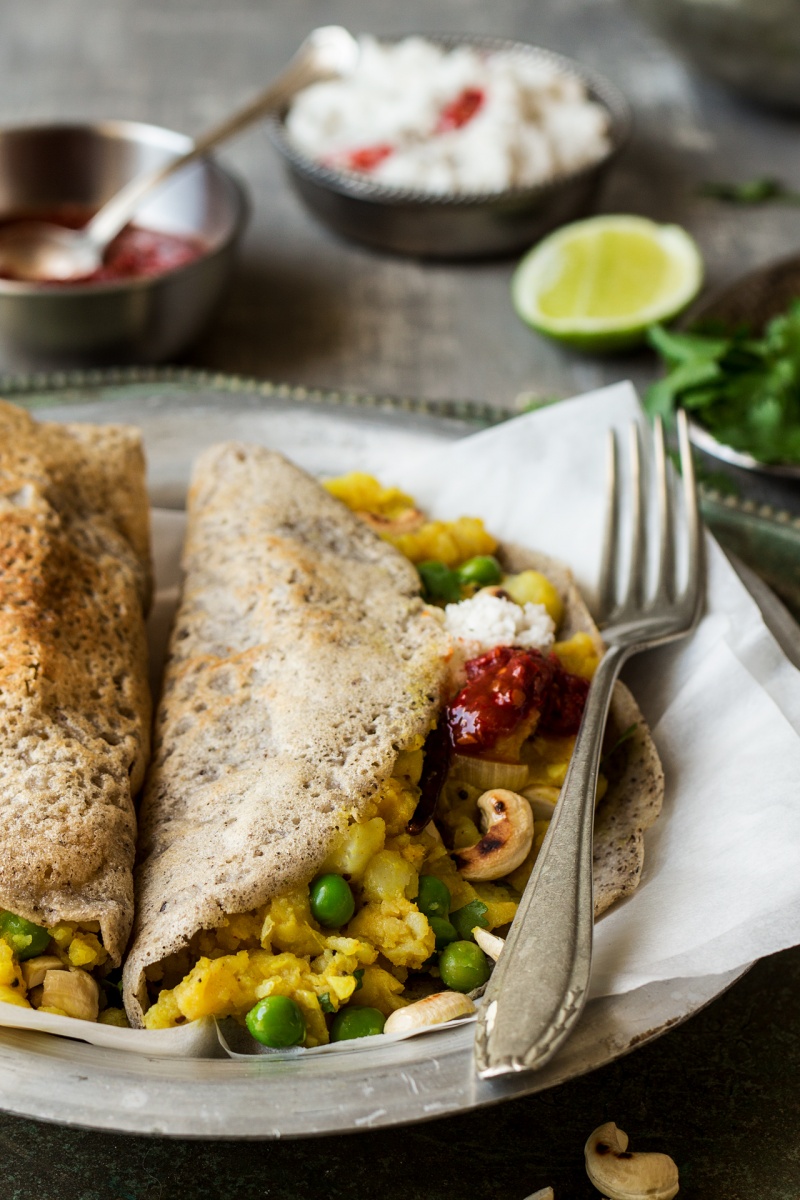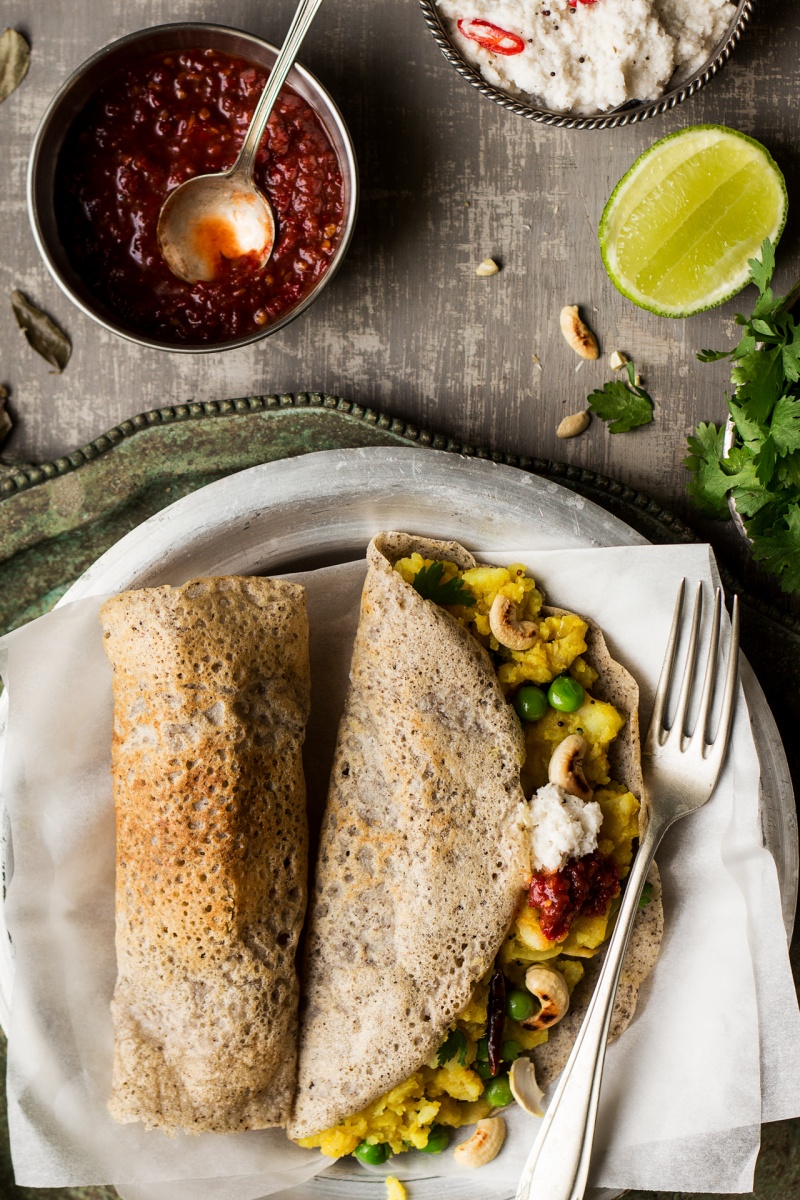 DOSA BATTER (must make 48 hrs in advance)
300 g / 1½ cups basmati rice
100 g / heaped ½ cup urid dal (split husked black lentils), I used unhusked
½ tsp fenugreek seeds
1 tsp salt
FILLING
4 medium potatoes
2 tbsp vegetable oil
1 tsp black mustard seeds
10 fresh or dried curry leaves
1 large onion, diced finely
2 small green chillies, diced finely
3 garlic cloves, diced finely
2.5 cm / 1″ ginger root, diced finely
1 tsp ground turmeric
chilli flakes or powder, to taste
1/3 cup frozen peas
½ tsp salt, adjust to taste
2 tbsp cashew nuts, pan-roasted
fresh coriander, to serve
sambal oelek, to serve
COCONUT CHUTNEY
100 g / 1 cup desiccated coconut
1-2 tsp finely grated ginger root
1 small green chilli, deseeded
salt, to taste
juice of ½ lime
2 tsp vegetable oil
½ tsp black mustard seeds
½ tsp cumin seeds
4 dried curry leaves
METHOD
DOSA BATTER
Place rinsed basmati rice in a large bowl. In a smaller bowl, place dal and fenugreek seeds. Fill both bowls with water so that the dry ingredients are well covered and set aside for 8 hours (or overnight) to soak.
The next day, place drained (don't throw away the soaking water just yet as it will come in handy) rice, dal and fenugreek seeds in a blender. Add ¾ cup / 180 ml of soaking liquid and salt and blend until super smooth. Place the batter in a large bowl, cover with a piece of cling film (glad wrap) and set aside in a warm place (for about 8 hours / overnight) so that the batter ferments.
If you are ready to fry the dosa pancakes, check the batter's consistency. It should be somewhere between pancake and crepe batter. Heat up a medium frying pan on a low-medium oil, brush it with a generous amount of vegetable oil and ladle about 2-3 tablespoons of the batter onto the pan. Use the back of the ladle to spread the batter by making a large spiral on the surface of the batter from the middle of the pan outwards.
Cook for about 2 minutes on one side, then gently flip over to the other side and fry for another 2-4 minutes, until golden brown and cooked through.
Place cooked dosa on a plate, pile spicy potato filling in the middle, sprinkle with roasted cashews and chopped coriander and fold in half. Serve with a spicy sauce like sambal oelek and coconut chutney.
FILLING
Boil the potatoes until tender, drain and mash.
Heat up the oil in a heavy-bottomed frying pan or pot. Once hot, add mustard seeds, and curry leaves. Fry for a few minutes until the mustard seeds make a popping sound.
Add chopped onion and green chillies. Fry (stirring now and then) for a few minutes, until softened. Add in garlic and ginger and fry off gently until they both become fragrant and the garlic softens.
Mix in turmeric and a fat pinch of chilli powder or flakes into the aromatics.
Add mashed potatoes, frozen peas and salt. Keep it on the heat until the peas defrost and the excess water cooks out. Keep warm until needed.
COCONUT CHUTNEY
Place desiccated coconut in a small bowl and cover with boiling water to rehydrate and soften (about 15 minutes).
Put softened coconut (reserve soaking water), grated ginger and green chilli in a blender or spice grinder. Blend until smooth, add a touch of soaking water to loosen up if needed. Season with salt and lime juice.
Heat up oil in a small frying pan. Once the oil is hot, add mustard seeds and fry gently until the seeds start to pop.
Next, add in cumin seeds and crushed curry leaves and sautée them in the oil for a few seconds.
Add tempered spices (including leftover oil) into the chutney and mix well.
NOTES
After fermentation is over (there will be small bubbles on the batter's surface and it will smell a little bit sour), you can store it in an air-tight container in the fridge for up to a week or freeze it for later.
This recipe is adapted from the book Vegan Street Food by Jackie Kearney.