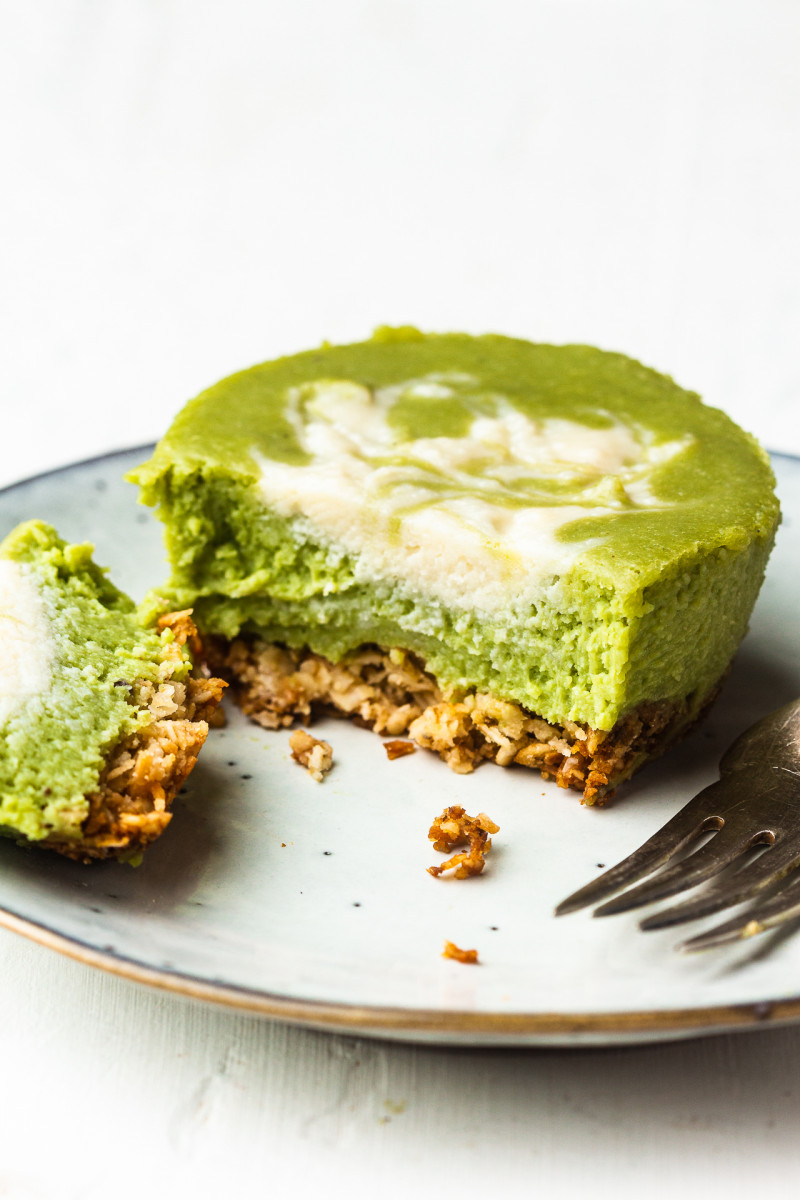 A quick drive by from me this weekend as I am actually on long awaited holidays right at this moment, but I still wanted to share a new recipe with you.
I finalised this recipe for these coconut matcha cheesecakes just before I went away. They are really lovely – I personally adore the combination of creamy coconut and bitter matcha – and suitably green – just in time for the coming up St Patrick's day…So I thought I should share it.
These cute mini cheesecakes are really easy to make. There is an oat base with a hint of coconut topped with a creamy coconut filling that does not require any baking at all and is a pleasure to eat. They are really easy to make and freeze well too. Here is more about the key ingredients I used.
MORE ABOUT THE INGREDIENTS
COCONUT BUTTER: Coconut butter, alongside some vegan white chocolate, is what gives these creamy cheesecakes their indulgent creaminess. You can either use shop-bought coconut butter or make it yourself at home – it's simply desiccated coconut churned in a food processor until it releases its natural oils. A dead easy and cheap thing to make at home.
VEGAN WHITE CHOCOLATE: I used a "Free From' vegan white chocolate bar available in Tesco's in the UK, but any other will work just as well.
SUGAR: Icing sugar gives these the best colour and its amount can easily be dialled up if you do not find the mixture sweet enough to your taste. It can be replaced with maple syrup if you wish, but the colour won't be quite as clean and adding more maple syrup than the recipe calls for may impact the texture of this dessert.
MATCHA: Matcha is powdered green tea leaves traditionally consumed in East Asia. Its slightly bitter taste provides a nice flavour contrast against sweet coconut. Matcha and coconut is a classic Asian flavour pairing that works particularly well in desserts, but if you are not a fan, why not use a bit of instant coffee or freeze-dried raspberry powder instead?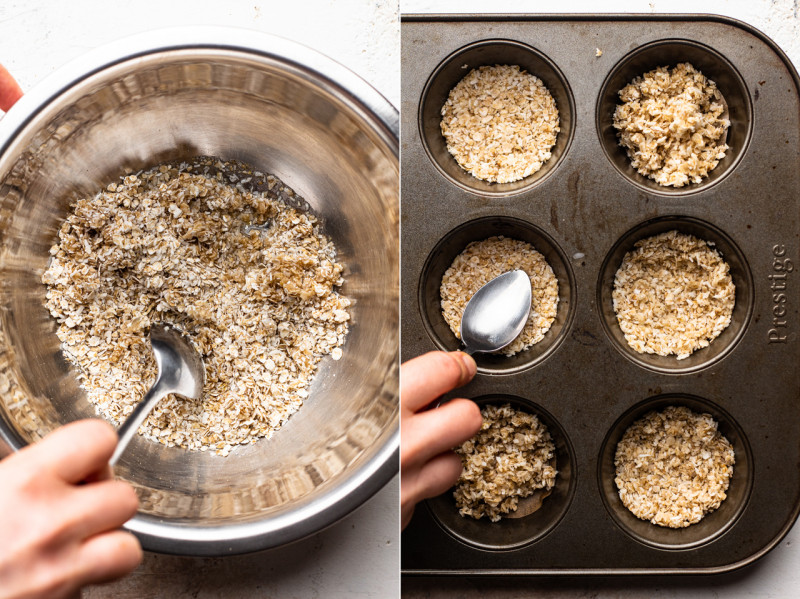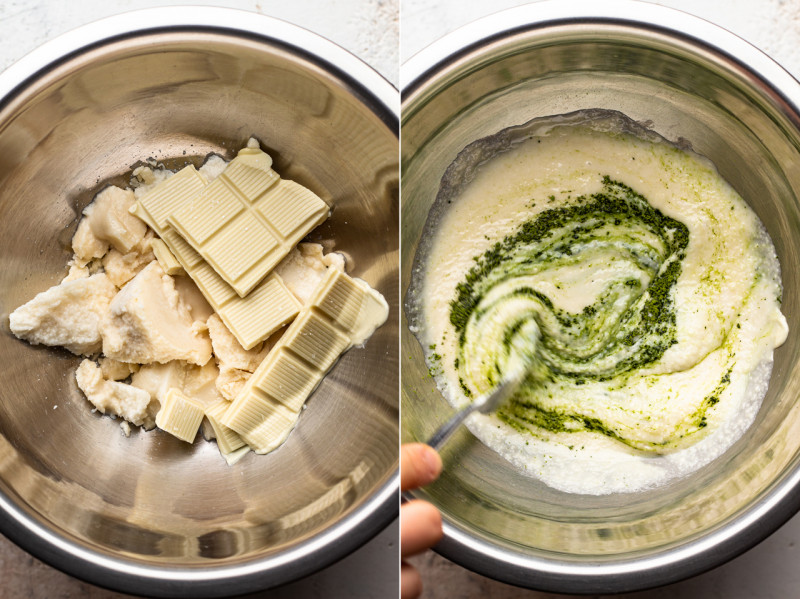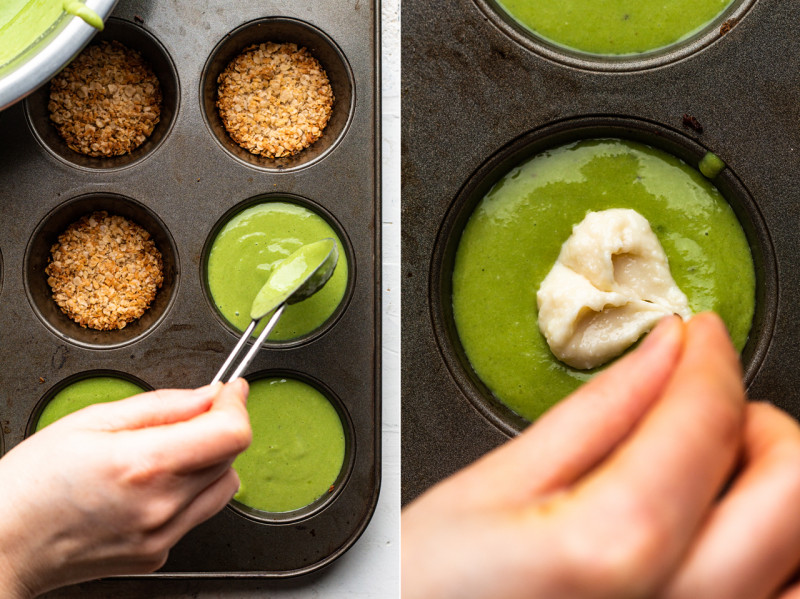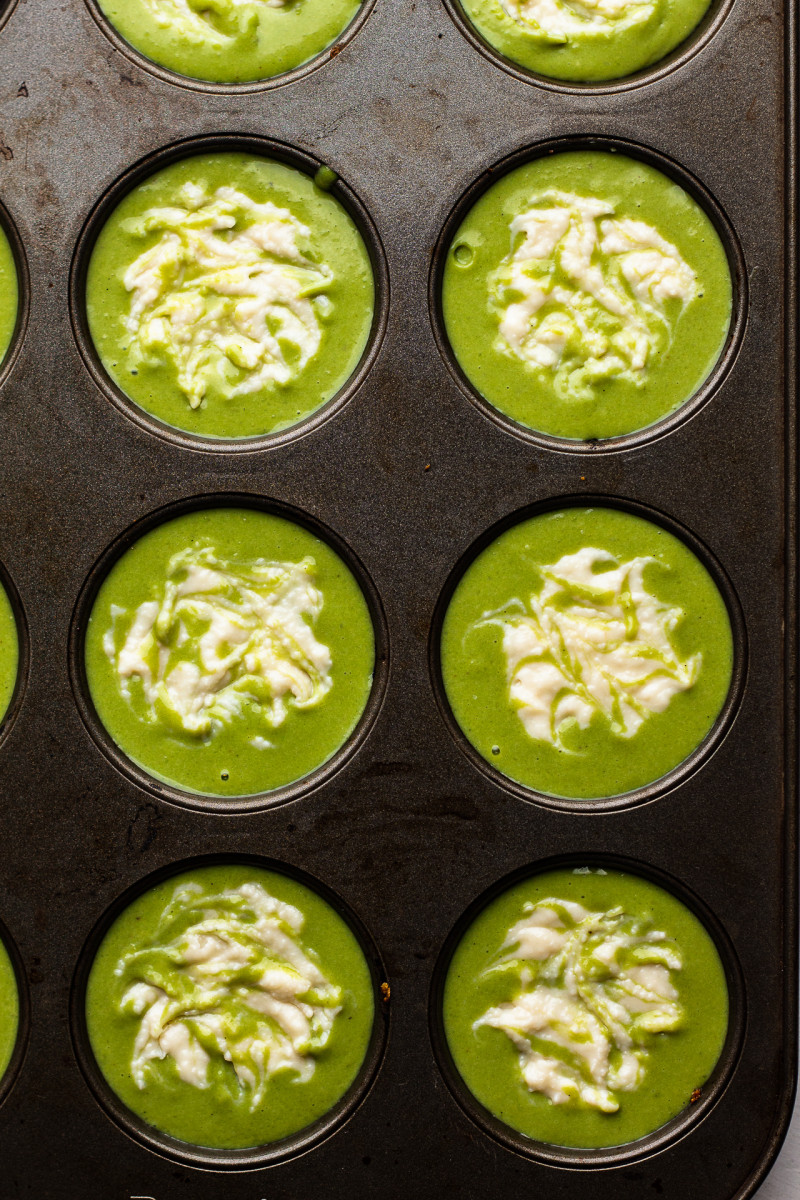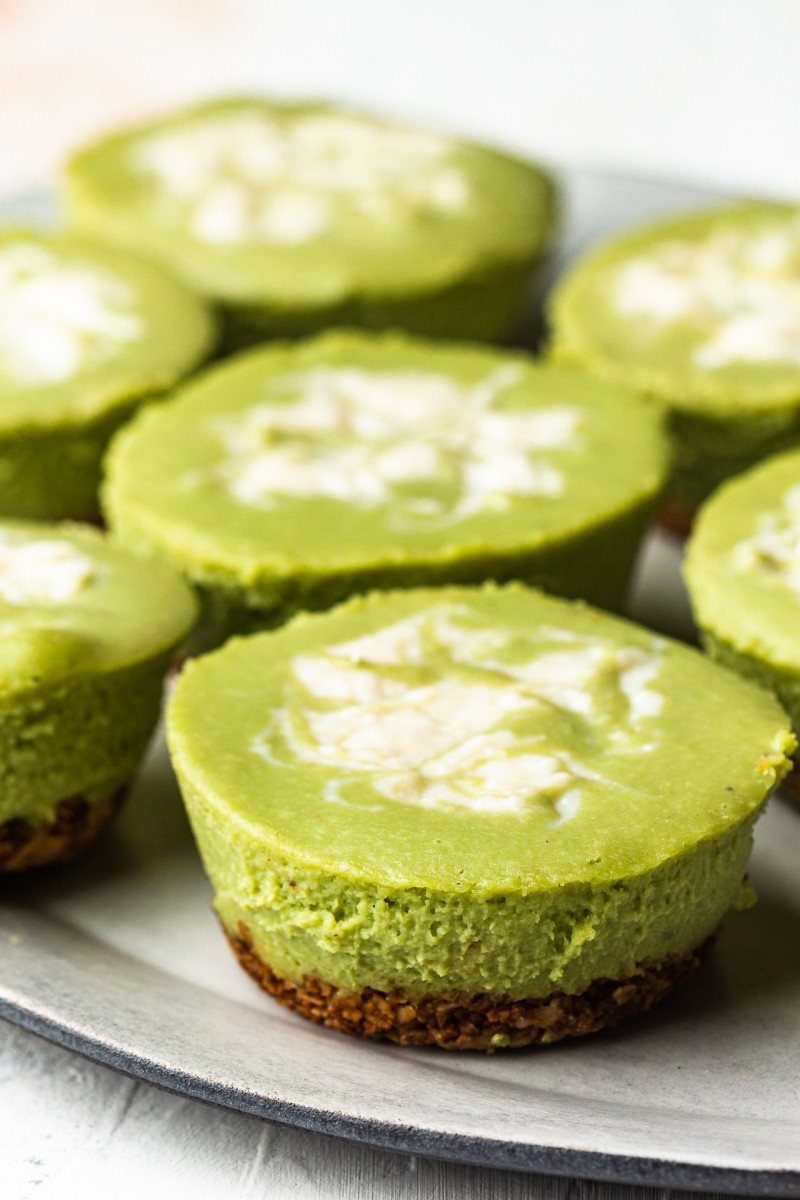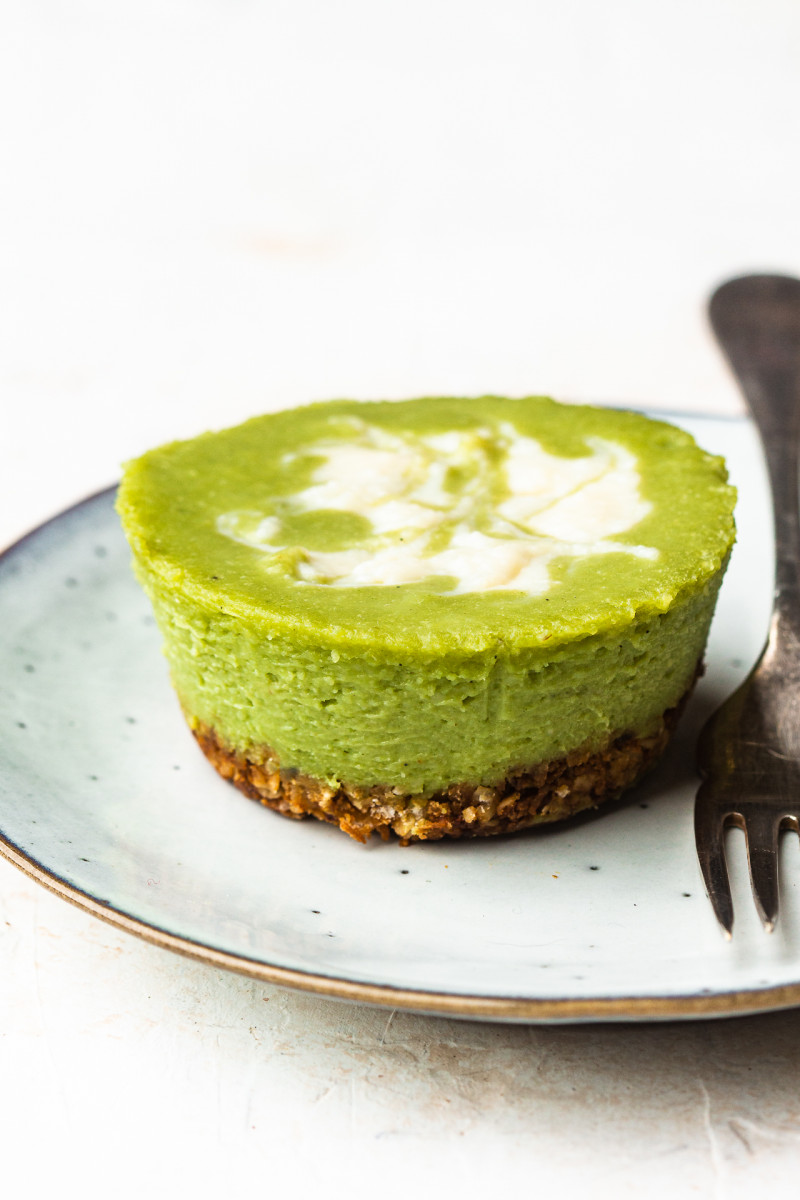 METHOD
BASES
Preheat the oven to 170° C / 340° F and line 9 muffin holes of a 12-hole muffin tray* with circles of baking paper. You may also want to place long strips of baking paper underneath each circle ( like I did here) to be able to remove these more easily. Alternatively, use paper muffin cases.
Mix all of the base ingredients in a mixing bowl, fold in until well combined.
Put 2 heaped teaspoons of the base mixture into each muffin hole and using the back of a dessert spoon compress the mixture really well, going over it a few times to make sure it's nicely compacted. The mixture will appear loose at first, but it will bake into a nice crisp cookie.
Bake for about 10-11 minutes, until golden. Cool down completely before adding the filling.
FILLING
Melt coconut butter and vegan white chocolate gently over a water bath (bain maire). Once the water underneath starts simmering, switch the heat off and allow the ingredients to melt in the residual heat.
Blend icing sugar, silken tofu and plant milk in a blender until smooth. If using maple syrup instead of icing sugar, skip the plant milk.
Add melted coconut butter and white chocolate mixture to the blended tofu. Blend until well combined. Save about scant ¼ cup (3 tablespoons) of the mixture for decoration before blending in matcha powder.
Divide the filling between 9 muffin holes, dollop a teaspoon of the white mixture on top and using a toothpick swirl the two coloured mixtures a little to decorate.
Refrigerate overnight. Run a butter knife against the walls of each muffin hole (maintaining firm pressure against the walls) to cut the cheesecakes out of the moulds.
Keep in an airtight container in the fridge for 3-5 days or freeze for later.
NOTES
*MUFFIN TRAY – I used a standard muffin tray, muffin holes measuring 7 cm / 2.75″ dia at the top, 5 cm / 2″ dia at the bottom and 3.25 cm / 1.25″ height.