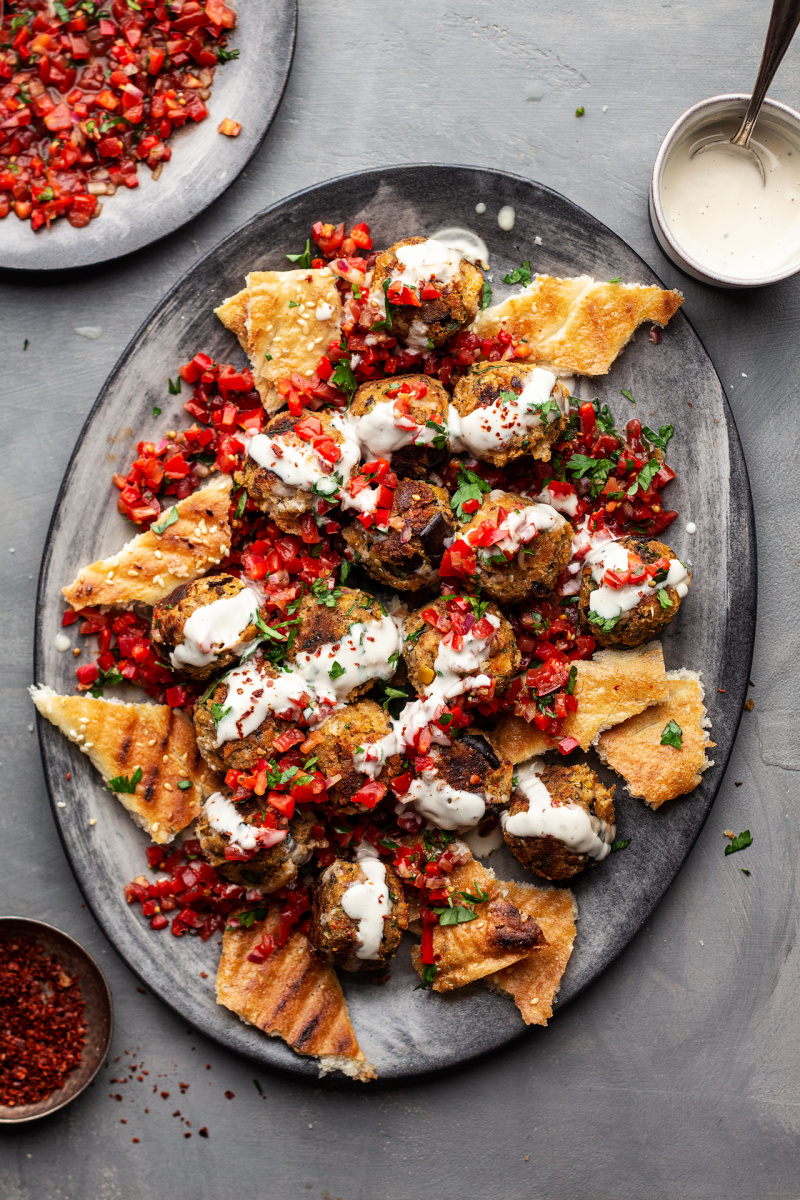 Today's recipe is a bit of a goodbye to one of my favourite late summer vegetables – aubergine, or eggplant, although I may be able to squeeze one more aubergine dish in before we part ways, as the season doesn't truly finish until the end of October. I love the versatility of aubergine and its unique texture that lends itself to so many different preparation methods.
To my mind, aubergine's infamous blandness is precisely its selling point as it takes on various flavours so readily. It's no wonder that it's such a popular vegetable in the cuisines of India, China, Middle East and Southern Europe. It's delicious baked, slow-cooked, wok or pan-fried. It makes mean curries, bakes, casseroles, warm salads, dips, stir-fries and today I've roped it in to make some vegan meatballs.
Not only are they good for you as they contain no actual meat, but they are entirely made up of so-good-for-you wholefood plant foods that we should incorporate into our life daily. They are made of diabetes and hypertension-fighting legumes (chickpeas), omega-3 rich and breast cancer preventative flax, cancer-preventing aromatics and my beloved heart healthy eggplants. Not only that, they taste great too. Here, I paired them with with a few extra fixings for a bit of a vegan meatballs platter, but you can also have them more simply, with some green salad, grain or pasta. I garnished them with a Turkish-inspired spicy tomato and pepper relish, drizzled with creamy tahini sauce and served alongside some rustic pitta croutons for a bit of extra crunch and texture.
While I went vegan for the animals, I am forever astounded by how good this way of eating feels and how beneficial it is for our bodies, long term. I often listen to the leading plant-based doctors' talks when I work and I never cease to be amazed at how perfect the world of plants is and how tapping into that potential could save us (and billions of animals) from so much needless suffering. While I'm not one of these people who think that we can dispense with Western medicine altogether and simply eat plants and meditate instead, I am a big proponent of them both, working in unison and not against each other.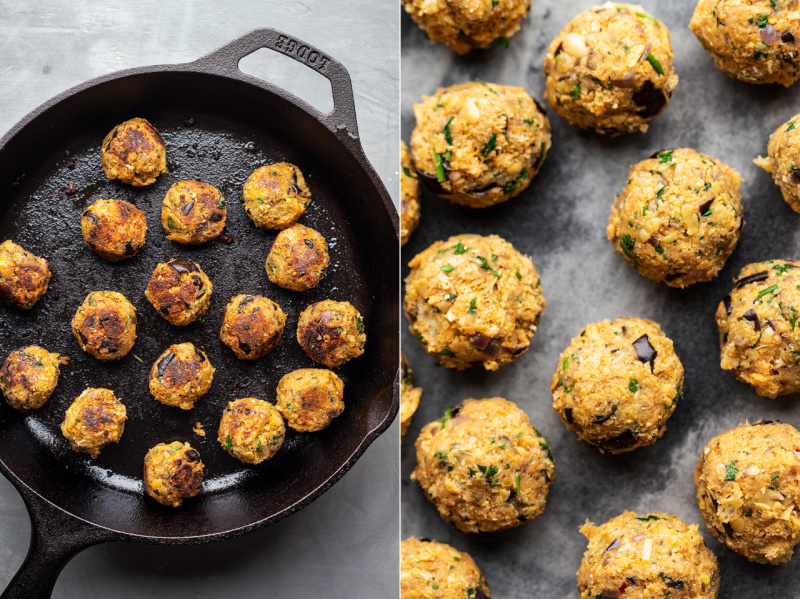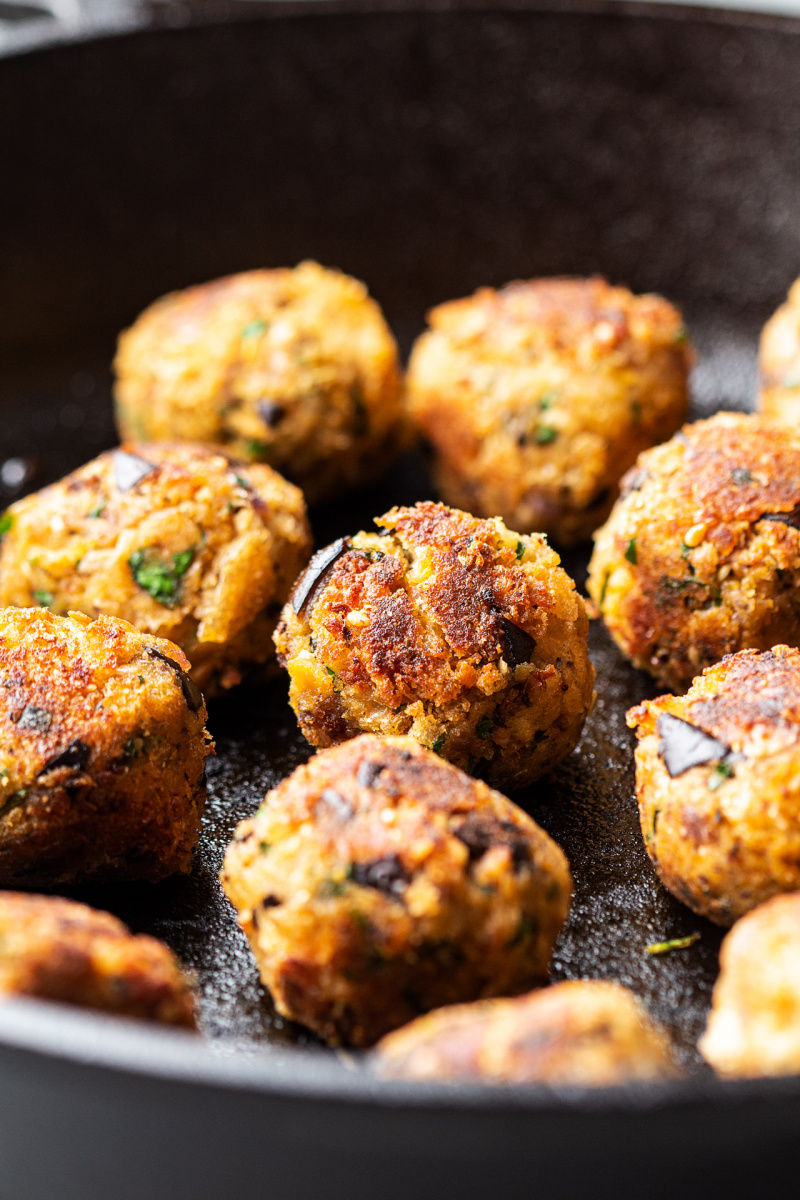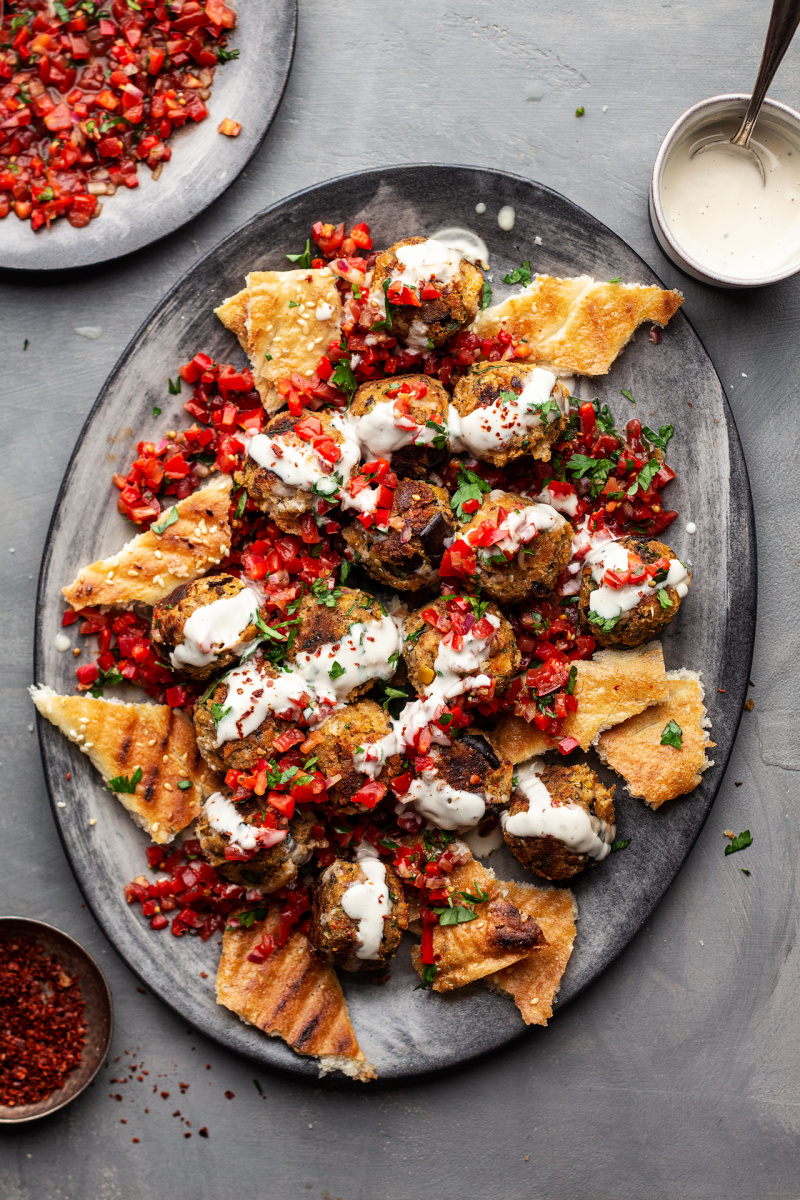 VEGAN MEATBALLS
500 g / 17½ (2 medium) eggplants / aubergines
300 g / 2 cups cooked chickpeas
1 small red onion, finely grated or super finely chopped
4 garlic cloves, finely grated
zest of 2 lemons
4 tsp Za'atar
1 tsp smoked paprika
¾ tsp fine sea salt, more to taste
½ tsp black pepper
¼ tsp ground fennel
a big handful of fresh parsley
2 tbsp ground flax seeds or chia seeds
40 g-60 g / ¾-1 cup coarse / panko breadcrumbs (GF breadcrumbs or fine oat if gluten-free)
oil for baking / sautéing
SPICY TOMATO RELISH
30 baby plum tomatoes*
1 red Romano pepper
a small handful of fresh parsley
¼-½ red onion (I used ¼ for milder flavour)
1 tbsp olive oil
1 tbsp pomegranate molasses
2 garlic cloves, finely grated
pul biber (spicy Turkish pepper flakes), to taste
salt and pepper, to taste
TAHINI DRIZZLE
FRIED BREAD / PITTA
METHOD
Heat up the oven to 200° C / 390° F and grab an old-fashioned (ideally steel, not teflon-coated) baking tray.
Cut your aubergines / eggplants into 1.25 cm / ½" rounds and arrange them on the baking tray. There is no need to grease them. Bake for about 25-30 minutes, flipping the slices to the other side halfway through. They are done when soft all the way though and lightly browned on both sides.
Put chickpeas in a food processor and process until coarsely ground. Be careful not to overprocess as you do want your meatballs to have a bit of texture and that is why I recommend grinding chickpeas separately from the rest of the ingredients. Transfer the chickpeas out of the food processor and set aside.
Place baked eggplants and all the remaining meatballs ingredients, apart from the breadcrumbs and oil, in the food processor and process until smooth. I recommend grating the garlic and onion beforehand as you want their flavour evenly distributed throughout the meatball mixture.
Transfer the mixture into a large mixing bowl, add ground chickpeas and mix well. Add enough breadcrumbs to absorb excess moisture and to give the meatballs better texture. If you intend to bake your meatballs rather than fry them you can leave the mixture a little bit wetter as the oven will dry the meatballs out a little. Chill for 1-2 hours in the fridge before forming the meatballs.
Once chilled, form the mixture into same size meatballs (mine were 21 g / ¾ oz each). You can either bake them or fry them.
To bake, preheat the oven to 180° C / 355° F. Brush a little bit of oil under each meatball and brush the tops with a little oil also. Bake for about 20-25 minutes, flipping them once halfway through. They are likely to stick to the tray so use a flat spatula to gently prise them off first.
To fry, preheat a heavy skillet or pan, cover the bottom of the skillet with oil (about 2 tbsp). Allow the oil to heat up and then arrange the meatballs (it's important not to overcrowd the pan so you may need to do it in 2 batches) on the skillet in a clockwise order. Give them a little bit of time to seal and then turn them gently, keep on turning until they are cooked all over, arrange on a clean paper towel to absorb the excess oil.
Arrange fried bread and meatballs on a platter, garnish with spicy relish and drizzle with tahini sauce. Consume immediately.
SPICY TOMATO RELISH
Chop the first four ingredients into a very tiny dice, the smaller the better. You may be tempted to use a food processor, but it will make this relish too soggy so I don't recommend it.
Place all of the chopped ingredients in a bowl. Stir olive oil and pomegranate molasses through it, season with garlic, pul biber, salt and pepper.
TAHINI DRIZZLE
Loosen tahini up with 2 tbsp of water. Season with lemon juice, salt and pepper and a dash of sweetener (if desired).
FRIED BREAD / PITTA
Tear the bread / pitta into smaller chunks (I used a day old Turkish pitta, which I sliced into two widthwise).
Heat up a large pan on a low heat. Add 1-2 tbsp of oil, allow it to heat up. Once hot, stir in torn bread. Stir it continuously to avoid burning. Toast until golden and crunchy. Season with salt flakes and remove from the pan.
NOTES
*If using large tomatoes, you may want to deseed them first.