The time has come for new vegan meatballs you guys, 'cos I've not made any for a while and it's cloudy… These little balls of deliciousness are made with mushrooms because I love mushrooms and Puy lentils, which were a gift from Duncan's cousin, Sydney.
Sydney hosts foreign students regularly at her house and gets gifted food from their home countries very often. Anything she isn't that keen on, I get, because, you know, I'm the kooky vegan who eats weird stuff, ha ha.
I don't mind as I genuinely like pretty much all food as long as it's vegan. Plus, I get to treat it as my own mystery box challenge (I trust you are familiar with Masterchef). It pushes me to come up with a recipe featuring an ingredient I would not necessarily be drawn to given lots of other options available.
These meatballs are earthy and filling and really easy to make. If, like me, you live with a horse (sorry, I meant to say Duncan…) I recommend making a double or even triple portion of these, hiding half and freezing it for later.
These are perfect for days when your fridge is so empty it starts echoing your words back and you cannot face going shopping. I get lots of days like that so my freezer is pretty well stocked 😛 .
As you might have noticed, I give Duncan a lot of stick for being a voracious eater, but in reality I'm happy his appetite is back to normal as it means he is running again, something that makes him a much more pleasant person to be around 😉 .
He has been having a bit of bad luck with his health lately and this winter has been marred by chronic sinusitis. He has seen a nose throat and ear specialist recently and things are finally on the mend… Yay! I'm super happy for I've seen first hand how draining a chronic illness is.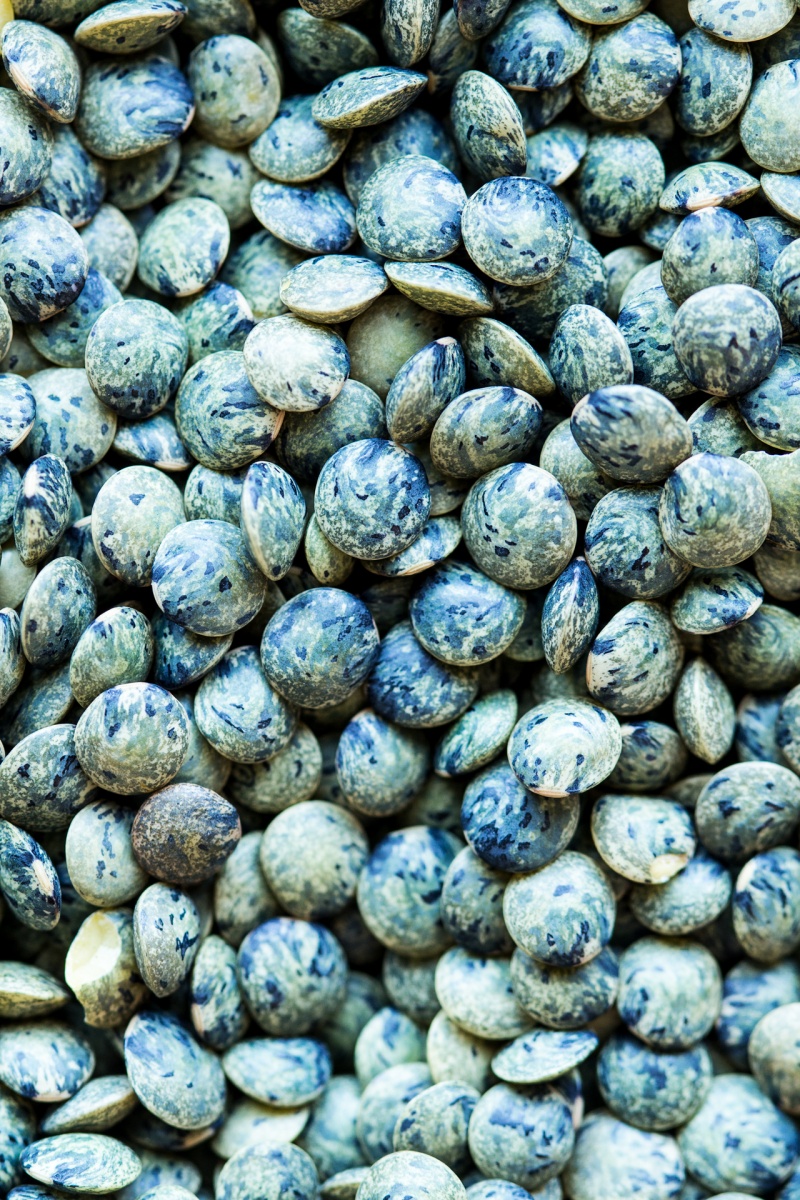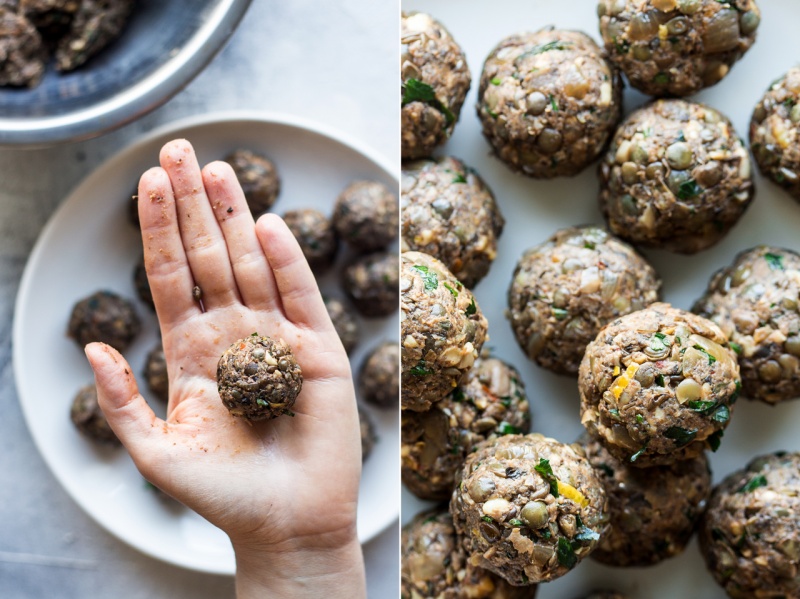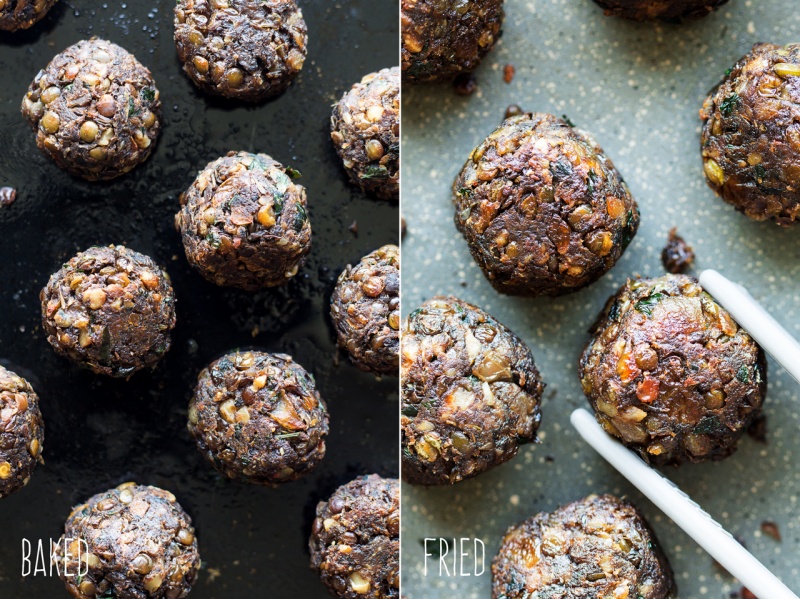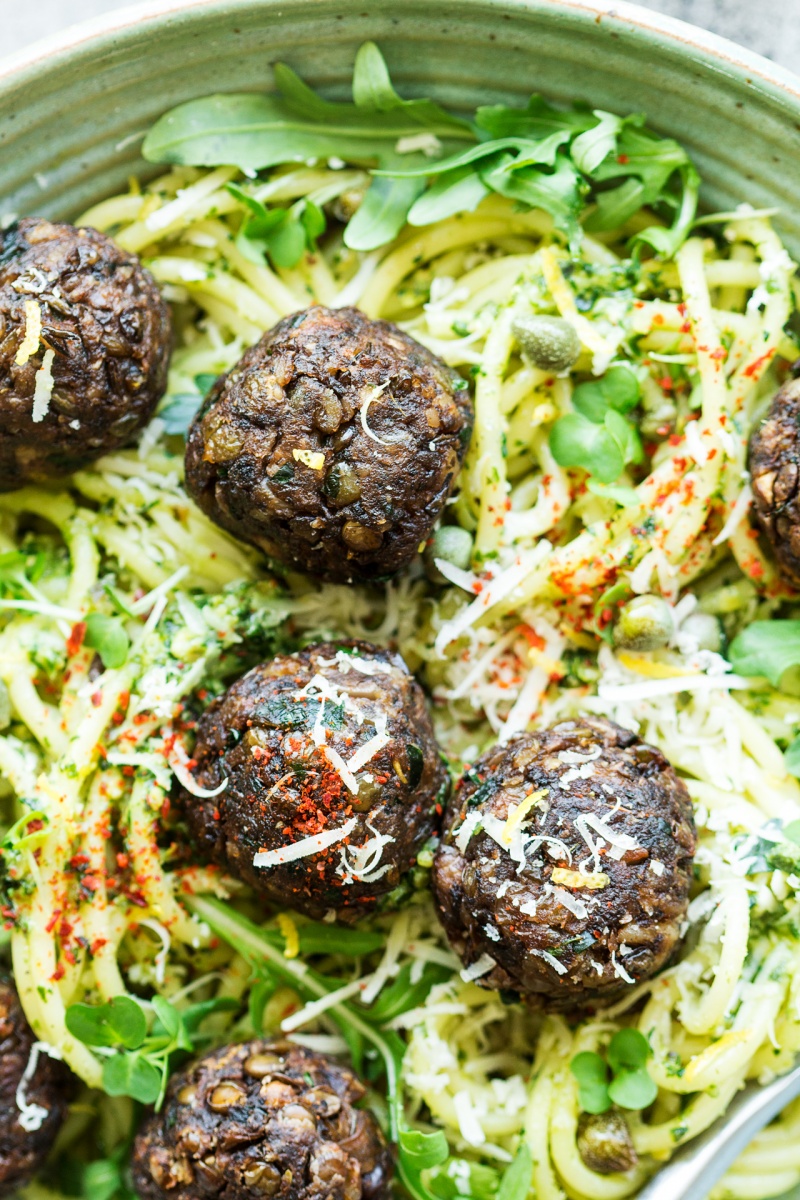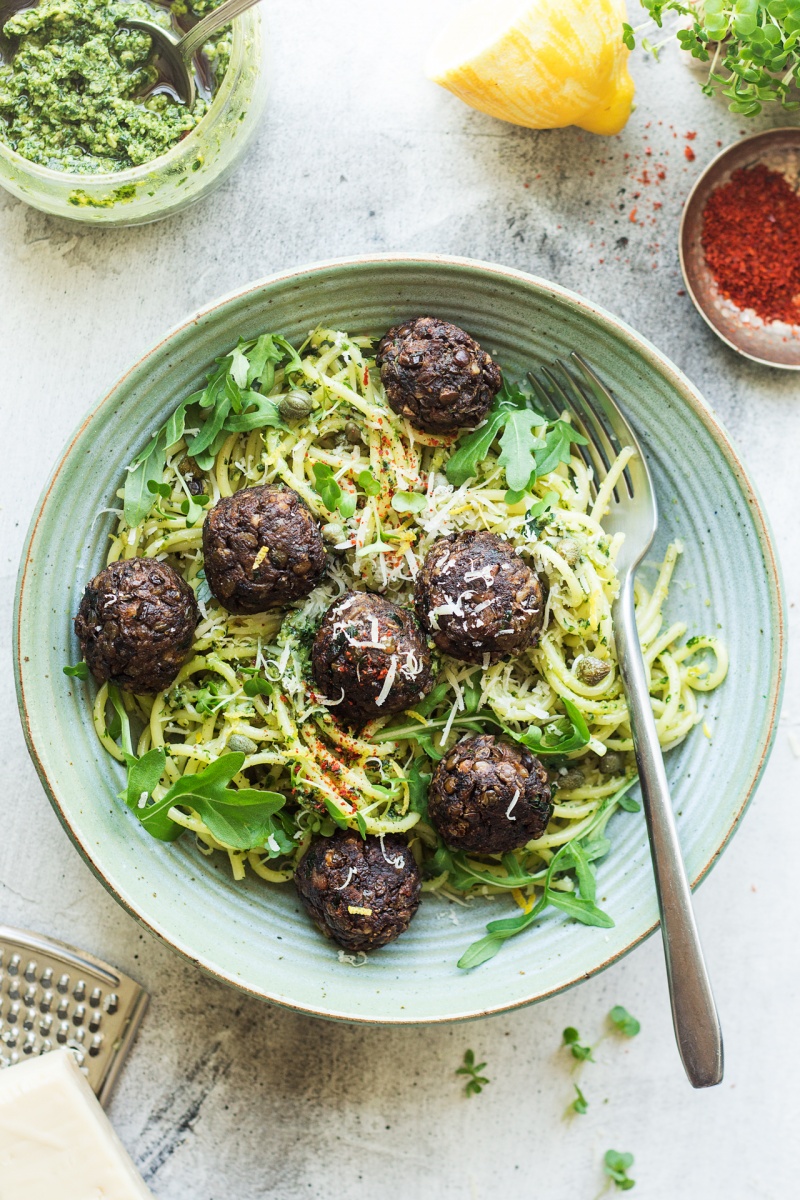 100 g / ½ cup Puy lentils or green lentils
35 g / ¼ cup walnuts
250 g / 9 oz white or chestnut mushrooms
oil for baking / sautéing
½ large onion, chopped very finely
3 garlic cloves, chopped very finely
2 heaped tbsp nutritional yeast
zest of 1 lemon
10 g / 0.35 oz fresh parsley (about 2 tbsp chopped finely)
½ tsp dried oregano
¼ tsp dried thyme
½ tsp smoked (sweet non spicy) paprika
black pepper, to taste
½ tsp salt, adjust to taste
¼ tsp hot chilli flakes (skip if you don't like spicy food)
1 chia / flax egg (optional, see notes)*
30 g / ¼ cup any flour (I used wholemeal), the exact quantity may differ slightly
METHOD
Cook your lentils following the instructions on the packet – until soft, but not falling apart. Drain and allow them to cool down.
Blitz the walnuts in a food processor until you get a coarse crumb.
Empty the food processor and blitz the dry mushrooms until they are fairly finely chopped, but not too mushy. It may help doing them in 2-3 batches.
Heat up 1 tbsp olive oil in a small frying pan. Add the chopped onion and garlic and fry them, stirring regularly, until the onion is translucent and garlic is soft and fragrant. Add minced mushrooms and sautee them, stirring from time to time, until the water cooks out.
Place all the remaining ingredients (except the oil you will use later) in a large mixing bowl and chill the mixture for a few hours. If you are pressed for time, stick the mixture in the freezer for 30 minutes or so.
Once chilled, squeeze portions of the mixture in your palm to make it stick to itself and then roll into balls (mine were 20 g each) in your hands. If the mixture is not quite sticking together, add a touch more flour.
Before you are ready to make your meatballs, heat up your oven to 175° C / 350° F and brush a baking tray with a little oil.
Arrange your meatballs on the pre-oiled baking tray. Brush each meatball with a little oil. Bake for about 15 minutes, then flip them gently to the other side and bake for a further 15 minutes.
If you want to pan fry your meatballs, heat up enough oil that it covers the bottom of the frying pan. Once hot, arrange the meatballs on the pan, allow them to brown on all sides, nudging them gently to a new side every now and then. Drain on a paper towel after frying, handle with care as they are fragile when super hot.
Serve warm with your favourite pasta. I served mine with spaghetti coated in my wild garlic pesto, some baby capers and fresh rocket.
NOTES
*I did try adding a
chia egg
to these meatballs during the recipe testing stage, but I don't feel that it is necessary at all, they hold together well without it. If you intend to bake your meatballs (which dries them out a bit more than frying) rather than fry them or you want a nutritional boost, you might want to add one
chia / flax egg
in at the end (before chilling the mixture), but for the sake of simplicity I left it out.