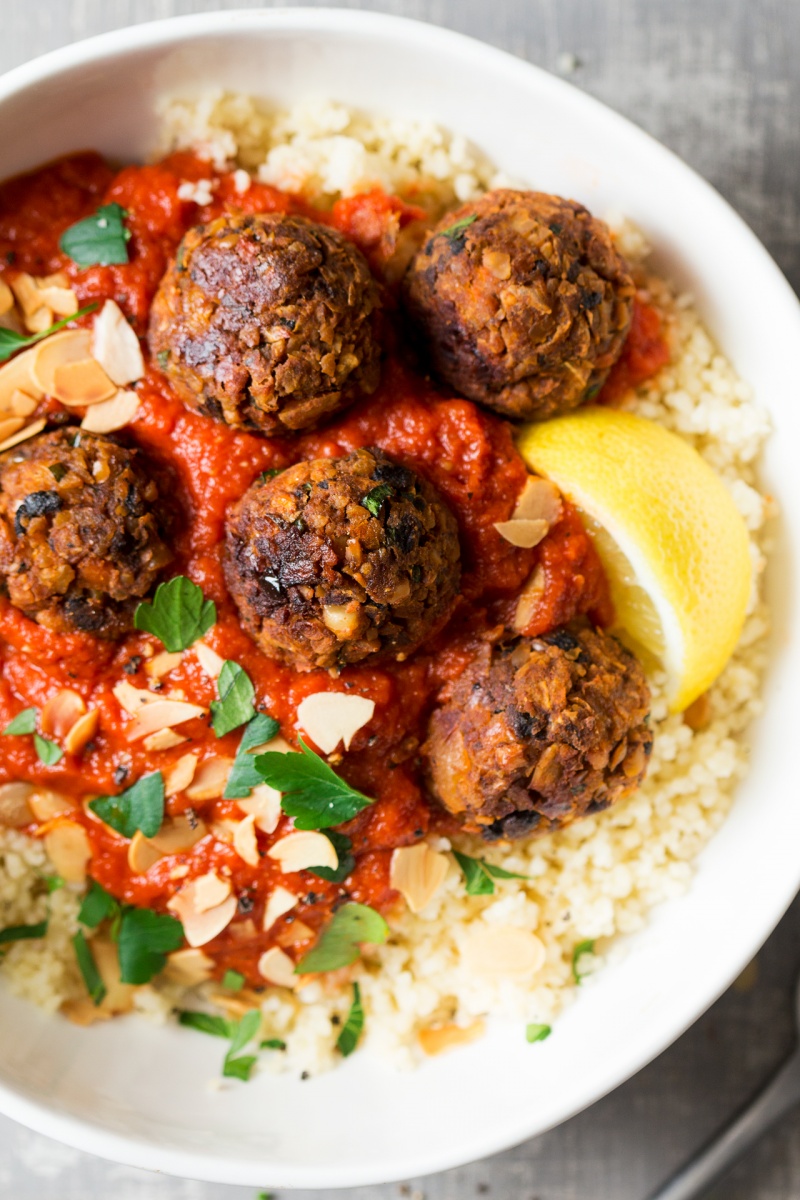 As much as it pains me to say, one cannot live on chocolate mousse tarts alone, so today's recipe is a savoury, main meal affair.
It's the kind of meal that lends itself to making a large amount of in advance and then eating on repeat for the entire week.
A bowl of super filling and satisfying Moroccan-inspired meatballs (or neatballs if you are after semantic correctness) can be consumed in any way you like, straight from the pan, in a sandwich or with a heap of salad and maybe a dollop of hummus. I have mine over some couscous with plenty of tomato sauce and a sprinkling of toasted almond flakes for that extra crunch.
Don't be put off by what may seem like a long ingredients list, most of them are ground spices which I bet are lurking in your cupboards, begging to be put to a good use. I am a massive cumin fan so added quite a bit of that spice to the mix, but if you don't share my love for this pungent spice, dial it down a bit, skip or substitute at will.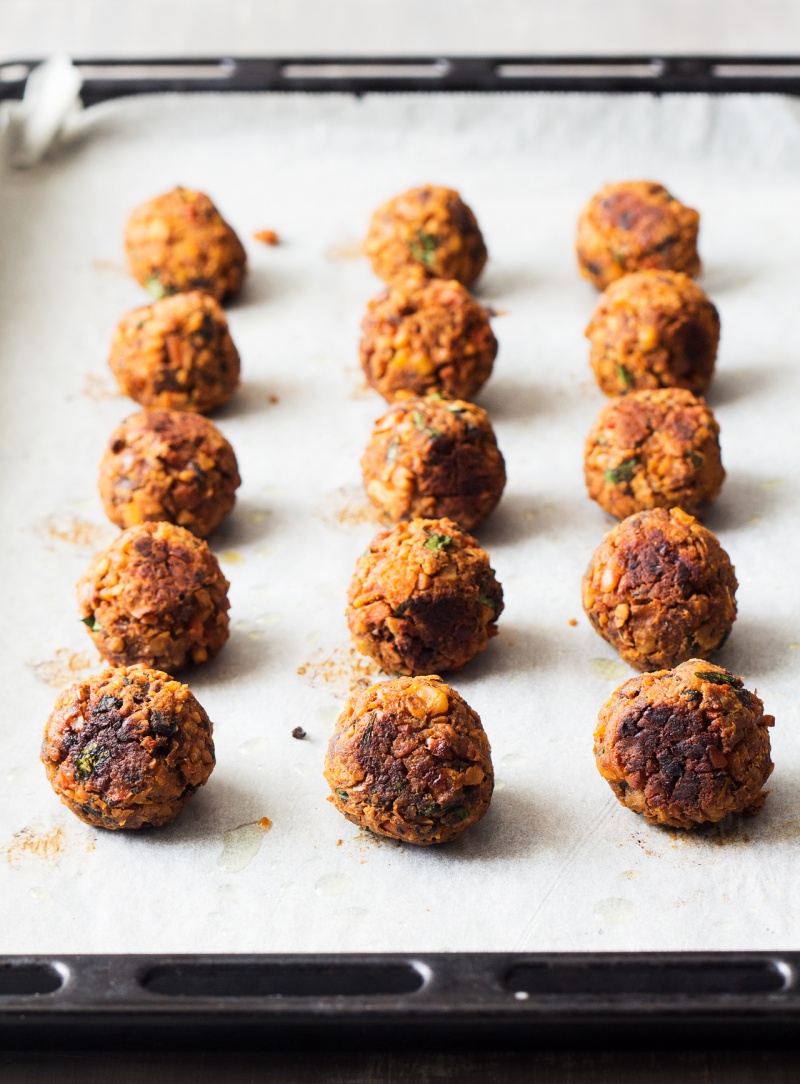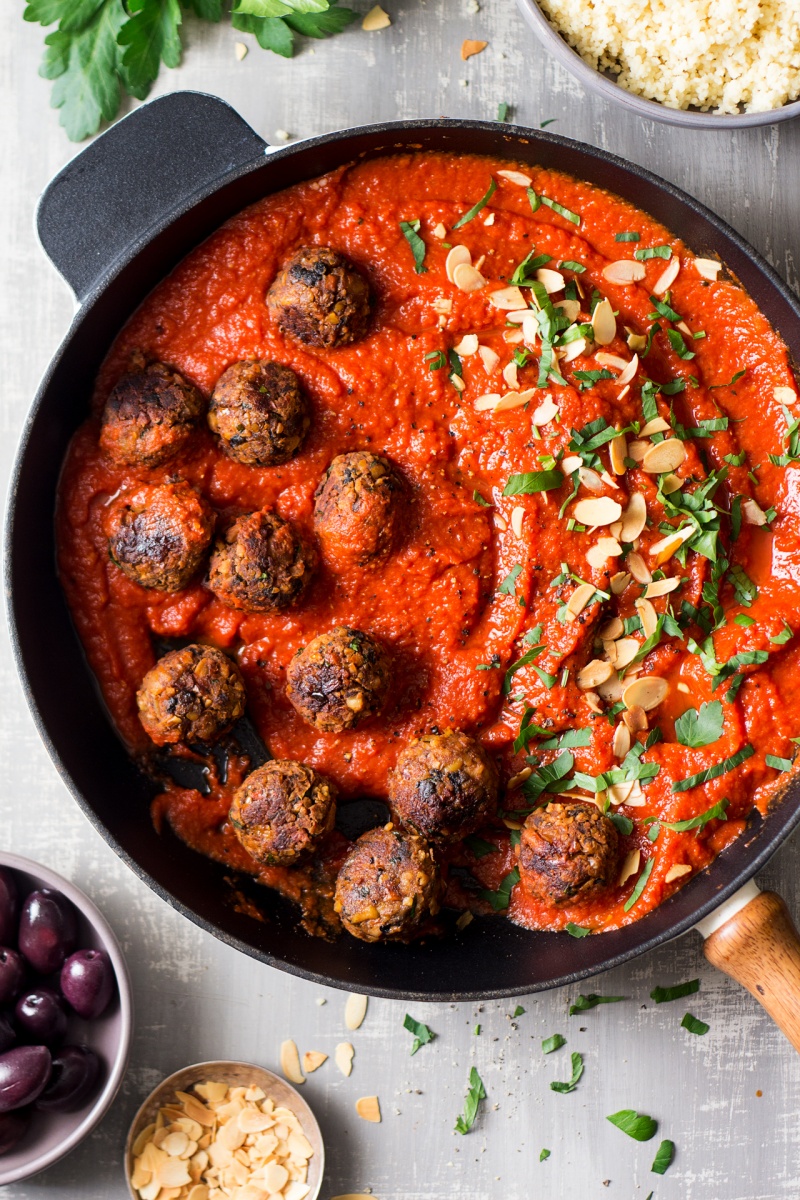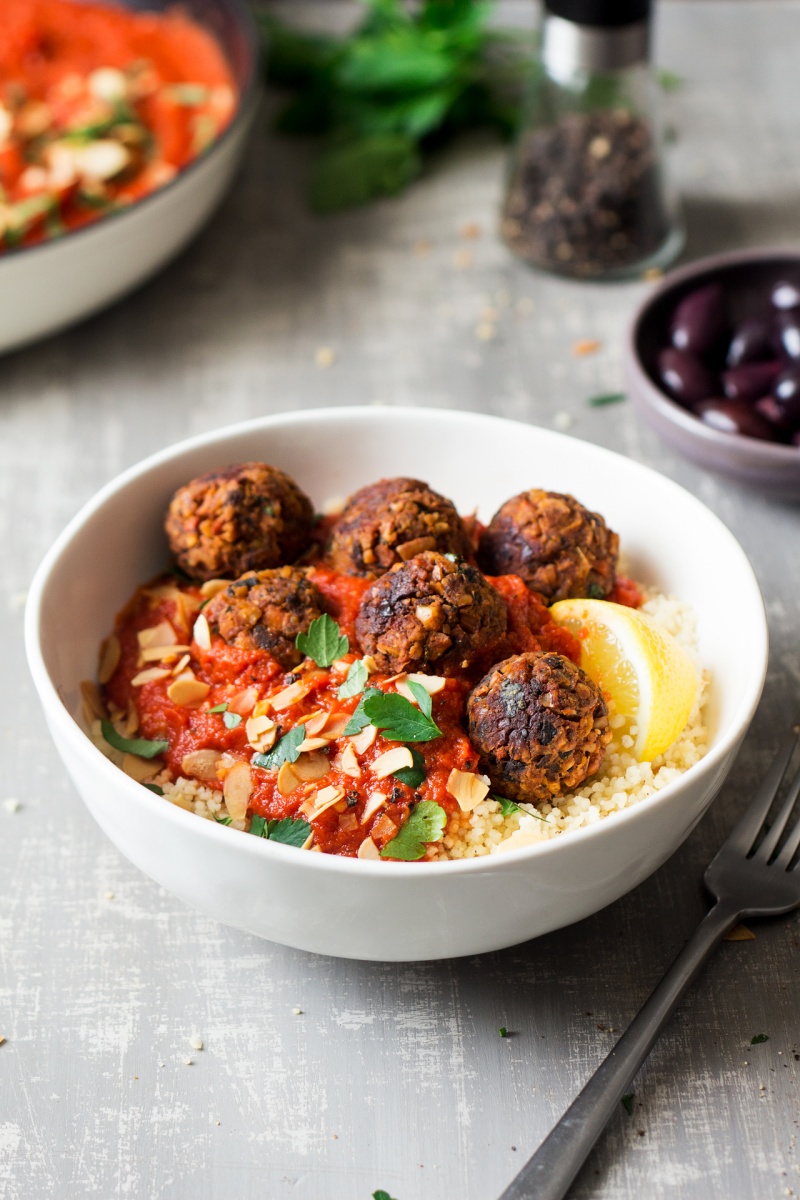 MOROCCAN MEATBALLS
1 medium onion, diced finely
2 garlic cloves, diced finely
1 large carrot, diced very finely
200 g / 7 oz (4 medium) mushrooms, diced very finely
1 tsp paprika
1 tsp smoked paprika
3 tsp coriander powder
2 tsp cumin
½ tsp cayenne pepper or chilli
2 tbsp tomato paste
5 dried apricots, diced finely
3 cups cooked chickpeas
zest of 1 small lemon
¼ cup nutritional yeast (or fine breadcrumbs)
¼ cup walnuts, chopped finely
2-3 tbsp parsley or coriander, chopped finely
1 heaped tsp salt
¼ tsp black pepper
oil for baking / sautéing
toasted almond flakes, to serve (optional)
For the TOMATO SAUCE – follow THIS RECIPE. Optionally, season with cinnamon, cumin and/or nutmeg to taste.
METHOD
Heat up 2 tbsp olive oil in a frying pan. Add chopped onion and fry it, stirring regularly, until almost translucent. Add chopped garlic and fry until garlic is soft and fragrant and onion becomes completely translucent.
While onion and garlic are getting ready, shred drained chickpeas finely in a food processor. Set aside.
Add finely diced carrot and mushrooms to the onion and garlic mixture and sauté gently until the carrot becomes cooked and mushrooms brown and become dry (all their liquid cooks out).
Stir in all of the spices and mix them well into the mixture. Saute for a minute or two on a low heat. Add tomato paste and sauté for another minute.
In a large mixing bowl, combine onion / garlic / carrot and mushroom mixture with shredded chickpeas, walnuts, zest, chopped apricots, herbs and nutritional yeast. Season with salt and black pepper. Using your hands combine all the ingredients thoroughly so that they are evenly distributed throughout the mixture (if you've used chilli, you may need to use your gloves to do that).
Place the mixture in the fridge for a few hours for the flavours to mingle and for the mixture to become more pliable.
Before you are ready to make your meat balls, heat up your oven to 200º C / 390º F and line a baking tray with a piece of baking paper.
Using your hands, shape small amounts of mixture (I used 20 g for each meatball) into balls. Squeeze the mixture in your hand before shaping each ball to ensure that they are packed well and won't fall apart during baking. If the mixture is too crumbly, add 1-2 tbsp flour (I used rice flour to keep them gluten-free) to help the mixture stay together. You should get 34 meatballs out of this recipe.
Brush baking paper with a bit of olive oil before placing meatballs on it. Bake for 15 mins, then turn over and continue baking for another 15 minutes. You could also pan-fry them if you prefer, but handle them with care.
Serve with quinoa or couscous and a simple tomato sauce (recipe here) seasoned with a bit of cinnamon, cumin, nutmeg to taste.