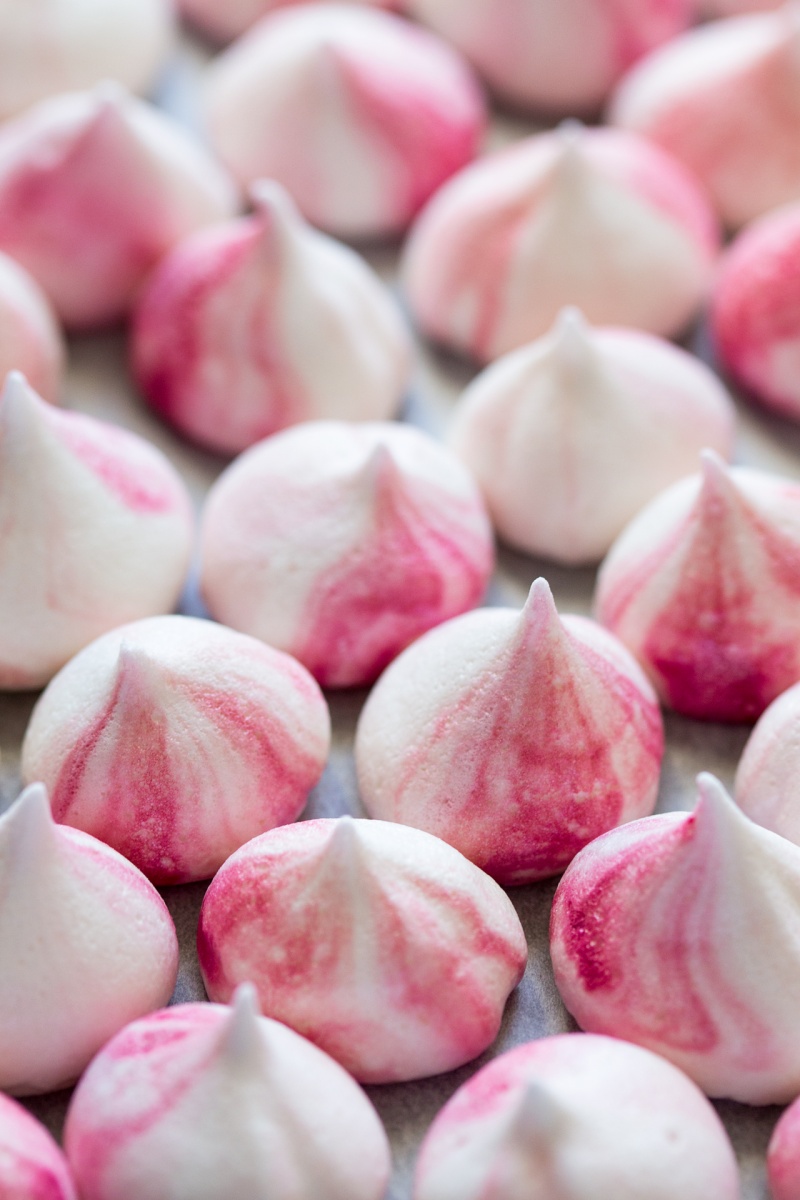 I realise that you are all probably quite full after Christmas, but I made an obscene amount of these cute little meringue kisses over Christmas and as soon as they came out of the oven, I
could not wait to share the recipe with you.
I had absolutely no trouble getting rid of them, my friends were more than happy to sample some. They could not believe that these melt-in-the-mouth crunchy shapes were not regular, egg meringues. They were so much fun to make and photograph that I cannot wait for an excuse to have to make them again, to be honest. They are super simple to make and require only 3 natural ingredients!
I imagine that piping these beauties is a great thing to get your kids involved in. It's loads of fun. We tried asking Tina if she wanted to have a go, but she preferred licking her intimate parts splayed on our kitchen floor instead. Cats, eh?
Most importantly, don't be intimidated. These little guys are really easy to make. Three key things to remember are:
1) unlike with egg-whites, it is impossible to overwhip aquafaba
2) before you start adding sugar make sure the whipped aquafaba does not slide out of the bowl when turned upside down
3) add sugar very gradually!
Once ready put them into an airtight jar and do your best to resist eating all of them at once. They seem so innocent, but are capable of giving you a heady sugar rush if you're persistent.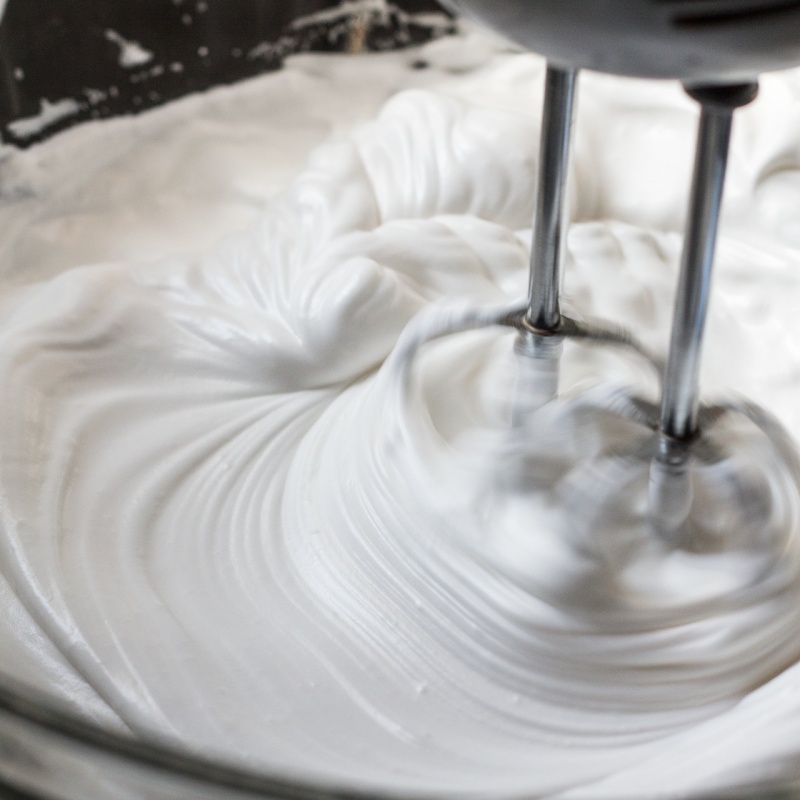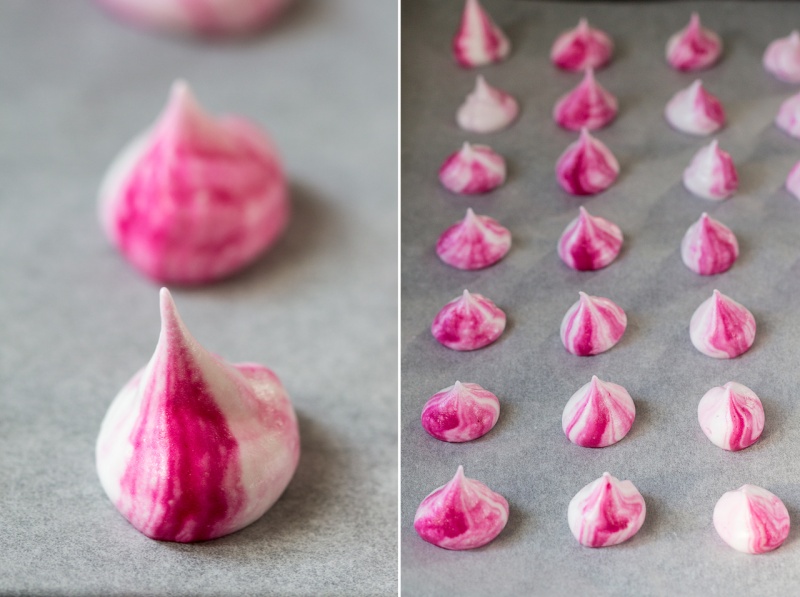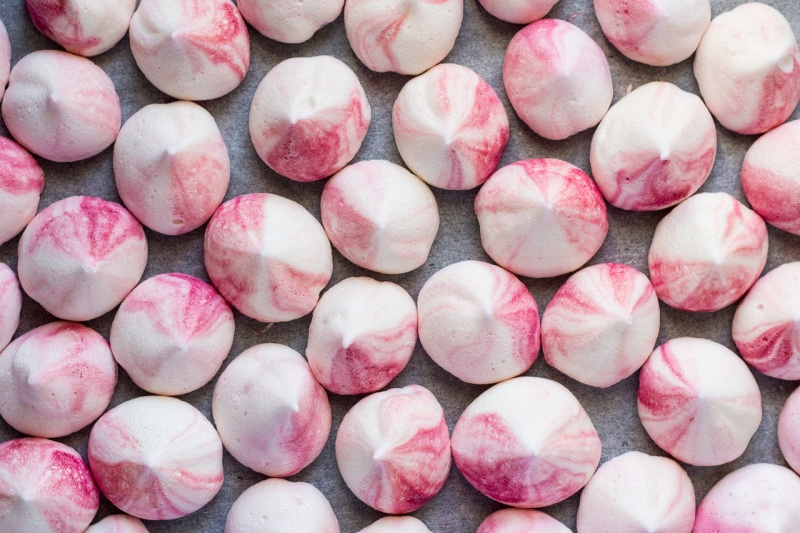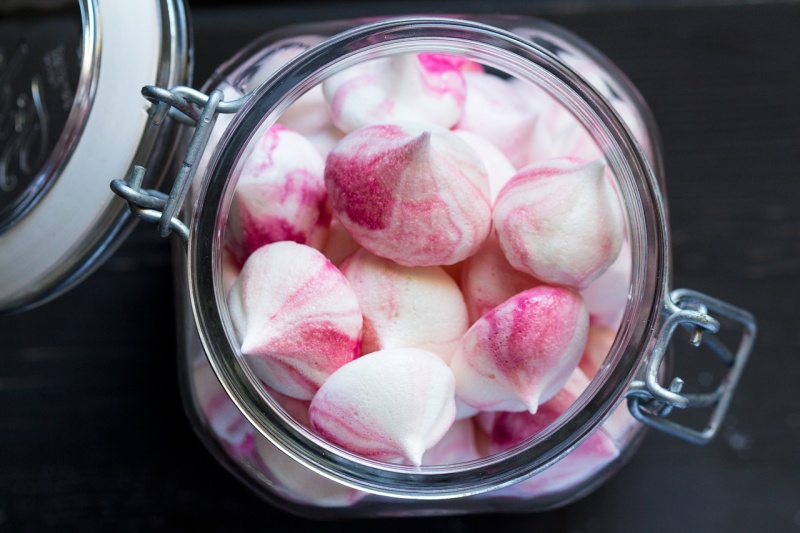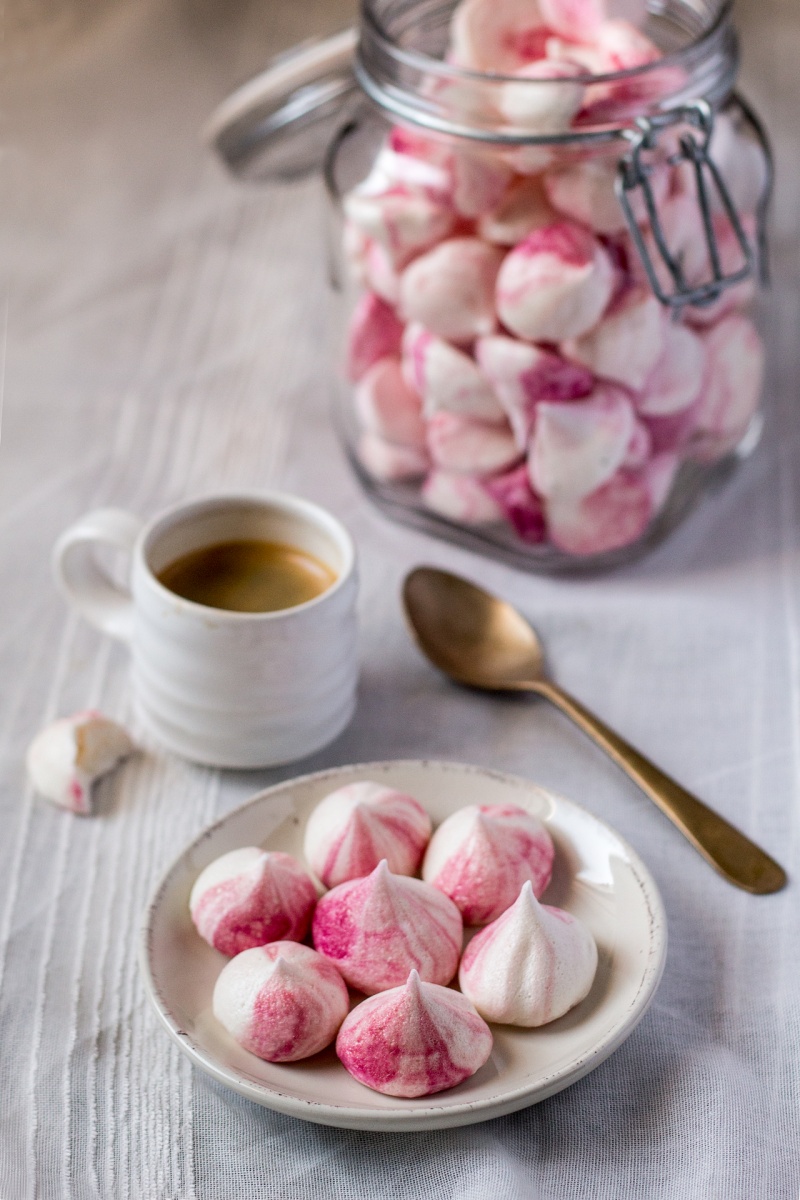 120 ml / ½ cup aquafaba / chickpea brine, chilled (see notes)
¼ tsp cream of tartar or ½ tsp white wine vinegar
150 g – 200 g / ¾ – 1 cup caster (superfine) sugar*
15 ml / 1 tbsp beetroot juice* (or powder)
METHOD
Line a baking tray with a fresh (it is important that the surface is grease-free) sheet of baking paper.
In a large, clean bowl (make sure there is no greasy residue, it is best to use a glass bowl for this) beat chickpea water and cream of tartar (or vinegar) with an electric whisk or use a stand mixer until you get stiff peaks.
To test if whipped chickpea water is ready, gently turn the bowl upside down. If the mixture does not start sliding down, you can start adding sugar. Otherwise, keep on whipping until the mixture stays in the bowl when inverted.
Start adding sugar very slowly, tablespoon by tablespoon, whipping well after each addition. Continue until all the sugar has been added. By now, the mixture should become beautifully glossy, thick and sticky – no different to an egg-based meringue, really.
Pre-heat the oven to 100º C / 210º F.
Take a clean ziplock / sandwich bag and trickle ½ tsp of beetroot juice inside making sure it coats the insides of the bag and doesn't gather at the bottom. Now spoon meringue mixture into the bag – you may want to lay the bag on its side for this so that the beetroot juice doesn't all run to the corner of the bag.
Cut the corner of your filled bag off – start with a small hole and make it larger if needed. Hold the bag perpendicular to the tray and squeeze small blobs of the mixture onto the tray and quickly pull away after each blob. Allow some space around each blob or else the drops may stick together.
Bake for about 75 minutes, then turn the oven off but leave the tray with meringue drops inside with the oven's door slightly open for another 45-60 minutes for the meringues to dry out fully. Keep the meringues in an airtight container. Please note that the exact baking time depends on the size of your meringues so if you are going for a larger size, be sure to adjust baking time.
NOTES
*Aquafaba (AF) or bean brine is leftover cooking water from cooking most legumes. I use chickpea water and have not tried using any other type yet. You can get it from a can of low sodium chickpeas or make your own. I recommend the latter as that way you can simply not add any salt. 
When making your aquafaba, soak dry chickpeas in lots of water overnight, rinse and put in a large pot with lots of water. Bring to the boil and then simmer for about 1 hour (until beans are soft). Remove cooked chickpeas with a slotted spoon and what's left in your pot is aquafaba. If it is too runny (ideally it should resemble egg whites), you can concentrate it a bit by simmering it on a low heat (without a lid) until it reaches the desired consistency. Cool it down before using – I refrigerate my AF for a day before whipping up my meringues.
*Sugar – for most stable meringues, use 1 cup / 200 g of sugar for this amount of aquafaba, you can, however, get away with using a little less (150 g / ¾ cup). Sugar is important not just for taste, but it's what gives meringues its structure.
*Beetroot juice – to extract juice out of a beetroot, grate it and squeeze with your hands or through a small sieve or a muslin cloth.
If you've enjoyed making your own vegan meringues and want to take your experiments further, you may be interested in joining a fabulous Facebook group called Vegan Meringue – Hits and Misses. It's a group full of passionate vegan cooks who know everything there is to know about the wonders of aquafaba.