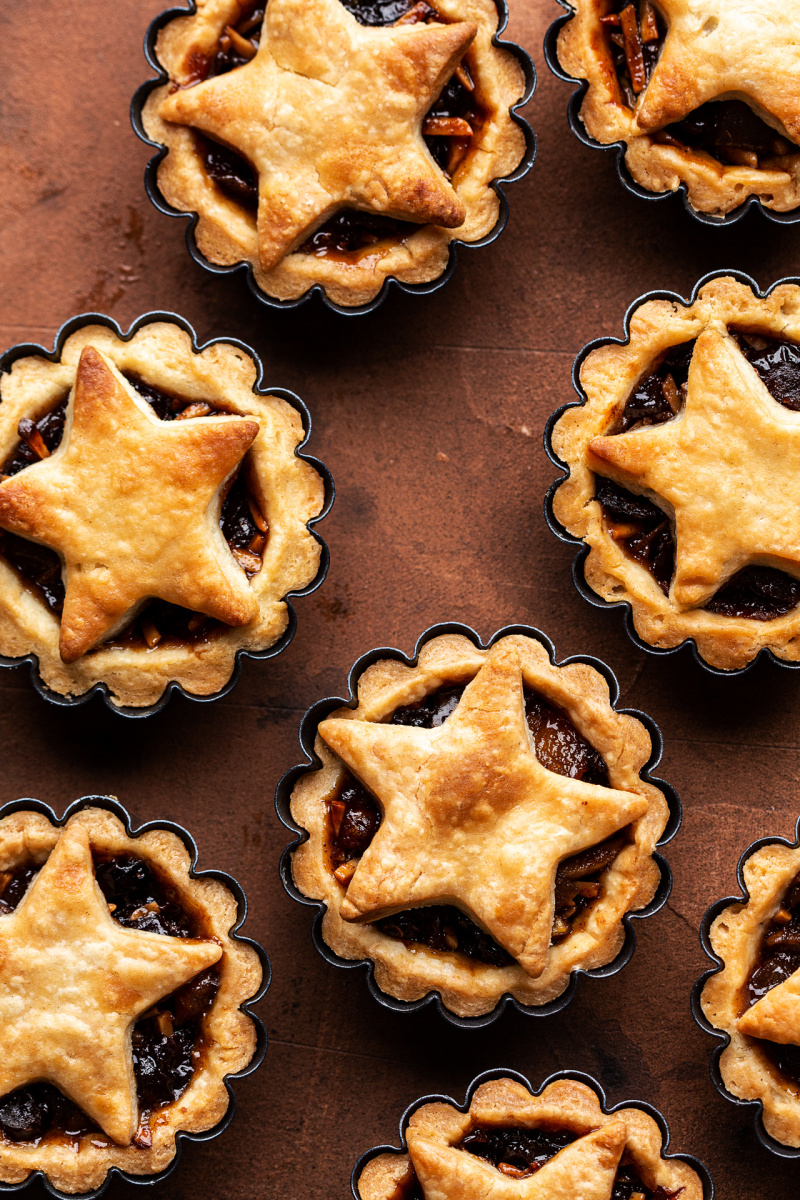 It's still a while till Xmas and I cannot zip my jeans up anymore – true story (well, not quite…I have taken to wearing my yoga leggings all day long now to spare myself the heartache of that inevitably happening!) In all seriousness, my kitchen has been on full steam for a while now, I am testing so many Christmas appropriate recipes lately that in my head it's Christmas time already. The nice side effect of that is that the house smells insanely good right now, of spices and citrus.
If I were to guess what is the most universal symbol of Christmas here, in the UK, I would say it's mince pies! People go crazy for these pretty pastries hiding a delectably oozy and boozy filling of quintessentially Christmas flavours. Beloved by Santa's reindeers apparently, mince pies start making an appearance on supermarket shelves as early as late November and it's a rite of passage to overindulge on them throughout December.
Traditionally mince pies used to be meat and suet (yummy!!) and some recipes still call for the latter but shop-bought ones tend to contain butter and eggs. Since veganism has become more popular, most supermarkets now offer vegan versions of these iconic pies too but if you have the time and the inclination, I would really encourage you to make these yourself. Like most foods, they are ten times nicer home made.
The same goes for the mincemeat filling. Again, you can simply use a shop-bought one if it's available to you, but mince pie filling requires no cooking skills other than stirring and it fills your house with the most beautiful, Xmassy smell and of course it's so much better than what you can buy. I urge you to try it and, especially if you don't live in the UK, don't worry too much about sticking to the recipe exactly. You could use any dry fruit that you love – as long as it screams Christmas, that's the only rule here!! I went for a medley of raisins and cranberries but sultanas, currants, sour cherries, apricots, figs…they are all above board.
As I am a lover of small, dainty things, I loved making (and eating) these little festive looking pies and I hope you will too!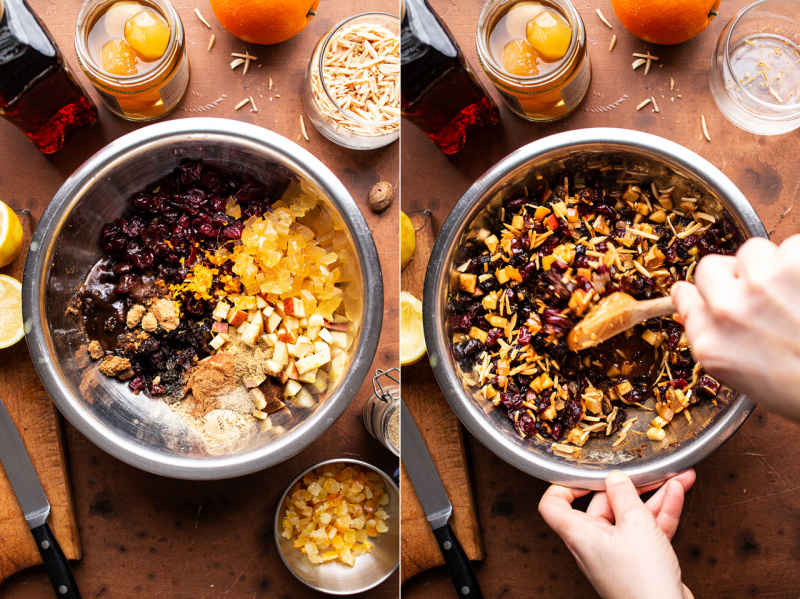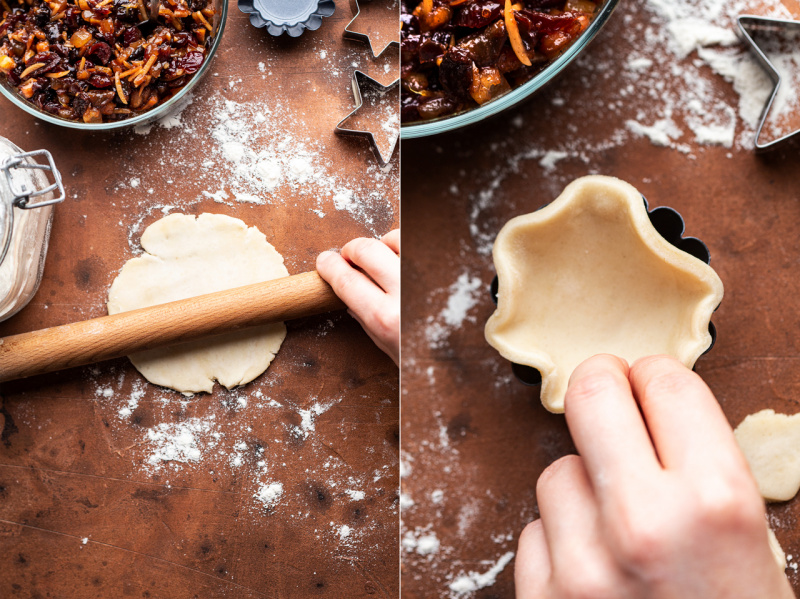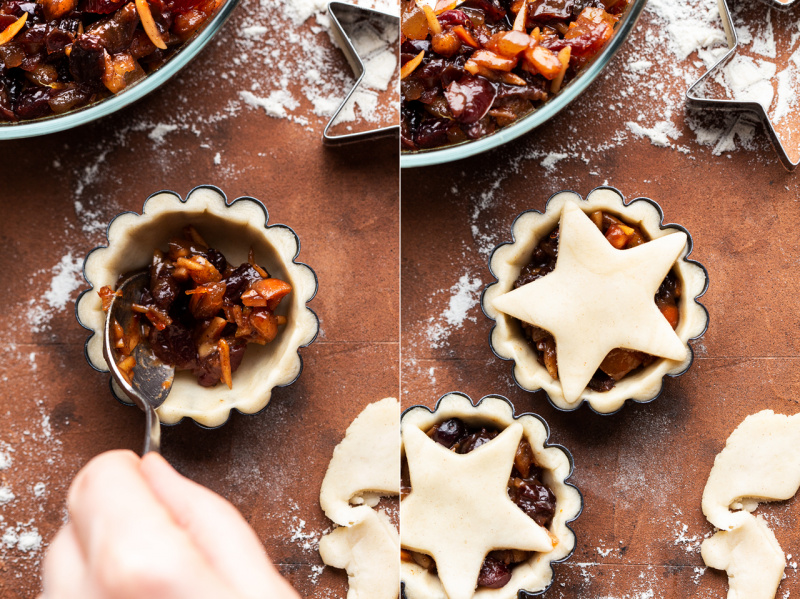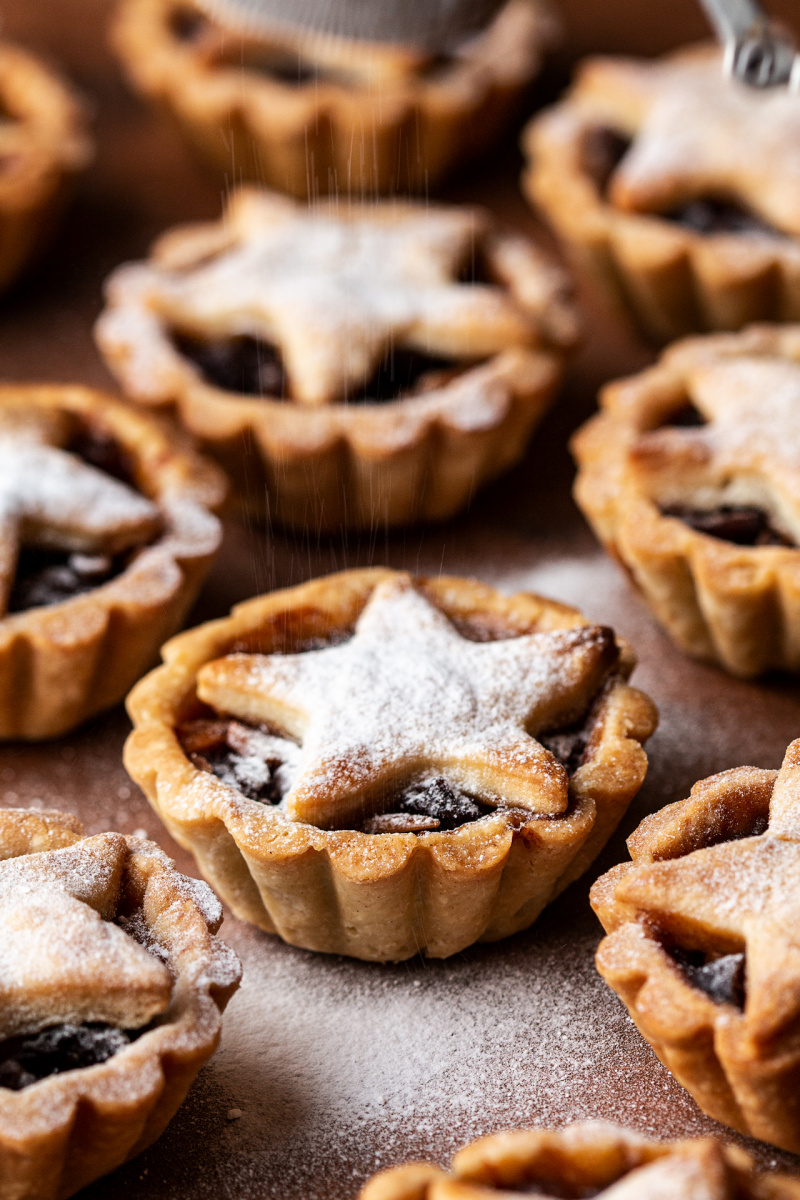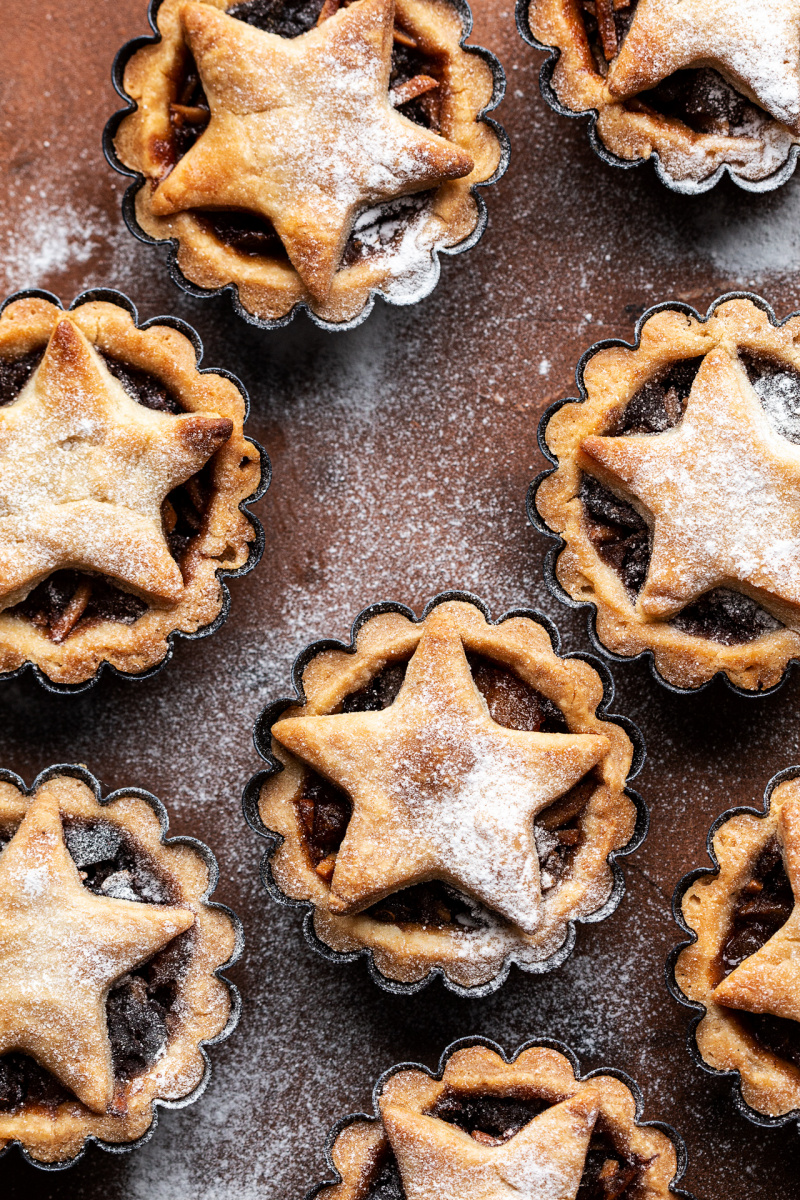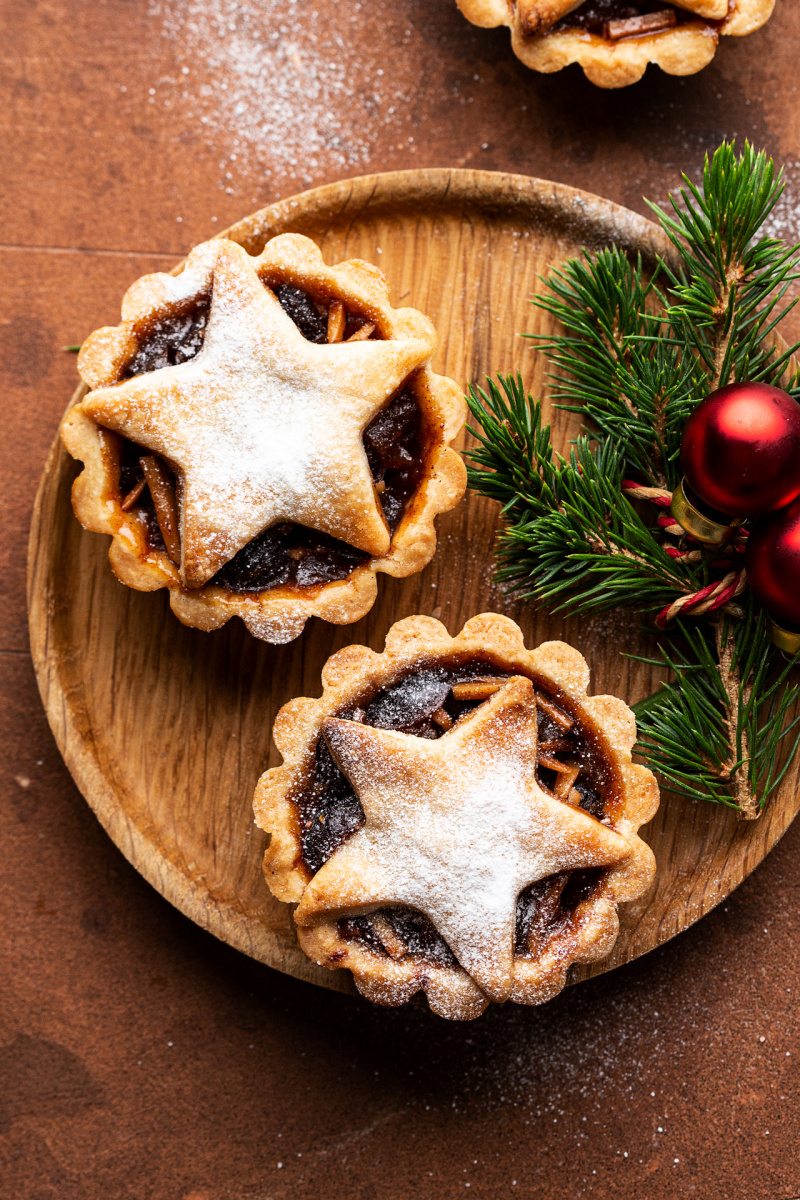 PASTRY
REMAINING INGREDIENTS
approx. 400 g / 1½ cups vegan mince pie filling, shop-bought or see below
vegan egg wash: 1 tbsp plant milk, 1 tsp maple syrup (or sugar) and 1 tsp neutral oil
icing sugar, to dust (optional)
VEGAN MINCE PIE FILLING (makes approx. 400 g / 1½ cups)
50 g / ½ cup slivered (flaked or simply chopped) almonds
35 g / 3 tbsp refined coconut oil or vegan butter
35 g / 3 tbsp sugar* (I used a mixture of light and dark muscovado), maple syrup or coconut sugar will work too
75 g / ¾ loosely packed cup raisins (sultanas or currants)
75g / ¾ loosely packed cup cranberries (sour cherries would also work well)
50 g / ¼ cup diced stem ginger (3 balls) or crystallised ginger
35 g / ¼ cup chopped mixed peel
½ apple (sour ideally), finely diced
¾ tsp cinnamon
¼ tsp ground ginger
¼ tsp ground cardamom
1/8 tsp ground coriander
1/8 tsp all spice
1/16 tsp ground cloves
¼ whole nutmeg, finely grated or ¼ tsp ground
zest and juice ½ lemon
zest of ½ orange and juice 1 orange
1 tsp vanilla extract
30 ml / 2 tbsp Amaretto**
METHOD
PASTRY
Mix flour (and xanthan gum if making GF pastry), salt and sugar in a large bowl. If using maple syrup add it in later.
Add chopped coconut oil and cut it into the flour with two knifes. Here is a handy guide to making shortcrust pastry that I follow.
Once the mixture is uniform and there are no large lumps left (to check, shake the bowl lightly, they will come to the surface), rub the small bits of oil into the flour with your fingers until there are no lumps left. Yes, I know, it does take some time!
Finally add in ice cold water and mix it into the flour mixture with a cutlery knife to distribute the water evenly. The exact amount of water needed depends on the absorbency of your flour but start off with 15-30 ml / 1-2 tbsp and add a tiny bit more at a time, if needed – too much water makes more a tough pastry.
To check if more water is needed, grab a handful of mixed dough with your hands, if it is very dry, add a little more water, mix it in and check again.
Once the dough is the right consistency, form it into a flattened ball quickly – handle the dough as little as possible, wrap it in cling film and chill for 30 minutes.
Just before you are ready to work on the dough, preheat the oven to 200° C / 390° F.
Remove the dough from the fridge and divide it into 4 equal sized pieces. Work on one piece at a time keeping the rest in the fridge. Flatten the dough with a rolling pin on a lightly floured surface. Use very light pressure at first and progressively roll the dough 2 mm thick.
I used these mini tart cases so I used 8 cm / 3.15″ round cookie cutters to make the circles of dough to line the moulds with. Once I lined them with pastry, I trimmed them to size using a sharp knife. You could also make them in a standard 12-hole muffin tin. If that's what you have, use a large cookie cutter (I used my biggest 10 cm / 4″ circle) to cut a neat circle out of the pastry and line the muffin hole with it.
Tuck the pastry in well, ensuring that it fits snugly into all the edges and making sure there is no air bubble underneath the pastry. The pastry won't quite reach the top of the muffin hole but that's okay. If making gluten-free pastry (which tends to be more crumbly), you may be better off placing the crumbled pastry in the tart case and simply moulding the pastry with your hands to the shape of the tart tin – you do not need to worry about overworking the pastry as it contains no gluten.
Cut out stars (or other) shapes from the leftover pastry to use as pie lids.
VEGAN MINCE PIE FILLING (make at least a day ahead)
Place all of the filling ingredients except for the alcohol in a medium size pot. I chopped my raisins small as they were jumbo flame raisins but you don't have to do that.
Stir the mixture really well and place the pot on a low heat.
Bring the mixture to a gentle simmer and allow it to bubble gently for 5-10 minutes, stirring the whole time.
Allow the mixture to cool down, stir the alcohol in well. Cover the pot with a lid and place in a cooler part of the house overnight (unless you live somewhere hot like Australia when you may want to put it in the fridge) for the filling to mature and intensify in flavour.
ASSEMBLY
Fill the pastry cases with mincemeat mixture, don't fill them quite to the top (¾ volume is ideal) as the juices will bubble up and rise during baking. Cover the tops with pastry stars and brush the pastry with vegan egg wash.
Bake for about 20 minutes, until the pastry is golden brown.
They taste best still slightly warm. Cool the pies completely before storing and keep in an air-tight container, they will keep for about 2-3 days. If you want to make these in advance, they freeze well. You could freeze them raw and bake on the day, but I've also tried freezing them baked and they were great once defrosted (I left them in the fridge overnight).
NOTES
*You may want to add a bit more sugar if using an alcohol that isn't sweet.
**Brandy is more traditional. You can also use rum or a sweet fortified wine, like Port.
I used these mini tart cases, but you can also use a standard 12-hole muffin tin instead. The one I tested these in is 7 cm / 2.75″ wide and 3 cm / 1.2″ deep.