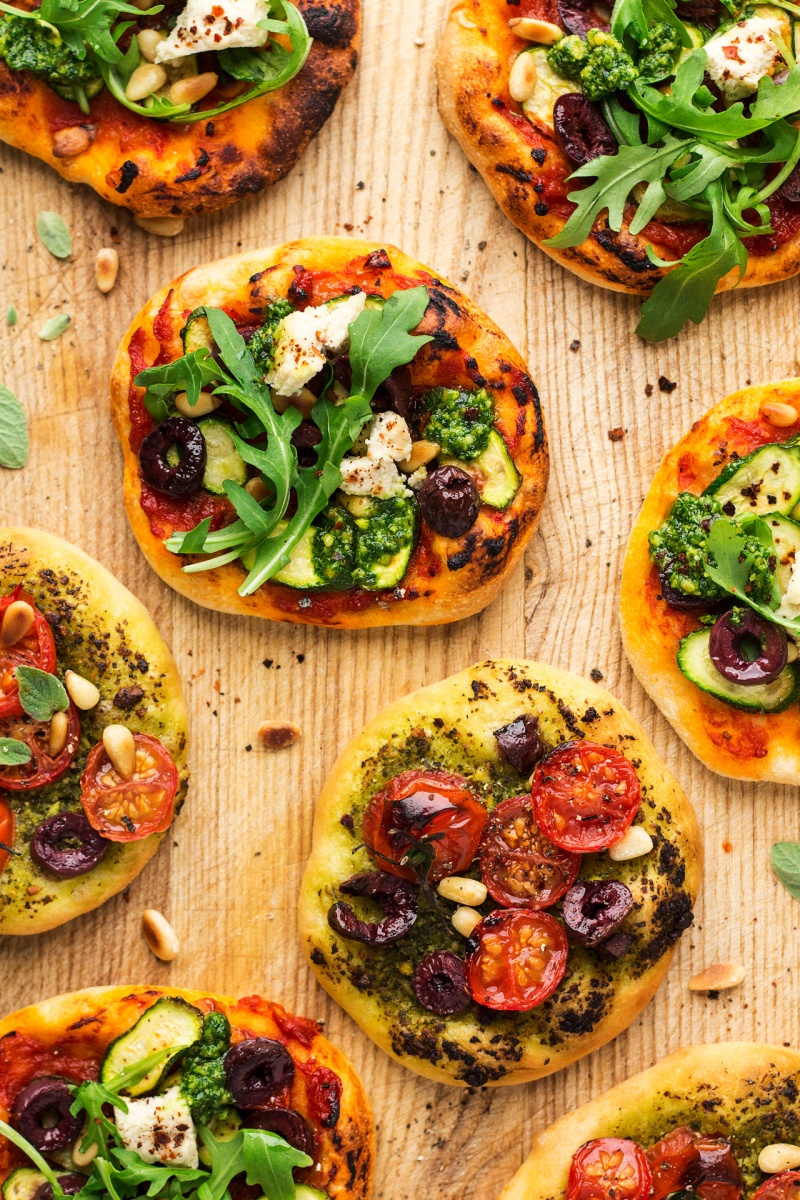 Hope you guys survived Xmas unscathed? We've had a nice, chilled Xmas time that featured some (not a crazy amount of) cooking, some gingerbread making (lots of batches and all of them ended up in our stomachs despite my intention to make them for my elderly neighbour…we are bad!!), some family and friends time, some running and some quality Netflix time too. All in all, it's been nice and not too stressful, which we were both trying to avoid.
Tina has been overjoyed at having Duncan at home and the pair of them are just plain adorable together. Her favourite part of the day is when we both chill in front of our new favourite show and she gets to sleep on Duncan's outstretched legs – something that Duncan cunningly refers to as 'being catted' and it's suddenly my job to make us tea, bring stuff, clear away stuff, you get the gist! Cheeky little sods! 😉
Today's recipe is my last bout of indulgence before I am ready to get intimately acquainted with stir-fries, salads and soups again. With the upcoming New Year's Eve in mind, I've made an army of mini pizzas and I reckon you should too!
A while ago, we made a little too much pizza dough and we simply stuck it in the fridge for the night. When I made a pizza from it the next day, I realised that the pizza was tastier than when I made it straight after proving. I later came across this pizza recipe , which confirmed that making pizza from cold ingredients (which goes against the traditional wisdom) and letting the dough ferment slowly in the fridge instead of proving does in fact gives you a superior pizza. It was a revelation. Not only is it less fussy to make a dough this way, but it also happens to have a better texture. Whaaaat? I'm soooo on board.
This is the method I used here, for these little mini pizzas and I suggest you give it a crack too. A pizza stone or at least an old fashioned (not teflon-coated) stainless steel tray that gets preheated with the oven is another secret to a good, crispy bottom pizza, so be sure to use it if you have one.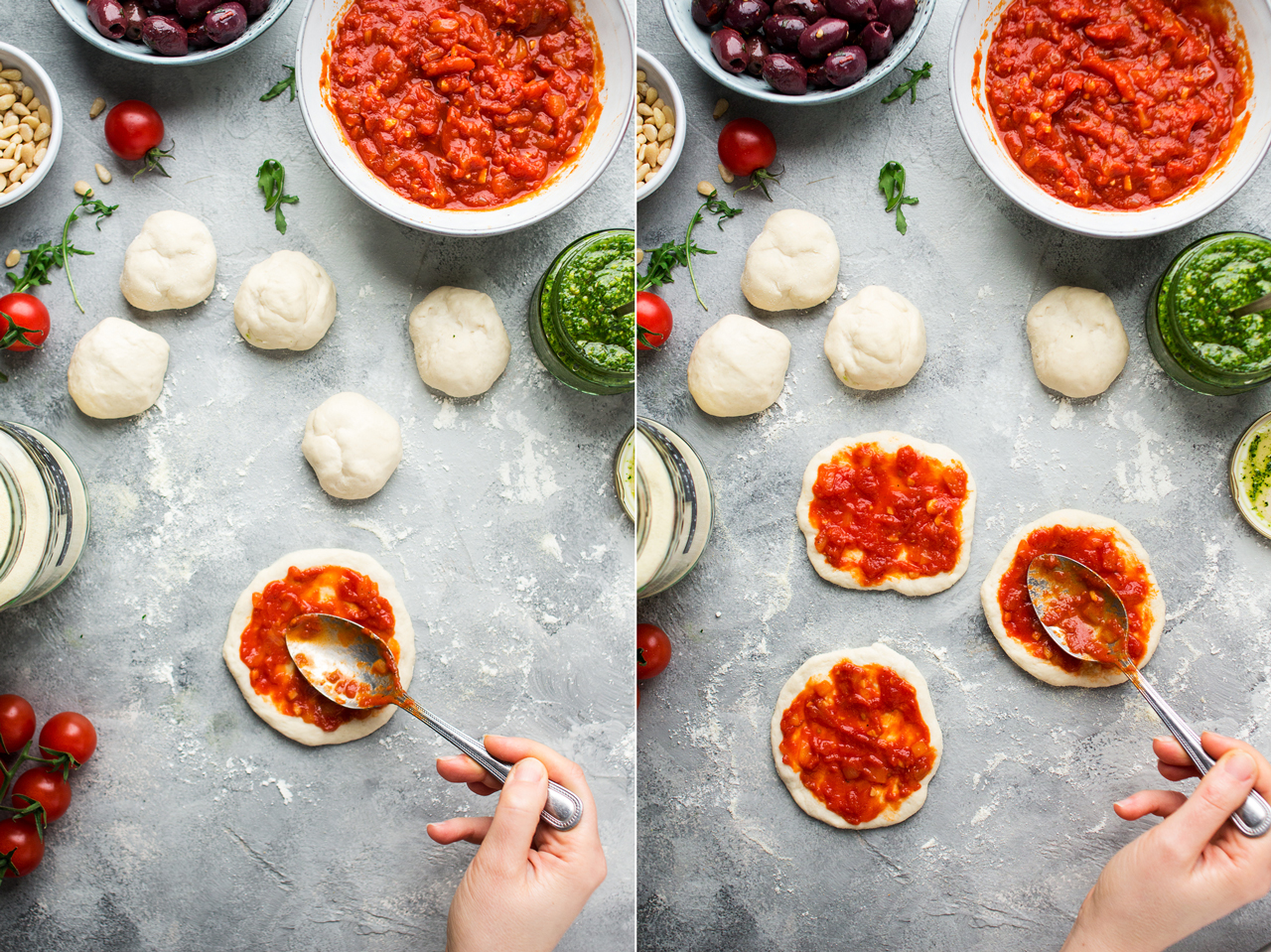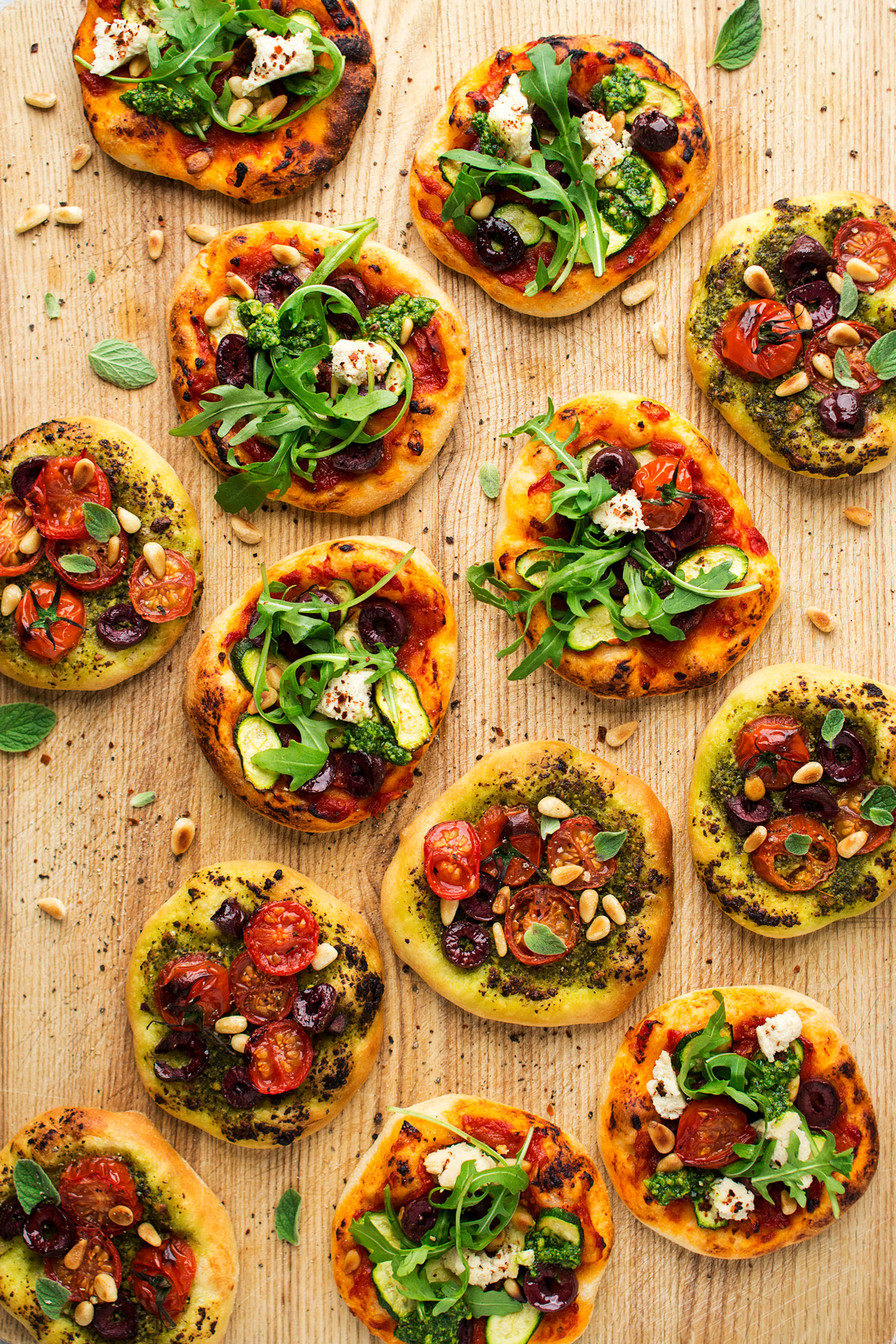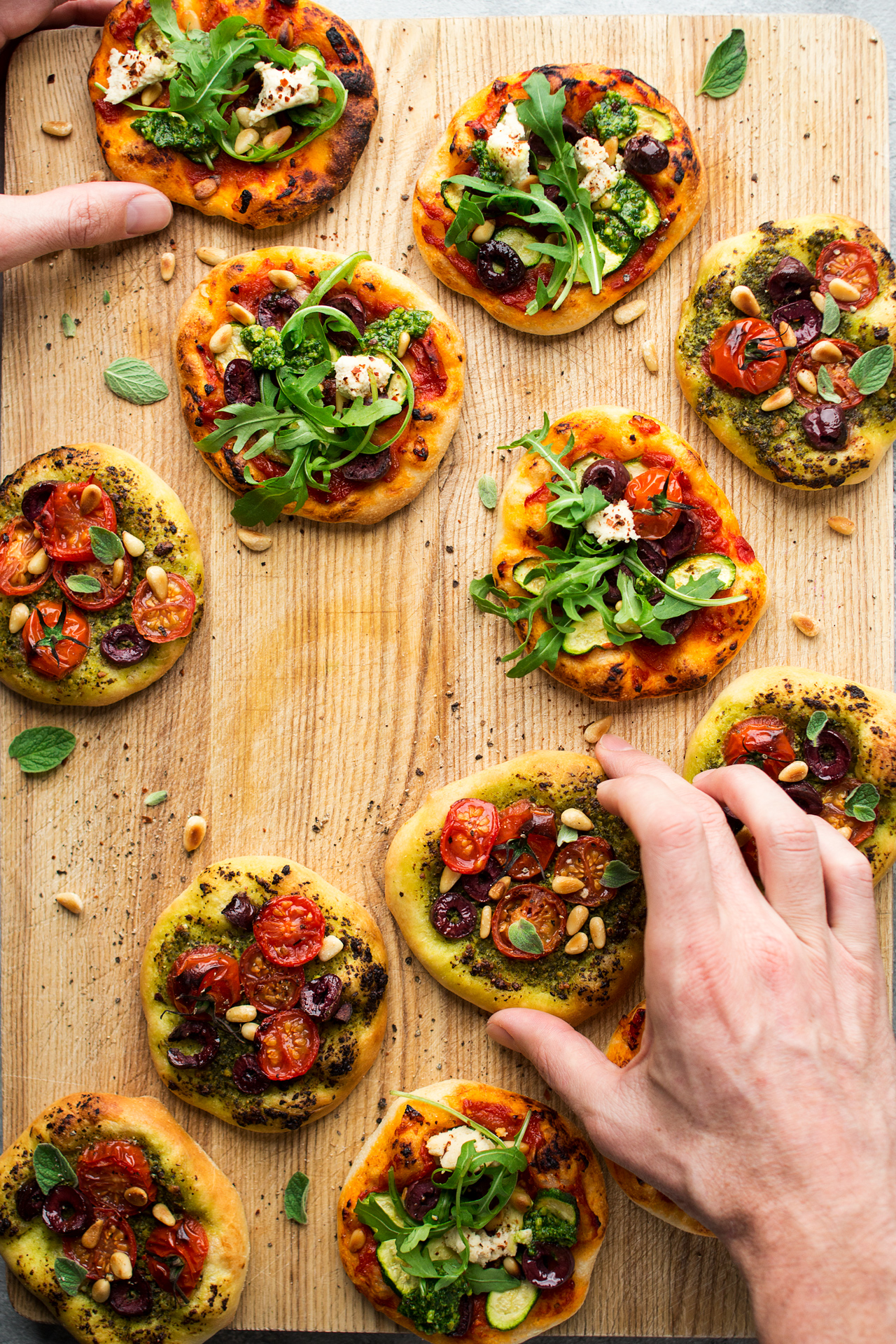 PIZZA DOUGH (make a day ahead)
500 g / 4 cups high-gluten all-purpose or bread flour, plus extra for dusting
10 g / 1½ tsp salt
1 tsp instant dried yeast
4 tbsp / ¼ cup olive oil
300 ml / 1¼ cups ice-cold water
semolina flour, to prevent dough sticking
TOPPINGS
favourite tomato sauce, shop-bought or homemade
favourite vegan pesto, shop-bought or homemade (I made mine with rocket and pistachios)
1 tbsp pine nuts, raw
2 small courgettes, sliced thinly on a mandolin
15 black olives, sliced
10 cherry tomatoes, halved
30 g / 1 oz fresh baby rocket / arugula
a chunk of vegan cheese, I used homemade vegan feta (optional)
½ tsp pul biber (mild chilli flakes)
salt & pepper
METHOD
Mix the flour, salt and yeast in a large mixing bowl.
Pour in the olive oil and water. Stir everything together with a large wooden spoon. Bring the mixture together with your hands – you may need to add a touch more water if the dough is too dry.
When the mixture has mostly stuck together turn the mixture out on to a work surface or bread board.
Knead the mixture by holding one end of the dough in one hand and stretching it out with the other hand (see photo below). Reform the dough, turn it 90 degrees and start again. Repeat this for 10-15 minutes, until the dough is elastic and smooth.

When the dough is smooth, put it in a large mixing bowl, coat it in a thin layer of olive oil and cover with a piece of cling-film. Place in the fridge to ferment it overnight.
On the next day, punch the air out of your dough and divide it into 20 even portions.
Heat up the oven to as hot as it will go (for me, it was 250° C / 480° F with fan function on). If you have a pizza stone, place it in the oven and allow it to heat up for 45 minutes at least. If you don't have a pizza stone, use a stainless steel baking tray if you have one. Place it in the oven 10 minutes before baking the mini pizzas.
Sprinkle the workbench with a generous amount of semolina flour. Roll each portion of the dough into a ball and then flatten it into a small disc – as thin as you can manage.
Spread the tomato sauce or vegan pesto on the base and decorate it with raw zucchini slices, raw tomato slices, olives and pine nuts, leaving a bit of room for things like fresh rocket or vegan feta cheese (if using).
Place as many mini pizzas as you can fit on the preheated pizza stone or baking tray. Use a floured spatula to lift each mini pizza off the floured workbench.
Bake for about 7-8 minutes, until the crust and the toppings are gently charred and the base is cooked.
Decorate with fresh rocket, sprinkle with pepper, pul biber (mild chilli) and salt if needed.
NOTES
Pizza dough recipe is adapted from Peter Reinhart's method as seen on the
101 cookbooks blog
.