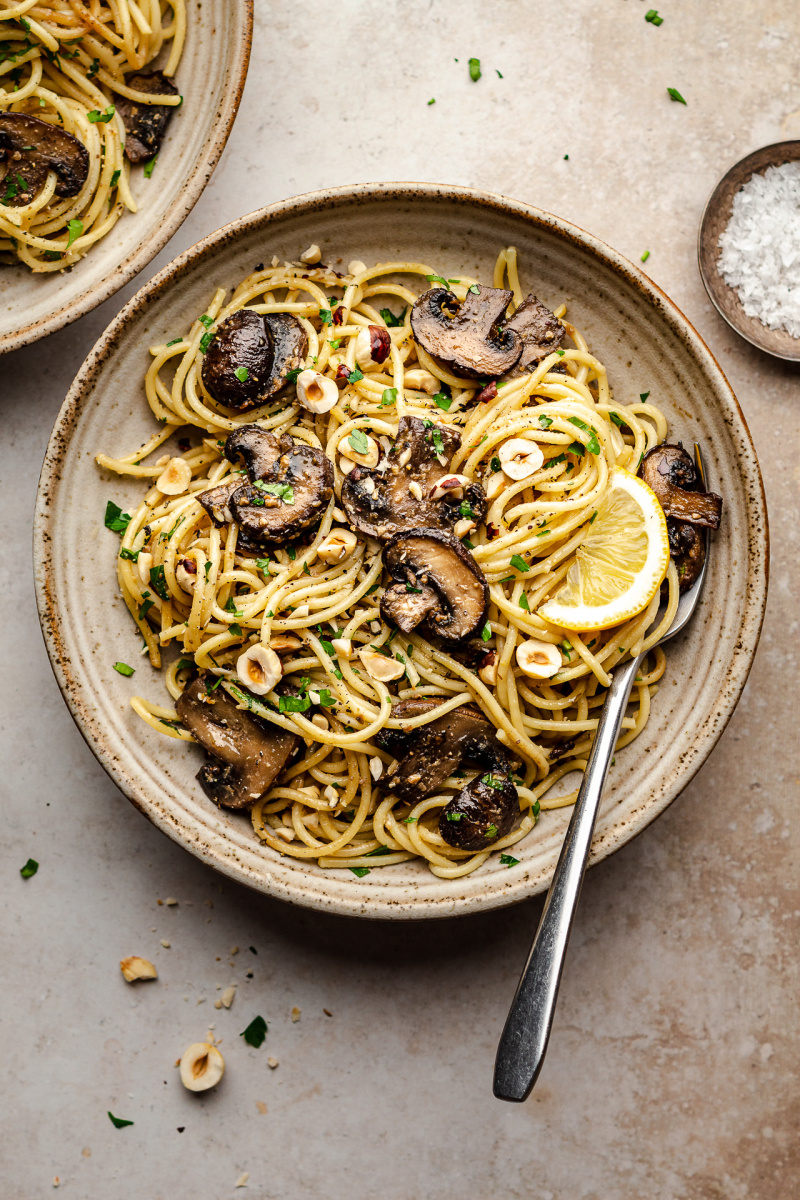 How does some real comfort food sound this weekend? I'm all in! It's cold and miserable outside and I feel like staying in bed all day with small breaks for food and drink. Sometimes I wish I was a bear so I could legitimately shut down shop for the winter months and hibernate until I am ready to forage for food come spring…
I'm guessing that this, coming from someone who grew up with fairly harsh winters, may sound surprising but I have never been a cold loving creature as my internal central heating system appears to cut short of my permanently cold extremities. Plus, there is not even any snow to make cold fun, no skiing, sleighing or making a snowman to give you some dopamine and take your mind off how cold you actually feel.
Today's recipe is a comforting bowl of pasta, full of umami yet really easy to make. Inspired by my balsamic mushroom pasta, I improvised it earlier on during the week and we both enjoyed it so much that we both pronounced it blog worthy.
What is nice about this recipe is the fact that you can crack on with the pasta while the mushrooms bake in the oven as those two only need to come together at the very last minute. The mushrooms get baked in an aromatic concoction of umami-rich miso, garlic, soy and a touch of vinegar and they come out tasting beautifully meaty and impossibly addictive, especially if, like me, you are a true mushroom fiend. They then get tossed through cooked spaghetti strands beautifully coated in cheesy and creamy sauce, topped with fresh parsley and some roasted hazelnuts for satisfying crunch. Comfort food doesn't get easier and tastier than that, I hope you'll agree?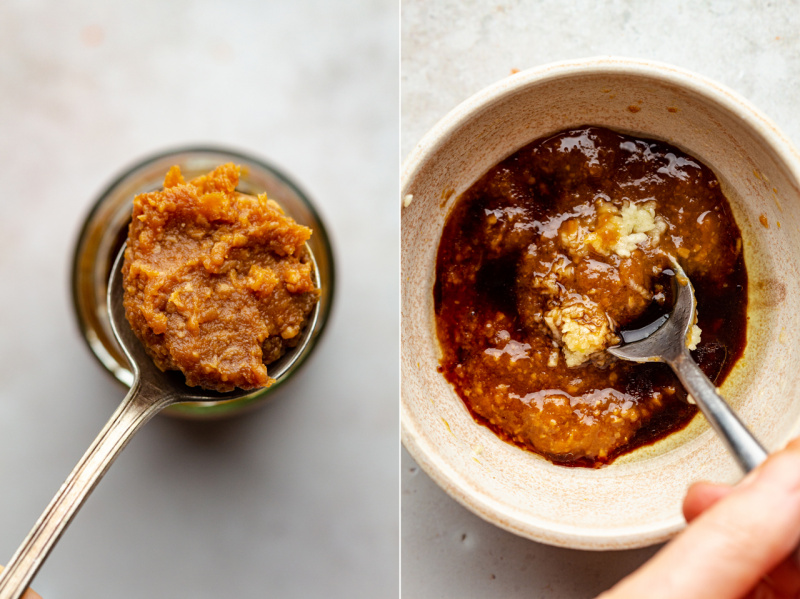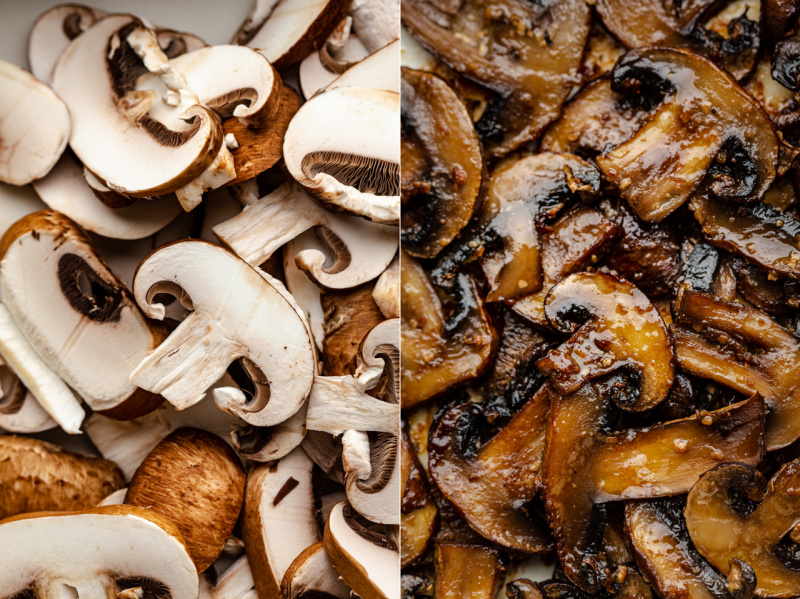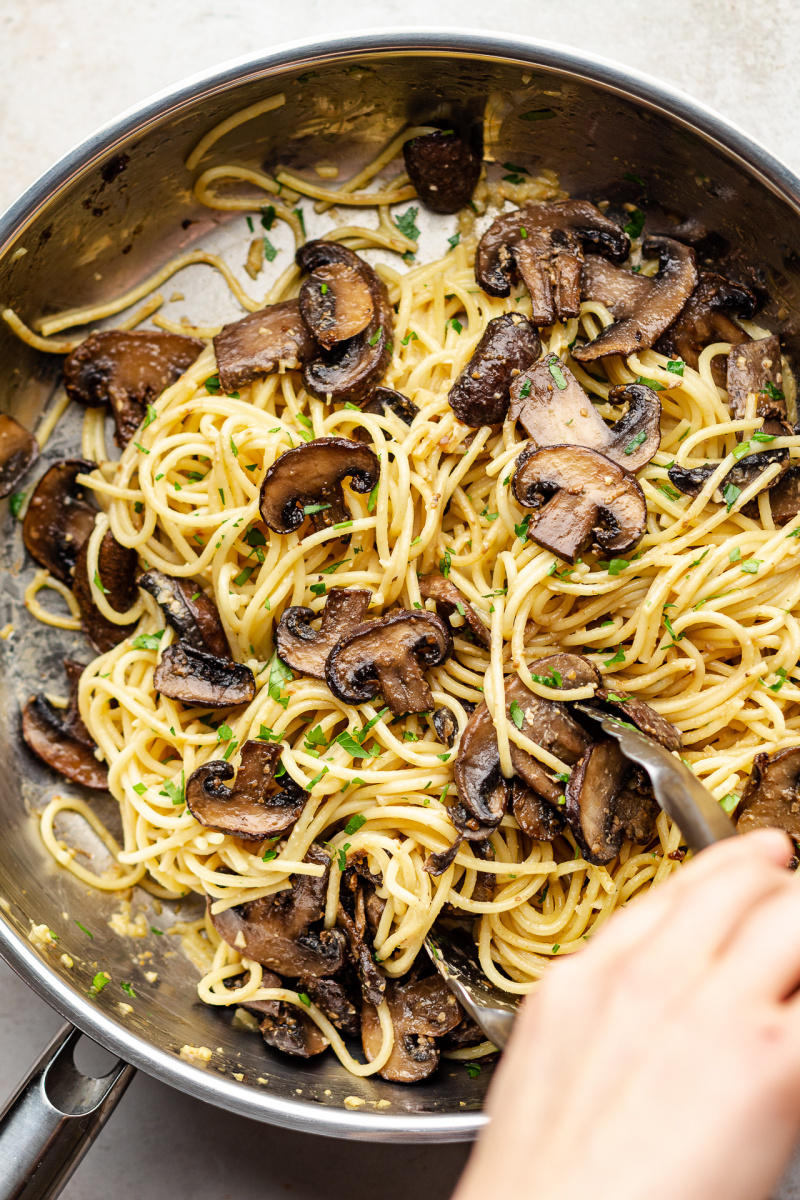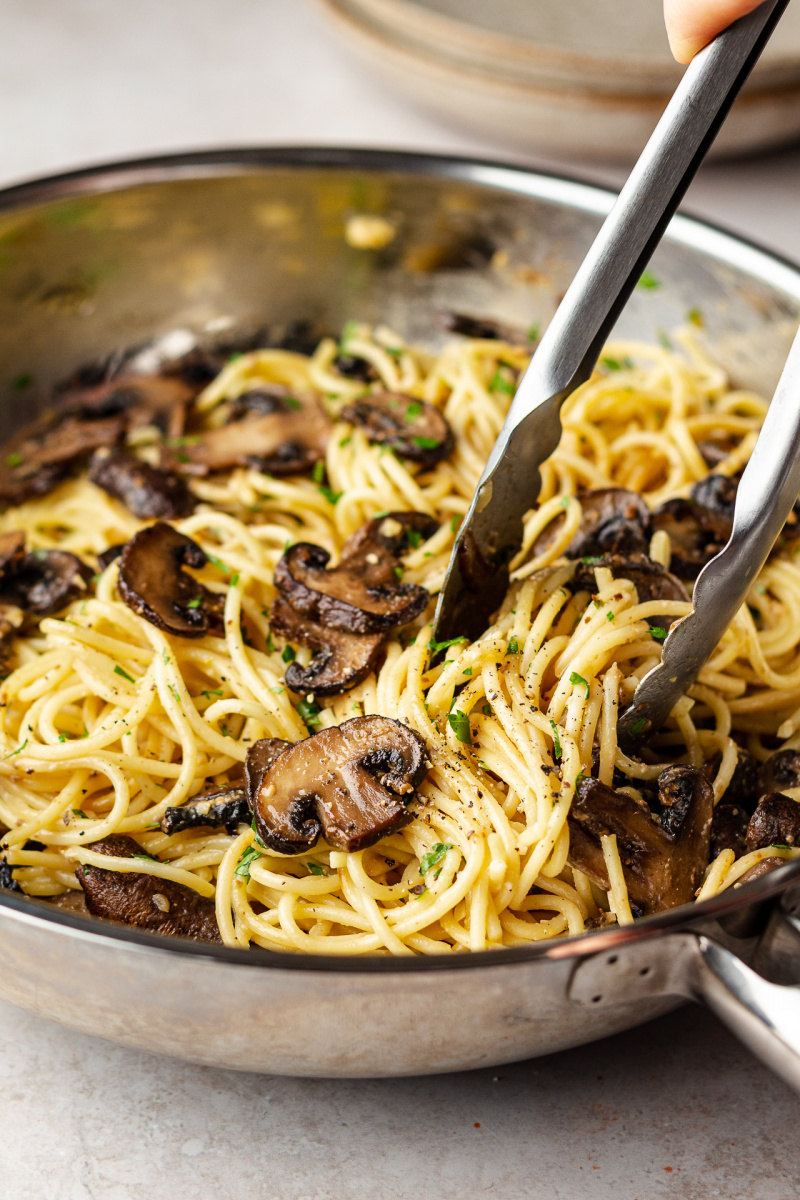 350 g / 12½ oz chestnut mushrooms
45 ml / 3 tbsp olive oil, divided
35 g / 5 tsp red miso*,divided
1 tsp maple syrup
4 tsp apple cider vinegar (or lemon juice), divided
3 garlic cloves, 2 finely diced, 1 grated
4 tsp soy sauce or tamari, divided
200 g / 7 oz spaghetti (GF if needed)
2 tbsp nutritional yeast
45-60 ml / 3-4 tbsp vegan single cream or creamy plant milk
¼ tsp ground black pepper
chopped fresh parsley or thyme, to serve
chopped toasted hazelnuts, to serve (optional)
METHOD
Heat up the oven to 220° C / 425° F (200° C / 390° F less on fan setting) and grab a deep baking dish or a baking tray.
Cut mushrooms into 7 mm / ¼" slices and place in the baking dish. Bake for about 15 minutes – until the mushrooms release their natural juices and most of these juices evaporate.
Mix 1 tbsp of olive oil, 1 tbsp miso paste, maple syrup, 2 tsp apple cider vinegar, a grated garlic clove, 2 tsp soy sauce in a small bowl. Mix well and set aside.
Stir miso marinade through partially-cooked mushrooms and return the dish into the oven for another 10-15 minutes, giving them a stir halfway through. When done, the mushrooms should be fully cooked and there should be a little bit of thickened marinade still left in the dish.
Cook pasta short of al dente. Drain reserving about 60 ml / ¼ cup of pasta cooking water.
Whisk pasta cooking water with 2 tsp miso paste, 2 tsp soy sauce, nutritional yeast and 1-2 tsp apple cider vinegar, to cut through the richness and add a bit of tang.
Heat up a large frying pan on a low heat. Once hot, add oil and allow it to warm up before adding finely chopped garlic cloves.
Sauté the garlic on a low-medium heat, until fragrant but do not let it brown. Stir the entire time.
Add pasta water mixture and vegan cream (or creamy plant milk). Whisk well to emulsify, season with a generous amount of pepper and some salt if needed.
Toss the pasta in the 'cheesy' sauce quickly. Then add baked mushrooms to the pan, together with all the pan juices – I like to use 1 tbsp of pasta water to deglaze the baking dish to capture all of the delicious flavours. Mix well and adjust the seasoning if needed.
Divide between two plates. Sprinkle with chopped parsley and crushed toasted hazelnuts.
NOTES
*Red miso paste is more intense and saltier than
white miso
, but if you only have white in your pantry, it will work well too – you may want to add a little more though.