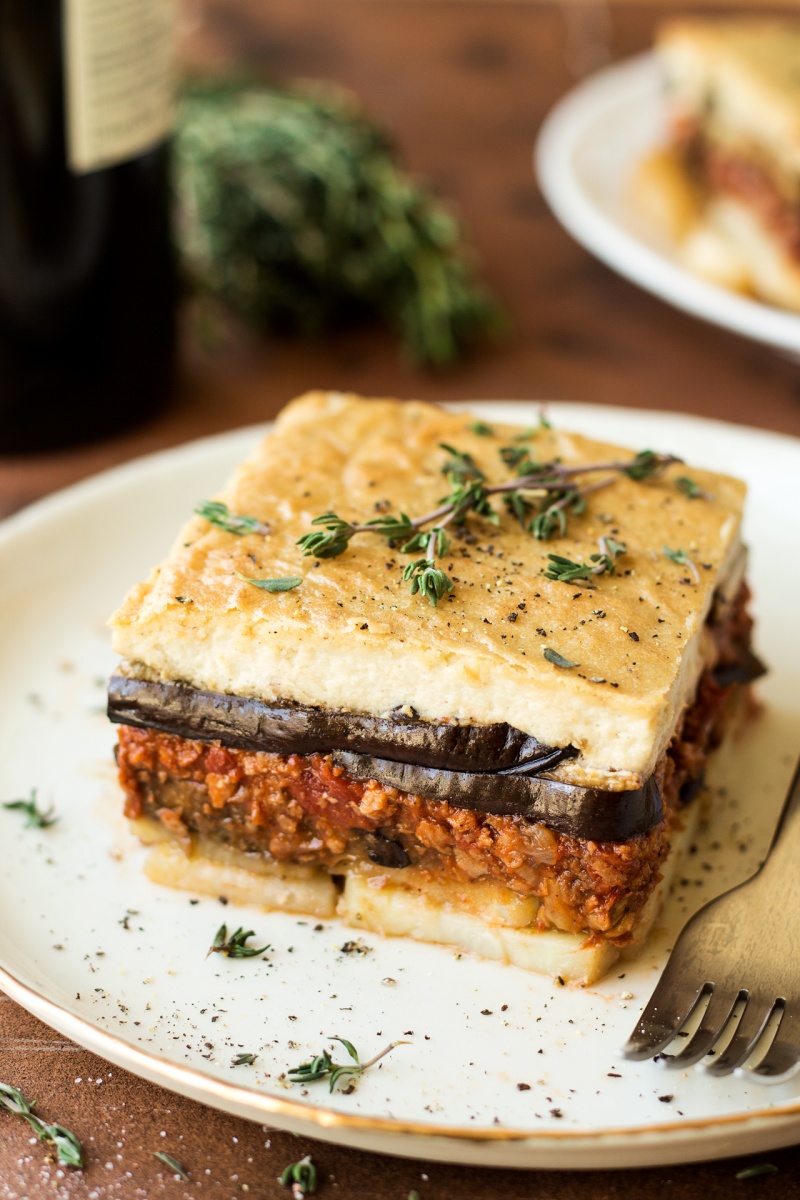 After two weeks of relaxation and soaking up the sun in Greece, I thought it's time to treat you guys to some Greek inspired food again. First off, my second take (first one here) on a world-famous Greek bake – moussaka. As it typically contains both meat and dairy, we only had it once during our stay on Crete (a vegan moussaka that is) and while we were super chuffed to find it, I wasn't blown away by it so I decided to tinker with the idea in my own kitchen again.
From living in Greece, I do know that it's possible to find amazing vegan food in local tavernas, but if you are a discerning vegan, you need to either get lucky, or work out the best place by trial and error, which naturally takes some time. We were staying in different places along the south coast for 3 days at a time so we didn't have much time and luck wasn't on our side on quite a few occasions too.
After a few very underwhelming meals, I decided that I'd rather cook until we see a new place worth trying, so we ended up alternating going out for dinner with staying in. Duncan felt for me, but I really didn't mind so much as the produce was so nice and the kitchen equipment so minimal that simple dishes were the only ones I ever attempted: veggie stews, pastas and salads if it was particularly hot and I was feeling lazy.
When most things on the menu contain meat or cheese, going out for 2-3 meals a day becomes a chore. Plus, my body doesn't appreciate greasy food and most veggie taverna dishes are liberally drizzled with olive oil. Don't get me wrong, I don't have anything against olive oil. I use it daily myself, but as opposed to the Greeks, I am rather vigilant about the quantities 😉 .
I remember going out for a meal with a couple of Greek friends and they wanted to drizzle some extra olive oil on an already glistening mezze plate that we were about to share. I asked them if I can move my portion out of the way first and they proceeded to tell me how healthy olive oil is. I didn't want to argue, but I personally feel like this message has been taken out of context and a little bit too literally. Oil is oil and no matter what plant it is extracted from, your body barely needs it if you consume other fat-rich foods like nuts, seeds and avocados.
So you may be pleased to know that this moussaka requires very little oil, but if you think I'm an oil-phobic freak, fair enough, feel free to override me. I used 2 tbsp to make the ragu and an extra one to brush the baking tin and the potatoes with. I don't brush the aubergines as I don't find it necessary at all, they do rather well without any oil when baked and in the moussaka, as they get plenty of moisture from the layers they are sandwiched between. This moussaka may be healthier than the traditional, but it's still rather indulgently crowned with a generous layer of cashew-based béchamel that rounds all the flavours off nicely. I sincerely hope it will hit the spot. καλή όρεξη!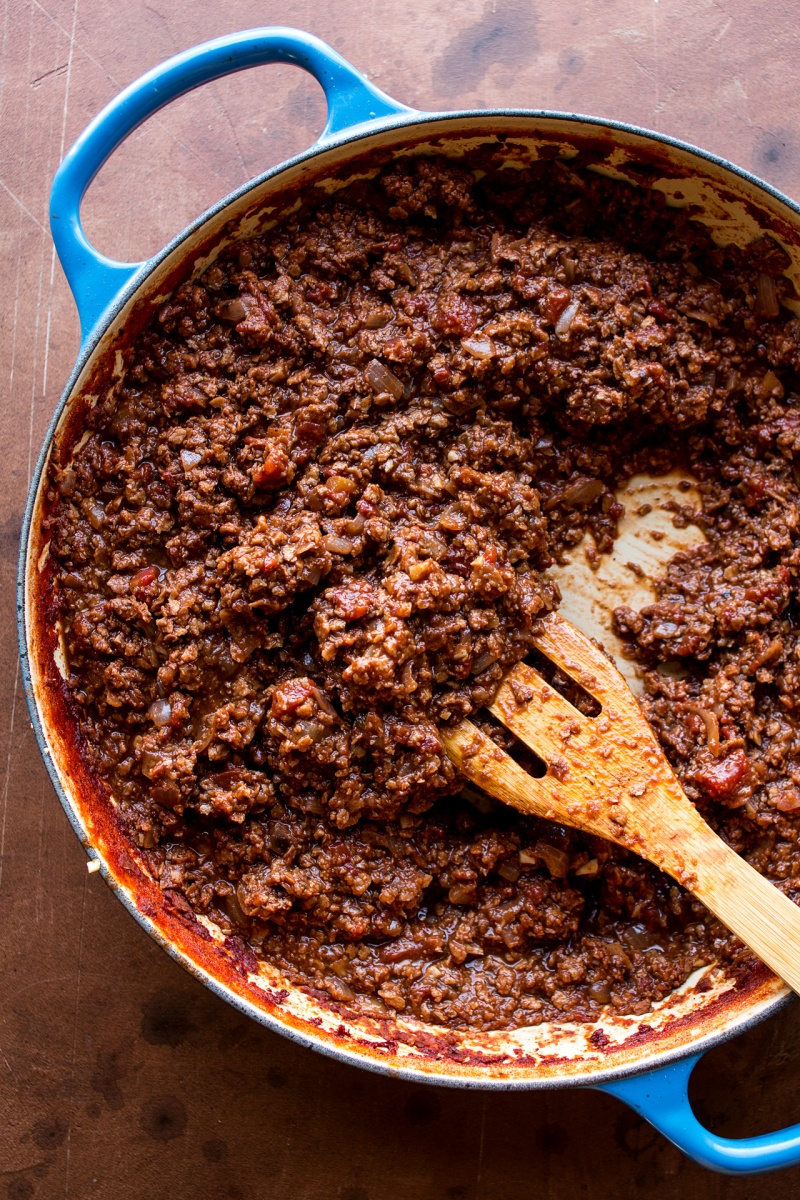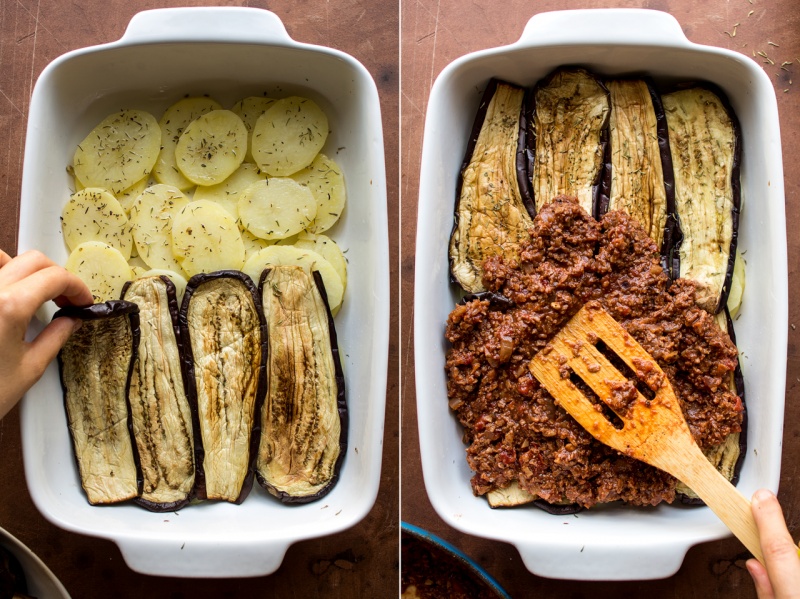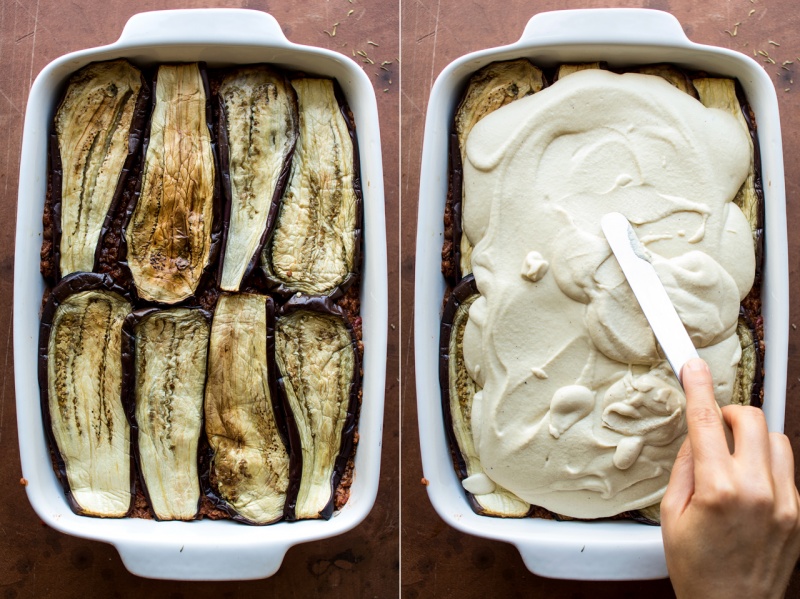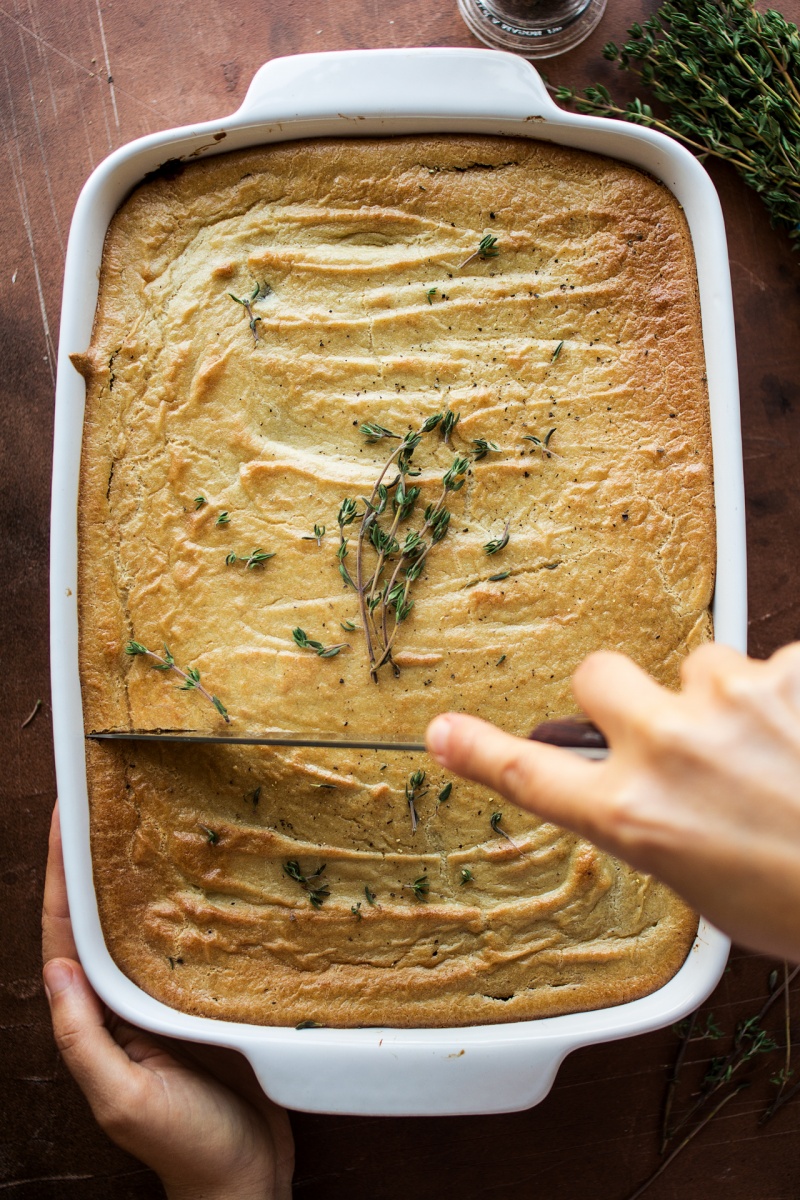 RAGU
130 g / 2 cups of fine organic soy mince*
2 tbsp olive oil
1 large red onion, finely diced
4 garlic cloves, finely diced
1½ tsp cinnamon
½ tsp ground nutmeg
¼ tsp ground cloves
2 x 400 g tins quality chopped tomatoes (or 5 large ripe tomatoes, peeled and chopped)
1 tsp dried oregano
1 bay leaf
pinch of chilli flakes (optional)
120 ml / ½ cup red wine
1 level tsp salt, adjust to taste
1-2 tsp date nectar (I use homemade) or sugar
ground black pepper, to taste
OTHER INGREDIENTS
4 medium potatoes
4 medium eggplants
1 small garlic clove (optional)
olive oil
dried Greek herbs (I used thyme)
salt and pepper
BECHAMEL (or nut-free bechamel)
300 g / 2 cups raw cashews (soaked overnight OR in boiling water for 30 min)
1 large garlic clove
1 heaped tbsp white miso paste
4 tbsp / ¼ cup nutritional yeast
½ tsp ground nutmeg, adjust to taste
½ tsp salt, adjust to taste
pepper (I used white pepper), adjust to taste
1 slighly heaped tbsp tapioca starch
METHOD
POTATO LAYER
Boil a large pot of water. Cut the peeled potatoes into ½ cm / 0.2″ slices and boil them for 5 minutes. Drain and set aside to cool.
AUBERGINE LAYER
Pre-heat the oven up to 225° C / 440° F and line a large baking tray with a piece of baking paper.
Top the aubergines and cut them into 1.5 cm / 0.6″ slices lengthwise.
Place the aubergine slices on a parchment-lined baking tray (no need to grease them) and into the hot oven for 25 minutes – until they are soft and lightly browned. You may need to do it in two goes (SEE NOTES with regards to salting).
RAGU
Bring a kettle of water to the boil and place your soy mince in a medium size bowl. Once the water boils, pour enough boiling water over the 'mince' to rehydrate it (about 2 cups / 480 ml). Set aside.
In a pan, heat up 2 tbsp of olive oil. Add the finely diced onion and fry until translucent and slightly browned, stirring from time to time. Add in the garlic and fry for another minute. Add cinnamon, nutmeg and cloves, coating the onion-garlic mixture in the spices. Gently fry for another minute on low heat so that the spices don't burn.
Add in the tomatoes, 2 tins worth of water, bay leaf, oregano, chilli (if using) and wine. Simmer covered until the tomatoes break down completely. Remember to give the sauce a good stir from time to time.
Once the tomatoes break down fully and the sauce becomes more uniform, add the rehydrated soy mince and continue to simmer (lid off) until the excess moisture has evaporated and the sauce has thickened. You want the sauce to be rather thick for this application.
Season with salt, date nectar (or sugar) and pepper. Set aside to cool down.
BECHAMEL
Place the drained cashews and 1¼ cups (300 ml) of water in an upright blender. Blend until super creamy and smooth. If you have an average blender like I do, you may need to do it in two batches to obtain smooth results.
Add garlic, miso paste, nutritional yeast, nutmeg, salt and pepper. Adjust seasoning to taste.
Keep the mixture in the blender until you are ready to top the moussaka. Seconds before topping moussaka add tapioca starch into the blender and give it a good whizz.
ASSEMBLY
This is totally optional, but I crushed a garlic clove with some coarse salt with the edge of my knife against a chopping board (believe it or not, I do not own a garlic press ;)) and immersed it in some olive oil to brush the potatoes with.
Brush the bottom of the baking dish with a little olive oil and arrange a layer of parboiled potatoes so that they cover the entire bottom of the tray. Brush the potatoes with a bit of oil (or some garlic oil if you love garlic like me), sprinkle with a little salt and pepper and some Greek herbs (I used oregano and thyme).
Follow with another layer of potatoes, again brush with oil and season.
Place a layer of aubergine slices on top, season and sprinkle with some herbs.
Spoon the cooled-down tomato sauce on top of the aubergines (you'll have some leftover sauce unless you want the ragu layer extra thick). Even out with a spatula.
Arrange another layer of aubergine slices neatly on top, season.
Finally, spread the béchamel on top evenly.
Bake in a 160° C / 320° F fan oven (or 20° C / 70° F more for non fan) for about 40 minutes – until the top gets golden. If the top is browning too quickly, cover it with a piece of kitchen foil. Allow the moussaka to set for an hour or so before cutting or else the slices will come out messy. Store the leftovers in the fridge.
NOTES
*If you don't want to use soya mince, you could also use green or Puy lentils, crumbled firm cotton tofu or ground up tempeh.
The Pyrex dish I used for my moussaka had the following dimensions: 26 cm x 19 cm x 5 cm.
Some people advocate salting the aubergine for an hour before cooking as the salt is meant to draw out the bitterness, but I've forgotten to do that a few times and never tasted any bitterness. Do it ahead of baking if you want, but make sure you rinse the salt off really well and pat all the slices dry before baking.