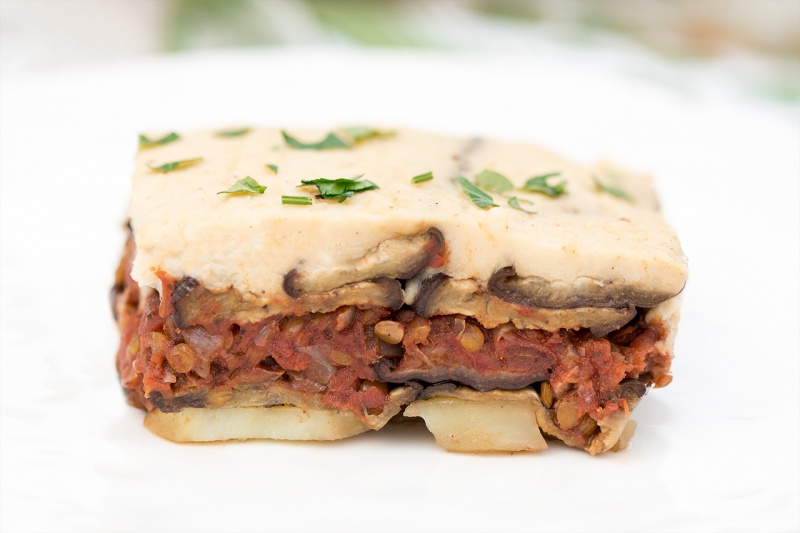 NOTE: check out my new, improved recipe for vegan moussaka here.
A while ago, I set myself a challenge of making a plant-based version of a quintessentially meaty dish: moussaka. After all, I live in Greece now and I didn't want to give up eating this deliciously fragrant dish. I knew I can make a vegetarian ragu easily so that was a no-brainer, but the topping (rich bechamel sauce that traditionally relies on butter, milk and sometimes eggs) was going to be the tricky part.
My initial thought was to simply swap butter for some local olive oil and dairy milk for homemade almond milk and it did yield a very tasty result. The issue was, however, that despite using loads of oil and tons of flour, I ended up with just a thin layer of bechamel, which did not look like moussaka I've eaten here before.
I explored doubling the quantities of both oil and flour, but I couldn't get over how many additional calories a sauce like that adds to the dish – about 250 kCal per piece. I nearly reconciled with having just a thin layer of bechamel on my moussaka when an idea popped into my head. I was preparing cauliflower for dinner and it suddenly struck me that this humble vegetable has such delicate taste and virtually no colour (I know, white is a colour, but you know what I mean) that perhaps it could lend itself well to bulking up my bechamel without anyone noticing. Sneaking veggies into food, it's happened – I'm turning into my mum.
I disclosed my revelation to Duncan and he was up in arms. "Why would you do that?", he said. "Why do you always need to make everything healthy?". Fair comment, I said, but I still wanna give it a go before I dismiss it completely. I'm so glad I did.
I'm pleased to say that Mr Cauliflower – apologies for hating you with passion as a kid – did work wonders. It bulked up the sauce without altering the taste and even its fiercest critic was happy to devour a triple portion of moussaka for dinner. If you still aren't convinced and are not freaked out by the humongous fat content (or need to gain weight quickly), simply double the amounts of oil and flour and add a touch more milk to end up with a rich moussaka topping.
NOTE: check out my new, improved recipe for vegan moussaka here.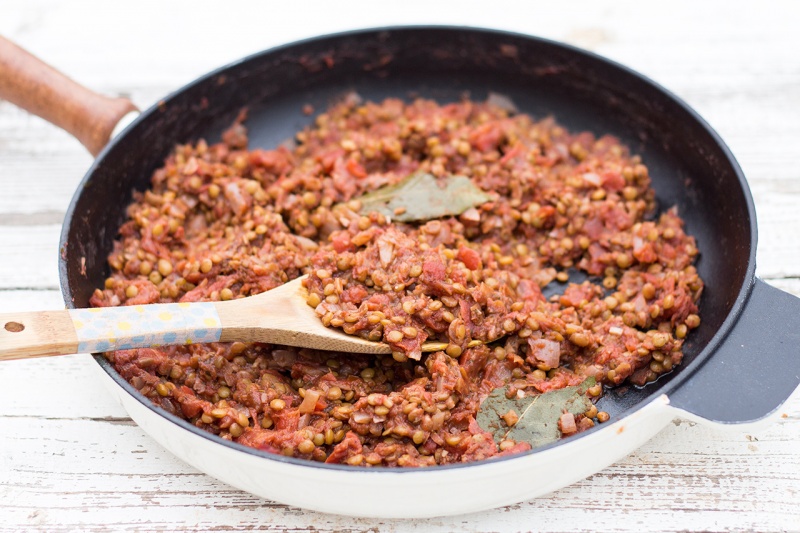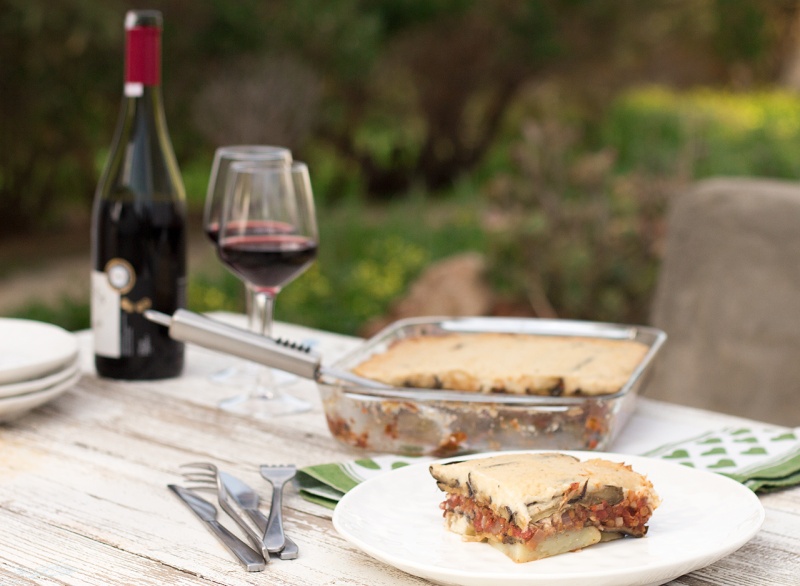 TOMATO & LENTIL FILLING
3 tbsp olive oil
2 small onions, finely diced
2 fat garlic cloves, finely diced
3 level tsp cinnamon
2 bay leaves
4 cloves, pounded to powder in pestle & mortar
½ tsp nutmeg, grated
5 medium tomatoes, peeled and chopped (or 2 x 400 g tins)
½ cup green lentils, rinsed
100 ml red wine
2 tsp sugar
1 level tsp salt
ground black pepper, to taste
OTHER INGREDIENTS
4 medium eggplants, sliced lengthwise into ½ cm slices
4 medium potatoes
BECHAMEL
7 tbsp olive oil
7 tbsp white flour
7 tbsp cauliflower purée*
2 and ¼ cups almond milk, warmed up
2 tbsp nutritional yeast (optional)
grated nutmeg, to taste
1 tbsp lemon juice
½ tsp salt, plus to taste
pepper, to taste
METHOD
Bring rinsed lentils to boil and cook for 10 mins. Drain and set aside. Peel the potatoes and parboil them for 12 mins. Drain and set aside.
Heat the oven up to 225° C. Put aubergine slices on a parchment-lined baking tray (no need to grease them) and into the hot oven for 25 minutes – until they are soft and lightly browned. Some people advocate salting aubergine for an hour (and rinsing the salt off) before cooking as salt is meant to draw our bitterness, but I've forgotten to do that a few times and never tasted any bitterness. Do it ahead of baking if you want.
In a pan, heat up 3 tbsp of olive oil. Fry onion until translucent. Add in garlic and fry for another minute. Add in cinnamon, nutmeg and ground cloves coating the onion-garlic mixture in the spices. Gently fry for another minute on low heat so that the spices don't burn.
Add in tomatoes, bay leaves and wine. Keep on simmering under cover until tomatoes break down. Add in lentils. Keep on simmering uncovered until all the liquid has evaporated and the sauce has thickened. Season with salt, sugar and pepper and adjust to your liking. Let the sauce cool down.
To assemble moussaka, slice parboiled potatoes into ½ cm slices and place at the bottom of an oiled tray. Brush olive oil on the top of the potatoes. Season with salt and pepper.
Place 1st layer of aubergine on top of potatoes, season well. Spoon in cooled down tomato sauce. Place another layer of aubergine, season with salt and pepper. Finally, spread béchamel on top.

Cook moussaka in a 175° C oven for about 45 minutes – until the top gets slightly golden. It tastes best the day after it has been made so make it in advance if you can.
BECHAMEL
Heat up olive oil in a heavy-bottom pan/pot. Gradually, add flour to the oil whisking continuously. Cook the oil-flour mixture on a low heat for about 5 minutes stirring continuously. Don't rush this step as otherwise béchamel will have an unpleasant floury taste.
Take off the heat. Slowly, add in warmed up milk and cauliflower purée, mixing the whole time – you should get a nice thick sauce. Return to the stove.
Season the mixture with salt, pepper, grated nutmeg and lemon juice. Add nutritional yeast, if using. Cook for another minute or two. Let the sauce cool down before pouring it over assembled moussaka.
NOTES
Volume measurement I use is 1 cup = 237ml
The dish I used for my moussaka has the following dimensions: 26 cm x 19 cm x 5 cm
* To make cauliflower purée, divide washed cauliflower (you need about ½ medium cauliflower) into florets, and cook them in a pot of salted water until tender (about 6 min). Blitz into a purée using a hand blender. Alternatively, skip the cauliflower completely and increase the amount of oil and flour to 12 tablespoons for a more indulgent béchamel.
** Nutritional yeast is by no means necessary. It adds a slightly cheesy flavour so if you have it add it in and if you don't, skip. It is important, however, not to confuse it with baking yeast as making this mistake will result in a nasty tasting béchamel.