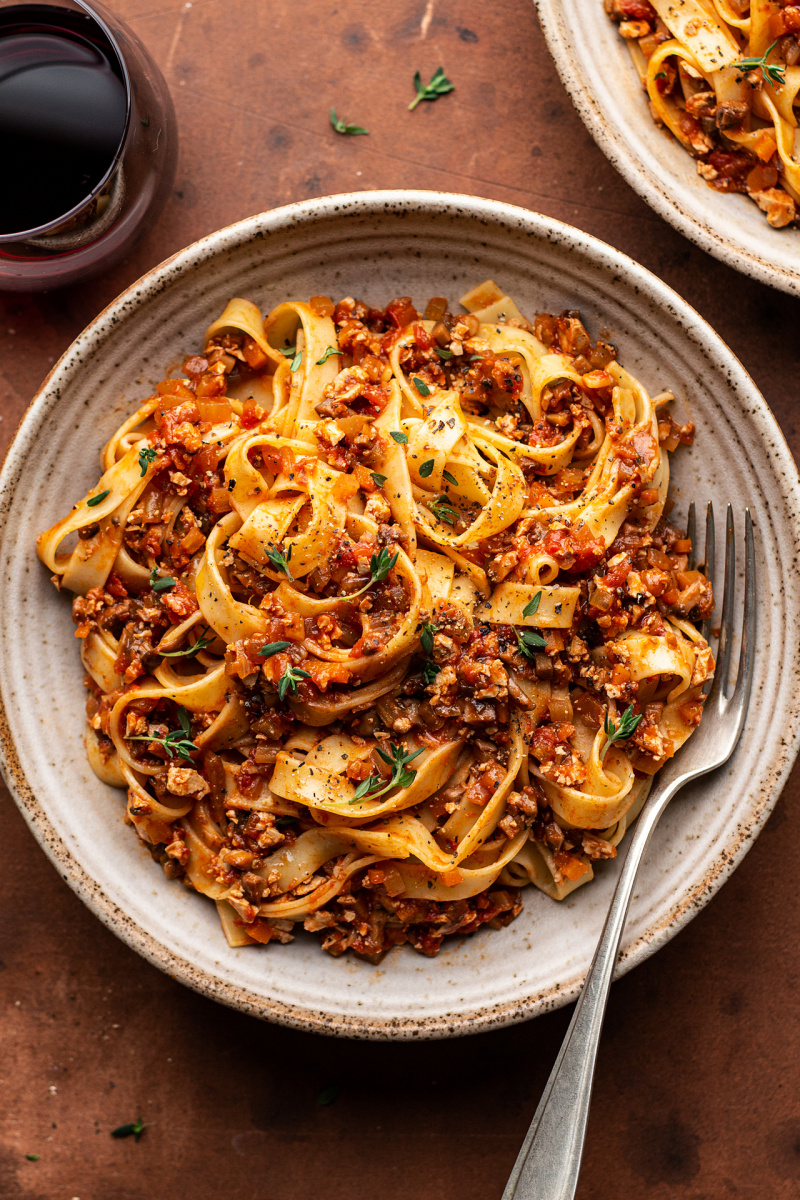 My bathroom is being ripped apart as I type this and while right now it's noisy, it smells, I am likely to have no shower for the next few days (hopefully only 2 or 3) and the toilet situation is pretty awkward too, I am really happy to be having all this done. After many attempts, I seem to have finally found a good builder who is friendly, helpful, proactive and has a can do attitude. It has not been easy and I've despaired on occasion.
This bathroom situation has been by far the biggest blocker and it looked as though I won't be able to have it done at all this month and I obviously cannot stay in London forever, so when an opportunity to get it done at short notice arose I had to pounce, despite not having half of the stuff needed. My builder drove me to the nearest B&Q (home depot) to pick up the essentials and I scoured the Internet till late last night in the search of a new shower and shower door based not so much on whether I liked them or not, but more so on their delivery times. Not ideal, but it had to happen this way or it would not have happened at all for weeks, maybe months, which is far worse.
My plan for today was to prime the kitchen walls but since there is so much building material all over the place, it will have to wait a couple of days, I think. Duncan is driving over on Saturday again to install a new fence, bless him. While I sink in DIY and cleaning, my plans of enjoying London in the evenings make me laugh out loud, I have don't have time or energy for much of that at all. I have managed to see a couple of friends so far and plan to sneak out for another evening or two, but other than that it's just planning, sourcing things and a lot of elbow grease. I know it will be worth it in the end.
Out of necessity, I am eating very simply these days and I would kill for a steady supply of a hearty mushroom bolognese, especially that nights are so cold all of a sudden and I am perpetually having to have windows open to air the paint fumes out. This vegan mushroom bolognese is easy-to-make, nourishing and so comforting. The most effort heavy bit is chopping all of the veggies into a tiny dice, but if you are not as particular as I am, you can probably get away with chopping things roughly and sticking them into a food processor to do its thing. The key thing is not to overload the processor as when it gets jammed it tends to over process things and to keep an eye on texture so that you don't end up with baby food. Other than that, it's just a bit of passive time that requires an occasional stir while you get on with other things. Enjoy.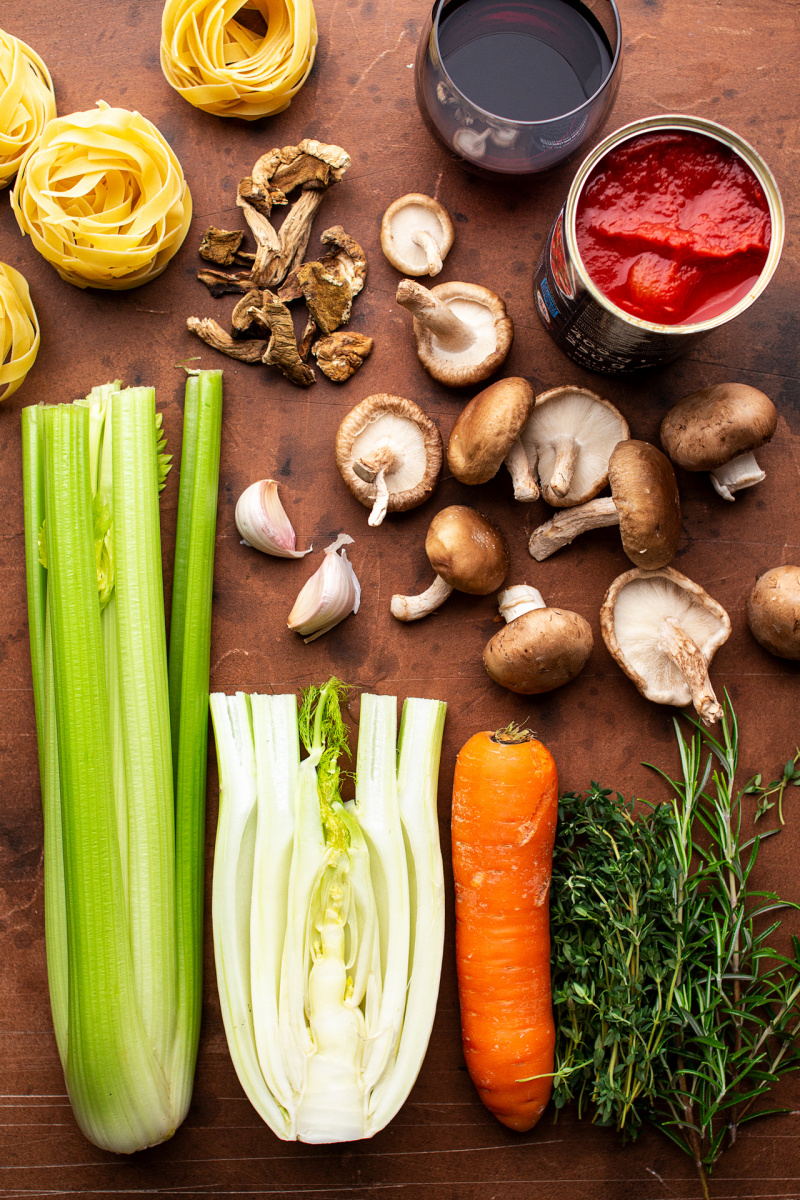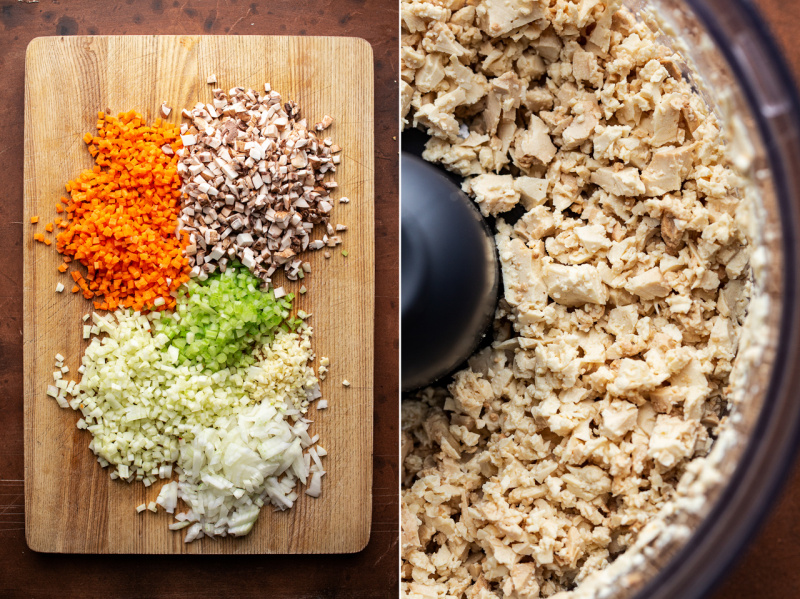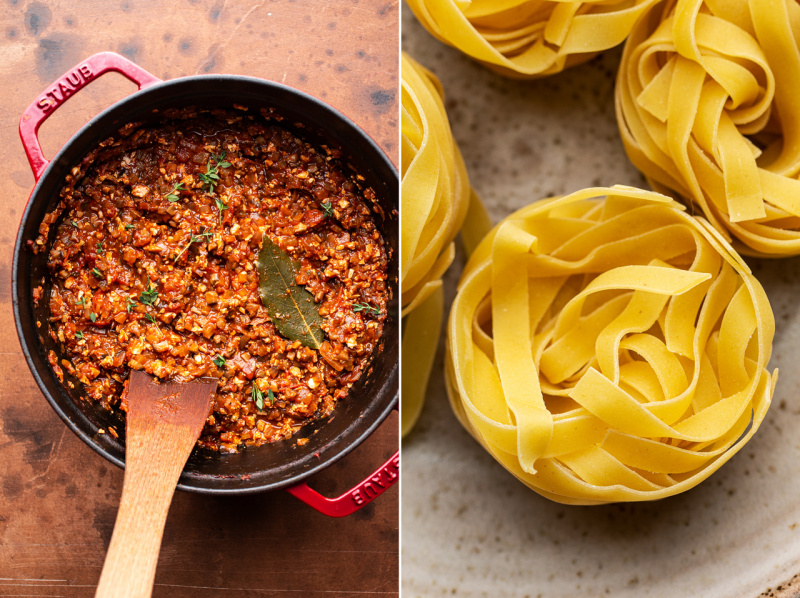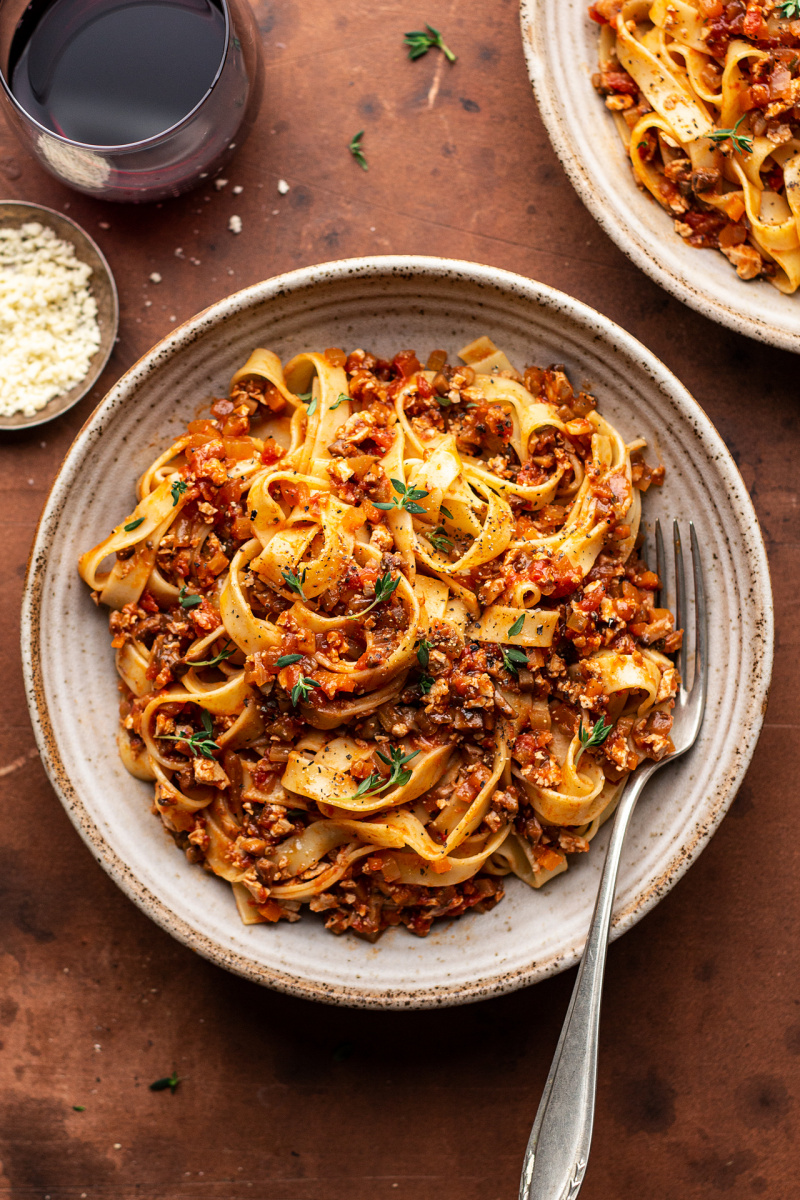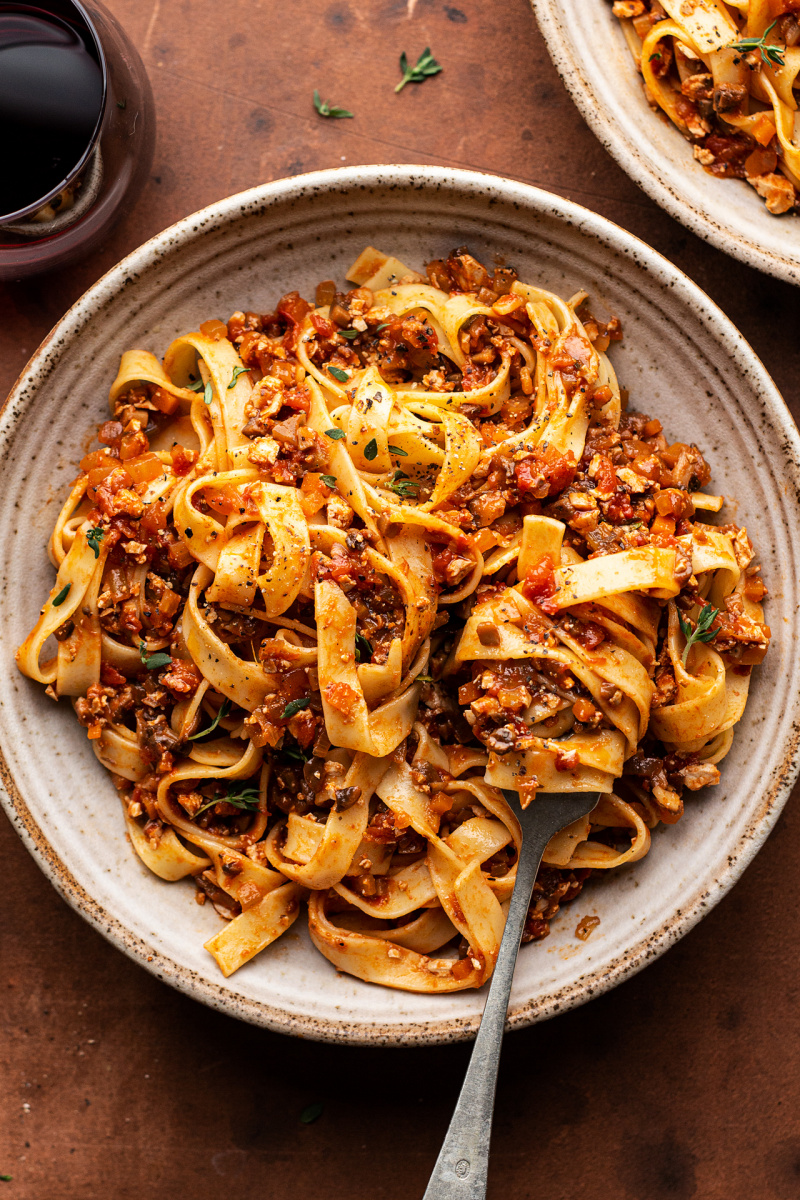 BOLOGNESE SAUCE
10 g / 0.35 oz dried porcini mushrooms
2 tbsp / 30 ml olive oil
1 medium onion, finely diced
6 large garlic cloves, finely diced
½ fennel bulb, very finely diced
2 short celery stalks, very finely diced
2 small carrots, very finely diced
250 g / 9 oz chestnut mushrooms, finely diced
125 g / 4½ oz fresh shiitake, finely diced
2 sprigs rosemary, leaves chopped finely
a few thyme sprigs
½ tsp (or more if not using smoked tofu) smoked paprika
1/3 tsp grated nutmeg
½ tsp chilli flakes, adjust to taste
approx. 1 tsp salt, adjust to taste
1 cup / 240 ml vegan red wine
2 x 400 g / 28 oz tins quality peeled plum tomatoes
200 g / 7 oz smoked tofu*
black pepper, to taste
1 tsp date syrup or sugar (optional, adjust to taste)
REMAINING INGREDIENTS
fresh thyme or parsley, to garnish
homemade vegan parmesan, to garnish (optional)
500 g / 17½ oz dry tagliatelle (GF if required), cooked
METHOD
Put the kettle on. Rinse the dried mushrooms well to get rid of any grit and place them in a small bowl.
Cover the dried mushrooms with boiling water and set aside to brew.
Heat up the olive oil in a heavy-bottomed pan. Add the diced onion and sauté on a low heat for a few minutes, until the onions are almost translucent, but not browned.
Add the chopped garlic and sauté for a few minutes until it softens and becomes fragrant, stirring frequently.
Next, add the diced fennel, celery and carrots. Sauté, stirring frequently, for another 5 minutes or so.
Next, add in all of the fresh mushrooms and sauté for another 5-10 minutes until all of the moisture cooks out and they are lightly browned.
Add in chopped rosemary leaves, whole thyme springs, smoked paprika, nutmeg, chilli (if using) and 1 tsp of salt. Stir everything around for a minute or so.
Add the dry mushroom stock, being careful not to tip the grit that sometimes gathers at the bottom of the dish over. You can chop the mushrooms really finely and add them into the pan too or save for another use.
After the mixture comes to a gentle simmer, add the wine and allow it to bubble gently for a few minutes so that the harsh taste of alcohol cooks out, for about 10 minutes.
Add both tomato cans and about 1 cup (240 ml) of water (I like to rinse my cans with it first).
If you used plum tomatoes, like I did, break them up with a spoon first. Put the lid on and allow the sauce to bubble on a low-medium heat until the tomatoes have broken down (about 45-60 minutes). If the pan is looking dry before the tomatoes fully disintegrate, add a bit of water to the pan.
While the sauce is simmering, tear your tofu roughly and pulse it in a food processor until you obtain a chunky crumble, be sure not to over process it unless that's how you like it.
Once the tomatoes have broken down, take the lid off, add the tofu and start reducing the sauce on a low-medium heat. If the pan is starting to look a bit too dry, add another cup of water (pasta cooking water is best) and cook until you achieve the desired consistency. Remember to give the sauce a good stir from time to time to ensure that the middle of the pan does not burn.
Season with more salt if needed, black pepper and date syrup or sugar (if needed).
NOTES
* If you don't enjoy tofu, you can use soy mince, firm (Puy or brown) lentils, ground up chickpeas or more mushrooms (meaty ones like king oyster would be perfect).