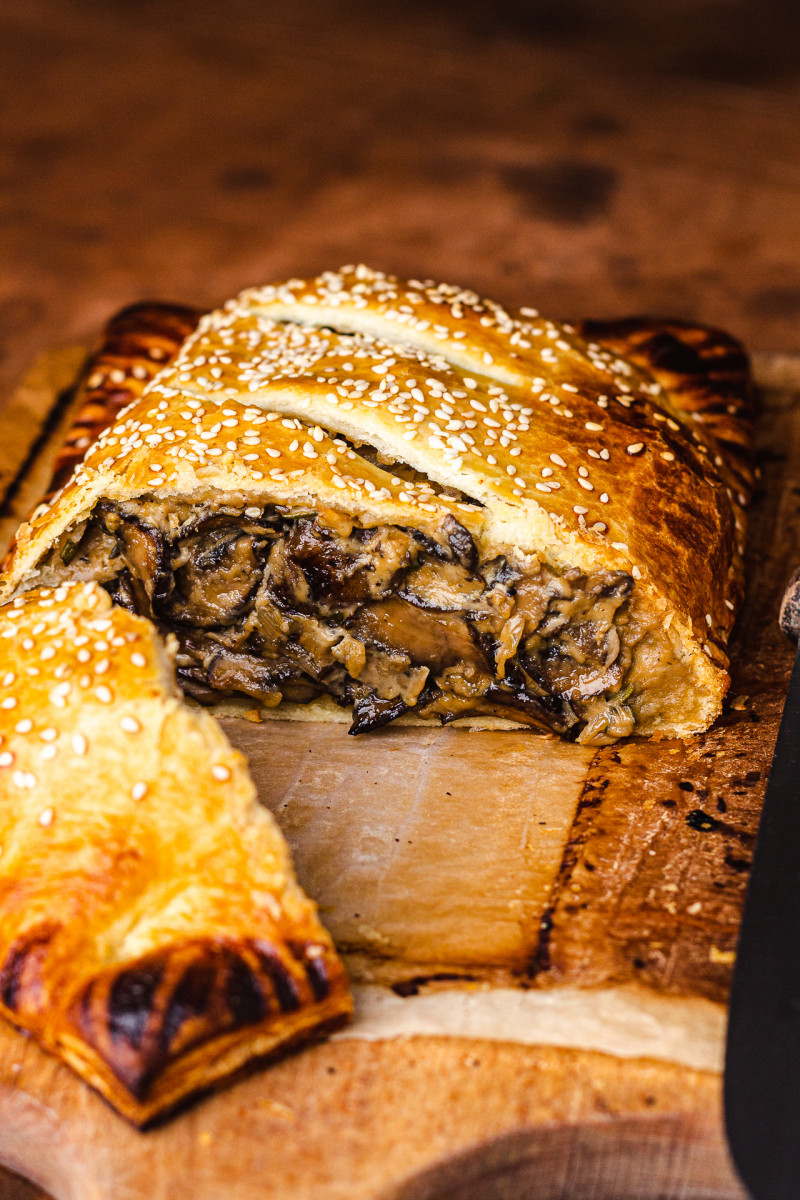 With the outside temperature dropping to the lowest it's been this year yet (we had a bit of snowfall this morning and it's was so nice to wake up to it, it's all melted by now unfortunately), the need for comfort food has increased steadily and Christmas is approaching fast too so I figured a low effort dinner centerpiece would do nicely.
With that in mind, I made a deliciously creamy and cheesy vegan mushroom pie, which continues my mushroom theme I started on Wednesday with this festive layered pâté .
This vegan mushroom pie is bursting with flavour and is really quite straightforward to make. You could make the filling well in advance – freeze it even – and then assemble and bake the pie on the day. It would make for a delightful, low effort vegan centerpiece at Christmas or Thanksgiving if making a more elaborate vegan Wellington does not appeal. Below, I walk you through all the key ingredients and the process of making this simple pie, including detailed step-by-step photos. I hope you'll give it a crack and if you do that you'll enjoy it!
MORE ABOUT THE INGREDIENTS
MUSHROOM: You can use any fresh mushrooms you enjoy, but as I wanted this recipe to be as accessible as possible, I went for brown mushrooms known as chestnut in the UK (and cremini in the US).
HERBS: I used a combination of fresh thyme and rosemary to flavour the filling but either of them on their own works well too. You could, of course, use dried herbs too, but go easy on them – I would start with a good pinch – as they tend to be (provided they are not stale) more pungent than fresh.
BALSAMIC: balsamic vinegar works really well with mushrooms () and it cuts through the richness of the filling wonderfully. If possible, splash out (it costs about £7 / 8.5 $ in my local store) on a bottle of aged balsamic vingar as its flavour and consistency is so much better.
NUTRITIONAL YEAST: nutritional yeast is a staple vegan seasoning that adds a cheesy flavour. It is inactive yeast so don't worry if the name freaks you out – we are not adding baker's yeast to anything. If you don't have it, you could use white miso paste in its place although in much smaller quantity (1 tbsp should be plenty).
TAPIOCA: tapioca, also known as tapioca starch, is a thickener and I used a small amount of it here to thicken the 'cheese' sauce so that it binds the filling better. Cornflour (cornstarch) or arrowroot are both commonly used replacements, but I have not tried them in this dish so I cannot guarantee that they will work just as well.
CASHEWS: I used cashews to create a really simple vegan cheese / cheese sauce to bind the mushroom filling together, add creaminess and substance to the filling. If you found a melty vegan change that you enjoy, you can use that instead (and skip the entire making of cashew cheese process – STEPS 7 & 8). If you cannot have cashews, soaked sunflower seeds will bring very similar result.
BREADCRUMBS: I used a sprinkling of breadcrumbs on the pastry to ensure that it does not get soggy from the filling. If you are gluten-free, use coarsely ground walnuts.
PUFF PASTRY: contrary to a popular belief, a lot of commerically available pastry is accidentally vegan and that includes puff pastry. It goes without saying that if the pastry is marketed as 'butter' or 'all butter', it won't be vegan but if no such claim is made, it's worth having a look at the ingredients list. I used a ready rolled puff pastry that comes in 23 cm / 9″ by 37 cm / 14.5″ sheets and weighs 320 g / 11 oz. My baked pie was 20 cm / 8 inches long and 14 cm / 5.5 inches wide. If you want to make this dish gluten-free, look for gluten-free (and vegan) puff pastry. It is sold in the UK by a Jus Roll brand, for example.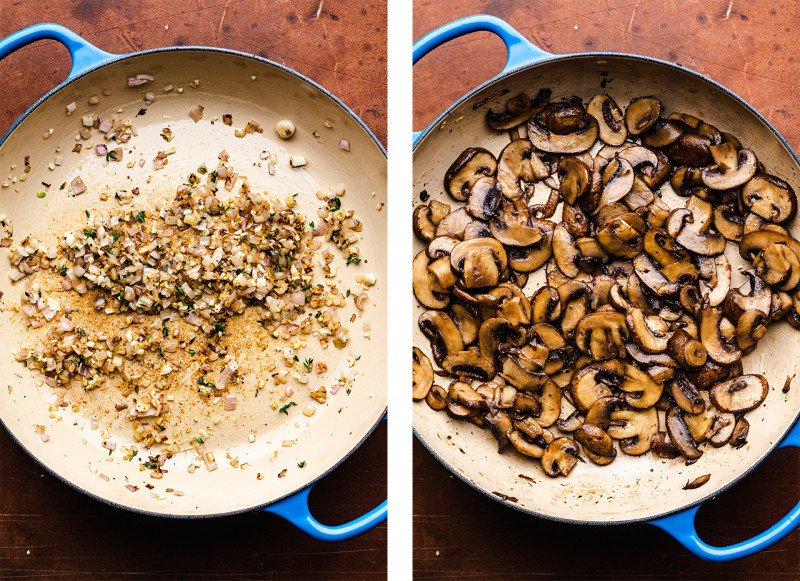 Sauté shallots and garlic until softened and fragrant first, then remove from the pan and sauté mushrooms until cooked – shrunk and dark brown – and all of the liquid has cooked off.
Once mushrooms are done, return shallot and garlic mixture to the pan. Season well, add balsamic and cook for a few further minutes to caramelise a little. Whisk the 'cheese' sauce in a separate pan for a couple of minutes, until thickened and a little strechy.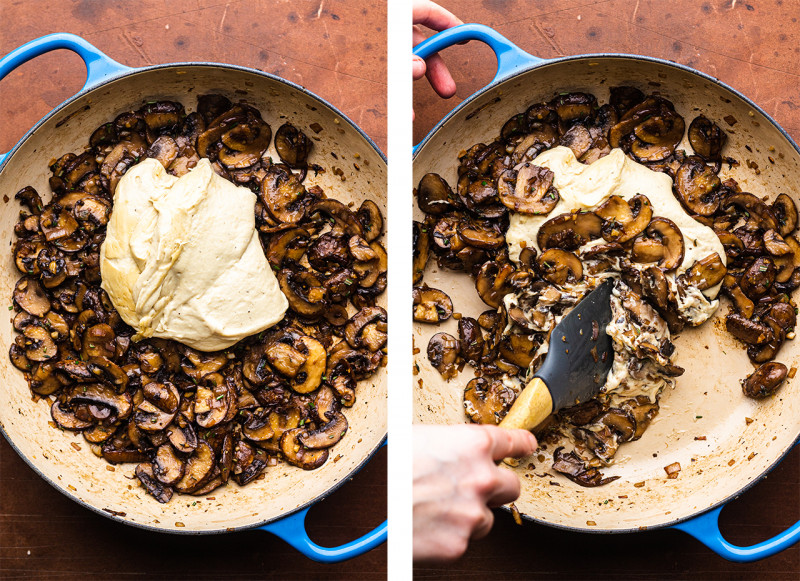 Add thickened cheese to the mushroom mixture and fold the two together with a flexible spatula, until well combined. Cool down completely before assembling the pie.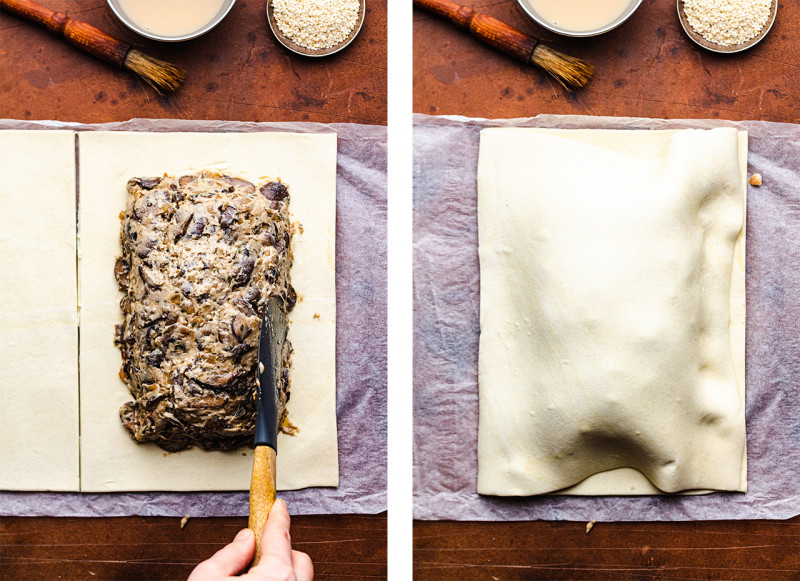 Divide your pastry sheet into two unequal parts, the smaller one will form the base of the pie and the bigger one will drape over the filling. Sprinkle the base with breadcrumbs leaving 1.5 cm / 0.5 inch all around for sealing, then heap the mushroom filling on top. Using a spatula, form it into a uniform mound, sprinkle some more breadcrumbs on top of the filling then loosely cover with the bigger piece of pastry.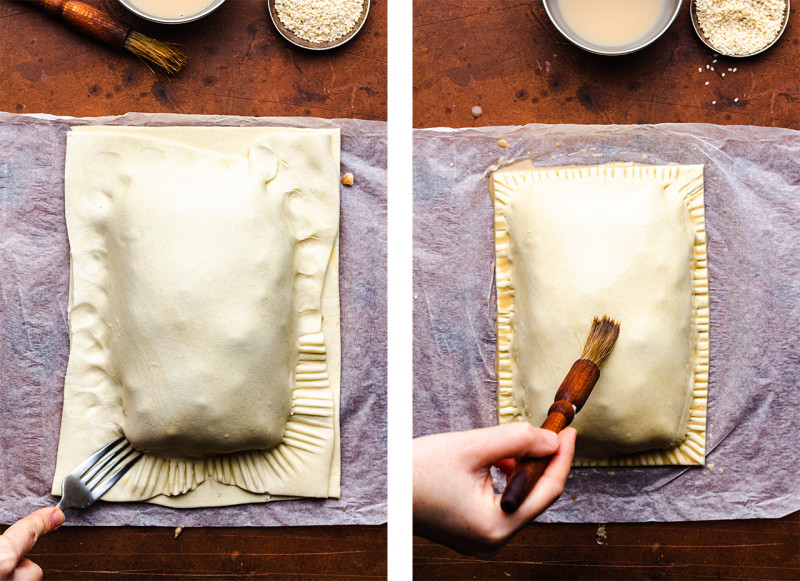 Next step is to shape the pie. Using your hands gently drape the pasty over the filling without streching it at all. Use your fingertips and then tines of a fork to seal the top sheet of pastry with the base around the filling. Trim the excess pastry with a sharp knife. Brush the pastry with a vegan eggwash mixture, sprinkle with seeds of choice and using a sharp knife make 3-4 slashed in the pastry top so that the build-up of steam has a means of escaping. Refrigerate until the oven has been pre-heated, then bake until golden-brown.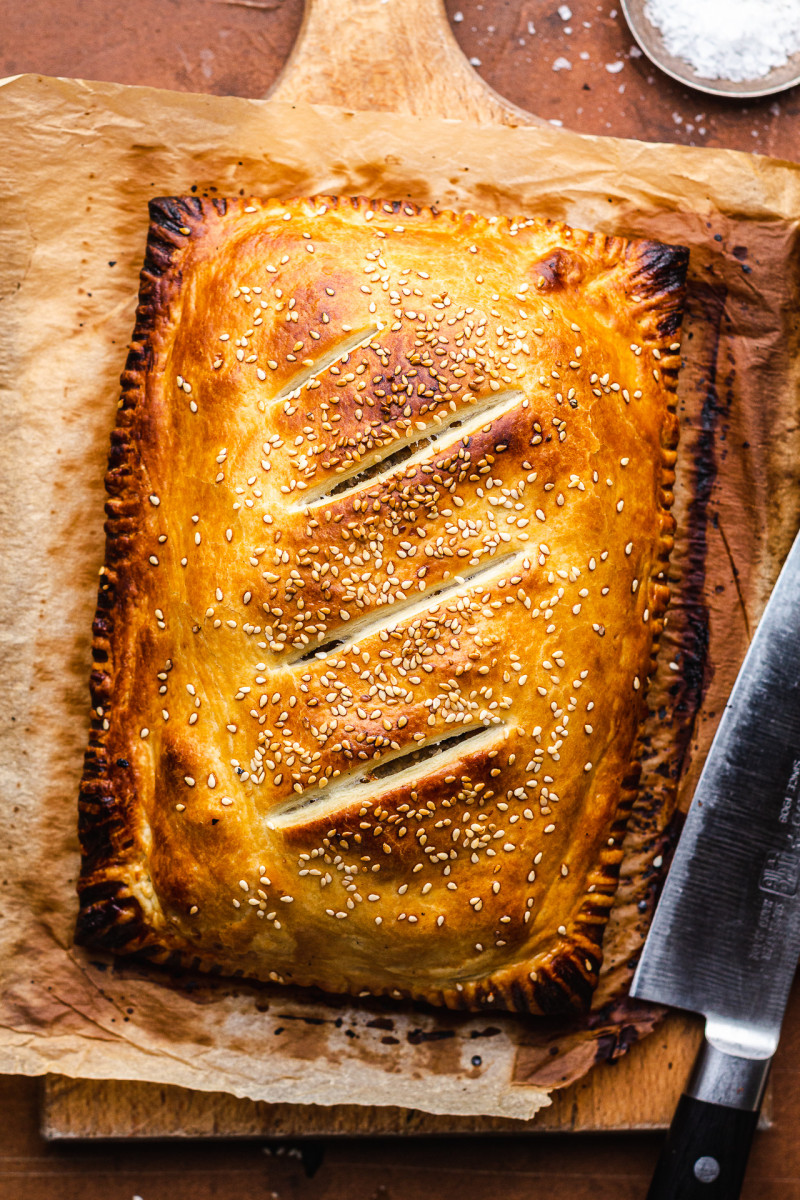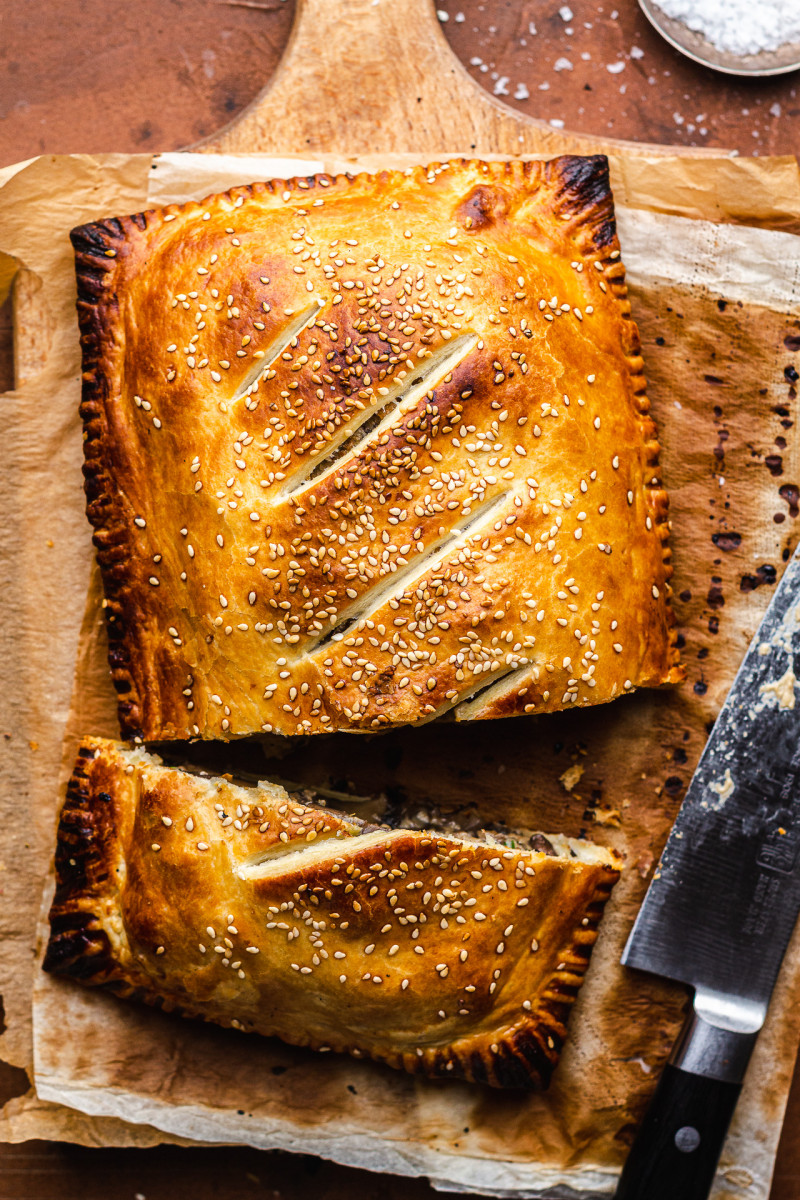 FILLING
45 ml / 3 tbsp olive oil, divided
3 large shallots, very finely diced
6 garlic cloves, very finely diced
1 tbsp thyme leaves and ½ tbsp chopped rosemary leaves*
750 g / 26.5 oz mushrooms*, sliced
30 ml / 2 tbsp aged balsamic
100 g / ¾ cup cashews, soaked*
3 tbsp nutritional yeast
2 tsp tapioca starch
¾ tsp salt & ¼ tsp pepper, adjust to taste
REMAINING INGREDIENTS
25 g / ½ cup breadcrumbs or coarsely ground walnuts
320 g / 11 oz of vegan puff pastry*
eggwash: 2 tbsp plant milk, 1 tsp maple syrup, ½ tsp soy sauce
sesame, poppy or nigella seeds, to decorate
METHOD
FILLING
Heat up 1 tbsp of olive oil in a large frying pan. Add shallots and sauté on a low flame for a few minutes, before adding in garlic and herbs.
Sauté shallots and garlic until softened and fragrant, season with salt and pepper. Remove from the pan and set aside.
Heat up another tablespoon of oil in the same pan (no need to wash it) and add about a third of sliced mushrooms. Coat them in the oil and let them cook slowly, stirring from time to time.
Once the first batch of mushroom looks more or less cooked (shrunk and dark brown), add another and once the second one looks cooked, add the third batch. Season with a bit of salt and pepper. Skip to step 7 while waiting.
Once all of the mushrooms are cooked and all of the excess liquid cooks out, return fried shallots and garlic to the pan and add another tablespoon of olive oil.
Cook for another 5 minutes or so to caramelise then add balsamic to the pan. Cook for a further minute before switching the heat off.
Whizz drained cashews, nutritional yeast, tapioca, a good pinch of salt and pepper and 135 ml (½ cup + 2 tbsp) of water in a mini blender until smooth.
Transfer the mixture to a new pan and whisk on low heat until the mixture has thickened and becomes a little strechy (about 2-3 minutes).
Add cheese mixture to the mushroom mixture and mix the two together. Cool down completely.
ASSEMBLY
Remove the pastry out of the fridge 10 minutes before assembly.
Place rolled out dough (keep it on its backing paper) on the table ahead of you so that the longer edge is parallel to you.
Cut a 16 cm / 6.25 inches piece of pastry as a bottom of the pie and another slighly larger (18 cm / 7 inches wide) piece as a lid. My pastry was 23 cm / 9 inches deep, yours might be a bit different, that's ok.
Sprinkle breadcrumbs all over the base of the pie leaving a margin of approximately 1.25 cm / 0.5 inch all around, for sealing.
Heap the filling on top of the breadcrumbs into a shapely mound, then sprinkle more breadcrumbs on top of it (they keep the pastry from getting soggy).
Drape the larger piece of pastry over the filling, sealing it all around the pie, using tines of a fork. Trim the excess off with a sharp knife.
Brush the entire pie with vegan egg wash, make a few incisions in the top with a sharp knife and sprinkle with seeds of choice. Refrigate for 30 minutes while the oven pre-heats.
Place a pizza stone or an unpside down metal baking tray in the middle of the oven and preheat it to 200° C / 390° F.
Remove the pie from the fridge and place it in the pre-heated oven using a pizza peel or a flat tray and bake for 25-30 minutes until the pastry has puffed up and is golden brown.
Allow it to settle a little (30 minutes or so) before cutting. Store cooled leftovers an air-tight container in the fridge for up to 5 days.
NOTES
*HERBS: I used a combination of thyme and rosemary, but you could also just one of them, adjust the amount to taste, but I would suggest at least 1 tbsp of fresh herbs.
*MUSHROOMS: any mushroom you enjoy will work, I used chestnuts/cremini as they are very easily accessible in the UK.
*CASHEWS: soak them in boiling water for at least 20 minutes (can be longer!) or in cold water overnight to soften.
*PUFF PASTRY: I used a ready rolled puff pastry that comes in 23 cm / 9″ by 37 cm / 14.5″ sheets and weighs 320 g / 11 oz. My baked pie was 21 cm / 8.25 inches long and 15 cm / 6 inches wide.
*FREEZING TIPS: You can make the entire pie in advance and freeze it (before or after baking). I froze it baked, let it thaw in the fridge overnight and then simply reheated in a 180° C / 355° F for about 30 minuts, covering the top with a piece of foil for the first 15 minutes or so.