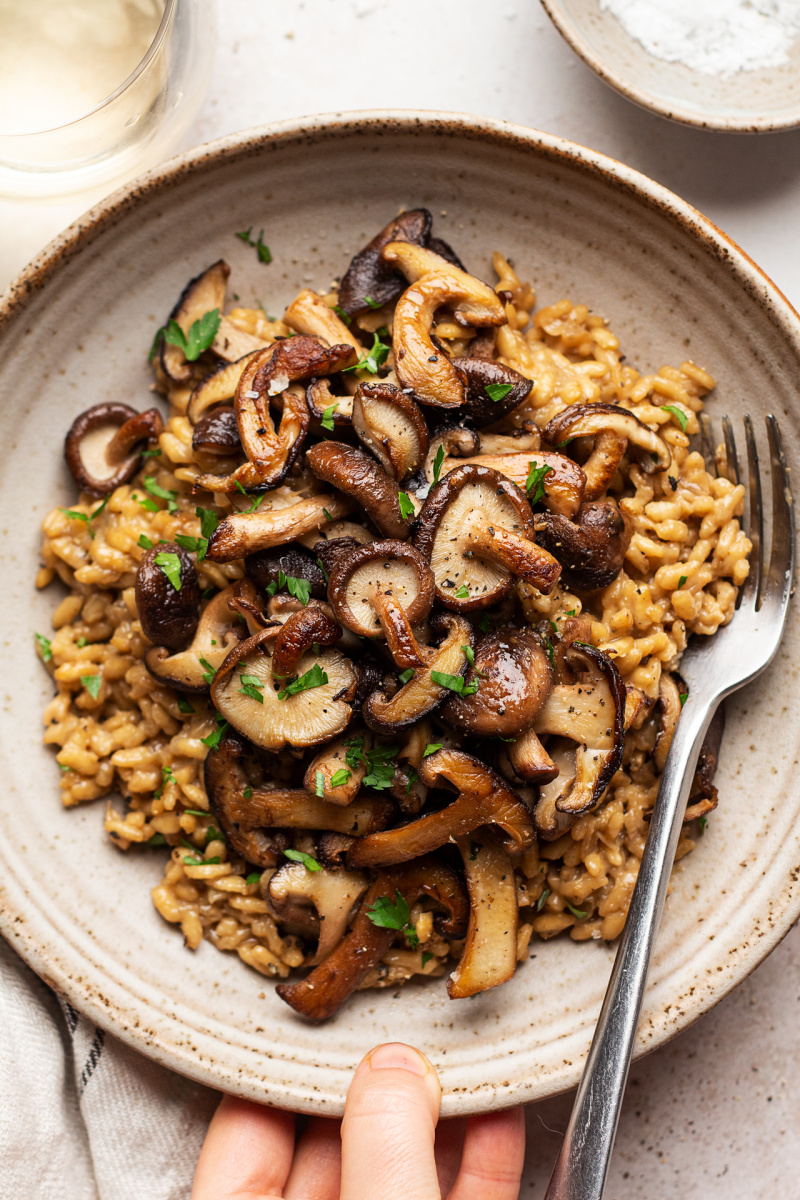 The temperature has dropped a lot in the last couple of days so I felt that a bowl of creamy vegan mushroom risotto topped with garlicky mushrooms may be what the doctor ordered. Coupled with a good glass of wine, a pair of warm socks (my circulation isn't in the job of keeping my extremities warm apparently! 😉 ), a cat on my lap and a good Netflix show this could easily be my Saturday evening sorted. Oh wait, I have no sofa to sit on – think again, Ania! Oh well, you get the gist! Mushroom risotto is the very definition of comfort food, isn't it? It is usually Duncan that cooks it in our house as, ever since I've started this blog, I tend to cook all the meals and that's one meal that he can make with his eyes closed, so I am not going to pass up this opportunity to be 'cooked for' for a change, am I?
Thinking about food and provisioning day in and day out is taxing and gets rather boring. Sometimes I wish I could offload some of it to my capable husband, but it's just not that simple in practice. For starters, as opposed to Duncan, I know what's in either of our two fridges at all times as I constantly shop for food for my recipe tests and photoshoots. Secondly, as I am the main cook, Duncan is always at a loss as to where everything is, so him cooking something new is me being asked about where every single bit of equipment he needs is and then him struggling to put it back in the right cupboard afterwards. Plus watching Duncan cook is like him watching me use a computer – we both get frustrated as we know that things could be done better and it is soooo hard not to correct someone sometimes.
This is when working from home isn't so fantastic as your work life bleeds into your home life. I did not know that starting this blog means that I will end up doing all the cooking, every day for the rest of my life – it just makes more sense especially that sometimes my photoshoot or test cook IS our dinner. To be fair, Duncan does wash up so it's not that bad, but like everybody, I do feel a little uninspired / cannot be bothered to cook AGAIN sometimes – honest truth!
So while Duncan is the risotto man in our house, he is quite traditional when it comes to cooking and when I first suggested adding miso to a mushroom risotto, it did not go down very well. I am not as afraid of breaking old-fashioned rules although, as you can tell by my recipes, I am not a wild child either. I like twists!
So this vegan mushroom risotto has a couple of my twists that you can take or leave – it's up to you. I used miso paste in the place of some salt as it adds a lot of subtle flavour to the dish. To compensate for the cream that is often added to traditional risottos, I blended some of the rehydrated porcini with a handful of soaked cashews to create a wonderful porcini cream that reinforces the mushroom flavour and adds a little extra creaminess that some risotto eaters enjoy. Finally, I feel that the richness of this dish benefits from a little bit of acid. In the recipe I suggest balsamic vinegar as it works rather well with the other flavours, but I will let you in on a secret – I used a little bit of sauerkraut liquid instead 😛 to preserve the risotto's golden colour as, no matter how good it is, I still need to make it look appetising (or no one will want to cook it) and with a pile of food in different shades of brown that's more difficult that it sounds, trust me. Enjoy!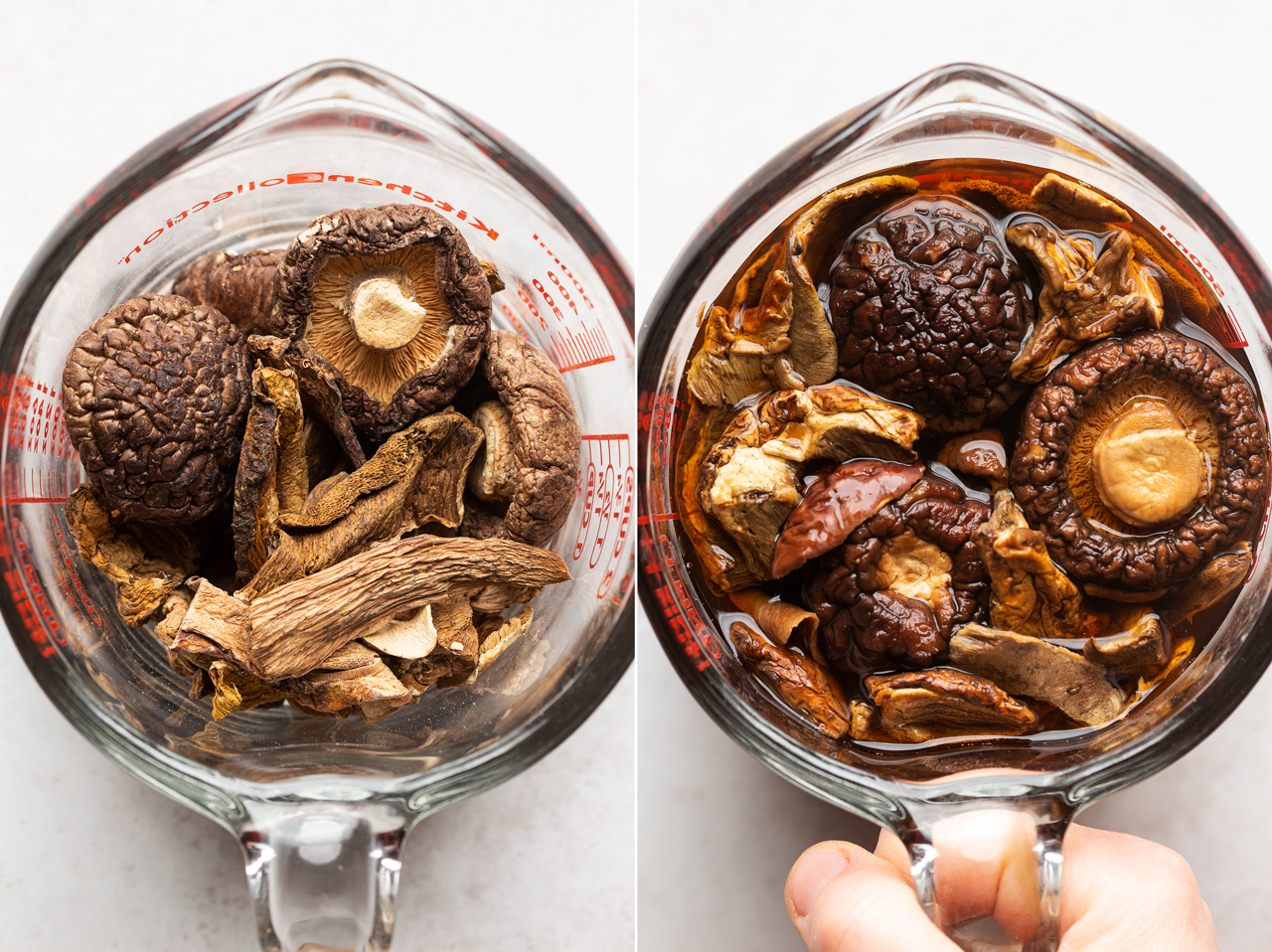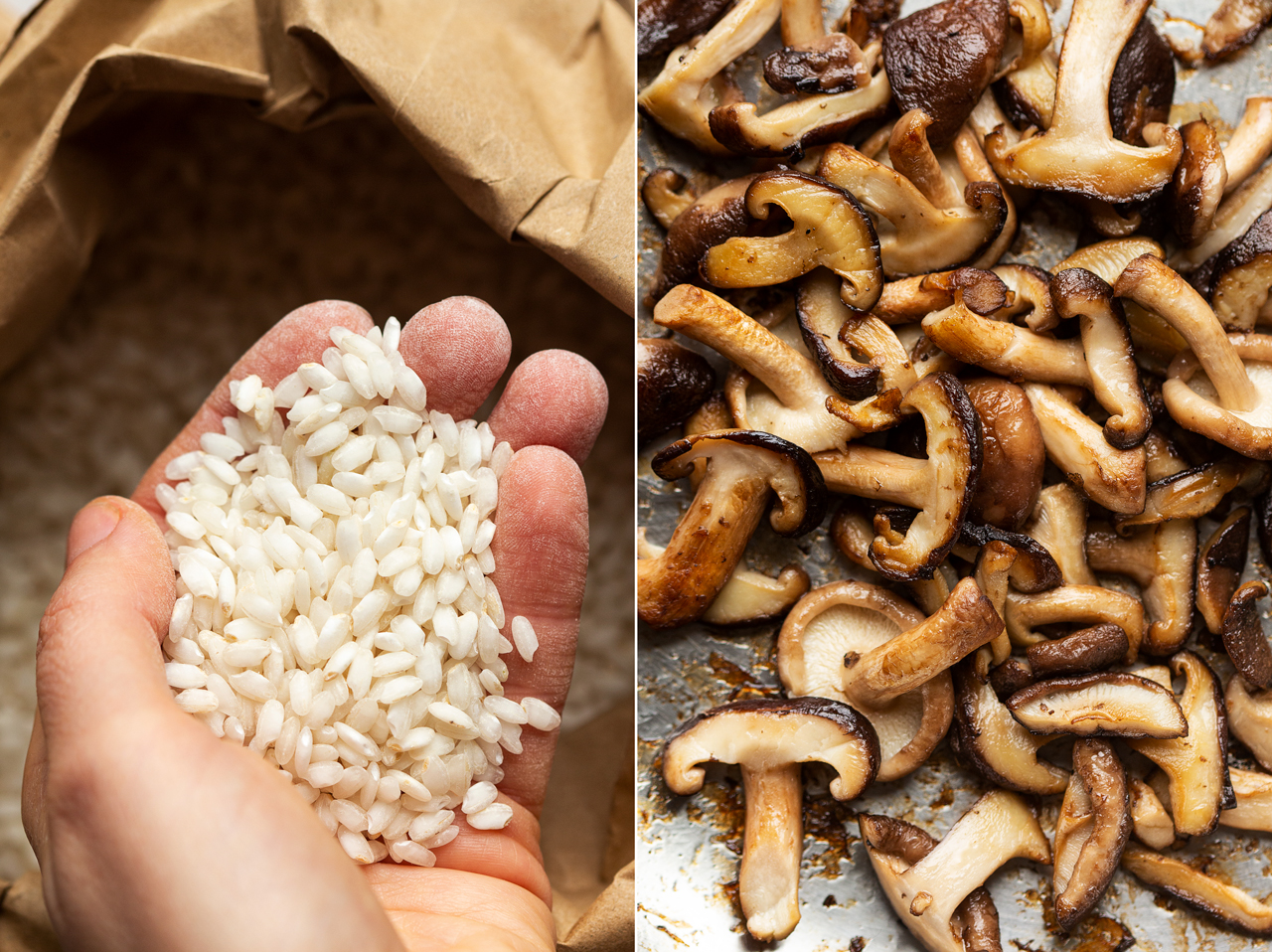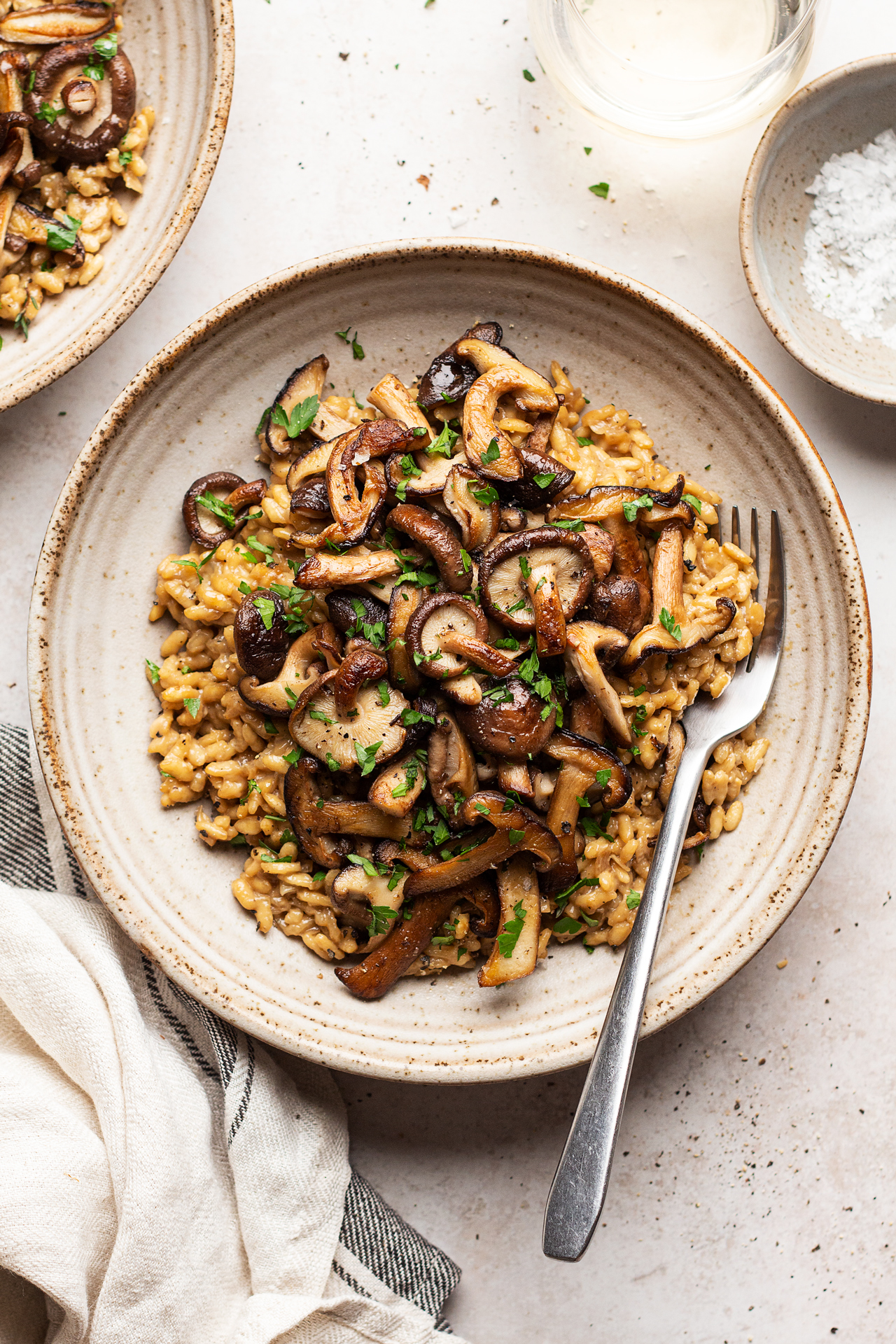 40 g / 1.4 oz dry porcini* OR a mixture of porcini and shiitake (I used 50/50)
750 g / 26 oz favourite fresh mushrooms (shiitake, chestnut / cremini, oyster)
extra virgin olive oil
4 small shallots or ½ large onion, finely diced
3 large garlic cloves, 2 finely diced and 1 finely grated
400 g / 2 cups risotto rice
120 ml / ½ cup vegan white wine
approx. 2 cups / 500 ml veggie stock, from a stock cube or homemade vegan stock
2 tbsp white miso paste (optional)
salt and black pepper, to taste
35 g / ¼ cup cashews soaked in boiling water for 30 min (optional)
2-3 sprigs of fresh thyme, leaves only
1 tbsp balsamic vinegar (optional)
well minced fresh parsley, to garnish
METHOD
Clean your dry mushrooms of any grit under the tap. Place in a measuring jug or a small pot and cover in about 500 ml / 2 cups of boiling water. Cover and set aside to brew for 30 minutes or so.
Next, clean all your fresh mushrooms using a damp paper towel or a damp mushroom brush. Try to keep your mushrooms as dry as possible. Slice and set aside.
Heat up 2 tbsp of olive oil in a heavy bottomed pan or pot, one that you have a fitted lid for.
Add in chopped shallots (or onion) and fry on a low heat until translucent (about 5 minutes), stirring from time to time.
Add 2 garlic cloves to the shallots and fry, stirring frequently, until fragrant and softened (about 2 minutes).
Mix in rice and fry it off for a few seconds, stirring frequently.
Gently drain mushroom stock (infusion) away making sure you don't disturb a little grit that tends to settle at the bottom of the pot. Heat up your mushroom stock in a small pot. Save rehydrated porcini for later.
Next add wine. Allow the wine to cook off completely before adding the first small portion (60 ml / ¼ cup or so) of hot mushroom stock.
Keep on adding the stock, in small amounts, until fully absorbed by the rice before adding the next portion. Make sure to stir the rice often to activate the starch, which makes for a creamy risotto. Once you run out of mushroom stock, heat up a little vegetable stock to supplement.
If you like the idea of using miso, dissolve it in a bit of hot stock first and add it into the risotto while incorporating stock. Make sure you season your risotto as you go, tasting often.
While you make your risotto, you may want make a bit of porcini cream to fold into the risotto at the last minute to make it more indulgent. Blend soaked and drained cashews with about 20 g / 7 oz of soaked porcini and a splash of water in a blender until super smooth.
When the risotto is nearly done, it's time to pan-fry the fresh mushrooms – you may need to do them in batches as overcrowding the pan will produce soggier mushrooms. Heat up a large pan with about 2 tablespoons of olive oil, add sliced fresh mushrooms onto the hot oil and leave undisturbed for a minute or two so that they caramelise on one side. Stir the pan and again leave them to caramelise for a bit. Give them a stir from time to time until they are mostly caramelised and look cooked. Add a finely grated garlic clove, thyme leaves and a generous sprinkling of salt and pepper. Stir well, allowing the garlic to cook gently in the mushrooms.
Keep on adding the stock to the rice until the rice is almost al dente – i.e. has a small amount of bite to it when tasted. It will take about 15-20 minutes from the moment you first started adding liquid to the pan.
Taste a grain of rice to make sure it is almost ready. If it is, stir some porcini cream (if using) and a bit of balsamic vinegar if you like a touch of acidity to break through the creaminess. Switch the heat off, cover the pan / pot and allow the risotto to rest for 5 minutes.
Divide the risotto between bowls, top with pan-fried mushrooms and fresh parsley.
NOTES
*If you aren't blending these with cashews for a porcini cream, I suggest chopping them really small and stirring them into the risotto towards the end as they have a lot of flavour.