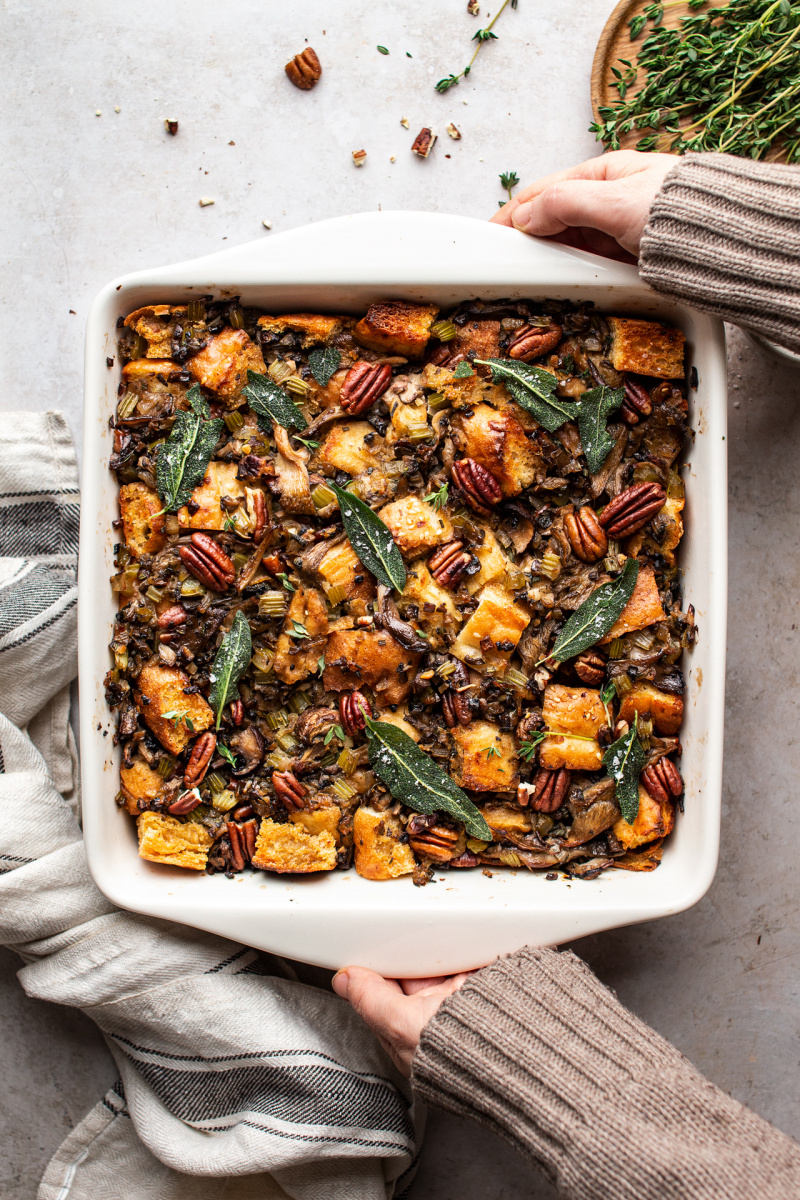 Despite what many people envisage when they hear what my job is (which I don't really like telling people about as it pretty much always makes the conversation a bit awkward), it is primarily anticipating big food occasions and eating reheated leftovers for days on end. Sometimes I cook so many festive dishes ahead of time that when the actual occasion comes around and everyone is tingling with anticipation, it feels a bit like groundhog day to me.
The US is celebrating Thanksgiving tomorrow and even though we don't celebrate Thanksgiving here, I do love the flavours and the challenge of creating Thanksgiving-appropriate dishes, plus so many of them double up as Xmas dishes anyway so it's killing two birds with one stone (so to speak) although I realise how incongruous that sounds. I am also truly overjoyed seeing how many people are moving away from traditional Thanksgiving dishes towards kinder (and healthier) plant-based ones and knowing that my blog is playing a part in this social change is something I really treasure. It motivates me to keep on pushing myself to make my recipes even better each year.
Today's recipe is a simple yet delicious Thanksgiving and Xmas staple – stuffing – except that we won't be stuffing it into a dead bird for a change, but we will be stuffing our faces with it as it's really delicious, delightfully meaty (without meat), full of umami and texture. As I've always been a massive mushroom fan, I've decided to rope a selection of mushrooms into my stuffing to deepen the flavours, introduce an array of textures and produce perfectly moist (without being soggy) stuffing. I love how the mushrooms work together with shallots, tons of garlic (I loooove garlic), white wine and a bunch of hardy winter herbs: sage, thyme and rosemary. All these flavours sing in unison and truly make this dish special. They transform it from a boring side dish into more of a main event. I hope you'll agree and will want to include this dish on your festive table every year from now on.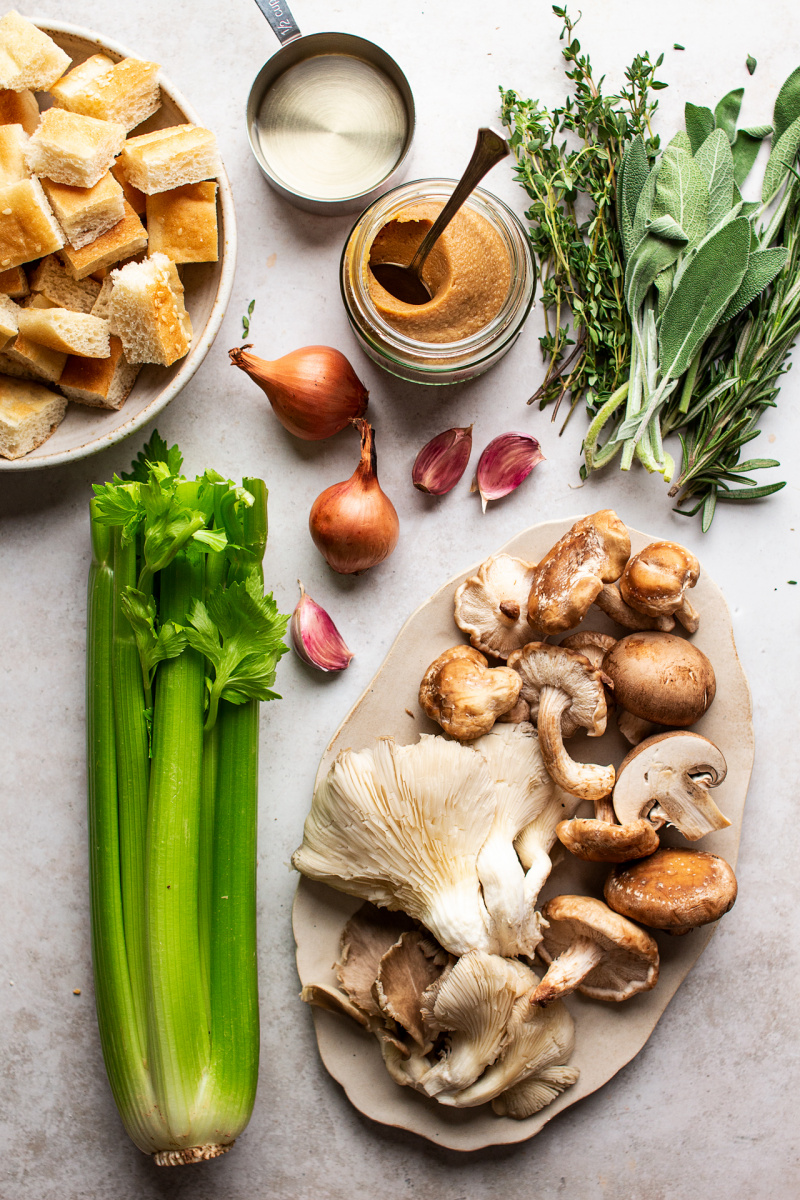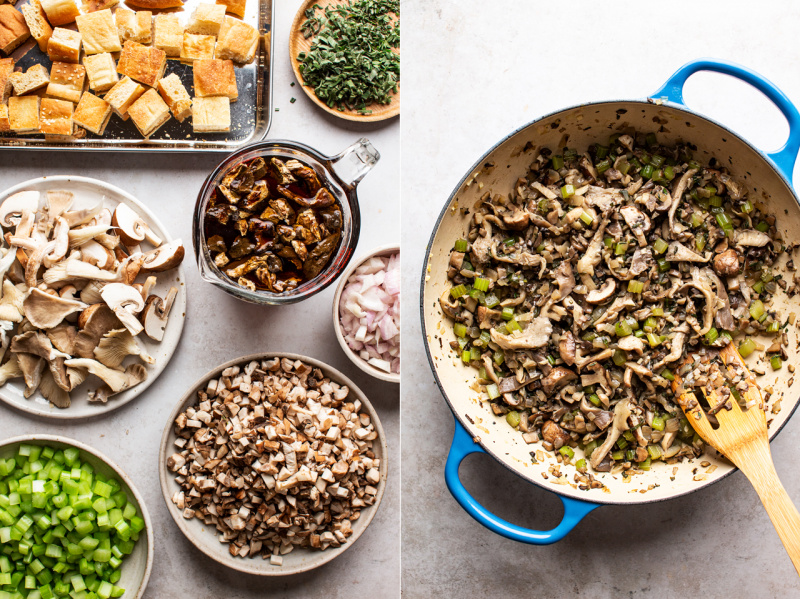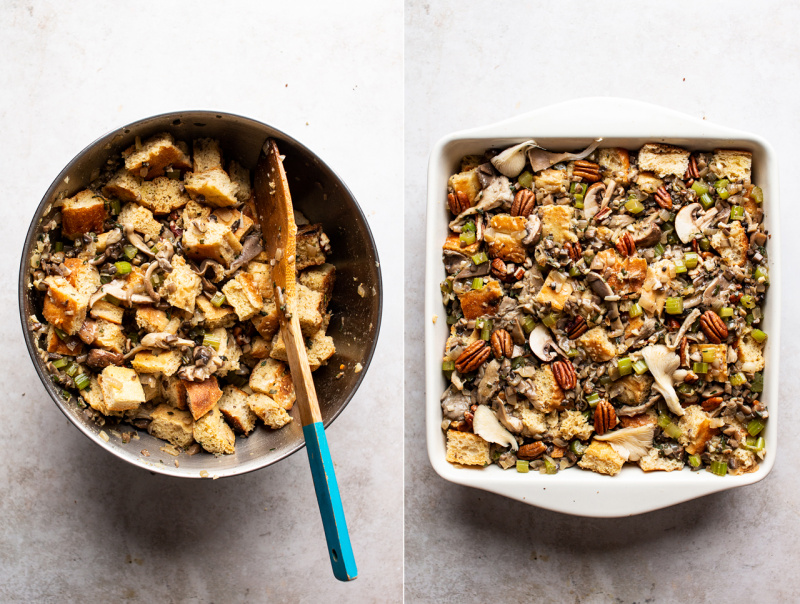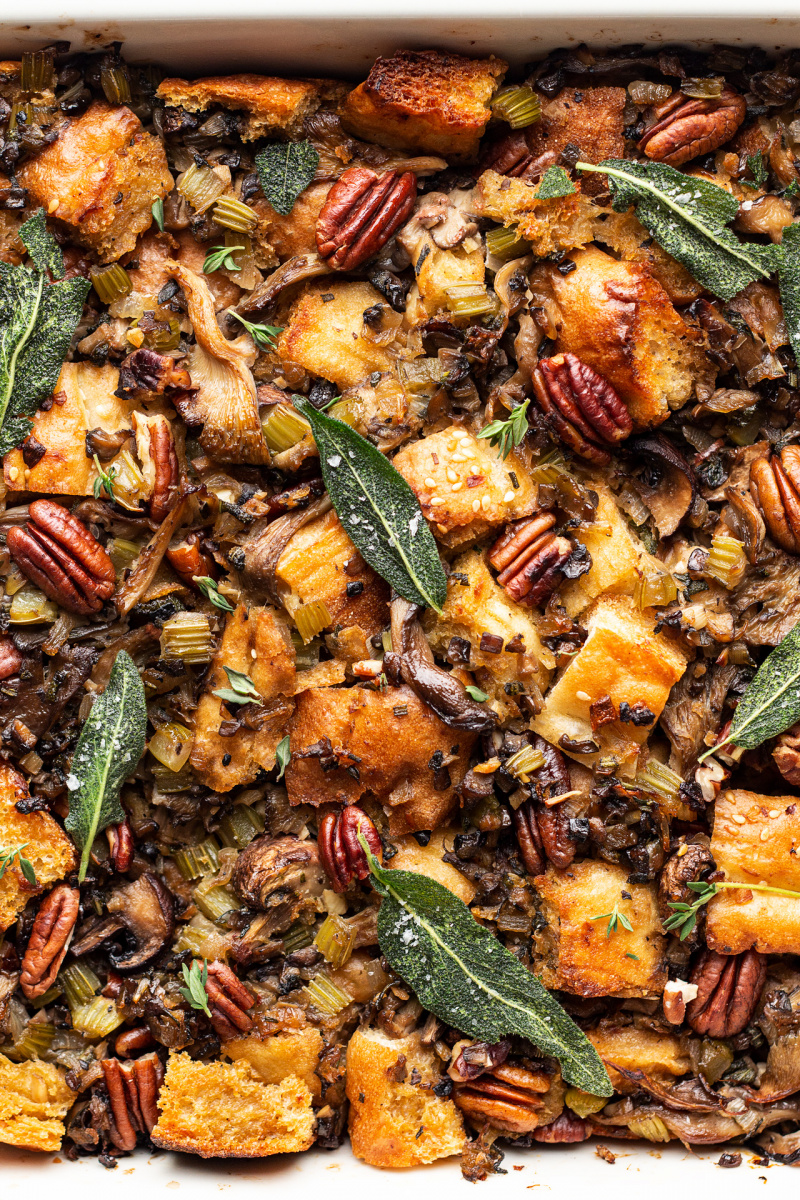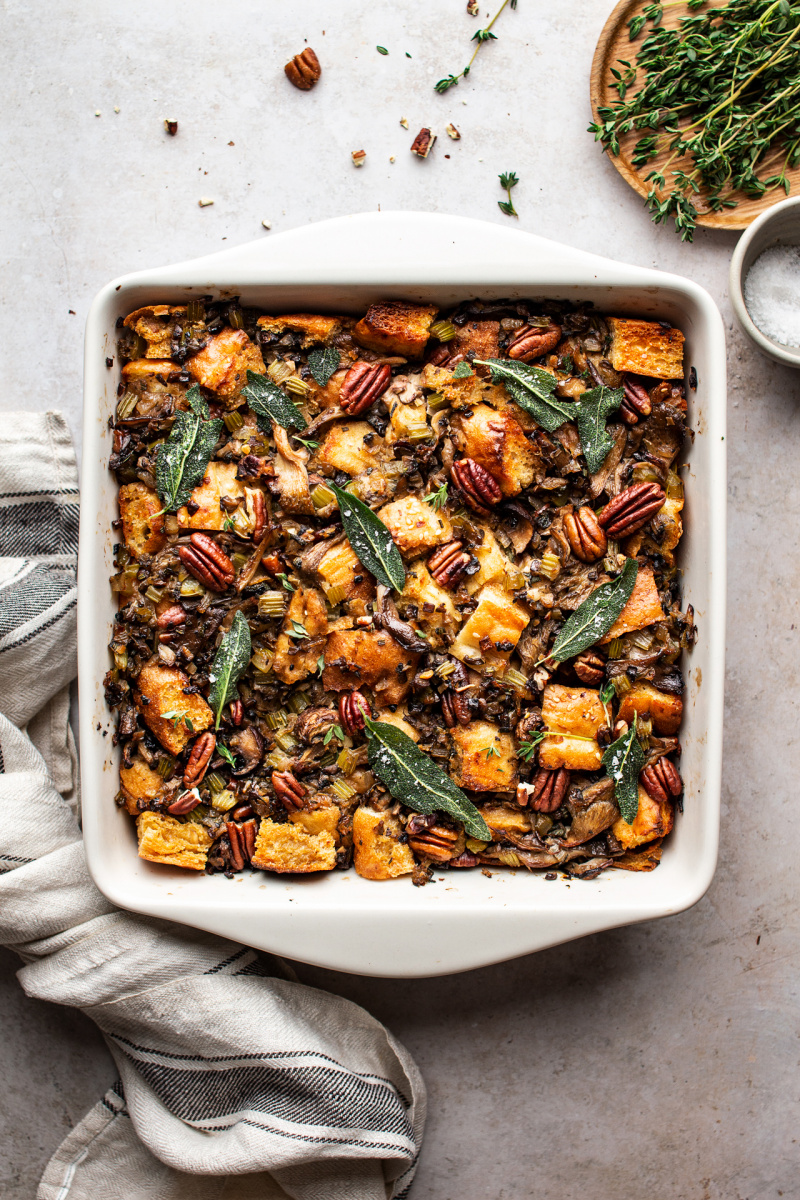 400 g / 14 oz quality crusty bread like sourdough, French baguette (I used Turkish pide)
10 g / 0.35 oz dry porcini mushrooms (optional)
1 vegan stock cube
500 g / 17½ oz mushrooms (I used 50% chestnut, 25% shiitake and 25% oyster mushrooms)
6 tbsp / 90 ml olive oil, plus more for greasing*
6 shallots, finely diced (1 heaped cup diced)
5 garlic cloves, 4 finely diced + 1 raw, minced
4 celery ribs, diced small
1 tbsp of each: chopped sage, rosemary and thyme
½-¾ tsp fine salt (if your stock is unsalted use ¾)
½ tsp pepper, to taste
120 ml / ½ cup vegan white wine (or more stock)
1 heaped tbsp white / shiro miso paste
2 tbsp nutritional yeast
75 g / ¾ cup pecans or walnuts, toasted
METHOD
Heat up the oven to 150° C / 300° F and grab two large baking trays.
Cut the bread into a uniform dice, I went for 1.35 cm / ½" cubes. Spread half of the cubes on each baking tray and bake for about 20 minutes (if using stale bread, it will take less time), giving them a good stir them halfway through. You want the bread to get dry and hard rather than toasted / browned – this will happen in the next phase. Remove from the oven and allow the bread to cool down.
While the bread is baking, pour 480 ml / 2 cups of water over cleaned porcini and set aside to infuse. If you don't have porcini, dissolve a stock cube in hot water instead or use homemade veggie stock.
Chop half your mushrooms finely. I chopped most of my chestnut and shittake mushrooms and torn oyster mushrooms into larger pieces to introduce some texture.
Heat up 45 ml / 3 tbsp of olive oil in a large frying pan.
Once the oil is warmed up, add finely diced shallots and garlic and fry on a low heat until almost translucent, stirring from time to time.
Next, add in celery, chopped mushrooms, herbs, salt and pepper. Sauté until the mushrooms are browned and all of the excess moisture has been cooked out.
Next, add in whole mushrooms and white wine and allow the wine to cook out by simmering the mixture gently.
In a large mixing bowl, combine porcini stock (chop up softened porcini and add them to the pan), a stock cube (unless you used one instead of porcini already), miso paste, nutritional yeast and the remaining 3 tbsp of olive oil. Whisk well to combine.
Increase the oven temperature to 175° C / 350° F and grab a baking dish (see Notes). Brush the dish with olive oil.
Stir bread croutons into the mixing bowl with porcini stock making sure there are no dry pieces of bread left. Then, add in the vegetable mixture from the pan and toasted nuts, leaving a few for decoration.
Transfer the stuffing to the greased baking dish. Make sure pieces of bread are evenly interspersed in between the mushroom mixture. Decorate the top with a few extra pecans. Cover with a piece of kitchen foil and bake for about 30 minutes.
After 30 minutes, take the foil off and continue baking for another 20-25 minutes until the top is nicely browned and crispy and the dish remains moist but not soggy.
Store leftovers in an air-tight container in the fridge.
NOTES
*You can use less oil if you prefer but it will make this dish less indulgent. For a lower-fat version, sub the oil with extra veggie stock.
I used a square dish 25 cm / 10″ but a rectangular 23 cm / 9″ x 30 cm / 12″ Pyrex works just as well
My dish is inspired by this recipe and that recipe.