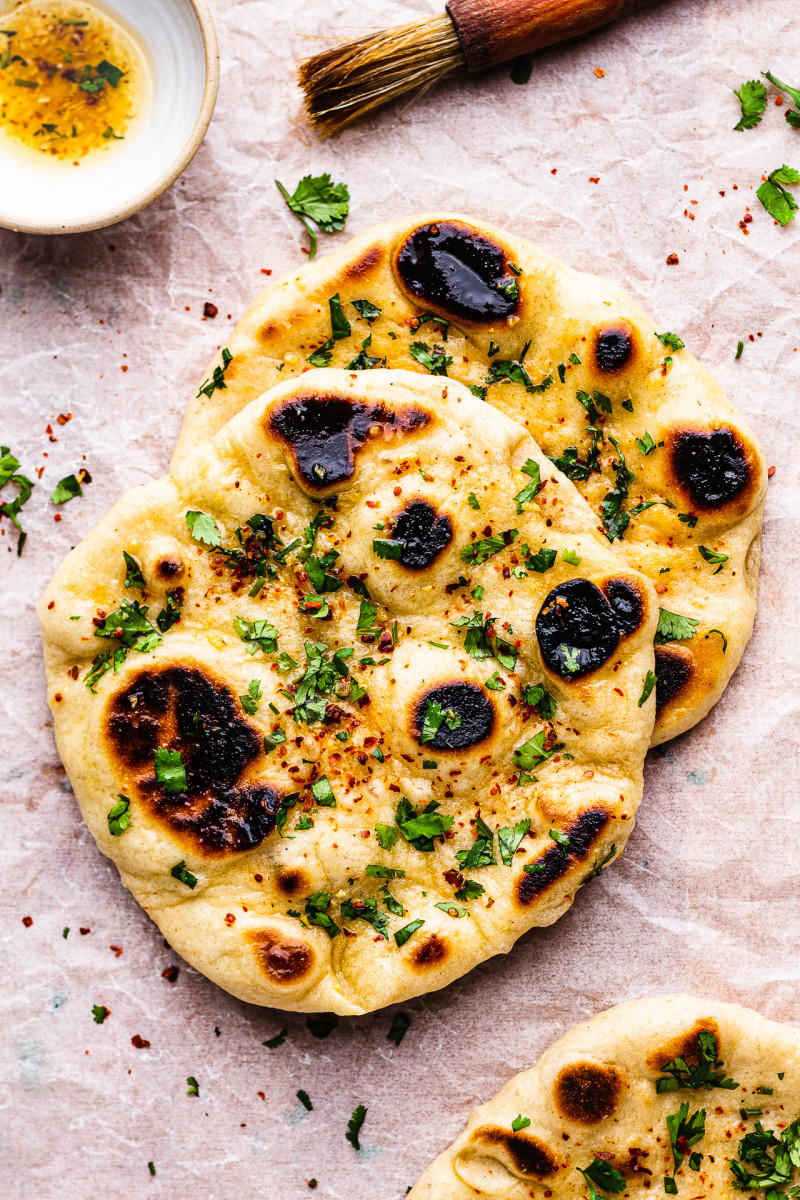 Happy Weekend everyone! Where did this week go? As my last recipe was a vegan saag paneer curry recipe featuring homemade naan and I remembered that one of my readers asked me to publish a vegan naan recipe ages ago and I failed to deliver one then, I rush to correct this oversight straight away. The trouble, you see, is that I have more recipe ideas than I know what to do with, my food obsessed brain hardly ever stops thinking about what to eat next…
While a traditional naan – made in a proper Tandoori oven – is hard to beat, it is not difficult to make a good enough vegan naan at home at all. I have tried buying vegan naan a few times and while it often looks the part, it hardly ever tastes it. I guess it's bread after all so it's one of these things that doesn't keep. The good news is that making a vegan naan from scratch is really easy and not that labour intensive either. All you need is a few common ingredients, a few minutes of kneading and 20 minutes of frying while your curry reheats.
MORE ABOUT THE INGREDIENTS
FLOUR: A regular all purpose (also known as plain) flour is used to make this vegan naan soft and pliable.
SUGAR: a small amount of sugar is used to give the yeast a helping hand and a touch of flavour but I don't think it's necessary – your naan will still work well without it.
YEAST: yeast is what gives naan its puffiness and softness. I used instant yeast, which does not require any activation – it is directly added to the dry ingredients. The other two types of yeast – active dry yeast (which looks very much like instant yeast, but needs a different treatment altogether) and fresh yeast (which comes in a block) require activation in liquid first. Follow instructions on the packet and use a portion of liquid allocated for the recipe.
SALT: salt is used to give naan flavour and the amount can be ajusted to taste of course! I feel that just under a teaspoon of it for this amount of flour is perfect and I also sprinkle my naan with some salt flakes after glazing – what can I say, I am a salt fiend!
OIL: oil is what gives naan its flexible texture. I use mild olive oil, but any neutral flavoured vegetable oil or even melted vegan butter will work just as well.
VEGAN YOGHURT: yoghurt is what gives naan dough its softness. Use any neutral vegan youghurt you enjoy or simply have in your fridge already. We only use a small amount of it here so its flavour doesn't come through very strongly. I used thick coconut yoghurt as that's the type I enjoy to eat with my granola yet coconut flavour is not detectable in the end product.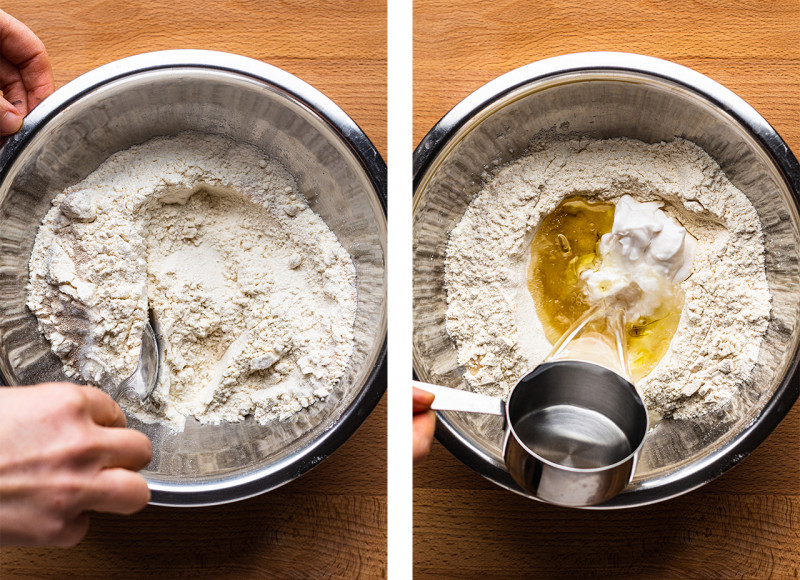 Mix all of the dry ingredients in a medium bowl – be sure to use the correct type of yeast if you don't want the hassle of activation. Instant yeast is the only type that can be added directly to the dry ingredients. The other two types – active dry yeast (which looks the same as instant yeast) and fresh yeast need to be activated in liquid first. Make a well in the centre and add all of the wet ingredients.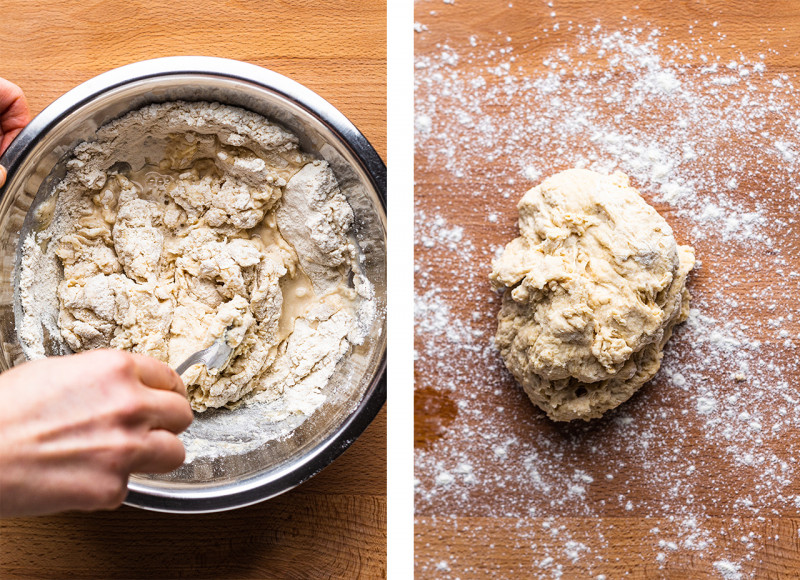 Use a spoon first and then your hands to mix all of the ingredients together. You want a soft and quite sticky dough – high hydration of naan dough means that the naan will come out soft and chewy, rather than dry and crispy.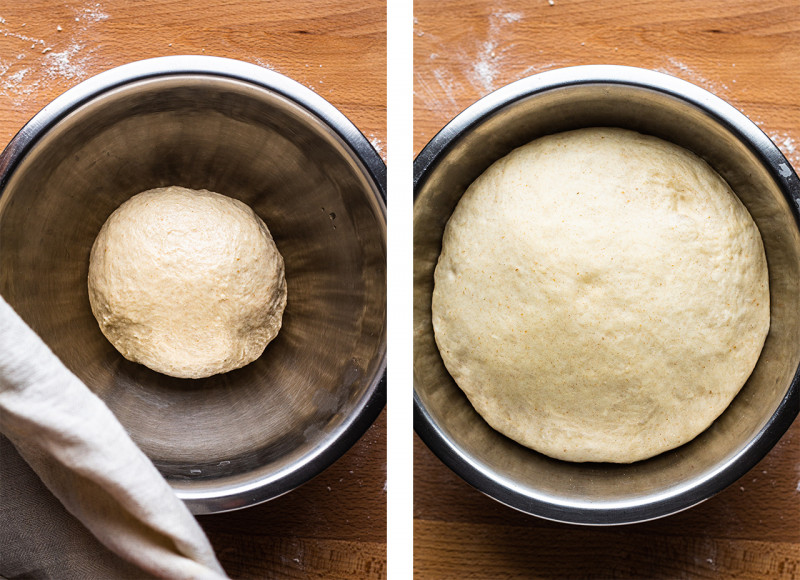 Knead the dough on a lightly floured surface for 5-10 minutes, use as little extra flour as possible. Once your dough is smooth, form it into a ball and place in a warm place to proof – double in size. Proofing usually takes between 1-2 hours but it depends on ambient temperature.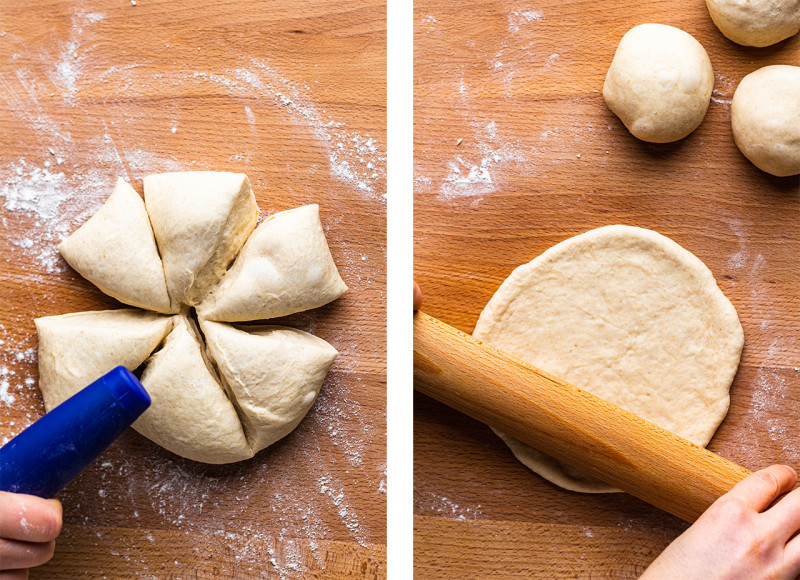 Once the dough has proofed, punch the air out of it with your hand and divide into 6 or 5 equal pieces. Shape each piece into a ball and then roll out into a naan shape on a lightly floured surface.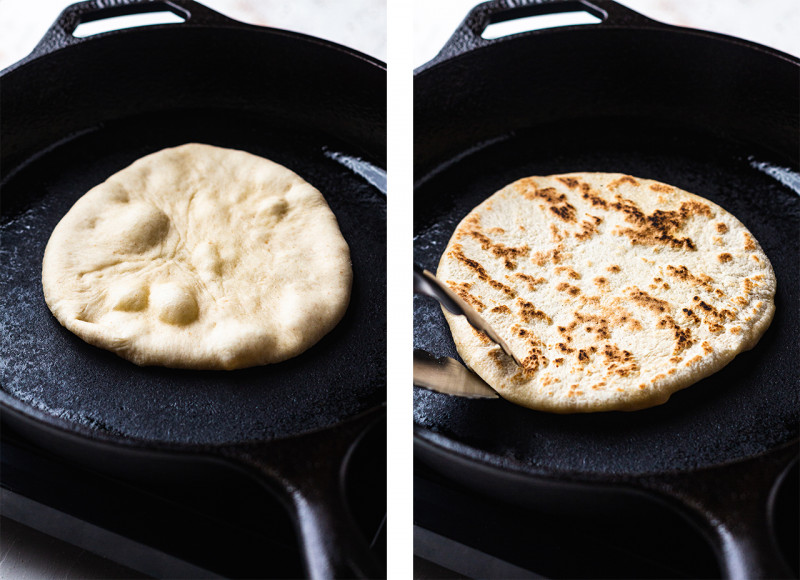 Cook your naan on a pre-heated skillet (cast iron is best) for about 1-2 minutes on each side. You want the first side lightly browned and once the naan becomes puffy, flip it and allow the air pockets to char gently (or a lot!). If you like a very chewy naan, cook it until the hotspost are only just light-medium brown.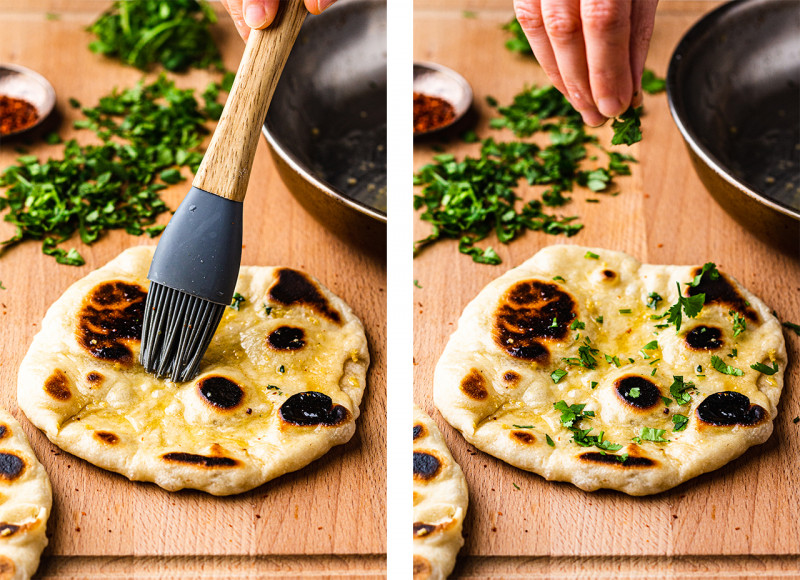 Brush warm naans with garlic-infused vegan butter or oil, sprinkle with salt, chopped coriander/cilantro and fine chilli flakes if you like.
Curries that you could make to accompany this vegan naan: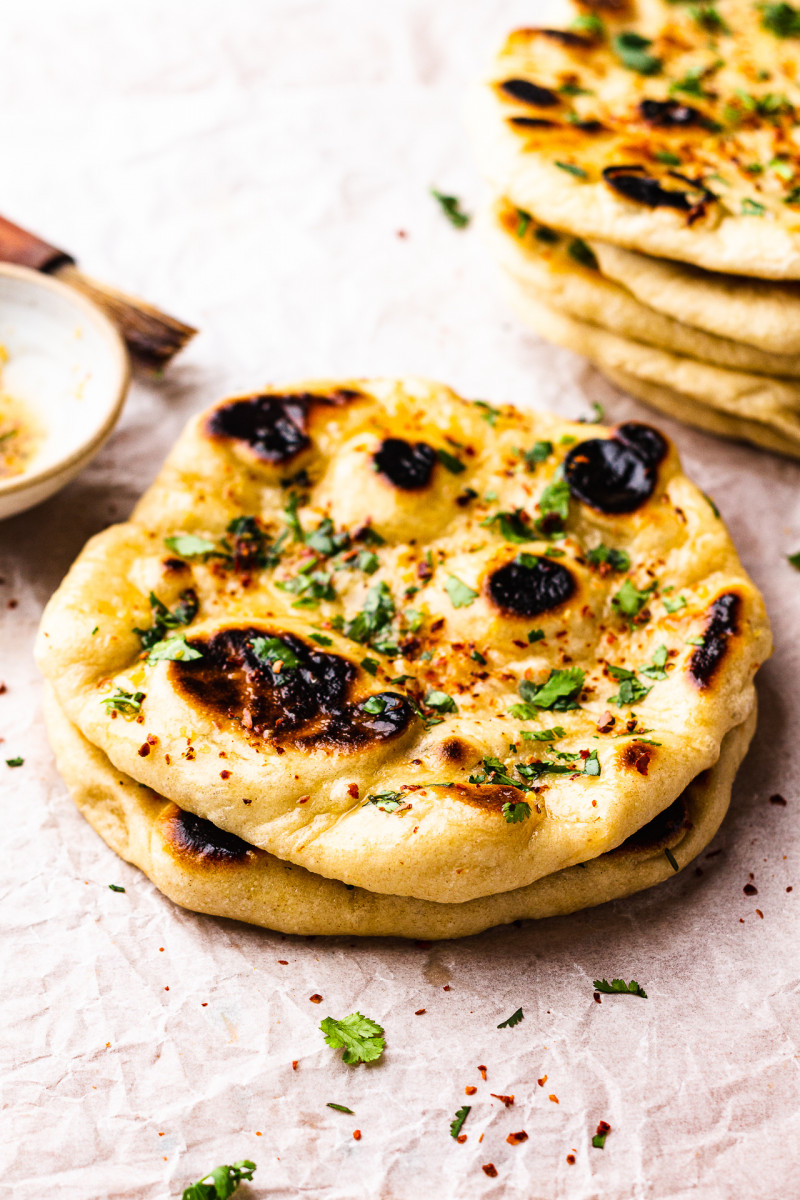 250 g / 2 cups plain flour, extra for dusting
3 g / 1 tsp instant yeast*
7 g / 1½ tsp caster (superfine) sugar
4 g / ¾ tsp fine salt
30 ml / 2 tbsp oil (I use mild olive oil)
60 g / ¼ cup plain vegan yoghurt
approx. 120 ml / ½ cup lukewarm water
TOPPING SUGGESTION
30 ml / 2 tbsp vegan butter or mild olive oil (I used 1 tbsp each)
2 garlic cloves, minced
salt, for sprinkling
corinader / cilantro (or parsley), finely chopped
fine chilli flakes (optional)
METHOD
Mix flour, instant yeast, salt and sugar in a medium bowl. If using active dry yeast or fresh yeast instead, it needs to be activated in the liquid (allocated for this recipe) first – please refer to package instructions.
Make a well in the centre, add oil, vegan youghurt and 120 ml (½ cup) of lukewarm water. Mix with a spoon first and then your hands, if the dough isn't coming together add another teaspoon or two of water – the dough should be soft and quite sticky.
Knead the dough with your hands on a lightly floured surface until it becomes smooth – about 5-10 minutes. If the dough is too hard to manage, use a touch of flour to dust it, but refrain from using a lot of flour – you want the dough to be tacky, high hydration of this dough makes for a softer/chewier naan.
Form kneaded dough into a ball, grease it with a little oil and place in a bowl covered with a kitchen towel. Leave it in a warm place (like switched off oven) until it doubles in size, it takes between 1-2 hours depending on the ambient temperature.
Punch the air out of the dough and shape into a disc. Divide into six or five equal portions and shape each portion into a ball. Use scales if you want them to be identical.
Roll portions of dough into thin 16-17 cm / 6-6.5 inch circles (or any shape) on a lightly floured surface. Make sure you have at least one ready before you heat up the pan and carry on rolling the rest out as you go.
Heat up an iron cast skillet on low-medium heat. If you don't have one, a heavy non-stick pan will work too.
Once the skillet is hot, shake excess flour off the naan and place it on the hot skillet. Make sure the heat is set to medium and leave it uninteruppted for about 1-2 minutes before checking on it.
Once the naan looks puffed up and blistered, check the underside using kitchen tongs. If the underside looks cooked (image on the right), flip it and continue cooking it until the reverse side develops charred spots (approx. 1-2 minutes depending on the type of heat and the pan you are using). If you want a really chewy naan, take it off the heat when the hotspots are only just light-medium brown.

Take off the pan and keep warm – stacked on top of each other and wrapped up in kitchen foil – while you cook the rest. You can store them overnight in the fridge and reheat (wrapped in a piece of kitchen foil) in a warm oven to soften.
TOPPING SUGGESTION
Melt vegan butter or warm up olive oil in a small pan on low-medium heat.
Reduce the heat to as low as possible and add minced garlic. Allow it to fry (stirring frequently) until cooked and fragrant, but you don't want it to brown – about 1-2 minutes on low heat.
Brush warm naan with garlic butter/oil, sprinkle with salt, fresh herbs and chilli flakes (if using)
NOTES
*YEAST: make sure to use the correct type of yeast and to activate it properly (if needed). I use instant yeast, which requires no prior activation and is added directly into the flour. If using active dry yeast, use 4 g / 1¼ tsp or 8 g / 0.25 oz if using fresh. Both of these types of yeast require activation in liquid (use portion of the liquid allocated to the recipe) BEFORE adding to the dry ingredients. Read instructions on the packet for more detail.
NUTRITIONAL INFO
*per 1 out of 6 (without toppings)