I've always loved naan bread. I remember we used to go to our local Indian Restaurant (in Australia) and my favourite part would be the hot naan straight from the oven.
Unfortunately, I never tried to make it myself because I always thought that it would require a proper tandoori oven. But after teaching myself to make decent enough pizza in a normal oven, I thought "Why should naan bread be any different?"
In fact, really, you can quite easily make proper naan bread even if you are vegan, and even if you don't have a tandoori oven… The only catch: You have to cook it about 3 minutes longer. I think I can live with that!
In this recipe I have replaced milk with almond milk and natural yoghurt with coconut cream. The naans are coated with garlic-infused olive oil, parsley and chilli. A traditional Indian restaurant would use something like ghee, which is clarified butter.
The advantage of our approach is that not only is it 100% vegan, but a LOT healthier. In fact, ghee is so fattening that you put on a pound of weight just by looking at it. Fact!
This vegan naan bread recipe is best enjoyed straight of the oven with a nice curry (coming soon), some good friends and some cold lager.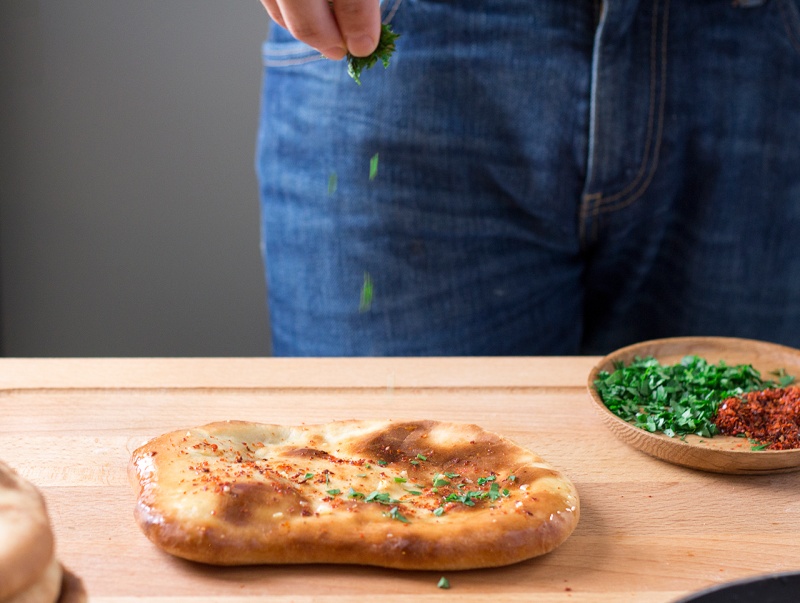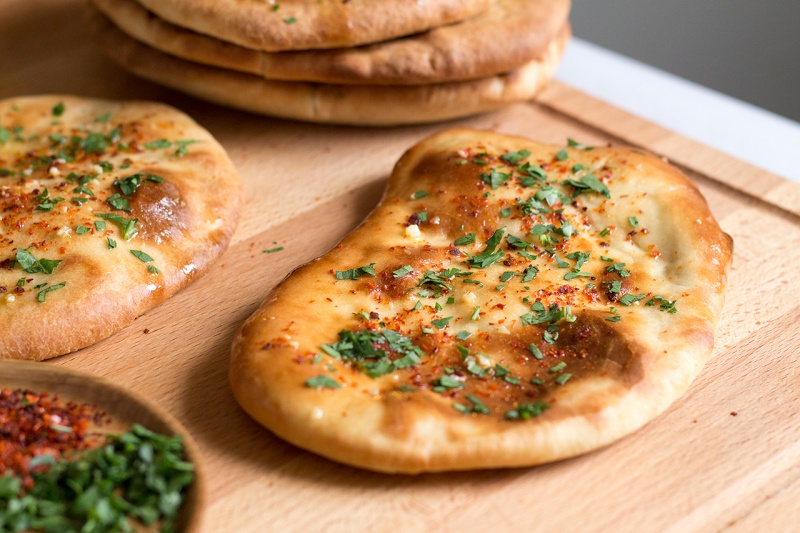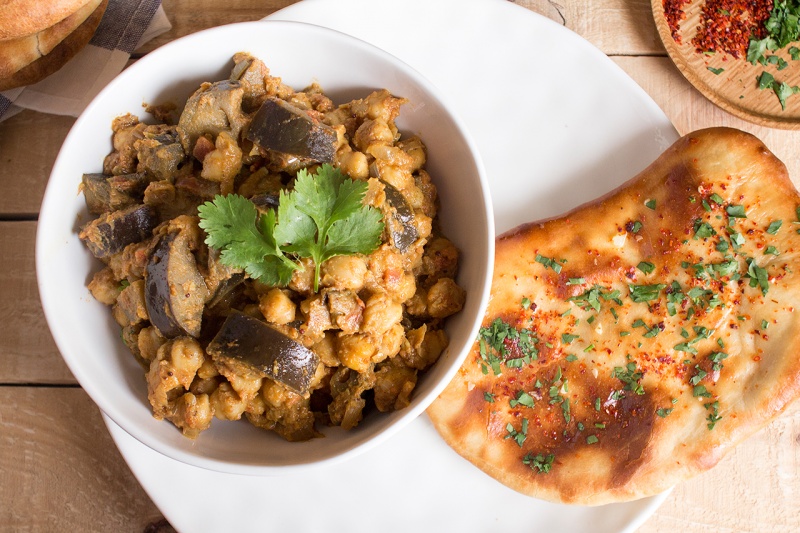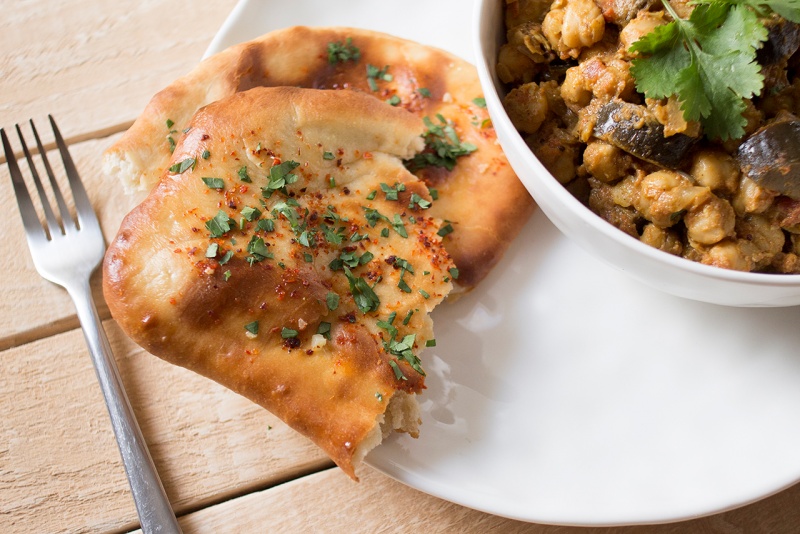 BREAD
450 g of strong flour
7 g sachet fast-action dried yeast
150 ml of almond milk
150 ml of coconut cream*
2 tsp brown sugar
½ tsp salt
1 tbsp olive oil + extra for bread glazing and pan glazing
TOPPING
3 tbsp olive oil
2 cloves garlic, finely diced
handful of parsley, finely chopped
2 tsp of mild chilli flakes
sprinkle of sea salt
METHOD
BREAD
Mix the flour, yeast, sugar and salt in a large mixing bowl.
Pour in the lukewarm almond milk, coconut cream (at room temperature) and olive oil. Stir everything together with a large wooden spoon.
When the mixture has mostly stuck together turn the mixture out on to a work surface or bread board.
Knead the mixture by holding one end of the dough in one hand and stretching it out with the other hand. Reform the dough, turn it 90 degrees and start again. Repeat this for 10 minutes (see photo below).

When the dough is shiny and smooth, put it in a large mixing bowl, coat it in a thin layer of olive oil and cover the bowl with a tea towel.
Leave this in a warm place (but not too warm – ie not next to an open fire!) for between one and two hours (until it has doubled in size).
Place a greased baking tray in the oven and heat to 250° C / 480° F.
Empty the dough out on to a work surface and push the air out with your fingertips.
Cut the dough into 6 even pieces and roll each piece into a rough ball. Roll out each ball with a rolling pin until it is about half a centimetre thick (see photo below).

When the oven is hot, take the baking tray out and place 2 rolled-out naans (or as many that will fit) on the baking tray and immediately put in the oven.
Cook for 6-7 minutes or until the naans are golden brown.
TOPPING
Warm up olive oil in a pan.
Put diced garlic into the warm oil and fry it off very gently (on a low heat & stirring frequently) until the smell of raw garlic is gone.
Apply garlic infused oil to baked naan breads with a brush. Sprinkle them with a bit of parsley, chilli and salt. Serve warm.
NOTES
* You can either buy 100% coconut cream (not milk) or you can refrigerate can of full fat (that's important) coconut milk for at least 24 hours. Carefully take it out of the fridge – be sure not to move or shake the can. Open it and your should see a layer of coconut cream rise to the top – carefully scoop it out with a spoon and set aside to bring to room temperature before using in the recipe as fridge cold cream will kill the yeast. Keep the watery part too, you can use it in smoothies or curries.