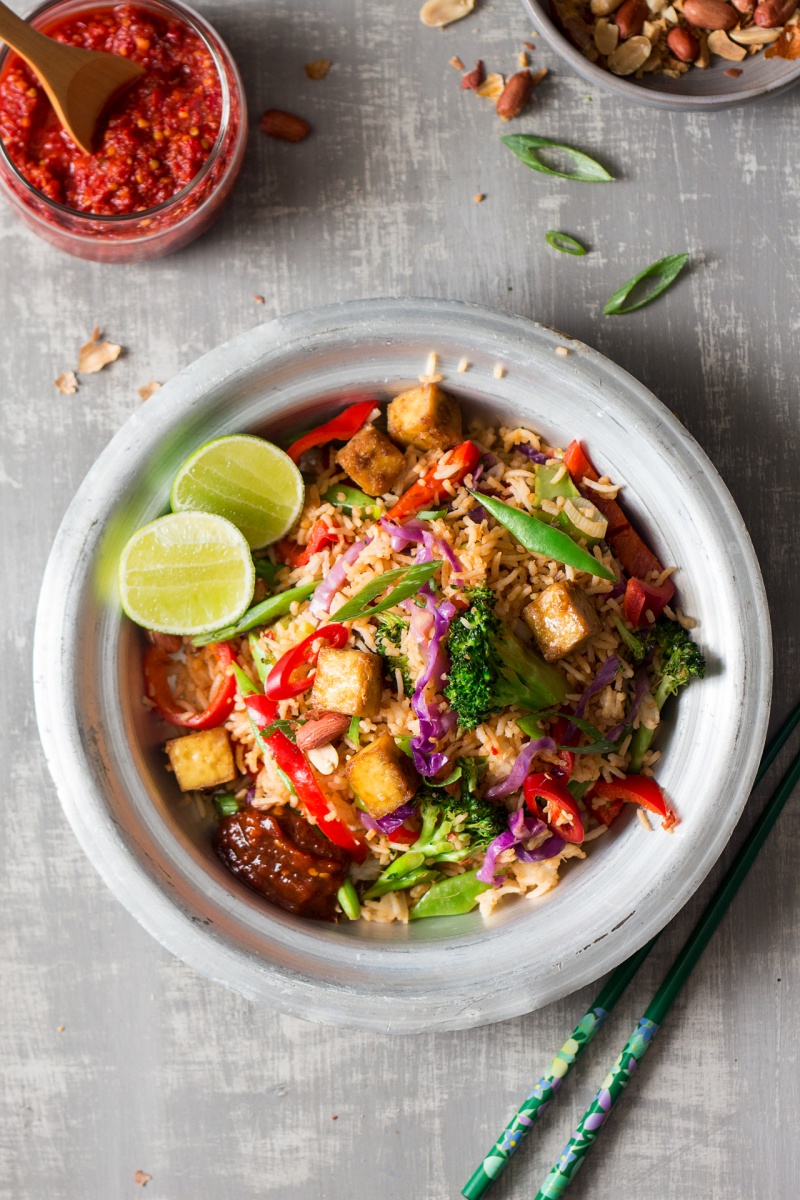 Nasi goreng simply means 'fried rice' and despite its unassuming name, it is a cracking dish – filling and immensely satisfying! I have a particularly soft spot for it as it reminds me of one of my favourite holidays – in Bali – where we spent an entire month living off this stuff.
This was years before we went vegan, which was somewhat lucky as despite nasi goreng being fairly easily veganised, traditional versions almost always feature fried eggs and the ubiquitous fish sauce.
This version has neither of these ingredients but just as much of a depth of flavour. To intensify the flavour of the sauce I followed a great tip from Jackie Kearney's book Vegan Street Food and roasted all the aromatics before blending them into a rich, sticky and spicy sauce. I know, I know, it's a bit of a pain but it's totally worth it, trust me!
You can always double, triple or even quadruple (yup, that's my thing 🙂 ) the sauce ingredients and make yourself a big vat of it that will set you up for an entire week of vegan nasi goreng. You know that saying 'measure twice, cut once?'…Well, my current thing is 'make once, eat for the rest of the week' 😉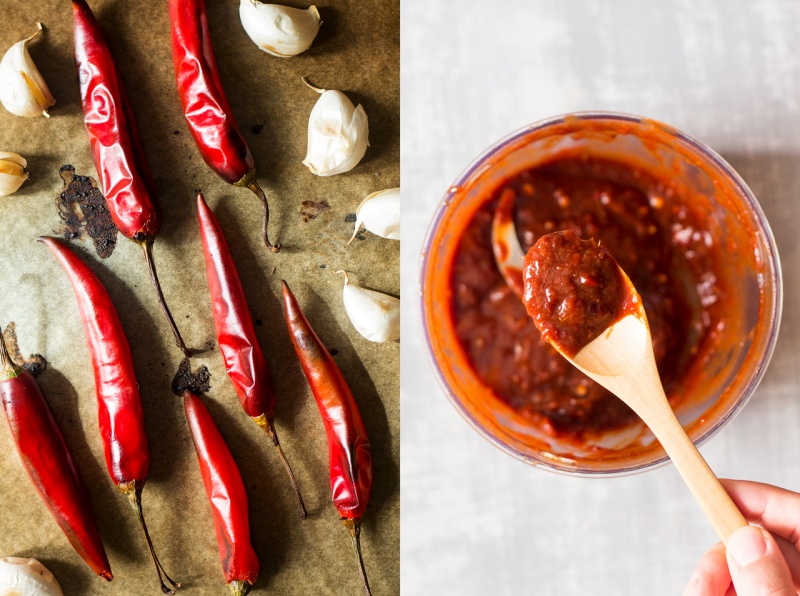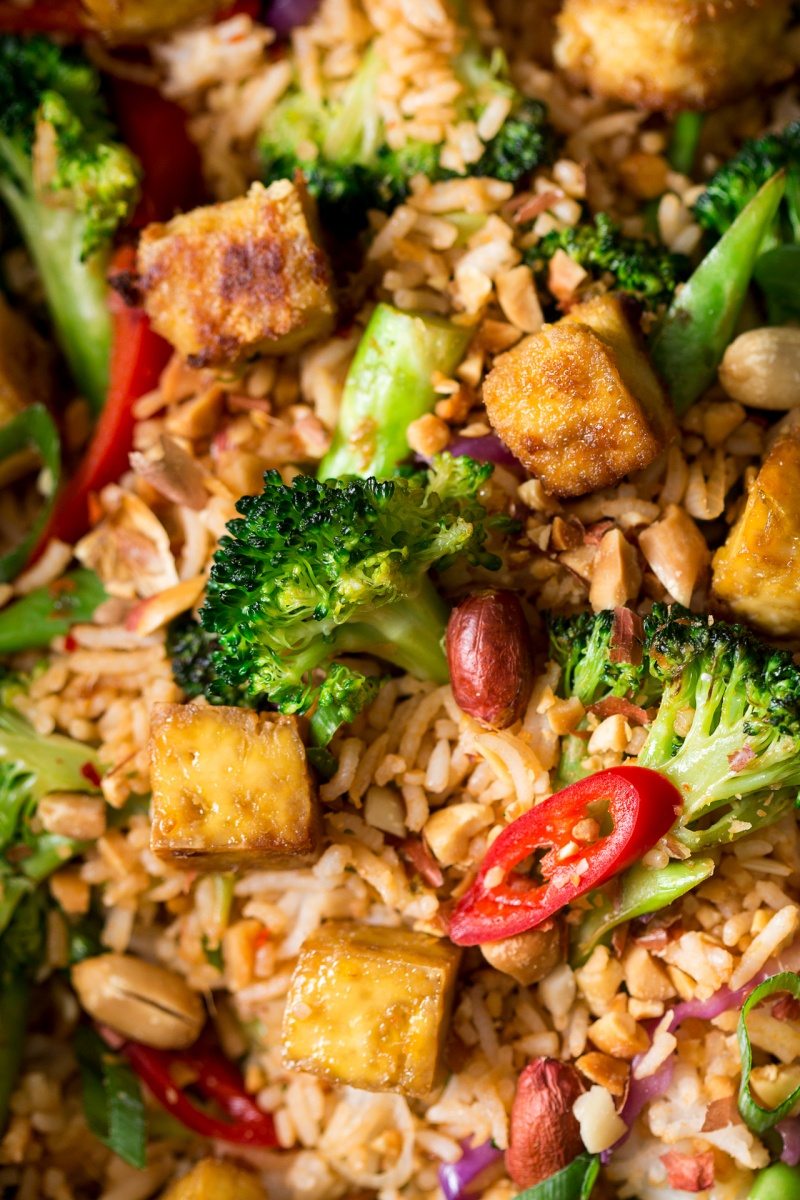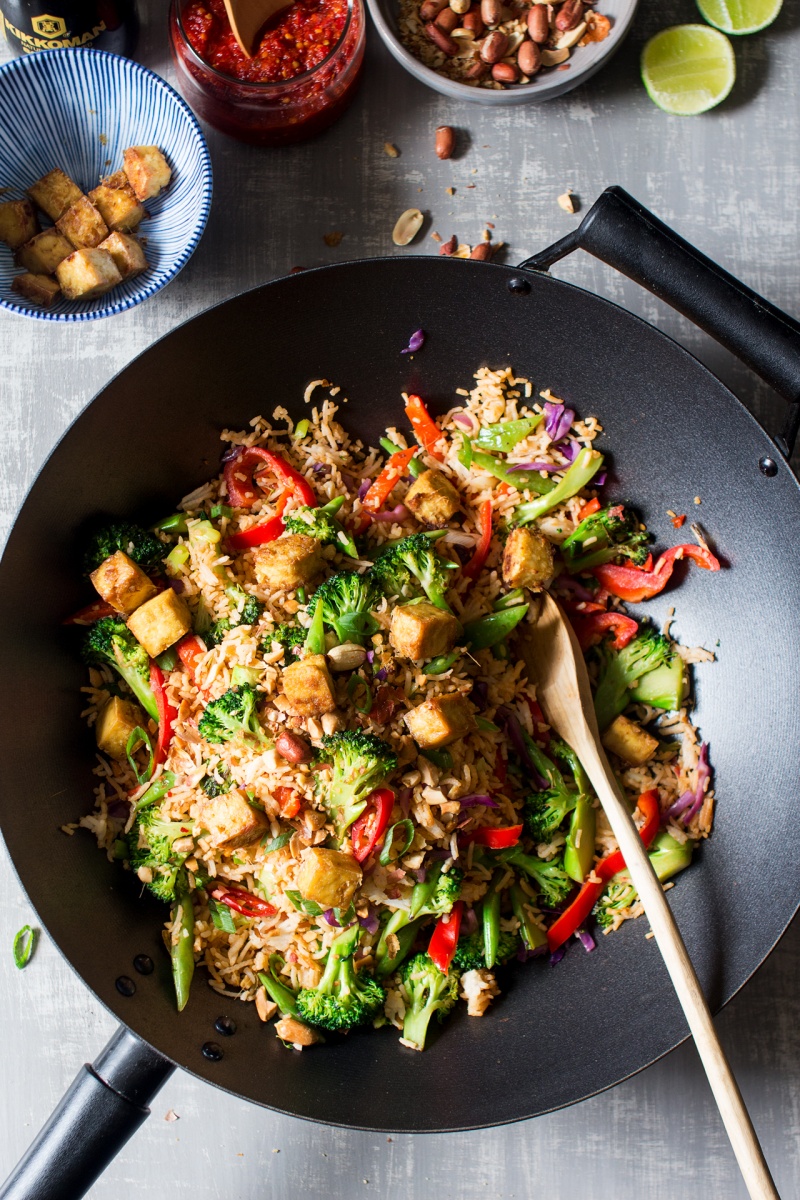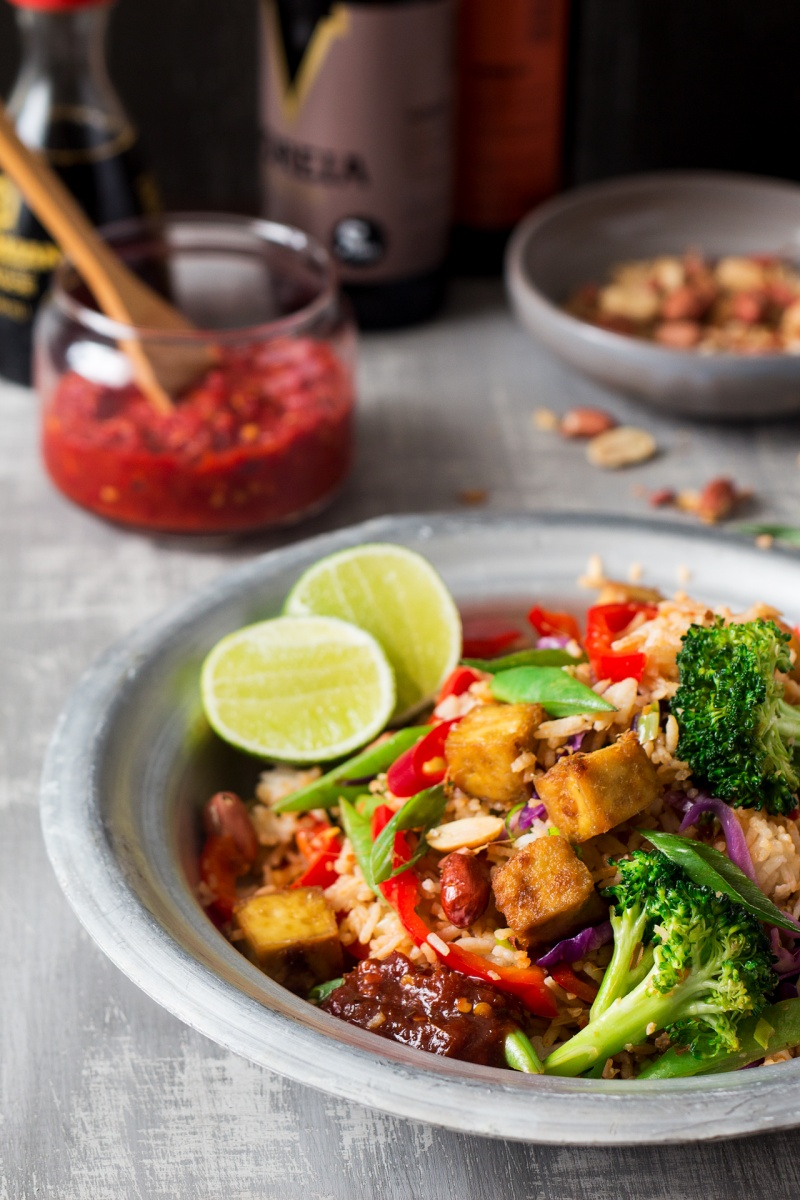 SAUCE
4 garlic cloves, unpeeled
2-3 red chillies
5 cm / 2″ fresh ginger, unpeeled
3 tbsp tamari (if GF) or soy sauce
2 tbsp coconut sugar (or 3-4 tsp dark brown sugar)
2 tsp lime juice
2 tsp sambal oelek (chilli paste), adjust to taste
TOFU
400 g firm tofu (SEE NOTES)*
2 tbsp finely grated (on a microplane) ginger
1 tsp toasted sesame oil
2 tsp neutral tasting oil
salt
REMAINING INGREDIENTS
1½ cups basmati rice**, cooked a day before (without salt)
2 tbsp peanut oil (or other high smoke point oil)
3 spring onions, sliced
a large handful of flat green beans, cut diagonally
1 red pepper, finely sliced
a wedge of red cabbage, finely sliced
½ large broccoli head, divided into florets
¼ cup roasted peanuts, chopped
1 lime cut into quarters, (optional), to serve
METHOD
SAUCE
Set the oven to 220° C / 425° F. Place chillies on a lined baking sheet and bake for 5 minutes. Add unpeeled garlic cloves and a piece of ginger. Bake for a further 12 minutes, until garlic cloves turn sticky, chillies start to blacken and ginger turns soft. You may need to remove the chillies and garlic from the tray and leave the ginger in for a further 5-10 mins longer to soften it.
Decrease the oven temperature to 180° C / 350° F.
Cut chilli stalks off, peel garlic cloves, peel and slice ginger. Put roasted aromatics and remaining sauce ingredients (apart from sambal oelek) in a small blender or a chopper and blitz them into a paste. Adjust spiciness to your liking by adding sambal oelek and blending until smooth.
TOFU
Cut tofu into cubes. Mix grated ginger with oils and a generous amount of salt. Rub the marinade into the tofu cubes.
Place marinated tofu on a lined baking sheet and bake until golden and crispy, about 30 min.
ASSEMBLY
Heat up a wok or a large frying pan. Pour 1 tbsp of oil into the wok and heat it up until it is almost smoking. Add sliced spring onions reserving most of the green part for serving. Stir-fry until spring onions soften. Transfer to a separate plate, leaving as much oil in the wok as you can.
Heat up another tablespoon of oil and stir-fry your veggies in the following order (leaving about a minute between each new addition): broccoli florets, beans, red pepper and cabbage. Transfer the veggies onto a plate and set aside.
Decrease the heat to low or, if you have an electric hob, turn the heat off completely but leave the wok on a hot hob. Pour the sauce you prepared earlier into the wok/pan with a splash of water. Cook it on a low-medium heat for about 1-2 minutes, stirring from time to time.
Break cold rice with your hands and add it to the sauce. Mix it in well. Return spring onions and fried veggies back to the pan. Stir-fry on a low-medium heat until everything is coated in the sauce and piping hot.
Divide between plates, top with roasted peanuts, baked tofu and raw spring onion slices. Serve with lime wedges and sambal oelek on the side.
NOTES
*The original recipe said to freeze and defrost tofu and then squeeze the excess water out before marinating and baking. This will produce crumbly tofu with a crusty exterior. For a more chewy texture, press the tofu well, marinate and bake OR marinate it, dust with cornflour / cornstrach and fry it using
this recipe
. To press the tofu without a
tofu press
, wrap your tofu in a few layers of paper towel, place a small chopping board on top and weigh it down with something heavy (like a hefty book). Once the paper towel becomes wet, change it for a new one. Repeat a few times until the paper towel stays almost dry. Pressed tofu is tastier as it absorbs flavour better.
** My foolproof way to cook basmati rice is to rinse it well, place it in a pot for which you have a see-through lid and cover with 2¼ cups of water (I use 1:1.25 rice to water ratio for basmati). Cover with a lid and bring to a gentle boil. Once the water boils, decrease the heat to low (I use setting 2 out of 6) and let the rice absorb all the water – do not lift the lid. Once the water gets absorbed (to check, tilt the pot slightly and see if any water seeps out), turn off the heat and let the rice finish cooking in its own steam for another 5 minutes.
This recipe has been adapted from the Nasi Goreng recipe from this fabulous vegan cookbook.