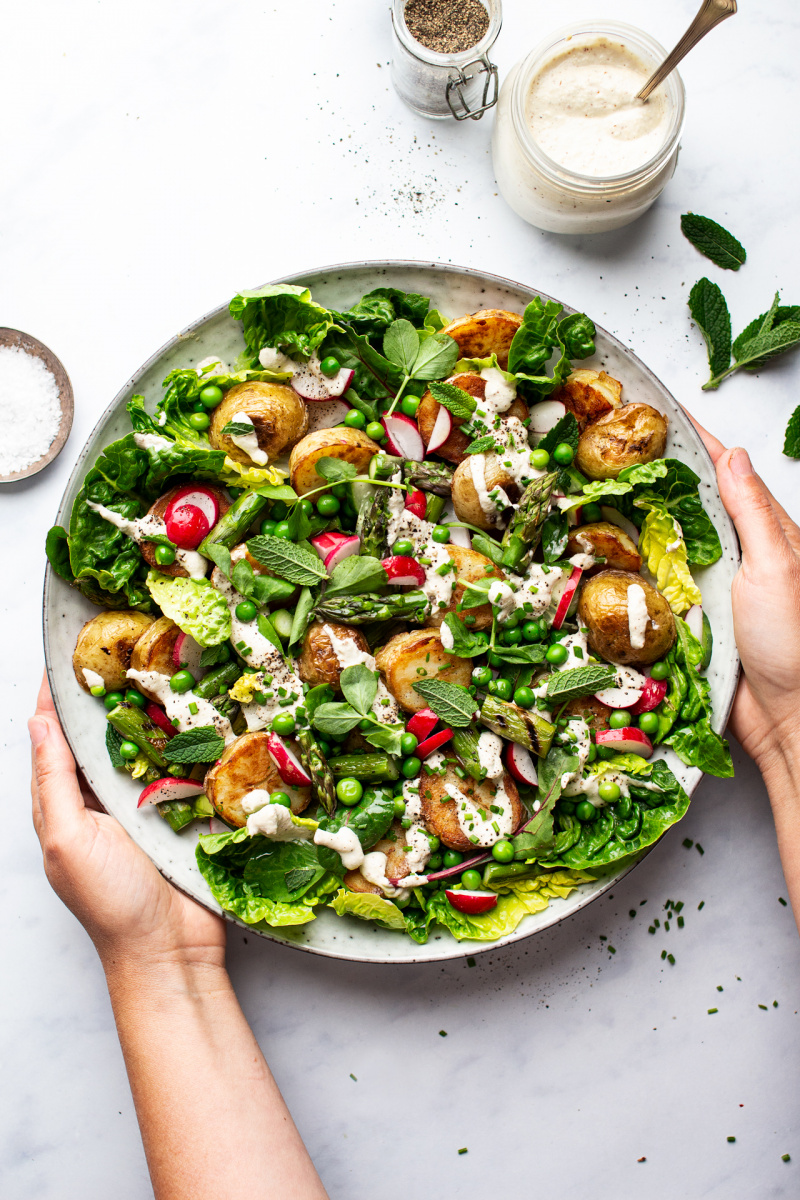 Happy hump day! Hope you are having a good week? After a tiring weekend of cutting and fitting skirting boards (which we still need 2-3 more weekends to finish), we finally welcomed our long awaited sofa on Monday morning. We've been beyond ecstatic about something soft and comfortable to sit on ever since. When we told the delivery men that we've spent the last 15 months watching films on a laptop on two deckchairs in the middle of our spare bedroom they thought we were exaggerating for effect. We were not!
Despite having some doubts about whether we've purchased the right sofa – we are really happy with it, it is a perfect size, really comfortable to sit on (it's a chaise lounge style sofa or a lounger as some people call it) and a subtle nod to the Mid-century aesthetic we both love. A TV is arriving in a week and currently I am obsessing about finding two similar yet different sideboards for our fireplace alcoves as we got rid of the tired looking inbuilt cupboards and we won't be putting new ones in, we've decided.
We want something a little less conventional and predictable, plus one of the alcoves has an unsightly damp patch that would benefit from the air flow that you get with a free standing unit. The trouble is that in a typical Victorian style house the two alcoves are different sizes – arg…! After many hours online, I did find two Mid-century sideboards that we both like and now the question is whether to go for one to put the TV on and leave the other alcove free for a comfy armchair and a floor lamp, plus floating shelves up high or whether to have a sideboard in each alcove plus shelves up high. This is what I am pondering today. I do love interior design so I am enjoying myself looking for solutions. Our ambition is to have the room furnished and decorated entirely, down to the smallest detail, ahead of Xmas. I think it's manageable even in the face of my propensity to be a lousy decision maker…
Recipe-wise, I made a delicious and very BBQ-appropriate potato salad for the blog today in the hope that I will be able to coax the sun out a little for the weekend. Potato salad is such a BBQ classic and I've already made a few for the blog in the past few years (this one with wild garlic pesto and this one, which was inspired by a BLT sandwich). This new version is Duncan's favourite. It features a deliciously creamy yet nut-free dressing that really steals the show. It's mustardy, lemony and has a hit of sweetness. Goes perfectly well with new potatoes, boiled or pan-fried (I am a sucker for the latter so I pan-fried mine) and a whole host of late spring, early summer veggies: cucumber, radish, Gem lettuce, garden peas and my spring favourite: asparagus. If that's too many ingredients for you – I like to pull out all the stops when I make a salad – feel free to skip some of them, it will still be delicious. Enjoy.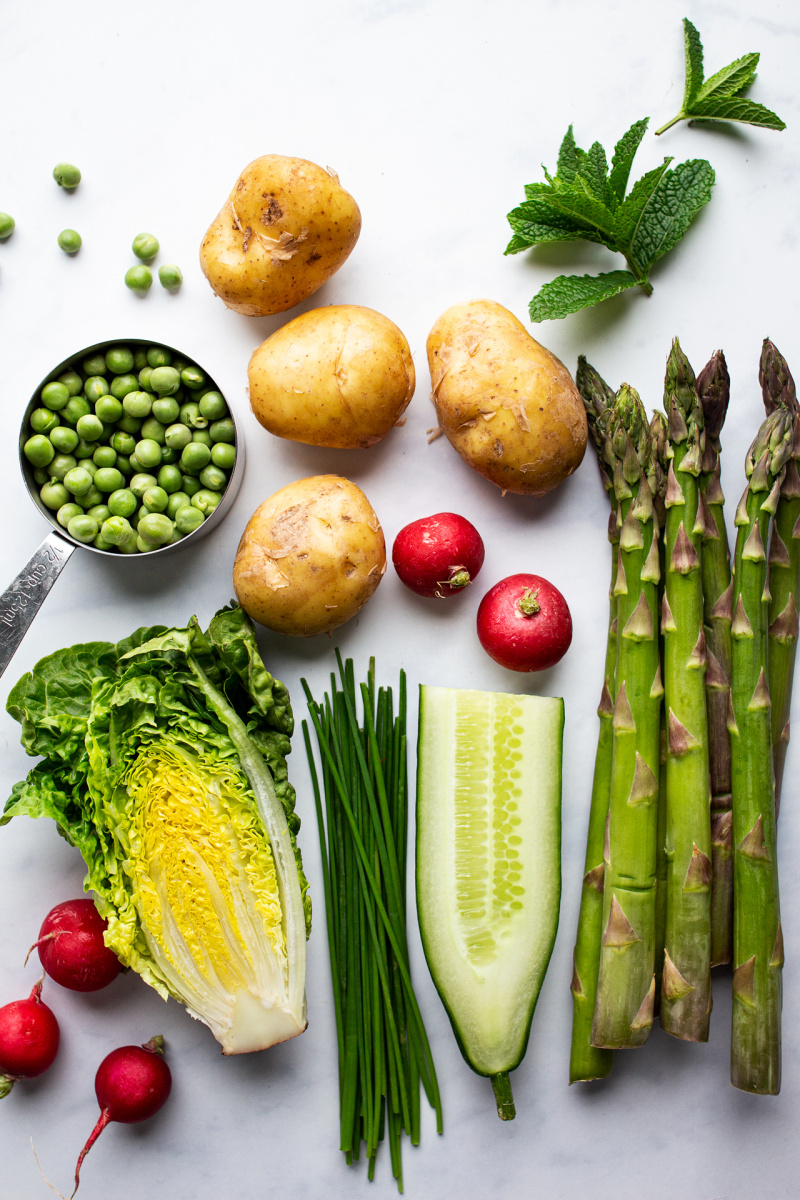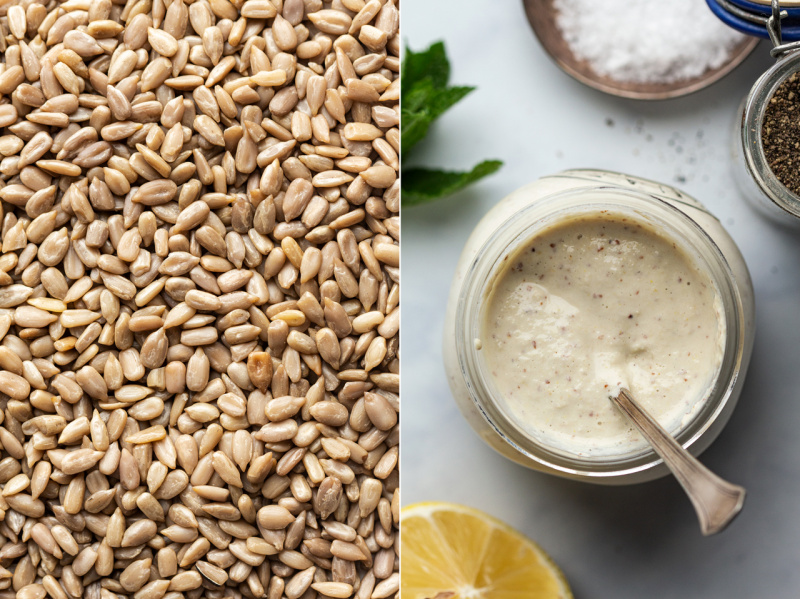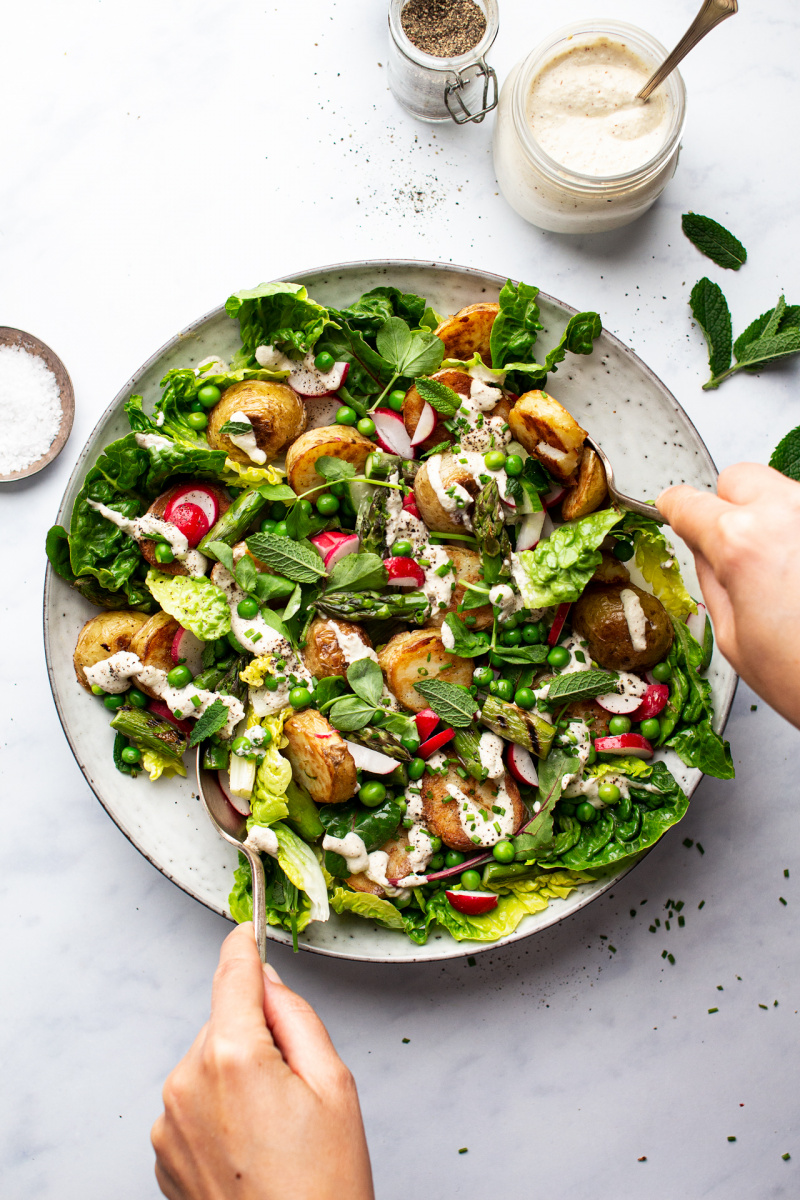 SALAD
500 g / 1 lb new potatoes, boiled (I used Maris Piper)
10 asparagus spears + 1 tsp olive oil
1 Gem lettuce
½ large cucumber, sliced thinly
bunch of radishes, chopped into thick matchsticks
60 g / ½ cup garden peas, boiled
2 tbsp capers, chopped finely or a few gherkins, sliced small
fresh chives, chopped finely
pea shoots, fresh mint leaves or dill, to garnish (optional)
DRESSING
150 g / 1 cup raw sunflower seeds, soaked in boiling water for 30 minutes
approx. 240 ml / 1 cup soy milk (or other neutral tasting milk)
1 garlic clove
1½ tbsp nutritional yeast
2 tsp white / shiro miso paste
juice of ½-1 lemon, adjust to taste (I like it quite tangy)
1 tbsp wholegrain mustard*, more to taste
1-2 tsp maple syrup
approx. ¾ tsp coarse sea salt, less if fine
1/8 tsp black pepper
METHOD
SALAD
OPTIONAL STEP: You may want to pan-fry cold (that's important) potatoes in a little bit of oil. In that case, slice them into thick coins and fry in 1-2 tbsp of oil (I use mild olive oil) until golden on both sides. Allow them to cool down before making the salad.
Heat up a griddle on a low-medium heat (you can also do them on a BBQ). Snap wooden ends off (and discard) the asparagus spears, place asparagus on a large, flat plate and drizzle with 1 tsp of olive oil. Roll the spears in the oil to coat. If you would rather not use any oil, steam or blanch asparagus instead.
Once the griddle pan is ready, place oiled asparagus spears on it (make sure they do not overlap). Allow them to char for about 3-4 minutes on one side, then gently roll to the other side. They should be cooked but still retain a bit of a pleasant crunch.
Transfer charred asparagus to a chopping board, season with sea salt and chop into bite-sized pieces. Set aside.
Combine torn salad leaves, potato slices (pan-fried or just boiled), asparagus, cucumber, radishes, boiled peas, chopped capers (or gherkins) and chives in a large serving bowl. Drizzle with the sunflower dressing and sprinkle with fresh herbs (if using).
DRESSING
Place drained sunflower seeds in a blender with about 180 ml / ¾ cup of soy milk initially. Blend until very smooth, adding a bit more soy milk if needed, but I found that adding ¾ cup to begin with allows me to get the silkiest texture.
Flavour with the remaining ingredients and once you are happy with the flavour, adjust the consistency by adding an extra splash of soy milk if needed. You could also add some olive oil, but the dressing will no longer be oil-free, of course.
The dressing keeps in a air-tight jar in a fridge for at least a week.
NOTES
*Double-check that the brand you intend to buy does not contain honey or milk. Most of them don't, but there are exceptions.