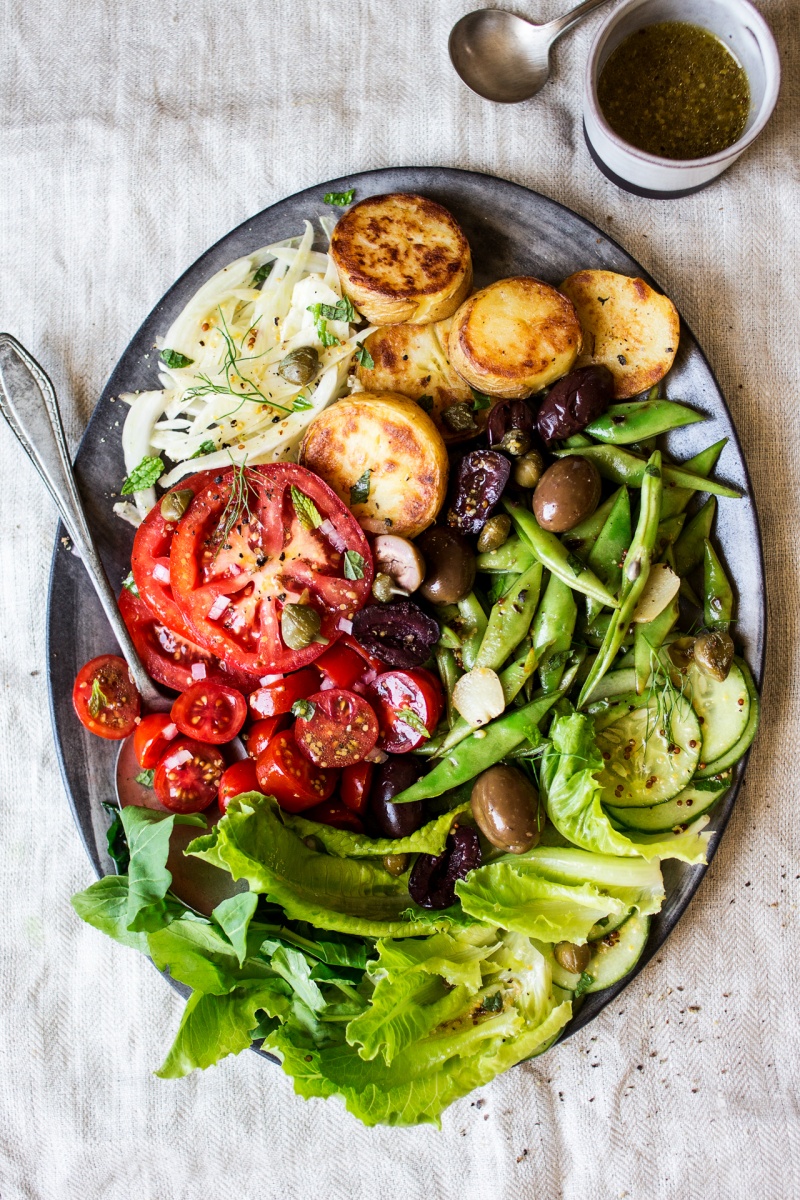 It's been rather hot in these parts lately, so all we live on are endless cold coffees, salads, melons and sorbets – anything that's hydrating (well, apart from coffee but one has to feed their addiction somehow 😉 ) and refreshing. Today's salad is a simple affair and a vegan nod towards a classic – salad nicoise.
It's bursting with colour and texture, it's filling and satisfying. This beauty is full of delicious seasonal produce: sweet tomatoes, crispy fennel and Romaine lettuce, peppery rocket, crunchy beans, salty capers and olives and crispy re-fried potatoes. Yum!
If you want to halve the amount of work involved, simply use freshly boiled (or steamed) young potatoes instead of re-frying them in olive oil, but I personally like them re-fried a little better. I also pan fried the beans with a little garlic before adding them to the salad but again, that's optional. I like to bring the most flavour out of my vegetables and boiling them in salted water doesn't tend to do that.
This salad is great for sharing, together with a few dips, nibbles and good quality bread, it will go down a treat as a summer lunch al fresco.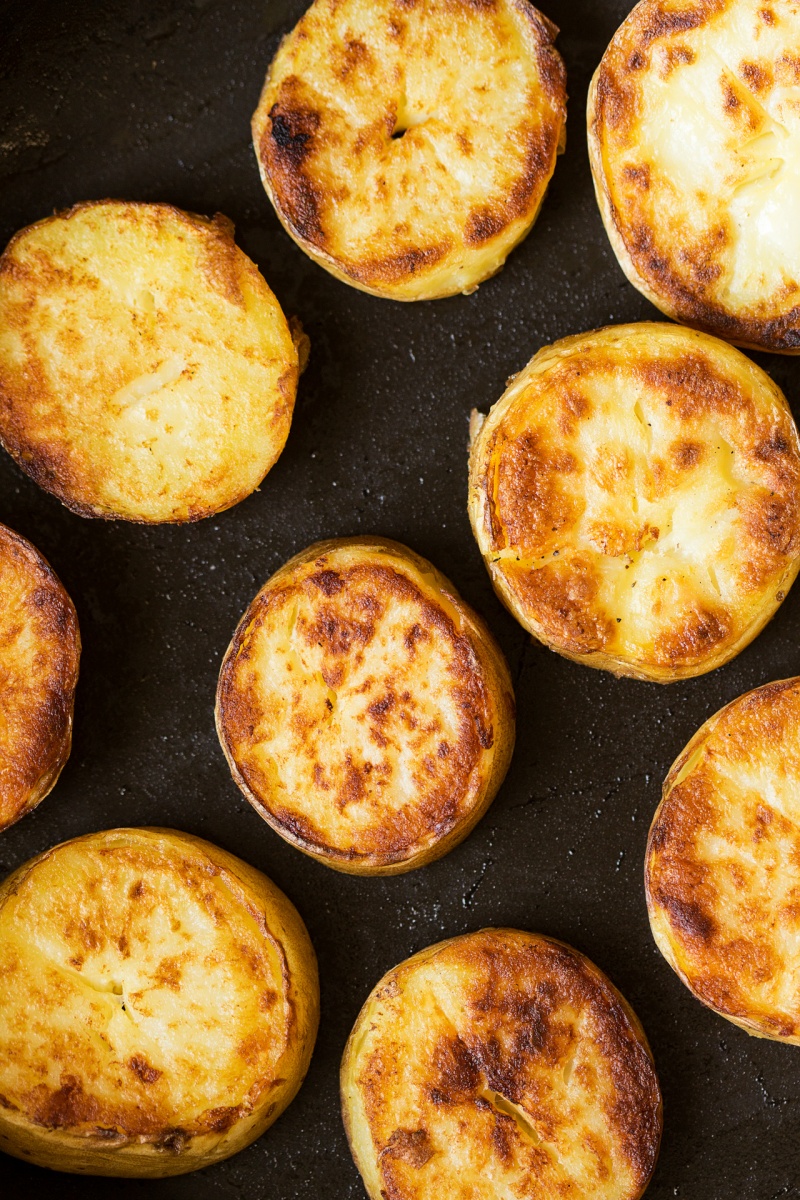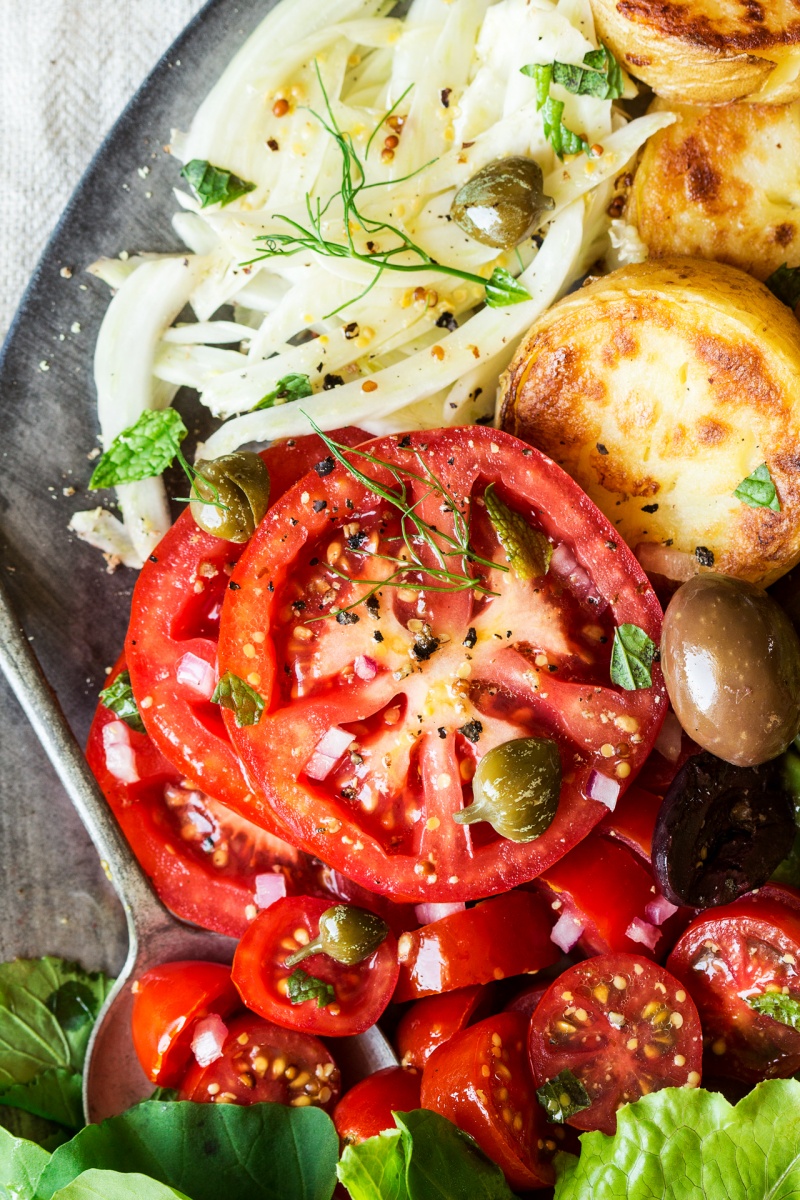 200 g / 7 oz green beans
1 ripe tomato + 20 cherry tomatoes, sliced
1 small fennel bulb, sliced on a mandolin
1 Lebanese (small) cucumber, sliced on a mandolin
1 small red shallot, super finely diced
4 medium new potatoes, cooked and cooled
1 garlic clove, sliced thinly
10 olives (I used a mixture of black and green), pitted and quartered
2 tbsp capers (preserved in salty brine), chopped finely
20 small Romaine lettuce leaves
a handful of rocket / arugula
olive oil
DRESSING
2 tsp wholegrain mustard
2 tbsp fresh lemon juice
2 tbsp extra virgin olive oil
1 tsp maple syrup or sugar
1 small garlic clove, finely grated
black pepper, to taste
fine sea salt, to taste
METHOD
In a small bowl, mix mustard and lemon juice. Slowly whisk in olive oil to emulsify. Season with maple syrup, garlic, pepper and salt – but go easy on it in as both capers and olives provide a salty element to the salad already.
Cut cold (cooked) potatoes into thick slices. Heat up a tablespoon of oil on a non-stick frying pan and place potato slices on the hot oil. Let them cook on one side until browned and then flip over. You'll need to do this in batches and possibly use a bit more oil if / as needed.
Cut your beans on the diagonal. Pan fry quickly with a clove of garlic on medium-high heat for about 5 minutes, until tender. Season afterwards. Alternatively, you could steam your beans or boil them in salted water, but pan-frying gives them more flavour.
Arrange all the ingredients on a large platter. I went for a compartmentalised look, but you could also simply toss everything together gently. Dress and sprinkle with torn mint leaves.
NOTES
*If you don't have / like mint, fresh dill, basil and parsley will work well too.