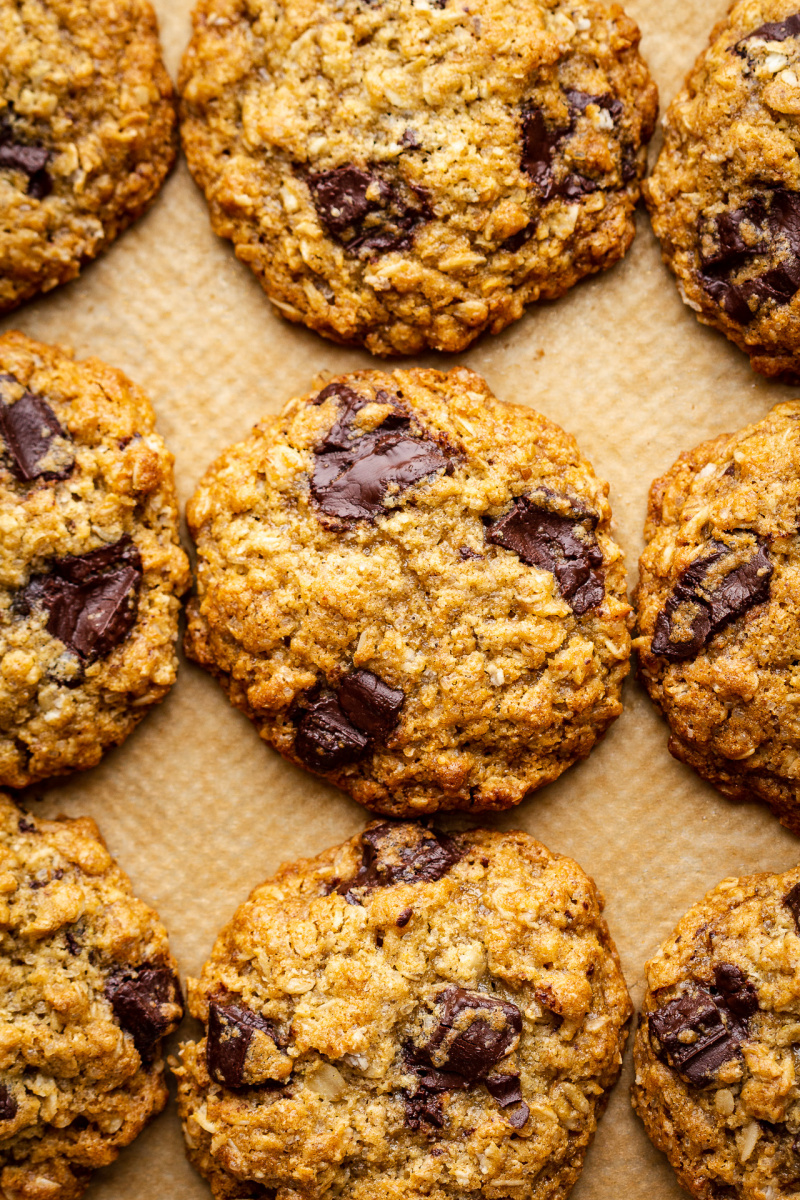 It's a bit of tense in our household today as Duncan has come up against some issues when constructing his under stairs cupboard and is feeling a bit defeated. He may be a little defeated at the moment but as he is a great problem solver and one of the most tenacious people I know, I know that he will find a way, but I appreciate how hard this is – due to the fact that there is no straight surface in a Victorian house – and I empathise with his feelings of frustration.
I am finishing the design of our site, Duncan will start coding next week, so I am feeling a little under pressure too. I am not the most confident decision maker and I've stumbled a little on some of the important details, like font choice for example. I'm torn between various options and see the merit of each but have trouble deciding which one will complement the design the most as well as ensuring the best legibility.
To aid us in our efforts, I made a tray of fragrant and delicate oat cookies with molten chocolate chunks. I hope you are game too as that's what I have in store for you today. They are quick and easy to make and satisfying to eat – crispy when freshly made and they become a little chewy once stored in a jar. I studded them with chocolate chunks as I love the contrast of molten bits of dark chocolate hidden in between oats, but dried fruit like raisins or cranberries will work just as well. We've happily put away quite a few of these lately and I hope you'll enjoy them too.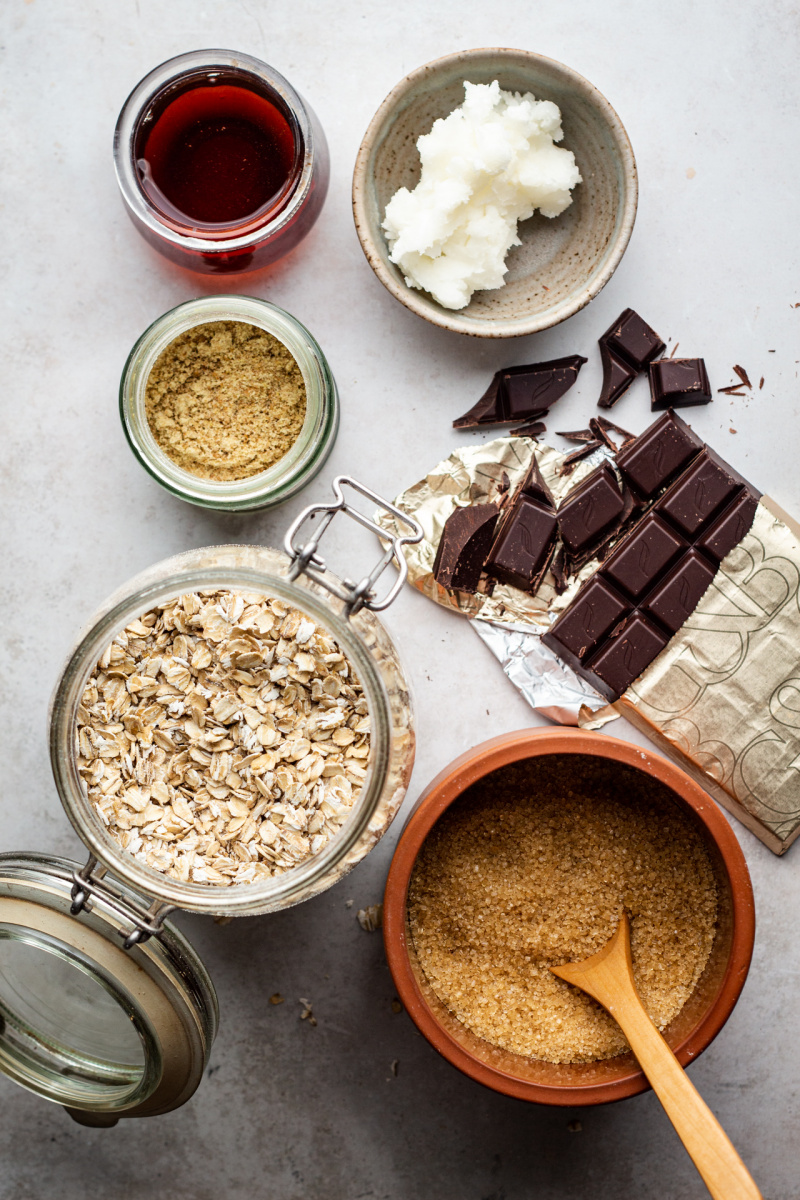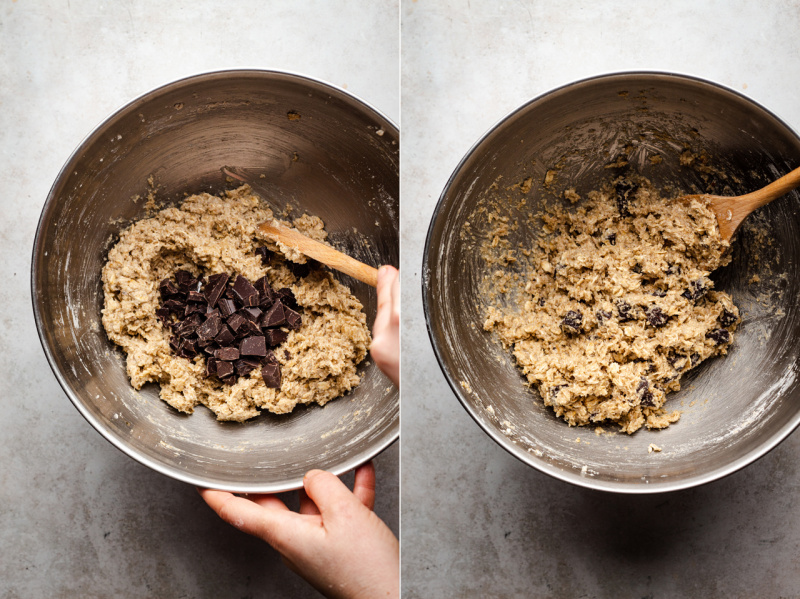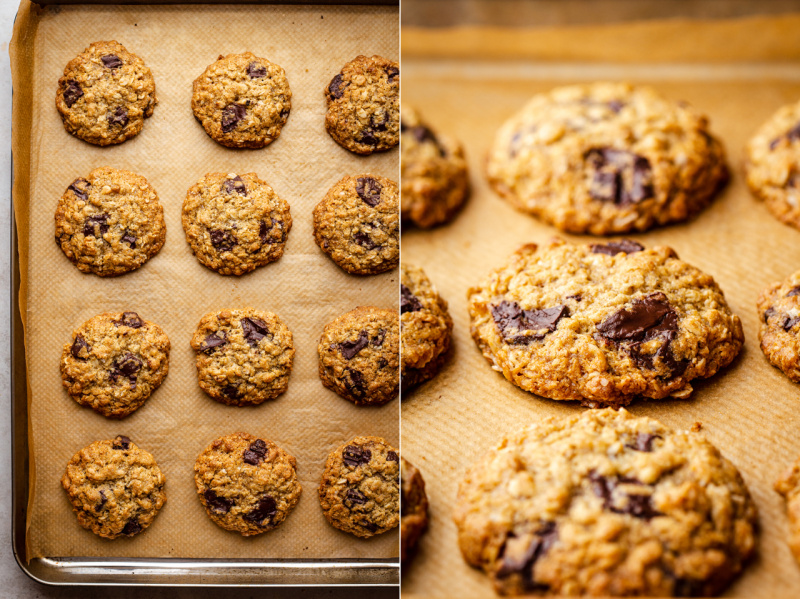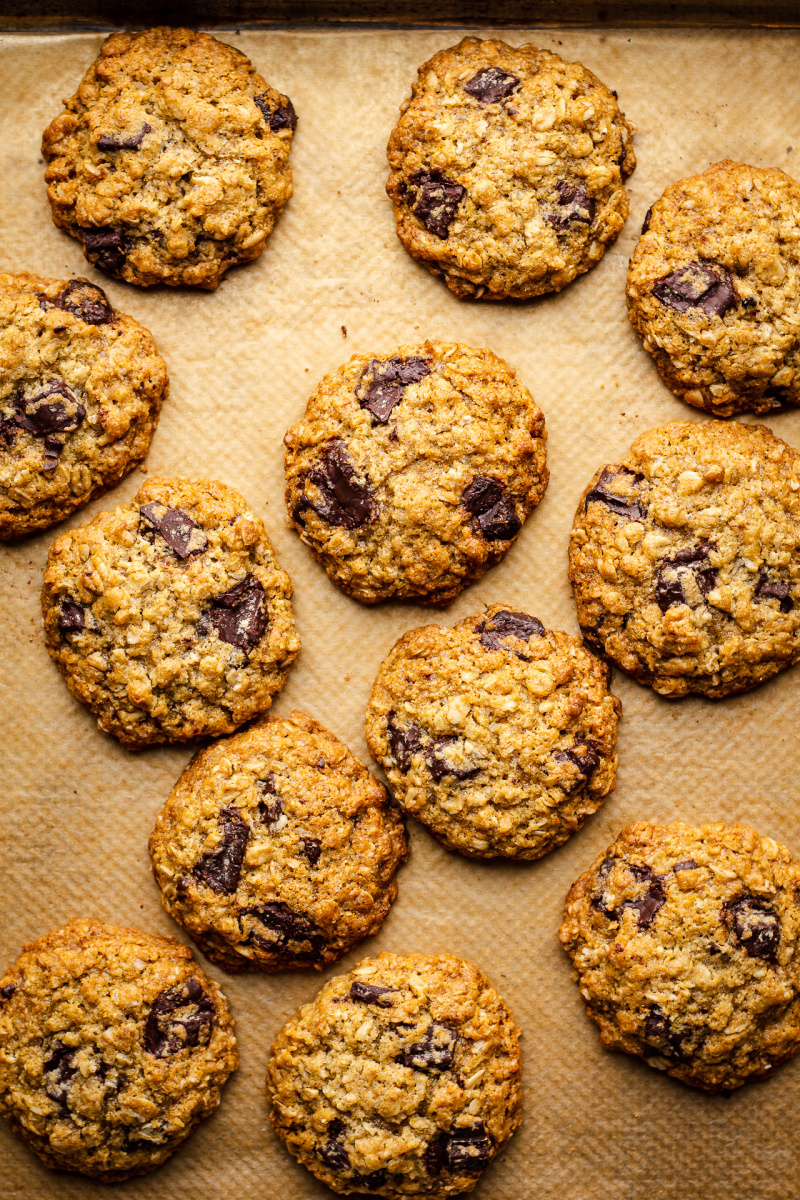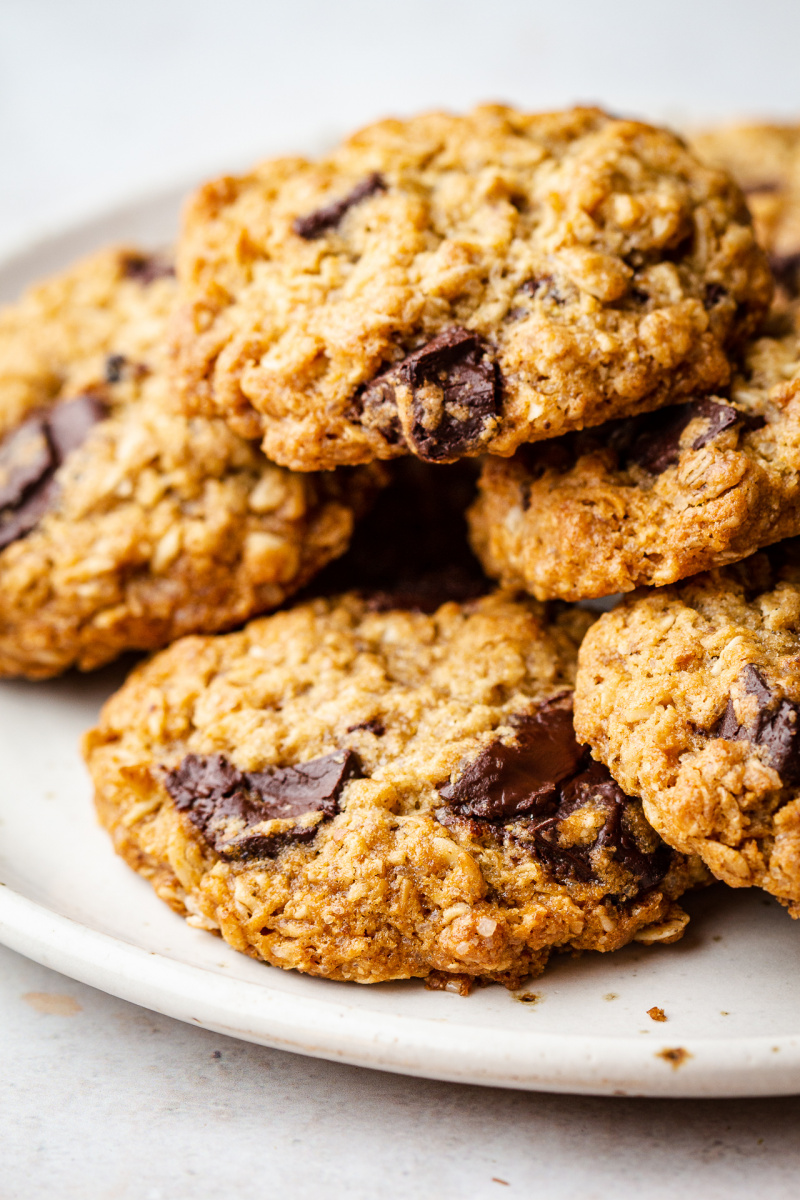 80 g / 1/3 cup fragrance-free coconut oil, softened*
50 g / ¼ cup sugar** (I used brown sugar)
60 ml / ¼ cup maple syrup
1 tsp vanilla essence
100 g / slightly heaped 1 cup large/jumbo oats (certified GF if required)
50 g / slightly heaped ½ cup oat flour*** (certified GF if required)
50 g / scant ½ cup plain flour or all purpose GF flour mix
¾ tsp baking powder
¼ tsp baking soda
¼ tsp fine sea salt
50 g / 1¾ oz vegan chocolate, raisins or dried cranberries
METHOD
In a small bowl, mix ground up flax and 45 ml / 3 tbsp of water. Set aside to thicken.
Beat softened coconut oil and sugar together with an electric whisk until well incorporated. Alternatively use a fork, rub sugar into the coconut oil until you get a smooth paste with no chunks of oil left.
Add in thickened flax, maple syrup and vanilla essence.
Fold in oats, oat flour, plain flour (or GF flour mix), baking powder, baking soda and salt. Mix well.
Finally, mix in chocolate (chopped up into chunks) or raisins.
Refrigerate the dough for 60 minutes although I have skipped this step once and they came out good enough too.
Preheat the oven to 190° C / 375° F (or 170° C fan / 340° F fan) and line a baking tray with a piece of baking paper.
Divide the dough into 12 portions (each 40 g / 1.4 oz – approx. 2 tablespoon's worth). Compress the dough with your hands, flatten into fat discs and place them on the baking sheet leaving quite a bit of space around each cookie as they spread a little. I recommend baking them in two batches.
Bake for about 12-14 minutes. Allow the cookies to cool off completely before storing.
NOTES
* For the oil-free version, use nut butter instead of coconut oil, but please note that this will affect the texture a little and the cookies won't spread much. Depending on the viscosity of your nut butter, you may need to add a little water if the mixture feels too dry.
** Use coconut sugar for a refined sugar free version.
*** You could make them with 100 g of oat flour (instead of 50 g oat flour and 50 g plain flour), but they will be more delicate so I recommend using both oat flour and plain flour / GF plain flour mix for perfect texture.