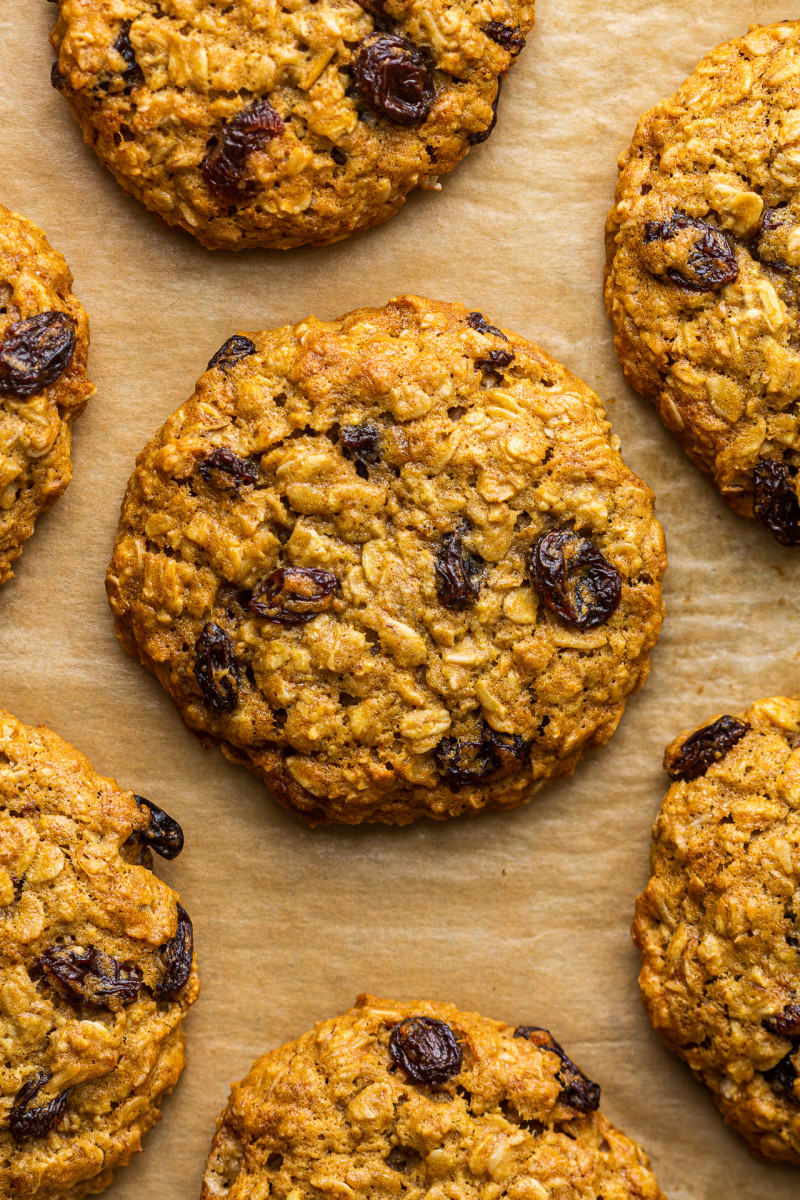 Happy October, vegan oat raisin cookies anyone?! I planned this homely recipe for today because it's meant to feel chilly yet cosy by now, with trees slowly shedding all their leaves, spiders working full time and low autumn sunshine…instead we are poised for two 22-23° C (73° F) this weekend – courtesy of manmade global warming. Crazy, right?
Still, these simple vegan oat raisin cookies are delicious and not to be frowned upon. They happen to be perfect for a hike, which is how I plan to celebrate my birthday tomorrow – a forest hike, some mushroom picking if I am lucky and a late lunch in an all vegan pub, fingers crossed the food delivers as I've looking forward to checking it out for ages.
These cookies are simply a vegan take on a classic, they are just as easy to make and just as tasty – they make a delicious afternoon tea or coffee treat. They require no fancy ingredients or any involved process so I hope you'll give them a go when a baking mood strikes you.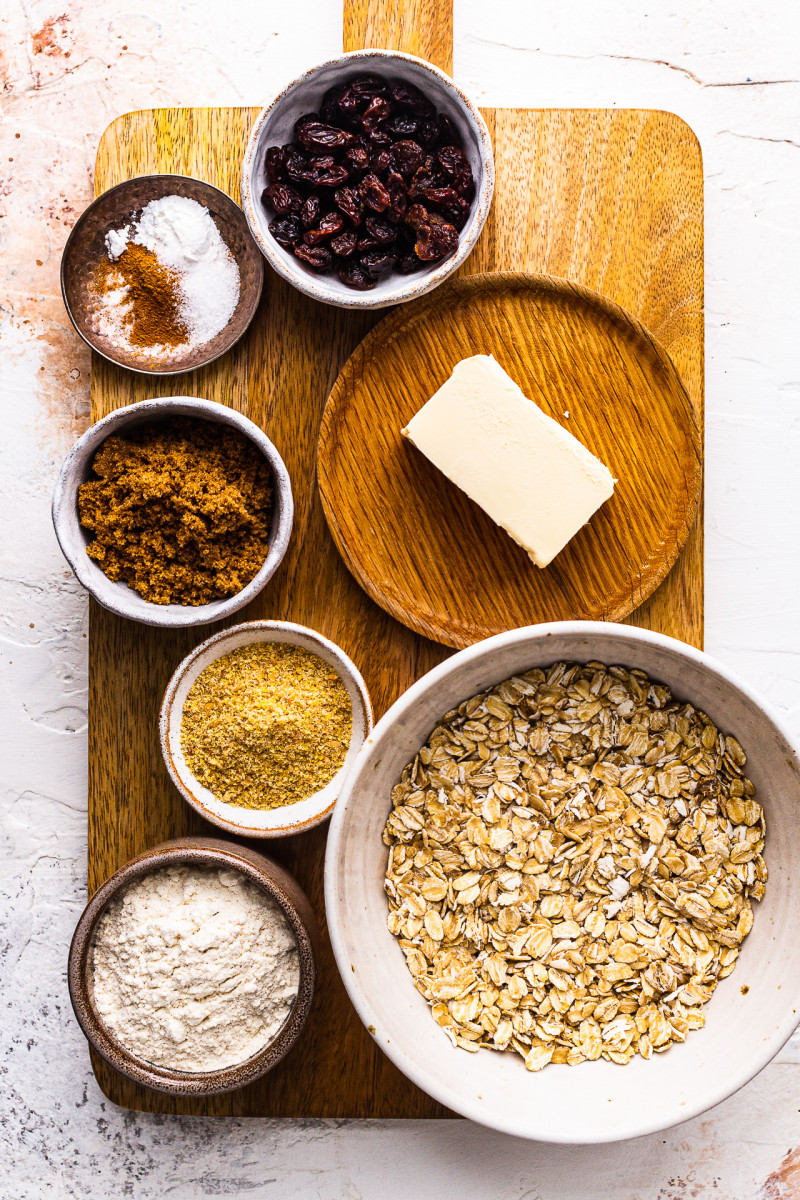 GROUND FLAX SEEDS: I used ground flax seeds (I prefer golden flax seeds as their colour is more appetising and they don't visually stand out in the finished product as much, but it doesn't really matter) to bind these cookies together better. I mix ground flax with some soy milk (any liquid will work, including water) and let it stand for 10-15 minutes to jellify – the resulting jelly is known as flax egg and is one of the ways of replacing eggs in vegan baked goods. Not only does it help with binding, it also offers nutritional benefits.
SOY MILK I like to use soy milk in baking as it's the plant milk that contains the highest amount of protein, but any plant milk or even water will work just fine here.
VEGAN BUTTER To give these cookies the right texture, I used a combination of vegan butter, which is solid fat, and vegetable oil. You can sub vegan butter with coconut oil or liquid oil and they will still be nice.
OIL I used mild olive oil in conjunction with solid fat to give these cookies the right texture. You can use any neutral flavoured vegetable oil you want or use more vegan butter instead.
MUSCOVADO SUGAR I used moisture-rich muscovado sugar to keep these quite chewy and to give them a deeper flavour. You can use either light or dark muscovado, depending the strength of molasses flavour you want.
CASTER SUGAR I also used some caster sugar (superfine white sugar) to give these cookies nice, crispy exterior and edges. Any white sugar will do the same, but caster sugar is the only one that has been milled fine enough to melt sufficiently while the cookies are in the oven.
VANILLA A generous dash of vanilla extract is pretty self-explanatory, it makes all baked goods instantly better so use it if you can.
CINAMMON Ground cinnamon is another flavouring that these simple oat cookies cry out for. Use as much or as little as you like, I went for a small amount here as all I wanted was a hint of cinnamon.
JUMBO OATS Jumbo oats are one of the key ingredients in these simple cookies. Go for as minimally processed whole oats as you can and steer clear of porridge oats as they won't work as well.
FLOUR A bit of flour is helpful to bind the oats and raisings together and keep these cookies from falling apart. You can use plain flour or a gluten-free flour mix, either will work fine. If you haven't got a gluten-free flour mix but need to keep these free from gluten, almond flour or rice flour should do the trick just as well.
BAKING AGENTS A mixture of baking soda and baking powder give these cookies a bit of aeration and a subtle rise.
SALT A pinch of salt reinforces the sweetness of baked goods so it's always a great thing to add and I presume just about everyone has plain table salt in their cupboards.
RASINS Raisins are the second core ingredients of these vegan oat raisin cookies. They are a baking staple so easy to find, add lovely pops of fruity sweetness and make these classic cookies what they are.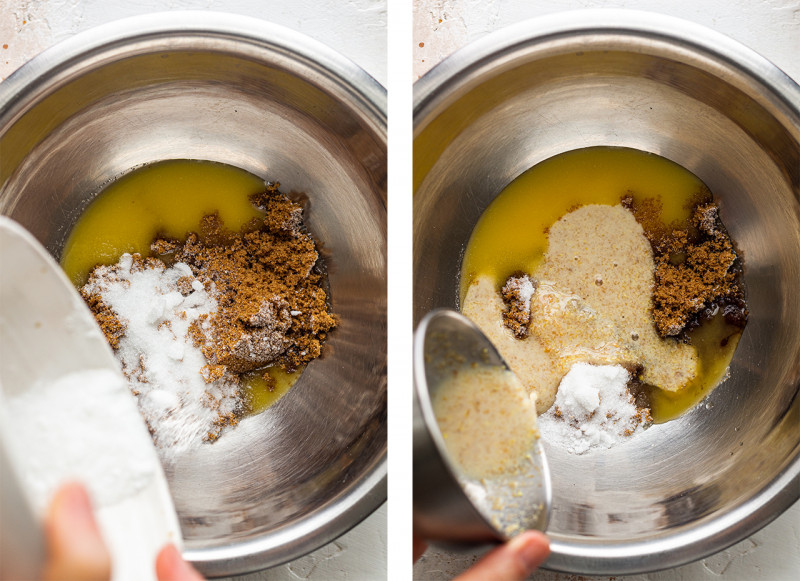 Mix ground flax seed and soy milk and set aside for 10-15 minutes to thicken and become jelly-like. Combine melted vegan butter, oil and both sugars in a medium mixing bowl and add thickened flax.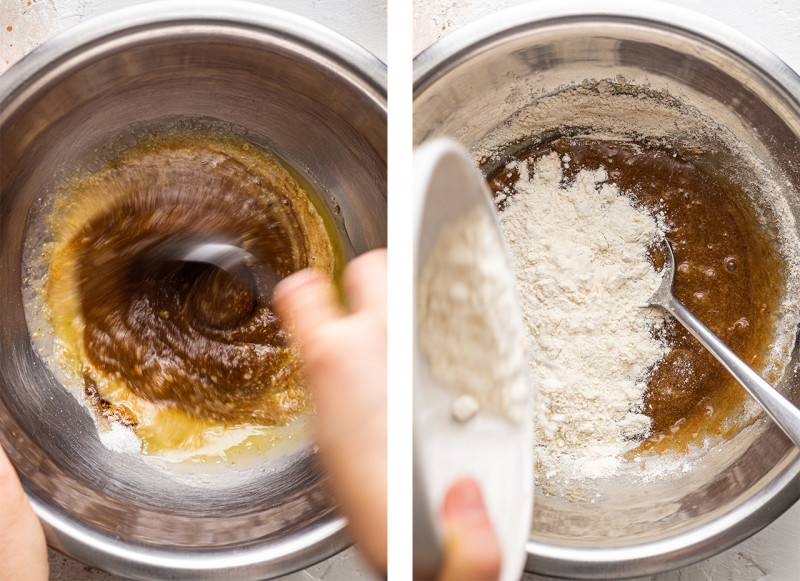 Stir until well combined, then add flour, baking agents, salt and cinnamon. Mix until homogenous.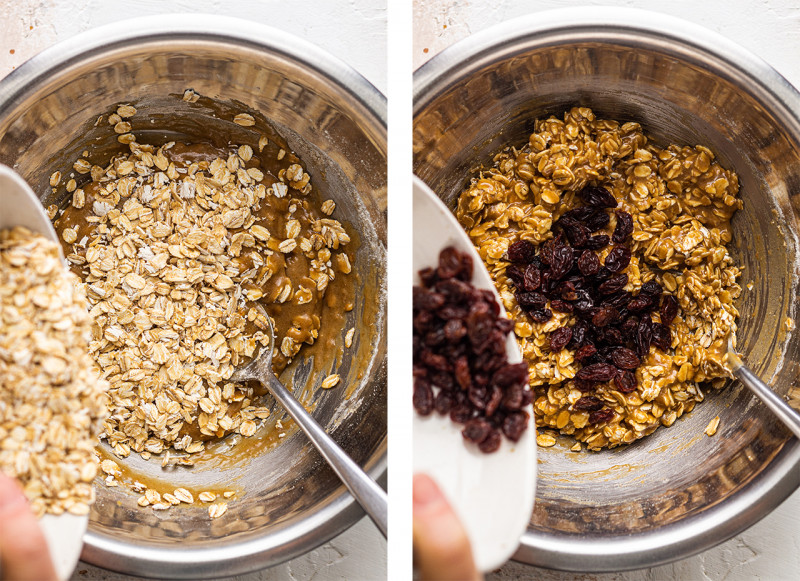 Next fold in oats in two batches and raisins. Mix well.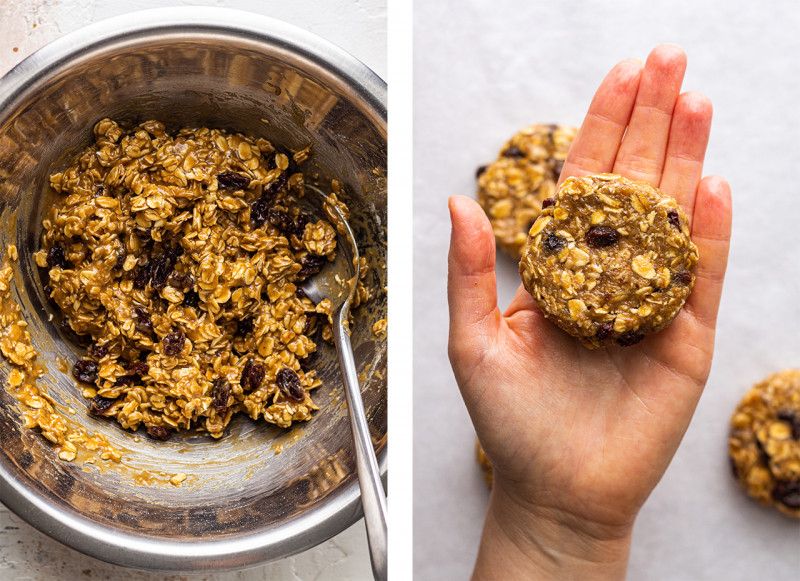 Divide into sixteen same-size portions, flatten with the palm of your hand.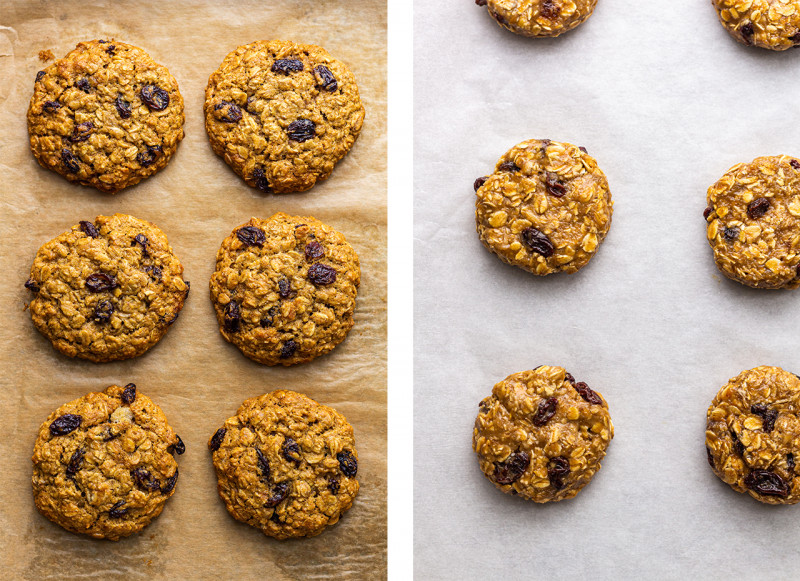 Arrange the cookies on the prepared baking tray leaving a bit of space around each cookie. Bake for 10-12 minutes – the less you bake them the chewier they'll become once cool. Cool off before eating.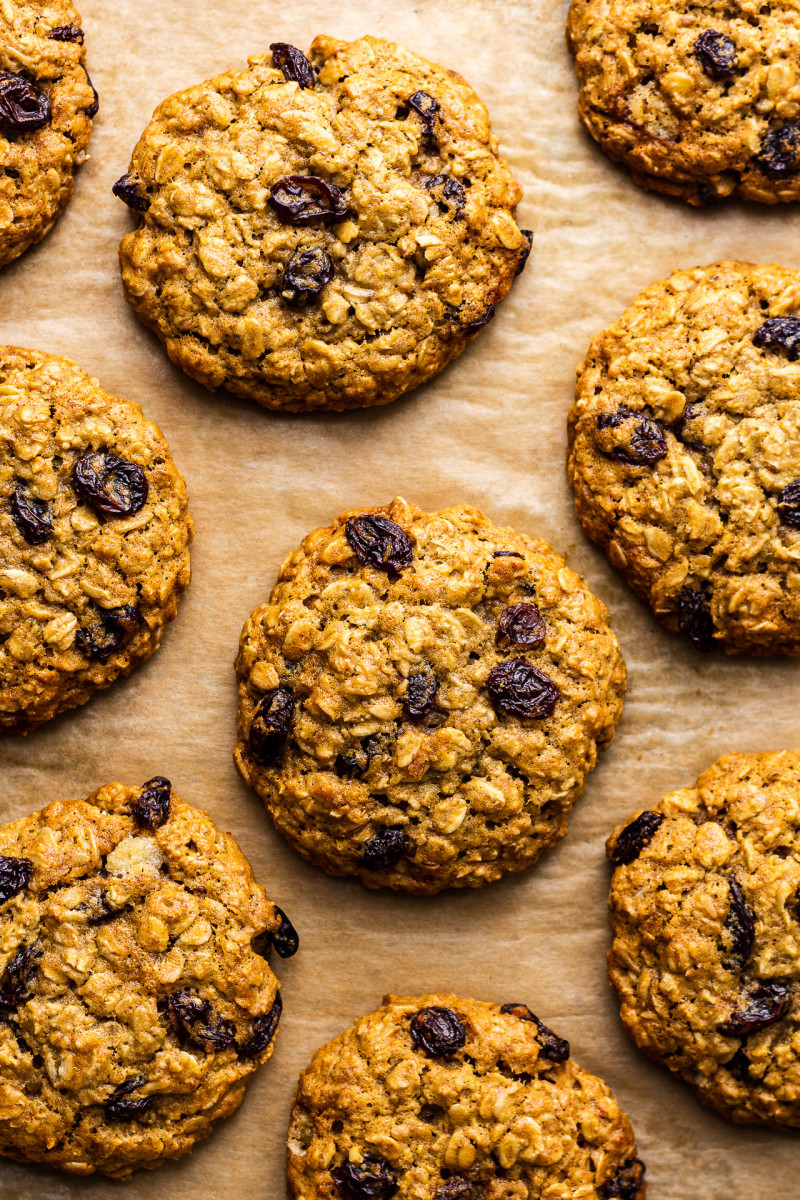 120 ml / ½ cup soy milk (oat milk works well too)
50 g / ¼ cup vegan butter (I used Naturli) or fragrance-free coconut oil, softened*
60 ml / ¼ cup neutral oil, like mild olive oil
100 g / ½ cup light brown (or dark) muscovado sugar
50 g / ¼ cup caster sugar
2 tsp vanilla essence
220 g / 2½ cups jumbo oats (certified GF if required)
125 g / 1 cup plain flour or GF flour mix
½ tsp baking powder
½ tsp baking soda
½ tsp fine sea salt
¼ tsp cinnamon
80 g / 2.8 oz raisins
METHOD
In a small bowl, mix ground up flax and soy milk. Set aside for 10-15 minutes to thicken and become jelly-like.
Gently melt vegan butter.
Mix melted vegan butter and oil in a large mixing bowl. Add both sugars, vanilla extract and thickened flax.
Using a spatula or a wire whisk mix everything really briskly until emulsified – the mixture is uniform (there is no separation of fat).
Gently fold in flour, baking powder, baking soda, salt and cinnamon.
Finally, fold in oats in two batches, adding raisins to the second.
Refrigerate the dough for 1 hour before baking.
Preheat the oven to 180° C / 355° F (or 160° C fan / 320° F fan) and line two baking trays with a piece of baking paper.
Divide the dough into 16 portions (each approx. 50 g / 1.7 oz). Roll the dough into balls with damp hands (the mixture is sticky). Place dough balls on a baking tray leaving a bit of space around each cookie and flatten them (they don't spread much).
Bake for about 10-12 minutes – the less you bake them the chewier they'll become once cool. Allow the cookies to cool off completely before eating.
NOTES