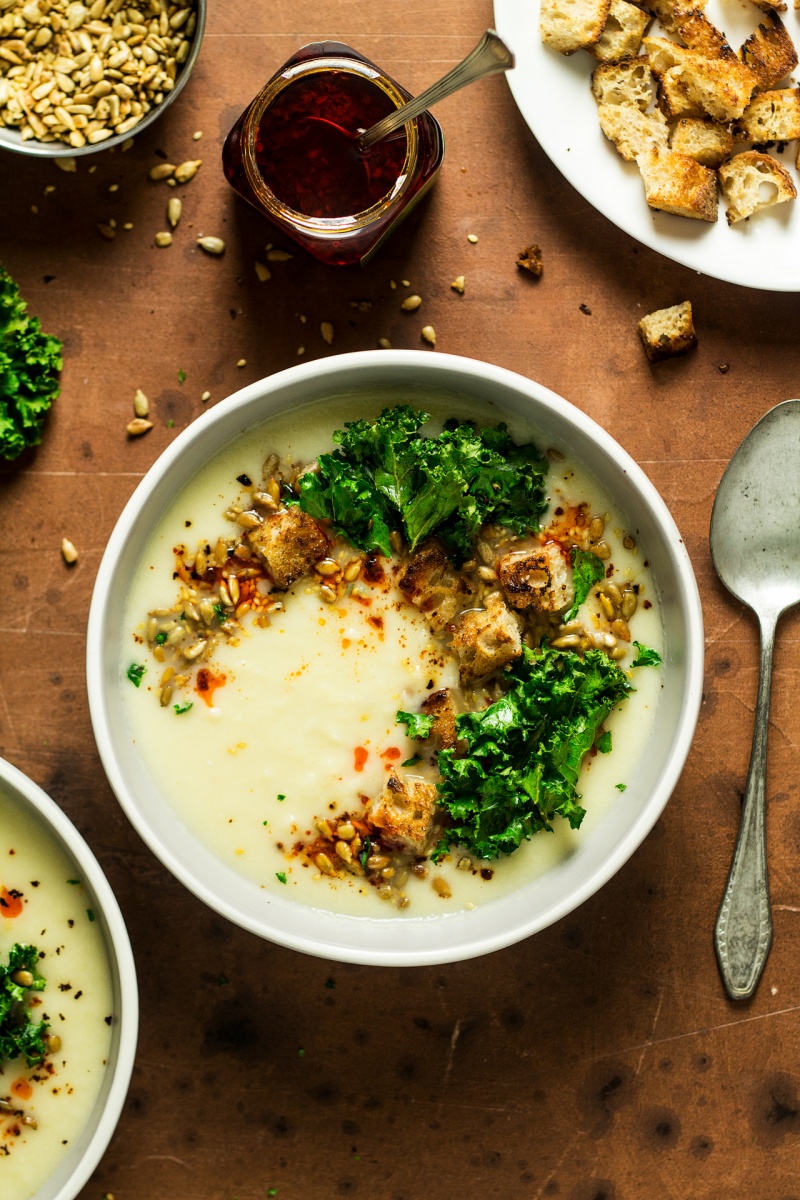 How are you guys doing? Hope you enjoyed your weekend? We spent most of ours working, but we managed to sneak out to the cinema (you might have seen our Insta stories) to see 'Lady Bird' (which I loved) and for some nice food afterwards. We really missed the ritual of going to the cinema while living on Paros so we are making up for it now and luckily there are lots of new films we want to see.
Today's post is my final one before I get my ass on a plane to Krakow to see my family and friends. I haven't been home for over a year as getting there from Paros was a bight of a mission, but, to my mum's delight, I'm hoping to make up for it now. I figured that the best way to do family visits is often, but short and sweet as then we are still on good terms by the end of it 😉 , so I'm planning to see my folks a bit more often now.
I'm really looking forward to this trip minus the forecasted cold weather as I am really not used to it anymore (especially after living in Greece) and do not even own warm enough clothes for double digits minus (which is around 14° F for those of you who are in Mr Fahrenheit's camp). I've cobbled together enough layers that I think will keep me sufficiently warm (it's not pretty but staying warm is my main focus), but to be honest it is always way colder than I am expecting. I'm bracing myself and hoping not to return with a cold.
I look forward to seeing my fam, my friends and having some lovely vegan food again. In case you haven't been yet, Krakow is a surprisingly vegan-friendly city, with plenty of lovely vegan food options – I will try to post some stories if I am not too busy scoffing stuff 😛 .
Meanwhile, here is a simple midweek fare of parsnip soup flavoured with my best friend, miso. It's super simple yet delicious, velvety smooth and filling. Perfect winter food. It goes well with crunchy and slightly salty sourdough croutons or toasted seeds seasoned with salt and chilli, or crunchy kale chips and a drizzle of chilli oil. Or all of them at once, if you are greedy like me! 😛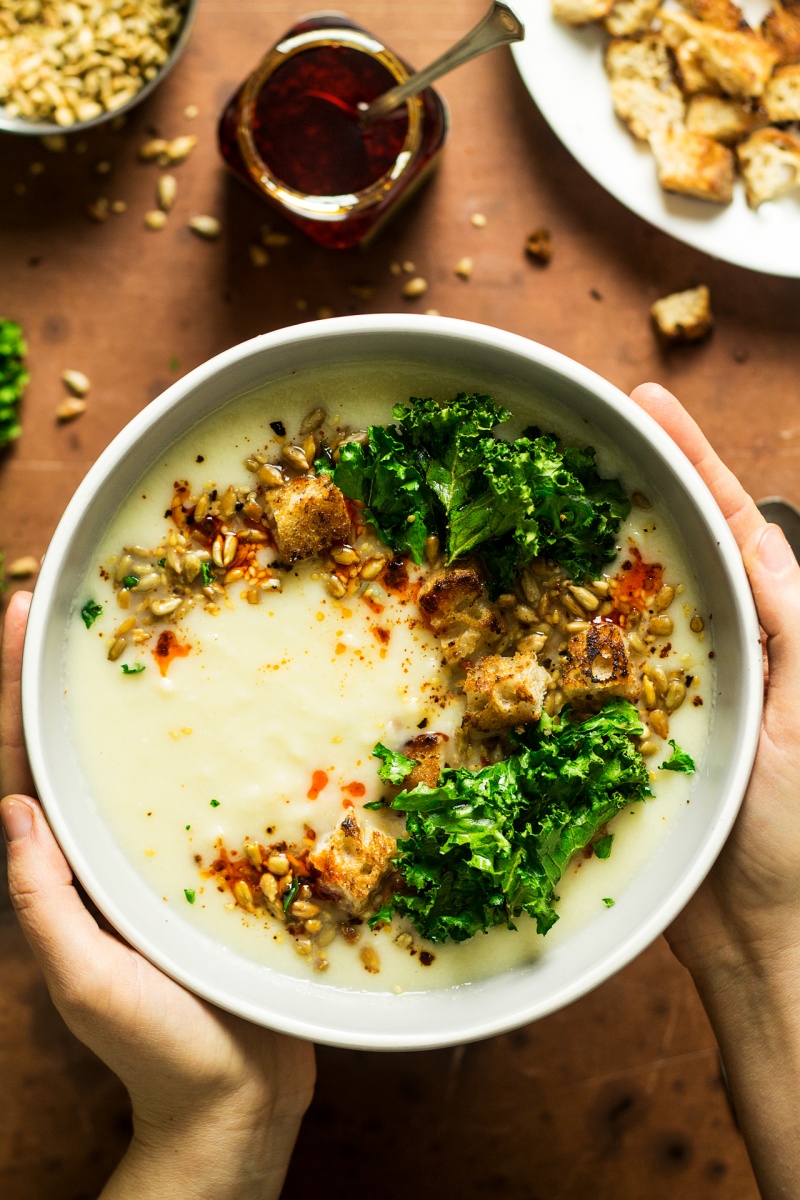 1 kg / 2.2 lb parsnips
2 tbsp olive oil
2 large shallots or 1 medium onion, finely diced
3 large garlic cloves, finely diced
2 packed tsp finely grated ginger
4 tbsp / ¼ cup white / shiro miso*
1 litre / 4 cups water or salt-free veggie stock
1 vegan stock cube (if not using stock)
1-2 tbsp rice wine vinegar or lime juice, adjust to taste
soy sauce (or tamari if GF) or salt, to taste
¼ tsp hot chilli powder or cayenne pepper
OPTIONAL TOPPINGS
olive oil
4 slices of sourdough bread, cubed
4 tbsp / ¼ cup sunflower seeds
2 tbsp sesame seeds
2 large curly kale leaves
salt
chilli (powder or flakes) or cayenne pepper
chilli oil (homemade or shop-bought), to drizzle
METHOD
Top and tail and peel your parsnips. You can either steam them or bake them. The former allows you to use less oil, the latter brings out a bit more flavour as the parsnips get caramelised nicely in the oven.
If steaming, bring a pot of water to a gentle simmer. Chop your parsnips into thick slices and place in a steamer (I use a bamboo one) over a pot of gently simmering water. Allow about 20 minutes for the parsnips to cook, check if they are ready by piercing a few pieces with a sharp knife or a skewer. If you have lots of small parsnips and a small steamer like I do, you may need to do this in two batches.
If you are baking your parsnips, chop them into equal size chunks and place in a bowl. Coat with about 1 tbsp of oil. Preheat the oven to 200° C / 390° F and line a baking tray with a piece of baking paper.
Spread the oiled parsnip pieces on the prepared baking tray making sure the pieces do not overlap. Turn the pieces over halfway through the baking time. Bake for about 25-30 minutes, until fully cooked and lightly caramelised.
Heat up 2 tbsp of oil in a pot on a low-medium flame. Throw in diced shallots (or onion). Cook them for a few minutes, until very lightly caramelised. Add in garlic and ginger. Keep on stirring the mixture frequently so that the aromatics don't burn. Cook for about 3-4 minutes on a very low heat.
Meanwhile, whisk miso paste with 240 ml (1 cup) of water in a small bowl. Set aside.
Pour 240 ml (1 cup) of water or stock to the bottom of the pot with the aromatics to deglaze the pan.
Place the cooked parsnips, caramelised aromatics and dissolved miso paste in a blender. You may need to do it in two goes like I did, if your blender is too small. Blend until super smooth.
If not using stock, dissolve a stock cube in 480 ml (2 cups) of lukewarm water.
Put blended soup back into the pot, add remaining 480 ml (2 cups) of stock or water with a stock cube dissolved in it. If the soup is too thick, add a bit more water to get the soup to a consistency you like.
Warm the soup up gently (don't let the soup boil as excessive heat destroys the nutritional properties of the miso paste), season with acid (rice wine vinegar or lime juice), some soy sauce (or tamari or salt) if needed and a pinch of cayenne or chilli if using.
Serve topped with a topping of your choice. See below.
SOURDOUGH CROUTONS
Heat up 1 tbsp of oil in a non-stick frying pan. Once the oil gets hot, add cubed sourdough bread.
Gently fry, stirring frequently, until the bread cubes get golden on most sides.
Sprinkle with some salt and set aside.
SPICY SEEDS
Heat up 1 tsp of oil in a non-stick frying pan, once the oil gets hot, add your seeds.
Gently fry, stirring the whole time until the seeds get a bit of colour.
Stir in some salt and chilli flakes or cayenne pepper. Take off the heat.
KALE CHIPS
Preheat the oven to 100° C / 210° F fan forced (120° C / 250° F no fan) and line a baking tray with a piece of baking paper. The fan-forced setting will render better results so use it if your oven offers it.
Remove the stems from the kale leaves and divide the kale into smaller pieces. Rub a tiny bit of olive oil into each piece.
Place the kale pieces on the prepared baking tray, making sure the individual pieces do not touch. Bake for about 15 minutes, or until crispy but still vibrant green. Sprinkle with salt and chilli (if using).
NOTES
*These days you can find varieties of
gluten-free miso
if you would like to keep this dish gluten-free.