Vegan pasta alla Norma
Vegan pasta alla Norma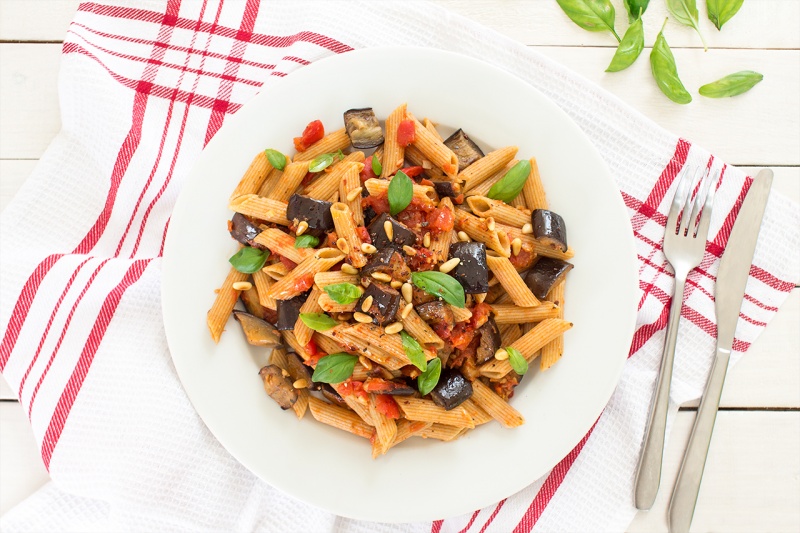 During my teenage years when, like most teenagers, I was obsessing about my weight, I avoided eating pasta as I was convinced that it was fattening. It wasn't until I fell in love with cooking many years later, that I realised that it's a complete misconception and it very much depends how you cook it or what you have with it. If you have your pasta bathed in cream and butter, then yes, you should probably only eat it once in a while, but it's perfectly possible to make a tasty yet light pasta dish and enjoy it on a more regular basis. In fact, it turned out that Greek Cosmopolitan has done a round-up of healthy pasta dishes and featured our simple griddled courgettes spaghetti in it. We were very pleased about that and since we eat pasta a lot, we wanted to share another light pasta idea with you today.
Pasta alla Norma is another fine example of a light pasta dish. This pasta hails from hot Sicily so it seemed appropriate to make it on a hot summer day. Especially as there is a strong historical connection between Sicily and Greece and so all the produce this pasta uses happen to be Greek staples too. It uses one of my favourite vegetables – aubergines, ripe tomatoes, fresh basil and a dash of fiery chilli. I don't know why I love aubergines so much as, like some haters point out, they have no real flavour. To me their versatility is what makes them so special – they take on other flavours easily and their firm, dense texture is very satisfying to eat. When I bought them for the first time, I was a bit apprehensive as I've been warned about their tendency to taste bitter. In order to eliminate this bitterness many people rub aubergine slices in salt (and rinse it off after an hour or so) before cooking. I must admit that I did forget to do that a few times and I've never come across any bitterness whatsoever. Apparently, these 'mad apples' (Europeans used to believe that their consumption would make you go insane – those crazy, Europeans, eh?) are now cultivated differently and there is no more bitterness.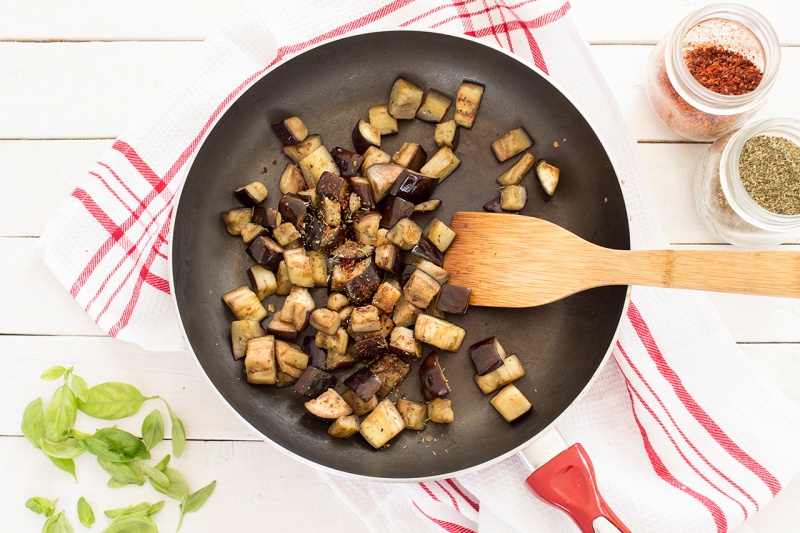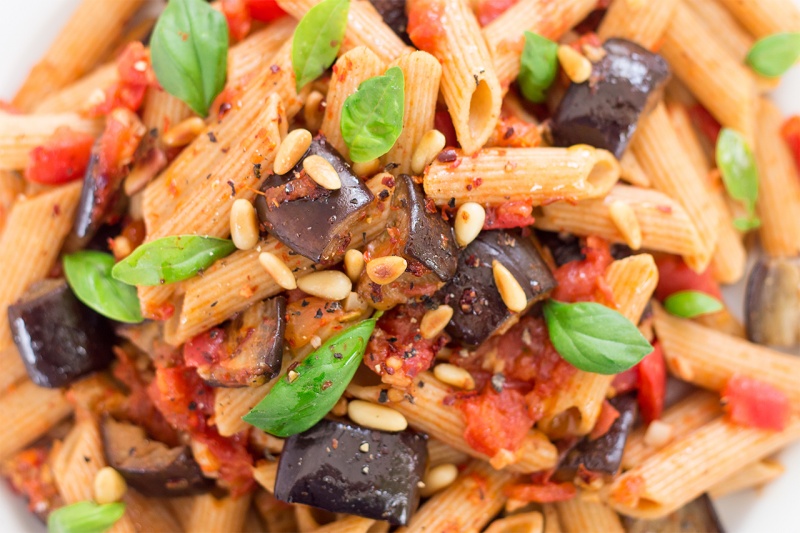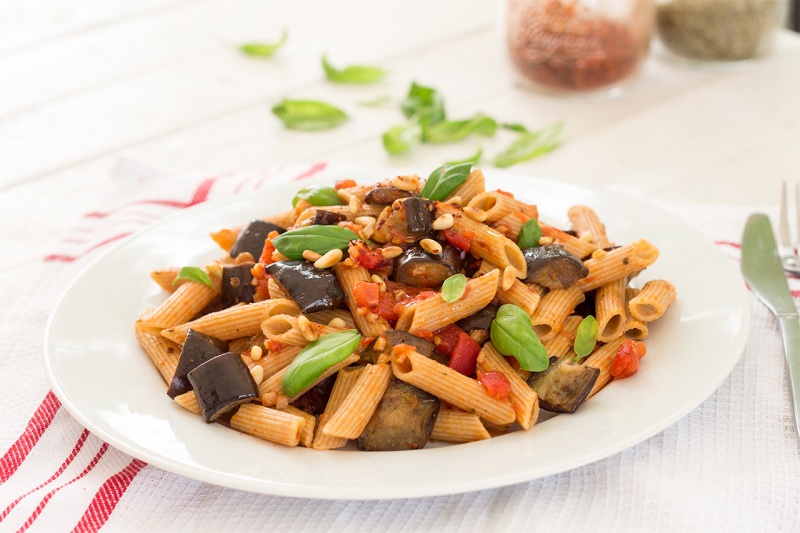 350 g (gluten-free) penne pasta (I used wholemeal)
3 tbsp / 45 ml olive oil
3 garlic cloves, finely diced
3 aubergines, diced
1 level tsp hot chilli flakes
3 pinches of dried oregano
pinch of sugar
4 tomatoes, peeled and diced
salt & pepper, to taste
handful of basil leaves
2 tbsp pine nuts, dry-roasted in a pan
METHOD
Heat up 1 tbsp of olive oil in a pan. Fry off garlic gently on a low-medium flame, stirring frequently so it doesn't burn. Remove from the pan and set aside.
Heat up another 2 tablespoons of oil in the same pan. Add diced aubergine and fry it gently. After a few minutes, add some oregano. Once the aubergine has browned and softened but still retains a bit of a bite, remove from the pan.
Add chopped tomatoes and return garlic to the pan. Cook tomatoes on a medium heat until they soften and thickened. Return cooked aubergine to the pan. Season with chilli, sugar, salt and pepper.
While tomatoes are cooking, cook the pasta al dente according to the instructions of the packet. Drain (save ½ cup of pasta water in case the sauce needs more moisture) and set aside.
Put drained pasta into aubergine and tomato sauce. Adjust the seasoning and add a few tablespoons of pasta water if the sauce is too dry. Serve sprinkled with pan-roasted pine nuts and fresh basil.
DON'T MISS A SINGLE RECIPE
Join our mailing list and we we will let you know when we publish a new recipe. You'll receive our DELIGHTFUL DESSERTS E-BOOK as a thank you for supporting us.