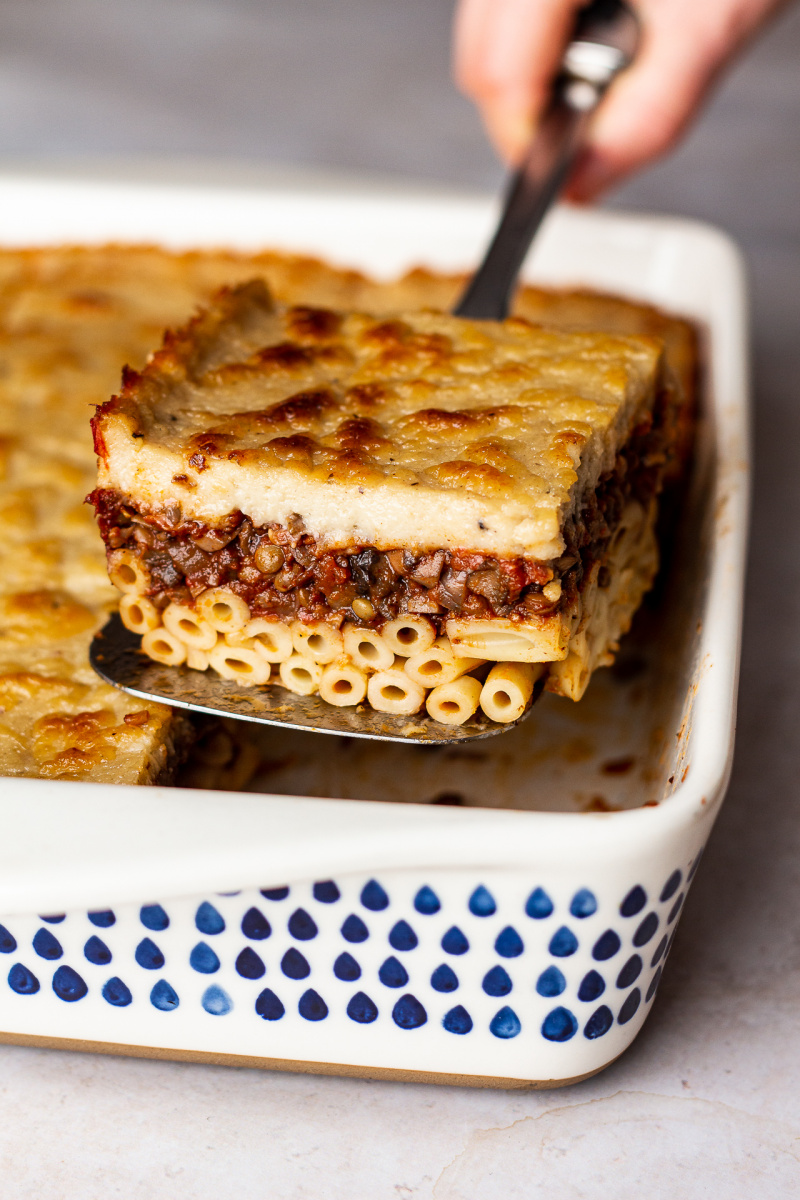 Easter is coming and so I bet you are looking for a crowd pleasing dish, which whoever gathers around your table, vegan or not, would be happy to tuck into. I have one such dish for you and I challenge anyone not to enjoy it. It's called pastitsio and it's the Greek answer to lasagne, although some people say that it's actually Italian. I'm not sure, but I do know a good pastitsio from when I lived in Greece as it is a mandatory staple on every decent taverna's menu.
It's a really comforting dish but as it's eaten in Greece, which, Northern mountainous regions aside, doesn't really know true winter 😉 – I feel like it's very appropriate right now even if Easter Sunday turns out to be sunny and warm and you never know – especially when you live in the UK like me… Whatever weather Zeus sends us, we will be fine with a tray of pastitsio to dive into, hahahaha.
Compared to moussaka, pastitsio isn't as well known outside of Greece but it's just as delicious and a little less fussy to make too. It consists of three distinct layers, the first one being pasta traditionally bound together with eggs and feta cheese, followed by beef ragu and crowned with layer of creamy béchamel.
Traditionally, bucatini pasta is used for the base, but I decided to use the more widely available macaroni as it passed the test cooks with flying colours and it makes the recipe a little more accessible too. An important thing to remember is not to overcook your pasta! Having lived in Greece for four years, I noticed that they tend to take their pasta way beyond al dente. Initially, I put it down to a mistake or maybe personal preference of the cook but then I noticed that all the pasta packets I've ever bought whilst living there overstated pasta cooking time considerably. It is in Greece that I got into the habit of never quite trusting the prescribed cooking time and finding it out for myself. In the case of this dish, as the bake spends 50 minutes in the moderately hot oven, it is imperative to only just pre-cook your pasta or your will end up with an overcooked mess at the end.
I replaced beef with a delicious and accidently healthy combination of umami-rich mushrooms and fibre-rich lentils. They deliver heaps of flavour and texture and make this still indulgent dish way healthier too. While traditional pastitsio boasts 800 kCal per portion, this guy comes in at half that. The final layer is béchamel, which is by far the most indulgent element of this entire dish, but I feel that it's okay to indulge from time to time, isn't it? It is made with mild tasting olive oil, flour and oat milk. It's light, creamy and makes this dish so addictive. Its creaminess works beautifully against the slight tanginess of the tomato and wine based ragu. I like to serve it with a large green salad, some good wine and nibbles like olives, dips and crackers.
We have been living on a few variations of this dish for the past week and we've enjoyed it immensely. It took our taste buds right back to living on the Mediterranean sea, which we miss this year in particular. I hope you and your nearest and dearest will enjoy it just as much and it will make your Easter gathering a little bit more special. καλή όρεξη!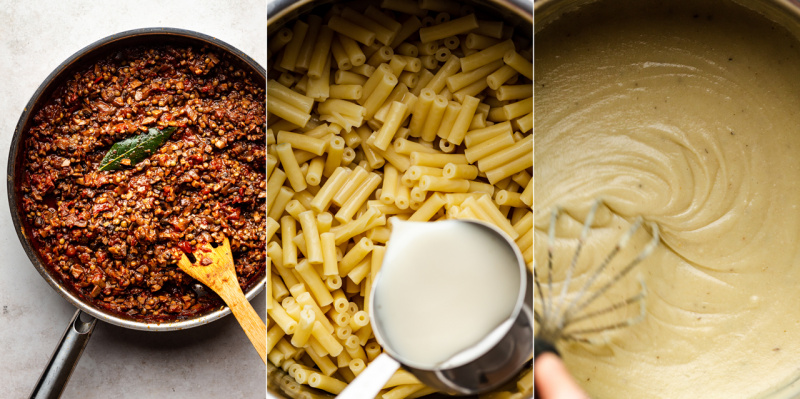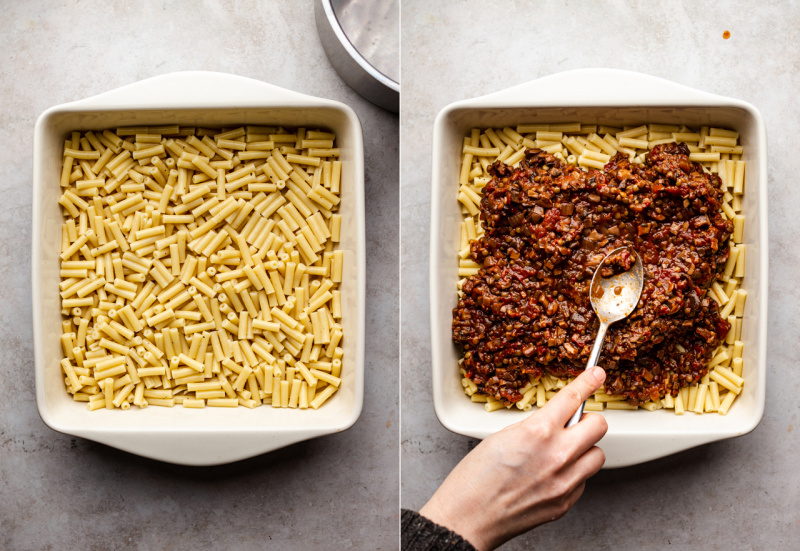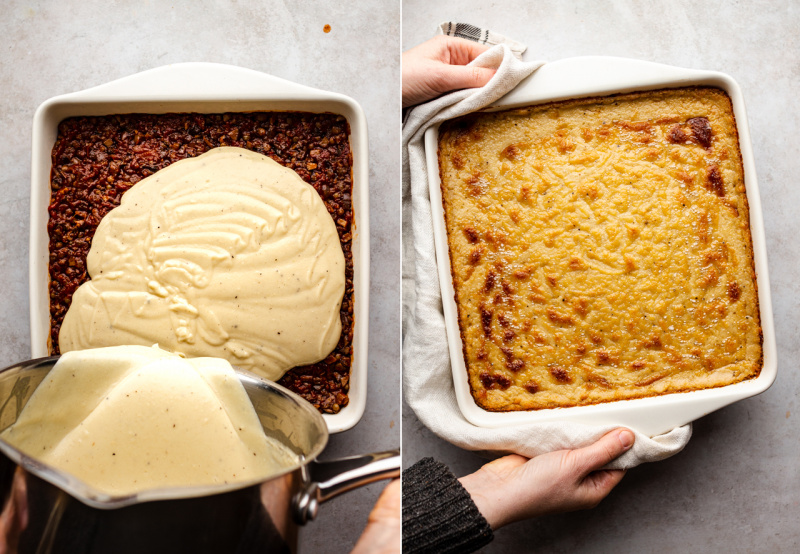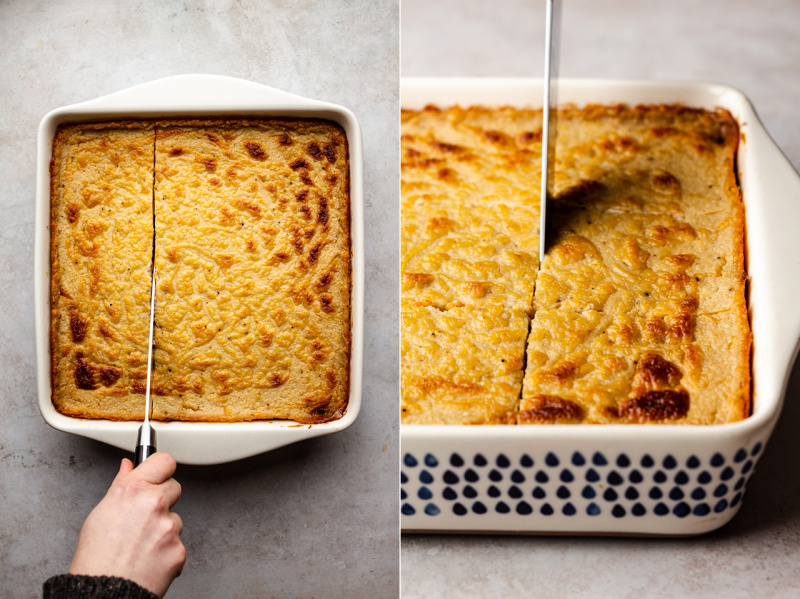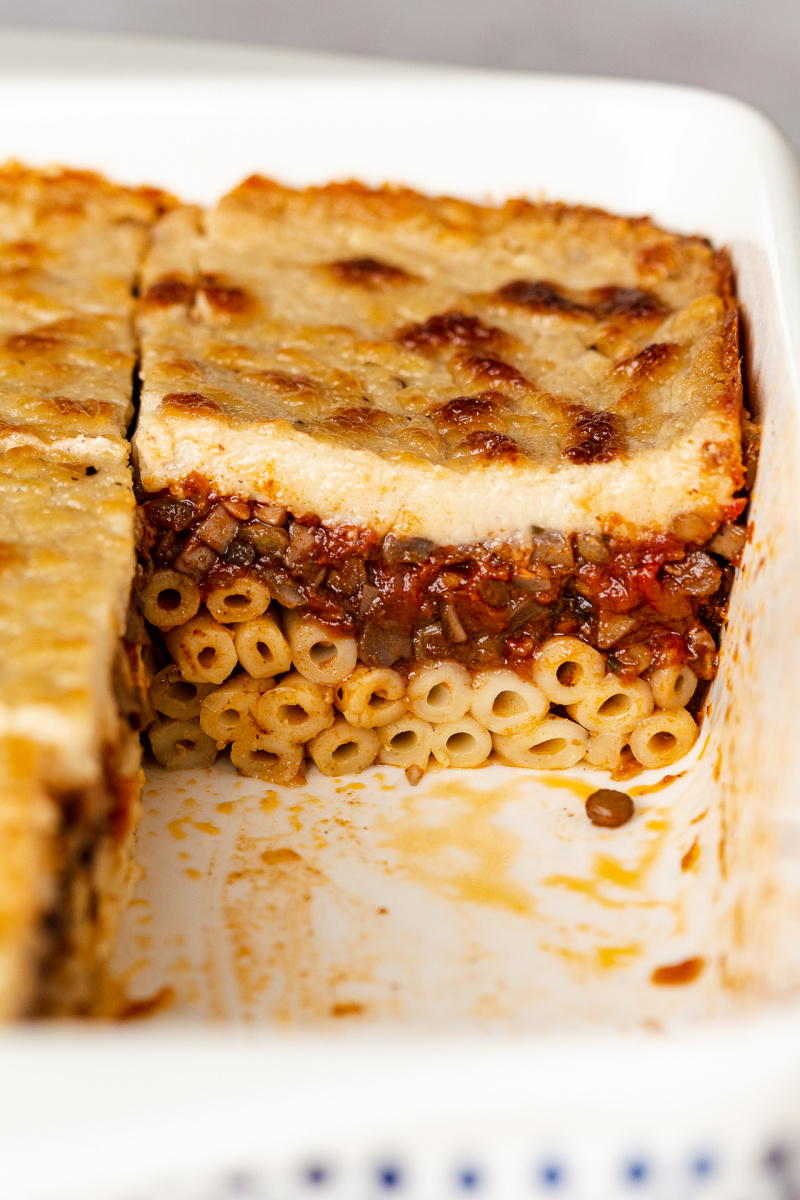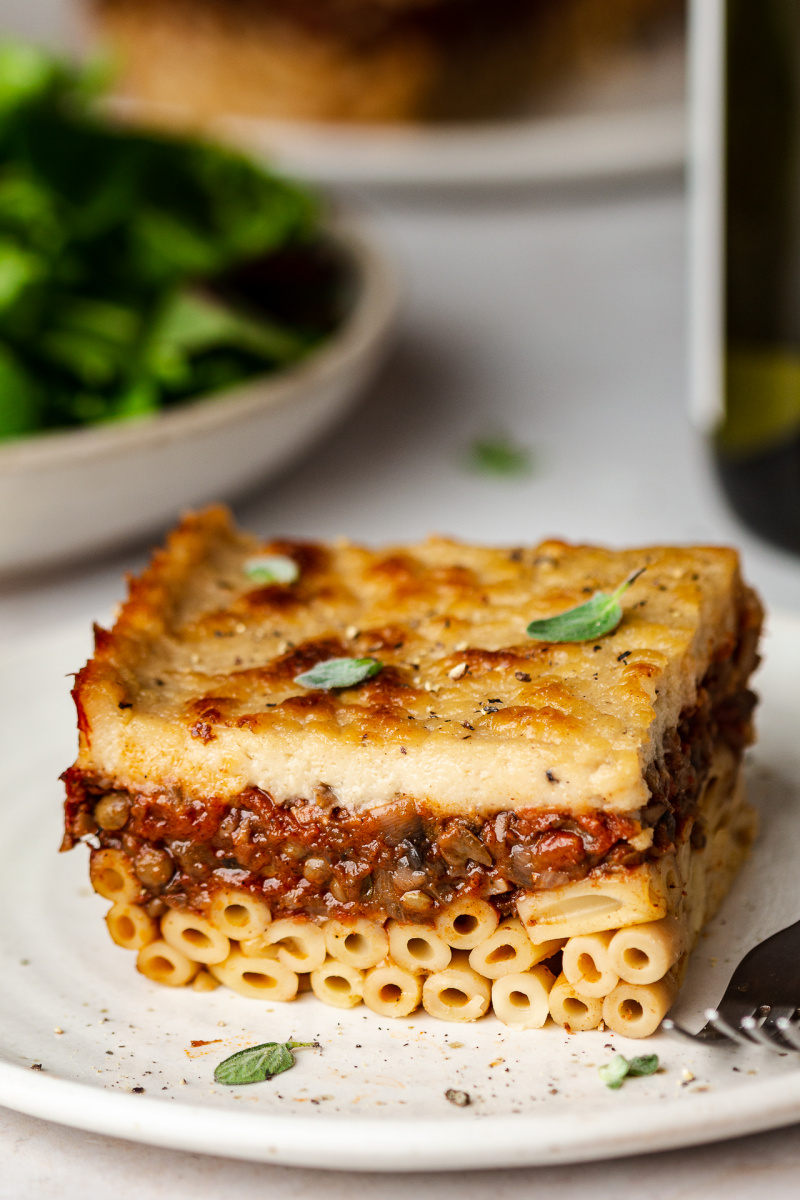 RAGU
30 ml / 2 tbsp olive oil
1 large onion, finely diced
5 garlic cloves, finely diced
250 g / 8¾ oz chestnut / cremini mushrooms, cleaned
125 g / 4½ oz fresh shiitake mushrooms, cleaned
¾-1 tsp cinnamon
¼ tsp ground cloves*
½ tsp salt, adjust to taste
¼ tsp ground black pepper, to taste
120 ml / ½ cup red wine
400 g tin plum tomatoes
1 tbsp tomato paste / concentrate
3 tsp tamari or soy sauce
1 tsp vegan Worcester sauce
2 fresh or dry bay leaves
a few sprigs of thyme, leaves picked
pinch of chilli flakes (optional)
150 g / 1 cup cooked Puy or other firm lentils
1 tsp sugar or date nectar
PASTA LAYER
300 g / 10½ oz macaroni pasta* (GF if needed)
120 ml / ½ cup oat milk (or other plant milk)
1 tbsp tapioca
salt and pepper
BECHAMEL (or alternative bechamel)
1 head of roasted garlic cloves** (optional)
2 tsp white miso paste
780 ml / 3¼ cups oat milk (I recommend Oatly original) or other plant milk
80 ml / 1/3 cup mild olive oil (or 100 g / 3½ oz vegan butter)
80 g / 2/3 cup AP flour (or GF flour mix)
2 tbsp nutritional yeast
1 tsp salt, adjust to taste
¼ tsp pepper, adjust to taste
freshly ground nutmeg (I used 1/3 whole nutmeg), to taste
METHOD
ROAST GARLIC (optional but recommended)
Preheat the oven to 200° C / 390° F.
Cut the top of the garlic head(s) off with a knife. Drizzle the exposed cloves with olive oil and wrap the garlic in a piece of kitchen foil so that the tops of the cloves are protected from getting burnt.
Place in a preheated oven for about 30-40 minutes, until the cloves are soft and caramelised. Store in the fridge for 1 week.
RAGU
Heat up olive oil in a large, heavy-bottom pan. Once the oil starts shimmering, add diced onion and sauté, on a low-medium heat, until translucent and only just caramelised (about 15 minutes). Skip to step 3 while waiting.
Add in the garlic and fry for a few more minutes until fragrant.
While the onions are sautéing, dice your mushrooms quite finely. You can use a food processor but it's too easy to overprocess them so I prefer to chop them by hand, it also saves on washing up.
Once the onion-garlic mixture is ready, add diced mushrooms in three batches so that you don't overcrowd the pan. As soon as the first batch is cooked (turns dark brown), add the next.
Once all the mushrooms are cooked, season them with cinnamon, cloves, salt and pepper. Allow all the water to cook out.
Add in wine and allow the alcohol taste to cook out before adding in plum tomatoes, their juices, tomato paste, a cup of water (rinse your tin with it), tamari, Worcester sauce (if using), bay and thyme leaves and a pinch of chilli (if using).
Break tomatoes up with a wooden spoon and give the mixture a good stir. Simmer for about 45 minutes, until tomatoes have fully broken down and sauce becomes homogenous. Give the sauce a good stir from time to time, add a splash more water if the pan is looking too dry.
Once the tomatoes break down fully, stir in cooked lentils. If the ragu is too dry, add a little water as it will dry out more during baking.
Adjust the seasoning and add a touch of sweetness if desired. Set aside to cool.
PASTA
Cook pasta for half amount of the time stated on the packet. My macaroni packet said 11-13 minutes, I cooked it for 6 minutes. Drain, refresh under cold water.
Return the pasta to the empty pot you cooked it in, stir in oat milk, salt and pepper to taste and tapioca flour.
BECHAMEL
Measure out the milk. Blend roasted garlic cloves and miso paste with 120 ml / ½ cup of the oat milk allocated for the béchamel sauce.
Slowly heat up olive oil in a large saucepan (stainless steal works best for this). Once the oil starts to shimmer, gradually whisk in flour. Keep whisking until the mixture is super smooth. Allow the mixture to bubble gently, whisking the whole time, for a whole minute so that there is no raw flour taste in your béchamel, but make sure it doesn't colour.
Next, reduce the heat to low and start adding in oat milk while whisking the whole time. Initially the mixture may thicken really quickly and look a bit lumpy – don't worry, it will recover once all the milk has been whisked in. Once the mixture looks stable whisk in nutritional yeast and allow it to melt into the sauce, then continue adding in the rest of your milk, including the batch you've whizzed up with garlic and miso. Simmer only just enough for the sauce to thicken, then season with salt, pepper and nutmeg to taste.
ASSEMBLY
Preheat the oven to 180° C / 390° F (or 160° C / 320° F on a fan setting).
Arrange a layer of seasoned pasta at the bottom of the baking dish (see notes).
Spread ragu on top of the pasta, followed by the béchamel.
Bake for about 50 minutes, rotating the dish halfway through cooking to ensure it bakes evenly. Increase the oven temperature by 10° C / 20° F for the last 10 minutes of baking time to speed up browning.
Allow the dish to set for at least an hour or else the slices will come out messy, although I do recommend waiting to consume until the following day – the flavours will mellow and the dish will taste even better. Store the leftovers for up to 5 days in the fridge or freeze in air-tight containers.
NOTES
*GROUND CLOVES: I and many people who loved this recipe, like the amount of cloves as stated, but I had one reviewer complain about it. If you dislike cloves or are sensitive to them, use only a big pinch of skip completely.
*Traditionally, bucatini pasta is used, but as I could not find any locally, I went for macaroni, which worked really well. Alternatively, you can also use ziti or penne.
**I recommend baking 3 heads at one time as they make a great addition to salad dressings, dips, soups. Alternatively you could use a finely grated clove of raw garlic, which you can add in straight or sauté it in the oil first, but be super careful not to let it turn brown – it will make the béchamel taste bitter.
The baking dish I used is a square 25 cm / 10″ dish, but another shape dish of similar surface area will work just as well.