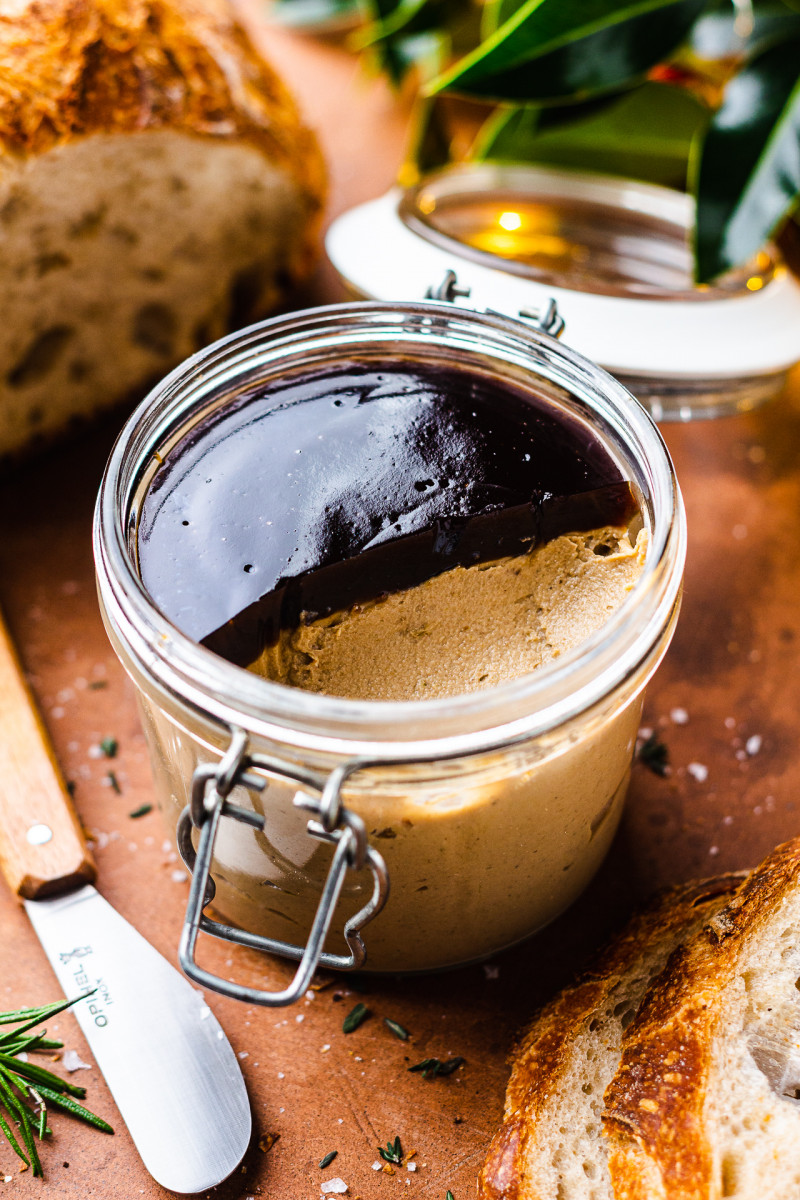 As I'm a devout mushroom lover, it would be remiss of me not to publish a recipe for a mushroom pâté ahead of Christmas. You are welcome! This vegan pâté takes very little effort and tastes absolutely divine. It's perfect spread on crackers, oatcakes or a slice of sourdough bread.
Even Duncan, who isn't as crazy about mushrooms as me (he likes them but does not get nearly as excited about them as I do) and was not keen on the concept of a vegan pâté with mushrooms when I first put it on my recipe list for Christmas, could not get enough of this pâté. His exact words were 'it's outstanding' or maybe he was just famished after kayaking in cold Welsh river on a cold winter day…
The ingredients are fairly straightforward and widely available and the process quite simple too. As mushrooms contribute most flavour, I used two types – dried porcini mushrooms and their aromatic stock and bog standard button mushrooms (although I got their brown rather than white variety). Caramelised aromatics, a healthy glug of fortified wine and herbs (I used rosemary) are all fantastic backing singers. Soy sauce and red miso paste amplify umami-rich flavour even more and cashews or chestnuts yield creaminess and body to this beautiful starter.
This umami rich vegan pâté is topped with a thin layer of balsamic jelly, which does not only makes it look pretty, it protects the pâté from drying out and offers nice textural and flavour contrast too.
In terms of setting this pâté, you have two different options. If you are after an indulgent, 'it's Christmas, I don't care' texture, go for melted vegan butter option. It's hassle free and produces a delicious result. If, however, you are a bit more health conscious no matter what time of the year, use vegan gelatine – aka agar agar powder – to set this pâté without the need for extra fat. And if you wanted to make it oil-free altogether, you could even go a step further and sauteé the aromatics and mushrooms in vegetable stock instead of olive oil.
MORE ABOUT THE INGREDIENTS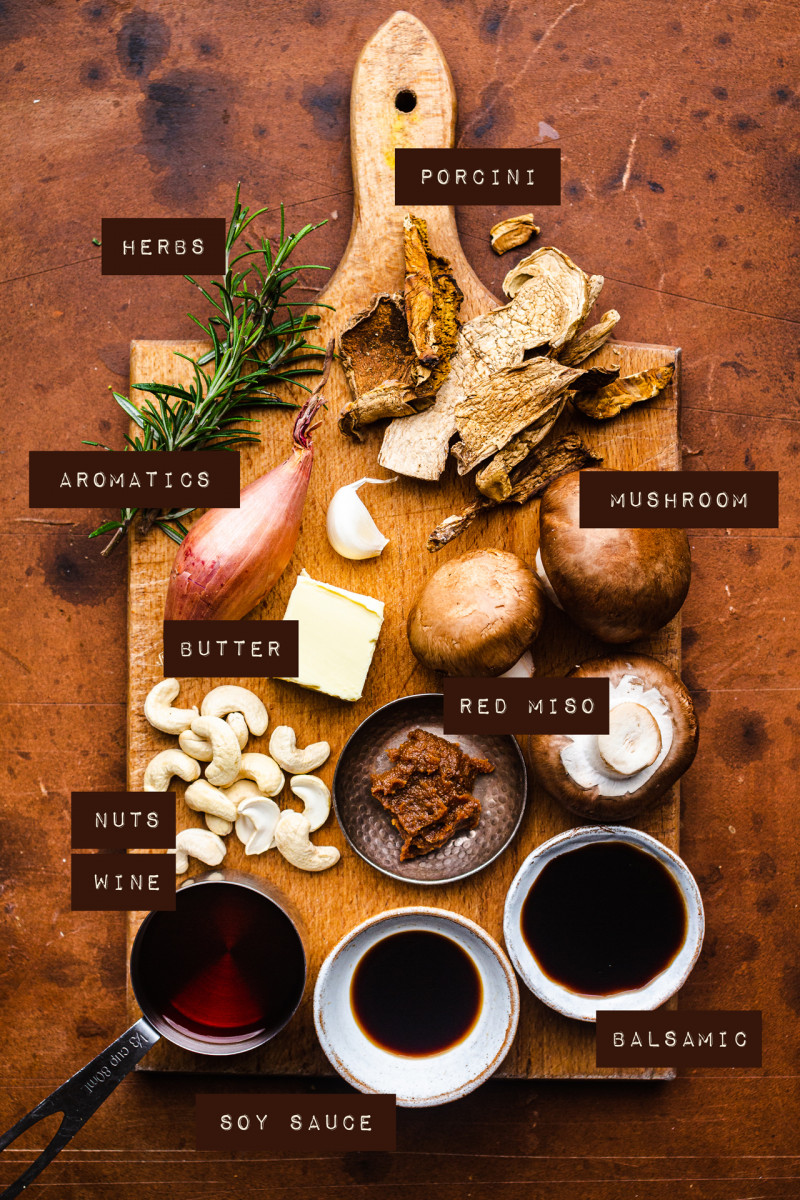 PORCINI: dried porcini are a real flavour bomb so using them in a mushroom pâté is no brainer. If you decide to use them, make sure to clean them very well as their dried flesh is notorious for trapping grit. I clean them with a brush first, then after I soak them in boiling water, I clean them once more under a cold tap – once they are rehydrated it's easier to dislodge grit particles with your fingers. I also pour the stock through a sieve lined with two paper kitchen towels to ensure it's totally grit free. If cannot get hold of them, simply double the amount of fresh mushrooms and use a mushroom stock cube instead.
MUSHROOM: You can use any fresh mushrooms you enjoy, but as I wanted this recipe to be as accessible as possible, I went for brown mushrooms known as chestnut in the UK (and cremini in the US).
ROSEMARY: I used some fresh rosemary to flavour my pâté, but fresh thyme would be my second choice. You could, of course, use dried herbs too, but go easy on them – I would start with a good pinch – as they tend to be (provided they are not stale) more pungent than fresh.
MARASLA WINE: a good glug of sweet fortified wine is a nice addition to a festive pâté. I used marsala wine, but port or sherry would also work just as well. Failing that white wine and a pinch sugar will also do. If you don't consume any alcohol, however, simply used extra porcini stock in place of alcohol.
CASHEWS: cashews add creaminess and body to this pâté and lighten the colour a little. You could also use walnuts but they have a less neutral flavour and I wanted a clean mushroom flavour, which is why I opted for slightly sweet but otherwise neutral cashews. Another option, perfect if you are allergic to tree nuts nuts, are chestnuts. Despite having 'nuts' in their name, chestnuts are usually safe to consume for people who suffer from tree nut allergies. I recommend cooked chestnuts (that come in vacuum packed) as these tend to be readily available in supermarkets around Xmas. If using chestnuts, your pâté will turn out a little darker in colour, which is not a problem, but you won't get that nice colour contrast between the two layers. Finally, if you cannot eat nuts or chestnuts, hulled sunflower seeds will be the alternative I can suggest.
RED MISO PASTE: red miso goes beautifully with mushrooms and I used it to deepen the flavour of this pâté. If you only have white miso paste, use that instead – it has simply been fermented for less longer so the flavour is much more mellow. If you haven't got either of these, add a little more soy sauce and maybe a few drops of vegan Worcester sauce if you have it.
VEGAN BUTTER: adding vegan butter is one way of giving a pâté a firmer and a more luxurious texture. I like the Danish brand Naturli and the Greek brand Violife. Another way is agar agar, which I will explain below.
AGAR AGAR: agar agar powder is a vegan gelatine obtained from algae. You can use it to set the pâté instead vegan butter and to set the jelly. It comes in two forms powder and flakes and I always recommend getting the powder as the flakes (which are three times less potent than powder btw) never fully dissolve in my experience.
SOY SAUCE: I like adding a dash of soy sauce here to add a bit of depth of flavour (alongside some saltiness). I used all purpose Kikkoman soy sauce. If you want to keep this dish gluten-free, use tamari instead (check the label but tamari usually is brewed without any wheat)
BALSAMIC: I wanted something tangy to contrast with the creaminess of the pâté underneath and aged balsamic is what I decided on as mushrooms and balsamic are a match made in heaven (have you tried my balsamic mushroom pasta yet? It's one of my favourites). Use aged balsamic if possible – it's thicker, more syrupy and has a deeper flavour. If you only have a bog standard balsamic, you may want to add a touch more maple syrup or sugar to the jelly to counter its harshness.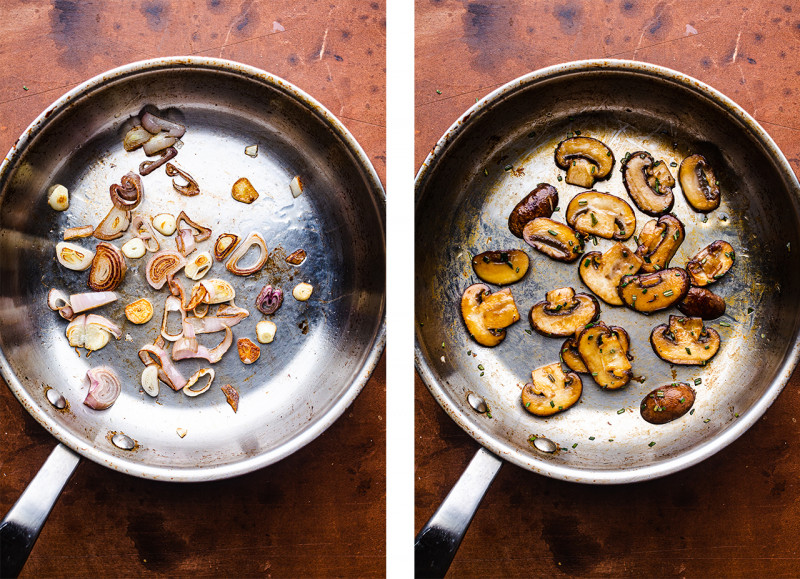 Pan-fry aromatics first and mushroom second (in the same pan) until softened and lightly caramelised. Add rosemary towards the end of mushroom frying step.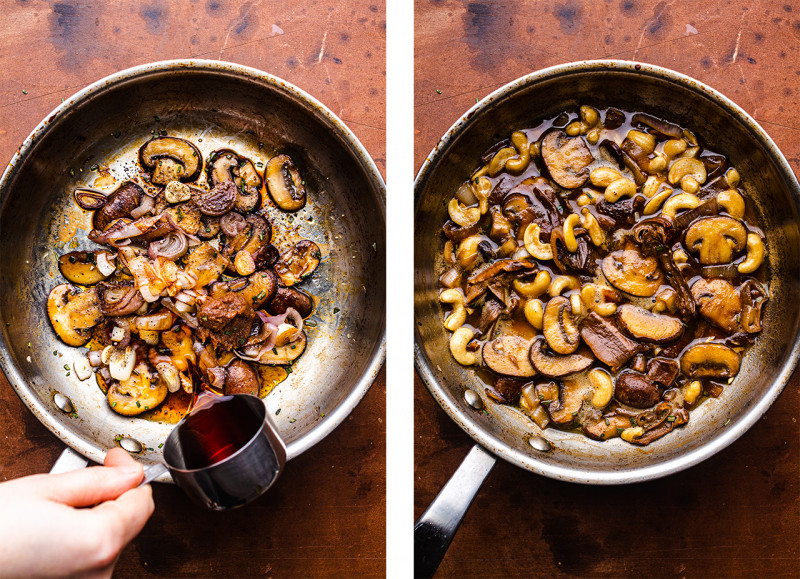 Add all the remaining ingredients, with the exception of butter or agar agar, back to the pan. Simmer gently for a few minutes, cool down and transfer to a mini blender (if you are after smooth texture) or food processor (if you prefer your pate to have a bit more texture). Add melted vegan butter or activated agar agar before blending, processing until you achieve the desired consistency.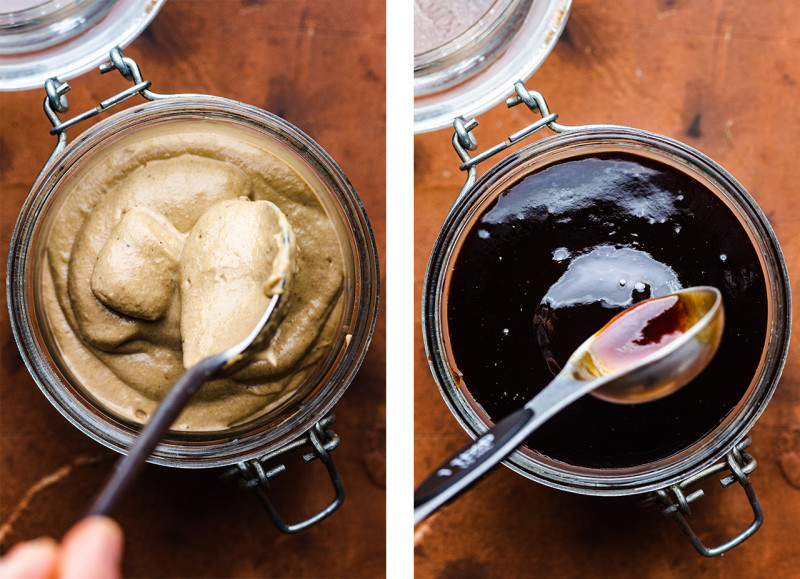 Once blended, transfer to a clean jar or container that can hold at least 360 ml (1½ cups) and refrigate until fully set before topping with the jelly layer.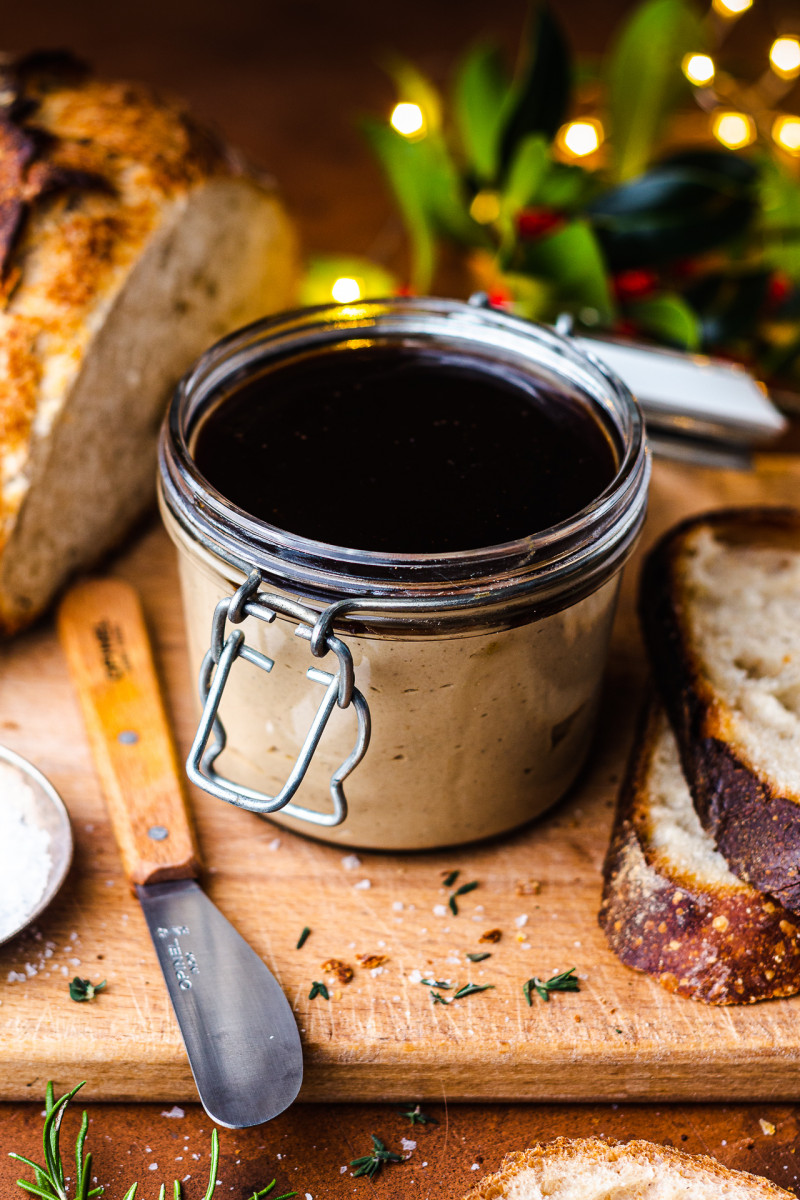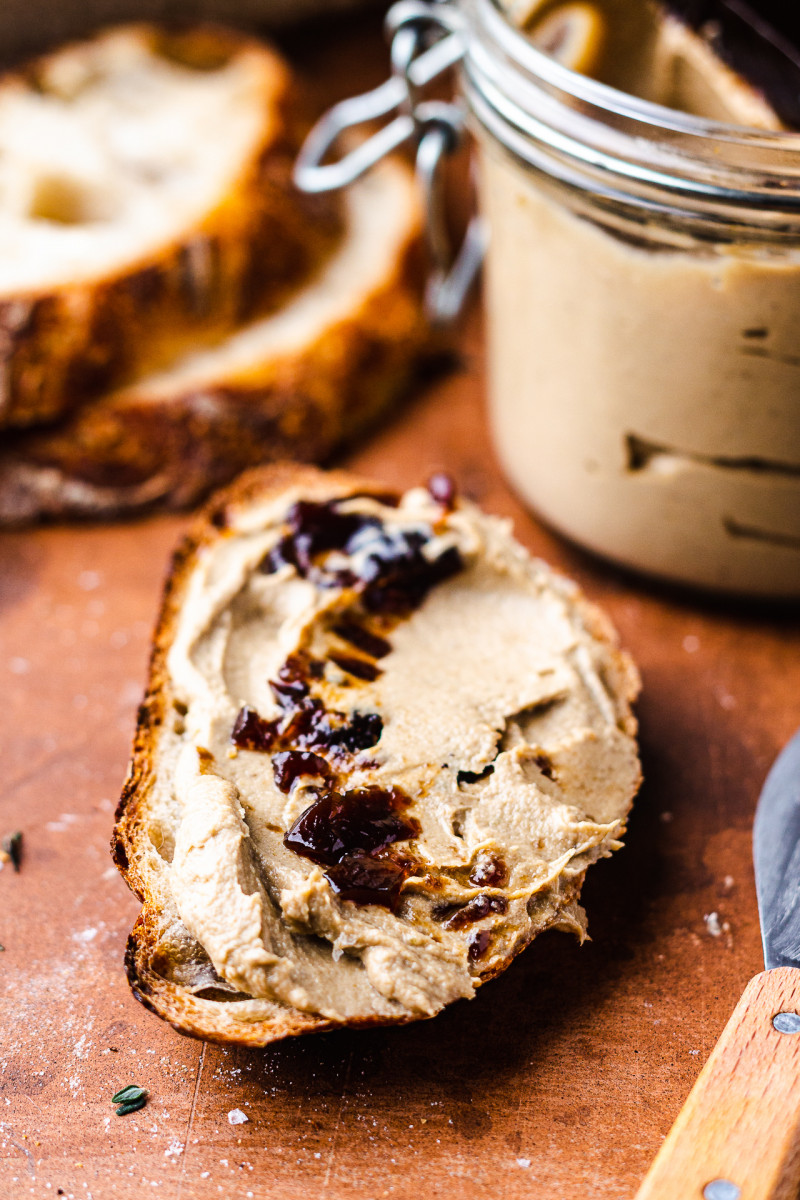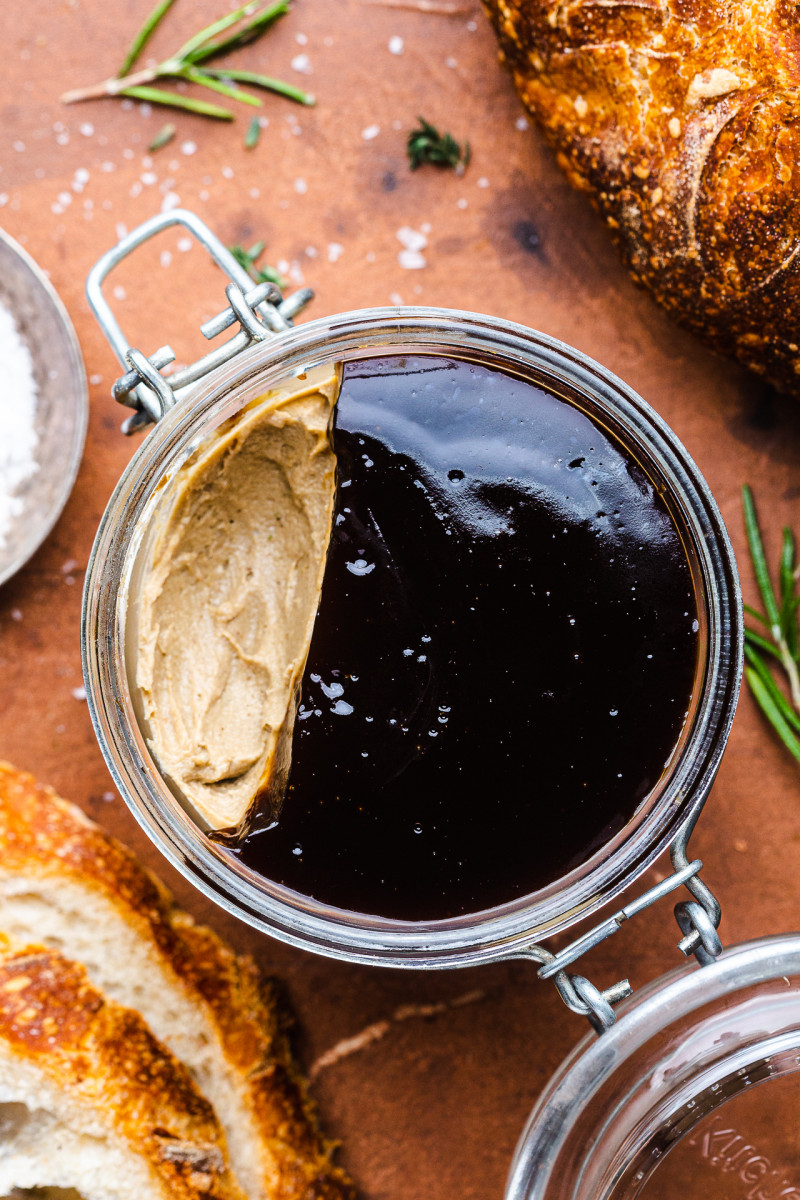 MUSHROOM PATE
10 g / 0.35 oz dried porcini mushrooms (rehydrated ahead of time!!)
30 ml / 2 tbsp olive oil*, divided
1 large shallot, thickly sliced
2 garlic cloves, thickly sliced
150 g / 5.3 oz mushrooms (I used chestnut / cremini), sliced
1½ tsp chopped rosemary leaves (or thyme leaves)
7 ml / 1½ tsp soy sauce (or tamari if GF)
45 ml / 3 tbsp marsala wine*
50 g / 1/3 cup cashews, soaked in boiling water* or 50 g / scant ½ cup cooked chestnuts
12 g / 2 tsp red miso paste
scant ¼ tsp pepper and ¼ tsp flaky salt, adjust both to taste
55 g / ¼ cup vegan butter (I like Violife and Naturli) or 0.75 g / heaped ¼ tsp agar agar powder
BALSAMIC JELLY
0.6 g / ¼ tsp agar agar powder
45 ml / 3 tbsp aged balsamic
45 ml / 3 tbsp porcini stock or water
10 ml / 2 tsp maple syrup or brown sugar
5 ml / 1 tsp soy sauce (or tamari if GF)
METHOD
Clean porcini well, place in a jug and pour 150 ml (½ cup + 2 tbsp) of water boiling water over them. Allow them to sit in the water for as long as possible (1 hour minimum).
Preheat 1 tbsp of olive oil in a medium size pan. Saute shallot and garlic until softened and caramelised a little, stirring often.
Remove shallot and garlic from the pan and set aside. Heat up another tablespoon of oil in the same pan, add mushrooms and cook until cooked through and caramelised. Add rosemary leaves towards the end of this step.
Turn the heat off. Return shallot and garlic to the pan, add soy sauce, marsala wine, drained cashews, red miso paste. Season with black pepper and a pinch of salt.
Add 100 ml (1/3 cup + 4 tsp) of the porcini stock – I like to strain it through a paper towel lined sieve first to ensure no grit gets through.
Clean rehydrated porcini mushrooms under a cold tap to ensure you get rid of any remaining grit and add them to the pan.
Put the pan back on the heat and allow the mixture to simmer for 5 minutes on low heat. Cool and transfer to a mini blender and blend until smooth. You could use a small food processor if you would prefer the pâté with some texture. Adjust seasoning to your taste, as this dish is eaten cold, I like to overseason a touch.
IF USING VEGAN BUTTER: add melted vegan butter to the blender and blend until smooth.
IF USING AGAR: In a small pot, soak agar in 60 ml (¼ cup) of water for 10 minutes. Bring to a simmer, simmer for 30 seconds before adding all of the agar agar jelly (use a spatula to get it all out) to the pâté and blending until smooth.
Transfer the mixture to a jar or a container a bit bigger than 360 ml (1½ cups) and allow it to set. Vegan butter version will take a few hours (overnight is best), agar version should only take about an hour or so.
BALSAMIC JELLY
Soak agar agar in 60 ml (¼ cup) of water for 10 minutes.
Place balsamic, porcini stock, maple syrup, soy sauce and activated agar in a small pot on low heat.
Bring to a simmer. Stirring frequently, allow it to simmer for 30 seconds then cool the mixture for 10 minutes.
ASSEMBLY
Once lukewarm, pour balsamic jelly over the set pâté. Place in the fridge and allow it set (30 minutes or so).
Keep this pâté an air-tight jar in the fridge, it lasts for about a week. The vegan butter version of this pâté (including the jelly) freezes well, the agar version doesn't freeze that well – it loses some of its firmness once thawed.
NOTES
*OLIVE OIL: use veggie stock to sautee aromatics and mushrooms if you want to make this dish completely oil-free.
*MARSALA WINE: You can use port, sherry or even white wine and a good pinch of sugar instead. If you don't want to use alcohol, use more porcini stock instead.
*CASHEWS: soak them in boiling water for at least 20 minutes (can be longer!) then drain. The same applies to any other dry nuts or seeds you could use instead: walnuts or sunflower seeds. If using cooked chestnuts, there is no need to soak.
NUTRITIONAL INFO
*per 1 out of 10 servings (agar version)