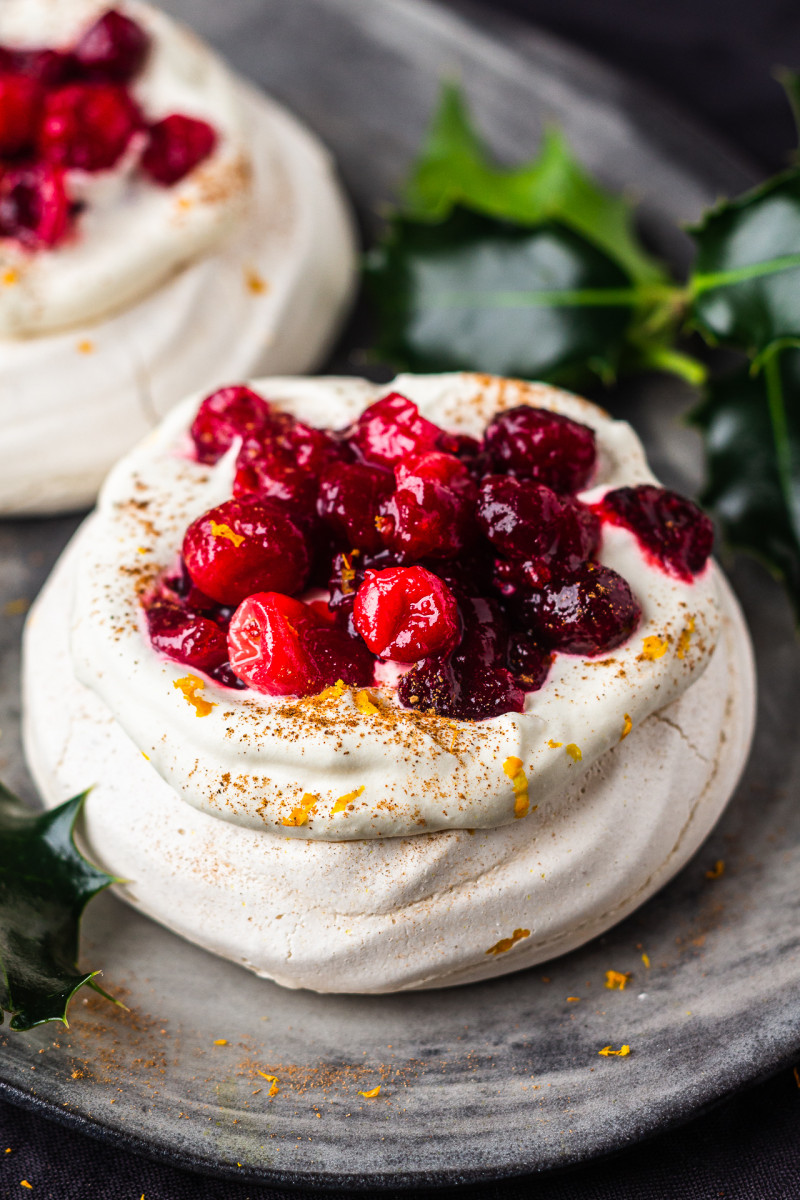 I've been sitting on this recipe for ages but as I am married to an Aussie, I've decided that releasing a pavlova recipe in the run-up to Christmas is probabaly a good call.
Even though we've known each other for 13 years now, I still have trouble wrapping my head around hot weather Christmas celebrated with a barbie on a beach, cold beers from an eski and a pavlova topped with cream and (what is to me) tropical fruit. I am yet to experience Christmas in Australia but because of our four legged purring machine, who gets sad when we leave for a day – let alone an entire month, it will be a while before we can visit Australia again.
To give Duncan the taste of home, I made these beautiful vegan meringues topped with vegan whipped cream and tangy, season-appropriate (at least in the Northern Hemisphere) cranberries. If you live down under, tangy berries would probably be a better fit. Despite what you may think, these are actually not super hard to make provided you stick to a few golden rules – see below.
MORE ABOUT THE INGREDIENTS
AQUAFABA: The discovery of aquafaba or legume cooking (not soaking!) water is what made vegan merinue possible. I've written about this magical ingredient before and created tens of recipes with it already. Although you can use aquafaba from practically any kind of beans, I always use chickpea cooking water as we eat a lot of those. You can use aquafaba from a can of low or no sodium (ideally) chickpeas or from homecooked chickpeas, which is what I recommend. You technically do not need to reduce aquafaba but it does create a stiffer meringue mixture so it is worth it – I explain in detail below.
CREAM OF TARTAR: Similarily to egg whites, aquafaba benefits from a little bit of acid as a stabliser. You can use cream of tartar (widely available in baking aisles) or a little bit of lemon or lime juice or even a neutral vinegar. You won't be able to taste it, don't worry, we are talking about tiny amount here.
CASTER SUGAR: Caster sugar, which is essentially superfine white sugar is a necessary ingredient that doesn't only just give meringue its sweetness but also its structure. For that reason, please do not be tempted to reduce the amount of sugar or to swap it out for a different type of sugar (the only exception being icing/confectioners sugar, the same amount by weight and if it already contains cornstarch do not add as much or any) as it is not going to work.
CORNFLOUR: A little bit of cornflour/cornstarch is used to give pavlovas that wet and gooey centre.
XANTHAN GUM: this is an optional ingredient, but I recommend adding it if you have it – it is a commonly used binder in gluten-free pastry. It gives vegan meringue this gooey, marshmallowy centre.
VEGAN WHIPPING CREAM: use a lightly sweetened vegan whipping cream to decorate the pavlovas with, but if that's not available, there are other options too. You could whip coconut cream (solid part of full fat no-additive coconut milk that separates from the water after chilling in the fridge for a few days), use thick vegan youghurt (I like the Coconut Collaborative) or make a homeamde cream like this instead. Make half of the recipe, prepare it in advance and refrigerate for a few hours to firm up. Once thickened, do not expose to direct heat.
CRANBERRIES: fresh or frozen craberries work well here, but if all you have is a cranberry sauce with whole cranberries in it that will also work well. Alterantively, use any tart fruit (raspberries work well) you enjoy. You want the berries to contrast with very sweet meringue underneath.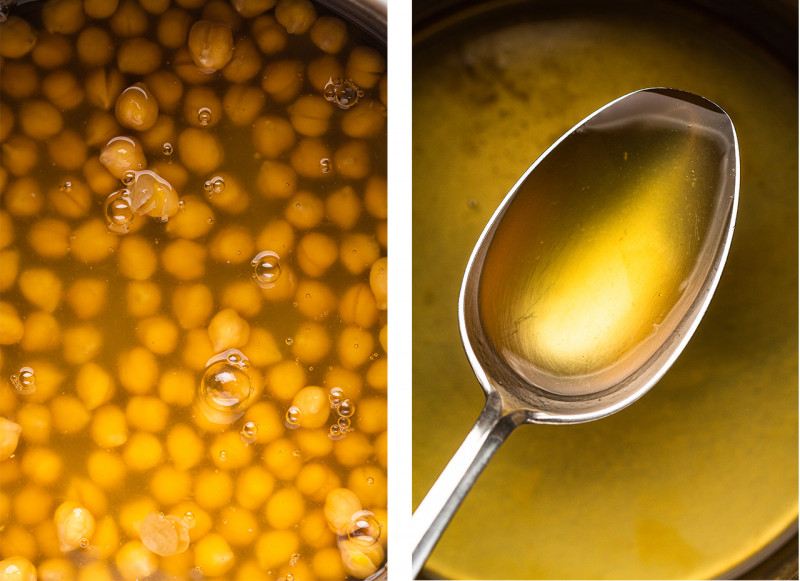 The base of vegan meringue is legume cooking water. It can be obtained from a can of chickpeas or from dry chickpeas cooked at home. I tend to use the latter as we consume a lot of chickpeas and aquafaba freezes well too. You can reduce it over low heat (see STEP 1 of the method) to make it more potent and therefore obtain a sturdier meringue mixture.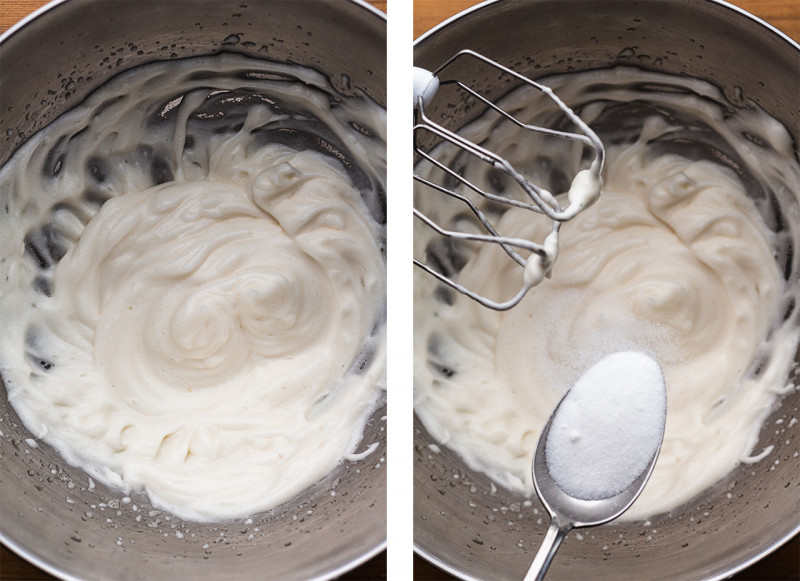 Whip it in a spotlessly clean, metal or glass, bowl with a touch of acid (cream of tartar, lemon/lime juice, neutral vinegar) until stiff and stays put when the bowl is inverted. From that point onwards start adding sugar, in small increments, beating for a good 30 seconds between each subsequent portion of sugar.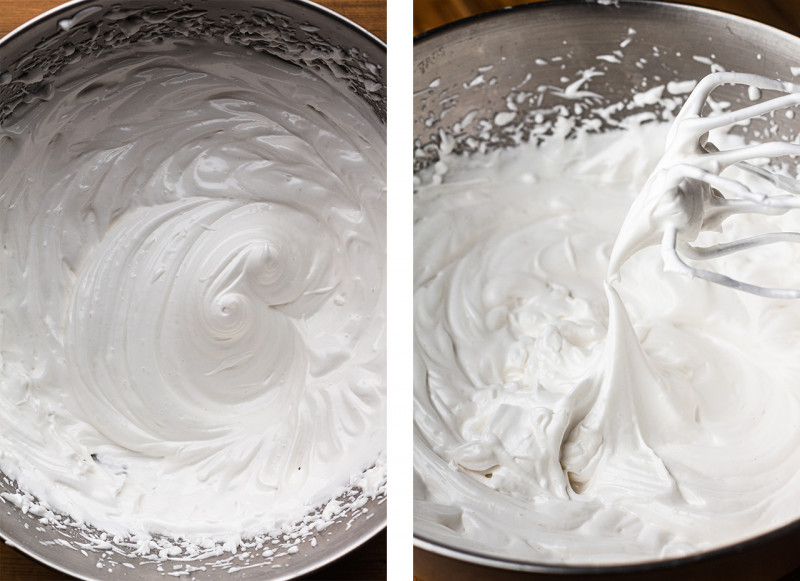 Carry one whipping until all of the sugar has been added and the mixture no longer feels gritty when smushed between your fingertips. Add cornstarch and xanthan gum (optional) to help create that marshmallowy centre you remember from egg pavlovas.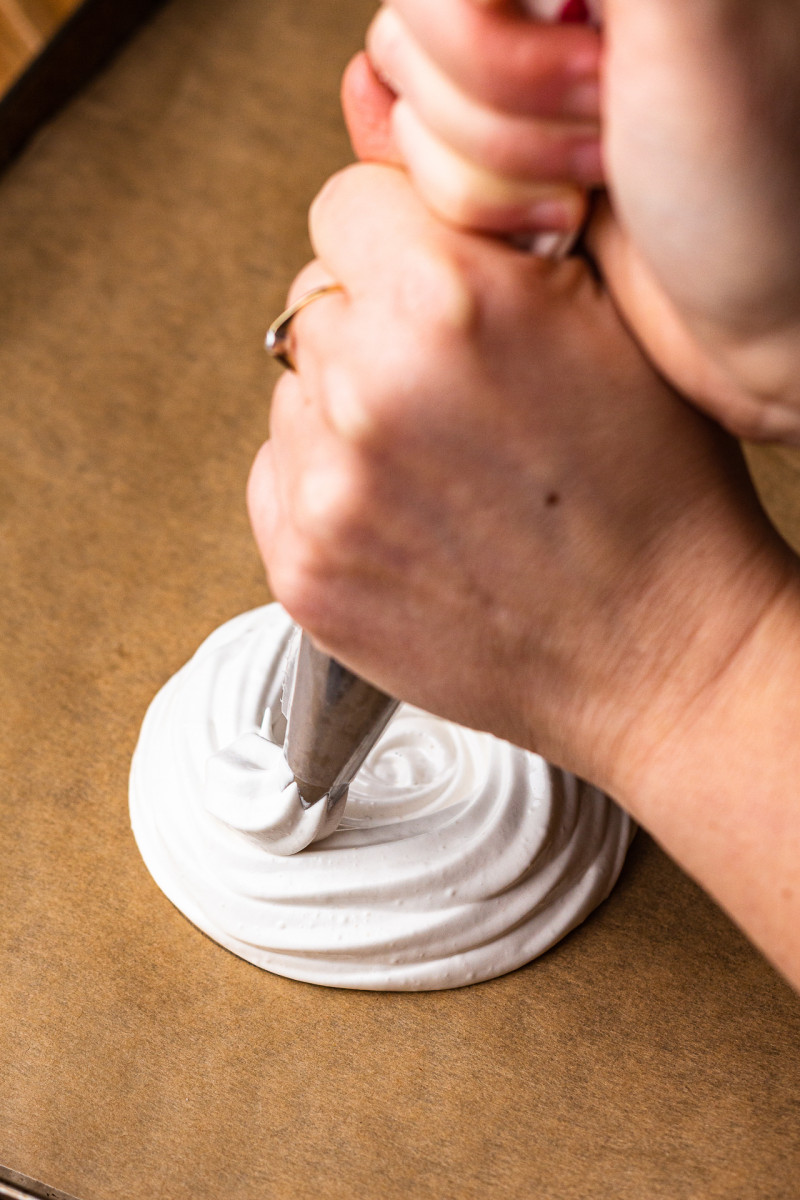 If your piping skills are good (mine aren't amazing) pipe or spoon the meringue mixture between four 9 cm / 3½ inch diameter circles. Shape the mixture so that there is a dent in the middle to hold the cream. Bake in low oven for 1 hour and then allow them to cool down completely in an oven. You can leave them in a cold oven overnight if planning to serve the next day.
IS YOUR EQUIPMENT SPOTLESSLY CLEAN & DRY?
So similarily to egg whites and grease, aquafaba and grease are mortal enemies. Even a tinest amount of grease residue will stop aquafaba from reaching stiff peaks. For that reason, I recommend that you use a metal or glass bowl to whip the meringue as plastic is more porous so it is likely to retain trace amount of grease even once well cleaned. Some people advocate wiping the bowl and whipping attachments with half a lemon, you can do that if you wish, but I personally don't bother and have never had any issues achieving stiff peaks.
DOES AQUAFABA REALLY NEED REDUCING?
So whether aquafaba does or doesn't need reducing really depends on its application. You can make a good enough meringue or pavlova without reducing it but reducing it causes plant proteins (which is what makes aquafaba what it is) to be more concentrated and therefore makes aquafaba more potent. Reduced aquafaba meringue is stiffer and keeps its shape better. Unreduced aquafaba meringues (especially when they are large) tend to be flatter. The flipside of reducing aquafaba is that it also intensifies its flavour although I personally do not detect this when serving vegan meringue as part of dessert, but some people appear to be more sensitive. I have tested lots of vegan meringue based desserts (like this one) on unsuspecting non-vegans and no one has complained about the taste being funny so I think it may be just knowing that you are eating something you are not used to.
CAN I USE DIFFERENT/LESS SUGAR?
No, please do not use a different type of sugar (the only exception being icing/confectioners sugar, the same amount by weight and if it already contains cornstarch do not add as much or any) or reduce its amount as sugar is instrumental in giving meringue its structure and making any changes will make the end result suffer.
ADD SUGAR VERY S-L-O-W-L-Y
A key thing to a good meringue is adding sugar really really slowly – I know, it's tedious but necessary. Even after all the sugar has been added, rub a small amount of mixture between your fingertips to make all the sugar has dissolved and the mixture does not feel gritty. Gritty mixture is likely to make your meringue weep so be sure to carry on whipping until it's perfectly smooth.
HOW LONG TO THEY KEEP?
Naked merignues can be kept overnight in a dry environment – they wick moisture from the air and that makes them deteriorate rather quickly. I tend to leave them in a shut (cold) oven overnight and they are fine the next day or an air-tight food contrainer once fully cooled. Once dressed, however, they need to be consumed straightaway.
I LIVE IN A HUMID CLIMATE…
Unfortunately meringues – vegan or not – do not get on with humdity as their structure relies on sugar. Sugar is hydrophilic meaning it wicks moisture from the air and that makes meringues go soggy. If you therefore live somewhere humid or it is a humid day or your kitchen has a lot of steam going, I don't recommend making these as you are likely to come away frustarted.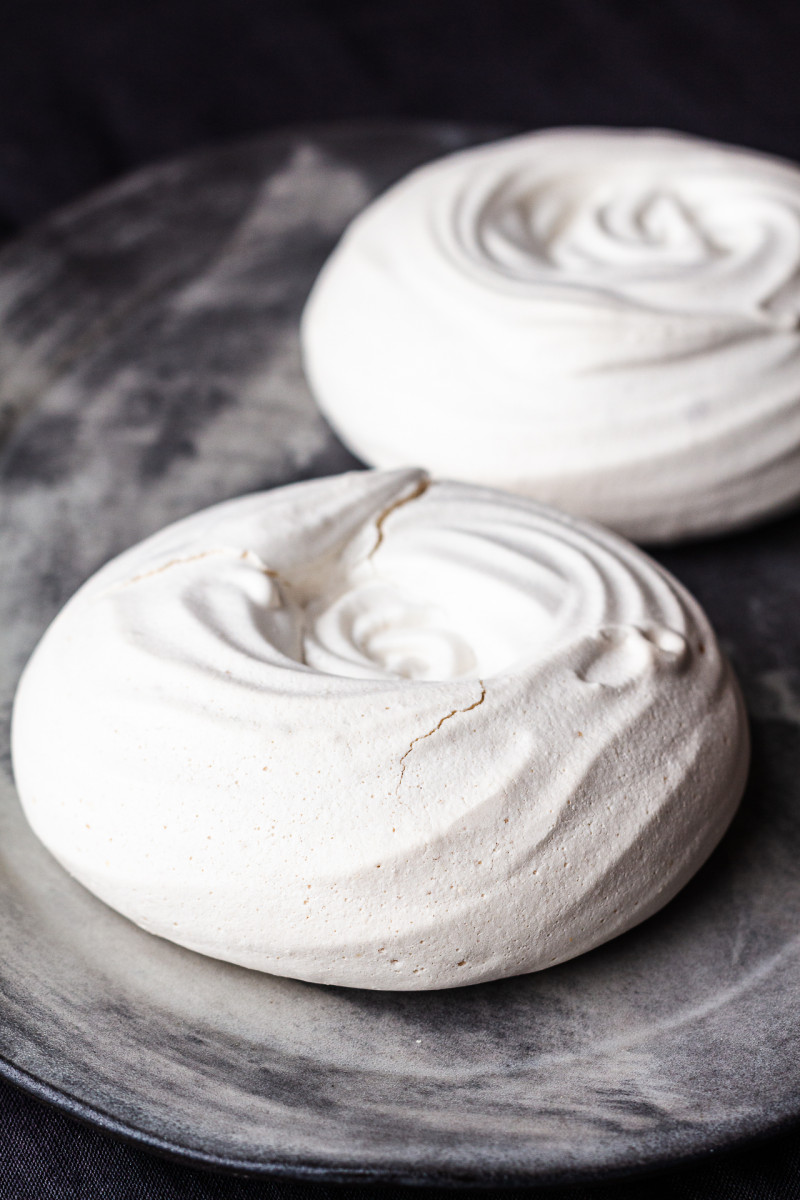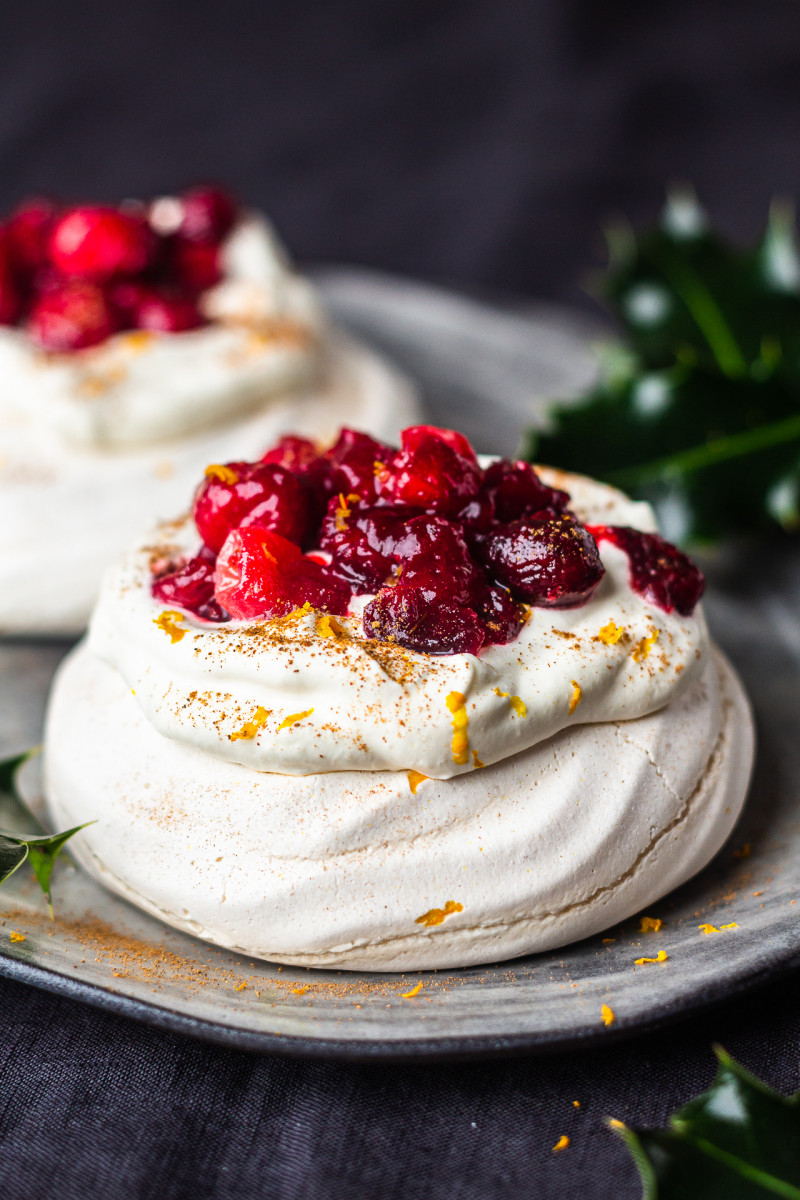 PAVLOVAS
240 ml / 1 cup aquafaba (from canned chickpeas or homecooked chickpeas)
scant ½ tsp cream of tartar (or 1 tsp lemon/lime juice)
200 g / 1 cup caster (superfine) sugar
1 tbsp cornflour/cornstarch
½ tsp xanthan gum* (optional)
CRANBERRIES
200 g / 2 cups cranberries, fresh or frozen
50 g / ¼ cup sugar, adjust to taste
zest of 1 orange (optional)
CREAM
METHOD
PAVLOVAS
OPTIONAL but recommended: Pour aquafaba through a clean sieve and place in a spotlessly clean pot and allow it to simmer until reduced by half, which (depending on the surface area of your pot and the level of heat) will take 8-12 minutes for this amount of aquafaba. Cool it right down before next step – it should look quite gelatinous once cold.
Pre-heat the oven to 170° C / 340° F and line a large baking tray with a piece of baking paper. Using a large cookie cutter and a pencil, mark out four 9 cm / 3½ inch diameter circles on the baking paper, allowing ample of space around each.
Place cool aquafaba (if not reducing aquafaba, use 120 ml / ½ cup only) in a spotless metal or glass bowl. Using an electric whisk, whip until foamy (see photo in the post) before adding in cream of tartar.
Carry on whipping until aquafaba is so stiff that inverting the bowl does not make it move. Once you reach that point, start adding sugar VERY SLOWLY – adding each tablespoon of sugar very gradually whilst whipping and counting slowly to 30 after each addition.
Once all the sugar has been incorporated, test a little bit of mixture between your fingers, it should not feel gritty – if it does, it means that not all of the sugar has dissolved (which may cause your pavlova to weep) and it needs to be whipped until smooth.
Whisk in cornstarch and xanthan gum, if using.
Transfer the mixture to a piping bag or use your spoon to shape the pavolvas. If using a piping bag, be careful not to squeeze to too tighly and leave a small gap between the nozzle and the baking paper when piping as this will trap air bubbles in.
Pipe pavlovas within the circles you've drawn or use your spoon to heap the mixture on and then shape it, creating a dent in the middle with the back of your spoon.
Reduce oven temperature to 100° C / 210° F and bake for 1 hr, then prop the oven door with a wooden spoon and allow pavlovas to cool gradually in the oven (approx. 2 hrs or even overnight if making a day in advance).
CRANBERRIES
Place cranberries in a medium size pot together with 60 ml / ¼ cup water, sugar and orange zest (if using). Mix well.
Simmer on low heat, stirring the whole time until cranberries have split, become soft and their juices thickened. Cool before using.
CREAM
Whip vegan cream until fluffy, sweeten with a little icing sugar and fold in vanilla.
ASSEMBLY
Spoon whipped cream and cooled cranberries over cold pavlovas. Serve immediately.
NOTES
*VEGAN WHIPPING CREAM: If you have trouble finding vegan whipping cream you enjoy, you could make half a portion of the cream I use for my
tiramisu
recipe instead. Prepare it in advance and refrigerate for a few hours to firm up.
*XANTHAN GUM: this is an optional ingredient, but I recommend adding it if you have it on hand – it is a binder commonly used in gluten-free pastry. It helps to give meringues their gooey, marshmallowy centre.