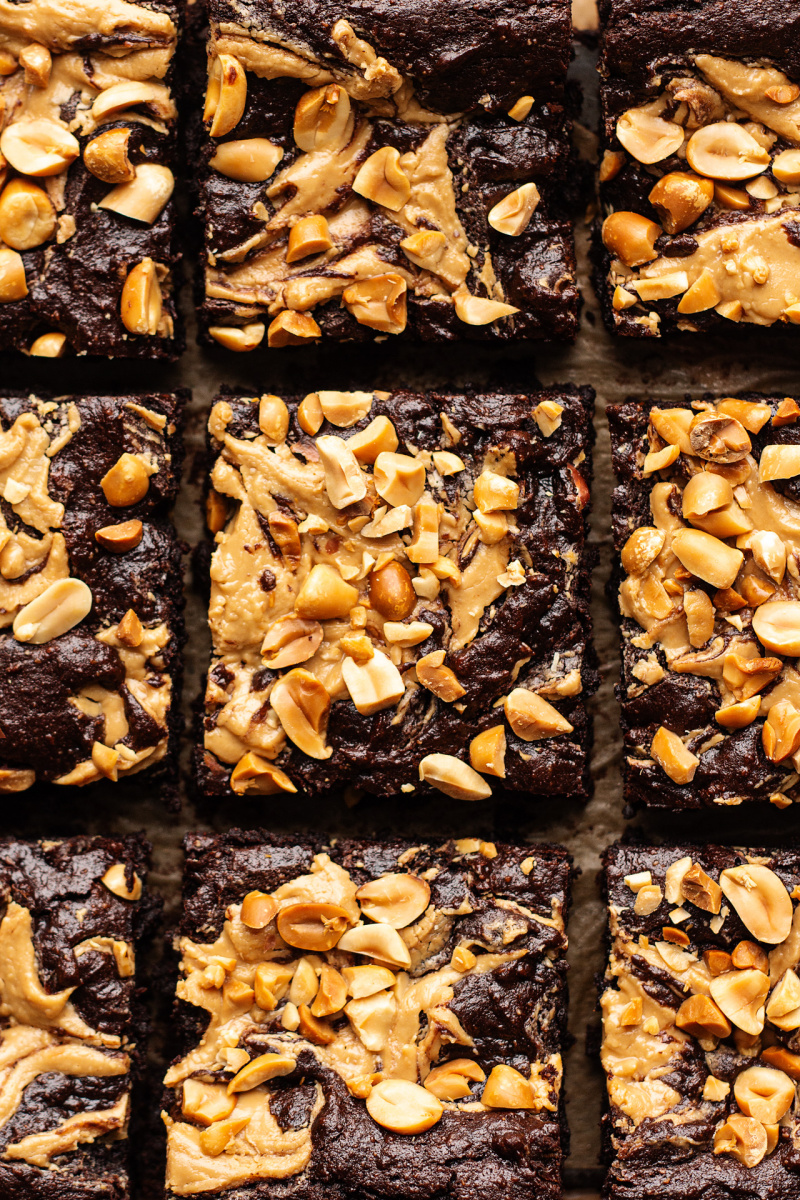 Happy Friday! Hope your week has been peachy and that you have something to look forward to planned for this weekend? We've had a fairly uneventful week of working, mild exercise, meditation and baking brownies. Lots of brownies actually. Leading up to today my house has become brownie central. It's a good thing if you have bags of self-control, but not so good if you are a sweet toothed emotional eater 2 months into being locked in your four walls.
In the old, pre-pandemic, days, I used to send Duncan to work with boxes of my test bakes unless they were completely inedible, but that's out of the window now. Luckily, Duncan's workmate – Anthony – happens to live nearby and he graciously agreed to take some of my test brownies off our hands. Unfortunately for him, my first batch was quite far off the mark – I experimented with using coconut flour and they were seriously dry. It might be why he refused the second batch (I don't blame him), but then apparently he said 'yes' to the forth.
We went over there and, like last time, Duncan left a small package of brownies on his doorstep, but this time he curiously did not ring the doorbell. When I asked 'why?', he said he was worried that Anthony might change his mind. I was confused. 'I thought you said he was keen and you didn't actually bully him to take them' I said. 'I did not bully him, but I'd rather not give him a chance to back out of this' I heard in response as we drove off.
Once we got home Duncan messaged Anthony on slack (Messenger for nerds, apparently – Duncan's words, not mine!) but we have not heard back since so we do not know what has actually happened to our mystery package. It might have got swept off onto someone else's porch as the wind has been crazy here or a dog ate it or someone stepped into it. We might have as well just composted the lot, Duncan!
So as by my own admission my first attempt at these were cardboard dry, these are anything but. I've tinkered with the flours, upped the amount of liquid used and adjusted the baking time for a tray of deliciously gooey vegan brownies laced with peanut butter that can be made gluten-free too! Although I am a late peanut butter convert, I am really devoted to it now and I especially enjoy it against the backdrop of dark chocolate – hence these brownies. The recipe is super easy and does not require any special equipment and I am hoping that it will bring you some joy this weekend.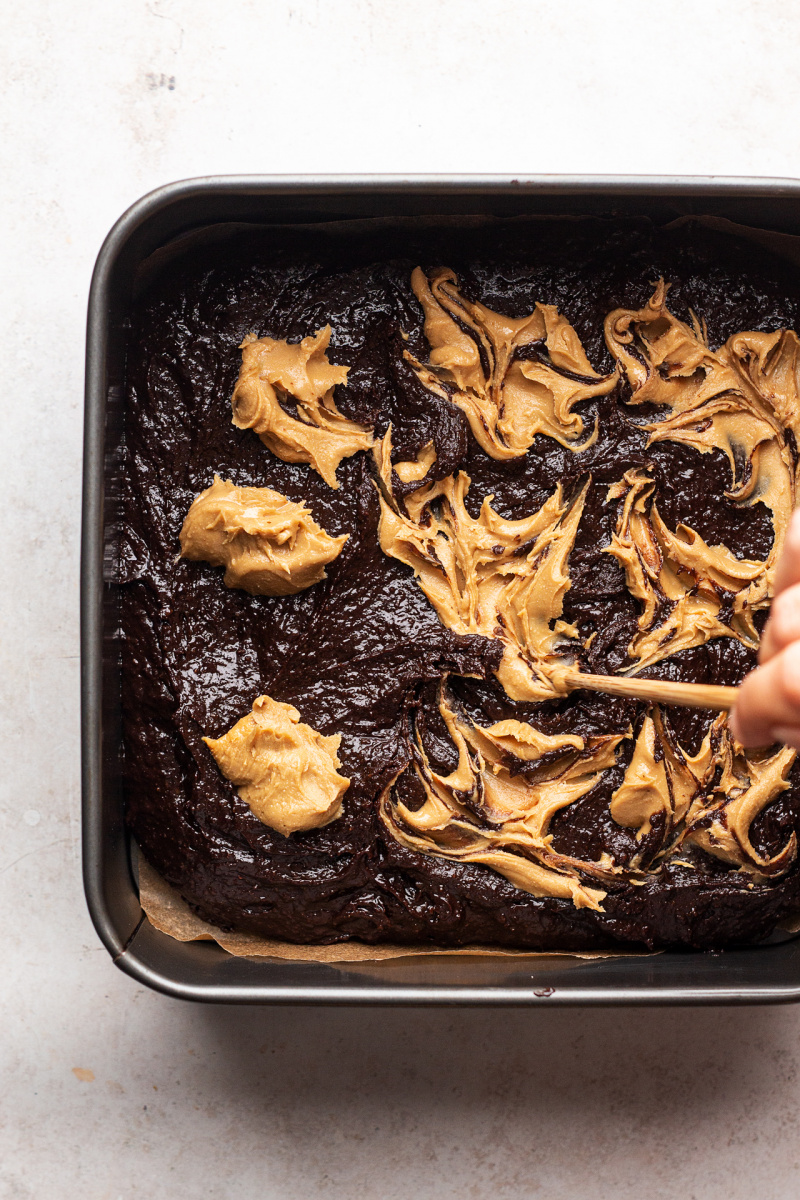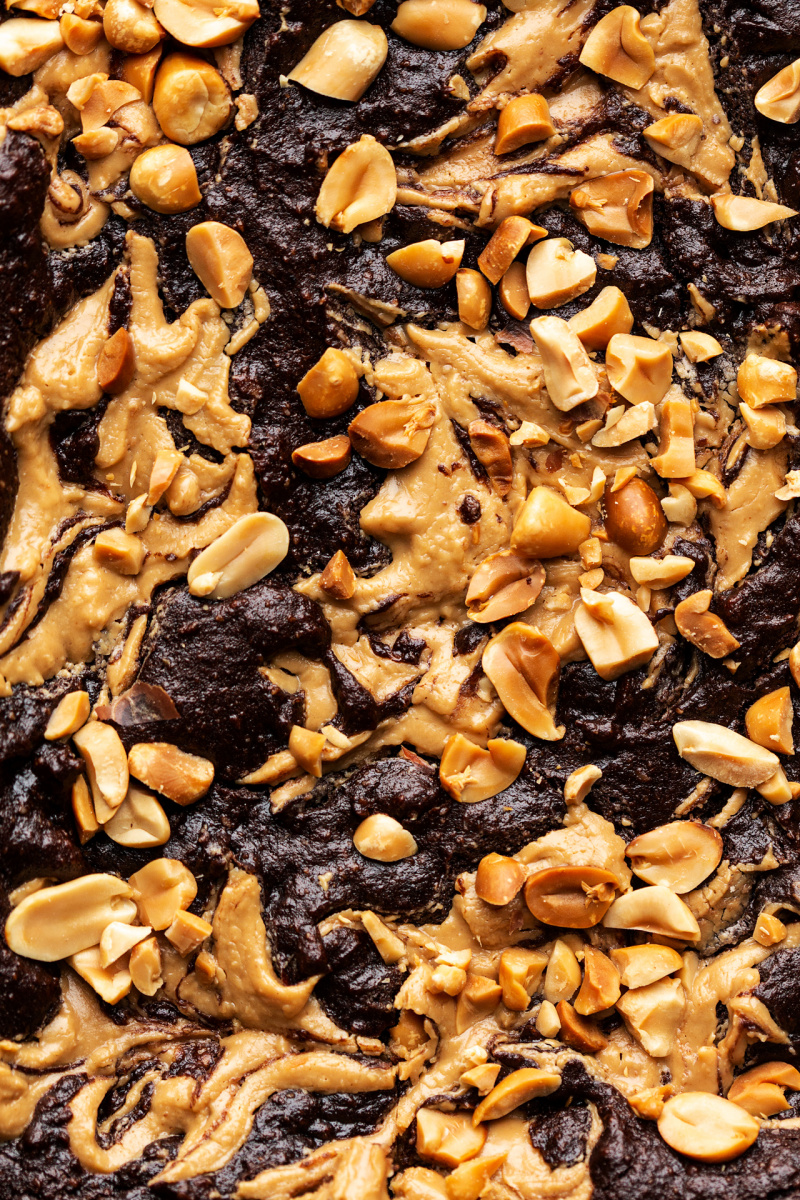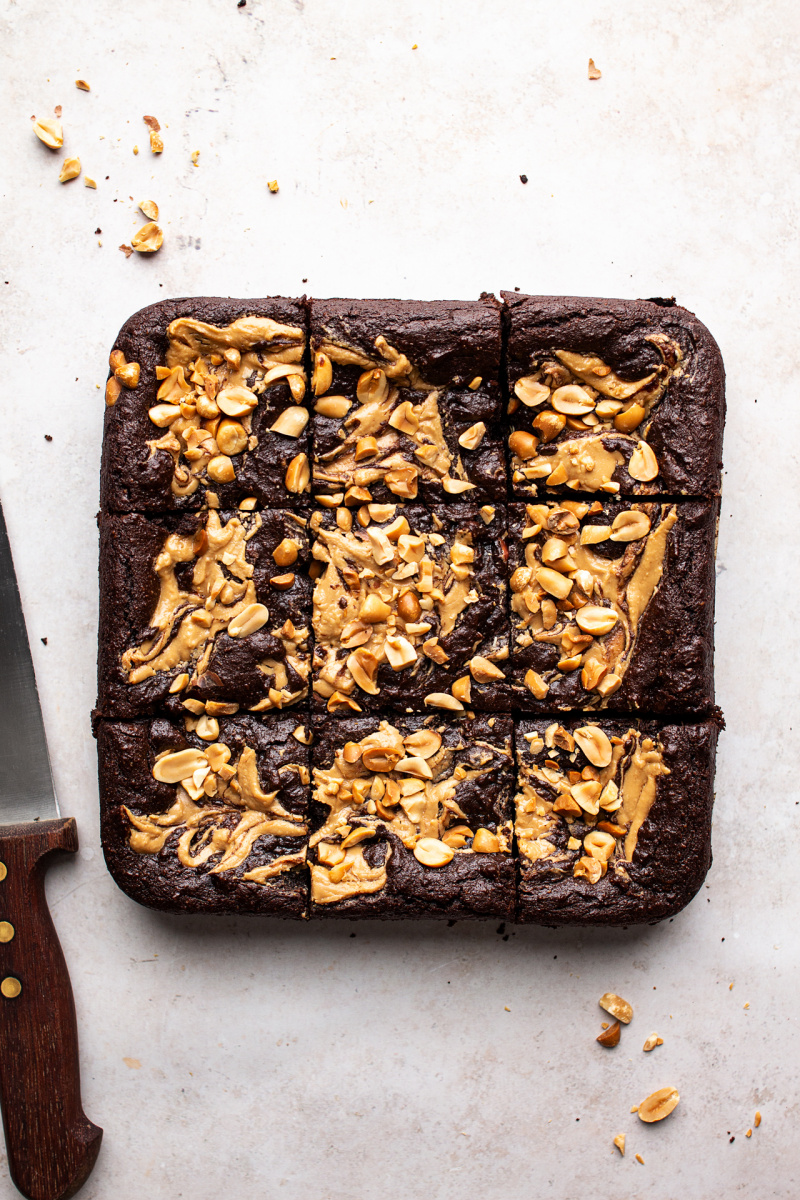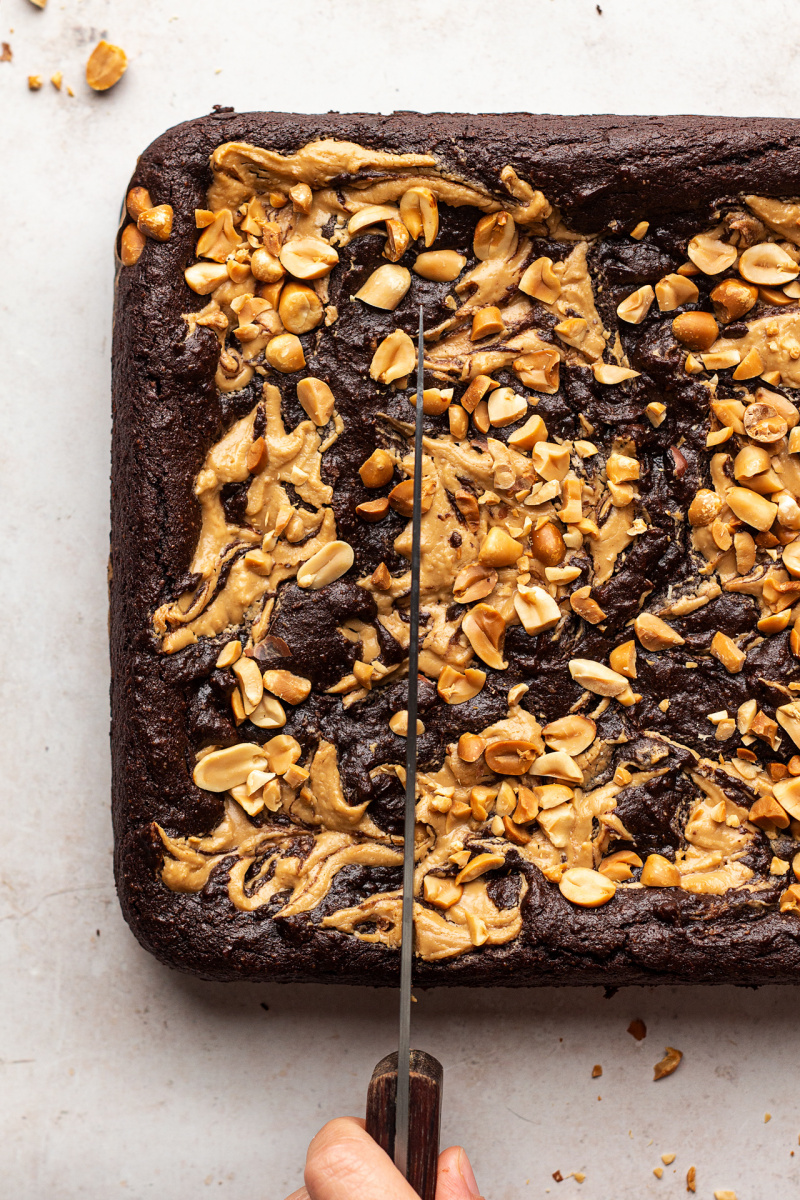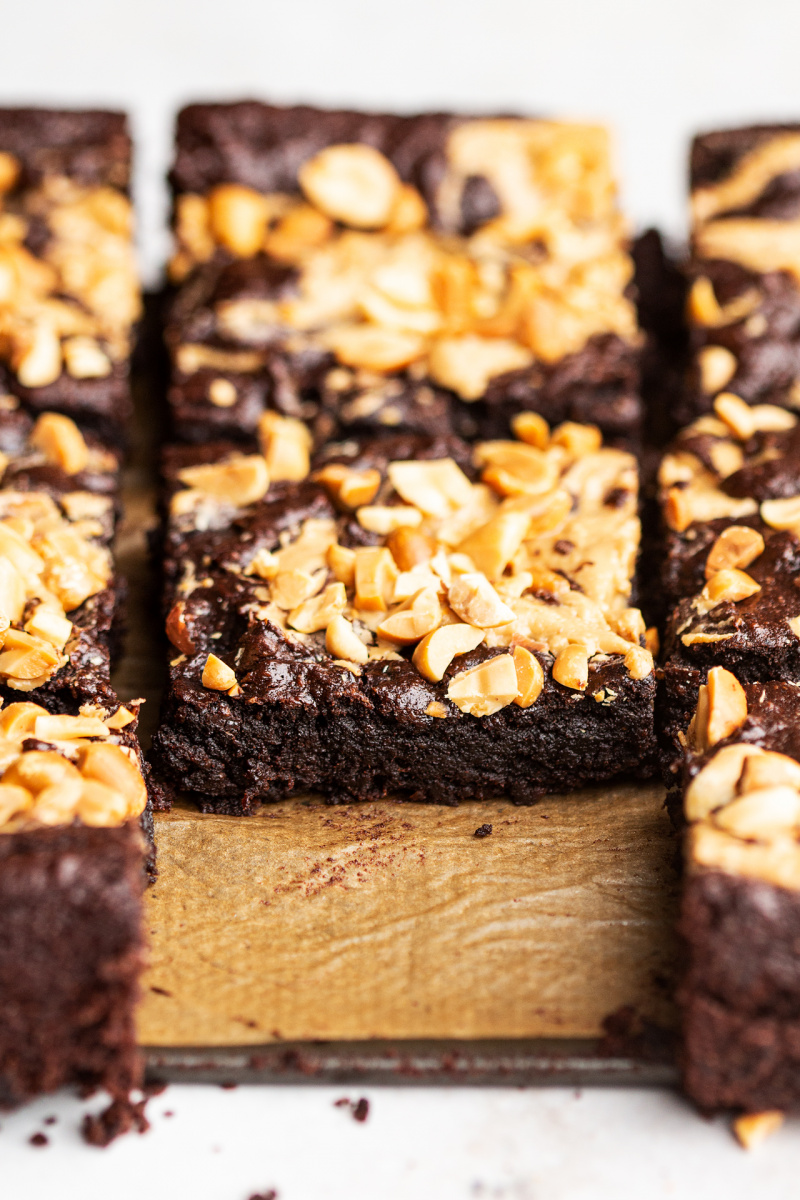 1 tbsp ground flax seeds
100 g / 3.5 oz vegan 70% cocoa dark chocolate
85 g / 1/3 cup mashed banana (or 75 g / 1/3 cup silken tofu, I use Clearspring)
80 ml / 1/3 cup (cold) coffee or plant milk
150 g / ¾ cup caster sugar or coconut sugar for refined sugar-free version
80 g / 1/3 cup peanut butter, plus more for topping
½ tsp salt
½ tsp baking soda (GF certified if needed)
40 g / heaped 1/3 cup cocoa powder
50 g / ½ cup finely ground almonds / almond flour
65 g / ½ cup plain flour or GF flour mix or an extra 50 g / ½ cup almond flour
toasted (unsalted) peanuts, for decoration (optional)
METHOD
Prepare flax egg by mixing ground up flax seeds with 45 ml / 3 tbsp of cold water. Set aside until the flax egg jellifies.
Melt the chocolate very slowly over a bain marie / water bath. Make sure the bowl with chocolate does not touch the water underneath.
Preheat the oven to 175° C / 345° F. Line a 20 cm x 20 cm  / 8″ x 8″ baking tin with baking parchment. Make the baking parchment stick out of the tin so that you're able to remove the brownies from the tin a little easier.
Place mashed banana (or silken tofu) in a large bowl with jellified flax egg, (cold) coffee and sugar and whisk together until smooth. Sugar will act as an abrasive and break the silken tofu up nicely without the need for blending it first (although do use a blender / food processor if you wish).
Fold in peanut butter and melted chocolate and mix until smooth.
Add in all the dry ingredients (apart from plain flour). Mix well. Finally fold in plain flour gently until no flour pockets remain.
Transfer the batter into the prepared baking tin and spread it into the sides and corners with a spatula. Decorate with dollops of peanut butter, spreading it into a swirly pattern with a skewer or a chopstick. Sprinkle with toasted peanuts (if using).
Bake on the middle shelf for about 18-20 minutes (depending on how fudgy you like your brownies and on your oven). Allow the brownies to cool down completely (!) before cutting with a sharp knife.
NOTES