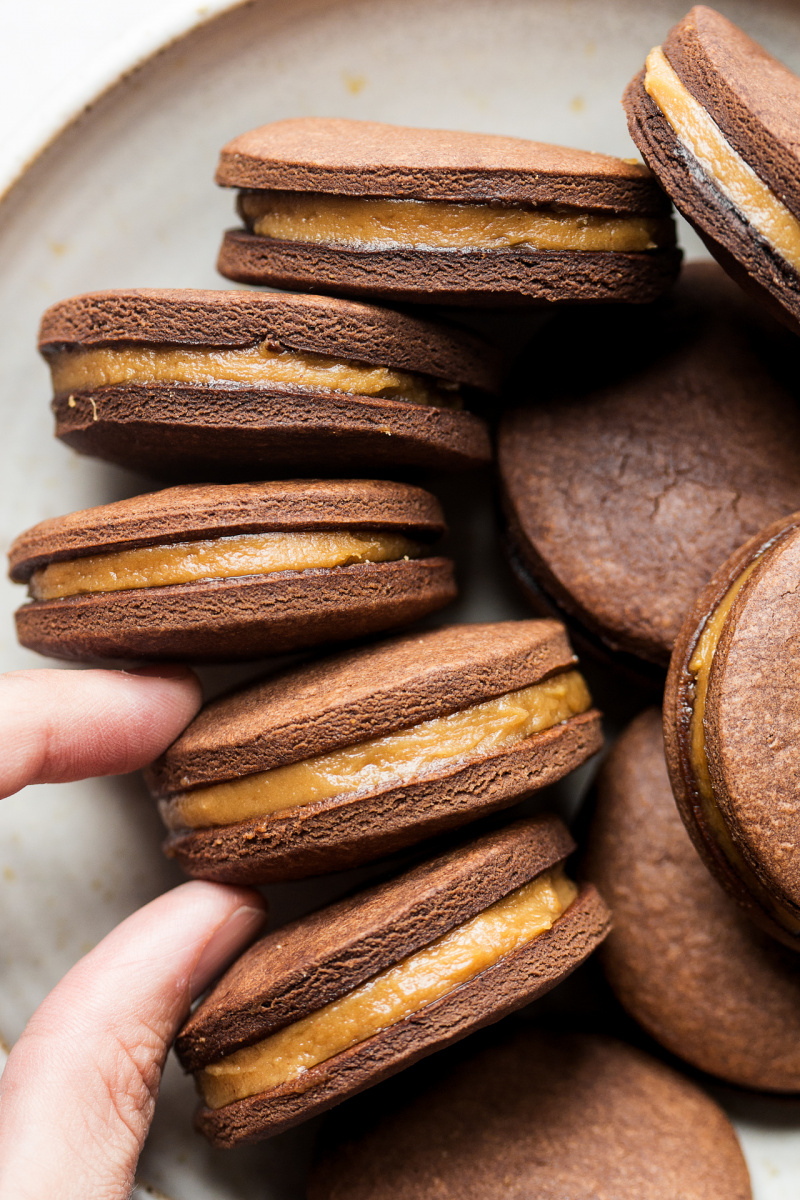 Is it ever going to stop raining? What is going on? It's June for heaven's (hello, anyone up there? Ease up on the rain please!!) sake!! It's been a miserable start to summer here in Bristol so far and it shows no signs of letting up. The skies are so grey that I find myself having to dust off my artificial light setup, which I wasn't expecting to have to use until November! I also find myself having to put the heating on and I'm still on really good terms with my winter coat. Summer, I miss ya!!
As a result, I am really sorry to those of you who are lucky enough to feel sun rays on your skin on a regular basis, but all I am craving is comfort food like pastas, stews, currys, cakes and cookies. Today's offering, therefore, is a stack of vegan peanut butter cookie sandwiches. They are easy to make, require only a handful (5 to be exact) of ingredients and as far as cookies go, they are certainly on the healthy side – which does not make them a health food, btw. Please remember that. A cookie is a cookie!!
The photoshoot leftovers have been very handy today as Duncan has just returned from a grueling 26 km run in the mud and rain. When I quizzed him about this run before, it was supposed to a relaxed canter, but he came home fairly wretched as the terrain was quite challenging and the weather has been merciless. He was very chuffed to come back to a stack of freshly baked cookies and a big plate of vegan bolognese. Bless!
Tomorrow, we were planning to take part in the Let's Ride Bristol event whereby the entire car traffic gets shut down (although only for a few hours) and cyclists take over the town centre. We did that years ago in London and it was a lot of fun. Cycling without being worried about getting bullied off the road by aggressive drivers is a dream and it's a shame it can only happen on a special occasion. I think it would do Bristol a lot of good if it had a congestion zone and invested more money into bike infrastructure and public transport. It would make living in this city better (less traffic and pollution) and make people fitter through encouraging them to cycle everywhere. Wouldn't that be amazing? Sadly, judging by how many cars most families have, I am pretty sure we are firmly in the minority here…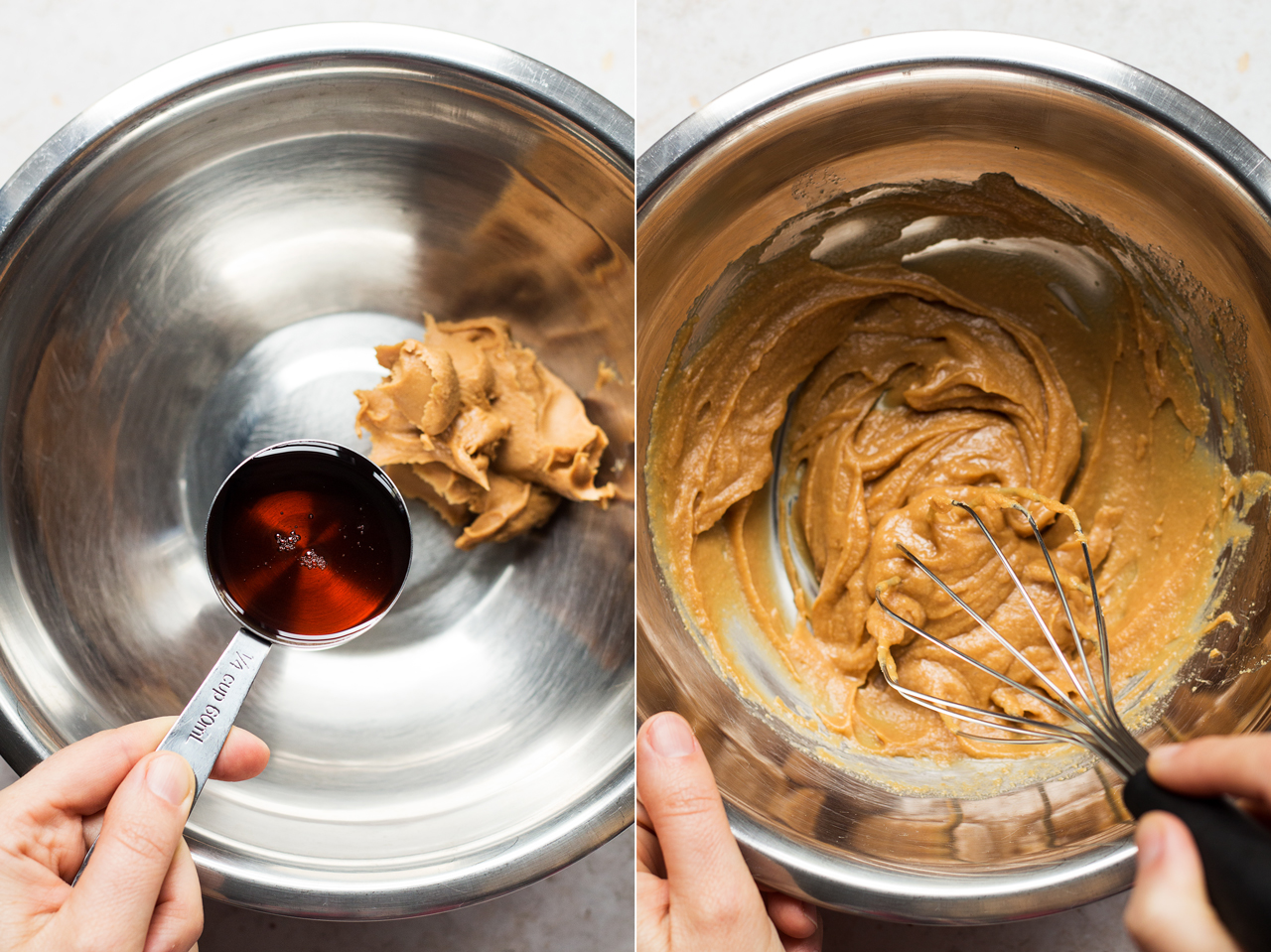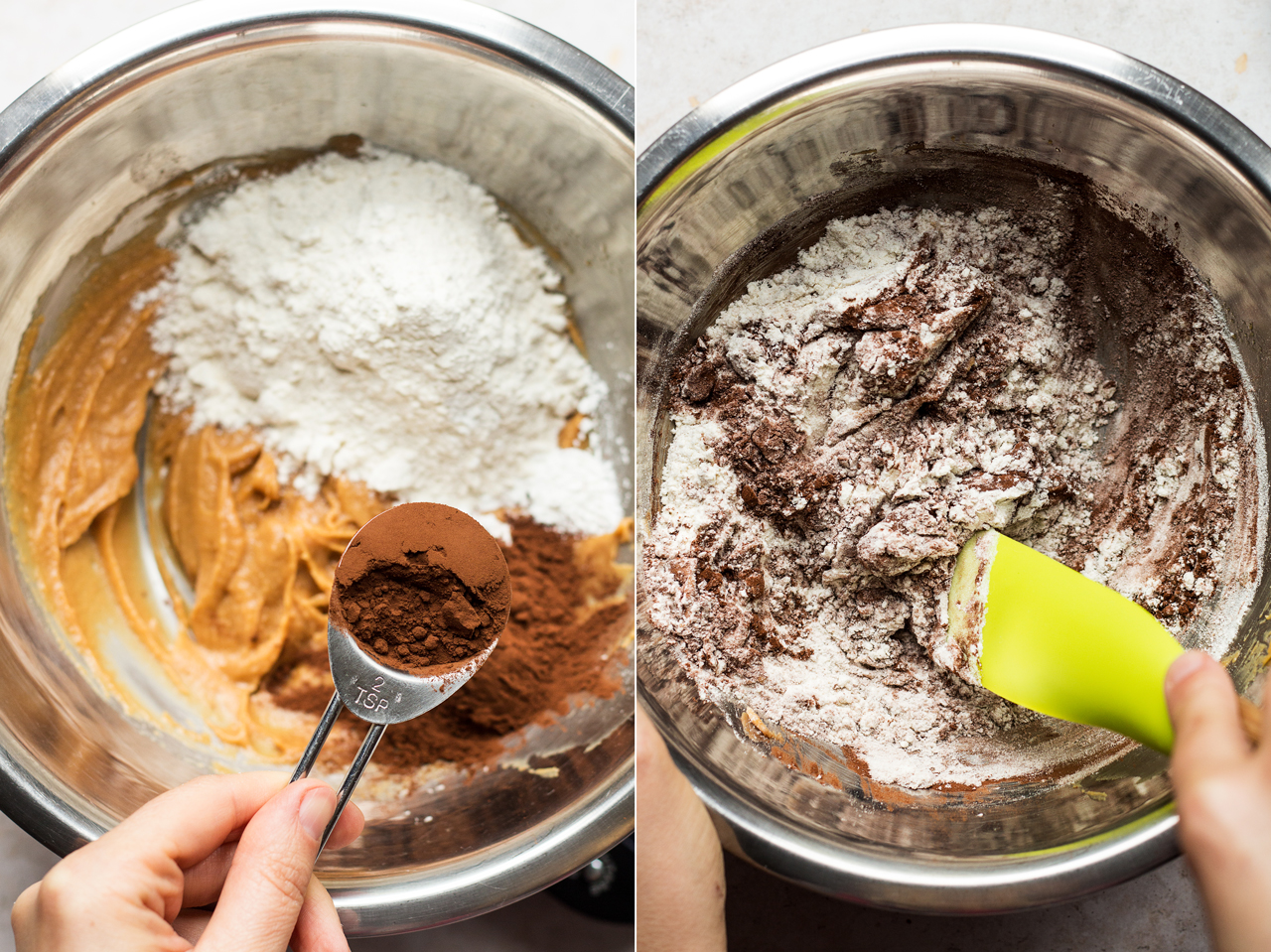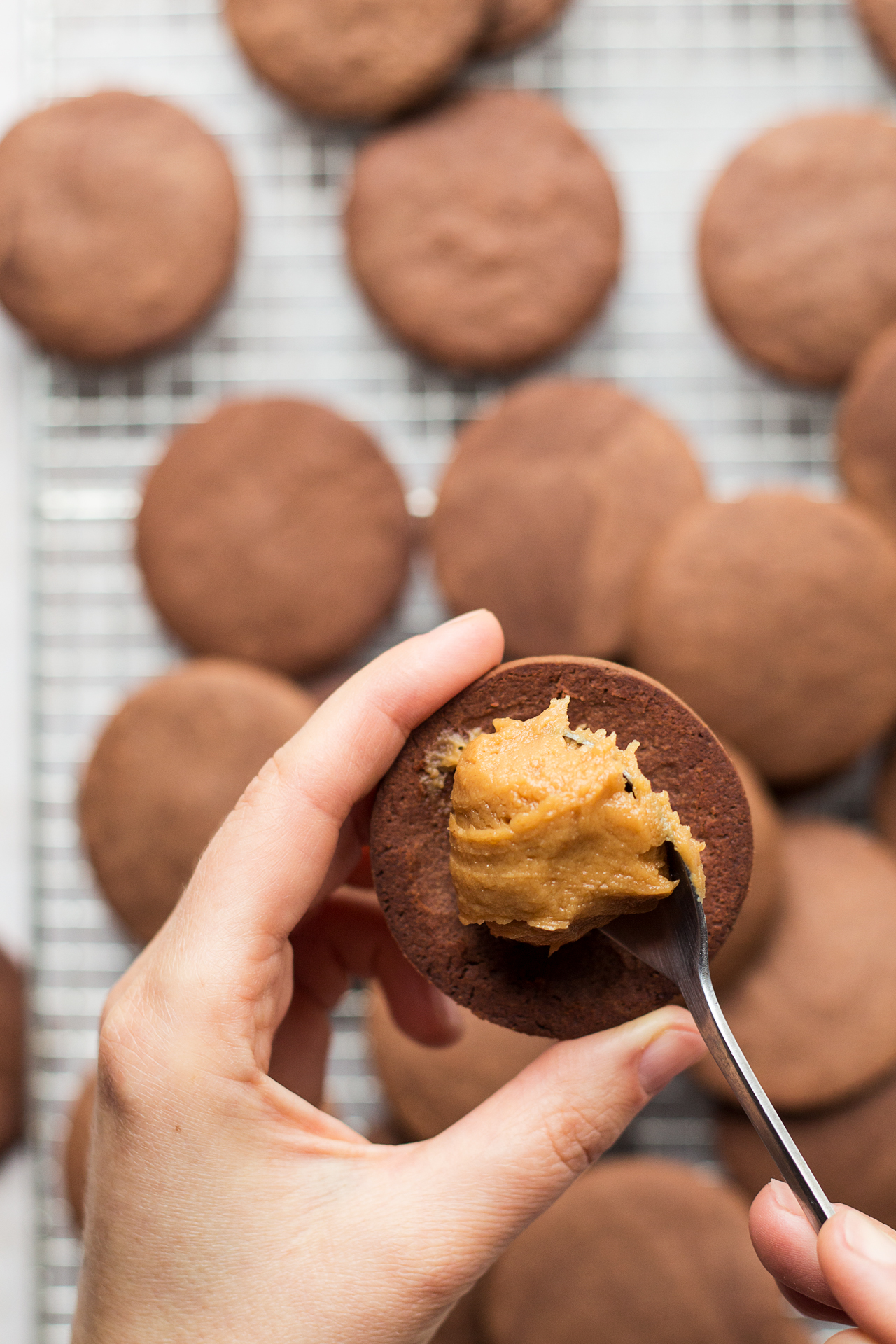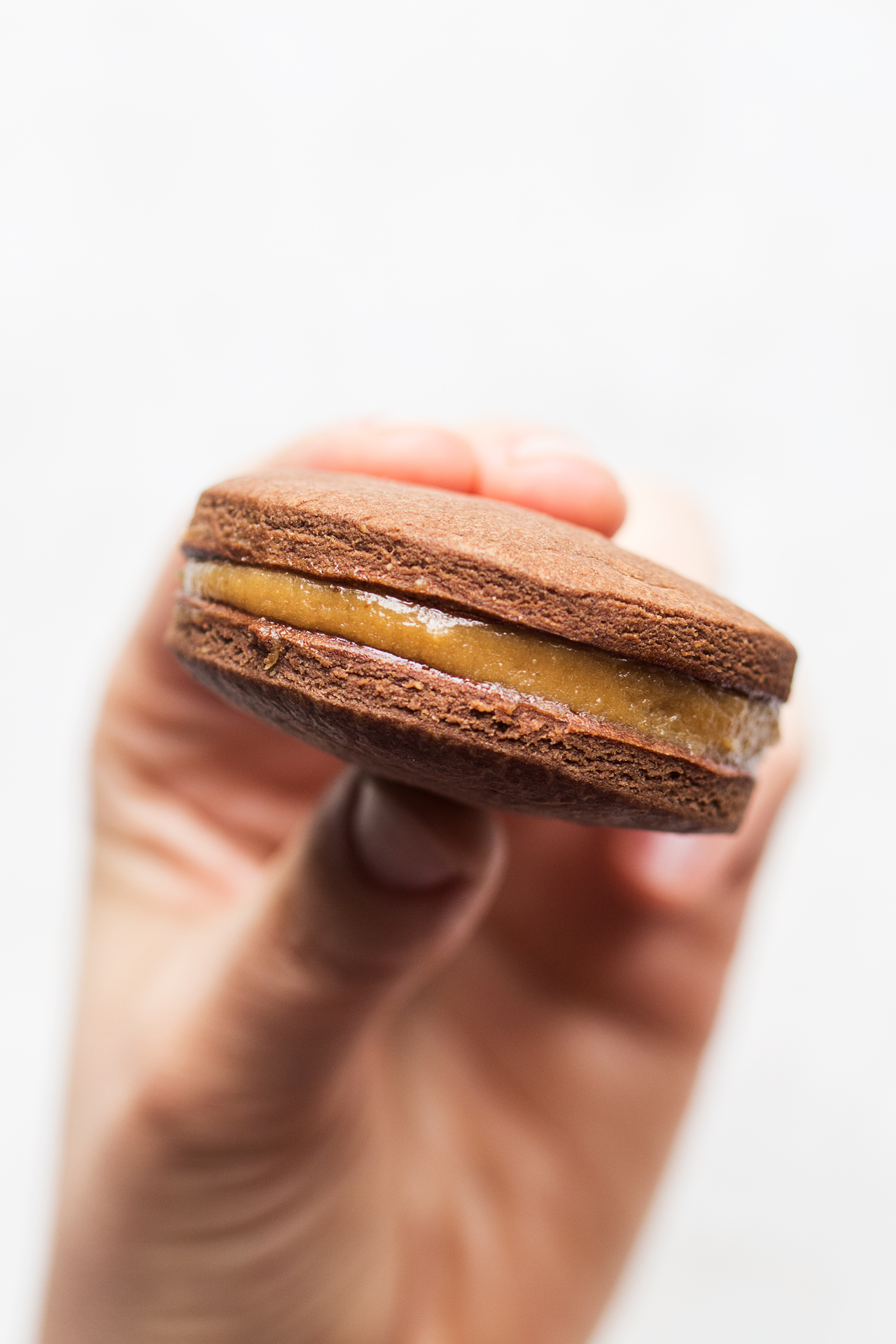 COOKIES
FILLING
125 g / ½ cup peanut butter (I used this one)
2 tbsp / 30 ml maple syrup
2-3 tbsp / 30-45 ml almond milk (optional)
METHOD
COOKIES
In a bowl, whisk up maple syrup and peanut butter into a uniform thick mass.
Add in flour, cornstarch and cacao powder and fold them all in gently. Use a spatula to begin with, but you will need to use your hands by the end to get the mixture uniform.
Refrigerate the dough for 30 minutes at least.
Preheat the oven to 180° C / 355° F.
Divide the dough into half and roll each half with a rolling pin until you get a 3-4 mm / 0.15″ thick sheet of dough. Using a round cookie cutter, cut the cookies out of the dough. Bring all the scraps together and roll them out again, cutting out more cookies.
Bake for about 12-14 min. Remove the biscuits from the oven, transfer them to a cooling rack and let them cool down completely.
Place a teaspoon (or so) of the peanut butter filling at the bottom of half of the cookies and top with the other half. Store in an airtight container for a few days.
FILLING
Place peanut butter and maple syrup in a large bowl and mix them with a spatula until smooth.
If your mixture is too thick, add a splash of plant milk to loosen it up a little.
Put the filling in the freezer for 30-45 mins for firmness.
NOTES
* You can also use
cacao
, but as it's more bitter in taste, reduce the amount down to 4 tbsp and use a touch more flour to compensate.